Equipment Comparisons
Refrigeration & Ice
Cool & Handy: The Rise of Refrigerated Bases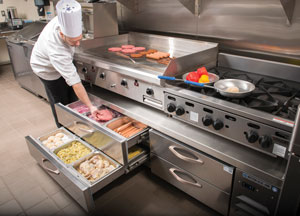 With the mania for fresh fare and the explosion of à la minute cooking, an old standby of the commercial kitchen—the standalone refrigerated chef base—is more popular than ever. Today, these units are relied upon by all types of foodservice operations, from fast food to fine dining. They're especially in demand in restaurants featuring display cooking as well as in onsite foodservice settings such as university dining halls where diners go from station to station for menu items made to order. Another growing market is supermarkets, which have greatly expanded their ready-to-eat menus and cooking suites.
Besides being a fit with today's cooking styles, chef bases sell themselves on step-saving convenience. Instead of crossing the kitchen from the griddle, fryer or range to a large, central refrigerator—or even reaching over to an adjacent undercounter refrigerator—staffers can simply pull out a drawer beneath their cooking surface to grab more hamburger patties, frozen French fries or pre-portioned stir-fry ingredients, so there's no interruption in workflow. Refrigerated bases also are helpful when used in conjunction with today's fast-cook ovens, which, when using programmed recipes, produce the best results when items go into the oven at the same starting temperature.
Using modular components like countertop cooking equipment on refrigerated bases allows restaurateurs to equip their kitchens at minimal cost. Countertop cooking equipment without an integrated base or oven has become more advanced and more durable in recent years, but is less expensive than a full-size, standalone range, griddle or fryer. Using refrigerated bases under countertop equipment means the whole kitchen lineup is modular, and equipment can be switched out quickly and inexpensively whenever menus change.
Refrigerated bases have undergone many engineering improvements in recent years, including new drawer slide mechanisms—a key component affecting lifecycle. Turn to the Gallery, starting on page 41, for the latest standalone refrigerated base models from 13 manufacturers. And note leading suppliers Eagle Group, Electrolux, Hestan and Jade offer refrigerated bases but typically not standard as standalone models.
The Specs
Refrigerated bases also are available in freezer models, though refrigerators are far more common. Refrigerated units can keep pre-portioned or ready-to-use food at a desired temperature range—typically anywhere from 28°F-54°F—for daily use, but they are not appropriate for long-term cold storage or for bringing items down from room temperature.
The units are usually about 26-in.H, including the legs or casters. Since work counters are 36 in. above the floor, the cooking equipment atop the base can be about 10-in.H, including legs. Bases range in width from 36 in.-110 in., so larger units can serve as a stand for a battery of side-by-side cooking equipment. (Our comparison chart at right features models that are 36-in.W.)
You need to plan the lineup for your cooking equipment before selecting a base. For example, a line that includes a 36-in.W charbroiler, 24-in.W griddle and 12-in.W fryer would require a 72-in.W chef base. There's also some range in depth, from about 31 in. to 36 in. If the equipment to be placed on top isn't a perfect fit, tops with edges that extend beyond the base are an option. Items are stored either in standard full-size pans or different pan-size configurations, and in drawers typically stacked two deep.
Some features differ from one manufacturer to the next or are available as options. Here are some to ask about:
Composition. Some units are all stainless while others have aluminum components. The thickest-gauge steel makes for the most durable chef base.
Marine edge. The point of raised edges is obvious in the name—to keep spilled liquids contained and, more importantly, to keep the cooking equipment on top of the base from sliding off. Although flat-topped refrigerated bases are available as an option, the four-sided marine edge is usually standard. However, not all marine edges are created equal. Some are wide enough to take away an inch or so of usable surface, so the legs of your grill or fryer might not fit on a stand that's the same width as the cooking unit. Some manufacturers solve this potential problem with a narrower marine edge. A top that extends out from the unit can be another way to make everything fit.
How the marine edge is fabricated is a point of differentiation. Some are welded onto the flat top, while others are formed when the steel is stamped during manufacturing. According to sources, a top that's formed from a single piece of metal will be stronger than one with a weld.
Heat shield. The heat shield to protect the refrigerator from the heat radiated off the equipment above is standard for some manufacturers, optional for others. The heat shield will help your refrigeration unit maintain temperature and cut down on energy costs. Ask for details, though; some heat shields are no more than a plywood layer sandwiched into the unit, while others consist of foamed-in-place, sealed polyurethane foam insulation; one manufacturer's bases also have a ceramic heat shield in addition to the foam.
And while we're talking about heat, here's a word of warning: manufacturers say it's all too common for someone in the kitchen to remove the legs from the cooking equipment on top of the refrigerated base, usually to accommodate a cook who's short in stature. But doing so is likely to melt the insulation, and will automatically void the warranty of the chef base. Keep the legs on.
Airflow and condenser placement. Placement of the condenser and intake and exhaust vents will determine how much clearance you'll need on the sides and back of the unit. Many refrigerated bases come with a side-mounted compressor. Sometimes these have ambient air coming in the front and exhaust air going out the back. A true front-breathing unit has air coming in the front nearer to floor level (where it's cooler) and exhaust going out the front at a higher level, so there's less need for clearance between the unit and the wall or adjacent equipment.
Another aspect of airflow to consider is the fans. Some refrigerated bases have only one fan, while others have a bank of fans for complete, uniform cooling.
Cleaning access and self-cleaning option. A condenser mounted at the front of the unit will typically be easier for staff to access to clean the coils— and regular cleaning of condenser coils is key to the operation and longevity of any refrigerator. At least one manufacturer offers refrigerated bases with a self-cleaning feature: an integrated scrubbing brush rolls up and down the coils two or three times a day to remove dust.
Self-contained or remote cooling. Not all refrigerated bases are self-contained, with the cooling condenser inside the unit; remote-cooling versions also are available.
Handles. Some brands recess handles into the drawer fronts. Others attach traditional handles. Account for them when measuring dimensions.
Drawers. Heavy-duty drawers are essential in a chef base, in part because kitchen staff have been known to stand on them (when nobody's looking) to gain access to the filter in the ventilation system above the cooking equipment, for example.
Misuse aside, these drawers take a beating from normal use. The whole unit's continued functionality depends on good working drawers, so the strength of drawer assemblies is of paramount importance; the slides, ball bearings and drawer assembly all must be extremely durable. (Read how many makers approach drawer assemblies in the Gallery.)
Consider whether you need drawers that will accommodate 6-in.D pans; some manufacturers offer units geared to 4-in.D pans, and some have bases with one drawer configured to accept 6-in.D pans and the other for 4-in.D pans.
Makers build drawers that accommodate typically 12 x 20 pans either side by side or front to back. Configuring pans side by side lets staff easily slide out a pan without having to fully extend the drawer. (Side-to-side pan orientation is said to minimize the risk of spilling ingredients from the back pan onto the front pan when replenishing ingredients.) But a front-to-back pan configuration has allowed at least one supplier to maximize capacity and air-flow; the configuration leaves more room for the refrigeration system and boosts the overall performance of the equipment.
To make pan removal even easier, one manufacturer offers cutout notches to allow workers to get their fingers under the rim of the pan and lift it out. Another manufacturer uses insulated tubs inside drawers, making for a more even and steady temperature within the drawers; the tubs can be lifted out for easy cleaning.
Controls. Manufacturers are moving away from manual controls and toward more reliable electronic controllers with multiple functionalities (temperature and voltage readouts, a high-temperature alarm, an icon for the defrost cycle, etc.).
Options and accessories. Besides the flat top and extended top we've already discussed, there are options beneath the unit: you can choose between casters, enabling the unit to be moved for cleaning underneath, and fixed or adjustable legs. Another option is doors instead of drawers. One option offered by at least one supplier is gasket guards— magnetic strips of metal that sit on top of the drawers and extend over the gaskets to protect them from food particles or drippings, as well as from being torn by the operator, catching hands or product on the gasket.
Maintenance Makes The Difference
All equipment in commercial kitchens gets a beating, but refrigerated bases in particular get a lot. Liquids slosh out of pans and possibly into the cabinet and drawer-slide mechanism when drawers are slammed shut, and the units also get grease and debris from the cooking equipment on top.
Clean the chef base before initial use with soap and warm water followed by a baking-soda solution (three tablespoons of baking soda for each quart of warm water), a rinse and a wipe with a clean, soft cloth. For periodic cleaning, disconnect the unit from its power supply; and with the drawers open, let the unit come up to room temperature. Remove the slides, shelves, racks and any other interior accessories as noted in the operator's manual. (At least one manufacturer has a cage system for its drawers, allowing everything in the cabinet to slide out at once.) Clean the unit inside out with a solution of warm water and either baking soda, ammonia or vinegar. Rinse it with clean water and dry it with a soft, clean cloth to prevent water stains or streaking on the finish.
Clean the condenser coils at least monthly to allow the unit to run more efficiently, maintain consistent temperature, consume less power and last longer. If the condenser coil is dirty or blocked, disconnect the cabinet power supply and, using a semi-stiff brush, wipe away any dirt from the condenser fins until the condenser is clear from any debris. A vacuum cleaner with a brush attachment is another good tool for condenser cleaning.
Good Time To Buy?
With proper maintenance, a refrigerated base could last a decade or more. There will be some changes in this category coming in the next few years, but they're not changes that will be visible to end-users. Chef bases don't fall under new Department of Energy standards for refrigerators, but will have to use new coolants after 2019 to comply with Environmental Protection Agency SNAP regulations. The advent of new refrigerants with new volume and pressure levels means that manufacturers will gradually stop manufacturing components for current models, and the cost of service calls may rise over the next few years.
"You'll probably be fine for the life of your equipment, but if you're doing a whole kitchen project, you might look at some options in new refrigerants or make sure the manufacturer will be able to support you going forward," advises the v.p. of sales at one manufacturing company.


REFRIGERATED BASE GALLERY
ARCTIC AIR REFRIGERATED CHEF BASES
Arctic Air refrigerated chef bases' convenient telescoping drawer cartridge system comes with a stainless bottom (not just side rails); because the system has a bottom, adaptor bars aren't necessary to accommodate multiple pan configurations. Simply place the pans on the drawer bottom. Models ARCB48, ARCB60 and ARCB72 (either 50-, 62or 74-in.W, and all 32-in.D x 26-in.H) feature cabinet temperature ranges from 33°F-41°F, ample foam separation between top and cabinet interior to inhibit heat transfer, a marine edge that comes standard and has a 1-in. overhang on each end to ensure that cooking equipment sits level, and a standard digital temp controller/microprocessor. The front-accessible condensing unit makes for easy maintenance. arcticairco.com
BEVERAGE-AIR REFRIGERATED CHEF BASE
Model WTRCS36-1 chef base's drawer fronts and slides come with a lifetime warranty. Drawer frames consist of heavy-duty, 12-ga. stainless and are supported on stainless telescoping drawer slides with 3 stainless roller bearing wheels (versus plastic rollers) for maximum support. Drawers accommodate 6 in.D, 12 x 20 pans or different configurations using smaller pans. Heavy-duty pan divider supports are supplied. Measuring 36-in.W x 32-in.D and about 26 5/8-in.H, these models are certified to operate in 100°F ambient temperatures and boast fire-proof, insulated, 14-ga. tops standard (no heat shield add-on required). Cabinet temperature ranges 33°F-40°F and the refrigeration system is self-contained. An exterior solar-powered digital thermometer with battery backup comes standard. beverage-air.com

CONTINENTAL GRIDDLE STAND REFRIGERATOR
Continental's 48-in.W model DL48G has drawers that hold 250 lb. They easily glide and fully extend; the heavy-duty drawer tracks sport built-in drawer safety clips. Drawers hold pans side-to-side and come with 1-piece, snap-in magnetic drawer gaskets. Measuring 34 3/4-in.D x 26 3/8-in.H, this model holds 4 6-in.D, 12 x 20 pans. Units are front-breathing and include a capillary dial thermometer (an optional digital thermometer is available). Units have a stainless exterior and interior and are designed to maintain NSF-7 temperatures in 100°F ambient temperature. Cabinet construction includes high-density, non-CFC polyurethane foamed-in-place insulation. continentalrefrigerator.com
DELFIELD REFRIGERATED EQUIPMENT STANDS
Model F2952C (shown with cooking equipment) measures 52 1⁄4-in.W; all models in the F2900C series run about 31-in.D and 26-in.H. Equipment highlights start with the full-extension drawers (sized to hold 4 in.D, 12 x 20 pans); Delfield fully welds the integral drawer cage assembly and builds it with heavy-duty stainless components. The easily removable drawer tracks have self-lubricating rollers requiring no grease and allowing for smooth operation with no metal-to-metal contact. The drawer tracks come with a 10-yr. extended parts warranty. High-density, non-ODP, non-GWP polyurethane foam leads to quality cabinet insulation; cabinet maintains 36°F-40°F. Unit comes with a digital thermometer. delfield.com
EVEREST REFRIGERATED CHEF BASE
Model ECB72D4 showcases a patented heat sink system that prevents worktop distortion caused by prolonged exposure to mounted cooking equipment. Everest equips the model, measuring 72 3/8-in.W x 32 1/8-in.D x 20-in.H (without casters), with stainless grips for mobility, worktop corner guards for safety and a detergent-safe air filter; it includes 8 4-in.D, full-size pans, 4 pan dividers, 6 5-in. casters and 3 stability legs. Drawers feature stainless interiors/exteriors, 304 stainless drawer frames with low-friction ball bearing slides, and 2-in.-thick foamed-in-place polyurethane insulation. Control temperature using the digital display; temperature ranges 33°F-54°F. Side-mounted condensing unit slides out for maintenance. everestref.com
HOSHIZAKI REFRIGERATED EQUIPMENT STAND
Hoshizaki's CRES110 features pan rails with finger cutouts to allow quick and easy pan extraction. Measuring 33 1/4-in.D x 26-in.H, the 110 1/2-in.W chef base's exterior and worktop are constructed of stainless. The worktop boasts 1,500-lb. equipment capacity with a built-in ceramic heat shield. This workhorse features a solid-state digital controller with LED display and 4 heavy-duty drawers, each accommodating 3 6 in.D, 12 x 20 pans. Drawer module frames consist of 14-ga. stainless, all-welded construction and securely fasten in the cabinet. The stainless drawer slides come with acetal rollers with stainless ball bearings to prevent metal-to-metal contact. Unit is front-breathing; temperature ranges 28°F-45°F. hoshizakiamerica.com
MASTER-BILT REFRIGERATED CHEF BASE
Master-Bilt's model MBCB72 chef base comes equipped with a full marine drip guard, an exterior digital thermometer, 4-in. casters and durable stainless construction, including foamed-in-place polyurethane insulation. The drawers feature stainless frames supported on stainless telescoping drawer slides with stainless roller bearing wheels; the drawer slides withstand up to 200 lb. without deflection. Easily slide out the self-contained refrigeration system via the removable front thermometer panel and grill. Cabinet temperature ranges 35°F-40°F. MBCB72 runs 72-in.W x 31-in.D x 25 1/2-in.H, and accommodates 4-in.D, 12 x 20 pans. master-bilt.com
MONTAGUE REFRIGERATED EQUIPMENT BASES
Powered by Turbo Coil, Montague's refrigerated bases come with a marine edge top (with 2-in. foamed-in-place poly insulation) or come with a transition base for a custom one-piece integration with top cooking equipment. Heavy duty drawer system has 300-lb. weight capacity (for 2-12, 12 x 20, 6-in.D pans) and features magnetic pop-out drawer gaskets. Bases are 304 stainless throughout. Units range from 36-in.-108-in.W and are 33 3/4-in.D x 25-in.H. montaguecompany.com
NOR-LAKE REFRIGERATED CHEF BASE
Nor-Lake's NLCB48 comes equipped with adjustable temperature controls (range is 34°F-38°F) and cabinet and drawers are fully insulated with foamed-in-place polyurethane. The heavy-duty stainless drawers are supported on telescoping drawer slides designed to withstand up to 200 lb. per drawer. A full marine-edge top prevents spills from flowing over the edge. Unit measures 48-in.W x 31-in.D x 25 1/2-in.H, delivers 8.6 cu.-ft. of storage and accommodates 4 full-size pans. norlake.com
RANDELL FX-1CS COOK TOP MODEL
Randell's FX Series chef stands hold precise food temperatures between -4°F-40°F in high-heat kitchens. The patented tub-insert design keeps the food product surrounded by cold air at all times. Design eliminates occurrence of cold air dropping to floor each time the drawer is opened; saves up to 60% in energy use. Unit measures 48-in.W x 33-in.D x 23 1/5-in.H and has 3 cu. ft. of storage. Compressor is front breathing on most units. unifiedbrands.net
SILVER KING REFRIGERATED CHEF BASE
Silver King offers a 1-yr. parts/labor, 5-yr. warranty on its heavy-duty drawer assemblies and front-breathing compressor. Full-extension drawers with drawer slides are welded to a 12-ga. stainless framework promoting lateral stability to withstand high load capacities. Drawers accommodate 6-in.D, 12 x 20 pans. Exterior is stainless; interior is aluminum and insulation is foamed-in-place polyurethane. Model SKRCB50H/C10 is 50 1/4-in.W x 31-in.D x about 26 1/2-in.H with 2 drawers. silverking.com
TRAULSEN REFRIGERATED EQUIPMENT STANDS
Traulsen's high quality 2-, 4and 6-drawer models are stainless inside and out and feature a reliable microprocessor control and front-breathing condenser. The unit holds 500 lb. on top (per section) and features a marine edge. Self-closing drawers pull out on 14-ga. slides; all drawers accommodate 6-in.D, 12 x 20 pans and can be made to stay open if needed. An easy-to-remove condenser filter is included, facilitating maintenance and promoting long compressor life. Legs and casters adjust along a rail to avoid floor drains and utilities. Classic 48-in.W unit is 34-in.D x 26-in.H and holds foods between 34°F-38°F. traulsen.com
TURBO AIR SUPER DELUXE SERIES CHEF BASES
A self-cleaning condenser means there's no maintenance required to keep unit running at peak efficiency. Heavy-duty 16-ga. 1-piece reinforced stainless top is insulated with foamed-in-place polyurethane to eliminate heat transfer to the interior of cabinet and can be ordered with optional 6-in. extended top on most models. Side-mount compressor unit allows easy access for service and maintenance and is front-breathing to provide high efficiency in narrow spaces. Digital temperature displays on unit exterior; holds foods from 33°F-38°F. Shown here is the 72-in.W (78-in.W with extended top) x 32-in.D x 20 1/2-in.H with 4 drawers, but other models range from 36-in.W-96-in.W. Unit is all stainless. turboairinc.com
VICTORY ULTRASPEC CHEF BASE
The lifetime warranty on the stainless drawer fronts and slides is a differentiating factor for the Victory Ultraspec chef base. Model CBR52-1 comes with 2 drawers and measures 52-in.W x 32-in.D x 26 3/4-in.H. Company uses 1-in.-diameter stainless roller bearings (3 per slide) versus plastic rollers on each pullout slide, which are all heavy-duty 300-series stainless. Marine-edge top withstands 800 lb. and is foamed-in-place polyurethane-insulated. Unit has stainless exterior, aluminum interior and accommodates 2 6-in.D, 12 x 20 pans on top, 2 4-in.D, 12 x 20 pans on the bottom. Interior has a forced-air system with a high-humidity evaporator coil. Unit comes equipped with SecureTemp full-service monitoring system (no software or monitoring fees). Condenser is front breathing. victoryrefrigeration.com