Heavy Cooking Equipment
Maintenance Tips
Warming & Holding Equipment
Keeping Up Proofers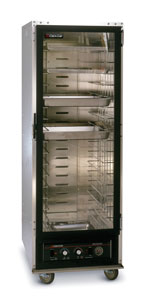 Owning a proofer or a hot-hold cabinet capable of proofing is an investment and should be taken care of properly. Essential to many kitchens, a proofer or proofing cabinet delivers heat and humidity (via a heating element that heats water in a pan in the base) to create the environment needed for baked goods to rise prior to baking. Be proactive in the care and maintenance of your unit and it will increase its life of service to you.

Every proofing or hot-hold cabinet comes with a manual from the factory. It's imperative that anyone using the proofer read and follow these guidelines. It can help keep the warranty intact and avoid costly service and repair calls in the future.

Here are a few daily and periodic maintenance tips to keep your proofer in top shape.

Simple Steps
Regardless of what brand, make or model proofer you use, there are some basic maintenance tips you should follow. Wipe the unit down daily with a mild, non-abrasive soap and warm-water solution or factory-approved cleaner. If the unit appears heavily soiled, you may need to use an emulsion-type (non-abrasive) cleaner; one manufacturer even recommends that you apply it with bare hands (not cloth material) to avoid scratching. Rinse with warm water. Do not pressure wash, hose down, immerse or spray the cabinet unless expressly authorized by the manufacturer as this may void the warranty.

On a monthly basis, or more often if necessary, remove and clean the water pan in the base of the proofer. Some pans are easy to remove while others may require you to undo fasteners before the pan can be removed. It's a good idea to occasionally change the water you use during proofing; this eliminates the buildup of bacteria in the stagnant water.

Additionally, and depending on the unit type, all inside panels and components that can be removed should be cleaned with a mild non-abrasive detergent and reinstalled accordingly.

Consult your operator's manual for additional specifics. A unit with an axial fan may need to have it oiled if it's not a sealed unit (permanently oiled) and the fan blades cleaned. On auto-fill units, clear the fill nozzles by using a paperclip or toothpick and carefully remove debris from the supply holes. When it comes to water-level probes, it's important to clean them so calcium buildup and other deposits don't interfere with their proper operation. The door seals, too, are important—wipe them down regularly so they stay malleable enough to seal the door and keep the heat and moisture in. If you have a dial-style thermostat, keep flour debris from building up behind the knob so it operates smoothly. If you've opted for a model with digital controls to achieve really precise humidity levels, be careful not to spray water directly on the display. Spray hoses are the bane of electronic boards behind control display screens, causing shorts and leading to costly repairs.

Baker Beware
Other important proofer considerations include keeping the water pan fi lled. Refer to your unit's manual for specifics. If a cabinet temperature exceeds a specific point set by the manufacturer as a result of situations such as not having water in the base pan or a faulty thermostat, the high-limit switch will activate, killing power to the unit. Some high-limits are designed to reset automatically when the temperature is back to a safe level, but others require a manual push button reset. Be aware before you make a service call.

One option available on some units is an auto-fill, where the unit is plumbed to add water to the pan as needed without having to monitor or babysit the water level. Auto-fill units are built with a probe that senses the water level of the pan. Knowing how the probe works can save you a headache. The probe has a minimal electrical charge going through it from the control board and it completes its circuit by grounding through the water in the bin.

When the water level reaches the probe tip, the control board sends a signal to the fill valve to shut off. However, if the water coming into the pan is too highly filtered, for example, through a reverse osmosis system, the water is stripped of the mineral content needed to trip the sensor. This can cause an auto-fill unit to overfi ll or shut down. A simple solution is to add a level tablespoon of salt to the water pan and mix it around. A more permanent solution would be to patch in an electrolyte or other mineral additive device in the fill sequence. Consult with your equipment supplier as to what solution would work best for your situation. But if your unit is on an RO system, note that it will alter the water.

Even though there are seemingly limitless types of proofers available—insulated and non-insulated units, pass-thru units, small and large capacity units, undercounter and over-counter units, short and tall units, units with or without holding racks—these cabinets are relatively simple pieces of equipment. By reading and understanding the operator's manual, educating all the users and with minimal and consistent care, your proofer should offer you years, if not decades, of trouble-free service.

For complete details, visit the websites of the equipment manufacturers listed in the sidebar "Proofer and Proofing/Holding Cabinet Suppliers."

Proofer and Proofing/Holding Cabinet Suppliers:
Alto-Shaam
alto-shaam.com

Baxter/ITW FEG
baxtermfg.com

Belshaw/Ali Group
belshaw-adamatic.com

BevLes/The Legacy Cos.
bevles.com

Carter-Hoffmann/Middleby
carter-hoffmann.com

Cres Cor
crescor.com

Doyon/Middleby
doyon.qc.ca

Eagle Group
eaglegrp.com

Equipex
equipex.com

FWE/Food Warming Equipment
fwe.com

Hobart Corp.
hobartcorp.com

Master-Bilt/Standex
master-bilt.com

Metro/Ali Group
metro.com

NU-VU/Middleby
nu-vu.com

Picard Ovens
picardovens.com

Piper Products
piperonline.net

Traulsen/ITW FEG
traulsen.com

Vulcan/ITW FEG
vulcanequipment.com

Williams Refrigeration/Ali Group
williams-refrigeration.co.uk

Winholt Equipment Group
winholt.com

Winston Industries
winstonind.com
For more proofer and proofing/holding cabinet makers, visit the FER Buyers Guide at fermag.com.