How to Spec
Prep Equipment
All Juiced Up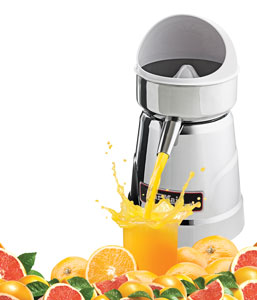 Once, your customers were happy with juice that was canned, frozen or bottled. Now, a growing segment of the population wants fresh juice, whether for health and fitness or for tastier cocktails. And the demand for fresh juice goes beyond common citrus fruits; demand is growing for more exotic extractions. To meet this need, juicers have proliferated in recent years.

Why Get A Machine?
While you can produce lemon or orange juice by hand, juicers make the work faster and easier—and, for some other ingredients, possible. Orange juice is always popular, but now there is a growing demand for juices from vegetables, leafy greens, and wheatgrass, and these require more specialized equipment.

There are lots of good machines on the market, but they don't all do the same job or operate at the same capacity. So what are some of the features and options available, and which ones might be right for your operation?

Any discussion about juicers starts with what you will be juicing, followed by your volume and the speed at which you'll need to turn out juice drinks. You'll also want to consider who will be operating the juicers, as some require more skill than others. Here is what you need to know to decide what you need before you specify and purchase.

Are You My Type?
Among the most common juicers are citrus juicers. These may do only orange juice but many also handle lemons, limes and grapefruits with a quick change of a cone. Operation is simple: place halved citrus fruit on the rotating reamer, push down firmly—typically by hand vs. lever—and let the machine do the work. One manufacturer relates that volume is a key consideration. A small electric citrus juicer that runs at 150 rpms is great if you're serving juice one glass at a time. Its small size fits easily on a bar, and the slow speed makes it safe for anyone to use. A heavy-duty citrus juicer is bulkier but can give you 1,800 rpms and can produce gallons of juice. However, as one manufacturer warns, these require users who have some familiarity with the machine, as the spinning reamer rips through the fruit quickly.

Next is the centrifugal juicer, which is the most popular juicer on the market today among those who want multiple-ingredient juices. They handle a wide range of fruits and vegetables, though you need to check to see if the one you're considering handles leafy vegetables, such as kale and spinach. Place select produce in the chute, which guides it into a basket, and the combination of a flat cutting blade with a fast-spinning stainless strainer extracts juice from things as non-juicy as beets. (Typically, you can pulse the action, ideal for one glass of juice, or set it on continuous feed for higher volumes.) Centrifugal juicers spin anywhere from 3,500 rpms up to 10,000. As one manufacturer notes, they are the most efficient and highest production units available. However, they generate heat, which destroys some enzymes in the juice. This can be an issue for some consumers.

Also available are pulp ejector centrifugal juicers, which operate the same way as a traditional centrifugal juicer, but offer continuous pulp ejection (so you don't have to stop and empty a basket every time the machine fills with pulp). If volume is a consideration, centrifugal juicers with large mouths or feed chutes accommodate larger portions or even whole fruits. With larger feed chutes, one manufacturer advises making sure the size of the motor is proportionate to the size of the feed chute. A motor that is not strong enough to handle the volume may burn out in a shorter period of time.

Twin-gear juicers, also known as triturating juicers, have two gears (with broader edges than spiked rollers) that rotate inward, grinding and crushing ingredients, offering the highest level of extraction even from fibrous, stringy produce. Advantages include getting more juice from your produce, protecting enzymes in the juice, being able to juice almost anything, including nuts and wheatgrass, and less need to pre-cut produce. Disadvantages include a higher price, slower operation and sometimes bulkier size than other juicers.

Low-speed masticating juicers are, as the name suggests, slow. However, they offer an important advantage. As one source notes, most fresh juice is highly perishable, with oxidation making immediate consumption advisable, but a low-speed masticating juicer creates a juice that can be stored up to 72 hours in an airtight container in the refrigerator without degrading. These juicers use a masticating mechanism that slowly pulverizes fruits and vegetables, including leafy greens and wheatgrass, extracting juice efficiently, if not swiftly. Sometimes simply called low-speed juicers or cold-press juicers, masticating juicers spin at 80 rpms, to minimize heat and oxidation. An auger system forces produce into a tight chamber, grinding and pressing the food to squeeze out its juice. A vertical low-speed masticating juicer offers a compact footprint. A horizontal low-speed masticating juicer comes with food processor attachments, so you can make nut butter from nuts, nut milks, grind coffee and herbs, extrude pasta or process fruit for frozen sorbets.

In addition to all the juicers that can handle wheatgrass, there are juicers made specifically for wheatgrass. They come in manual and electric versions, and would probably be most at home in a health-focused setting.

Finally, while low-speed masticating juicers don't heat juice, there are other juicers identified purely as cold press. See sidebar "Cold-Press Juicers" for more on these.

But What's It Like To Work With?
Safety, reliability and ease of use are important to you. Manufacturers know this and work diligently at giving you what you need. One manufacturer points out its unit's vibrating basket that moves pulp so juice passes through the juicer easily. Another identifies an automatic feed as important to keep produce feeding into the juicer in high-volume situations. Most manufacturers point to sturdy construction and easy cleanup as advantages, with dishwasher-safe parts. One states that its machines can be assembled and disassembled in less than 30 seconds—how to clean these units should be one of your key questions.

Prep work for all juicers is fairly easy. For citrus juicers, the only prep work is cutting the fruit in half. No peeling required. For other juicers, it depends on what you're juicing and whether or not you opt for a large chute. Carrot greens are usually removed, and beets are cut in half, but otherwise, there is very little chopping—and with a large chute, often no chopping.

Makers address safety in such features as motor brakes/safety interlocks that stop operation if an employee removes the lid. Look for certifications, such as NSF, UL, ETL or CSA, as these ensure that a third party has tested the juicer. A commercial-approved model is tested to higher standards and may have a longer life. Top models generally come with a one-year warranty for parts and labor.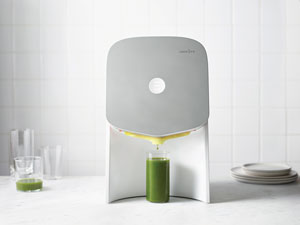 Cold-Press Juicers
Cold-press juicers protect all the vitamins and enzymes in the juice and are therefore valued by the growing market segment who drink juice for health. This makes cold presses ideal for juice bars in gyms, health-food stores, colleges and healthcare foodservices, and health-focused restaurants. A cold-press juicer uses a two-step process, first grinding the fruit and vegetables, and then pressing them with thousands of pounds of force to extract the juice. This method is gentler on the juice and creates less oxidation and heat than a centrifugal- or auger-style juicer.

Recent innovations have led to greater ease of use for these machines. One manufacturer relates that their machines are not only easy to operate but are also easy to clean, and are capable of producing hundreds of servings of juice per day. Bags used in pressing are compostable, so users no longer need to wash, sanitize and reuse cloth bags. (While you can directly pump produce into traditional juicers, cold-press models require bags, which are used to keep hard vegetables—such as beets and carrots—in place while giving way to thousands of pounds of pressure.) Another manufacturer points to a WiFi component on its juicers that allows for predictive ordering and waste management.

Little training is needed for some of these machines, and one vendor suggests that some outlets could even invite guests to press their own juice. One manufacturer claims that operators can achieve a 60%-70% profit margin selling cold-pressed juice, due to low food and labor costs to produce juice that can sell for a premium as a result of its natural freshness. So there are definitely some good reasons to consider cold pressing if your customers are looking for a more nutrient-dense juice.

Powered Juicer Makers

Bar Maid Corp.
barmaidwashers.com

Goodnature
goodnature.com

Grindmaster-Cecilware
gmcw.com

Hamilton Beach
hamiltonbeachcommercial.com

Juicero
juicero.com

Nutrifaster Inc.
nutrifaster.com

Omega/The Legacy Cos.
omegajuicers.com

Robot Coupe
robot-coupe.com

Santos
santos.fr

Waring Commercial
waringcommercialproducts.com

For more powered juicer suppliers, visit the FER Buyers Guide at fermag.com and click on Juicers & Extractors, Powered.