E&S Industry Event & Award Coverage
Learn & Connect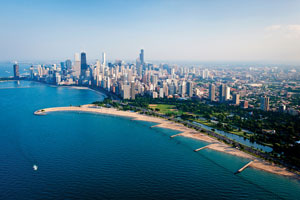 Get ready for the National Restaurant Association Restaurant, Hotel-Motel Show, set to run Sat., May 20, to Tues., May 23, at Chicago's McCormick Place. Show organizers expect 2,300 exhibitors, representing 900-plus product categories, and more than 67,000 foodservice professionals from around the world. Now's the time to organize your show strategy—from stops to make on the action-packed show floor to must-attend education sessions. Add in some extra fun at the after-hours events, and you're sure to come away inspired with ideas and connections to move your operation forward.
Leading up to the show, be sure to participate in "What You Need To Know Before NRA," a webinar presented by the PG&E Food Service Technology Center on Mon., May 8. Fisher-Nickel Inc.'s David Zabrowski, Richard Young and Mark Finck will cover the equipment trends to look for at the show, changes to the Energy Star program, details on rebates and much more. Register at fishnick.com/webinars.

Walking The Show
Exhibitors will pack in more than 20,000 products and solutions in the halls of the convention center. Make one of your first stops the interactive Kitchen Innovations Pavilion, where you can hands-on explore the 2017 recipients (see the list below). The KI awards program honors forward-thinking equipment and technologies that increase efficiencies and productivity for the back-of-house operations and benefit restaurant operators. Stay tuned for the May issue of FER for full product write-ups of this year's 18 awardees.
Along with the KI Pavilion, another specialty area on the show floor to visit includes the Innovation Hub, featuring Microsoft Digital Transformation, Tech Pavilion and Startup Alley. In Microsoft Digital Transformation, the NRA Show and Microsoft teams have paired up to demonstrate digital solutions, from front-of-house management tools to smart kitchens, and how these technologies can work for your operation.
Get with the times in the Tech Pavilion, showcasing topto-bottom technology—mobile apps, mobile payment, POS, digital signage, data-driven solutions and more—to improve transaction speed, communication, efficiency and cost.
Now in its third year, Startup Alley promotes emerging, tech-savvy startups that help operations run smoother and more profitably. A committee of restaurant operators chooses the exhibitors. Casabots, a general-purpose cooking robot for restaurants, and VeriSolutions, a software company with refrigeration monitoring capabilities and much more, exhibited in '16, for example.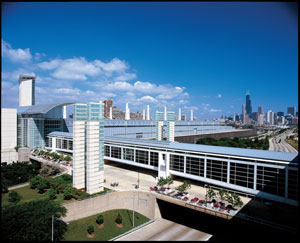 Sharpen Your Pencil
Take advantage of the 40-plus education sessions—many now conveniently located on three stages on the show floor. Tracks include Business Operations, Food & Nutrition, Tech Talks and Workforce Development. The following are a few highlights from the sessions listing:
In "The Impact of Customer-Facing Technology on Restaurant Design" on Sun., May 21, from 2-3 p.m., Joe Carbonara of FE&S will explore the use of online ordering, mobile apps, kiosks and tablets at tableside and how these technologies can impact layout, design and equipment specification, plus what operators need to consider to support increased volume.
Next, Deepak Sekar, Ph.D., of Chowbotics will present "Robots in Food Service: Possibilities and Challenges" on Sun., May 21, from 3-4 p.m. He will discuss how robots are inevitable for foodservice applications, how they may improve food safety, are available 24/7 and more.
For an overall look at the industry, "Key Trends Shaping The Future Of Foodservice," with NRA's Hudson Riehle and Annika Stensson, Mon., May 22, from 12-12:45 p.m., will offer a snapshot of trends (economic, workforce, consumer, technology and food), and discuss opportunities to help operators make strategic decisions and grow their business.

Exploring Retail Foodservice
Foodservice @ Retail Summit returns for its second year at the NRA Show. The program runs Sun., May 21, to Mon., May 22, and requires a separate registration. Technomic kicks off the program with the latest facts, figures and trends of what's taken place over the past 12 months in c-store and supermarket restaurant operations. Another session includes a panel discussion on the evolution of restaurant design in supermarkets and c-stores. Designers will present case studies, including before-and-after photos of their installations. Also running these two days, on the Lakeside Center side, is BAR 2017, focusing on beverage alcohol trends.
For the most recent NRA Show details, visit the website at show.restaurant.org.

National Restaurant Association Restaurant, Hotel-Motel Show
May 20-23, 2017
McCormick Place, Chicago

Exhibit Hall Hours:

Sat., Sun. and Mon.: 9:30 a.m.-5 p.m. Tues.: 9:30 a.m.-3 p.m.
Register at show.restaurant.org.

After-Hours Events:

• IFMA 63rd Annual Gold & Silver Plate Awards Celebration
Sat., May 20, 5:30-8:30 p.m.
Revel Fulton Market, Chicago

• Foodservice Consultants Society Int'l.-Upper Midwest Chapter Reception
Sun., May 21, 5-7 p.m.
10 Urban Roofscape Lounge at the Godfrey Hotel, Chicago

• Restaurants Rock
Sun., May 21, 9 p.m.-12 a.m.
House of Blues, Chicago Jam to the live grooves of the premier Prince tribute band The Purple Xperience.

• NRA Show Block Party
Mon., May 22, 9:30 p.m.-12 a.m.
Network with industry colleagues and potential customers while touring Chicago's hottest nightclubs, restaurants and lounges. Use your show badge for free admission.

The 2017 Kitchen Innovations Award recipients are:

Alto-Shaam by Appliance Innovation: Vector Multi-Cook Oven

Antunes: Dual Zone Egg Station

Blendtec: Nitro Blending System

Ecolab: STEALTH LED Fly Light

Garland/Welbilt: XPress Grill

Hobart/ITW FEG: CLeN Conveyor Warewasher with Drain Water Energy Recovery

MEIKO: M-iClean UM with GiO Module

Merco/Welbilt: MercoMax Visual Holding Cabinet

Middleby CTX: WOW 2 Grilling System

Panasonic: Met-ALL Induction System

QuiQsilver: Roll-O-Matic Silverware Rolling Machine

RATIONAL USA: SelfCookingCenter XS Model 6 2/3

Royal Range of California: RHEF-45 High Efficiency Fryer

Southbend/Middleby: TruVapor

Standex Refrigerated Solutions Group (Nor-Lake and Master-Bilt): Keg Management System

Turbo Coil: Dual Zone Mega Top Prep Table

TurboChef/Middleby: DoubleBatch

Vulcan/ITW FEG: VC5G Gas Convection Oven