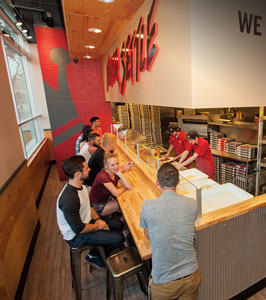 Toppers Pizza spent its first 25 years as a carry-out and delivery pizza concept, equally beloved by college students and late-night diners. But with Internet ordering bringing an increasing number of guests into the stores, Toppers management opted for a radical change—a Show Kitchen.
"About 40% of guests come in to pick up while 60% of our business remains delivery—compared to five years ago when the vast majority of our business was delivery," says Toppers Chief Development Officer David Biederman, who joined the Whitewater, Wis., pizza company after a 10-year stint opening restaurants for Smashburger.
"The Toppers Show Kitchen lets us tell our story better," Biederman adds. "Customers can see the product quality, watch our team members hand-stretch dough on the 'slap' table, and assemble each to order."
The open kitchen engages workers as well as guests. The Toppers on Kenilworth Avenue, Milwaukee's north side, remodeled in June 2016 to the open-kitchen style, cranks out pizzas from 10:30 a.m. to 4 a.m. daily. As the chain's highest volume location, the Kenilworth Toppers sells an average of 300 pies per day during the week, ramping up to 450 to 600 on weekends.
"The openness has created a cool environment, a place people want to hang out," Biederman says. "Guests can chat with team members as the pies move down the rail."
And an energized staff in the new kitchen moves faster. "Pizzas are going out the door about 10% faster than in stores using the prior design," Biederman says.
Win-Win Pie
Toppers Show Kitchen prototype was launched in '15 under the eagle eye of Director of Design and Construction Chuck Kappes, a nearly five-year Toppers veteran who continues to fine-tune design elements with every subsequent build.
Of the 15 Toppers locations opening this year, in Colorado, Kansas, Indiana and North Carolina, 11 will feature the Show Kitchen design. ("The other four were already too far along the design process using the previous closed-kitchen model," Kappes explains.) A typical Toppers generates about $900,000 in annual revenue, ranging from $800,000 to $1.6 million depending on location.
Two years into the process, the Toppers Show Kitchen boosts customer engagement, offers greater efficiencies and utilities savings. "When we changed equipment, we either upgraded to a better performer, or we standardized to off-the-shelf units," Kappes says. The resulting kitchen package comes in at the same FF&E cost as the previous package, about $135,000.
Moving forward, Toppers plans to build the prototype in every new market it enters. Existing locations can opt for the Show Kitchen when it's time for remodeling.
Slap, Make, Bake, Cut
The Toppers design team has created three open-kitchen layouts to fit long/narrow, short/narrow, and wide spaces without compromising flow and efficiency.
Each version keeps Toppers' four-step pizza construction process organized into a tight rectangle. An order starts at the "slap" station (where hand-stretched dough gets marked with a special roller to add air pockets). The cook moves the pie a few steps to the right to the pizza prep table for toppings. By pivoting 90° or 180° they're positioned to place the pizza into the opening of the conveyor oven. And once it comes out the opposite end, another pivot transfers the baked pie to the cut table for any final ingredients, cutting and boxing.
"We're in the 'used restaurant space' business, so every restaurant is slightly different," Biederman says. "Chuck will always have to do some manipulation of the design to make it work with a new footprint."
Show Kitchen Evolution
Toppers' first open kitchen, in Chicago's Wrigleyville neighborhood in '15, invited customers to watch dough prep as well as pizza prep. But that decision proved a little too open.
"For one thing, dough mixing takes place in the morning when few people are around," recalls Architect Brian Engle, Lingle Design Group, Lena, Ill., who works closely with Kappes. "But more to the point, flour managed to get everywhere. Keeping the glass divider wall always clean proved harder than we thought it would be." The next kitchen design moved the dough mixer—a planetary-style unit made by either Hobart or Globe—to a location where the customers still catch a glimpse of the action but where the flour can be more easily contained.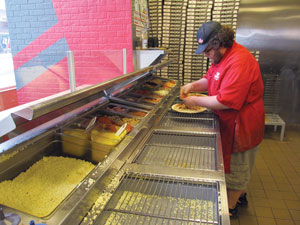 Another tweak has involved downsizing the "slap" table (dough prep) and pizza prep table, made by La Rosa. "Our first few protos called for fairly tight tolerances between tables and walls," Engle says. When operators commented on the difficulty with pulling out and replacing tables at cleaning times, "we began to allot more space so employees could move equipment in and out as needed."
Focus on table sizes also led to a shift from custom-built units to off-the-shelf tables—with the accompanying cost-savings and shorter order lead times. "Our slap table used to be an 11-ft.-long custom-built piece. Now we use two stock tables side-by-side instead," Kappes says.
A bar-height table with seating for four along a half-wall—typically 42-in. high topped by sturdy see-through guards—has opened Toppers' kitchen action to full view. But the change also impacts back-of-house storage and work processes.
"In an open kitchen, you lose the above-counter wall space, and also lose some flexibility with regard to power outlets and vents," Engle says. "Because the kitchen is the 'stage' in this concept, maintaining a clean view of the show is critical, making ceiling hung items and up-front measurements much more important."
Pizza recipe guides, which used to hang on the wall above the pizza prep table, also required re-thinking. "We developed a customized, magnetized stainless wall cap running the length of the sneeze guard," Engle adds. "That lets us display all the pizza recipes, on magnetized backings, out of sight of guests."
Another space-saving tweak was to mount phones and computer order monitors on the wall to free up table-top work areas. "We had to reduce table depths by 6 in. to a 24-in.-deep standard so people could still reach the wall phones," Kappes notes.
Hood & Table Upgrades
Of special note are upgrades to Toppers' hood and cut table.
The pizza oven—a conveyor oven made by XLT—has remained the same. But the hood has earned an upgrade that costs, Kappes says, about 30% less to purchase and install, and that operates more efficiently. "We have begun specifying AV1 hoods, also made by XLT, instead of the old-style canopy hoods," Kappes says.
The AV1 shroud-style hood sits over the conveyor oven (which can be stacked up to three high) like a helmet. Its close proximity to the oven maximizes effluent capture. And thanks to its variable speed/on-demand operations, the hood requires far less makeup air than canopy hoods. Standard canopy-style hoods use a separate makeup-air unit to provide approximately 80% conditioned makeup air. The chain is not only able to eliminate this makeup-air unit and its additional expense, but also reduce the rooftop-unit tonnage from 1 ton per 150 sq. ft. to approximately 1 ton per 200 sq. ft., reducing the overall HVAC size and utility costs.
"These hoods, by allowing us to use rooftop HVAC units to bring in pre-conditioned (heated or cooled) makeup air, help keep kitchens at a more comfortable temperature," Kappes says. "Sensors in the hood adjust fan speed according to the amount of heat coming off the oven."
Menu expansions—including just-baked pizzas topped with cold ingredients and up to 16 assorted pre-packaged dipping sauces—have led to larger cut tables equipped with refrigerated drawers below. Opting for off-the-shelf units has kept costs down. "We now use a 3-ft. x 6-ft. table with shelves above and cold drawers below," Kappes says.
A Look Ahead
With its Show Kitchen propelling customer loyalty and franchisee excitement, the scrappy, little Midwestern pizza chain finds itself well-positioned to expand. In addition to the 15 stores set to open in '17, the five-year plan calls for 185 locations across 25 states.
SPECS
MENU/SEGMENT: Carry-out & delivery pizza
HEADQUARTERS: Whitewater, Wis.
FOUNDED: 1991
NUMBER OF UNITS: 75
SIZE: 1,400-1,600 sq. ft. (smallest: 1,100 sq. ft.)
SEATING: 8-12
FF&E PACKAGE: $135,000 (including light package, millwork, stainless package)
2017 PLANS: 15 units
TOPPERS: David Biederman, Chief Dev. Officer; Chuck Kappes, Dir. of Design and Construction
ARCHITECT/DESIGN FIRM: Brian Engle, Architect, Lingle Design Group, Lena, Ill.
INTERIOR DESIGN & TRADE DRESS: Shea Inc., Minneapolis
DEALER: Jeff Reinhardt, National Accounts & Contract Design Specialist, Boelter Cos., Milwaukee
WEB: toppers.com
EQUIPMENT
Display Kitchen
XLT conveyor oven, exhaust hood
La Rosa pizza prep table
Michigan Diversified Metals work table, dough table, cut table, dough counter
Custom heat rack with Hatco food warmers
True Mfg. display refrig.
Back-Of-House
Hobart/ITW FEG 60-qt. floor mixer
Leer walk-in cooler
True reach-in freezer
John Boos 1-and 4-comp. sinks, hand sinks
Centaur pot sink wall shelving, dry storage
New Age Ind. aluminum wall shelves, dunnage racks
T&S pre-rinse assembly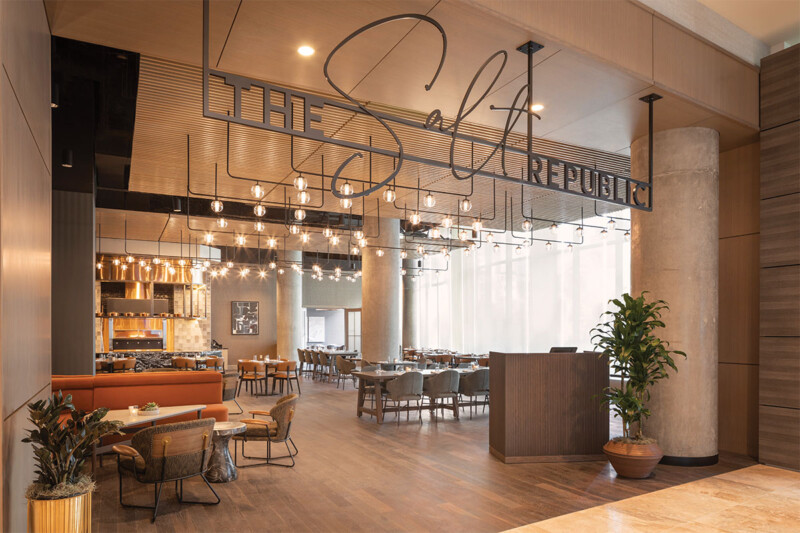 Kitchen Design
A restaurant with a display kitchen, a street-facing cocktail lounge and an abundance of event space welcome guests at the hotel.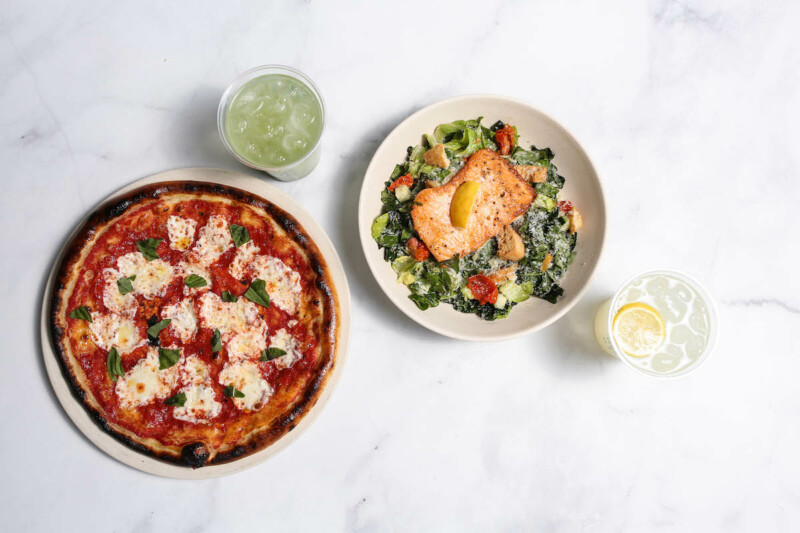 Company News
Three small pizza ovens, a smart toaster and holding cabinets help drive efficiencies at the chain's just-opened location.