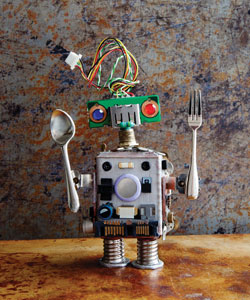 The foodservice industry has always been a labor-intensive, mostly low-wage business. Throughout the 20th century, operators and inventors worked to challenge that paradigm. Earl Prince's 1936 invention of the Multimixer (a machine that produced five milkshakes at a time) began a chain of causality that eventually led Multimixer salesman Ray Kroc to the McDonald brothers' stopwatch-tested, factory-like burger operation and, from there, to the summit of a new global quick-service restaurant industry. Throughout the '60s, '70s and '80s, QSR chains worked to streamline operations, push down labor costs and increase speed of service via innovation in equipment— like McDonald's introduction of a double-sided clamshell grill to cook burgers at double speed without flipping. By the end of the century, electronic sensors and controls were boosting production speed and efficiency in commercial kitchens.
Yet through all these dramatic developments, the industry continued to employ millions of low-wage workers.
Then came the campaign for higher minimum wages across the country. And the passage of the Affordable Care Act forced many employers to either offer expensive health insurance to full-timers or reduce workers' hours. Labor represents about one-third of all costs in the average restaurant, so these developments hit the industry like a ton of bricks.
"The labor situation is bad and it's going to get worse in terms of both availability and cost," says Bob Goldin, Partner with foodservice consulting firm Pentallect. "In certain markets right now, full employment—coupled with the political situation regarding immigration—is making it virtually impossible for restaurants to hire anyone under traditional compensation structures. So that's forcing operators to look at automation, robots and other efficiencies."
Steve Bogner, President of product design firm Ideas Well Done, points out that automation is about more than reducing head count. "From our perspective, the primary focus is to improve throughput and product consistency as opposed to solely saving on labor costs," he says. "Trends toward smaller kitchen footprints mean operators are looking to automate repetitive processes, allowing the same number of employees to maintain a higher product flow." He points out that automation also can lead to a safer working environment with less potential for burns or repetitive stress injuries.
Today's automation push complements efforts over the past decade to make kitchens more efficient via electronic controls and controllers. "More computerization, more self-directed controls, more graphical user-interfaces to avoid language barrier issues may not seem like automation issues, but anything that speeds up processes, makes training easier, makes equipment easier to use and maintain is an element of automation," argues Charlie Souhrada, NAFEM's V.P. of Regulatory and Technical Affairs.
We looked at networked kitchens in our May 2017 issue (see "The Communicating Kitchen Movement," pg. 56). Here, we'll examine the industry's many uses of automated or robotized kitchen appliances.
The Future Of Frying
Some of the most dramatic advancements in kitchen automation have come in frying—traditionally a hot, greasy, repetitive, dangerous and generally thankless job. Automated controls and cooking processes cut labor and eliminate safety issues while boosting the quality and consistency of fried foods.
Introduction of fryers with built-in oil filtration throughout the day has meant improved oil quality and food taste as well as extended oil life. Some new fryers use 40% less oil than older models, with automatic top off and filtering.
Taking automation even further are fryers with an integrated oil quality measuring system that eliminates subjective manual testing.
Some companies that don't sell fryers but specialize in fryer oil management include Frontline Int'l., which manufactures a system that plumbs filtered waste oil from fryers to an indoor or outdoor storage tank and automatically tops off the tank with new oil from an easy-connect box or jug; also, there's an add-on web-based oil data system. Restaurant Technologies offers a closed-loop oil management system with filtration monitoring—and tackles the grease that escapes into kitchen air with an AutoMist system that cleans hoods, flues and fans daily using a spray mix of detergent and water.
Portioning baskets speed up production of fried foods, save labor and improve portion control. Now, Franke Foodservice Systems offers frozen food dispensers (in one-and two-hopper versions) that can pop out portioned fries and other frozen foods destined for the fryer; it can be used for standard fries as well as rounded products like potato tots or meatballs. The company is now working with a fryer manufacturer on a fully automated fry station that would dispense the right number of fries to meet customer demand (calculated from POS and predictive inputs) into a continuous-flow, multi-stage fryer and from there to a heated holding zone for salting and perhaps packaging.
And Dorothy Cudia, V.P. of Middleby Automation Solutions, showed attendees at a past NRA Show a robot arm, developed in conjunction with Rethink Robotics, to demonstrate use of a Pitco fryer: the robot arm grabs a fryer basket, puts it in the fryer, takes it out, shakes it and dumps the fries.
Cooking Innovation: Heating Up
The double-sided grill has come a long way since McDonald's first used it in the '60s. The new Garland Xpress grill, for example, can cook items up to 2-in. thick between its grill plates (one, two or three pairs per unit) and has icon-based touchscreen controls so operators can preset the cooking temperature and time for each menu item. The platens lower and lift automatically when food is done.
Conveyor ovens have saved labor for many years. New conveyors exhibited at The NAFEM Show and the NRA Show this year include Middleby's WOW 2 Grilling System, with patented energy-saving infrared heat panels, special plates and trays to make the food look grilled, and electronic controls allowing 10 time-and-temperature combinations.
Conveyor or chain broilers are another major labor-saver. Nieco, which manufactures broilers for high-volume burger restaurants, is working to develop automatic broilers that communicate with the POS system, load automatically, operate independently of humans, self-diagnose when an issue arises and are easier to clean and maintain.
Rotating deck ovens, like those from Roto-Flex, bring automation to a type of oven that traditionally has required a skilled baker's constant attention. The pizzas, calzones or other products revolve and return to the attendant when they're ready, eliminating a great deal of fussing with pizza paddles to rearrange items during the cooking process and unload them when done. Marra Forni offers a rotating option in a hearth oven (the floor turns) for high-volume pizza operations.
Combi ovens are another big labor-and time-saver. Rational's SelfCookingCenter line now offers a compact-size XS model available in addition to larger sizes in electric and gas-powered versions, all the way up to a roll-in model. All have an integrated fresh-steam generator; built-in cooking intelligence that recognizes the size and quantity of food items and calculates the best cooking method and time; and a labor-saving self-cleaning and descaling feature, which can be done unsupervised overnight.
Many combi oven makers include automatic cleaning cycles as an option on their units. Also automated with a self-cleaning feature is a new Alto-Shaam rotisserie oven. The patent-pending water jet design can handle heavy grease collection while minimizing water use. During cooking, the unit automatically pumps grease into a collection container for safe handling and disposal.
Wash, Rinse, Repeat
Warewashing may represent more drudgery for foodservice workers than any other area of a foodservice facility, so it should be an obvious candidate for automation. Yet the tasks performed by humans in the dishroom are not nearly as mindless as they might seem, Middleby's Dorothy Cudia points out. "It's not just a matter of loading plates and silverware," she says. "Workers have to know how to scrape a plate, what's a bone versus what's a liquid. They use peripheral vision and the sense of touch to figure things out. There's a lot of intelligence in that."
Nevertheless, manufacturers have made modern dishmachines far less labor-intensive. Hobart's new CleN Advansys conveyor dishmachine, unveiled at The NAFEM Show, offers a system that pumps out food soil missed during pre-scrapping; a configurable pot-and-pan mode that extends wash times for hard-to-clean wares, eliminating the need for pre-soaking; and a programmable delime alert, customized for local water conditions.
"Teamwork between the operator and the machine" is the goal of MEIKO's Mi-Q GreenEye technology for its flight-type warewashers. The GreenEye sensor determines where items have been loaded on the unit's conveyor belt and directs water only to areas where there are wares to be washed. When loads are light, operators are directed where to place wares (for example, on just one third of the belt width) and the machine will only wash that side, saving gallons of water. MEIKO also helps save labor with its new under-counter hot-water sanitizing glass washer, complete with a reverse osmosis filtration system that reduces minerals that cause spotting on glasses, eliminating the need for hand polishing of glassware.
The NRA Kitchen Innovations Awards, now in their 13th year, are a magnet for automation innovations. Recent products that automate jobs most often performed by humans include the IceLink ice delivery system. Housed remotely, and able to work with any make or model of nugget or cube ice machine, the pneumatic tube-based system can shoot ice to fill bins located up to 400 ft. away and up to 40 ft. vertically, so all over a multi-floor facility. It eliminates the tedious, and often risky need to fill bins from buckets by hand.
Stoelting's AutoVend soft-serve station, a recipient in '16, dispenses, tops and charges you (cash, credit or phone pay app) for three sizes of soft serve. Compared to opening a soft-serve store, the vending machine takes up 2% of the space, 5% of the energy, 7% of the labor and 10% of the investment. Multiplex Blend-In-Cup station automatically mixes up to eight refrigerated beverage bases into a wide range of blended drinks. It features an on-board ice machine and cleans itself. The NRA KI Awards also has recognized many super-automatic espresso machines that take the place of a barista to serve up myriad espresso-based coffees, grinding, brewing and dispensing with the touch of a button or screen.
Introduced at this year's NRA Show, the Roll-O-Matic from QuiQsilver automates the tedious chore of pre-wrapping dinnerware in napkins; it can roll, band and UV-sanitize all kinds of flatware—even chopsticks. It's ideal for hotels, casinos, banquet facilities and other large operations.
Robot Revolution?
Beyond labor-saving automation incorporated into existing equipment, there's the next step: robots. Few experts believe that we're likely to see an all-robot kitchen, and even fewer think that human workers are likely to vanish from the front of the house all together, at least not in the very near future. But robots already are common in factories, and there are specific tasks they can do well in foodservice settings. Used well, they can free up employees for jobs that require more sophisticated decision making or free them to interact more with customers to improve service.
Some examples of robotics in foodservice include:
• Zume Pizza calls itself a "cobot" concept; the delivery-only pizza operation uses robot arms from ABB to spread tomato sauce on pies and then to load them into an 800ÅãF pizza oven for par-baking. The baking process finishes in ovens in the delivery van on the way to the customer.
• CaliBurger, a "classic California" burger restaurant, recently unveiled Flippy, a burger-flipping robot arm from Miso Robotics; it expects to roll out the device to some 50 locations next year.
• Caf. X, a fully robotic coffee caf. that employs a six-axis Mitsubishi robot arm to manipulate cups and brewers to create a wide range of java drinks, opened its first U.S. unit in January in San Francisco. Humans come by to stock the caf. with coffee beans and milk and clean the unit daily.
• Also debuting in San Francisco this year is Sally, a self-contained salad-making robot from Chowbotics that can assemble salads using up to 21 pre-chopped ingredients that are loaded into its hoppers daily. You can already find the salad maker in a couple of restaurants, a co-working space and a corporate cafeteria.
• Fanuc, based in Japan, (Fanuc America is in Rochester Hills, Mich.), which specializes in robots for industrial manufacturing, created robots that can cook four types of ramen noodle bowls in 90 seconds. The robots boil water, add noodles, add ingredients such as beef, vegetables and fried eggs and dispense servings into bowls. It cost its owner about $152,000 to install, so his ramen bowls are a pricey $10 each.
• Wall-E restaurant in the Hefei Anhui province of China employs 30 robots to take orders, cook, bake and serve completed trays. About 4-ft. high, they move along tracks in the restaurant. The robots cost about $8,000 each and are reported to have a 10-year lifespan. The only service they don't perform is cleaning, which is left to human minions.
• Royal Caribbean's Quantum of the Seas has the Bionic Bar. Two robotic arms mix drinks, pulling jiggers from liquor bottles suspended upside down from the ceiling and a fountain head of mixer sodas and juices. They can shake, but they don't stir.
• Amazon and a few restaurant chains and food delivery services are experimenting with using drones for deliveries. The use of drones to serve food—taking the place of waitstaff— has a ways to go (up close, propellers tend to scare the patrons and more than a few dishes have been dropped), but it's being attempted.
We're likely to begin seeing more delivery robots in a variety of foodservice settings. In San Francisco (which seems to be where all U.S. foodservice automation trends start these days), Yelp's app-based food delivery service Eat24 is experimenting with delivery robots from local startup Marble to get orders from local restaurants to customers quickly. But the sight of the boxy robots tooling around neighborhoods prompted San Francisco board of supervisors' member Norman Yee to call for a ban; Yee argues that the units are a hazard to traffic and threaten delivery workers' jobs.
However, in Reading, Pa., Margaret Kipe, Director of Nutrition Services at Reading Health System, says the new TUG robots she ordered for food-tray delivery are seen as a blessing by staff—who don't have to traipse 30-some miles each day to deliver room-service trays to 150 patients on five floors of a new surgical center. A staff member at the receiving end unloads the machine for final delivery of trays to rooms, so patients never see their robot assistant.
"When we understood the distance involved, the wear and tear on the staff, the turnover likely to result, we realized we had to figure out another way," Kipe says. "My staff has expressed enormous satisfaction in not having to walk those tiring distances, so they can be more productive in other aspects of their jobs."
Robotics: New Paradigm Needed?
A company called Moley Robotics is developing what it bills as "the world's first robotic kitchen." It's based on a pair of fully articulated robotic arms programmed with food preparation motions copied from those of BBC MasterChef Tim Anderson, plus a library of Anderson's recipes. Moley hopes to launch the system in the residential market in 2018 and follow up later with a model for commercial kitchens.
But robots that mimic the movements of human-beings are the wrong way to go in developing the kitchen of the future, argues Roy Hook, CFSP, who spent decades as equipment development manager at Wendy's Int'l. before retiring last year. Hook contends that copying workers' movements mechanically will never get the fast-food industry to the speed, consistency and quality of food production that the consumers of tomorrow will demand.
"The first step is to view each restaurant as a mini-factory requiring the same thinking as manufacturing facilities," he says. "Everybody is trying to automate processes developed for manual cooking. We have to go back and develop processes from the ground up."
Hook wants to ditch the batch cook-and-hold system that LSR chains have always leveraged to produce food cheap and fast. A kitchen that depends on low-wage kitchen workers and batch cooking will never be able to offer consistency in food taste and speed of service, he says. "How many times have you gone into a restaurant and waited 20 minutes for something that should be ready in two minutes—or gotten it right away but could tell it had been in the holding bin for hours?"
Rising demand for fresher, more-healthful food will make the transformation of the LSR production model imperative, Hook argues. He visualizes fresh raw ingredients (such as beef in bulk rather than pre-formed into patties) arriving at a networked kitchen each day for robotic transformation through every step of the process into cooked-to-order menu items (like juicy, piping-hot burgers). Human workers would be required only in the front-of-house to serve food to customers. With robotic cooking and assembly of each item requiring mere seconds, the production rate throughout the day would be determined by POS data and predictive analytics, with very little need for holding. This assembly-from-scratch system could also work for completely new menu offerings that haven't been sold as "fast food" before. "If the ingredients are fresh and wholesome and of top quality, you'll get perfection 100% of the time," Hook promises.
The transformation of LSR will have to come from visionary operators; Hook believes that neither manufacturers nor established, bottom-line-focused chains will be willing to chuck everything for an entirely new production model. "There's an entrepreneurial opportunity," he says, "for someone to pull it all together to demonstrate what can happen."
Reading Health System in Reading, Pa., reports a universally positive response to its introduction of TUG tray-delivering robots, since the units saved employees many miles of walking each day.
Demand-control kitchen ventilation systems, like the M.A.R.V.E.L. (shown) from Halton, sense when cooking equipment is being used and save energy when appliances are on, but not cooking. Halton's system measures heat radiated by the cooking surface, not just smoke in the air once cooking has started. Continual internet-based monitoring by a network operations center means problems can be detected before kitchen staff notice them; diagnostics and, in some cases, repair can be done remotely.
Attendees lined up to see a robot loading and unloading fryer baskets and a conveyor oven at the Middleby booth at the NRA Show. Dorothy Cudia is V.P. of the company's Automated Solutions group.
Self-cleaning is an automation on several pieces of equipment, including Alto-Shaam's rotisserie oven and combis. Rational combis, too, offer self-cleaning along with intelligent controls that automatically calculate the right cooking program for every menu item.
Restaurant Technologies' closed-loop oil management system completely automates the messy and dangerous jobs of monitoring and changing fryer oil; service trucks deliver fresh oil and pick up the used cooking oil.
Henny Penny's OQM system reads oil quality automatically during the unit's quick filtration cycles without requiring any additional filtration process or any other action, such as pushing a button or switching a lever. The OQM system provides real time feedback on the oil in each vat, ensuring oil quality is always optimal or alerting the operator when it's time for a change.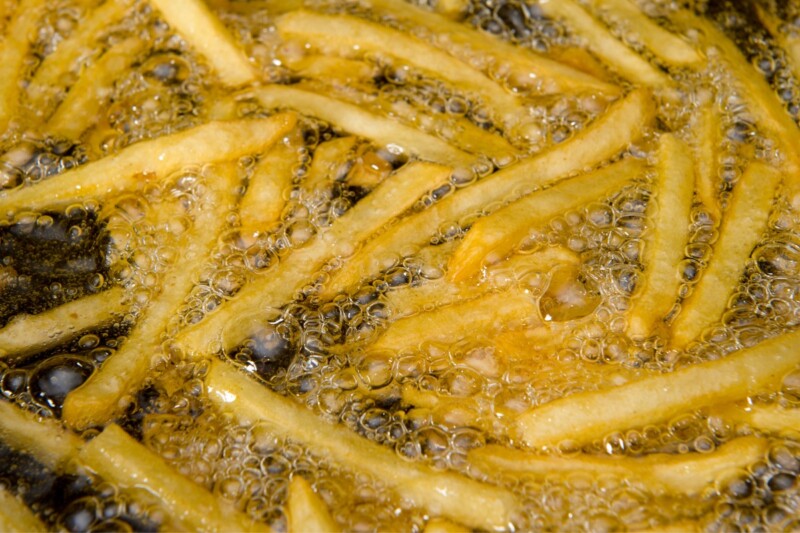 Equipment
Frying oil is a precious commodity in any commercial kitchen, especially in the world of deep-frying. To keep your cooking oil in optimal condition and ensure delicious taste and texture…