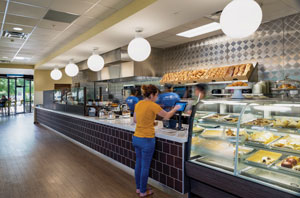 This past June, Hillsborough County Public Schools opened the doors of a new, multifunctional center that is unique in the K-12 segment and fulfills a long-sought goal of the district's longtime Student Nutrition Services G.M. Mary Kate Harrison, Ph.D.
The $6.2 million facility—funded completely from the department's operating balance—features a large, central production kitchen and bakery, a full-service catering operation, large and small meeting rooms, administrative offices, training facilities for district use and rentable space for events and catering engagements.
Also, in a strategy more common to B&I operators, its attached retail café, called The Silo, serves both the Center's employees and workers from the surrounding office park. Finally, the Center serves as a food provider for local emergency shelters and to Red Cross mobile delivery units for preparation of up to 10,000 emergency meals/day.
A Master Plan To Centralize
Hillsborough is one of the largest school districts in the country; SNS serves 264 school sites and a regional population of 1.3 million in the Tampa-St. Petersburg area. The district has grown rapidly and Harrison considered central production several times over the years. In 2014, she presented a new plan to the school board that, after lengthy consideration, was finally approved in December '15.
The project's primary justification was a strategy to achieve cost savings by converting the district's many smaller schools to a "finishing kitchen" model, providing them with bulk meal components that could be quickly prepared for serving each day. That in turn would increase productivity, quality assurance and labor flexibility.
"It has always been a challenge to find and keep trained labor and management for our smaller schools," she says. "This will make staffing easier and will allow personnel at these schools to focus less on production issues and more on quality and service."
Initially, the new facility will serve 19 schools this way, with more to be converted to the model over time. Larger schools will continue to do food production on site.
Harrison says the Center also will provide benefits by centralizing many of the department's administrative, training and equipment storage functions and will provide the district with much-needed space for meetings, training and other events. The Center plans to contract meeting space and catering services to outside parties, providing a new source of revenue for the district. (Harrison notes SNS already has been doing more outside contracting in recent years to charter schools, Boys & Girls Clubs, the YMCA and similar organizations.)
While the district's nutrition programs are in the black, she adds that new income from these kinds of activities will help it deal with rising expenses.
Aggressive Scheduling
The school board's approval came with one big caveat: SNS had to find and build-out a new location, and then move its administrative offices into it by July '16 to free up its old office space for other district needs. Harrison put a full-court press on architect Rick Rowe, AIA, Rowe Architects, Tampa, Fla., and foodservice consultant Paul Mackesey, Mackesey & Associates, Chicago, to work with her in reviewing numerous potential sites in the region.
When the Brittany Way location became a finalist, "We had to quickly test-fit the basic facility needs against its available space footprint," says Rowe. These ranged from core food storage and production flow requirements to public access options and receiving logistics.
"There was a lot to the site inspection because there were very specific functions that the facility needed to fulfill in a building that was finite in size and shape," Mackesey agrees. "The space could not be expanded and had a variety of other constraints."
After determining that with some creative design solutions the space could work, the district signed a 15-year lease and the team contracted with the landlord to immediately bid out Phase 1 of the project, requiring the renovation of 18,000 sq. ft. for administrative offices, to be completed by a June deadline. The project's more complex Phase 2—construction of the production kitchen, event center and retail café—was bid out separately by the district at the same time. In the end, that work extended into mid-'17.
Thinking Through Logistics
The site is located centrally within Hillsborough County in an office park that houses a mix of commercial tenants. One side of the building faces west to a tree-lined, manmade lake that opens to the public and includes parking; the north side looks out to other parts of the office park.
Both sides are windowed, providing daylight and views for some of the offices, the café and even parts of the production kitchen, an unusual feature.
The building's loading docks face east into an interior service yard used for shipping and deliveries. It also has additional employee parking shared with other tenants in the complex, as well as space for up to 25 service vehicles. There is one main receiving area for deliveries to the facility and three additional at-grade loading areas used by the district's trucks to load prepared food for delivery to schools or off-site catering events. Space on the east end of the receiving area that abuts the Phase 1 administrative offices provides secure storage for IT equipment, some of which is used for POS systems in the cafeterias as well as administrative and training purposes.
Because of load-bearing limitations of the roof, the large custom outdoor air unit that supplies conditioned air to the exhaust hoods in the production kitchens was installed in the yard at ground level. The makeup air supply adjusts based on the exhaust hood demand and the number of hoods operating. The hoods run at variable rates depending on what's cooking below. Planners located a large emergency generator in the yard as well; it came in handy as Hurricane Irma swept through all of Florida in September. The Center is able to maintain power and supply food to shelters and emergency services.
Planning Production Flows
Incoming food deliveries move directly from the dock into dry, frozen and refrigerated storage spaces that are positioned to provide convenient access to main production areas of the kitchen. Production will be geared largely to real-time needs. "We intentionally did not want to follow a cook-chill model," says Harrison, who had explored the model several times. In the end, she decided it was more cost effective to offer the smaller schools with limited labor bulk meal components to quickly serve each day.
The kitchen is zoned. Bakery production and produce pre-prep are located against the west wall. School meal cooking takes place in a central zone outfitted with kettles, tilt braising pans, combi ovens and rotating ovens. These are configured in two, double-sided hot food production lines.
Cold food prep and an area for staging foods for shipping are enclosed in a climate-controlled cold room located at the kitchen's east end. Staffers use a roll-through blast chiller to chill hot food fresh from main production before they move it into this refrigerated space. Inside, workers finish prepping and staging components of bulk meals before they're loaded onto refrigerated trucks and shipped.
The north end of the kitchen is reserved for Core Catering, a branded concept of SNS that is separate from the school meal program. This space also supports The Silo retail café and all other catered events. It has its own smaller refrigerated and dry storage areas, two additional double-sided production lines, and its own staging/shipping area; it typically will operate with different work schedules compared with the rest of the kitchen.
Ware- and pot-washing equipment is centrally located on a long island that separates catering production from school meal production.
Most of the kitchen equipment is mobile; a utility distribution system allows equipment to be reconfigured, depending on changing production needs. Because the electrical power capacity in the facility was limited, Mackesey specified gas-fired equipment where possible.
The design team repurposed a substantial amount of equipment in the production center from existing school production sites. Included: an almost-new flight-type dish-machine that had been put into storage after only a short period of use some years earlier, when the district moved to using disposables in its meal programs.
Training With A View
On the north end of the building, the new event center is designed to welcome the public with plenty of parking and wide, public-access corridors in its colorful lobby area. These will also facilitate receptions and catered events. The main entrance faces a large conference room, which can seat 225, classroom-style, or about 325 theater-style. Farther down the lobby corridors, hallway windows provide views into the three smaller meeting rooms and the Culinary Demo room.
The demo room seats 25 and is split into two sections: a seating area that faces the demonstration area where chefs present culinary techniques and equipment training visible to all on LED screen monitors and a production kitchen. Interior windows on one side of the room look in on the activity in the kitchen. And in fact, the demo room has windows on both walls so that even those in the lobby can see through to production.
"We wanted this area to be the centerpiece of the facility, one that would visually connect visitors and employees to what we do every day," says Harrison. "We want it to reinforce the idea that we hold our work in high regard and show people that we are fully engaged in it."
Steve Williams, Rowe Architects' Project Manager, says the event center was one of the more challenging, but also one of his favorite aspects of the design. "It makes the production kitchen part of the public space in the sense that it's on view to visitors," Williams says. "At the same time, the strategic placement of prep tables and other equipment limits the view so that what they see is very streamlined."
The event center has security doors so administration can close it off from other parts of the building when it's in use. At that point, only employees with security badges can access other areas beyond the event center. The Silo café, while open to the public during regular hours, can close off from the rest of the building as well. During some events, the lobby corridors from the event center can allow participants access to the café (even during off-hours) as a dining option.
Harrison expects the event space will be used frequently by the district itself as well as outside groups. Her own department usually schedules about 10 training meetings a month and—prior to the new event center—had increasing difficulty finding space for that purpose. Smaller rooms at the new facility are secure to allow permanent computer setups for software training. This helps Harrison satisfy new USDA requirements that school nutrition departments document professional development training annually for every school nutrition employee.
The Silo Café
A novel aspect of the project is The Silo café, a retail outlet located on the northwest corner of the facility. Named for a 1920s silo left over from the property's dairy farm days, it provides a convenient eatery for district employees and serves as a breakfast and lunch option for the estimated 3,500 workers at other businesses in the area. It seats about 20 customers inside with a mix of bar-height stools, chairs and bench seats. Twenty more can find outdoor seating at umbrella tables.
Customers order at one of two POS stations located along the order counter, which puts many selections on display in glass-front cases, and then serve themselves hot and cold beverages from a self-serve station. Employees prepare the orders in view in the galley kitchen behind the counter.
"We designed The Silo's menu along the lines of successful coffee and bakery restaurant brands," says Harrison. The menu includes breakfast sandwiches and beverages as well as lunch items like barbecue flatbreads, traditional Tampa Cubans and other pressed sandwiches, Asian salads, burgers and house-made chips. The bakery has its own pastry chef and produces a variety of baked items for sale in the café (and for the center's catering menus).
Fine-Tuning Production
The Center began operating at the end of May, producing meals for 150 community sites in the district's summer feeding program, and then staggered the startup of other production runs over the summer. The café had a soft opening the second week of July and was ringing up about $700/day at the end of the month. (Harrison expects it to reach sales in the $2,000/day range by the end of the year.)
The event center also opened in July, with "welcome back" training sessions for more than 250 returning foodservice managers. The main kitchen began producing food for satellite kitchens in August, when school opened.
Since then, the department has worked to fine-tune its production cycles and logistics and schedule a series of kitchen-finishing conversions to occur between now and the spring. There are other capabilities still on the drawing board—one is the potential addition of packaging and sealing equipment to let the district more economically produce individual fruit cups, salads, and similar items.
Harrison says the department has begun to turn some of its attention to soliciting more contract work and to marketing its event space and catering services to outside organizations.
"With all the changes, there are plenty of new challenges," she adds. "We just had a café customer ask us why The Silo doesn't have a presence on Yelp—that's just one example of something we never even thought about before."
SPECS
SEGMENT: K-12 Schools
ANNUAL BUDGET: $146 million
NO. OF MEALS 2016-'17: 36 million (includes breakfasts, lunches and after-school snacks as well as dinner and summer feeding programs)
NUTRITION DEPARTMENT EMPLOYEES: 1,800 (about 85 work at the new Center)
STUDENT POPULATION: about 200,000
WEB: sdhc.k12.fl.us/departments/53/student-nutrition-Services
PROJECT SIZE
TOTAL SIZE: 44,417 sq. ft.
ADMINISTRATIVE/OFFICE SPACE: 18,555 sq. ft.
ADMINISTRATIVE WAREHOUSE: 3,232 sq. ft.
PRODUCTION KITCHEN: 9,860 sq. ft. (total)
REFRIGERATED STORAGE: 1,096 sq. ft.
BAKERY PRODUCTION: 750 sq. ft.
EVENT CENTER: 11,030 sq. ft. (includes large conference room, culinary demo and training area, three multi-purpose rooms, and ancillary spaces)
THE SILO CAFÉ: 1,740 sq. ft.
PROJECT COST: $6.2 million
EQUIPMENT PACKAGE: $1.1 million (with substantial use of existing equipment)
KEY DESIGN PARTNERS
HILLSBOROUGH COUNTY PUBLIC SCHOOLS: Mary Kate Harrison, Ph.D., G.M.-Student Nutrition Services
ARCHITECTURAL DESIGN: Rick Rowe, AIA, Principal; Steve Williams, AIA, Project Manager, Rowe Architects, Tampa, Fla.
FOODSERVICE CONSULTANT: Paul Mackesey, Principal, Mackesey & Associates, Chicago
MECHANICAL & ELECTRICAL ENGINEERING: Engineering Matrix, St. Petersburg, Fla.
STRUCTURAL ENGINEERING: McCarthy and Associates, A Division of Pennoni, Clearwater, Fla.
CIVIL ENGINEERING: Hamilton Engineering & Surveying, Tampa, Fla.
FABRICATION FIRMS: Eagle Group (stainless); American Creative Solutions & Cambria (tile countertops)
GENERAL CONSTRUCTION CONTRACTOR: The Williams Co., Tampa, Fla.
EQUIPMENT
Throughout
Metro/Ali Group mobile, beverage, chemical, storage & cooler shelving
Cambro dunnage racks
Caddy Corp. exhaust hoods & plenums
Ansul fire suppression systems
Eagle Group corner guards, sinks, floor troughs, computer ledges, beverage counter, assembly, baker's & work tables, deli counter system
Dock/Storage Area
Mars electric air curtains
Toyota pallet trucks
Metro/Ali Group storage shelving
Advance floor machine
Coolers, Freezer, Prep Room
RDT outdoor refrig. package
American Panel walk-in freezer, meat cooler, produce cooler, prep room, shipping cooler, roll-through blast chiller
Piper mobile pan racks, blast-chiller racks
Hot Food Production Area
Caddy Corp. exhaust hoods, utility distribution system
Alto-Shaam combi ovens
Garland/Welbilt range
Cleveland/Welbilt steam kettle, tilt braising pans
Hobart/ITW FEG vertical cutter/mixer
Piper mobile slice stand
Globe slicer
Southbend/Middleby convection oven
Baxter/ITW FEG rotary ovens
Edlund/Ali Group air-powered can punches
Bakery Production Area
Baxter/ITW FEG proofing cabinet
Cambro baker dunnage racks
Produce Production/Prep Area
InSinkErator/Emerson disposer
T&S spray and fill assembly
Eagle Group food cutter, cutter stand
Baxter/ITW FEG water meter/filler
Catering Production Area
InSinkErator/Emerson disposers
Piper mobile can rack, slicer stand
Caddy Corp. utility distribution system
Cambro catering dunnage racks
American Panel walk-in cooler, freezer
Metro/Ali Group cooler and freezer shelving
Hobart/ITW FEG slicer, buffalo cutter, vertical cutter/mixer
Atlas Metal drop-in drip pans
Hoshizaki ice maker w/bin
Garland/Welbilt range/oven
Alto-Shaam combi ovens
Groen/Unified Brands 40-gal. tilt braising pan
Cleveland/Welbilt 20-qt. steam kettle
Warewashing
Champion/Ali Group flight dishmachine
Power Soak/Unified Brands power-wash pot sinks
InSinkErator/Emerson disposer
Hobart/ITW FEG water softener
T&S spray and fill assembly
Demo Kitchen
Varimixer 20-qt. mixer
Groen/Unified Brands 30-gal. tilt braising pan
Cleveland/Welbilt steamer
Vulcan/ITW FEG range w/oven
Southbend/Middleby convection oven
Alto-Shaam combi oven
Caddy Corp. wall-mounted utility distribution system
Silo Retail Café
Structural Concepts airscreen refrig., refrig. display case
San Jamar u/c cup dispensers
Traulsen/ITW FEG cold top refrig., reach-in refrig., refrig. grill stand, u/c refrig. and freezer
TurboChef/Middleby bake ovens
Electrolux panini grills
Wolf/ITW FEG counter griddle
Pitco/Middleby floor-mounted fryer
Hatco fryer dump station, drop-in hot food wells
Caddy Corp. exhaust hood
Eagle Group slanting display shelves
Atlas Metal drop-in drip pans
Delfield/Welbilt drop-in ice chest
Waring enclosed smoothie blenders
Server Products fruit boost bin
Existing espresso machine, air-pot brewers, air pots, cold beverage dispenser, napkin dispensers, condiment pumps, iced tea dispensers, juice dispenser, flatware, cups, straw dispensers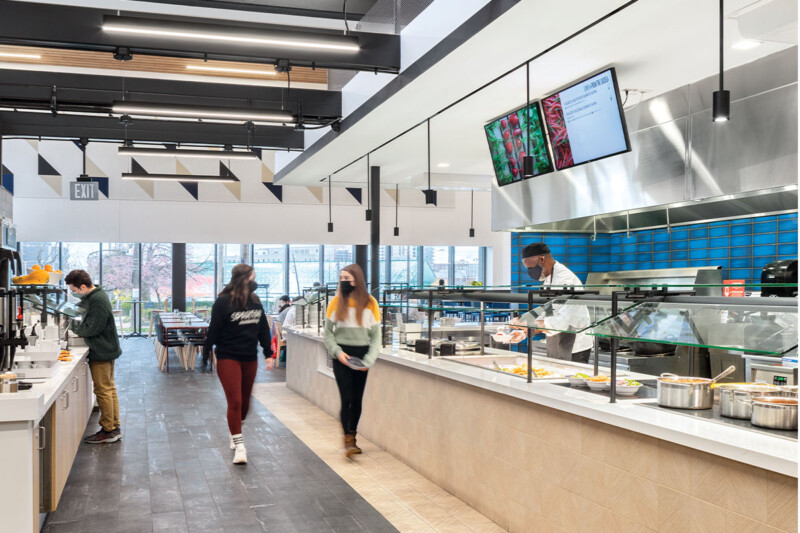 Kitchen Design
At Case Western Reserve University in Cleveland, a $19 million renovation has put Fribley Commons squarely back on the campus dining map. A few things that set Fribley apart in…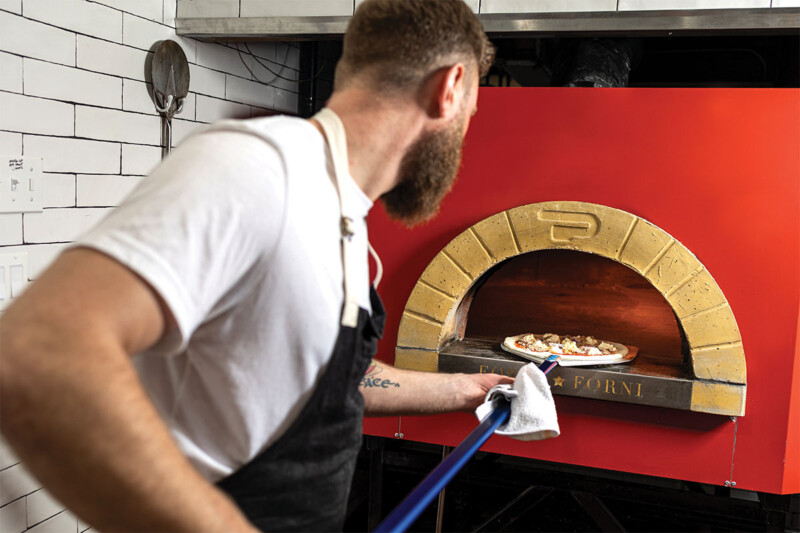 Kitchen Design
When the restaurant formerly known as Francesca's Fiore reopened as Fiore Pizzeria & Bakery, the businesses under one roof tripled. Instead of a full-service Italian trattoria, the new Francesca's sister…