How to Spec
8 Tips for Outfitting a Patio Dining Space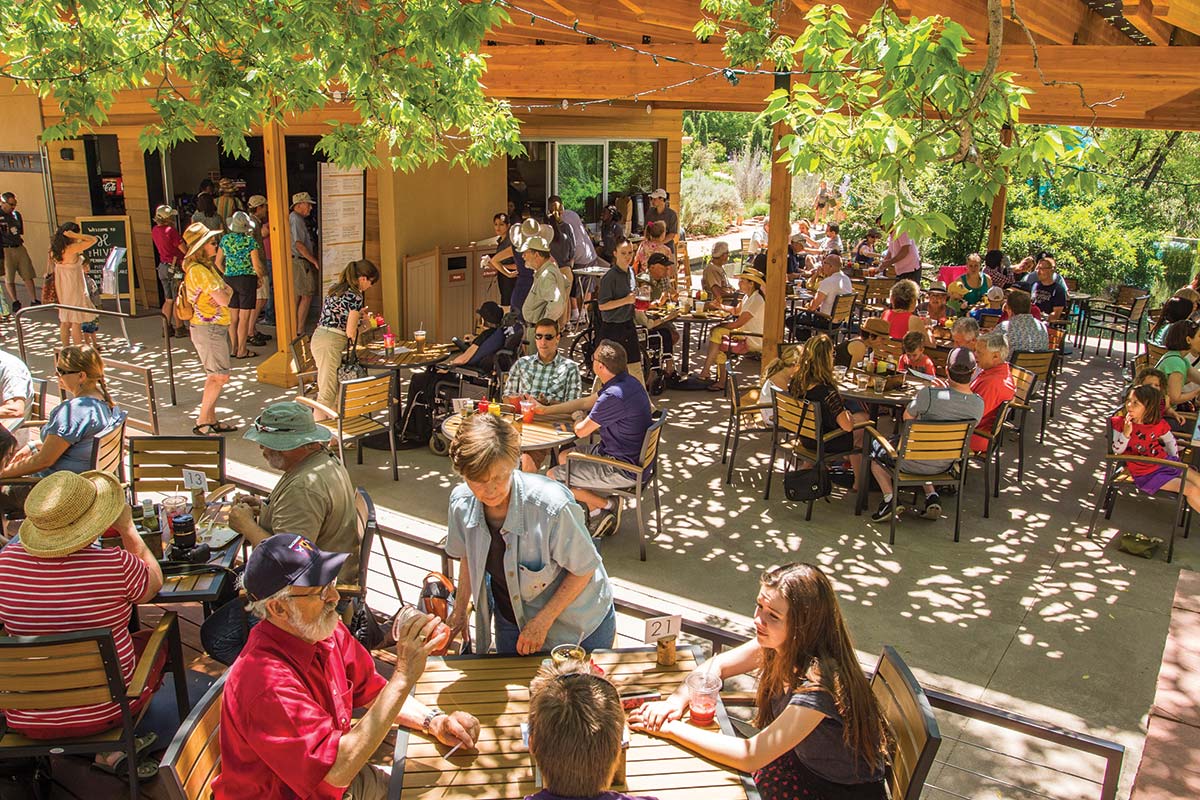 Whether placing a few two-tops out front or building out full patio service adjacent to a restaurant, offering foodservice al fresco can open doors for any operation. The front-and-center visual of happy patrons enjoying food and drink can itself be an effective marketing tool to lure in new customers, many of whom are happy to wait 30 minutes to dine in the fresh air.
To tap into outdoor dining's potential for increased traffic and sales requires investing in the right equipment to optimize service, ensure guest comfort and meet local health and building regulations. We checked in with operators and consultants for some of their best tips for equipping an outdoor dining space.
1. Choose the Right Materials
Finding equipment that stands up to the elements outdoors is challenging. But the dining team at The Ohio State University in Columbus, Ohio, had a good reason to make it work at their recently opened Curl Market Patio, equipped with an open-air kitchen. "On any college campus, dining will see a significant spike in the 10 weeks of fall," says Zia Ahmed, OSU's senior director of dining services. "Students tend to use central dining options before they try other options on and around campus. This outdoor kitchen lets us keep up with demand in that expected fall rush."
Ahmed says OSU chose a pizza oven that the manufacturer said was appropriate for permanent outdoor use, as it can't be moved. "For the other equipment such as the grills, tandoor ovens and prep tables, we worked with the manufacturers to make sure they were made in a higher grade of stainless," says Ahmed. "Because in a completely exposed environment like this one, the pieces could get rained on, be in freezing temperatures, or get direct sunlight—even traditional stainless would start to degrade eventually."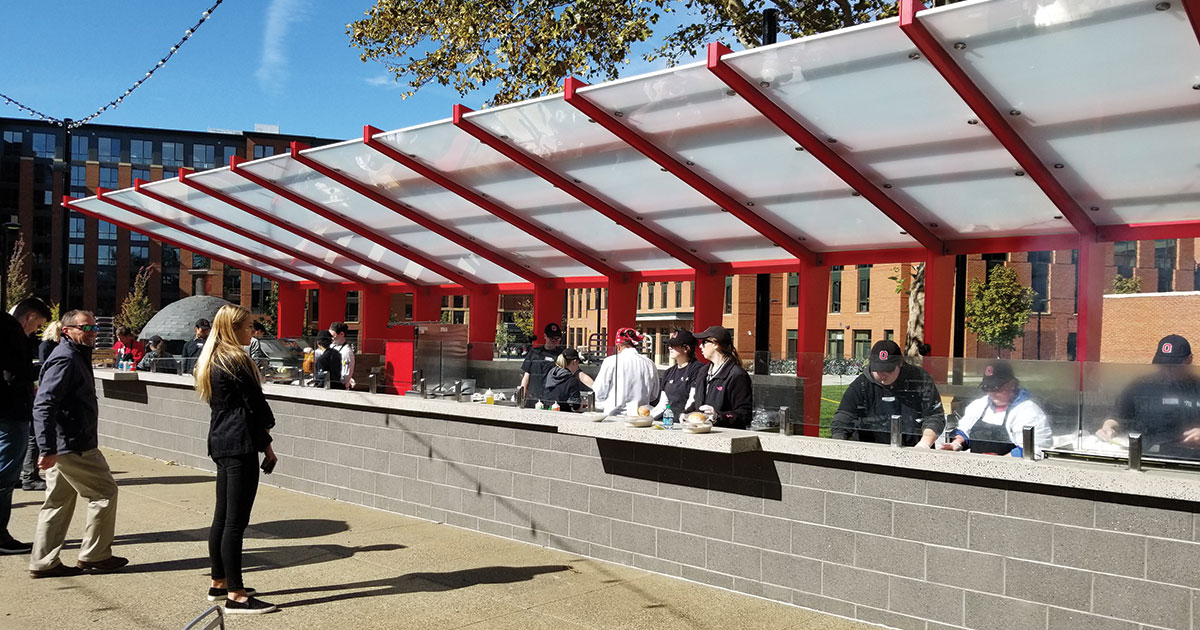 2. Understand Health Department Rules
"What operators may overlook are the health department guidelines," says Kristin Sedej, FCSI, president of S2O Consultants in Chicago. "If you're outdoors prepping food or making drinks at a bar, you'll need a hand sink. Many codes also require some type of roof or coverage over these areas." In states like California, health codes can be strict. "Cooking or food prep is not generally allowed and must be in an enclosed space," says Kristina Sargent, principal at Ricca Design Studios, based in Greenwood Village, Colo.
Abuelo's, a Mexican casual-dining chain with 37 locations in 13 states, took that route to be able to extend the patio menu at its Lubbock, Texas, location. "We offer live music outside, and guests kept asking for foodservice to go with the entertainment and drinks," says Dickie Overstreet, vice president of Food Concepts Int'l., Abuelo's parent company. "If we didn't provide it, we were giving them a reason to go somewhere else."
The inside kitchen couldn't handle the increase in production, so the operator built a separate kitchen outside. "To have an extensive menu, we needed reach-in coolers, freezers, fryers, charbroilers, flat-top ranges and ovens," says Overstreet. "In the end, we decided to enclose this kitchen to meet health code requirements and have full protection from the weather." To maximize its use, the restaurant uses the kitchen for catering when the patio isn't open, during off-hours and in the offseason.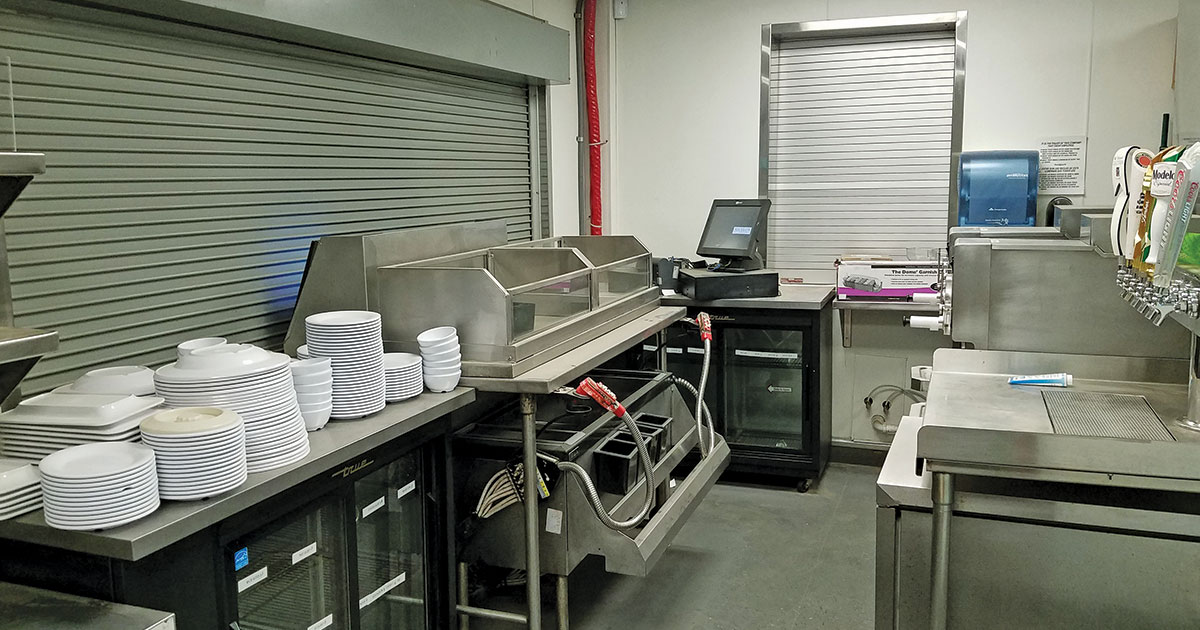 3. Get Ice Right
As temperatures rise in spring and summer, so do customers' desire for cool drinks. "Typically, when guests sit outside during warmer seasons, you'll go through a third or more ice than usual," says Ted Doyals, FCSI, principal at Ricca Design Studios. "While you may not have the ice maker outside, you will need enough space for the ice caddies."
When the bar is the centerpiece of an outdoor patio, it may require additional precautions, such as covering ice bins. "You must take extra measures to add protection from rodents and insects than when it is installed inside," says Sargent.
4. Think of Both Function and Form
Many operations are able to expand the outdoor dining season by placing wall mounted or freestanding heaters near outside tables. Just keep in mind how equipment such as heaters impacts the overall look of the space.
"Previously we used what are called mushroom heaters in our courtyard dining. They were really efficient but just not attractive," says Christian Pendleton, general manager at Brennan's restaurant in New Orleans. "Be cause our main indoor dining room looks directly out on the courtyard, we switched to a tower-style model with a visible flame that looks better aesthetically."
5. Tailor the Experience to the Location
Abuelo's is proof there's no one-size-fits-all approach to outdoor dining spaces. Overstreet says that after much trial and error, they now have four different configurations for outdoor dining.
The most basic level is an open-air setup with umbrellas. Another design features tables under pergolas that offer some shade and some sunlight. In locations such as Lakeland, Fla., where it rains almost every day, Abuelo's pergolas are topped with a R-Panel metal roof and sides equipped with roll-down shades. Meanwhile, pergolas at other Abuelo's locations are covered with Polygal roof panels that are translucent to offer both sunlight and protection from rain.
In some locations such as Houston, there's a heated and cooled 2,000-sq.- ft. patio with an insulated roof, skylight and wall structure with garage doors that roll open in nice weather.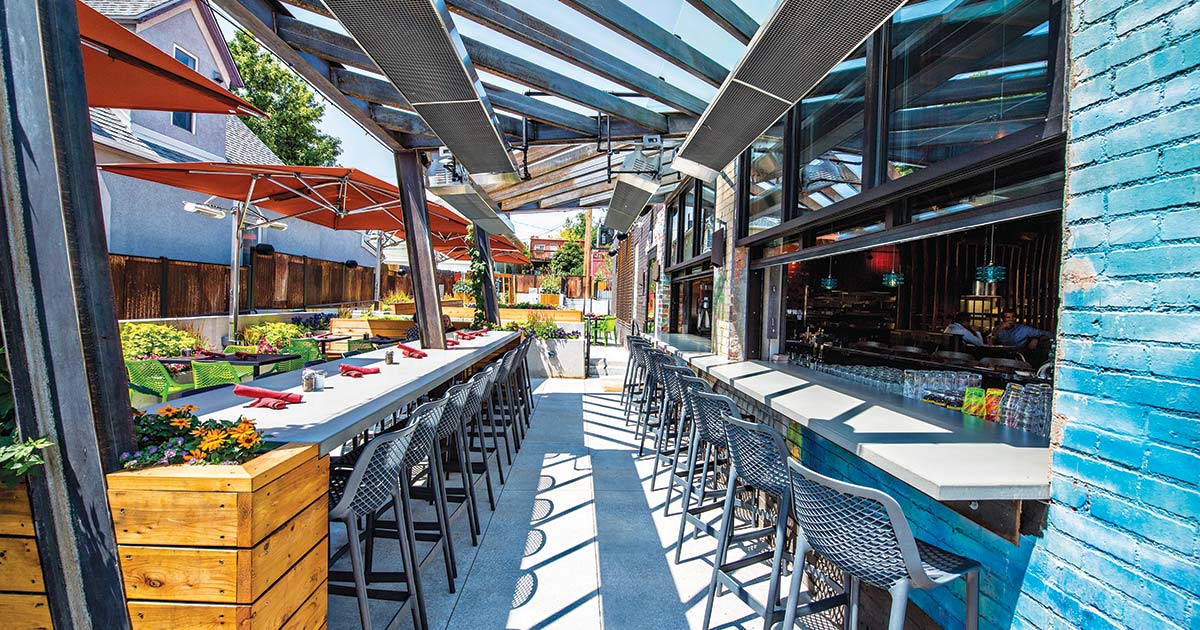 6. Don't Overlook Simple Solutions
During Mardi Gras, Brennan's in New Orleans relies on extra seating outside to accommodate the crowd and can't let rain showers dictate whether courtyard seating is available. "Not only do people not want to eat in the rain, but our courtyard's flagstone floor becomes dangerously slippery when wet," says Pendleton. "We install a tent during Mardi Gras to ensure that we have that extra space, because we need each and every seat during that busy time."
Because Brennan's courtyard needs to have the flexibility to facilitate special events like weddings, the owners chose not to install permanent equipment outside. Instead, the restaurant is able to provide outdoor food prep in its historic courtyard through gueridon service, in which food—such as its signature crepes, Steak Diane or Bananas Foster—is partially or mostly prepared in the kitchen before staff finishes the cooking tableside with a trolley equipped with a burner. Gueridon service also allows the operation to stay within health code regulations.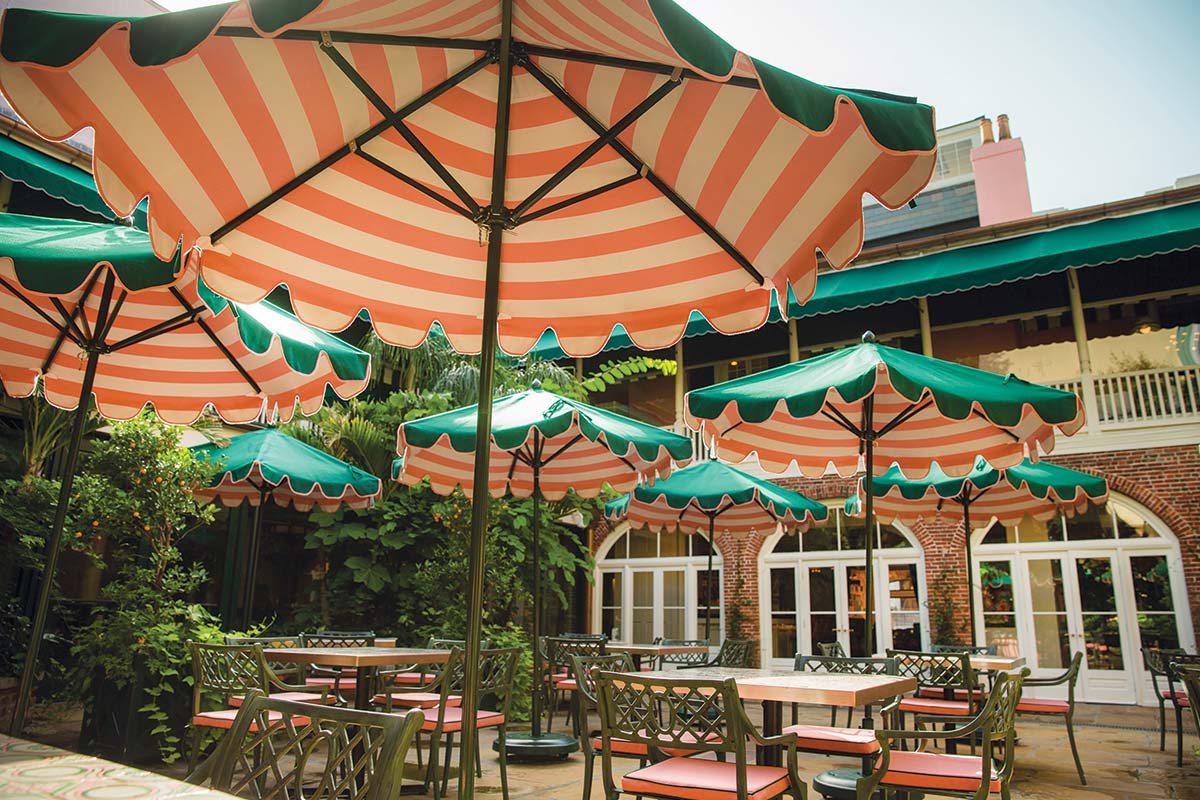 7. Think About Air-Flow—Even Outside
At Curl Market Patio, Ahmed says wind and the way air moves through the space was one of the biggest concerns.
"With our regulations, it turned out we didn't need to install an exhaust hood because the roof structure over the equipment is high and the space is open on all sides," he says. "We did have to strategically place equipment based on which direction the wind typically blows. This keeps smoke out of the cooks' faces, but we also want to avoid any rain blowing in and mixing with the hot cooking oil."
Ahmed said the patio closes in the case of rain or high winds but even gusts as low as 6 mph can impact the operation.
8. Plan for Storage
Operators and consultants are quick to point out that outdoor equipment should be portable in case of bad weather. "In Texas and Oklahoma, high winds, lightning strikes and tornados are common," says Doyals. "It's imperative to use mobile bars and find equipment that can either be tied up or moved somewhere safe."
At many small operations, outdoor equipment is simply moved to a secure area that is sheltered from the elements in the off-season and in cases of extreme weather. However, at larger operations such as at OSU, the grills and tandoor ovens are on wheels so that they can be moved to a warehouse storage area on a different part of the campus for the winter months.