Kitchen Design
Dean & DeLuca's Stage by Next Step Design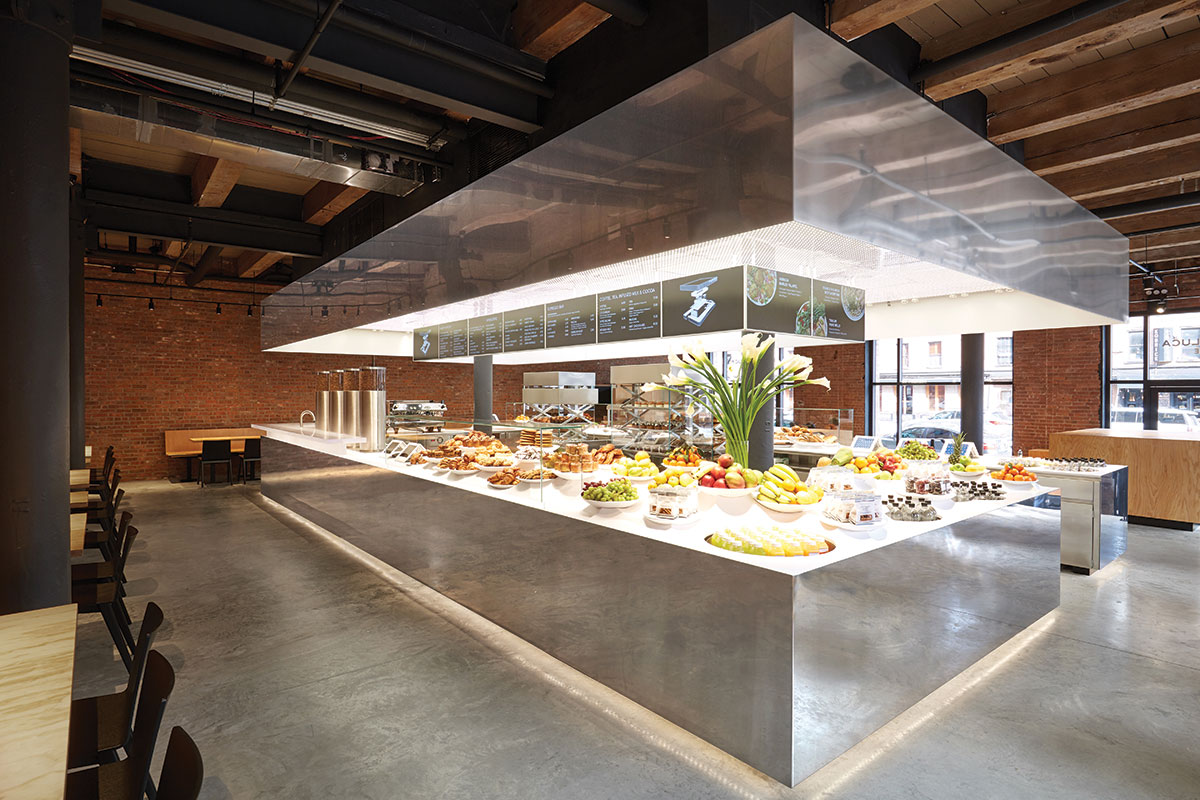 Dean & DeLuca's new freestanding quick-service concept Stage, opened in April in Manhattan's Meatpacking District, aims to do more than peddle salads and sandwiches—it's designed to put on a show. The highly customized concept displays house-made menu items on a series of overlapping hot-, cold- or ambient-holding platters and bowls, arrayed across an undulating "topographical" counter sculpted from a solid block of Corian. The goal was to evoke "a dramatic landscape of food and ingredients," according to the concept's visionary Ole Scheeren, the German architect known for designing futuristic-looking buildings.
The mirror-finish counter fronts and matching mirrored canopy overhead provide space-age contrast with the exposed brick walls and wood ceiling joists. LED lighting highlights food and the nonstop action of employees preparing and serving—bearing out the concept's name and intention. An array of seating options around the perimeter encourages guests to linger.
"Instead of a merely utilitarian sales and display counter pushed against a perimeter wall, the Stage is a central platform of social interaction around the making and consumption of food," the architect's website states.
Dean & DeLuca's Stage has already earned accolades. Wallpaper, an online trend-tracking website, awarded Stage Best Counter Revolution in its 2019 Wallpaper Design Awards, calling the bistro a "self-contained piece that celebrates the artistry of food and its ability to draw people together."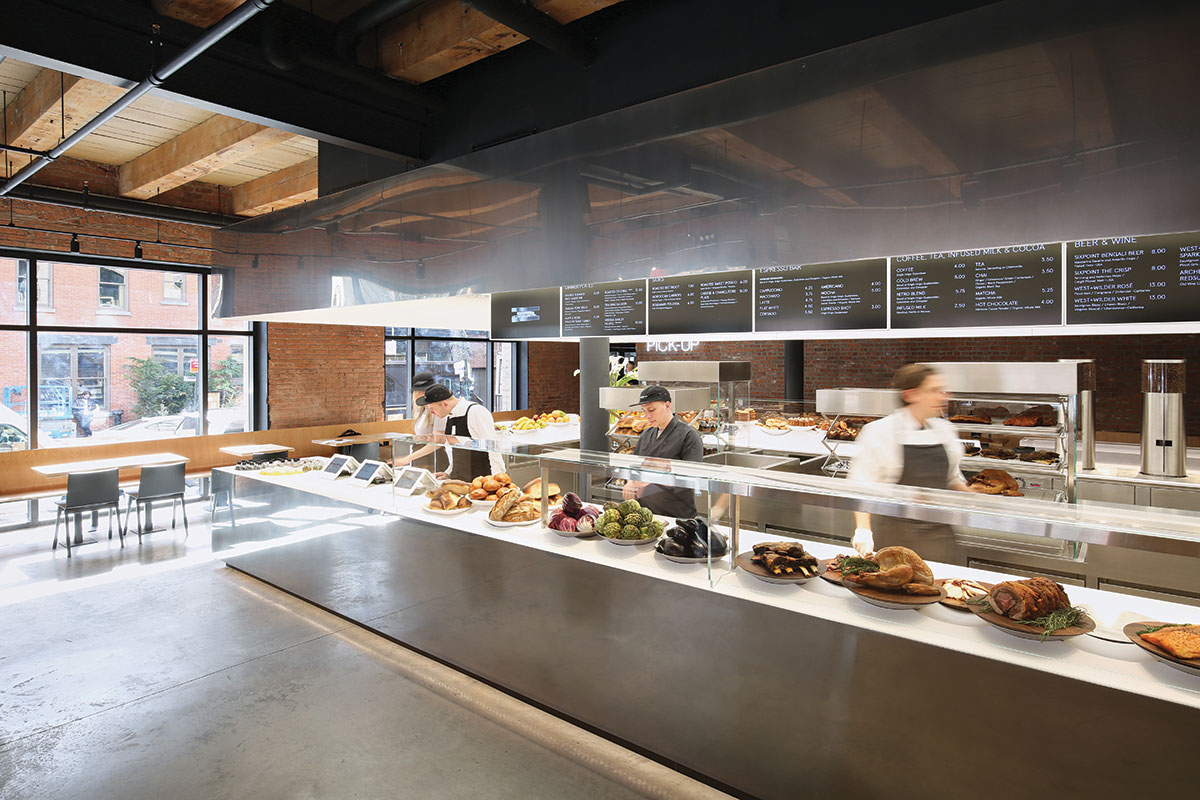 Concept to Proto
The path to Stage started in Thailand and routed through Germany before landing in New York. Dean & DeLuca, based in Wichita, Kan., was acquired in 2014 by Thailand-based Pace Development Group. Pace retained Scheeren with the goal of creating a bistro that could be rolled out with Dean & DeLuca locations across the country. The timing dovetailed with the growing interest in grocery-based restaurants.
Scheeren's firm tapped Russell Stilwell, FCSI, principal, Next Step Design, Annapolis, Md., to bring Stage from concept to reality. Stilwell has worked with the iconic grocery brand under three ownerships, designing its Georgetown and small-format stores across the country, and its large-format locations in Dubai and Qatar.
"Ole Scheeren had conceived the idea of a topographical food display and, in fact, built a full-scale replica using Styrofoam and duct tape at his offices in Germany," Stilwell recalls. "But without a foodservice background, they didn't know what technologies could bring it to life. They were at a standstill."
The project was unlike anything Stilwell had ever seen before. "I like to see the kitchen be equal in design and character to the rest of the restaurant," Stilwell says. "With Stage, here was a beautiful display kitchen that would be the heart of the restaurant, seating all around, with a behind-scenes support kitchen." However, Stage's topographical design, with its curved peaks and valleys and overlapping platters, was not compatible with any existing foodservice equipment.
Stilwell accepted the challenge. "I knew I could find a team to bring it to life," Stilwell says. "Once you get a creative team together where everyone's natural response to any challenge is, 'Yes, let's do it,' nothing is impossible. We may have gotten a little geeked out, creating things that were hard to make, but in the end, we did it."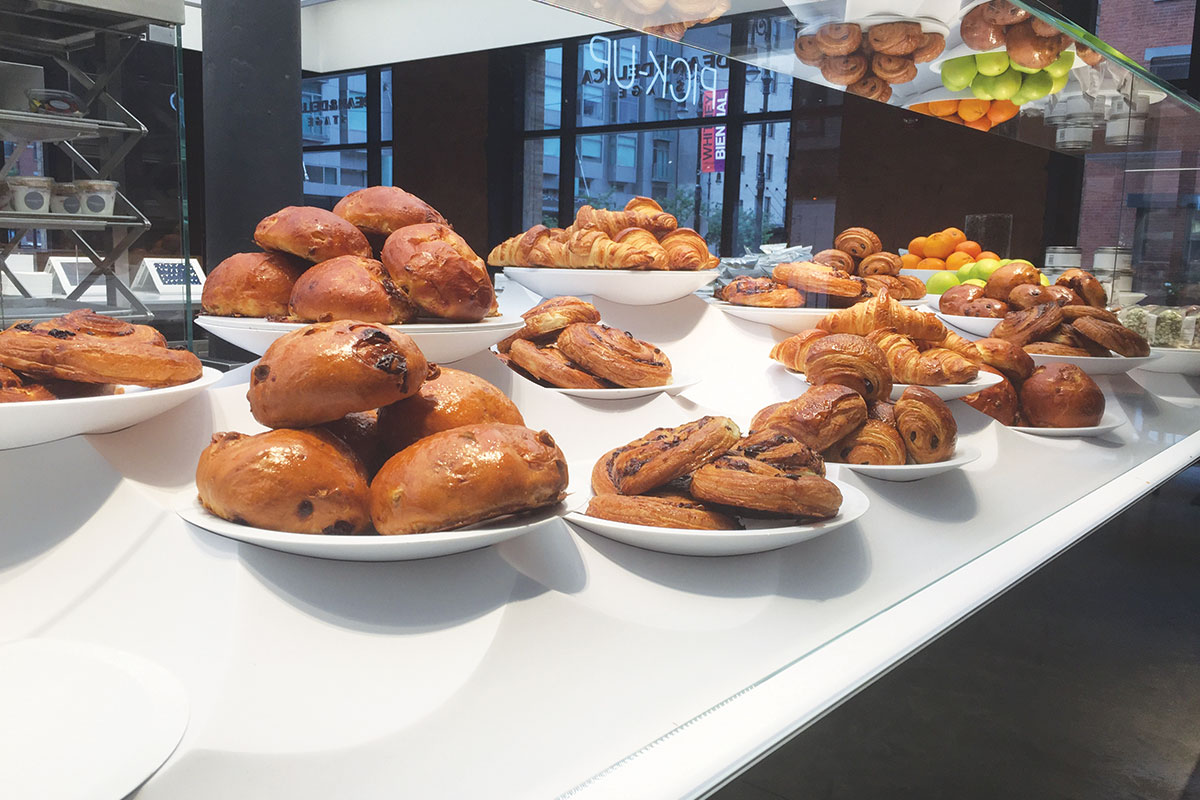 Building the Counter
Challenges for the centralized 535-sq.-ft. island serving space included creating a functional form and framework for the landscape-like counter, devising technology needed to keep food displays at temperature and optimizing flow and layout.
First up was the topography and framework. "The undulating surface was made by Corian subcontractor Sterling Surfaces, Sterling, Mass. They created the shape, sanded, welded and replicated Scheeren's initial vision," Stilwell says.
Carbone Fabricators, Boston, created the island and much of its components. The serving counter includes self-contained refrigerated drawers with full flush handles, locks and a digital thermostat; and a stainless heated cabinet base with heated drawers, thermostatic controls and a fan. Surrounding the food assembly areas are antireflective- coated food shields with glass tops—nearly invisible to guests. Stage's mirror-finish counter fronts come with an anti-fingerprint coating for easier maintenance.
Next came temperature-holding challenges. "If you want to keep meats hot or salads cold, a hot or cold disk at the base of each plate was not sufficient," Stilwell says. "We tried standard induction units at first, but those units proved too large to fit within the overlapping circles. Then Carbone's engineer discovered a European-made induction unit small enough to fit the design. We ordered custom-made enameled metal bowls with hockey puck-sized disks welded to their bases to work with the tiny induction units." Products such as bottled and canned beverages sit in organically shaped, recessed wells kept cold with refrigerant circulating through the walls of the wells. Salads are served from cold bowls, the bases of which operate using the platform's refrigeration system.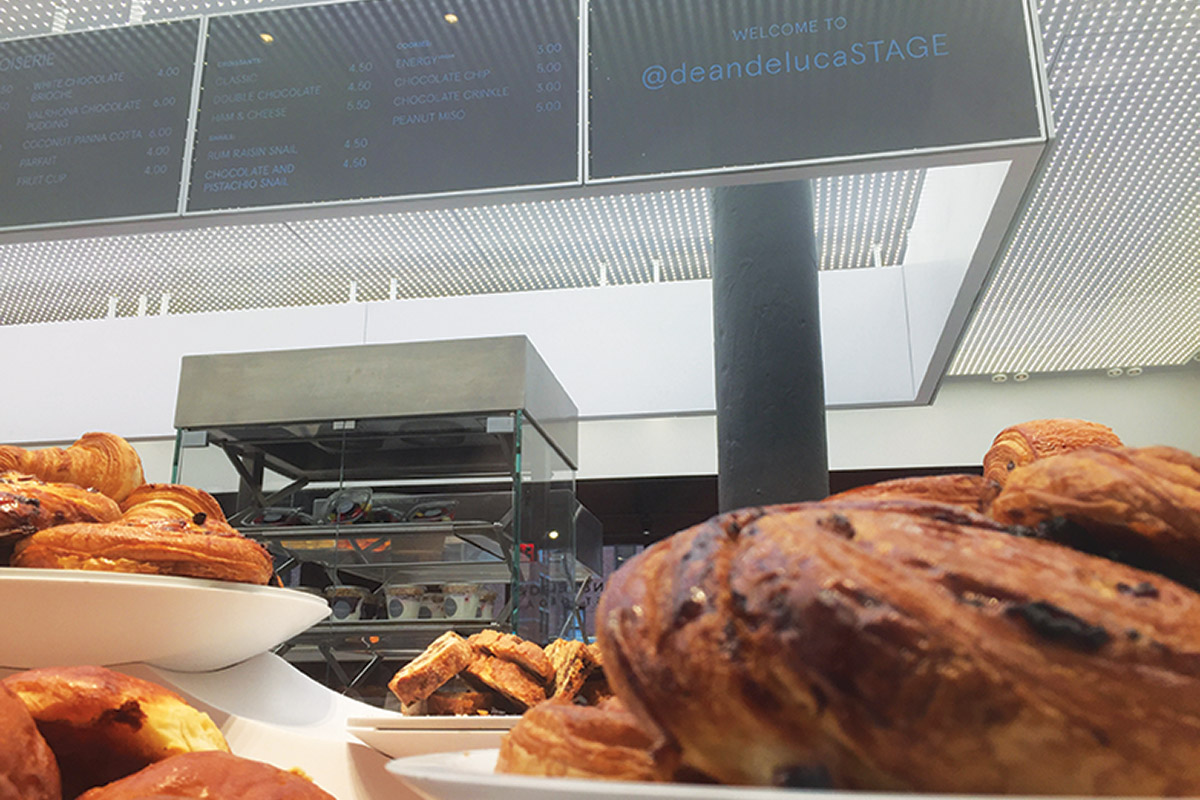 Stage Directions
The third challenge Stilwell's team faced was optimizing layout and flow. Under Stilwell's guidance, Stage now features two service paths—a made-to-order hot food line along the front (window) side of the island, and a faster grab-and-go line along the opposite side for pastries and espresso.
Typical QSR flow models follow order/ pay/pick-up or order/customize/tally/pay.For Stage's hot food line, the team decided on a hybrid: Guests order and pay first, and then pick up their customized order near the portion of the counter where sodas, packaged snacks and sweets are displayed—enticing them to make another purchase. "We installed three POS stations at the starting point and added an extra POS at the pick-up point so people can purchase any additional items that caught their eye as they moved down the line," Stilwell says.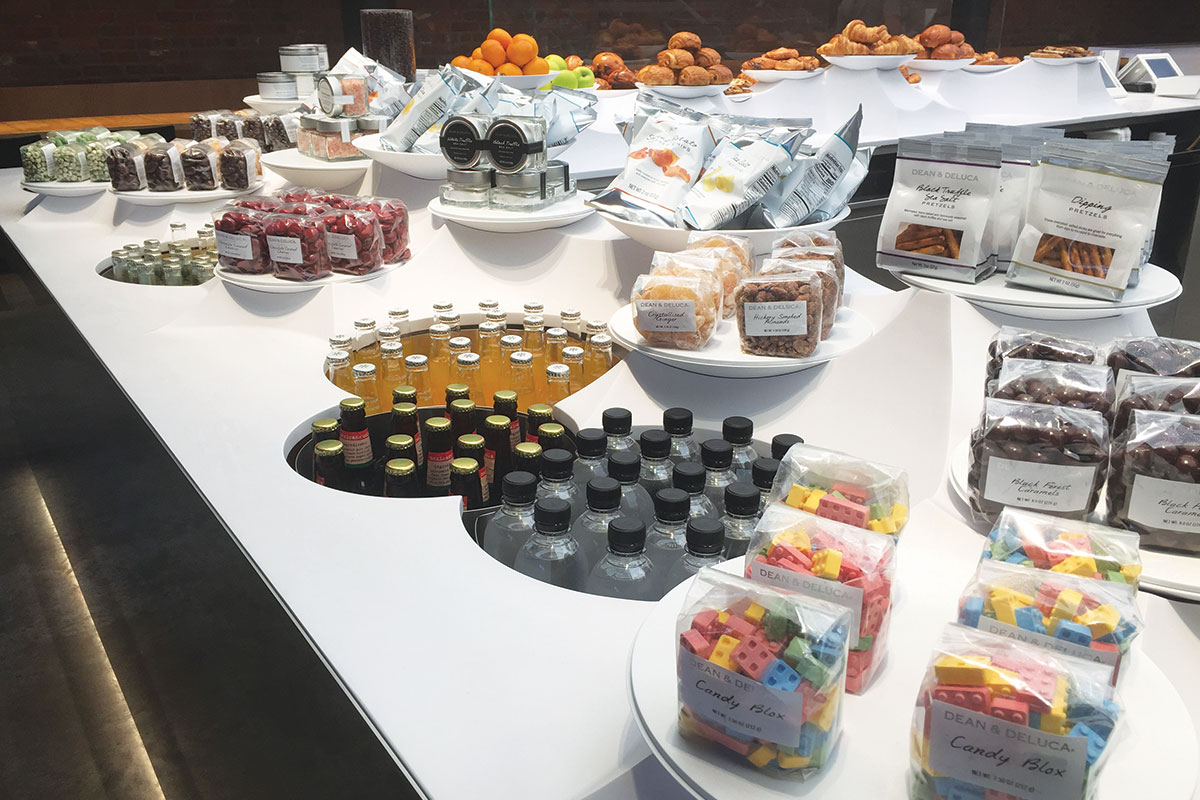 Food for Show
Backup supplies of pastry items, breads and cold foods are stored at the island's center area. Instead of hiding it all away in enclosed carts or behind doors, the food is showcased in custom-fabricated, clear-sided display cabinets. One cabinet is ambient, one is heated (keeping product hot without the use of a heat lamp) and the third is chilled. Inside the cabinets, moveable shelves fitted with scissors-style lifts can be fully extended to hold a maximum quantity of food, or collapsed as food is depleted to maintain a look of plenty during slower service times.
As an example of necessity being the mother of invention, the team created a way to control condensate buildup on the cold storage display. They captured warm air thrown out by the compressors and redirected it as a curtain of heated air blowing up from the base of the case's sides, preventing condensation.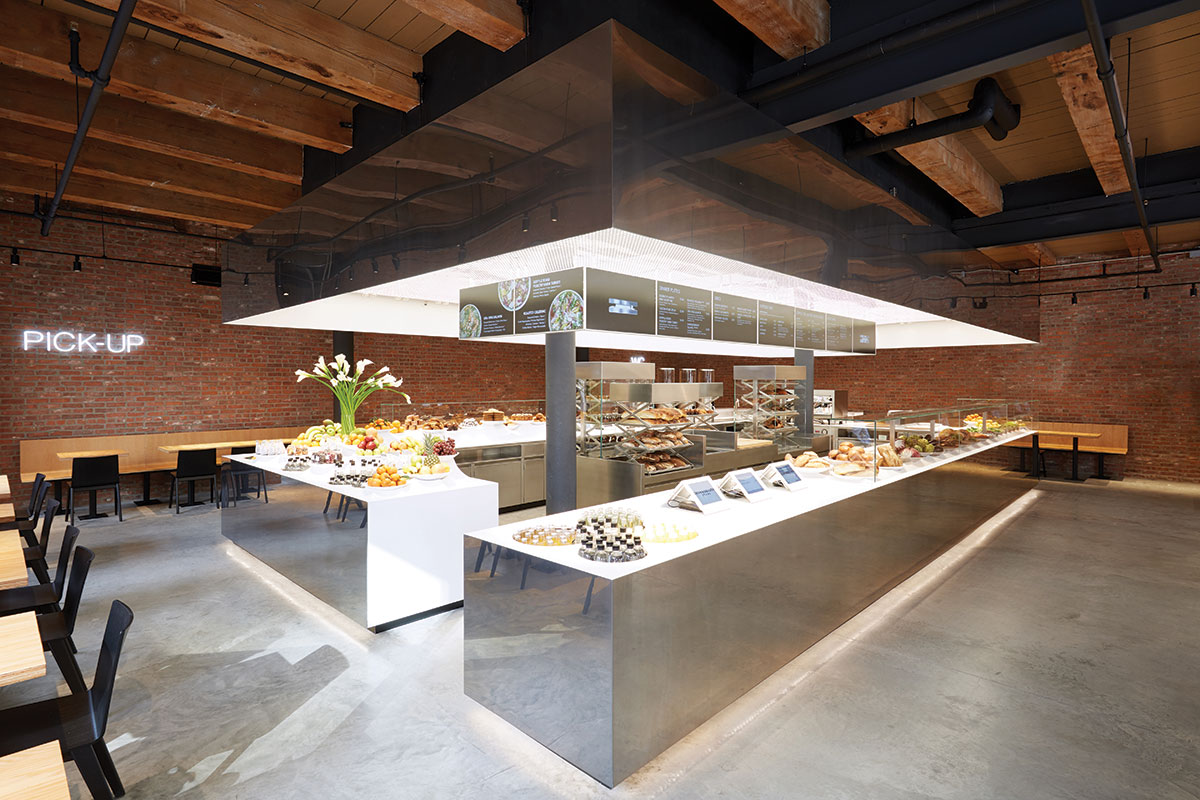 Behind the Scenes
Stage left of the 3,600-sq.-ft. space lies the operation's support kitchen. "All the cooking and prep work takes place here," Stilwell says. The support kitchen covers 935 sq. ft. and features a cookline equipped to handle online and carry-out orders, plus a separate pick-up counter, "so as not to disrupt customer and work flow for Stage," says Stilwell. The line includes a combi oven, deck oven, hot holding cabinet, induction range, a pizza prep table, undercounter refrigeration and a coffee brewing station.
The far-back area is home to Stage's bakery-prep station (with dough sheeter, a proofer/retarder and a dedicated combi oven). Other equipment includes a walk-in cooler and freezer, dry storage, ice machines and warewashing.
Looking back, Stilwell says, this project taught the team a unique way to present menu items. He expects they will receive requests to put elements of this design to work in future projects.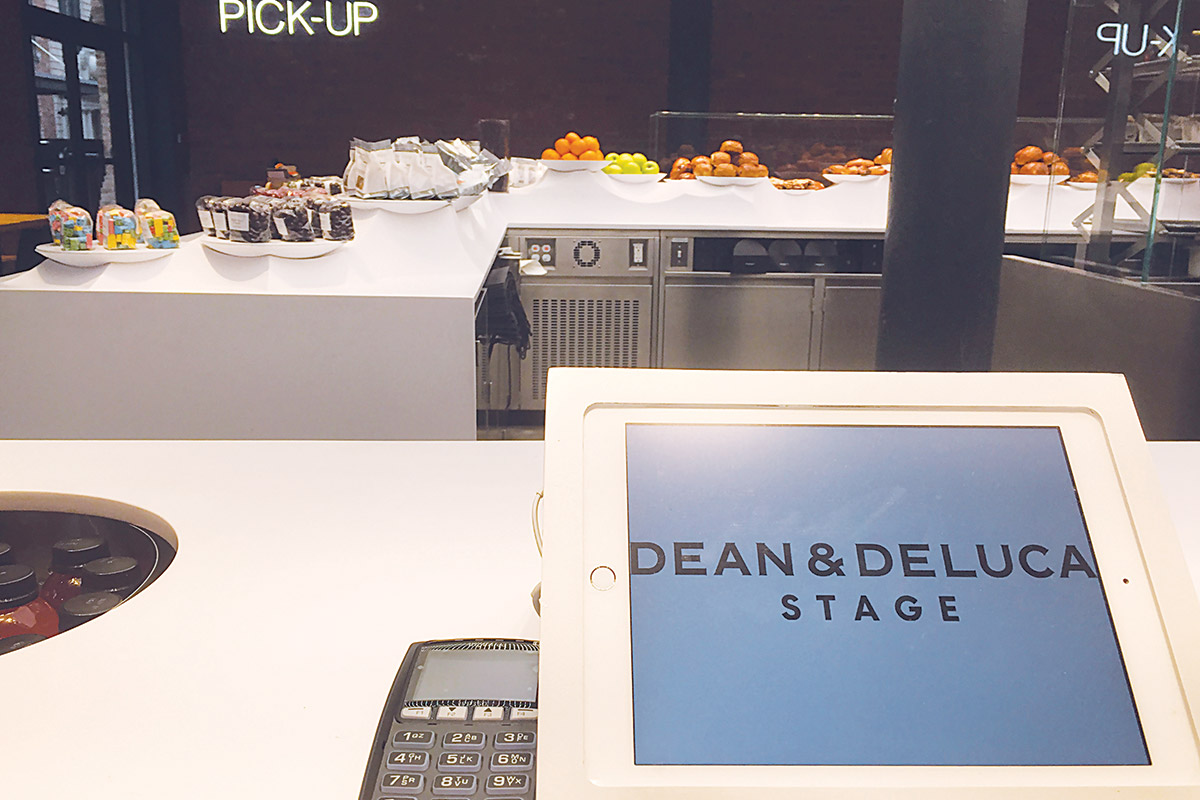 SPECS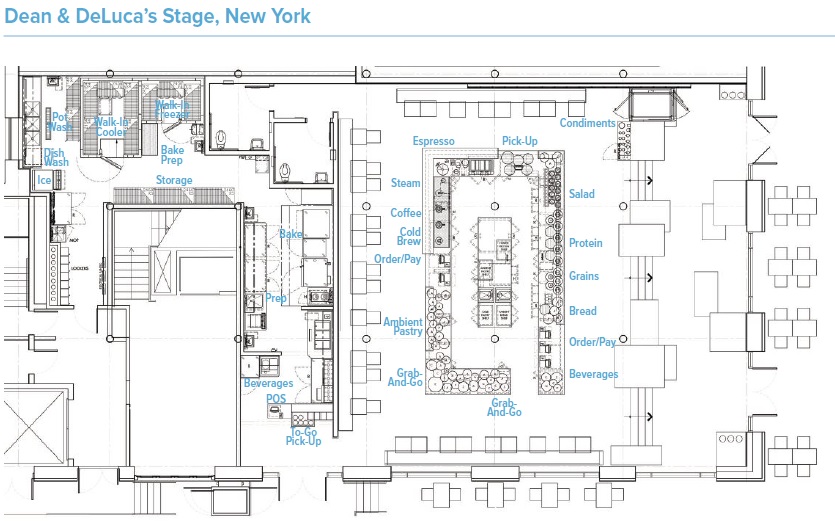 MENU/SEGMENT: Quick service, grocerant
HEADQUARTERS: New York
OPENED: April 2019
SIZE: 3,592 sq. ft., including 535 sq. ft. "stage" (display kitchen and service island) and 825 sq. ft. BOH
HOURS: Monday to Sunday, 10 a.m.-10 p.m.
CLIENT: Dean & DeLuca, Wichita, Kan.
CONSULTANT: Russell Stilwell, FCSI, principal, Next Step Design, Annapolis, Md.
FABRICATOR: Peter Carbone, owner; Eugene Lehrman, head design engineer, Carbone Fabricators, Boston
LIGHTING DESIGN: Tillotson Design Associates, New York
COUNTER FABRICATOR: Tower Industries, Massillon, Ohio
CORIAN SUBCONTRACTOR: Sterling Surfaces, Sterling, Mass.
DESIGN ARCHITECT: Buro Ole Scheeren, Beijing
LIGHTING DESIGN: Tillotson Design Associates, New York
STAINLESS FABRICATOR: Stainless Metals, New York
ARCHITECT OF RECORD: Ware Malcomb, New York
WEB: DeanDeLuca.com/Stage
EQUIPMENT
BOH
Pentair Everpure water filtration system
Hoshizaki refrig. work top, ice maker, u/c refrig., pizza prep table
Follett/Middleby ice bin
Ecolab u/c dishwasher
IMC/Teddy floor trough, hand sinks
Thermo-Kool walk-in cooler, freezer
Metro/Ali Group shelving
New Age bun pan rack
Tradiform dough sheeter
Fetco coffee brewer
Panem retarder/proofer
MIWE deck oven
Winston cook-hold oven
RATIONAL combi oven
CookTek/Middleby induction range
CaptiveAire hood
Wells/Middleby drop-in food warmer
Silver King lettuce crisper
F&O Imports espresso/cappuccino machine
FOH
By fabricator: refrig. service counter, grab-and-go, food shields, bread display, pastry display, protein display, ingredient rail, u/c refrig., grain display, protein displays, heated drawer, heat lamp, salad display, undermount cold stone, refrig. ingredient rail, dump sinks, ambient grab-and-go display, refrig. grab-and-go display, refrig. service counter, hand sinks, heated drawer
John Boos cutting board
Smart Buffet Ware chafing dishes
F&O Imports espresso/cappuccino machine
Mahlkonig espresso grinder
Pentair Everpure water filtration system
San Jamar cup dispensers
Micro Matic glass rinser
Modbar steam generator
Perlick u/c refrig.