Features
Kitchen Design
Kitchen Design: Less is More for Pie Five Pizza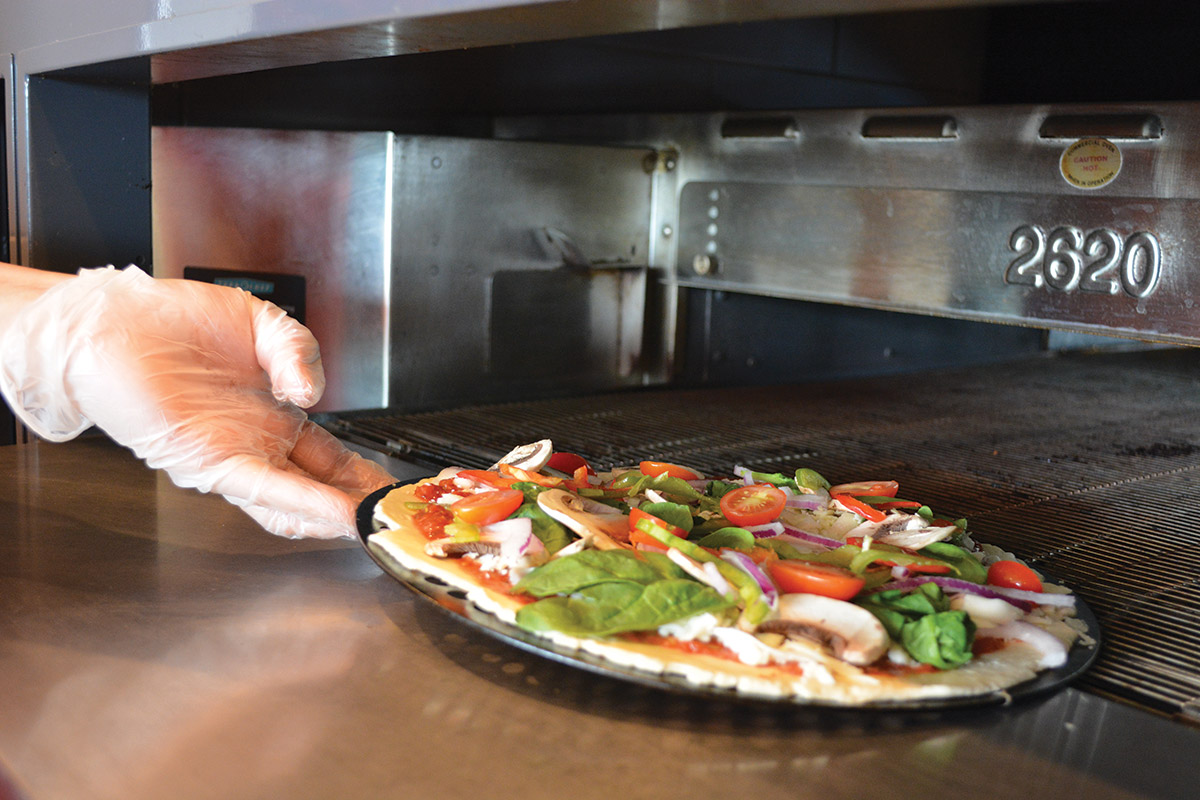 Pie Five Pizza's new restaurant in Garden City, Kan., marks the preview of a great leap forward for the fast-casual chain. The store contains elements of an upcoming prototype that's designed to accommodate delivery, carry-out and drive-thru from a smaller front-of-house kitchen footprint. Highlights will include a shorter, more efficient makeline, sleek digital menu boards and a brighter color palette. The prototype also will cost less to build compared to existing Pie Five stores, and service times will be faster.
The inspiration behind Pie Five's upcoming prototype comes from an unlikely source: its express units (located at San Francisco Int'l. Airport and in an upscale shopping mall in Oak Brook, Ill.).
"People love our pizza, but we needed to be able to serve everything faster and more efficiently," says Chris Heiser, vice president of restaurant development and construction for Pie Five parent company Rave Restaurant Group, Dallas. "We were challenged by the executive team and our franchisees to scale down the footprint by about a quarter, or more. Going smaller makes a lot of sense on every level—stores are easier to develop and run, from site selection to building costs to labor."
Solutions for downsizing Pie Five restaurants already were in play at the chain's nontraditional sites, which crank out substantial volumes despite being wedged into about 800 sq. ft.—less than half the size of its typical restaurants.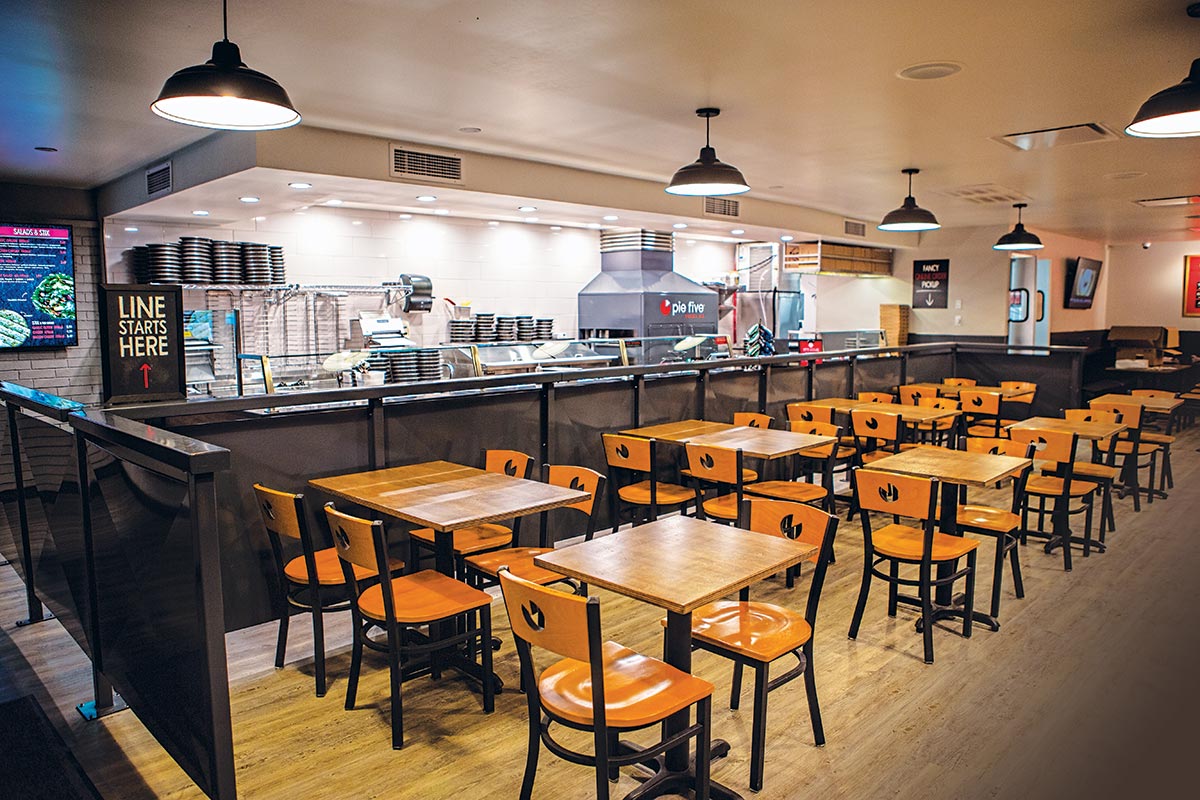 Pre-Pie Planning
The redesign team included long-time Pie Five design collaborator and equipment dealer Mark Mattevi, branch office manager at C&T Design and Equipment Co., Indianapolis; architects from Hub City Productions, Dallas; as well as Pie Five franchisees and the company's operations and development team.
The team's goal was to shrink the standard Pie Five footprint from 2,200 sq. ft. and 60 seats to between 1,800 sq. ft. and 1,300 sq. ft. with about 30 seats. "The more compact footprint will make it easier to open in inline locations or second- or third-generation developments," Heiser says. "It also will help us better serve the takeout/delivery market."
Planning the prototype began in January 2018. By June, construction had started on the Garden City location. However, because parts of this restaurant had already been designed and ordered, it represents a mix of old and new. The restaurant opened for business in October.
Upfront cost reductions to the prototype will be a key selling point. "The prototypes will cost 30% to 40% less to build compared to previous models," Heiser says. "We were running anywhere from $600,000 to $650,000 to build the larger Pie Five stores. Now we're looking at $350,000 to $375,000."
"The model focuses on speed and simplicity with a limited menu and an emphasis on building off-premises sales through carry-out, online ordering and third-party delivery," Rave President Bob Bafundo said during an investor call last fall, addressing the now 58-unit chain's series of closures. "The new design will help Pie Five adapt to shifting consumer preferences while positioning itself for renewed growth."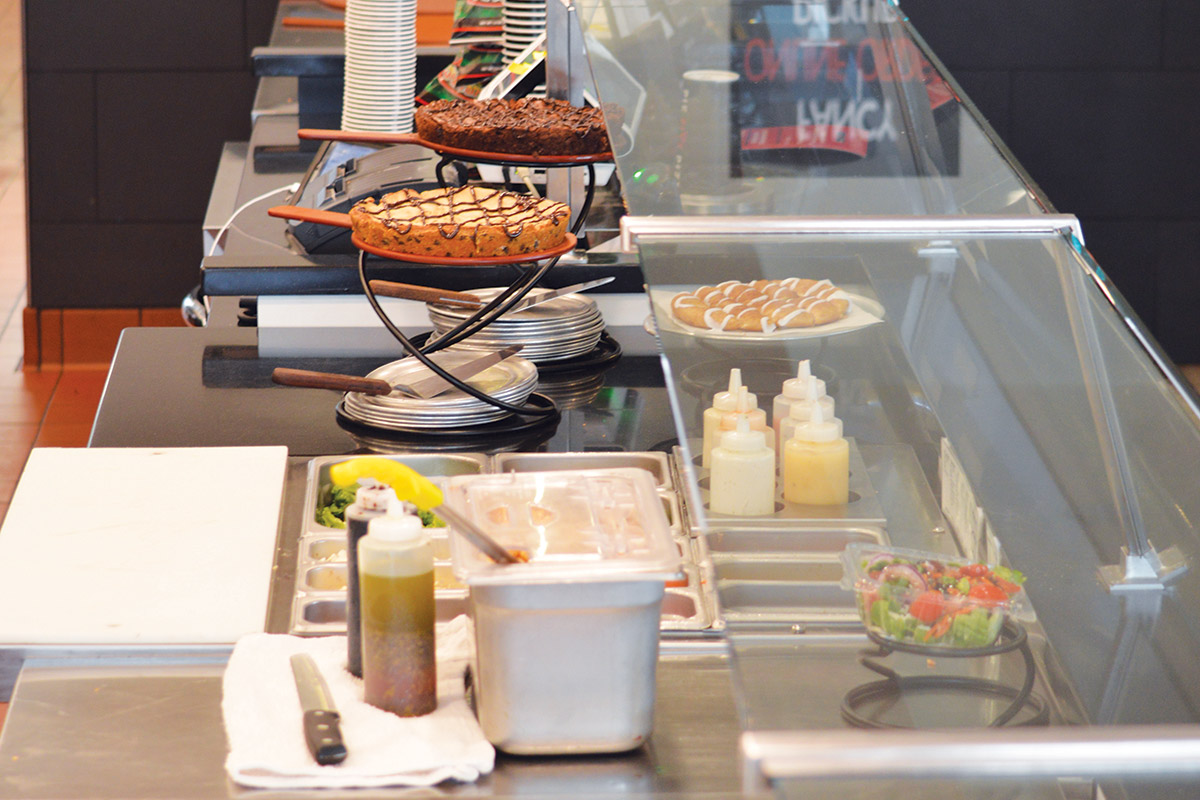 Powerful Pie Line
Kitchen updates inside Pie Five's prototype will boost throughput while shrinking equipment costs and saving space. The prototype's front-of-house production area will cover 220 sq. ft. versus 300 sq. ft. in existing stores. Its back-of-house will squeeze into another 220 sq. ft., down from nearly 360 sq. ft.
The biggest front-of-house changes, made possible by reducing the number of crust and topping choices, involve the conveyor oven, makeline and grab-and-go area. Menu boards and decor also are addressed.
The conveyer oven is Pie Five's linchpin. In existing restaurants, and in the Garden City location, the TurboChef oven sits along the back wall (see pg. 68-69) so it can do double-duty for both in-store orders and drive-thru makelines. The oven is covered by a "shroud"—a decorative, enameled, full-size metal enclosure, making the piece a focal point while hiding the conveyor element.
However, that aesthetic comes with a cost. "The shroud traps the oven's heat, which means we also need to add a ventilation system and roof penetrations," Heiser says. Minus the shroud, the oven can operate without a hood.
In upcoming Pie Five models, it's all oven, no shroud. This change will allow the team to move the conveyor oven forward to become part of the makeline—where it had actually been positioned in earlier Pie Five stores, Heiser says.
"The move back to the makeline will save franchisees about $5,000 in equipment and installation," Heiser adds. "The oven's new position is more labor efficient, too. By placing the oven back on the makeline, employees take fewer steps to build pizzas and service times will be faster."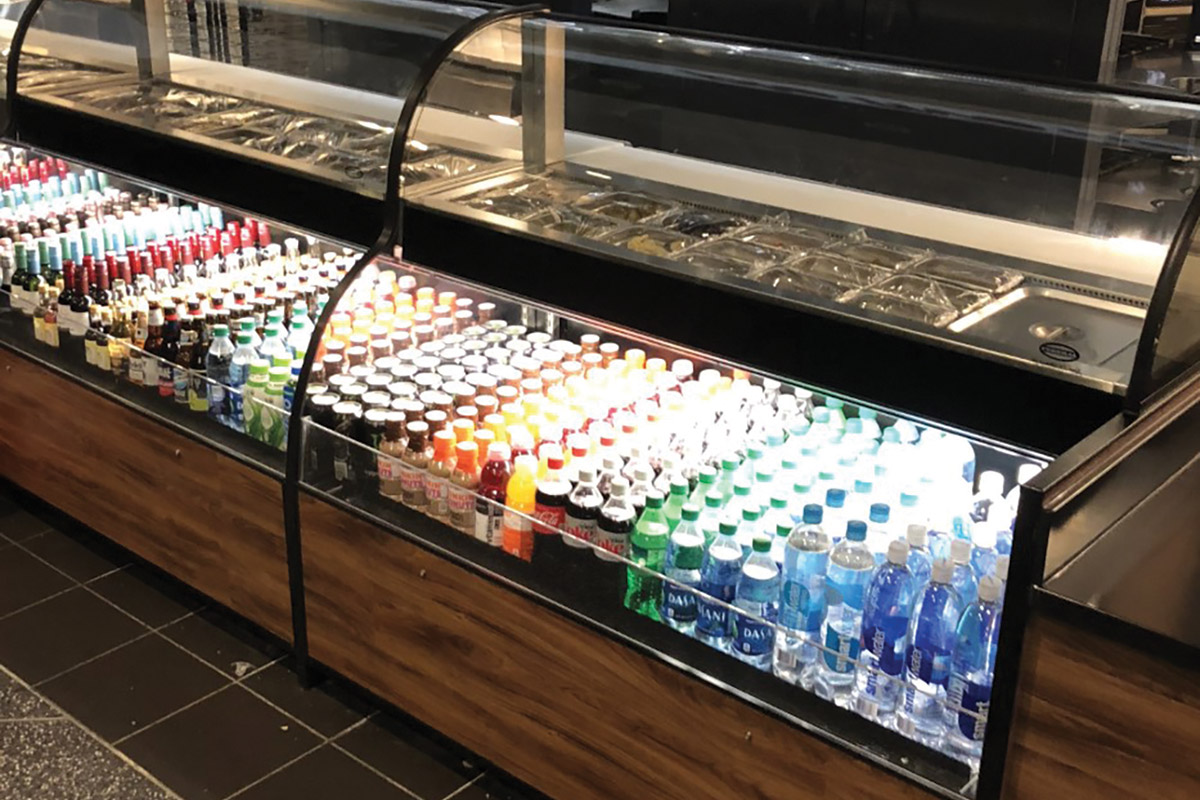 Also new to the prototype will be a 2-ft. shorter, hybrid pizza make table fronted by a built-in grab-and-go display case, made by Federal Industries. It made its Pie Five debut at the San Francisco airport location. The customer-facing grab-and-go display case can hold beverages as well as salads and desserts, and lets customers in a hurry bypass the pizza line altogether.
"In earlier Pie Five restaurants, we positioned the grab-and-go unit at the front of the line, the end and so on," says Mattevi, who has laid out most of the existing Pie Five kitchens. "The hybrid solution, with the unit in the line's center, really seems to have sparked impulse sales at the SFO Pie Five."
Here's where the smaller menu comes into play: current Pie Five units, including Garden City, use three make tables with a 36-pan capacity, plus a grab-and-go unit, Mattevi says. "The new stores will have two make tables plus this hybrid piece, with about a 25-pan capacity."
The prototype's streamlined menu, with only three crust sizes (down from five) and fewer topping options, will require fewer ingredients to stock and therefore reduced food storage needs. "The walk-in cooler will be 40 sq. ft., about half the size as it is in existing units. And because the new cooler will be a standard piece rather than custombuilt, it's less expensive," Mattevi says.
"Collectively, all the changes in the prototype are expected to reduce costs 30% to 40%, including equipment, delivery and installation," Mattevi says. "It really has been right-sized."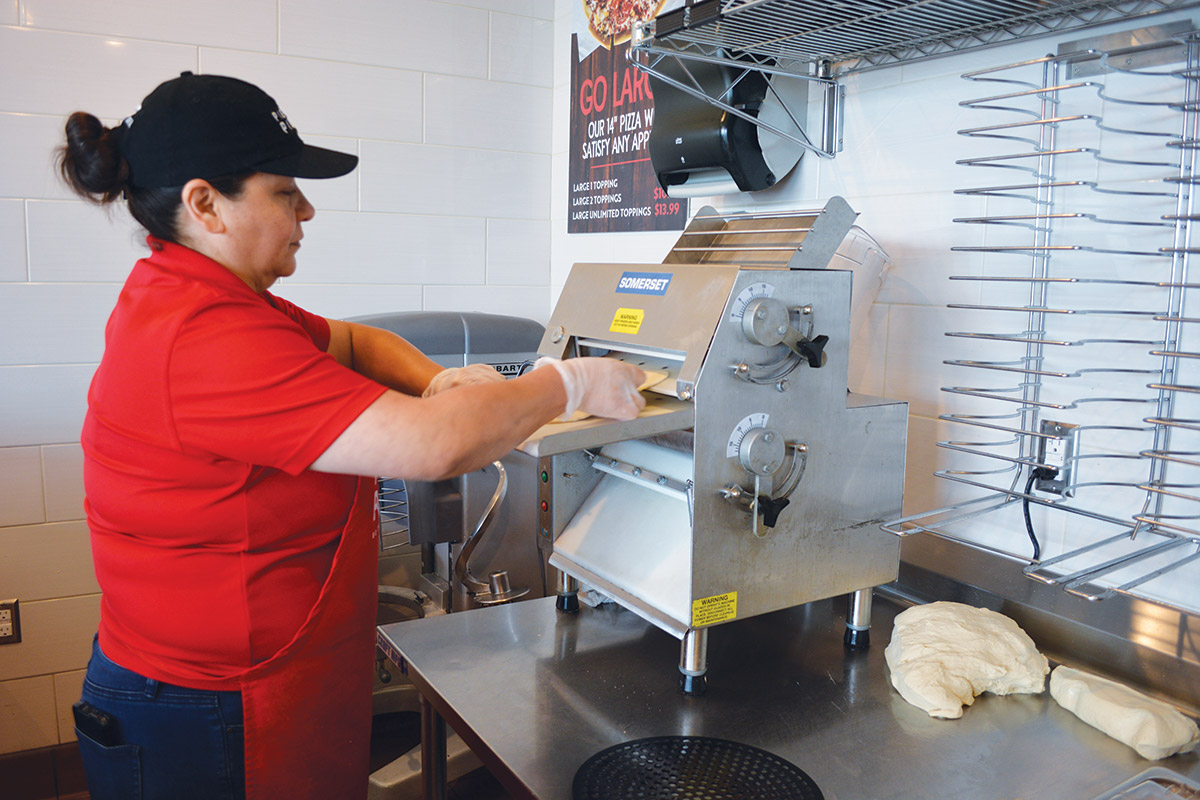 Pretty As Pie
The menu boards and the restaurant's color palette will earn upgrades in the prototype—and they already are on display at the Garden City restaurant. "Digital menu boards allow more product photography to help sell the menu and can be easily updated by computer," Heiser says.
In future stores, the metal framework used to store pizza boxes above the counter can double duty as a support for additional digital menu boards. "This helps keep counters free of visual clutter," Heiser notes. As for the color palette, the new Pie Five shifts to "more whites, woodgrain counter-fronts with pops of blue and red," Heiser says. By contrast, existing Pie Fives feature black ceilings, and a white wall with red accents.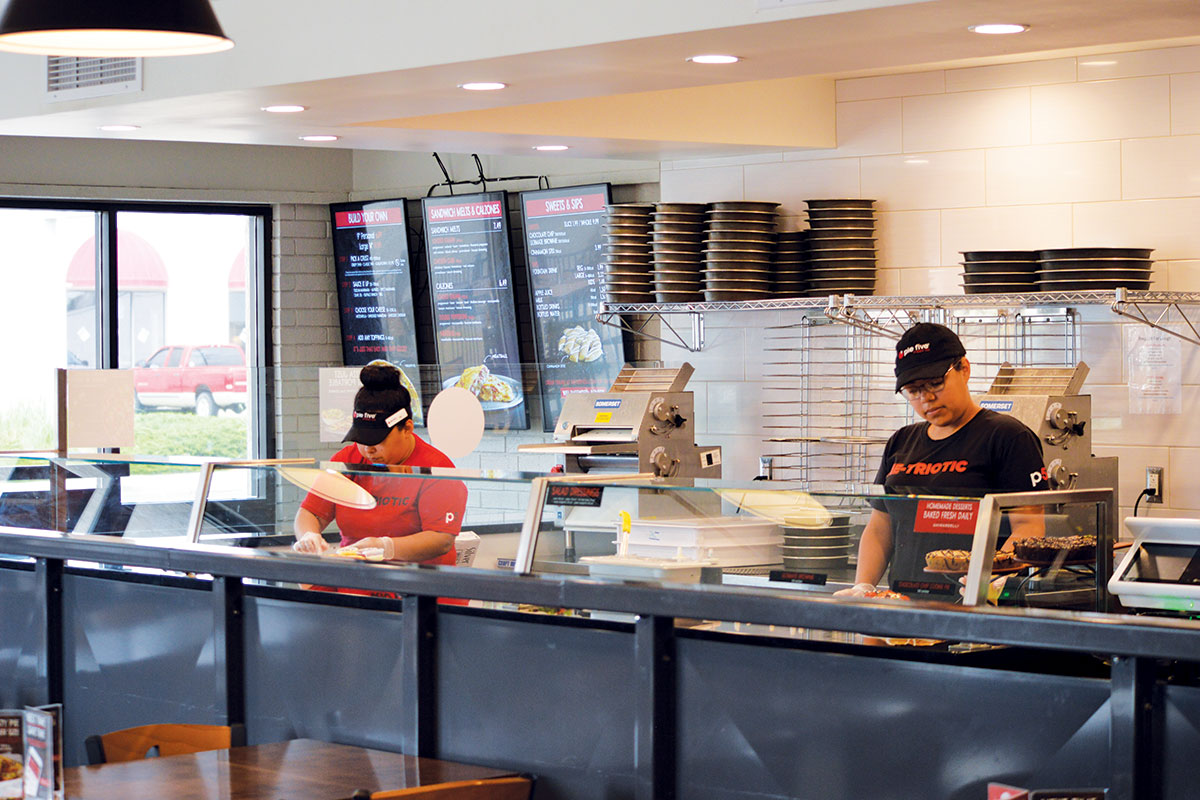 A Look Ahead
As the prototype design continues to be fine-tuned, the Pie Five team expects to open a total of six new locations by year-end. "In addition to Garden City, we plan to open a unit in Corvalis, Ore., followed by restaurants in Sherman, Texas, and Albany, Ore.," Heiser says.
Pie Five also will continue to grow its express locations, which inspired the upcoming prototype. At press time, the chain announced a deal to partner with KidZania, a global brand of interactive education and entertainment centers for children, in Frisco, Texas. It will operate two express locations within the site.
SPECS
---

LOCATION: Pie Five Pizza
MENU/SEGMENT: Fast-casual pizza
HEADQUARTERS: Dallas
NUMBER OF UNITS: 58 units in 17 states
SIZE: 1,300 sq. ft. to 1,800 sq. ft.
SEATING: About 30 seats
CLIENT: Chris Heiser, vice president of restaurant development and construction, Rave Restaurant Group (Pie Five parent company), Dallas
DEALER/DESIGN FIRM: Mark Mattevi, branch office manager, C&T Equipment and Design Co., Indianapolis
ARCHITECT: Hub City Productions, Dallas
WEB: piefivepizza.com
EQUIPMENT
---
BOH
Master-Bilt/Standex reach-in 2-door freezer
Kolpak/Welbilt walk-in cooler
Craft vegetable prep sink
3M water filtration assembly
FOH
Alto-Shaam low-temp holding cabinet
Craft dough-rolling table
Somerset dough roller
TurboChef/Middleby conveyor oven
Hobart/ITW FEG 40-qt. mixer
Master-Bilt/Standex reach-in refrig.
Federal Industries sandwich prep table w/built-in merchandiser
Scotsman/Ali Group ice cube machine
BUNN tea brewer, tea dispenser
Ping HD digital menu boards