Features
Healthcare
Banner University Medical Center's New Light and Bright Servery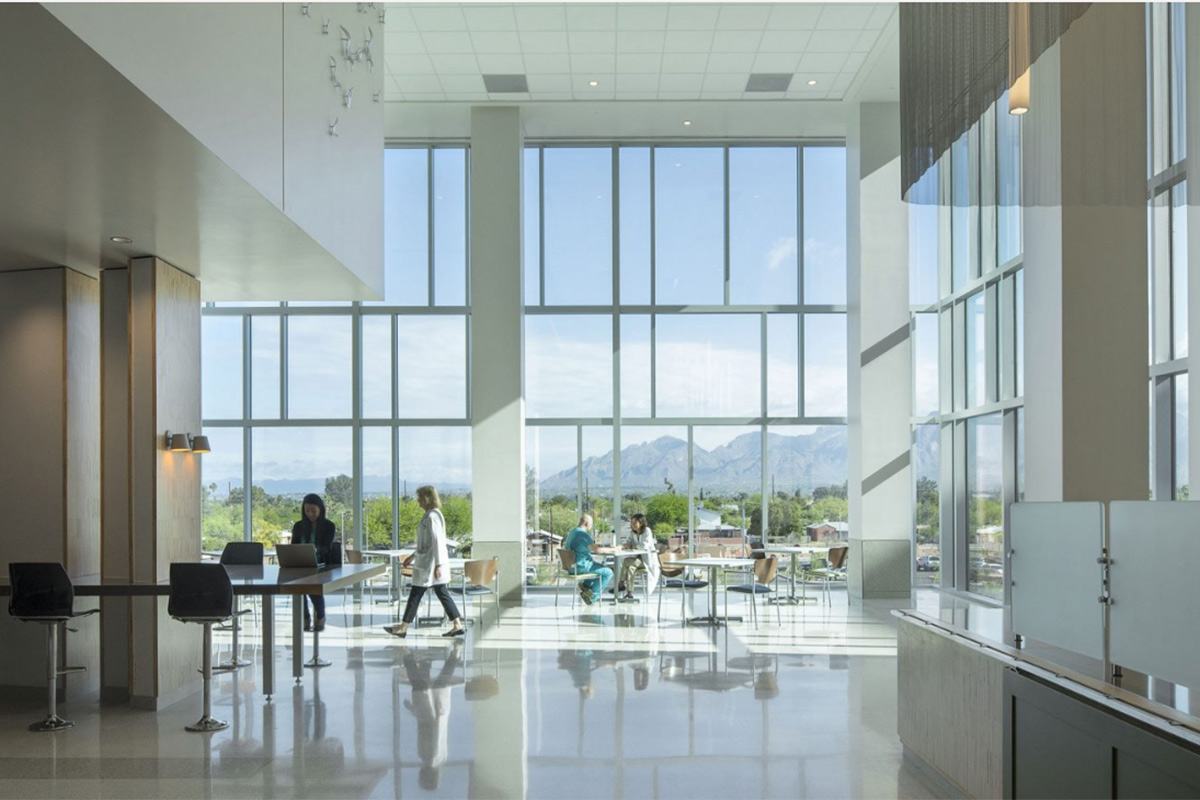 To replace a portion of the hospital that was built back in 1971, Banner University Medical Center's Tucson campus debuted a nine-story, $450-million tower that began welcoming patients in April 2019.
Banner-UMC enlisted Greenwood Village, Colo.-based Ricca Design Studios to create the tower's foodservice facilities. An 8,000-sq.-ft. kitchen supports patient-meal service and catering operations as well as bulk food preparation for Banner University Medical Center Tucson Cafe, a 6,400-sq.-ft. marketplace-style servery. "They were expanding and needed a dining facility that would accommodate a larger population," says Lona Homersham, project director at Ricca. The design process began in 2015.
"Our old cafeteria was really confined," says Heather Danielson, the facility's culinary, nutrition and environmental services director, who started working at the hospital 12 years ago as a call center employee taking patient-meal orders while studying dietetics at the University of Arizona. The Tucson campus's dining operations serve not only hospital staff, patients and visitors, but also students from the University of Arizona College of Medicine. "[With] the amount of traffic that we had at lunchtime, there wasn't space to go around to all the stations and see what looked good."
Contributing to the congestion was a coffee cafe located inside the cafeteria. "That was one big change: We wanted to remove the cafe and put it in a different area," Danielson says. "And we wanted open space where people could feel free to walk around and take time to see everything and not feel rushed or crammed or feel like they were going to bump into somebody and drop their food."
Upon entering the new tower, visitors step into a light-filled lobby decorated in white, cream and sandy hues. "It almost looks like a resort when you walk in," Danielson says. The servery and main kitchen sit on the first floor. On the second floor, a 650-sq.-ft. coffee shop called The Daily Grind Cafe offers espresso drinks, soft-serve treats, smoothies and grab-and-go items. On level three, there's a 600-sq.-ft. physician's lounge where beverages and hot meals are served and staff can store meals brought from home.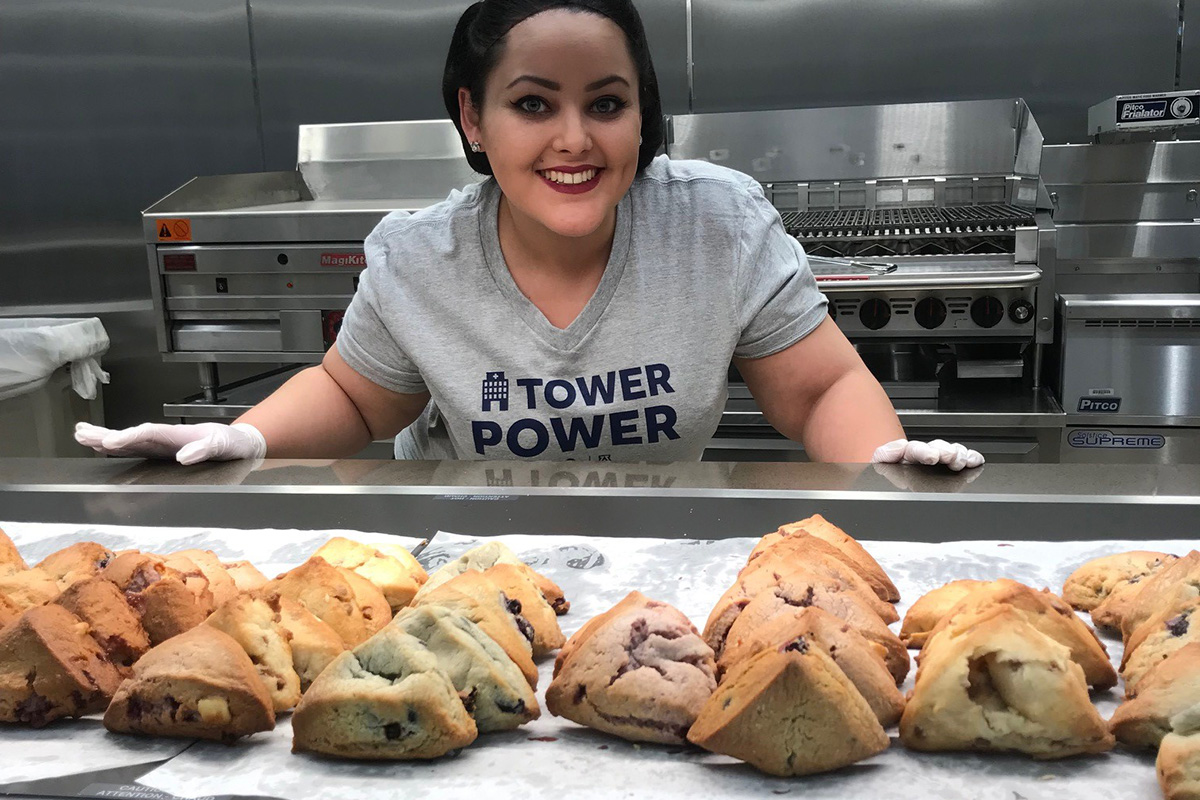 Out With the Old
Banner-UMC dedicated an estimated $2.5 million to $3 million to purchasing new foodservice equipment, Homersham says. Danielson adds, "Our [previous] kitchen was so old we were dealing with equipment that was just on its last leg or not functional. It really limited our creativity and also our ability to do certain things. If we were doing a holiday meal, we'd have to rent out quite a few things. We don't need to do that anymore. There is plenty of equipment for our space."
One major pain point in the former kitchen was the faltering dishmachine. "Having a brand-new dishmachine is like gold. You can't run a kitchen if you don't have, first of all, amazing staff that runs dishwashing, and second of all, a [reliable] dishmachine," Danielson says. "Our [previous] dishmachine would break on us often, and we would have to go back to the three-compartment sink and wash by hand and it was terrible." The new dishmachine is not only reliable, but it's also more energy-efficient. "The flight-type dishmachine has an energy recovery system that provides savings in heat and energy by capturing escaping heat and steam from the exhaust air to preheat the incoming cold-water supply before entering the booster heater," says Homersham.
The new kitchen design also transformed the flow and function of the patient tray line. "It used to be really short for the menu that we had, and it was really crammed," Danielson says. "Now it's longer and the flow makes sense." In the previous line, staff reheated precooked frozen proteins via a sous vide system; the new line has stovetops and combi ovens instead. "[Before], a portioned serving of cooked chicken was vacuumed-packed and kept frozen. Twenty-four hours before [service], we would thaw out the chicken packs in the refrigerator, and when a patient ordered chicken, it was dropped into a hot water bath until it was the right temperature. The pack was cut open and served on the plate," Danielson says. "Now, all chicken is grilled off to temp, chilled and reheated on the flat top. We do this every 24 to 48 hours. We have found that the product, this way, provides a fresher and better flavor."
The staff especially appreciates a smartly placed walk-in refrigerator that holds racks of cold items—pre-cut cakes, side salads, fruit cups, Jell-O, juices—right where they need them to finish their trays. "They can feed [the racks] from the back and it opens in the front … and it allows us to do a lot of prestocking before service so we're not having to replenish it in the middle," Danielson says.
They also added the CBORD point-of-sale interface with Tray Monitor, which allows staff to track the time each tray takes to travel from kitchen to patient room and back again. "We can really monitor our productivity and performance when it comes to tray assembly and tray delivery," Danielson says.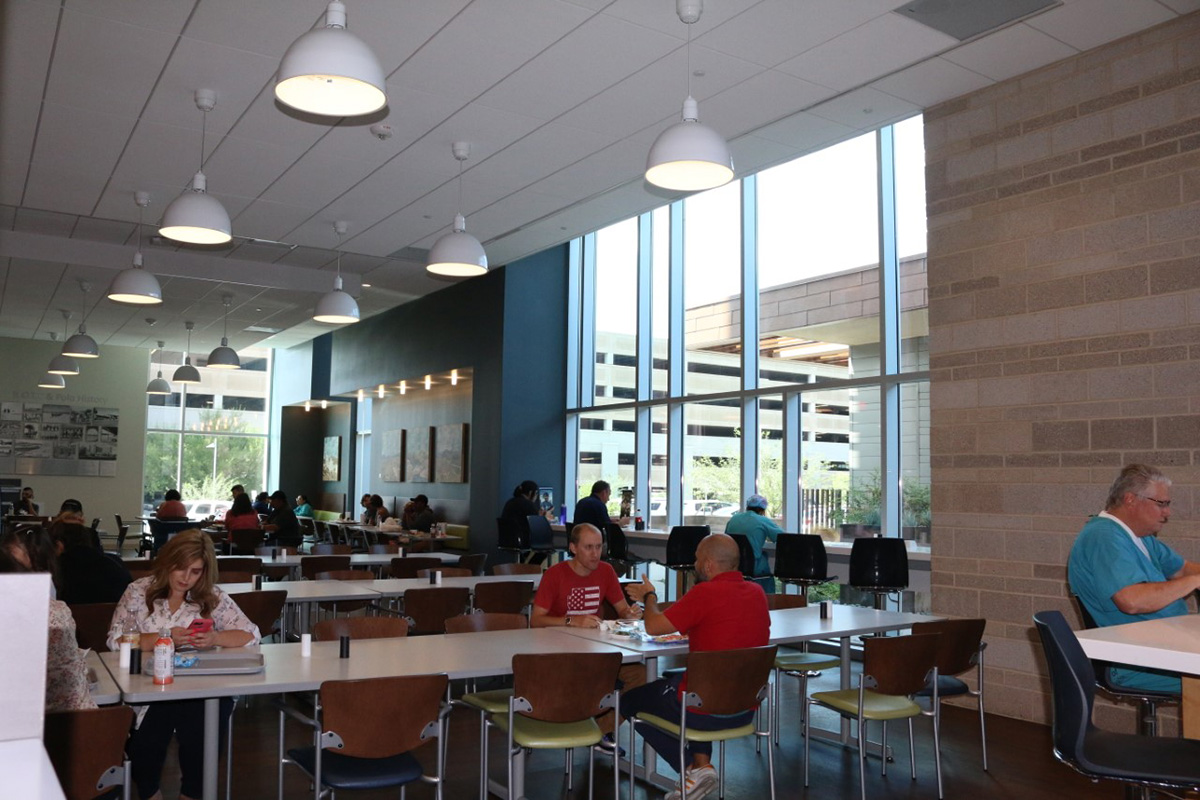 A Newly Spacious Servery
Ricca designed a marketplace-style servery with a variety of stations, including pasta, pizza, deli sandwiches, salads and soup, grill, sushi and "homestyle" comfort foods. "Within the servery, each platform has its own food format and identity, providing endless menu combinations [and] fighting menu fatigue," Homersham says. "[It also] brings many of the kitchen functions out of the back of the house, visually engaging the customer in the process of preparing and serving food."
A larger sushi station with a built-in refrigerated display case allowed Banner to grow its sushi program, which is operated by a local franchise partner. "People are like, 'Sushi in a hospital, really?' It's such a big seller for us. People love it and perceive it as a healthy option," Danielson says. "People can watch them prepare sushi to order, and they have a gas range and fryers so they can do teriyaki bowls and noodle bowls—it's really allowed them to expand."
Designers equipped the grill station and comfort foods station with wells that switch between hot and cold for maximum flexibility. "That is a newer technology we didn't have before," Danielson says. The grill station also comes equipped with a hot slide to hold burgers or chicken sandwiches for grab-and-go diners.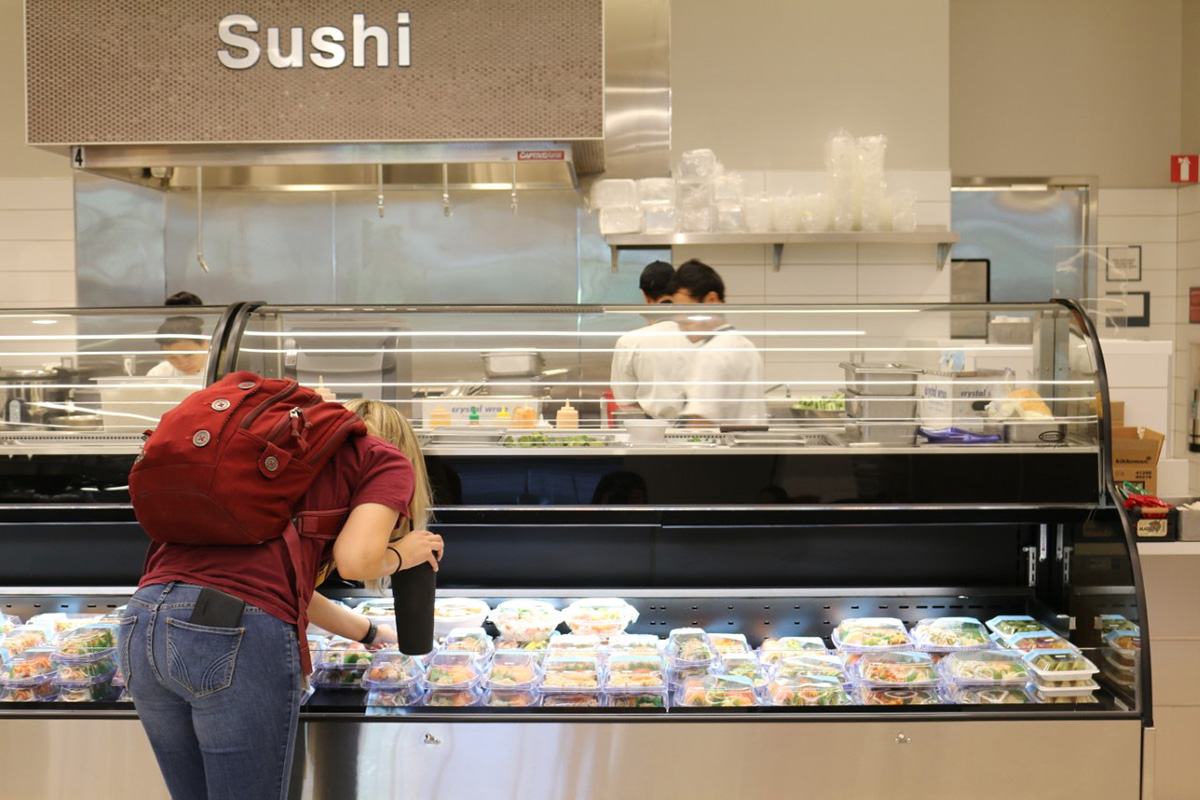 The servery's new backfill walk-in beverage cooler has ample storage room for backup beverages right inside. "All you do is open the cases and just fill in the slides," Danielson says. "Before, we had beverages in a separate cooler and you had to go get a cart, load a case, take it into the cooler, and then feed it from the back. There were so many doors to go through with heavy stuff. It probably hindered sales because people didn't want to do that job. Now it's so much easier."
In the previous cafeteria, diners seeking a quick meal in the morning were caught in the paths of other diners. Now, a self-serve breakfast area called The Nook sits near the entrance for those customers. "It's grab-and-go types of things: cereals, milk, a yogurt bar, doughnuts and bagels and a toaster, so you don't have to go through the whole cafeteria, you can just get something real-quick and the register is real-close," Danielson says.
The area also has conveyor toasters that sense when an item is dropped on, activate and automatically adjust speed to ensure a uniform toast, Homersham says, and wall shelving displays prepackaged grab-and-go items with adjustable hooks, shelves and baskets that can be easily reconfigured, plus drawers to store additional products.
Back in the kitchen, a smoker and proofer also have fueled innovation for menu items served at the homestyle and pizza stations. "Our chef actually has a background of working in the barbecue industry, so that smoker was definitely exciting," Danielson says. "With the proofer, we can make our own pizza dough or homemade breads, which we weren't always able to do. Sometimes it is cheaper just to buy par-baked breads, but it has allowed us creativity, especially because we do some specialty catering and they can get really creative with this equipment."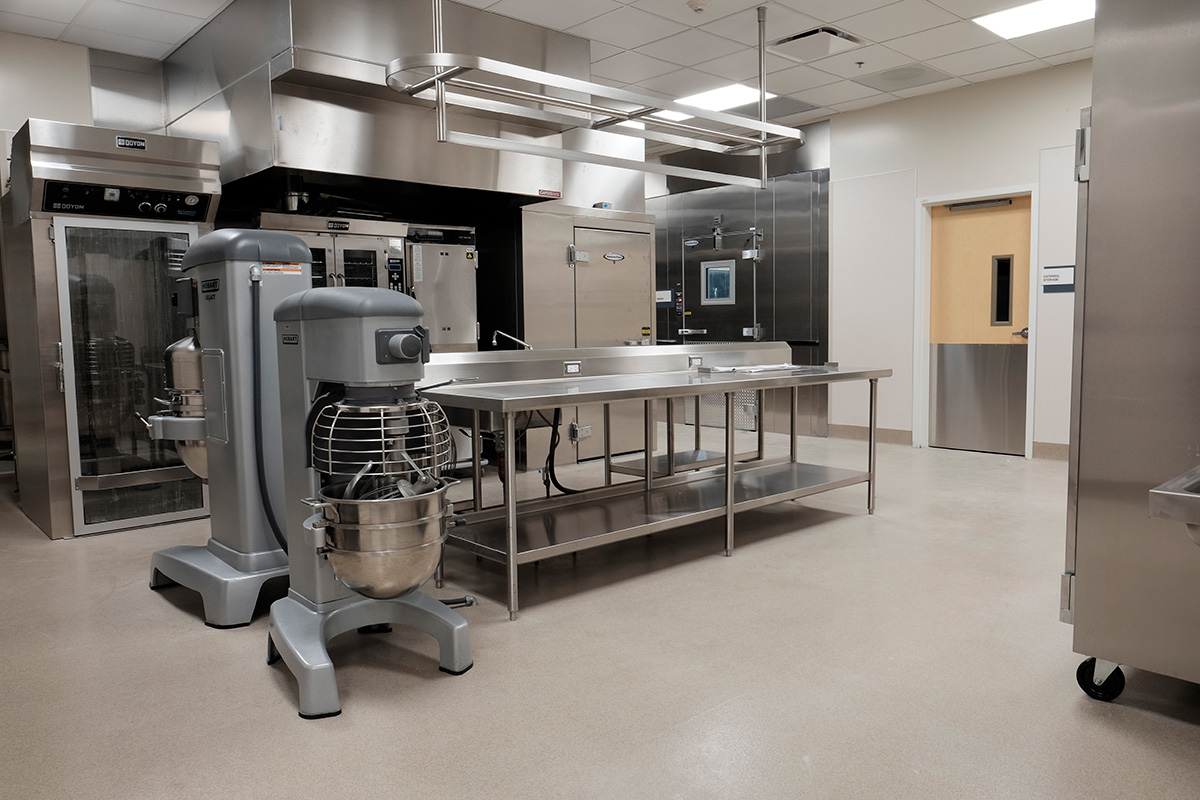 Rave Reviews
Operating the second-floor cafe The Daily Grind separately from the main cafeteria space has been well-received by staff, students and visitors. "There's this grand staircase … and our cafe is right there on the second floor. The view is incredible," Danielson says. "You can see the Catalina Mountains through these huge glass windows. People love to study there and we have a lot of USB plug-ins so you can have your laptop there."
Danielson says she has not yet seen an increase in revenue, but she expects to see an increase in patient satisfaction scores and anecdotally, reaction to the new dining facilities has been overwhelmingly positive. "It's really state-of-the-art," she says. "I heard that from our Pima County health inspector. He said, 'You have the most beautiful kitchen in all of Tucson.'"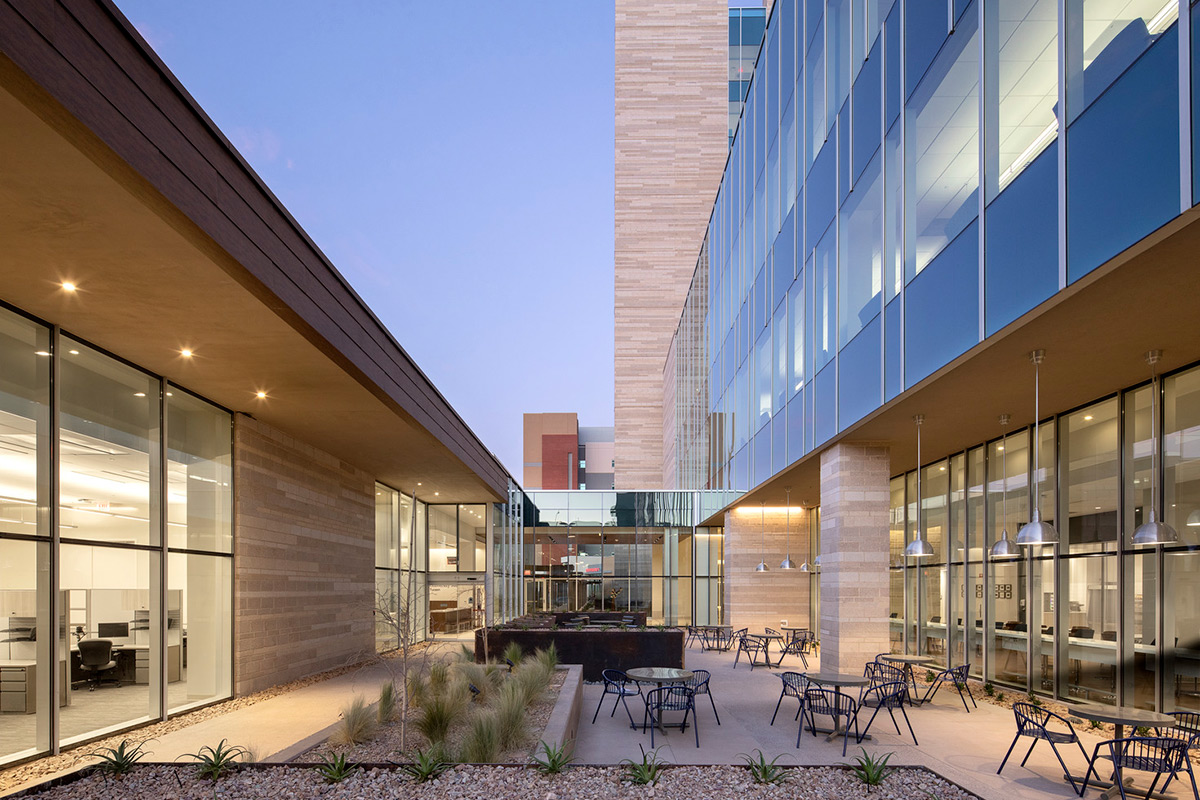 ---
BANNER UNIVERSITY MEDICAL CENTER TUCSON Tucson, Ariz.
Name of Facility: Banner University Medical Center Tucson Cafe
No. of Beds: 228
Opened: April 2019
No. of Seats: 45 inside, 40 on patio
Hours of Operation: 6:30 a.m.-12 a.m. daily
Station Sampler: Salads, Sushi, Comfort Foods, Grill, Soup/Oatmeal, Pizza and Pasta, Deli, Breakfast Nook
Average Check: $6.62
Cost of Project: $450 million (about $2.5 million-$3 million toward foodservice equipment)
Annual Sales: $5.6 million
Culinary, Nutrition & Environmental Services Director: Heather M. Danielson, MA, RD
Project Management/Facility & Interior Design Consulting: Lona Homersham, project director; Kathleen Seeyle, FFCSI, founding executive principal, Ricca Design Studios
Architect: Shepley Bulfinch
Mechanical, Electrical and Plumbing: Affiliated Engineers
Fabricators: BSI LLC, Denver (front-of-house counters); Stainless Concepts, Tempe, Ariz. (back-of-house counters)
---
MAIN KITCHEN

Patient-Meal Room Service
Blodgett/Middleby range, combi ovens
Traulsen/ITW FEG reach-in freezer, refrig. chef base, worktop refrig., reach-in refrig.
Star Mfg./Middleby charbroiler
MagiKitch'n/Middleby griddle
Merrychef/Welbilt convection microwave/impingement oven
Pitco/Middleby fryer
CaptiveAire hood
Cambro 10-tray meal delivery carts, shelving
Cres Cor pan racks
Delfield/Welbilt room service counter w/sink, refrig. prep, hot wells, rack dispenser
Dinex/Carlisle tray dispensers, induction charger, heated dish dispenser, dome-and-base storage/drying carts
Hatco food warmers
Vollrath soup wells
Hoshizaki America ice/water dispenser
True Mfg. glass-door freezer
Channel sheet pan slides
American Panel walk-in cooler w/glass doors
Catering, Prep, Bake & Storage
Cambro storage shelving, walk-in storage shelving
Hobart/ITW FEG mixers, slicers
Cres Cor pan racks
CaptiveAire hood
Alto-Shaam cook-and-hold smoker oven
Doyon/Middleby proofer, oven
T&S Brass combination kettle fillers and sprayers
Cleveland/Welbilt kettle, mixer, tilt skillet
Groen/Unified Brands kettle cabinet assembly
Blodgett/Middleby ranges, steamer, combi ovens, convection ovens
MagiKitch'n/Middleby griddle
Traulsen/ITW FEG refrig. chef base, reach-in refrig.
Pitco/Middleby fryers
Halton hood
American Panel recessed walk-in cooler, blast chillers
Follett/Middleby ice maker
Robot Coupe food processor
Berkel/ITW FEG vacuum-packaging machine
Pot Wash
Cambro storage shelving
Hobart/ITW FEG front-load pot washer
CaptiveAire condensate hood
Power Soak/Unified Brands sink
Throughout
Stainless Concepts work tables, work tables w/sinks
Advance Tabco hand sinks, wall shelves, pot racks
SERVERY

Sushi
Pitco/Middleby fryer assembly
CaptiveAire exhaust hood
Federal Industries refrig. display cases
Town rice cookers/warmers
Hatco two-tier heated shelf
Cambro walk-in shelving
Blodgett/Middleby range
American Panel walk-in cooler/freezer
Grill & Homestyle Stations
Alto-Shaam cook-and-hold oven, u/c hot cabinet
Blodgett/Middleby 6-burner range, steamer, combi ovens
CaptiveAire hoods
Hatco carving station, heated shelf
Delfield/Welbilt hot/cold pans
Lockwood Mfg. u/c mobile pan rack
True Mfg. u/c freezer
Star Mfg./Middleby charbroiler
Traulsen/ITW FEG refrig. chef base, mega-top prep table
MagiKitch'n/Middleby griddle
Pitco/Middleby fryers
Deli
True Mfg. u/c refrig.
Hobart/ITW FEG slicer
Ovention Matchbox warmer
Delfield/Welbilt drop-in cold pans
RPI Industries dry display case
Salads & Soup
Delfield/Welbilt drop-in cold pans
True Mfg. u/c refrig.
Vollrath soup wells
Structural Concepts refrig. self-service islands
Piper Products refrig. display case
Pizza/Pasta
CaptiveAire hood
Ovention conveyor oven
Traulsen/ITW FEG roll-in refrig., pizza prep table, refrig. prep table
Hatco heated shelves
Vollrath sauce wells
Cres Cor pan rack
Blodgett/Middleby combi oven
The Nook (Grab-N-Go)
Hatco conveyor toasters
Delfield/Welbilt drop-in cold pan
Structural Concepts self-service countertop case, refrig. self-service case
Cal Mil bread case
Opto display shelving
American Panel walk-in cooler w/glass doors
Cambro walk-in storage shelving
Cold & Hot Beverages
Follett/Middleby ice maker
Panasonic microwaves
Throughout
BSI serving counters, food shields, tray stands, work counters, work counters w/sinks, shelving
Advance Tabco mobile tables, hand sinks
Floorplans and equipment for the kitchen's warewash area, The Daily Grind Cafe and physician's lounge are not shown.