Features
Kitchen Design
Renovations at Northwestern University Dining Halls Bring New Character to Each Facility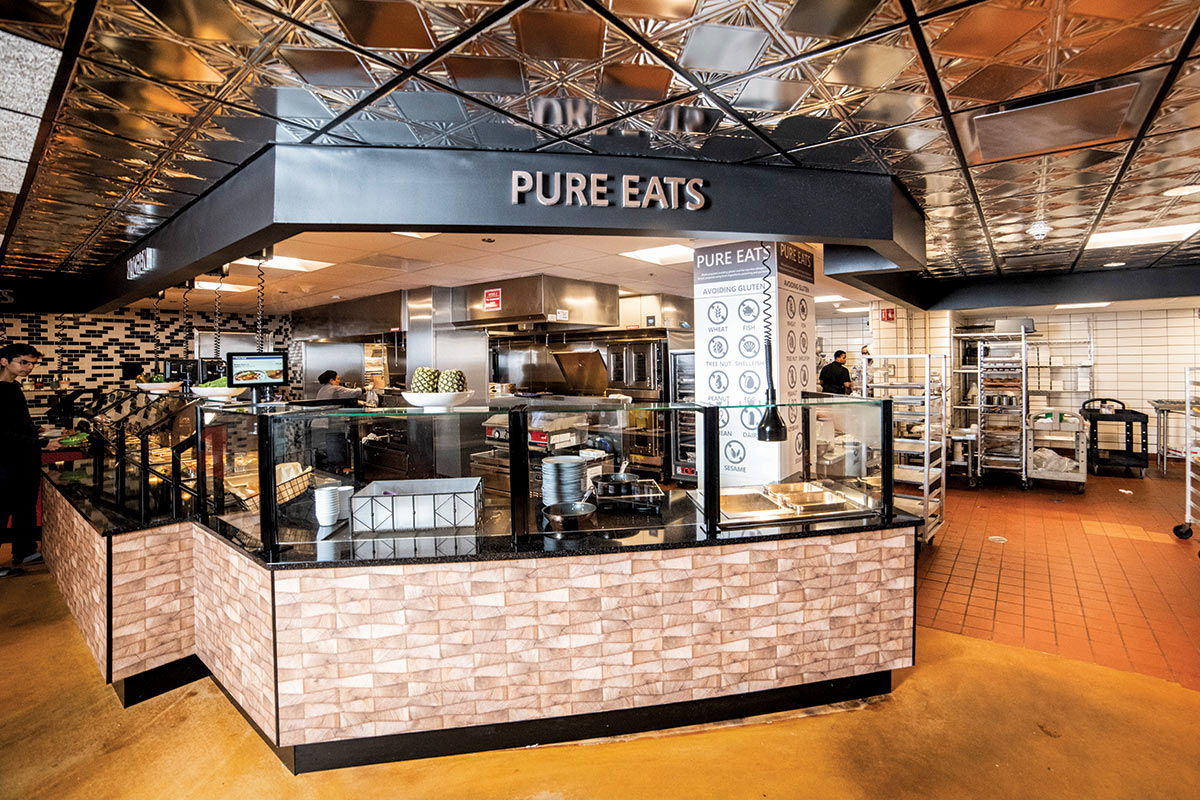 When Compass Group earned the contract to provide food-service for Northwestern University in Evanston, Ill., the challenge was to transform multiple residential dining facilities and one food court within the first year. Their charge: to wow students, improve food offerings and create dining destinations.
"Students may call a particular residence hall home, but now, when it comes to dining, they have a journey, the potential for a new experience at every meal," says Karl Behrens, CEO of design and build, Compass Group North America, and the conductor overseeing all the projects.
As of Fall 2019, the Compass team completed makeovers at Allison, Elder and Sargent residential facilities and at Norris University Center. While each project is unique, all have common threads: quick design-build timelines (some only 90 days), student-curated food platforms and display cooking.
Guiding the vision on the NU side was Julie Payne-Kirchmeier, interim vice president of student affairs, who helped connect students to the vision, and David Stone, Northwestern's director of facilities, who provided strategic support at the institutional and city level. From Compass Group, operations vice president Jennifer Byrdsong devised the overall operational plans, while Behrens and project executive Rigo Sanchez wrangled tasks related to design, permitting, construction and the environment.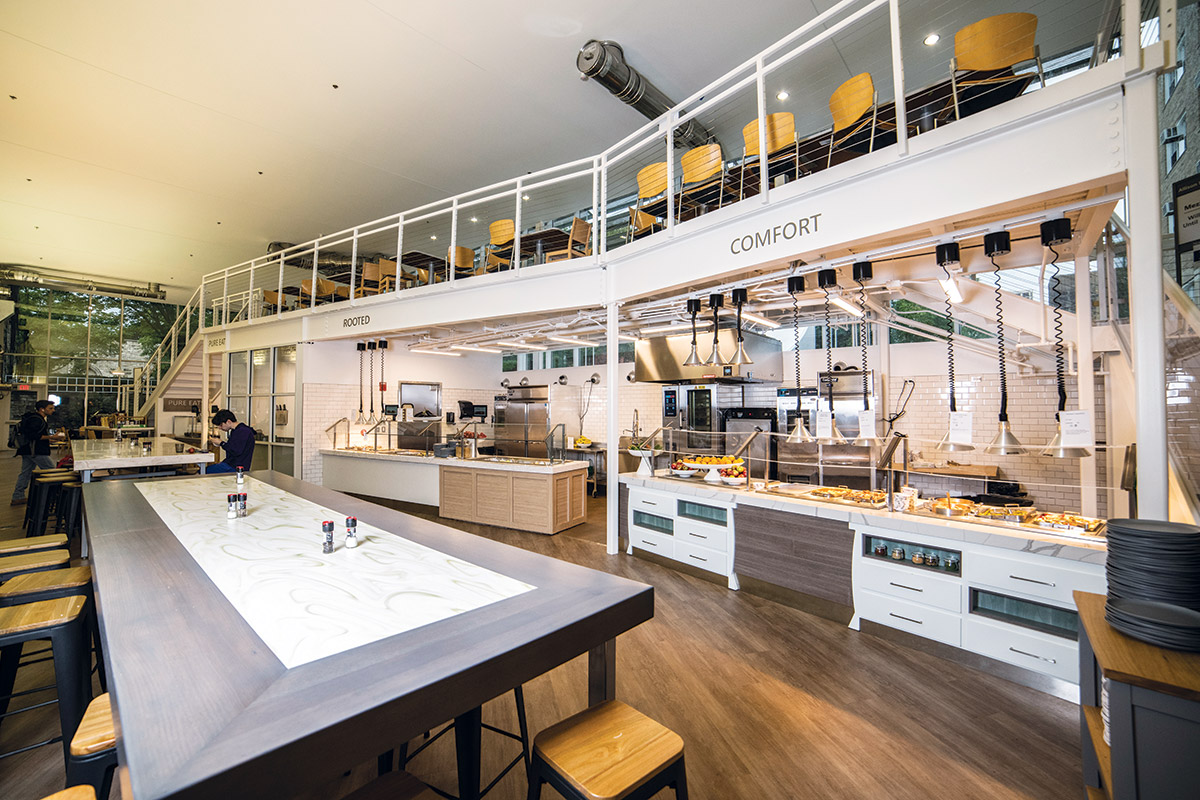 Bringing Transparency to the Dining Hall
Renovations at Allison, Elder and Sargent dining halls gave each location a unique look and feel, Behrens says. Each hall also features interactivity with culinary staff and with food, plus a wide array of seating styles (soft, hard, high, low, booth, community table, etc.) to meet customers' wants and needs. Work began at the end of June 2018 at Sargent, and finished in September 2019 at Allison.
Allison now has a light, airy feel thanks to a palette of natural wood, marble, stainless and shades of turquoise, lavender and gold. Dubbed the Food eKitchen, the space "caters to a new generation of foodies," Behrens says. "This is where food meets tech meets education. Compass has a concept called the Teaching Kitchen that aims to turn every meal into a lifestyle education opportunity. Display screens show everything from the day's menu to fun facts about food, allergen awareness, nutritional facts and more." Allison also features its own indoor grow towers, allowing chefs to use the fresh herbs grown right inside the hall.
"Before renovations, only about 20% of food production was visible," Behrens recalls. "Today about 70% is visible."
One challenge at Allison was how to squeeze in more seating. "We added 122 extra seats by blurring the lines between traditional servery and seating area," Behrens says. "Seating can be found around food production areas, between stations, and even above stations on an elevated platform. Our goal was for every table to have a view of food areas."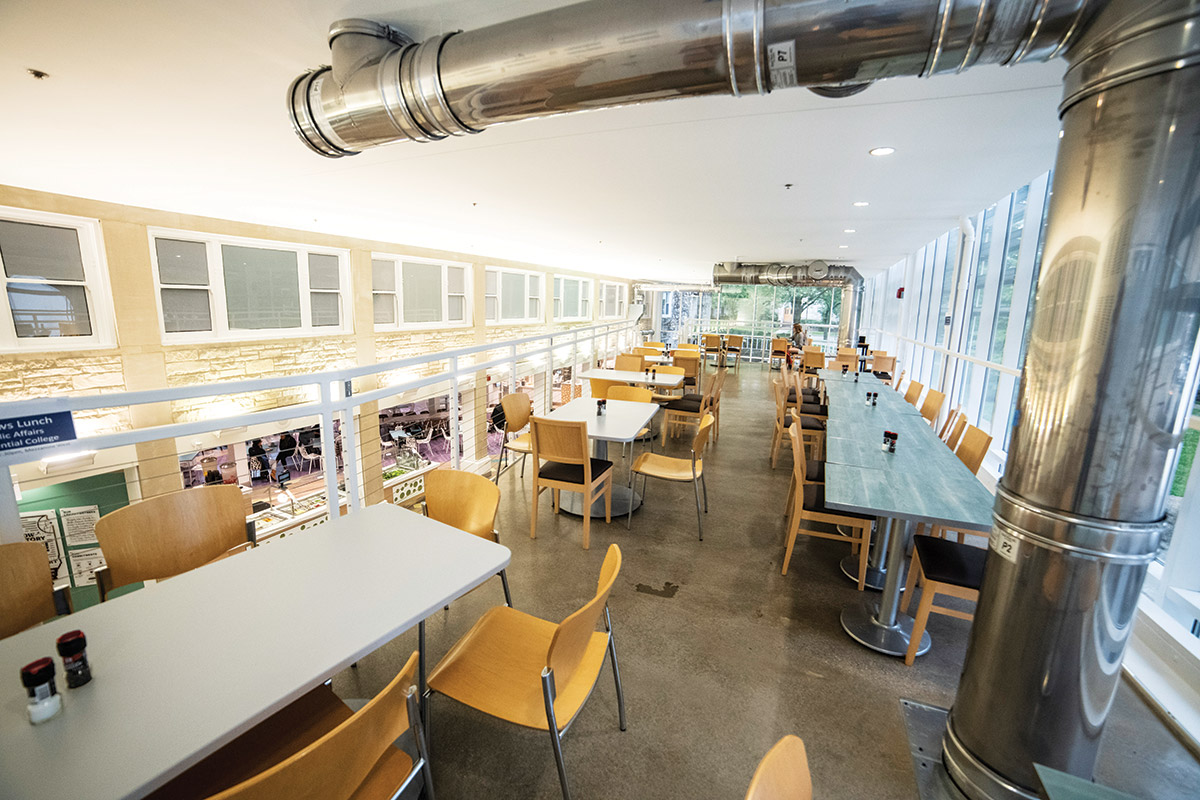 Elder's starting condition was small and dark with low ceilings. Designers took those points and ran with them. "The result was a speak-easy setting that we dubbed a 'fun food factory,'" Behrens says. Antique-style pressed aluminum ceiling tiles provide a retro look while reflecting light; and a jewel-tone palette centered around the signature Northwestern purple adds a rich feel.
Food became a focal point after the renovation. "We took down the wall hiding the kitchen and instead created a food bar where students can interact with staff," Behrens says. "Stations include a salad and deli bar, soup station and interactive EVO grill. An allergen-friendly Pure Eats station, pizza, grill and kosher station anchor the back wall."
At Sargent, "the decor is 'farm to table,' with a hands-on, participatory food design," Behrens says. "We added only one new station, The Nook, where students can assemble their own meals. It has the feel of a home kitchen on campus, with refrigerators, waffle makers, toasters, speed ovens and cereal and beverage stations." Supporting The Nook behind the scenes is a pizza prep table, pizza oven and cold storage.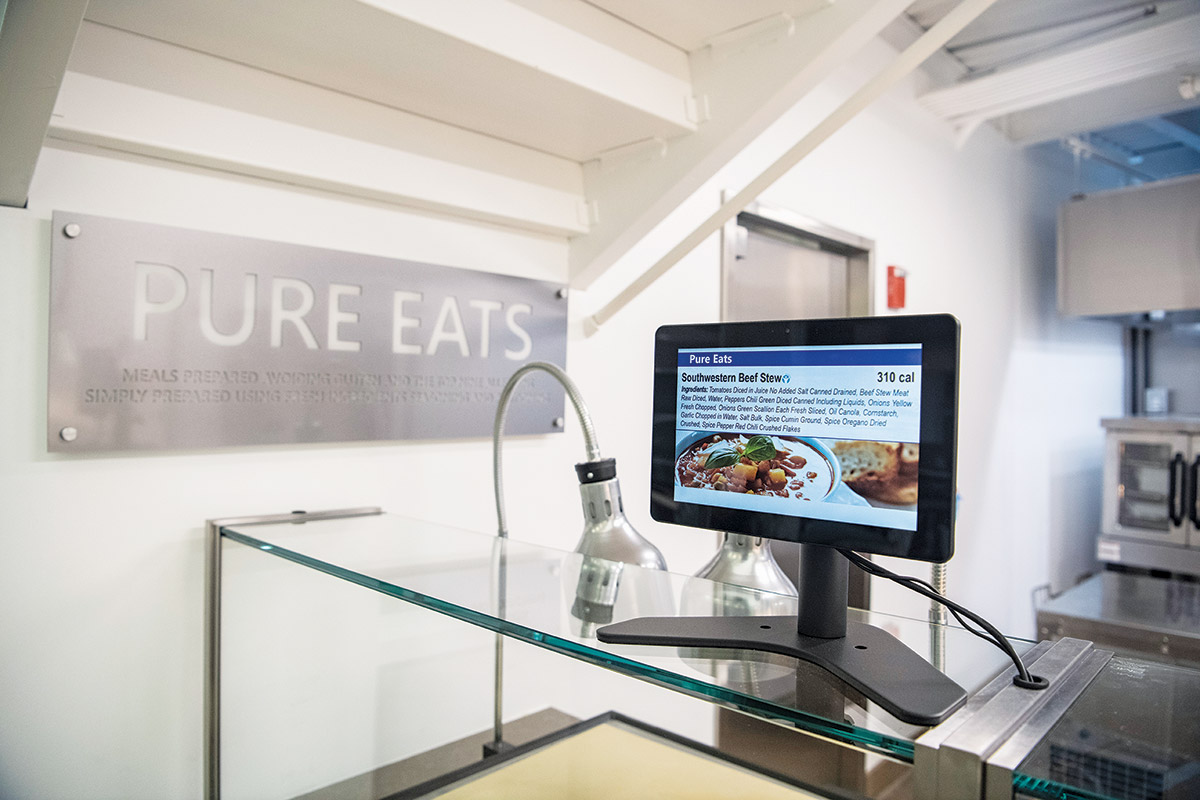 Upgrading Norris Food Court
The food court at Norris University Center was one of the first projects for the Compass team. It opened in September 2018. School administrators' initial ask was for the Compass team to update the food court so it could be used for three more years, which is when the university expected to open a new student center. Then things changed.
"About a month into planning this over-the-summer renovation, the university asked if we could design the project for a seven-year horizon instead," Behrens says. "We expanded our focus to address user experience and flow issues, improve aesthetics, add more transaction points and overhaul all the gathering areas," Behrens says. The project timeline stayed the same, however. A round-the-clock construction schedule during July and August ensured the food court met its September opening deadline.
Changes to the Norris "food-print," as Behrens calls it, had to meet three goals to be considered: transformational, flexible and student-curated.
The team transformed the food court by addressing traffic flow blockages and adding a concept where none had existed before. The previous layout required customers to walk all the way around a central area to reach food concepts at the back, or to cut through the convenience store to reach the back. The team reduced the convenience store's footprint and shifted its walls a few feet to make room for a direct hallway leading to the food concepts.
"Now we have a customer journey," Behrens says. "Guests can walk around every corner and find something new."
To increase dining options, the team invited fast-casual chain MOD Pizza to set up shop in an 810-sq.-ft. foodservice space formerly used as a seating area. MOD's signature stone-hearth oven and its accompanying ventilation requirements created challenges. Crews hoisted the 7,000-lb. oven into an area formerly occupied by chairs and tables by removing some of the floor-to-ceiling windows and moving it in from the side.
Meanwhile, the ground-floor, corner location meant an abbreviated, horizontal ventilation run for the stone-hearth oven. "Because the distance between oven and fan was too short for the hot air to cool sufficiently for the fan we had specified, we had to make a last-minute upgrade to a unit rated for high temperatures," Behrens explains.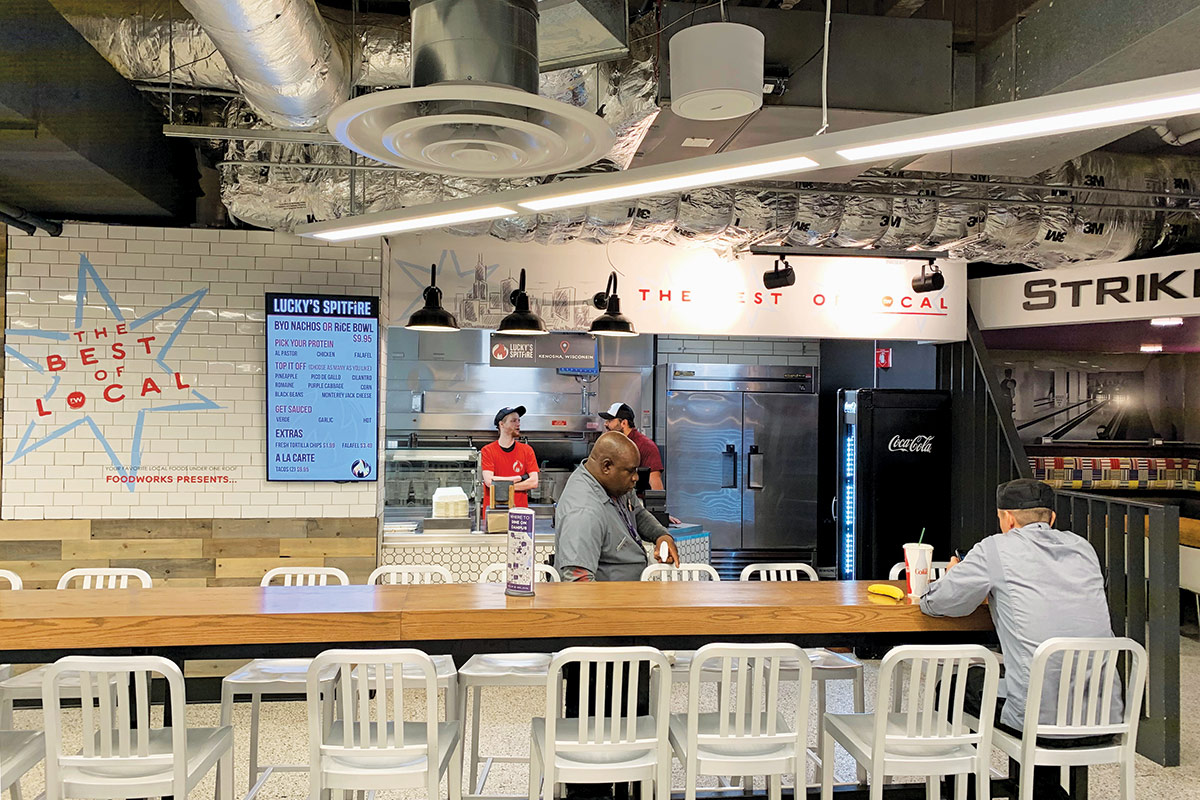 Rotating Options
The team addressed flexibility and student-curation at Norris with a variety of concepts. Along with MOD Pizza, also new is Patty2 (pronounced Patty Squared), created by Evanston's own Amy Morton, part of the family that founded Morton's The Steakhouse. Additionally, a trio of counter-service dining outlets, as well as a convenience store called Roots & Seeds and a Dunkin' Donuts provide something for everyone.
Patty2 offers composed salads and wraps, burgers, kombucha on draft and cold-brew coffee as well as smoothies and milkshakes. Its equipment lineup would be at home in any burger joint, and includes a griddle, fryers, prep table, blender, mixer and beverage dispensers.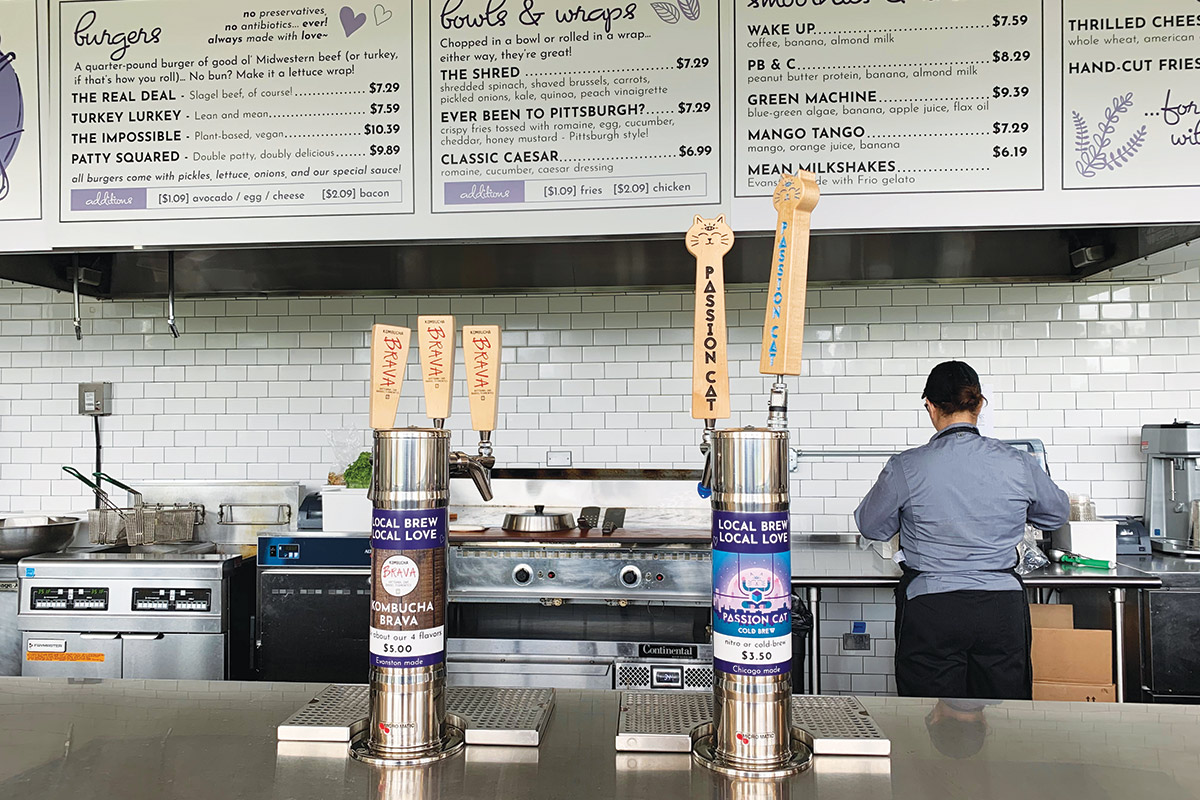 The trio of counter-service dining outlets includes bowl-concept Asiana, Wildcat Deli and the newest installation, Best of Local. Designers created Best of Local to rotate in new concepts every two weeks. "This station in particular gives students the ability to take ownership of what comes next to this station," Behrens says. "Our partnership with FoodWorks lets us bring in local chefs and concepts. This adds variety and also helps local businesses grow and expand." Food-Works, a Compass platform, evaluates students' suggestions and handles the logistics and behind-the-scenes verifications needed to ensure success.
Flat-screen monitors display the logo and menu of each new visiting concept. Supplemental marketing items and their own uniforms reinforce their identity. The Best of Local station, covering about 170 sq. ft., comes equipped with a hood, a bank of fryers, drop-in hot and cold wells and refrigeration, as well as ample power, ventilation and gas to meet most operators' needs. Quick-disconnect outlets allow operators to swap equipment in or out as needed.
At Asiana, customers can choose from rice bowls, sushi, poke bowls and more. A sushi display case shows off fresh seafood. The station also comes with a griddle, steamer, char-broiler and fryers. The Wildcat Deli features sandwiches and wraps. Its equipment includes a sandwich prep table, speed oven and a warming unit.
The Roots & Seeds convenience store—with a compact self-serve salad and hot-entree bar, bottled specialty beverages and bagged snack items tucked into the 440-sq.-ft. footprint—offers a "whole meal opportunity for students," Behrens notes. "Students can pick up a well-rounded lunch and be on their way quickly."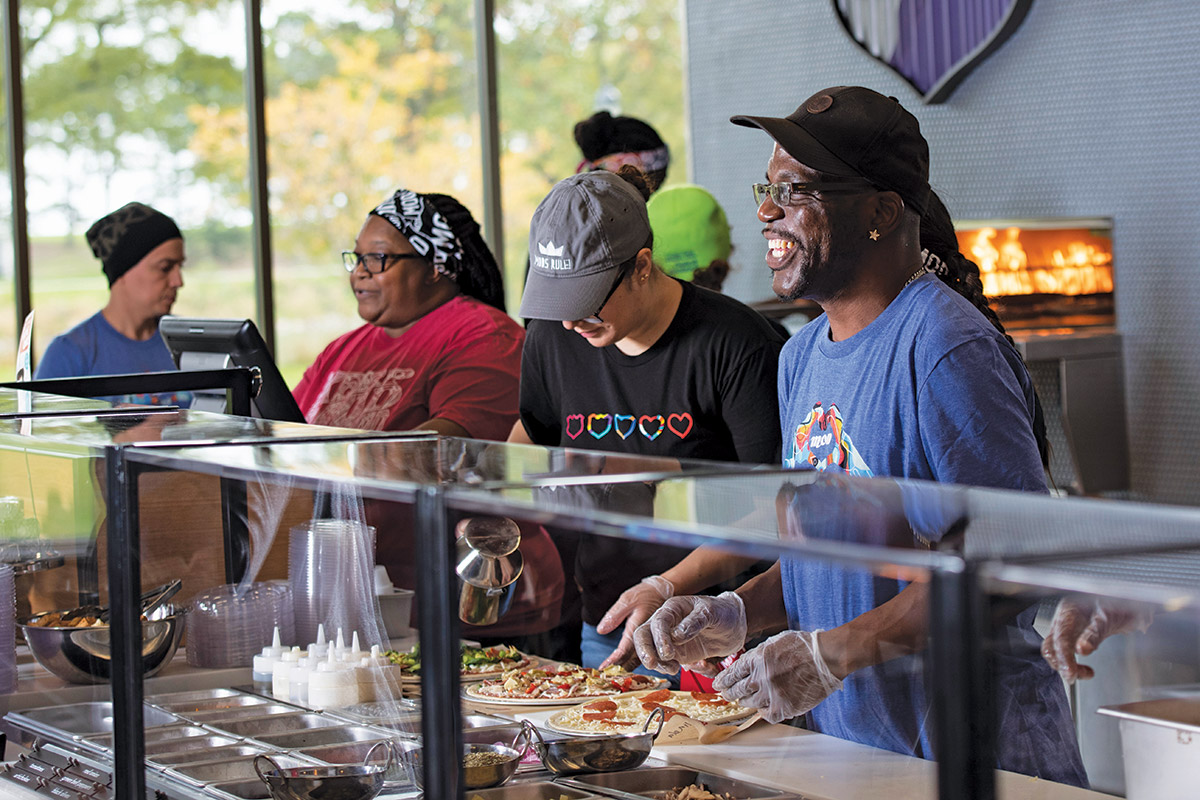 A Look Ahead
At least one more resident dining hall renovation lies ahead. "Our vision is for Foster-Walker to be the campus food hall," Behrens says. "It will have hyperlocal stations featuring area chefs, similar to what we created at Norris with Best of Local."
---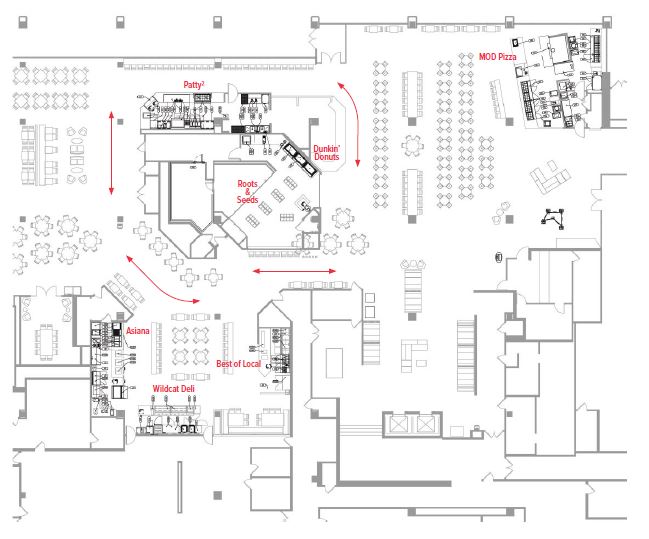 SPECS
Norris Food Court, Northwestern University, Evanston, Ill.
FACILITIES: Dining commons at Allison, Elder & Sargent residential living facilities and the food court at Norris University Center
LOCATION: Northwestern University, Evanston, Ill.
MENU/SEGMENT: College & University
CAMPUS POPULATION: 21,000
CLIENT (Northwestern University): Julie Payne-Kirchmeier, Ph.D., interim vice president of student affairs; Jeremy Schenk, Ed.D., executive director of Norris University Center; David Stone, director of facilities
FOODSERVICE CONTRACTOR: Chartwells Higher Education/Compass Group: Karl Behrens, CEO of design and build, Compass Group North America; Jennifer Byrdsong, vice president of operations for Compass Group at Northwestern University; Rigo Sanchez, director of design and construction at Compass Group
CONSULTANT/DESIGN FIRM: NVironment, Columbus, Ohio
ARCHITECT: Christopher Collins, NVironment
WEB: dineoncampus.com/northwestern
EQUIPMENT
Asiana
Advanced Gourmet sushi prep/display case
True reach-in freezer
Southbend/Middleby griddle, countertop steamer
Pentair Everpure filtration for steamer
Garland/Welbilt charbroiler
Continental refrig. stand for griddle
Pitco/Middleby fryers
Vollrath induction rethermalizer
Vitamix blender
BUNN coffee/tea brewer
Advance Tabco worktable, hand sink, wall-mounted shelving
Wildcat Deli
Duke Mfg. hot display, cold pan display, sandwich prep table
Nemco warmer
Merrychef/Welbilt microwave/convection oven
Lockwood mobile display cabinets
Nu-Vu/Middleby proofer, oven/proofer
Advance Tabco hand sink
Best of Local
Pitco/Middleby fryer, food cabinet station
Advance Tabco worktable
True reach-in refrig.
Hot wells, cold wells, worktop (existing)
Vulcan/ITW FEG griddle
Traulsen/ITW FEG freezer base
Patty2
Keating griddle
Hood (existing)
Univex hamburger molder
Pitco/Middleby fryers, food cabinet station
Continental sandwich prep table, griddle stand/freezer, reach-in refrig.
Vitamix blender
Waring mixer
Alto-Shaam warming/holding cabinet
Structural Concepts self-service case
Micro Matic beer dispenser
Metro/Ali Group shelving
Hoshizaki worktop freezer
Advance Tabco wall-mounted shelving, work table, hand sink
T&S Brass wall-mounted faucet, waste valve
Eagle three-comp. sink
John Boos work table
Roots & Seeds
BUNN cold draft nitro coffee
Lancer beverage dispenser
Pentair Everpure water filter
BSI LLC food shields
Wells/Middleby drop-in cold pans
Vollrath soup wells
American Panel walk-in cooler
MOD Pizza
Wood Stone stone-hearth oven
Vollrath drop-in cold pans
Structural Concepts self-service counter case
Continental pizza prep tables, reach-in refrig.
Channel Mfg. pizza pan rack
Cambro pizza dough box
Cuppone dough press, pizza press stand
Taylor/Middleby shake freezer
Fisher deck-mounted faucet, work table
Hoshizaki ice maker
3M purification filter for ice maker
Eagle scullery sink