Features
Furnishings & Components
Equipment Comparisons
Serving Equipment
How to Spec Custom Serving Counters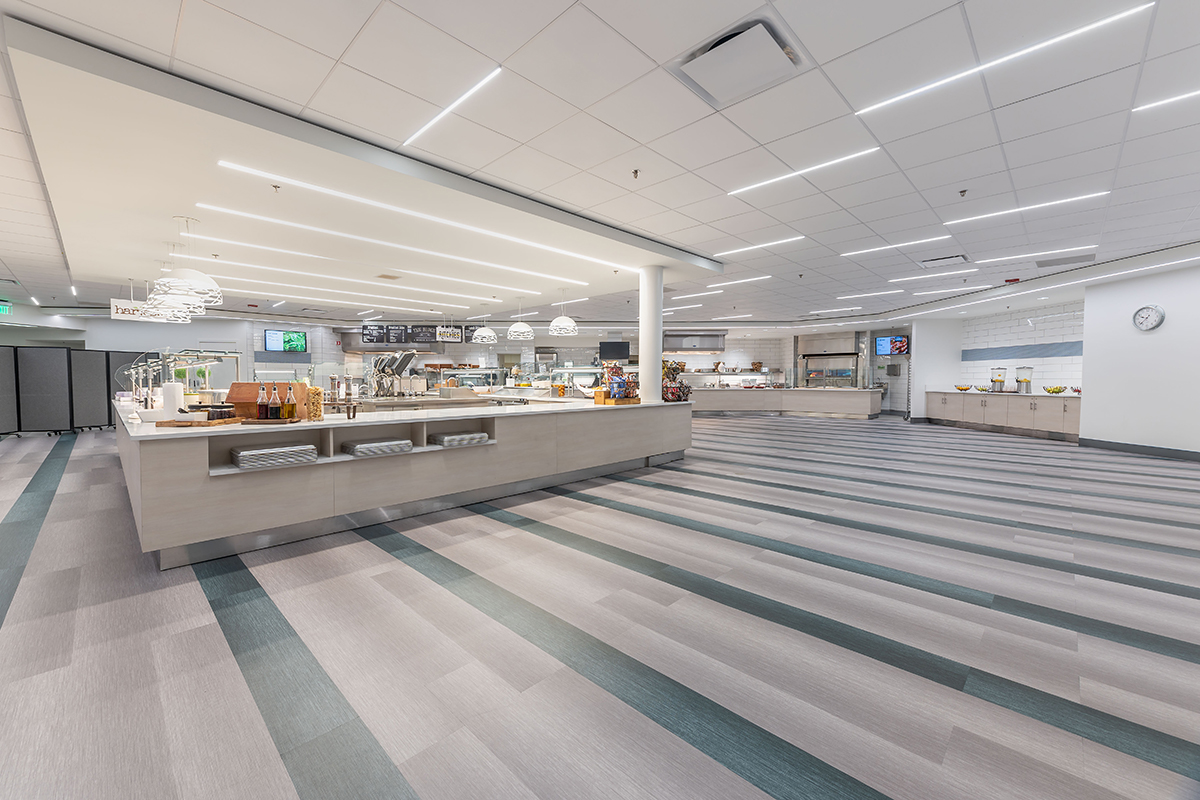 Foodservice operators can specify basic portable serving counters—and for many facilities, that may be a perfect fit. But if you're a corporate or healthcare dining provider or a university with cafeteria facilities, you know that serving counters play an outsize role in how you present and serve food. Done well, the right counter—plus great food—can help you attract and retain customers.
Beyond their function, serving counters often end up being the prominent design feature and merchandising piece in a space, so it matters how they look. Having counters custom made allows you to choose everything from the length and shape, to the countertop and facade, to functional features such as hot/cold wells, lighting and cutouts for holding plates and other serving items.
In the past, getting that custom look often required long lead times and working with several suppliers—fabricators, millwork shops, etc.—to get all the elements you wanted. Now, more serving counter providers have both the engineering and manufacturing expertise inhouse to design and fabricate counters to your specs using whatever materials you'd like.
To get the outcome you're looking for, do your homework in three key areas—functionality, flexibility and design aesthetics.
Functionality
First and foremost, a servery has to function within the space allotted for it. Nail down your menu concepts, then determine the capabilities required of the servery components.
Construction. Materials you spec for different sections depend on where and how each piece will function. Who are your customers and how will the servery be used? What's the expected lifespan of the servery? Answering questions like these will help you pin down construction specs. Wood framing, for example, is inexpensive, but not a good material to use around heat or moisture. Steel framing will give you the most durable construction, but you may not need it everywhere. A designer might use millwork construction for cashier stations, sturdy angle-frame construction for beverage and salad bar stations, and totally customized, engineered construction for the main serving counter, one maker says.
Technical needs. Issues involving utilities such as the location and specs for plumbing, drains and electrical connections need to be addressed early in the planning process, and you should feel confident that the serving counter supplier you choose can proactively deal with these and other technical challenges. "Who you choose to install the components, for example, may determine whether the components are individually wired or designed with a single connection point," says Ray Soucie, FCSI, Webb Foodservice Design, Portland, Ore. "A single connection point is a lot easier to install. We try to design things like breaker boxes into island counter equipment so if one piece goes down, you can still use the rest of it."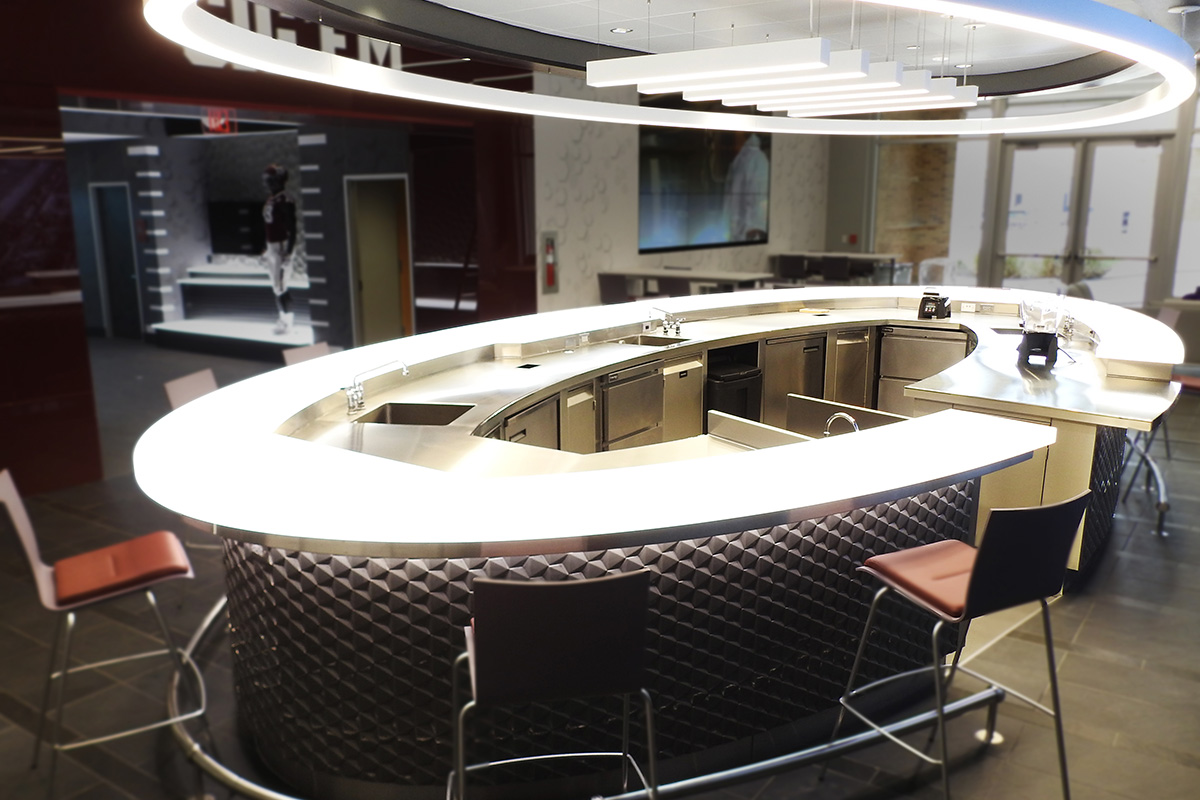 Menu delivery. Know what serving counters you need to deliver food to customers and how they'll be replenished. Do serving stations need hot or cold storage bases? Do you want doors or drawers? Are undercounter shelves or cabinets in public view and do they need doors? Most designers will look for ways to make functional parts like lights, heat lamps, signage and shelving both flexible and unobtrusive, if not attractive.
Good design provides clean sightlines to both station signage and, as customers get closer, to the food itself.
Cleanability Durability is one component of material selection, but how easy it is to clean is just as important. Your local health department may have specific requirements for surfaces other than those which come in contact with food. How well and how easily surfaces clean also will affect how long they'll last and how good they'll look over time.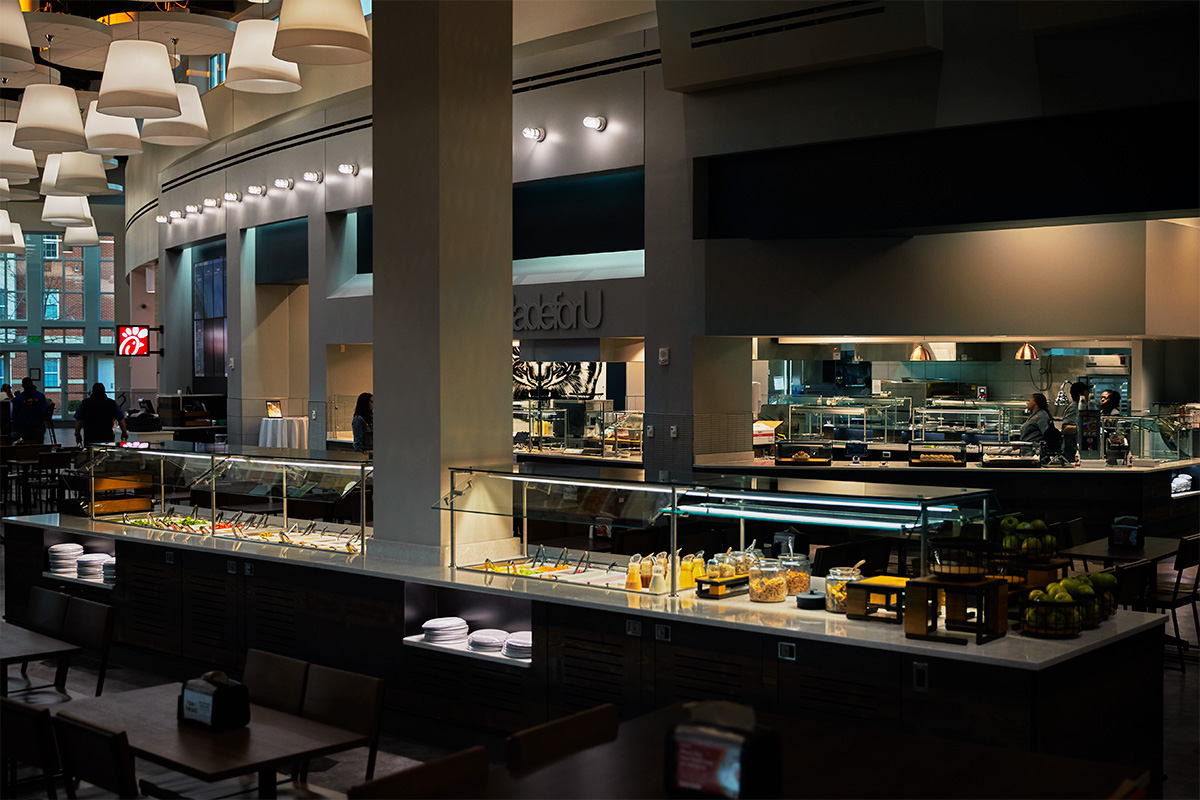 Flexibility
Even off-the-shelf serving counters are not inexpensive. For the investment you'll make in a custom servery, and for as long as such a piece is designed to last, be sure to build in as much flexibility as you possibly can.
Drop-in equipment. More makers now offer a full line of drop-in warming and cooling equipment, including hot wells, cold wells, convertible hot/cold wells, frost tops, freezers, ice pans and more. You can switch them out if you want to change menu concepts or the flow of the serving line. New equipment includes a forced-air cold pan for more consistent cooling, induction warming wells and more.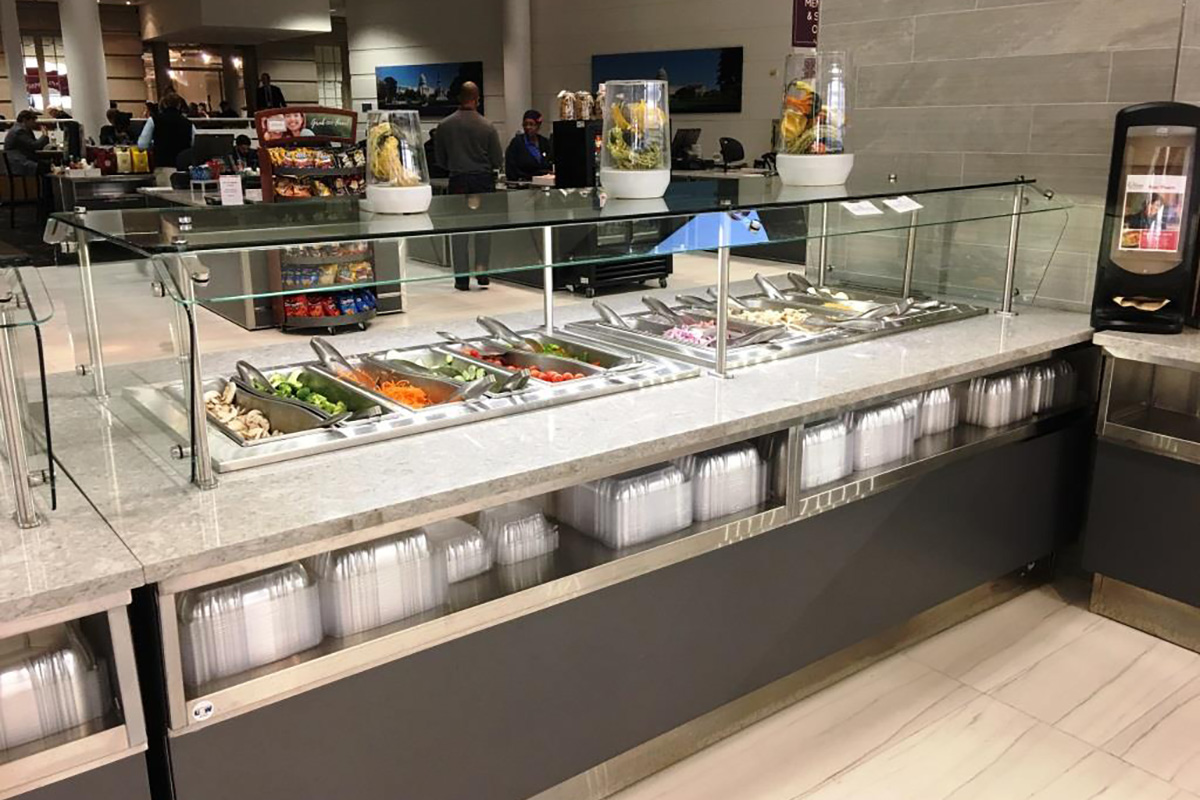 Induction hobs/wells. Using induction hobs allows you to prepare cooked-to-order items, or hold and merchandise hot food in smaller pans. "Induction holding equipment below the counter means food can be served from induction pans at mealtime and then disappear instead of leaving an empty food well on the countertop," says Connie Dickson, FCSI, Rippe Associates, Minneapolis. "Smaller amounts of food on display in induction pans also helps operators manage food waste." One maker now offers an induction cooking station with a self-contained exhaust and fire suppression system.
Mobile serving modules Putting portions of your servery on casters lets you switch out entire stations for different dayparts. A salad bar at lunch can be rolled back into the kitchen to make room for a hot food station at dinner.
Removable exterior panels. At least one maker offers removable exterior panels instead of permanently attaching them by welding, bonding or bolting. That allows you to change the look of the servery less expensively if you choose to remodel down the road.
Design & Aesthetics
The design features and finishes of your servery will have a lot to do with the architecture of the space you're in, as well as the vision held by both you, the client, and the consultant or designer on the project. A few key points to keep in mind:
Flow. First and foremost, counter design should aid flow through the servery. Stations should be laid out in a manner that makes them easy to find and navigate through. The layout also should be as efficient as possible. While the space itself may have constraints, design should eliminate backtracking and unnecessary steps.
Issues involving utilities—such as the specs for plumbing and electrical connections—need to be addressed early in the planning process.
Sightlines. Good design provides clean sightlines to both station signage and, as customers get closer, to the food itself. Counter layout is one way in which designers create clean sightlines. Another way is in the choice and positioning of food shields. Systems with fewer support posts, or those that use bonded glass to eliminate posts, will give customers more unobstructed views of both food behind the counter and other stations in the servery. If support posts are used for shields, ask the supplier how they'll be mounted and supported so they don't loosen over time.
Curves vs. Straight Lines In some instances, choosing curved counters rather than straight may improve the flow. However, if straight lines better fit the space and don't cause bottlenecks, there's nothing wrong with them. Ultimately, designers use one or the other (or a combination) to complement the architecture of the space. Most manufacturers have no problem building curved counters to whatever radius you want.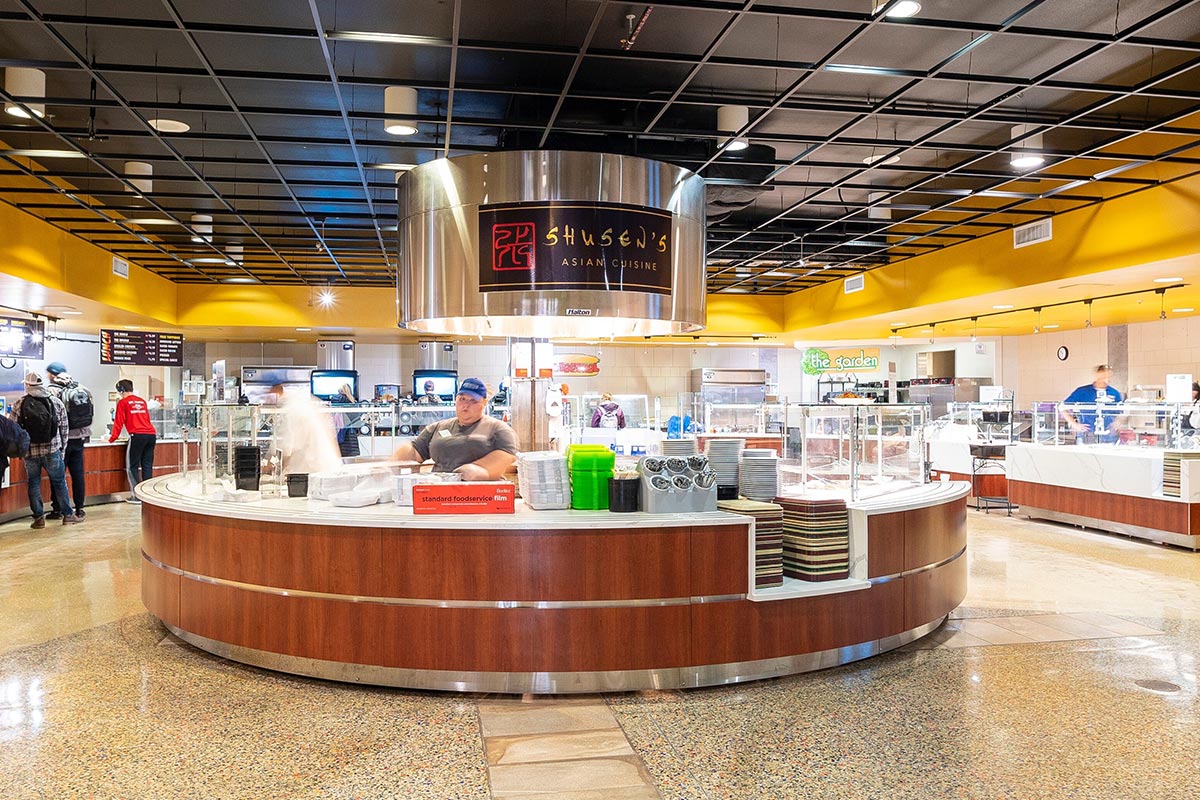 Finishes. "Counters can help tell the story of a space or enhance its local connection through design and materials," Dickson says. Most makers can work with practically any material, such as quartz and granite, steel, textured tile slabs, reclaimed wood or brick, concrete and formed materials like Corian and Caesarstone. Popular now are "waterfall" counters that take the countertop material to the floor on the ends. Always consider ease of cleaning and wear and tear when you review materials. Some finishes and colors will show use more obviously than others.
Form with function. To keep lines clean, many designers are asking manufacturers to eliminate unsightly appendages like tray slides and shelf supports. Instead, designs incorporate shelves into the front face of the serving counter to hold plates or retail displays. Above-counter shelves are often bonded glass, which doesn't require steel supports.
Lighting. Accent lighting can enhance both the design and the food. LED lighting is energy-efficient and versatile, allowing you to change colors and the entire mood of the servery. Designers are now using it under the counter edge and along the kick-plate to dramatize the look of the serving counters. Lighting also can accent shelves in and above the counter.
Spec Smart
Don't rely on photos. Project photos are pretty but don't always show fit and finish details. Take road trips to see suppliers' work in person.
Ask for references, and check them; don't be tempted to skip this step.
Pick a supplier that offers expertise in every material you want to use. Ask who will cut stone for countertops, etc.
If you choose to use stone, check where thermal breaks are provided, and what materials are used, to prevent stone from cracking.
Choose a supplier that can help solve technical challenges encountered in your project. One of the biggest is how the supplier will get the servery components through the door and assembled on-site.
Look for single-source capability from fabrication to drop-ins and food shields. You not only may be able to get a better deal, but you'll be assured that the supplier has expertise and experience with all elements of a custom counter.
---
Not Common Counters
Anything but off-the-shelf, the following serving counters are midrange to fully customized. Study the special features for each.