Equipment Comparisons
Healthcare
Refrigeration & Ice
What to Know About Choosing Refrigerated Merchandisers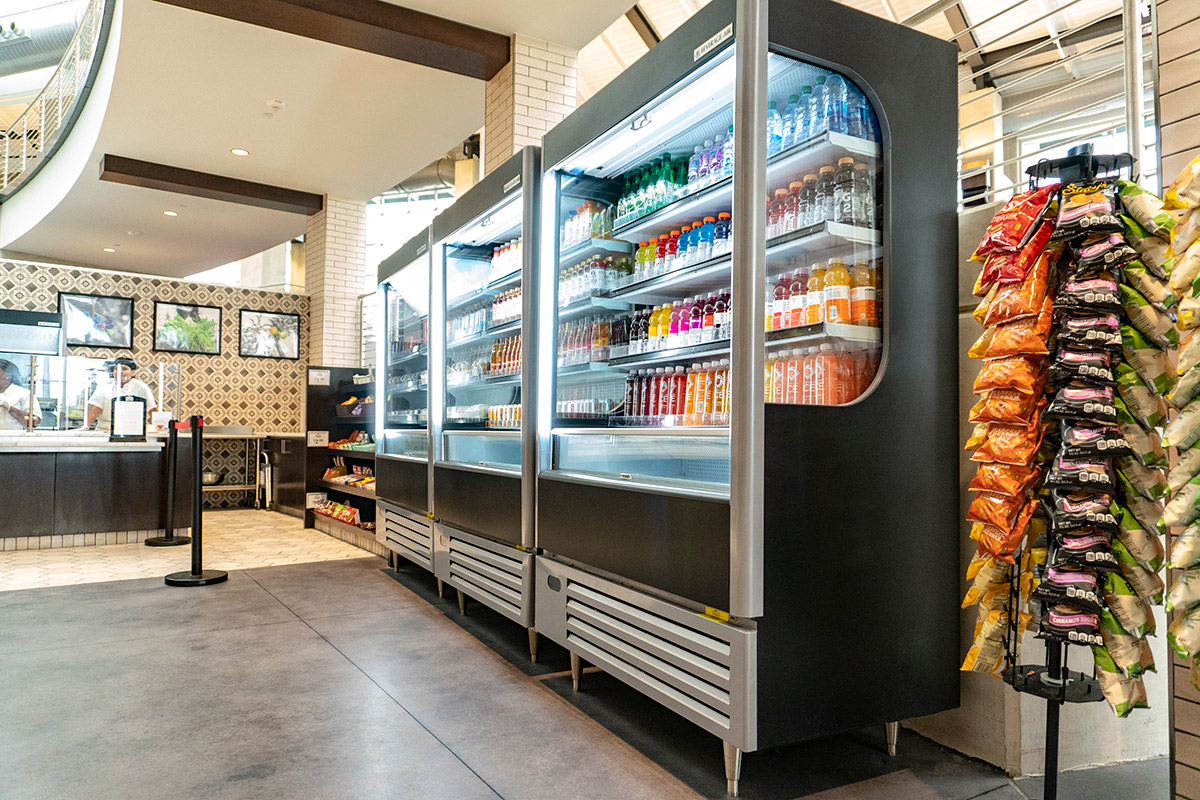 Foodservice in hospitals and other healthcare settings is evolving, with the trends paralleling those in other foodservice sectors. We're seeing more satellite food and beverage operations beyond the central cafeteria, from lobby coffee shops to kiosks around the campus; more on-the-run eating and fewer sit-down meals; more self-service grab-and-go choices and fewer items served by the foodservice staff; and more emphasis on healthful, fresh, colorful, plant-forward food and drinks. All of these game-changing trends mean ever-greater demand for a variety of self-serve refrigerated merchandisers.
If you're thinking about purchasing new merchandisers for your institution, there are several reasons why 2020 is a good time to take the plunge.
First, manufacturers are in the process of switching out refrigerants, eliminating fluorocarbons and hydrofluorocarbons in favor of hydrocarbons, such as R290, R448/449a or R513a, with less potential to heat the planet as they cool the food. (Although the Environmental Protection Agency shelved its proposed nationwide refrigerant standards, California and Canada already mandate new refrigerants with less global warming potential, and other U.S. states are considering similar rule changes, so companies that sell across North America have no choice but to change refrigerants.) Some manufacturers have already transitioned their entire refrigeration line to environmentally friendly cooling chemicals; others are in the process of doing so. Merchandisers now in the field are unaffected, but if your institution prides itself on "green" positioning, the new refrigerants are a good argument for upgrading your units now.
Second, there have been recent design changes that improve both functionality and style in these refrigerated grab-and-go cases.
Cool Tech
Manufacturers of refrigerated merchandisers are introducing features like adaptive defrost, expansion valve technology and variable-speed compressors, allowing the units to use smaller, less energy-intensive cooling systems and still get excellent cooling results.
The latest slide-out refrigeration systems for merchandisers use aircraft-grade flexible refrigeration tubing instead of copper, so the entire condensing unit can be accessed easily for cleaning or maintenance without risk of refrigerant leaks or blockages.
Another relatively new feature is automatic cleaning systems for condenser coils—which should be cleaned regularly for optimum efficiency but often aren't because they're sometimes difficult to access. One company has an electronically controlled brush mechanism that automatically cleans dust and debris from the coils every 24 hours. A competitor has a system in which the condensing fan is reversed when the unit starts up; for the first 20 seconds, it blows air, dust and debris out of the coils rather than pulling in ambient air, reducing dust buildup between manual cleanings.
To further boost efficiency of refrigerated merchandisers and lower operators' electric bills, one company also has switched from electric heating to hot gas for the pans below the unit that burn off condensate.
At least one company incorporates a temperature sensor for merchandisers in unstaffed areas, automatically closing the case and alerting staff about potentially unsafe conditions.
---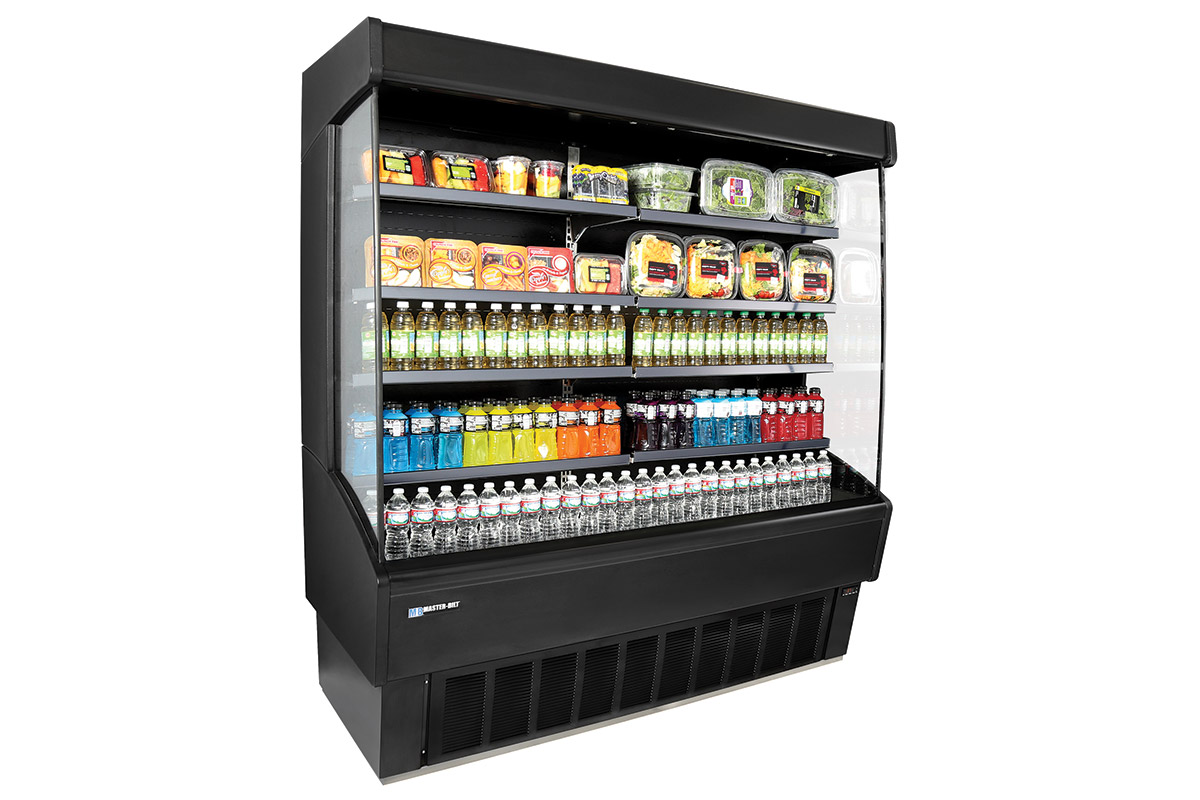 Seeing More Clearly Now
Just as big as the recent technology upgrades are aesthetic improvements that make it easier to merchandise fresh, colorful items like salads, sandwiches, veggies, fruits and juices. Bright, natural-color, energy-saving LED lighting is now standard. Lighted display panels and customizable exterior wraps also help merchandise the goods.
One company has improved food visibility and temperature control with a bonded double-walled frameless glass system. "It's like two glass boxes or fish aquariums, one inside the other," a product expert explains. The cavity between the two boxes is filled with chemically inactive argon gas; because the cold interior glass is not in contact with the warm exterior glass, the design prevents condensation, improving visibility even further.
Other manufacturers have found different ways to increase the glass relative to the size of the box, such as by relocating the compressor and condenser so the entire front surface of the merchandiser is available as sell space.
Some companies can line up refrigerated, ambient and heated merchandisers of similar design to create what one expert calls a "great, big, huge window of fresh." On the other hand, manufacturers also offer small self-serve display refrigerators to go into tight or odd-size spaces or alcoves in areas like building lobbies.
An average-sized cold case (30-, 36- or 48-inches wide) takes a standard 120V plug, but the largest will require 208V service.
Despite improved designs, there's no getting around the fact that open-air merchandisers, which retain cold temperatures via air curtains, are less energy-efficient than closed-door cases. Still, they can't be beat for merchandising, with food and beverages all but leaping into the hands of impulse-driven customers. New air-curtain island merchandisers with reach-in food wells let operators adjust the surface level at which the food is displayed, making them always look full, and can accommodate different sizes and shapes of containers.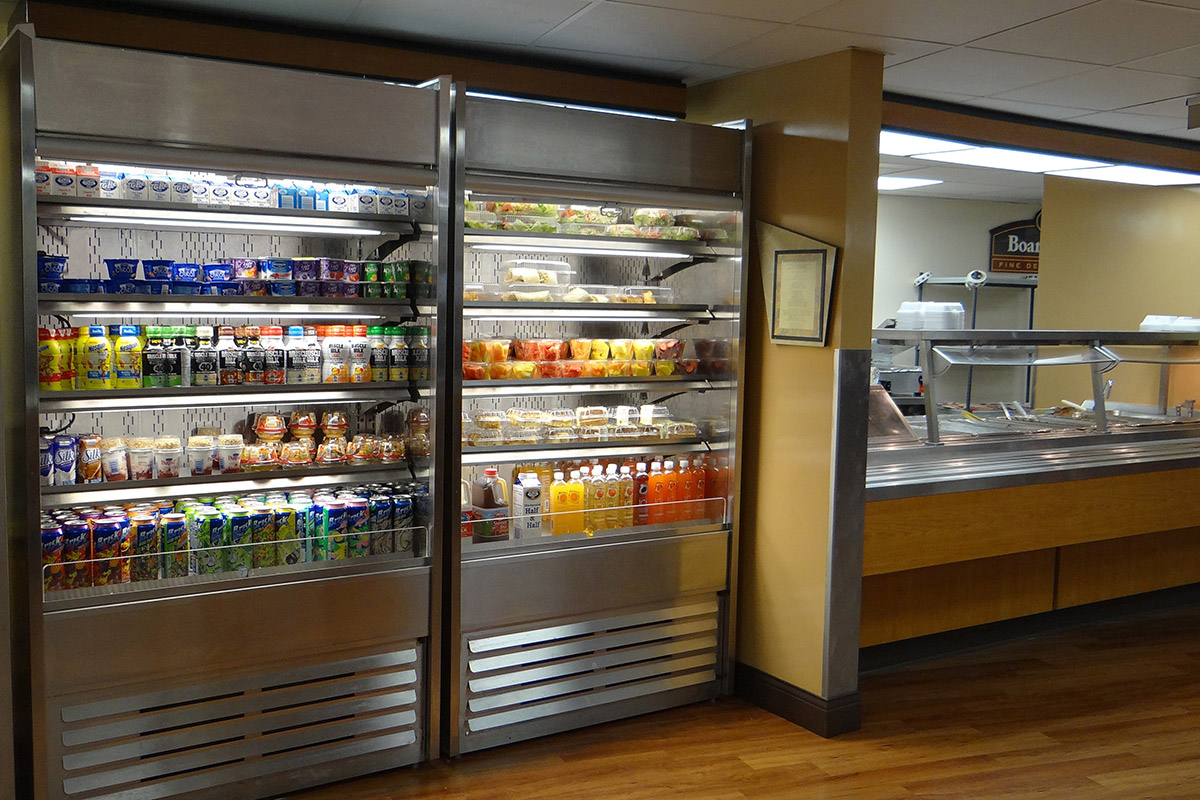 What to Consider
Whether you're adding a single merchandiser or equipping an entire facility, you'll need to consider many factors. Some of the questions you should ask yourself and your equipment supplier:
What's your goal?What menu items will you offer in the cooler, and in what quantities? Will there be any heavy items (such as beverages) that require reinforced shelving? How many levels of display shelves do you want? What will be your maximum depletion rate during meal periods? Will employees restock the case throughout the day? (If so, you may want a case with a back-loading door.) Do you have a refrigerator to precool items, or will they be loaded at room temperature? How will you avoid the "empty case" look after meal rushes? Will the types of items to be offered change frequently? (If so, you'll want flexible shelving options that can be adjusted for shelf height and tilt, without tools.)
Have you considered all available options? You have a wide choice of interior and exterior color finishes. For a brighter look, you also can choose lighting for each shelf and mirrored glass behind the food. Consider casters if you expect to move the case around. An air-curtain case will need a flexible or rigid cover to keep items cool at night, but a night cover is an energy-saving feature to consider for glass-door units, as well. A locking security cover is another option. An opaque decorative cover also can hide an empty self-serve unit until it's needed again.
Where will you locate the case? One manufacturer suggests the 5-10-15 rule—the refrigerated case should be at least 5 ft. away from a window (particularly if it gets direct sunlight); 10 ft. from any ventilation, such as an HVAC discharge, return-air or kitchen vent; and 15 ft. from an exterior door, which can introduce heat, cold and/ or humidity. It's especially important to follow these rules if you're installing an air-curtain case.
---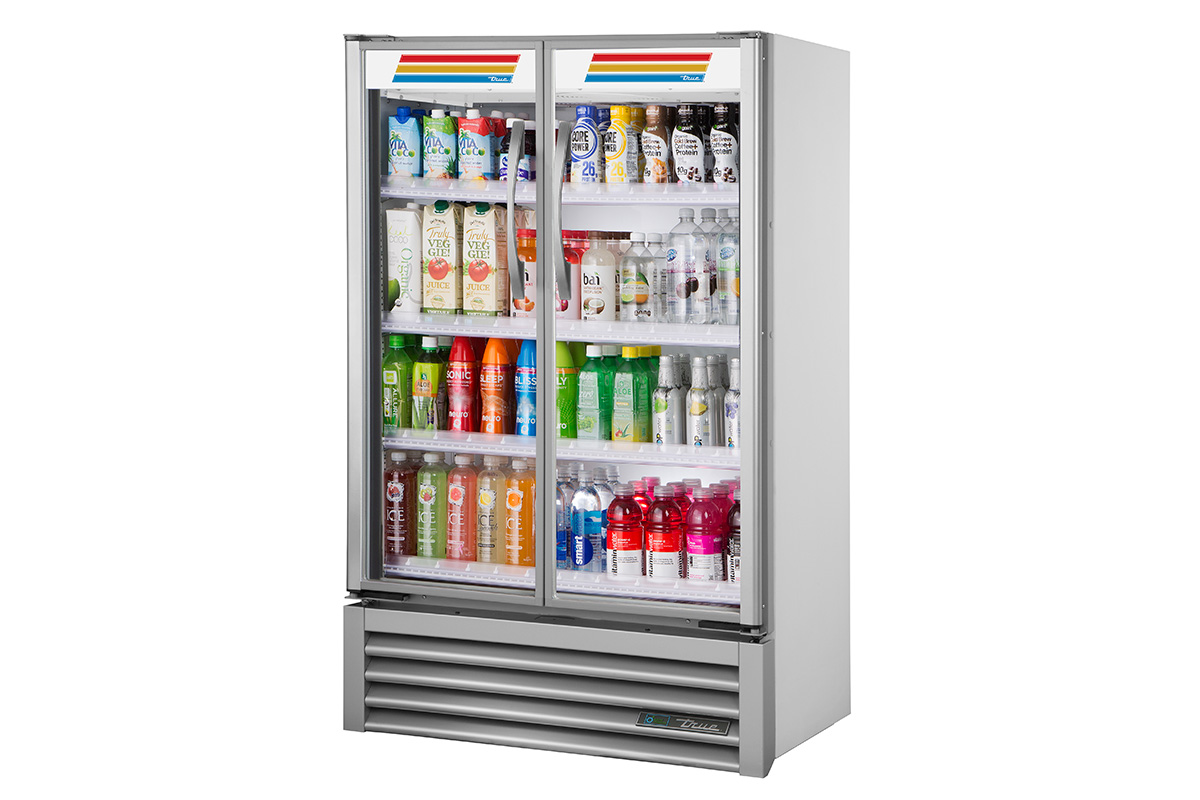 Are air clearances adequate in the spot you've chosen? "You can build the unit into millwork for a custom look, but give it an inch all around to let it breathe," one product expert says.
How hot? If your site experiences temperatures above 75°F or greater than 55% relative humidity, or if your facility dials down the air conditioning at night, you may be dealing with what NSF calls "Type 2" ambient conditions and should specify heavy-duty, Type 2-rated refrigeration.
What about drainage? To deal with water condensation, you'll need a wicking kit, condensate pan or floor drain.
Do you have a dedicated circuit? Because a refrigeration unit is a substantial electrical draw and the compressor cycles on and off, it should have a dedicated circuit.
Is remote refrigeration an option? Not all manufacturers offer this, but putting the compressor on the roof can significantly cut down on noise and heat.
Who will ensure that the case is leveled during installation? It's often overlooked, but "leveling the cabinet is of the utmost importance," says one refrigeration manufacturer. Otherwise, doors may not close tightly and the pans that collect the condensation won't drain properly.