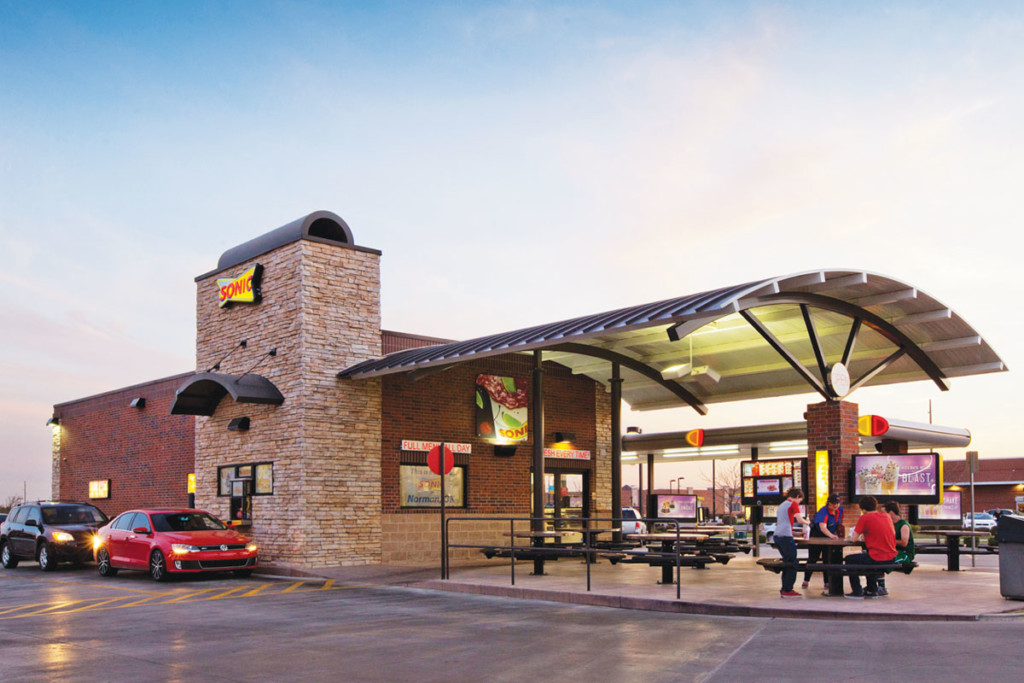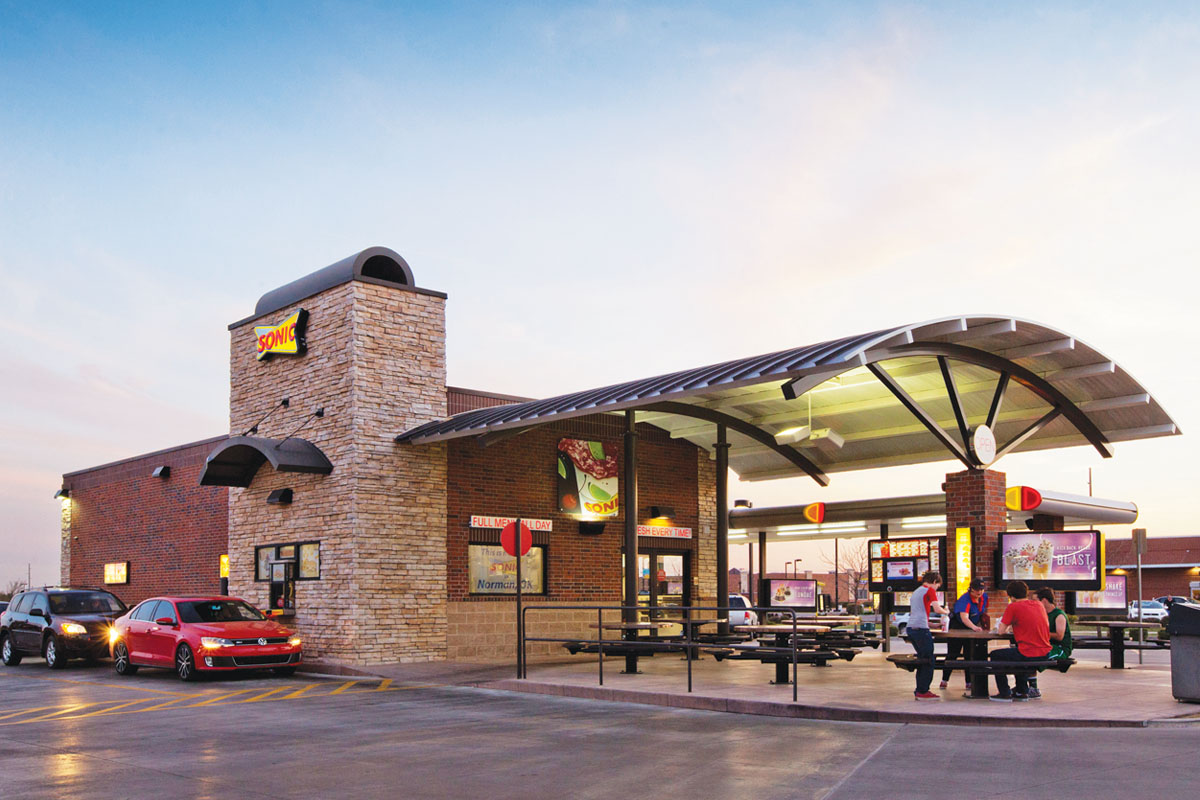 Whether for picking up breakfast on the way to work or grabbing a midday milkshake with a sleeping infant strapped in the backseat, the drive-thru continues to deliver on consumers' demand for convenience. In fact, 92% of American consumers visit a drive-thru restaurant at least once a month, according to an October 2019 study by the National Restaurant Association in partnership with market researcher Technomic.
The development of artificial intelligence, advancements in mobile ordering and even driverless cars, are making the drive-thru of today—and tomorrow—a very different experience. The rise in off-premise is spurring new drive-thru formats, and technology, in the face of ongoing labor challenges, is changing the way orders are taken and how food gets into the hands of hungry customers. Take a look at what operators around the world are doing to push the drive-thru into the future.
The Need for Speed
Of the myriad factors driving changes in drive-thrus, two rise to the top. "Convenience and speed of service. That's it," says Jay Bandy, president of Goliath Consulting Group. "That's why everyone is putting the time and effort into improving their drive-thrus. No one wants to get out of their car. So, how can you get faster?"
Presell digital menu boards are almost a requirement, Bandy says. "You need to get folks to make their buying decisions before they hit the speaker. That cuts down seconds." Positioned near the drive-thru entrance, presell boards can promote specific menu items, deals or seasonal specials in text and photos.
Inside the window, reducing the number steps that staff takes to move about the space during each transaction also remains a driving principle, Bandy says. "Chick-fil-A has done a great job of that," Bandy says. "There's different ways they get their food to the customer, like conveyor systems, and I could see that being more of an opportunity [for other restaurants]."
Though conveyor belts certainly aren't a new technology—recall the motormats of 1950s drive-ins—the applications continue to evolve. In some Chick-fil-A locations, kitchen staffers clip completed bagged orders to a vertical conveyor that whisks them up and away to the drive-thru on the other side of the store.
Positioning restaurant equipment in vertical arrangements instead of horizontal allows staff to move through the meal-assembly line more quickly. "There's a lot of customization that can be done … to really optimize the design for the person doing the job," Bandy says. For example, breading stations might stack atop refrigerators or freezers, while shelving units can be customized with mix-and-match modules to hold condiments, bags or other supplies. With some manufacturers, "you can design a cart to do just about anything these days," Bandy says. "You pick from all the accessories and build it to fit what you need."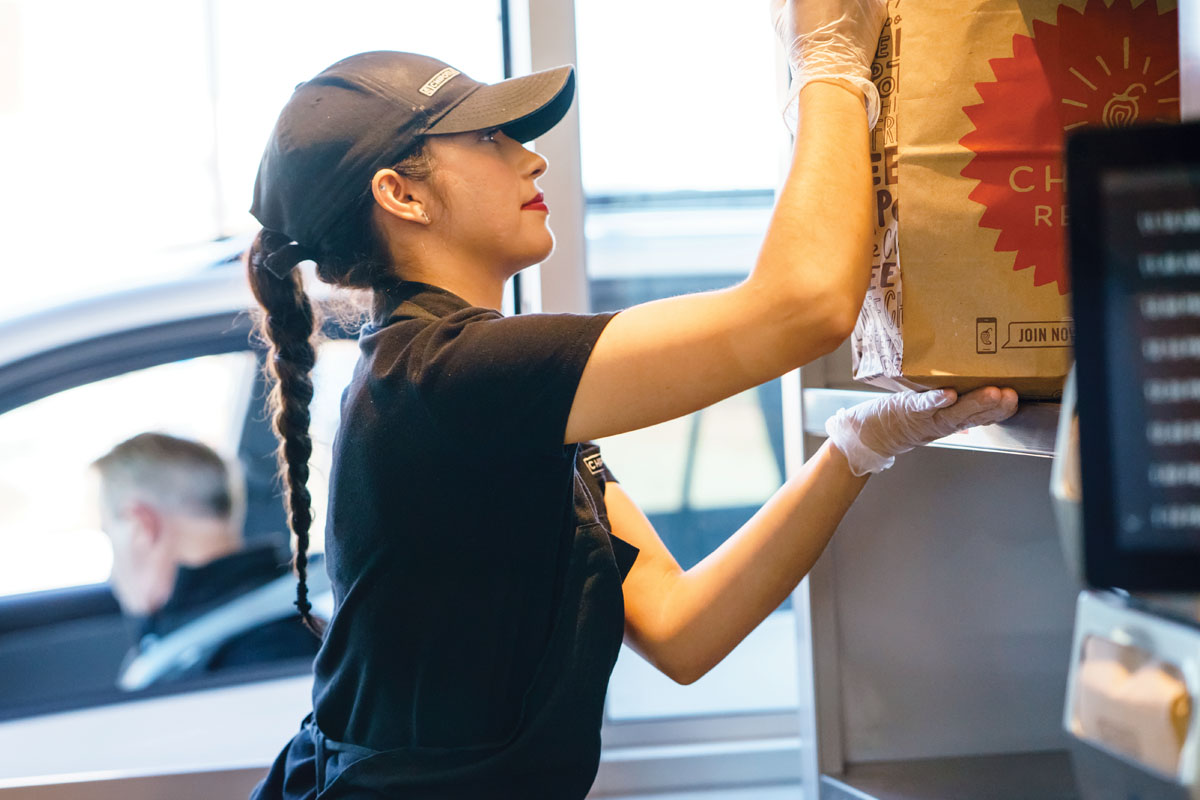 Redesigning for Delivery
The rise of mobile orders as well as delivery via third-party services such as DoorDash and Postmates has resulted in a unique challenge: How can operators keep these orders and pickups—themselves designed to be speedy and frictionless—from interfering with traffic flow in and outside the restaurant?
Chipotle is getting into the drive-thru market with its recent focus on adding Chipotlanes, a drive-up window where customers can pick up food preordered and paid for via their mobile app. "If I'm a mom with two kids in the back … I may not choose Chipotle now because I have to take them out of their car seats and walk into the establishment," says Tabassum Zalotrawala, chief development officer at Chipotle. "Chipotlanes have created an access point for new customers—customers that may have potentially not chosen Chipotle because it wasn't convenient." Third-party delivery drivers also can use Chipotle's drive-thru lanes instead of parking and walking into the store to retrieve orders.
The only visible exterior features of Chipotlanes are entrance and exit signage and a single window. "We do not need the 10- or 12-car stack that traditional drive-thrus require; there's not really any waiting," Zalotrawala says. "You see a window like you would at any other drive-thru restaurant. What you're not going to see are menu boards or speakers; there's no need for it. You would have already ordered [via mobile app.]" Drivers pull up to the window at an assigned time and state their name to the staffer, who grabs their order from heated stainless shelving located just inside. "These orders are freshly prepared, so they're not staying on the shelves for more than two to three minutes," she says.
"You see a window like you would at any other drive-thru restaurant. What you're not going to see is menu boards or speakers; there's no need for it. You would have already ordered [via mobile app]."
—Tabassum Zalotrawala, Chipotle
Inside the restaurant, the kitchen layout is shifting to support Chipotlane service. "Traditionally, our restaurants were never designed to service so many different revenue points," Zalotrawala says. "They were designed to serve customers that came to eat inside our restaurant. Now you've got delivery, you've got mobile-order pickup [at the counter] and now you've got Chipotlanes pickup." The original layout featured a grill station and meat-carving tables situated behind the customer-facing makeline. In the new layout, the grill and meat-carving station supplies proteins for both the customer-facing line and a second prep area called the digital makeline for off-premise orders. The digital makeline is identical to the customer-facing line, except the glass shield is replaced by screens displaying order details.
There's also a second beverage dispenser and bottled drink cooler to serve the Chipotlanes.
Chipotle debuted 66 Chipotlanes in 2019, and in 2020 half of new restaurants will feature the new format. In urban locations where real estate doesn't allow for a drive-up window, Chipotle is looking to add walk-up windows for mobile orders. A location in Chicago's bustling Wrigleyville neighborhood is piloting this concept. "The walk-up window serves that customer in a rush who doesn't want to come inside the store," Zalotrawala says.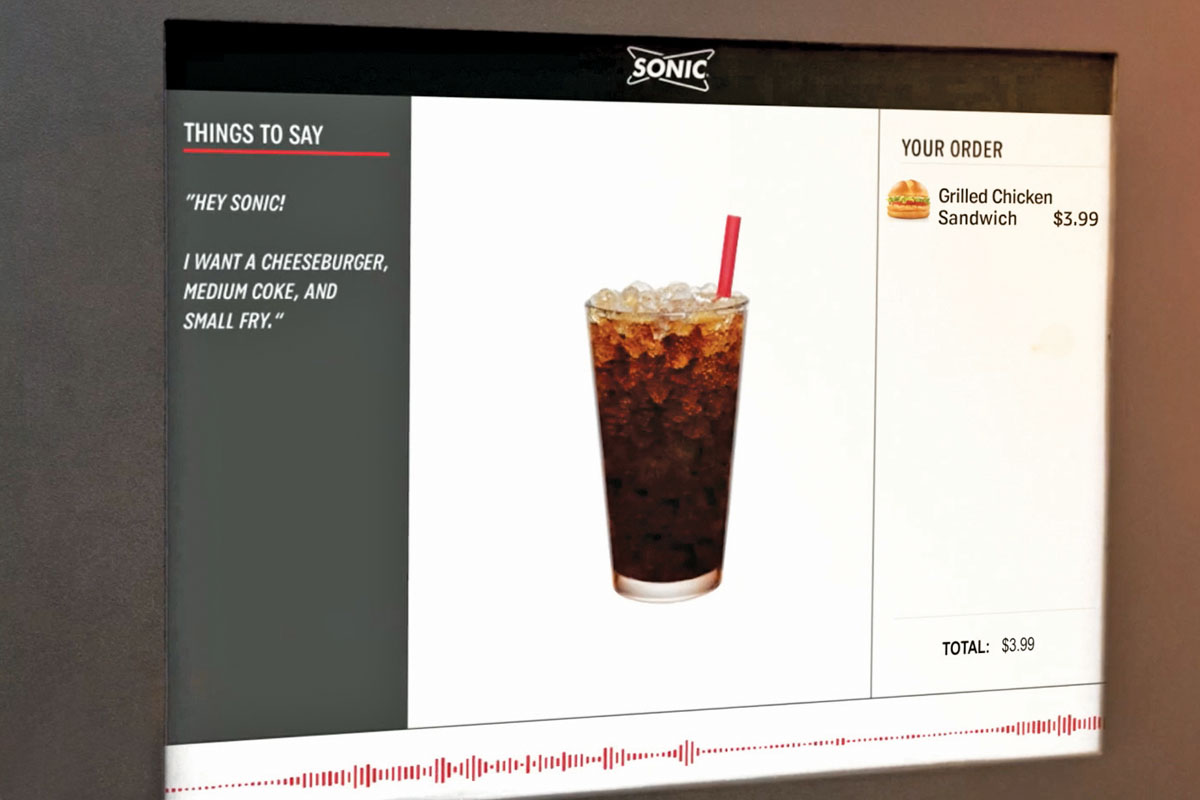 No Seats Needed
When Jack in the Box opened its first location in San Diego in 1951, it was drive-thru-only. Today, more operators are coming back around to doing away with the dining room altogether and allowing their drive-thrus to stand alone. In late 2019, KFC opened a drive-thru-only location in Newcastle, Australia, with five side-by-side lanes: two for traditional ordering and three for mobile order pickups. "We have not seen a cannibalization of our drive-thru business by adding new access channels like delivery, click-and-collect and kiosks," says Lisa Smyth, director of operations and customer experience for KFC Global. "This tells us that our customers want to access us in different ways for different occasions."
Drive-thru-only is gaining momentum in the coffee category. Starbucks operates drive-
thru-only locations in areas with high commuter traffic, while Caribou Coffee announced plans last year for five no-seating stores, called Caribou Cabins, with drive-thru and walk-up windows in Minnesota.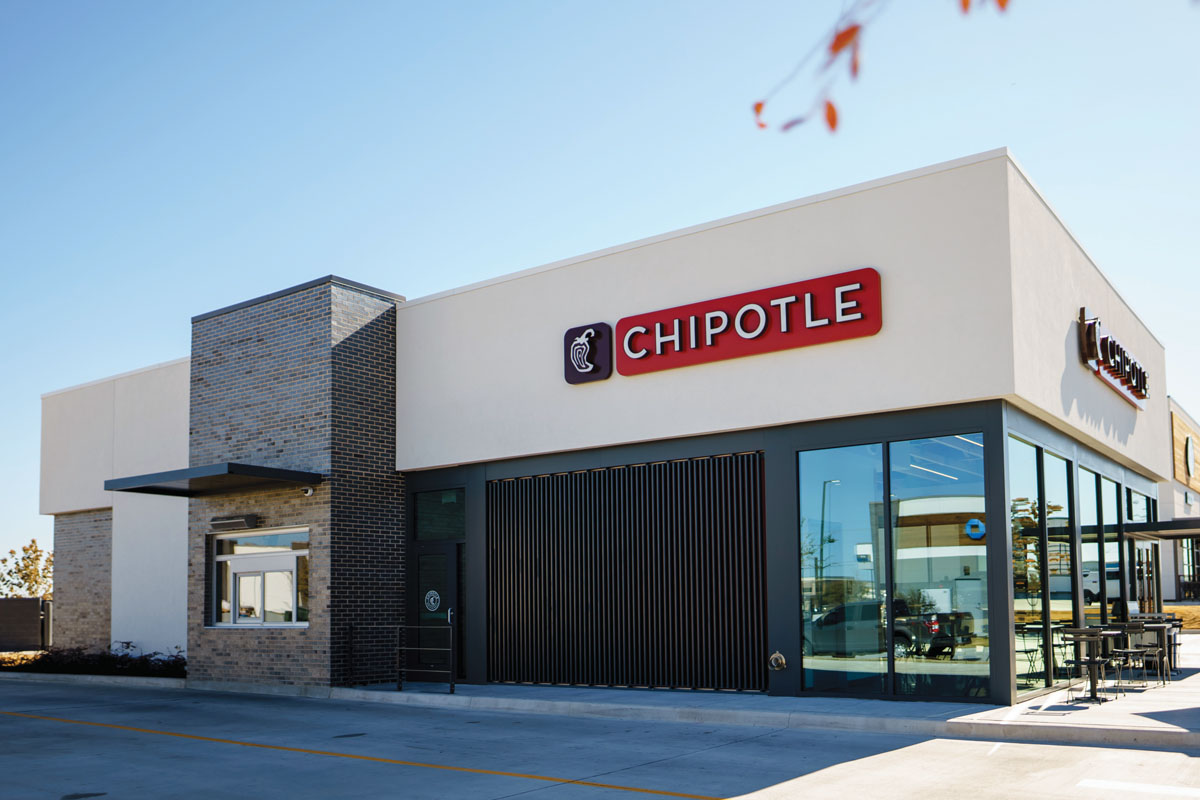 New Times, New Tech
AI and voice-recognition software are making their way into drive-thru order-taking. Last fall, McDonald's announced its acquisition of Apprente, a maker of voice-based technology for customer service applications. "In McDonald's restaurants, this technology is expected to allow for faster, simpler and more accurate order-taking at the drive-thru with future potential to incorporate into mobile ordering and kiosks," the company explained in a September 2019 statement announcing the acquisition.
"The beauty of AI is that you're going to have much higher order-taking accuracy," Bandy says. For example, AI might be better than employees at understanding customers with heavy accents.
Sonic Drive-In is piloting an AI-powered voice assistant at select U.S. locations. The assistant might offer customers suggestions based on weather or the time of day. A promo video Mastercard released last spring on YouTube depicts the assistant suggesting a frozen beverage on an 80°F day in North Bergen, N.J. "It's pretty hot out," it says. "Would you like to add a slush? Here are the most frequently ordered." When customers use Sonic's mobile app at the drive-thru, the assistant will greet them by name, remember previous orders and offer the option to pay with a credit card on file.
AI-powered ordering will replace the drive-thru's traditional microphone headsets—and the staff who wear them to take orders. That might mean scheduling fewer employees for drive-thru shifts, eliminating positions or reallocating staff to other areas. "We are looking to automate non-value-add tasks that are currently completed by our team members so that they have more time to dedicate to meaningful interactions with our guests," Smyth of KFC Global says.
At some restaurants, the use of technology is diverting traffic from the drive-thru altogether. "What you see a lot more people doing is having designated parking spots [for mobile orders], with geolocating and sensors you put in a parking lot," Bandy says. The technology signals to the restaurant when customers arrive to pick up their orders, and runners bring out the food. This is a solution for landlocked operations that are looking to separate traffic from third-party delivery or mobile order pickups but don't have the space to add a second drive-thru lane, Bandy says.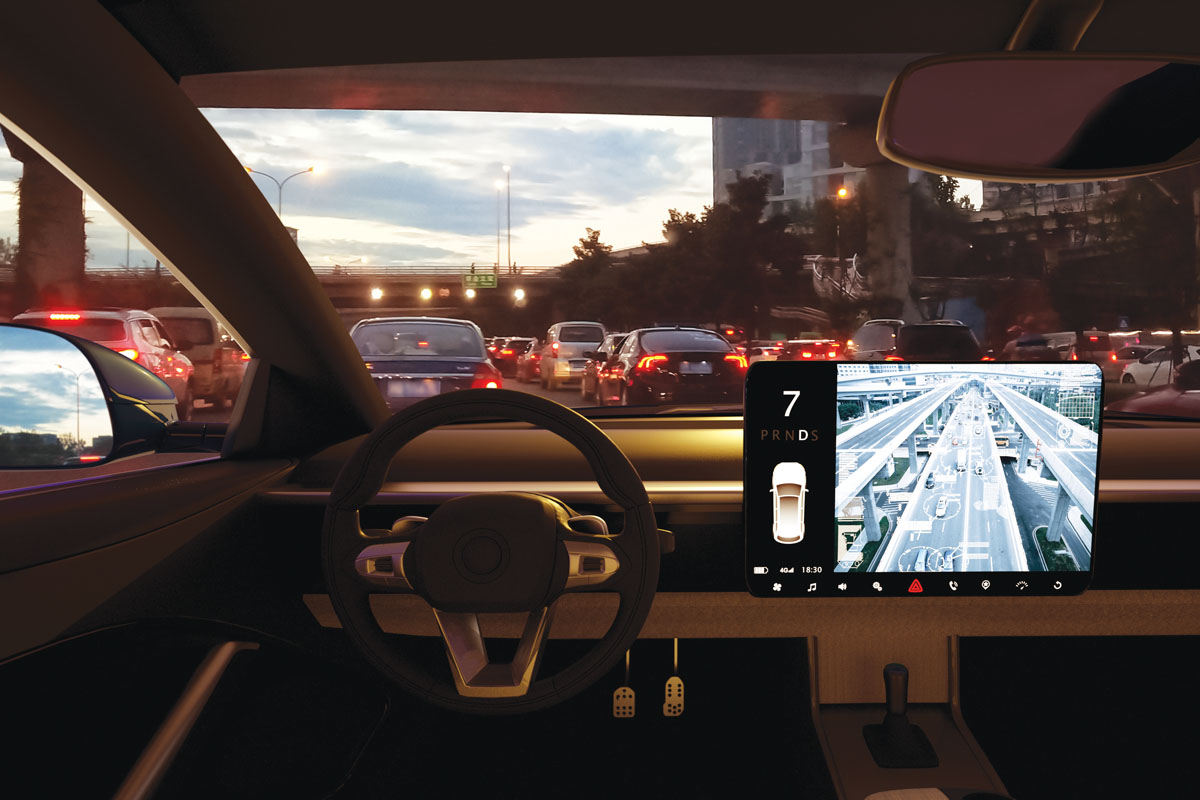 Will We See Driverless Drive-Thrus?
How will the driverless cars of the future navigate drive-thrus?
Dr. Lance Eliot, executive director of The Cybernetic Self-Driving Car Institute, addressed the topic in a February 2020 column for AI Trends. Going through a drive-thru is "somewhat beyond the normal driving tasks that an AI self-driving car is prepared to undertake," he writes. For example, AI self-driving cars can detect standardized signs for street names or speed limits; however, they would have difficulty recognizing drive-thru entrance signs, which differ widely from operator to operator.
Though some operators and industry experts are pondering the driverless cars of the future, their effect on the drive-thru remains hazy. "Similar to other evolutions in customer access points, we don't anticipate a huge impact on our restaurant-level operations but, as always, KFC will be ready to meet our customers where they are," says Lisa Smyth, director of operations and customer experience for KFC Global. Perhaps driverless cars might spur an uptick in mobile orders, says Jay Bandy, president of Goliath Consulting Group. "Folks could place their order [via mobile phone] a mile down the road and just get in the queue," he says.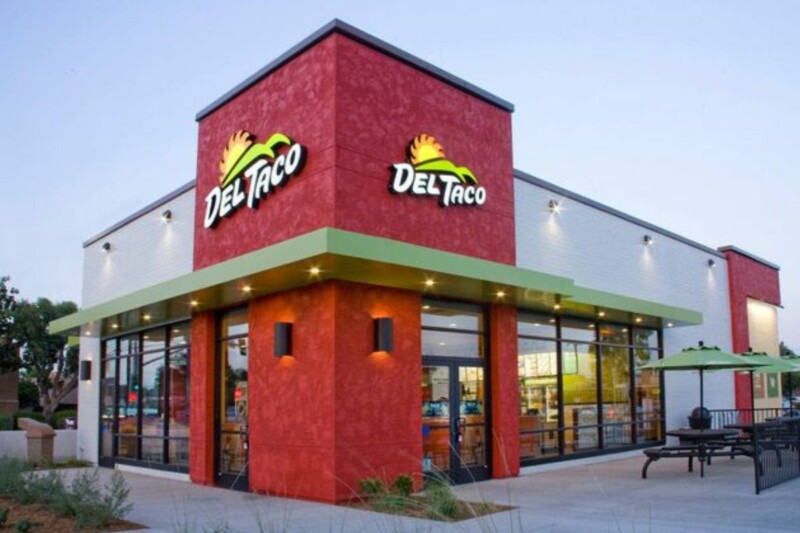 Company News
The quick-service, 600-plus-unit chain first tested the technology in 2022 before today announcing its plans to "significantly expand" deployment.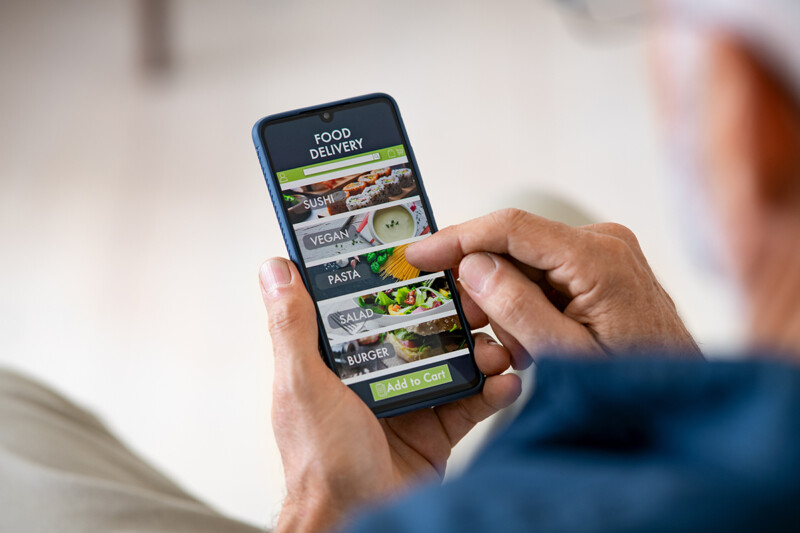 Customer Facing Technology
Many foodservice operations watched online ordering grow their revenue during the past few years. However, during the pandemic, online ordering became one of the only ways diners could connect with…