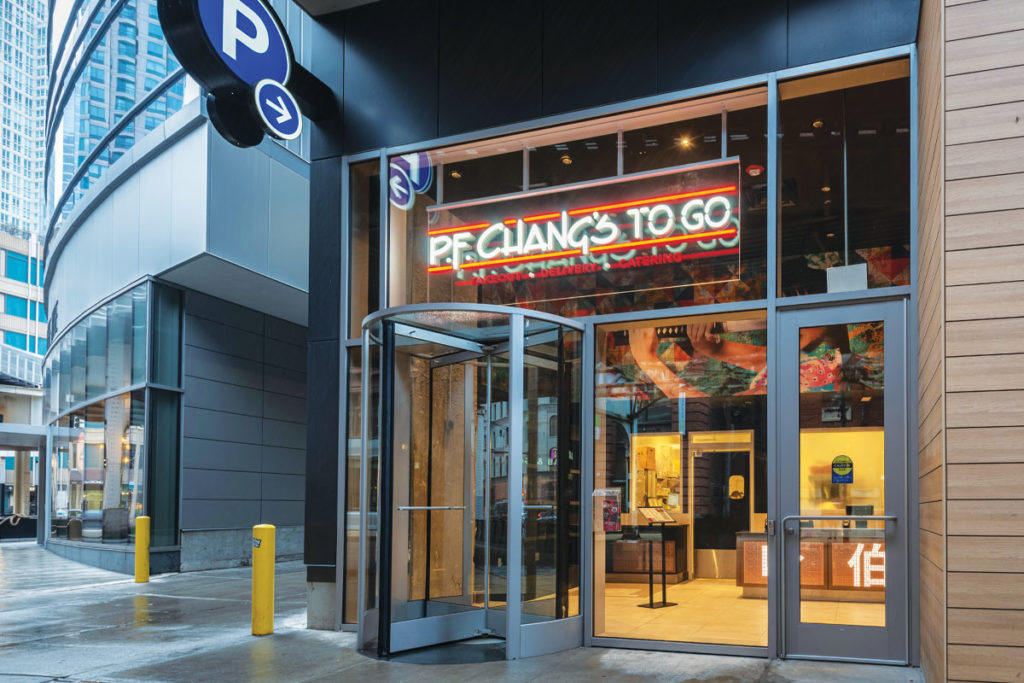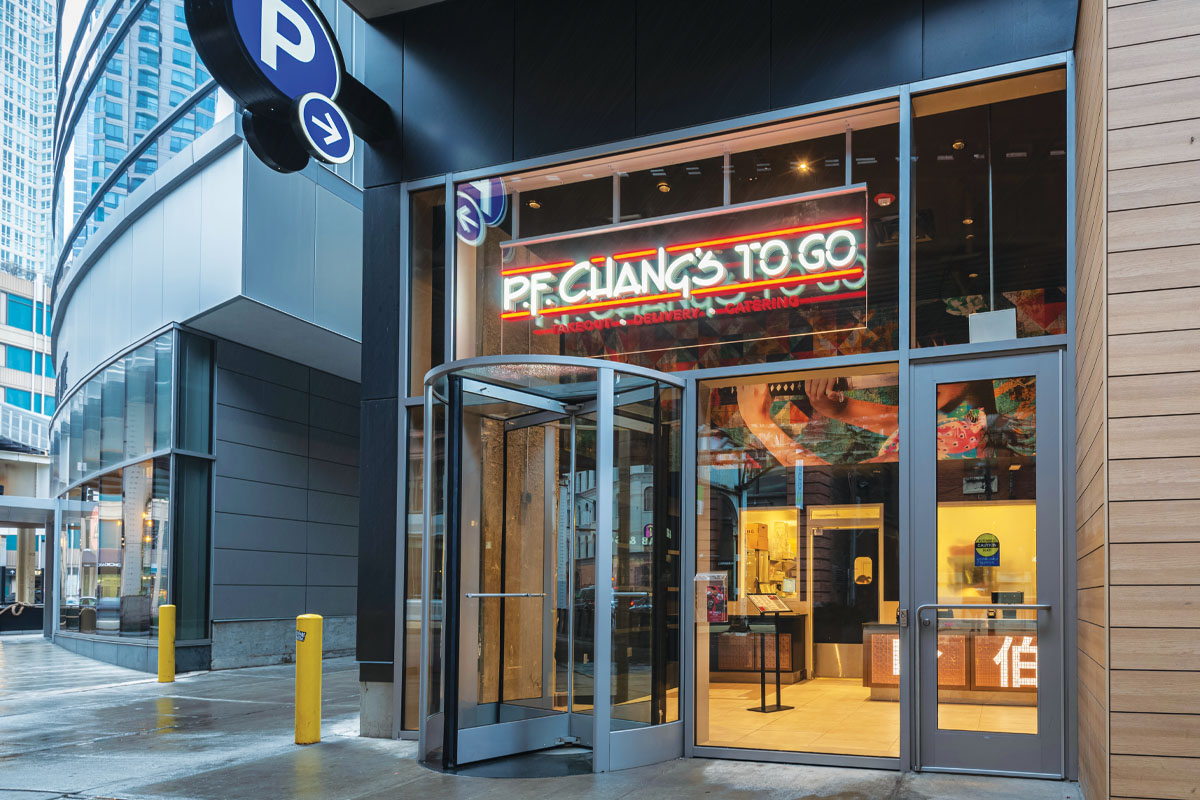 CONCEPT: P.F. Chang's To-Go
SIZE: At 1,800 sq. ft., it's less than a third the size of a full restaurant
HIGHLIGHTS: Labor-efficient wok stations, portable induction units and high-efficiency fryers
Asian-food chain P.F. Chang's has debuted its first P.F. Chang's To-Go restaurant in Chicago. The spinoff concept fulfills two goals: Expanding into new metropolitan areas where space is at a premium while tapping into online ordering and third-party delivery.
The design goals for the To-Go unit were simple. "We had to be able to serve walk-in guests quickly, transfer orders to third-party drivers and represent our brand," says Kevin Okuszka, senior vice president of operations and culinary innovation, who played a lead role in designing the concept.
At 1,800 sq. ft., the concept is less than a third the size of P.F. Chang's full-size restaurants. "We're executing 60% of the menu in just over half the kitchen space," Okuszka says.
The pared-down menu features top sellers, including lettuce wraps, and some lunch deals, but leaves off newer items such as ramen. "We will revisit the menu mix and recalculate as needed," Okuszka says.
In the front-of-house, the interior decor draws from the same palate as its full-size restaurants. A mural of a warrior princess holding a sword dominates the wall above the order counter, while a painting of the chain's iconic horse adorns another wall. A refrigerated display case holds salads, sushi, desserts and beverages, and a shelving unit holds bagged orders for pickup.
In the back-of-house, the kitchen design team opted for compact, high-efficiency versions of existing equipment. Some of the equipment highlights:
Smaller wok stations are used for 80% of the menu items. "For each of the two wok stations, we went from four 36-cm. woks on a 61/2-ft. table down to four 30-cm. woks on a 5-ft. table," Okuszka says. "It's the same firepower as in our sit-down restaurants. The smaller station is more labor efficient, can be positioned closer to the pass-thru window and, down the road, will be able to fit into locations as small as 1,200 sq. ft."
Portable induction burners for prepping sauces add flexibility. "During the lunch rush, the burners can supplement the woks for sauce prep," Okuszka says. "We can move them to wherever they're needed in the kitchen."
A high-capacity vegetable processor from a Swiss equipment company adds speed and, because of germ-inhibiting silver ions embedded into the blades, an extra layer of food safety.
A high-efficiency, self-filtering fryer system with programmable cook cycles and temperatures for each bay "has let us go into this smaller space with maximum cooking power," Okuszka says. "And because they use less Btu, the kitchen stays cooler as well." Only one other P.F. Chang's uses the high-efficiency fryers, but they will likely become part of the equipment package for all new locations regardless of size.
A reach-in freezer and cooler and a small walk-in cooler handle food storage. More frequent food deliveries make up for the lack of on-site storage space. Later this year, P.F. Chang's plans to open two more To-Go restaurants in Chicago.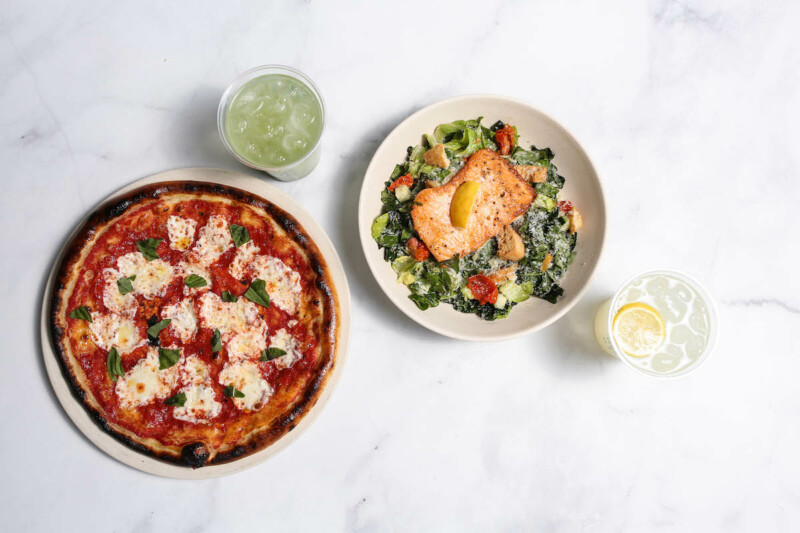 Company News
Three small pizza ovens, a smart toaster and holding cabinets help drive efficiencies at the chain's just-opened location.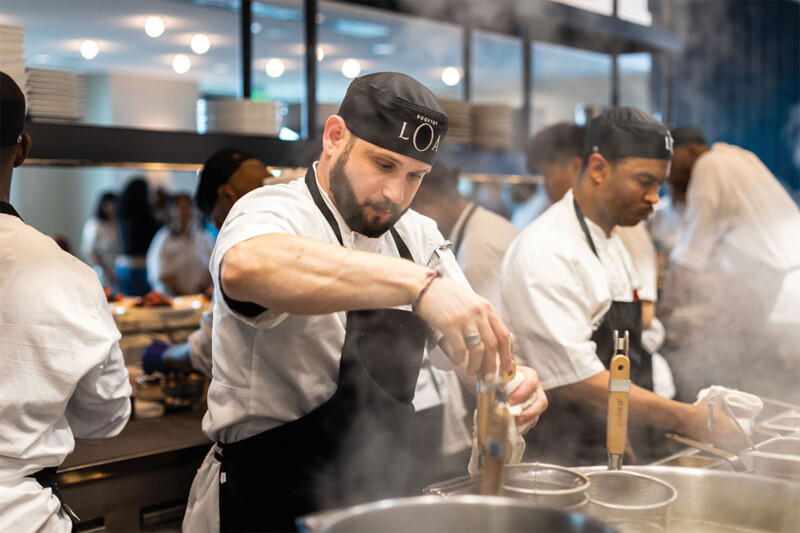 Kitchen Design
Rooftop L.O.A., perched atop a mixed-use development, weaves foodservice and mixology into and around a poolside retreat.