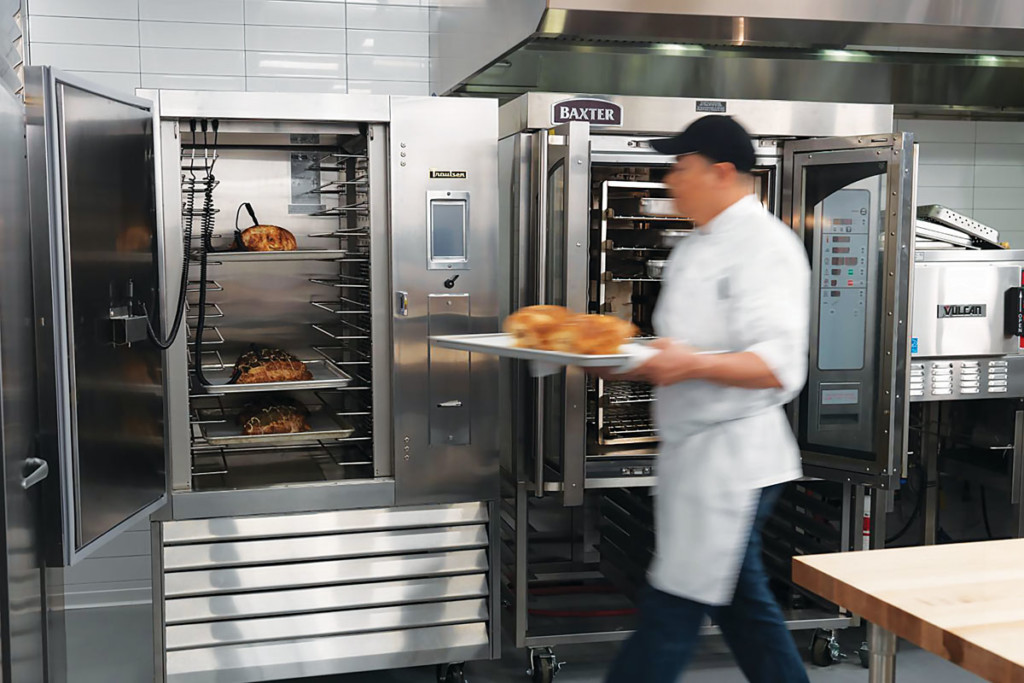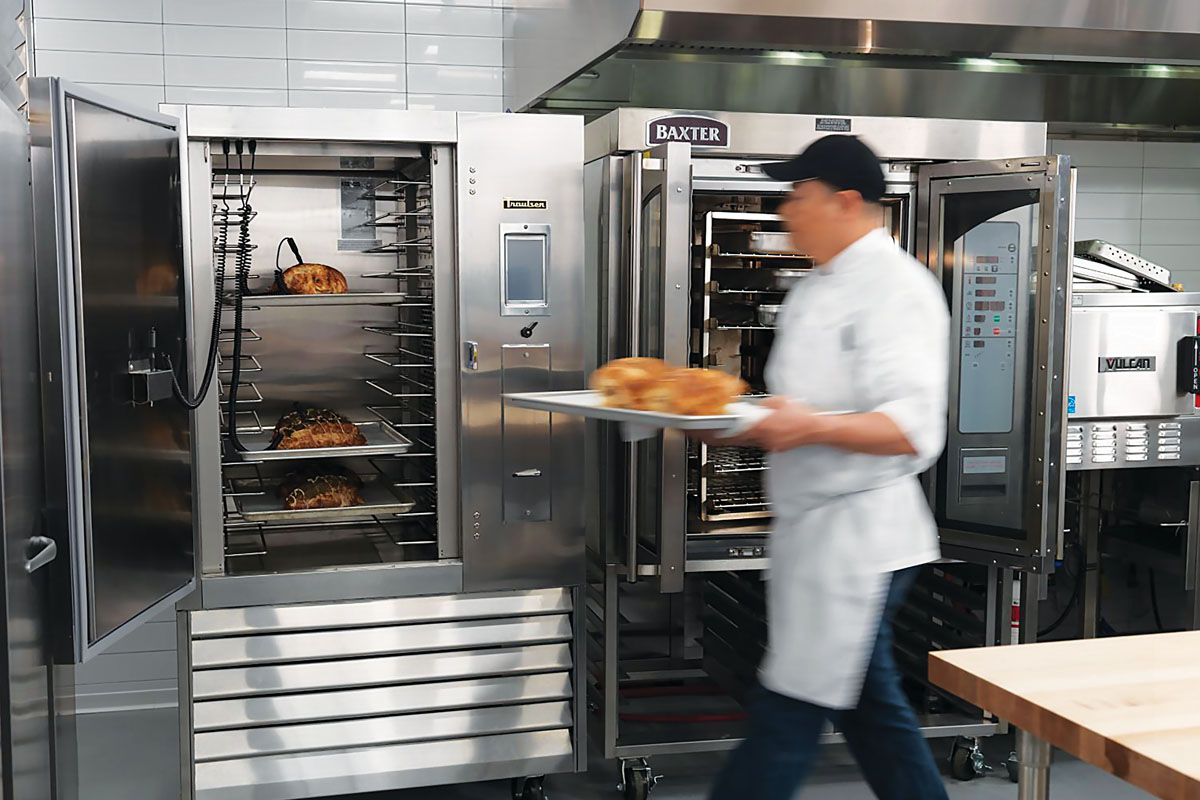 Even with million of jobless claims filed as a result of the COVID-19 pandemic, finding skilled employees as restrictions on restaurants eventually lift likely still won't be easy. "The labor challenges (in terms of recruitment and training) that were seen before the crisis could potentially be worse as former employees find other opportunities," market researcher Technomic notes in its Post-Pandemic Playbook. Labor-saving equipment remains key, and the latest generation of blast chillers is more versatile and automated than ever, and in some cases, more environmentally friendly, giving you more reasons to invest in a unit now.
Also, there are now more models, ranging from basic blast chillers that help you follow HACCP plans and properly cool foods; to blast freezers that can quick-freeze everything from sauces to ice cream for longer-term storage; to all-in-one models that can slow-cook delicate meringues, proof bread, pasteurize jarred food, make yogurt, blast freeze seafood for sushi and sashimi, and blast chill delicate desserts. You're sure to find a unit that fits your application.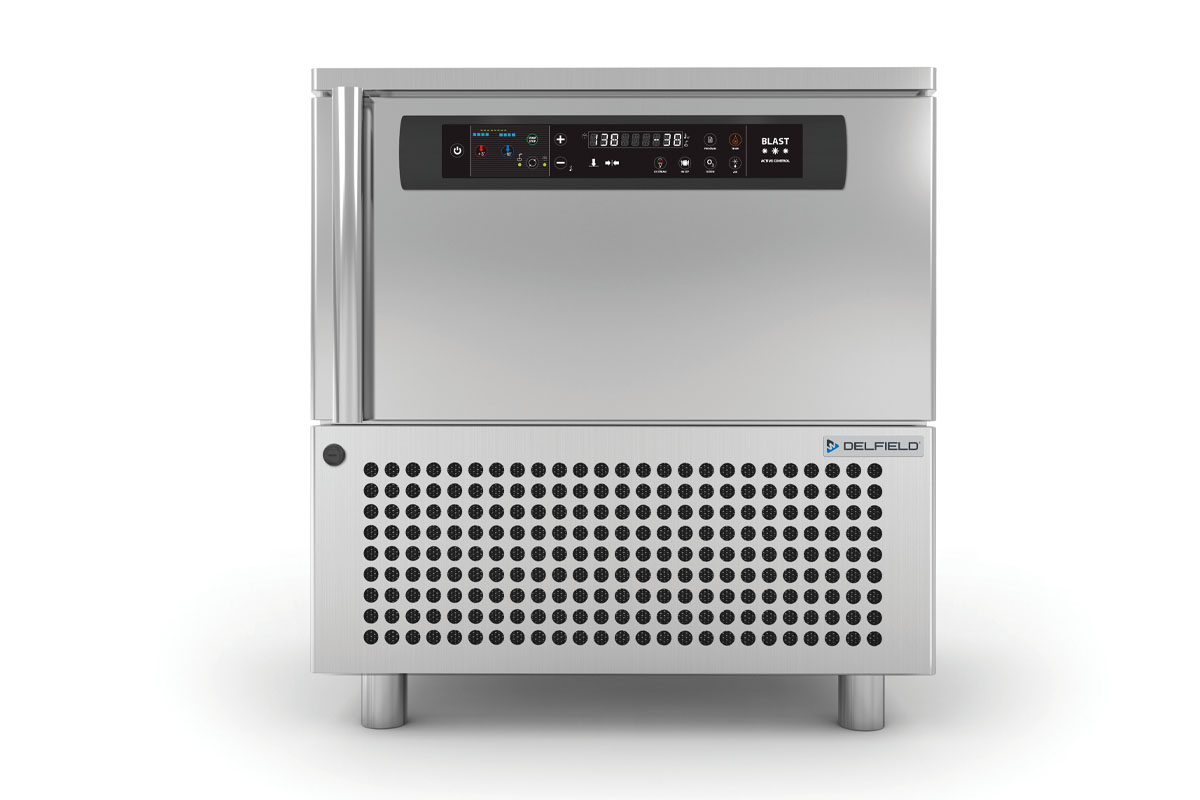 Features to Note
Slick, easy-to-use digital interfaces and programmability allow unskilled employees to do tasks with the touch of a button, the closing of a door or even inserting a temperature probe into food. When researching models, take notice of the following features:
CYCLE CHOICES. Traditionally, blast chillers/ freezers had four cycles—hard chill, soft chill, shock freeze and hold—and would run until done. Now, with greater programmability and variable speed fans, the cycle can more precisely fit the type of food you're cooling. Gentle cooling (slow fan speed and warmer temps of around 37ºF) works for a delicate white fish or meringue, for example, and high fan speeds and sub-zero temps pull down a roast or freeze ice cream. Today's blast chillers also often have a thawing cycle, a "refresh" cycle to crisp salad greens, for example, and some units have a warming or slow-cook cycle.
OPERATING MODES. In addition to auto or manual start, different models may let you set up to six timers to manage the cooling process for different types of food in the blast chiller at the same time; the variable speed fans can move air over food on separate racks at different speeds. (The air moves horizontally in a laminated effect to help prevent flavor transfer.) Other models start as soon as you insert a temperature probe into the food, so employees don't have to worry about which button to press.
PROGRAMMABILITY. The number of "recipes" you can program varies from one model to another, from about 20 to as many as 150.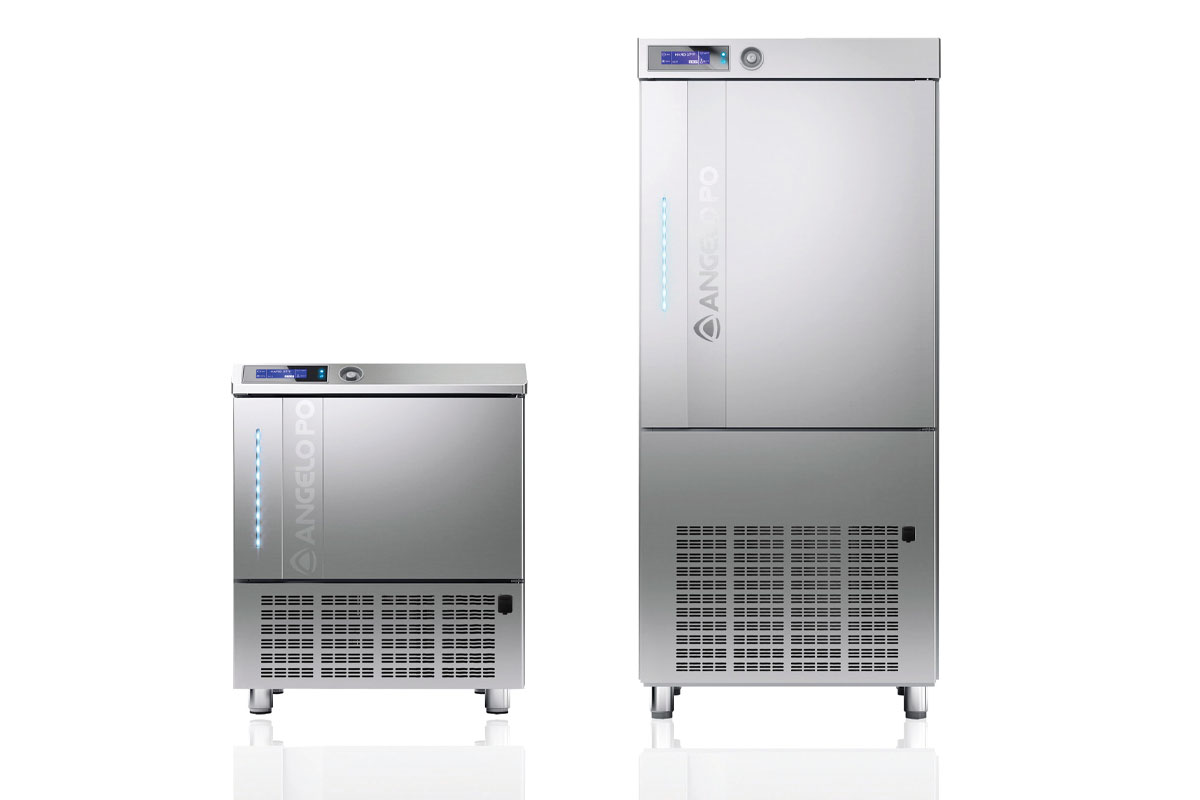 USER INTERFACES. Touch screens are more common now, but some use capacitive buttons, while others are more like your smartphone screen. The latter typically guide users with icons in addition to text instructions.
PROBES. Temperature probes let blast chillers accurately track internal food temperature. The process provides more precise control over the cooling cycle, and provides hard data for HACCP records. The number and type of probes offered vary by maker and model. Some models come with one probe standard, others with three to control chilling cycles for more than one type of food at a time. Also, some probes have a single temperature-sensing point; some makers' probes have three points, and at least one has a five-point probe which provides even more accurate readings, particularly for thick products.
Check how many pounds of food it can chill in under 90 minutes, and from what starting temp, to find the right capacity.
CONNECTIVITY CAPABILITIES. HACCP reporting is a key feature of blast chillers, and virtually all can record the cycles you run. Reporting, however, varies from an on-board printer, to USB ports through which recorded data can be stored on a memory stick, to Wi-Fi connectivity that can download data directly to a PC. Both USB ports and Wi-Fi are helpful in uploading "recipes" to your equipment as well. Note, though, that internal memory varies, too, from about 30 days to 90 days.
ENVIRONMENTALLY FRIENDLY REFRIGERANTS. One maker has already transitioned several models to R452A from R404A, and another is in the process of transitioning some models to R290. Both R452A and R290 are low global warming potential refrigerants.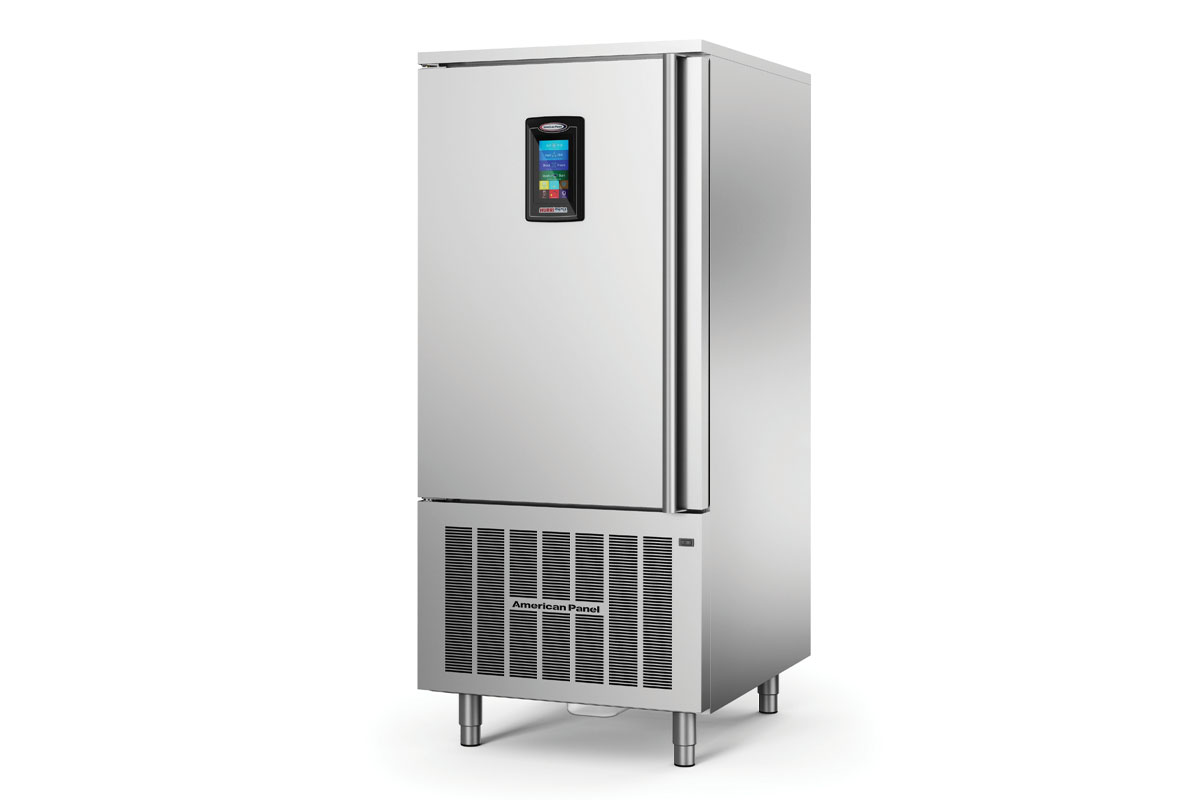 Nuts and Bolts
It's always smart to compare mechanical systems, as well as warranties and service networks, to help determine which models are likely to best suit your operation. Some things to consider:
REFRIGERATION SYSTEMS. Small reach-in blast chillers are typically self-contained refrigeration systems. Large roll-in models usually use remote systems, which helps keep heat out of the kitchen. (A few remote models also have a self-contained refrigeration system to keep chilled foods at holding temps, once a set point has been reached, reducing demand on the remote system.) Midsized reach-in or roll-in models, however, may be self-contained or remote.
FANS. Virtually all models now have variable speed fans with ECMs (electronically commutated motors) to help save energy. Some models, however, are available with "quiet" fans if you're subject to noise-abatement rules. (One maker even has a patent on its fan blades designed for quiet operation.)
DEFROST SYSTEMS. Most blast chillers/freezers use expansion valves, which allow them to use hot gas defrost cycles. Some have automatic defrost cycles; others are manual but can be set to defrost at night when not in use. Models with automatic defrost typically have a lockout feature that prevents them from starting a defrost cycle if they're already in a chilling/freezing cycle.
CONDENSATE CONTROL. Defrost cycles produce condensate which has to go somewhere. Some models are available with a condensate evaporator either standard or as an option. Some have condensate pans which employees may have to empty on a regular basis. Models without a condensate evaporator or pan have to be situated over a floor drain, so take that into account when you specify.
EVAPORATORS. Evaporators can leak without a good industrial coating. Some less expensive brands may not use a coating specifically designed for blast chillers, so ask.
Chilling to 37°F from 160°F in 90 minutes is pretty much standard, but some makers claim 185°F as a maximum temp. At least one maker says its units can pull temps down from 194°F.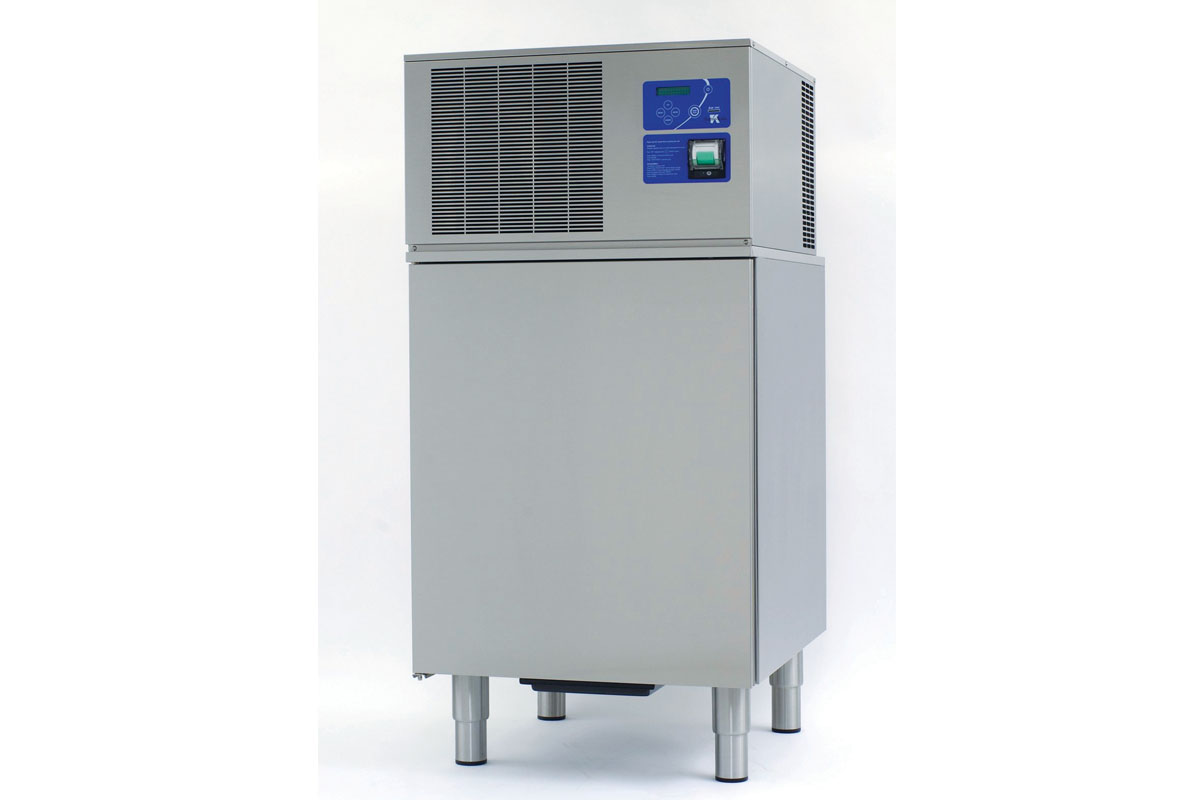 Key Homework Questions
After studying the latest features and mechanical components, answer the following questions before making your final decision:
WHAT WILL I USE IT FOR? What types and how much food you need to cool will help you determine capacity. Manufacturers use a few different ways of measuring model capacity. One is the number of food pans it will hold and in what configuration. More helpful is how many pounds of food the unit will hold. But most important is how many pounds of food it can chill in under 90 minutes, and from what starting temperature. Chilling to 37ºF from 160ºF in 90 minutes is pretty much standard, but some claim 185ºF as a maximum temperature, while one maker says its units can pull food temps down from 194ºF.
WHAT PANS WILL I USE? Make sure the interior racks or slides accommodate what you need.
WHAT OTHER EQUIPMENT WILL I USE WITH IT? Is your blast chiller for general use or in conjunction with combi ovens? Some makers specifically design their ovens and chillers to be used together, so rolling racks are helpful. (At least one maker has integrated its blast chiller with an oven, and the two pieces operate from a single control panel.)
WHICH CYCLES DO I REALLY NEED? If you're going to shock freeze items, you'll need a unit capable of reaching -40ºF temps.
HOW MUCH CUSTOMIZATION DO I NEED? The more types of items you intend to chill, likely the more flexible programmability you'll want.
HOW MANY ITEMS WILL I CHILL AT A TIME? If you intend to chill different types of foods at the same time, you'll probably want one with multiple probes and/or multiple timers.
WHERE WILL I PUT IT? If you don't have a floor drain nearby, you'll need a model with a condensate pan or evaporator.
MAXIMIZING THE CHILL
Once you've installed your blast chiller, there are a few simple steps you can take to make it run as effectively as possible. To start, use stainless, not plastic, food pans because metal conducts cold better. Don't use covers or plastic wrap on the pans; blast chillers can cool without drying out food. In fact, they'll cool product faster if you don't cover the pans.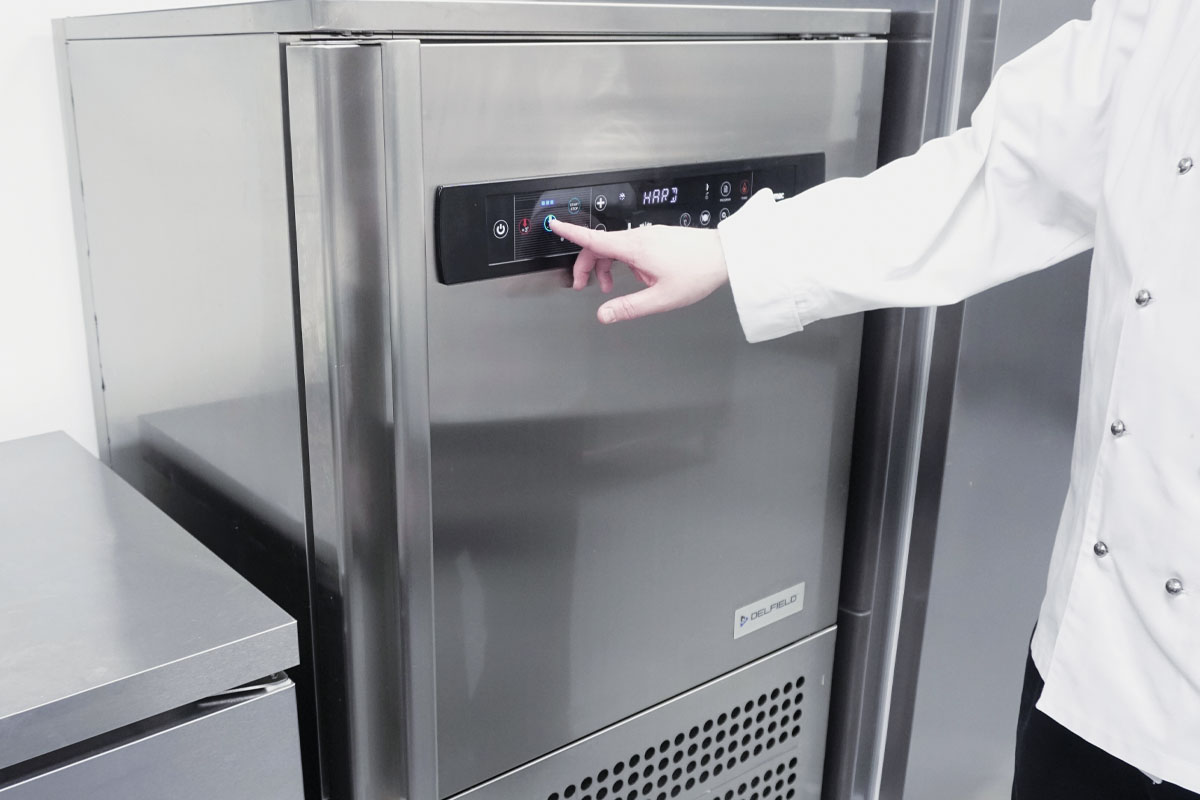 Keep It Clean
Like any equipment, the cleaner you keep your blast chiller, the longer it will last.
• Wiping the surface. Wipe down the inside and outside of the unit at the end of the day with a solution of mild detergent and water. Models with coved interior corners make the job simpler.
• Sanitizing the cabinet. After cleaning, you can wipe down the interior with sanitizing solution. Some models are available with UV-light sterilization, and one maker uses a photo-plasma circulated over the UV light to eliminate odors as well. Another maker offers an ozone generator to do the same thing. And yet another uses a proprietary ionizer.
• Caring for probe cables. Most employees know to clean and sanitize the temperature probes, but don't forget the lead cables they're attached to. Usually, these extend from the door or a corner of the cabinet. They, too, need cleaning and sanitizing from food spills, etc.
• Brushing the coils. Keep the condenser coils free of dust and debris buildup to keep the compressor from working too hard. Turn the power off, and use a vacuum or broom to brush the coils according to the manual.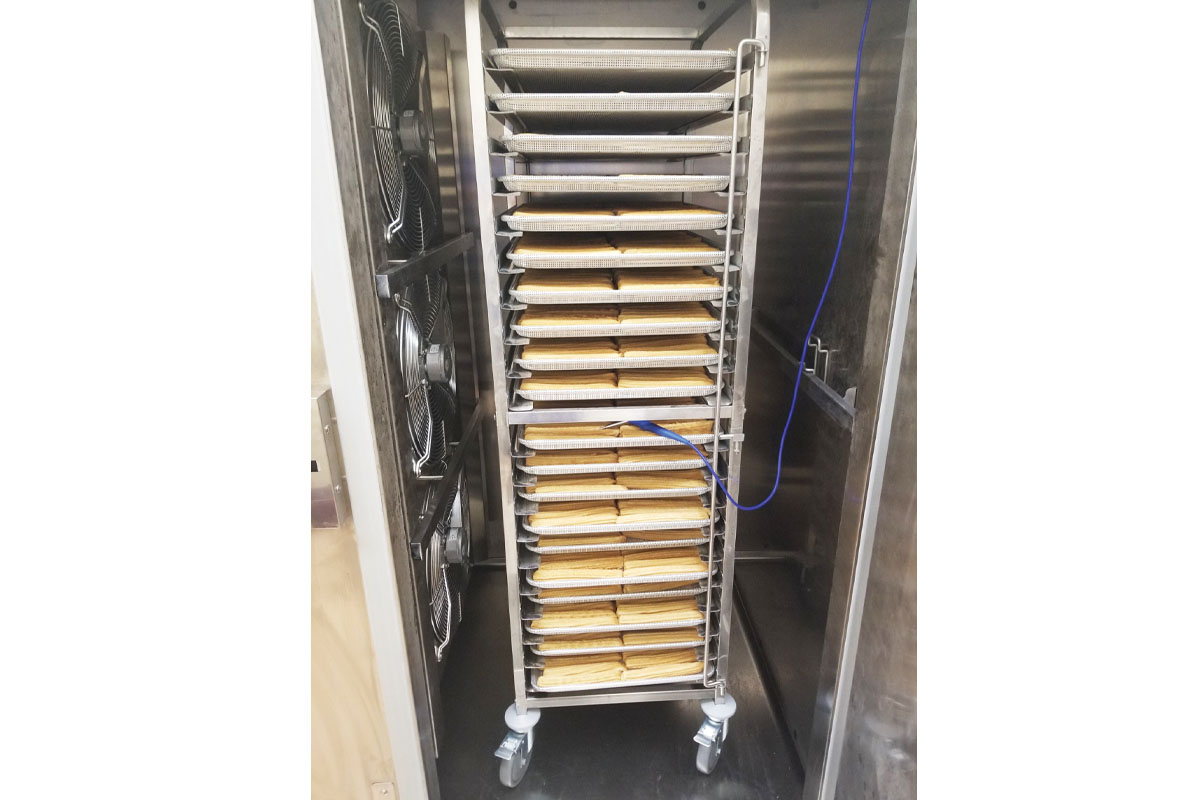 ---
Chill Factor
THE LATEST BLAST CHILLERS ARE AS VERSATILE AND AUTOMATED AS EVER. HERE ARE THE MOST RECENT MODELS FROM EIGHT MAKERS.
---
---
---
---
---
---
---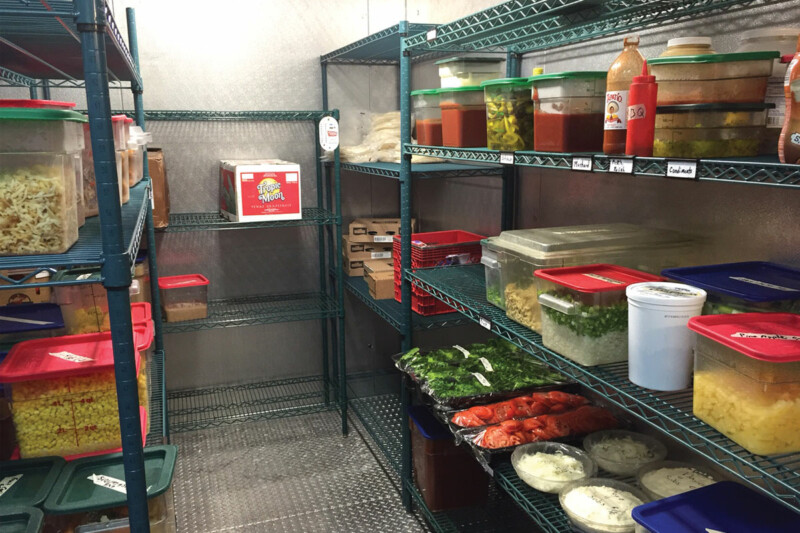 Equipment
A walk-in cooler and the food items stored inside are enormous investments for any business. As with any investment, you want to maximize your return and protect against loss. One…