Brew La La: Crafting Yuengling Draft Haus & Kitchen
Designing a 42,000-square-foot, 800-seat entertainment and dining space centered around beer posed challenges and opportunities.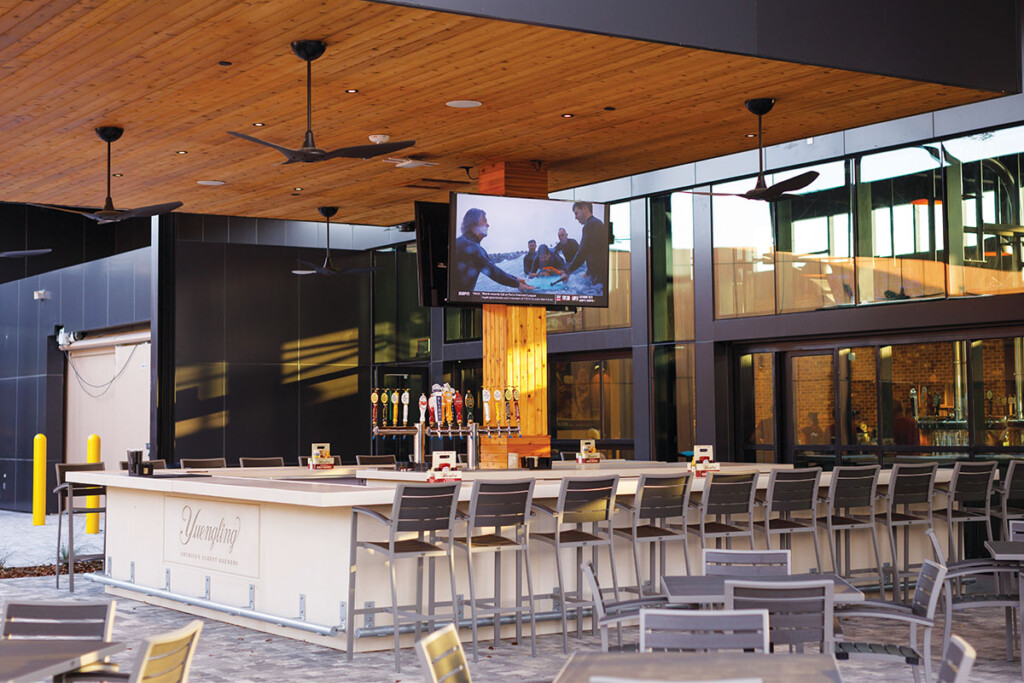 Beer—serving, delivering, storing and merchandising it, plus pairing it to the menu—has shaped the design and layout of the Yuengling Draft Haus & Kitchen in Tampa, Fla., in ways big and small. Opened in June as new-build construction on the 3½-acre campus of Yuengling Brewing Co., the Draft Haus covers 42,000 square feet. Five bars (sporting 88 tap handles in all), a restaurant, retail shop and coffee shop, along with private dining and conference rooms, give visitors plenty of options.
Yuengling—known as "America's oldest brewery" due to its 1829 founding—announced plans for the Draft Haus in 2019. The vision for the project came from the Yuengling family, who tapped Brent Wertz as vice president of hospitality to oversee food and beverage. Kitchen and bar design was provided by TBCI Design, of St. Petersburg, Fla. Dealer Johnson-Lancaster & Associates, of Clearwater, Fla., provided equipment and supplies.
The groundbreaking took place in late 2020, then progress slowed. "The Draft Haus had been scheduled to open in summer 2022," says David Hammersley, principal of TBCI Design. "But raw materials—glass, foam, steel and other shortages—delayed the building construction and production of some of the equipment— notably the walk-in coolers that are part of the building structure. This slowed everything down." The Draft Haus ultimately opened this past June, marking the brand's first dining and entertainment venue. Exposed brick, metal and natural wood-looking details, plus artifacts and advertising memorabilia, visually evoke Yuengling's long industrial history.
From a bird's-eye view, the Draft Haus appears as a squared-off letter C. The main kitchen, supporting food operations throughout the building, is at the bottom of the C; a distinctive circle-shaped bar space sits just beside the kitchen; and near the mid-point, a T-shaped bar operates half indoors and half outdoors, serving the events plaza. Dining takes place along the spine of the C, and a retail shop (featuring beer, of course) anchors the top of the C and serves as the main entrance.
Setting the Bars
Draft Haus' two main bars and beer storage coolers required careful creativity, Hammersley explains.
The circle bar features movable, tempered glass wall panels (made by NanaWall) that can slide open and out of sight during nice weather. A 45-foot-long, 50-seat bar follows the curve of the window line. Here, design challenges included running underground beer conduits (the tubing system carrying beer from keg to tap) and fitting square equipment along a curve.
Yuengling leaders wanted the bar's beer conduits to run underground and out of sight. "How do you define a point along a curve when nothing exists?" Hammersley asks rhetorically, recalling the process of mapping out the conduits' paths. Complicating the task was the fact that the conduits would need to share space with mechanical and plumbing elements as well as gently curve (so as not to pinch the lines) around the structure's many at-grade support footings required because of Tampa's sandy soil. Longer lines helped make things possible.
Another challenge was fitting standard bar equipment against the bar's curved perimeters. Off-the-rack equipment was more cost-efficient and faster in delivery than custom fabricated items would have been, especially during the pandemic. So, planners made sure all equipment was on casters, enabling pieces to be rolled away from the walls for easier cleaning of the oddly shaped gaps.
Draft Haus' main bar is an indoor-outdoor, T-shaped operation that extends out into the building's courtyard. As with the circle bar, movable glass wall panels intersecting part of the bar can be fully opened during good weather. The bar's beer supply comes from a large display keg cooler nearby.
For the indoor portion of the bar, planners put the beer conduits on full display by routing them across the ceiling from the keg cooler, then down to three multi-tap bar towers.
"The beer system stands out as one of the more impressive ones we've worked on," says Kristen Horn, vice president of operations for Johnson-Lancaster & Associates. "The design of the lines descending from above and integrating into the overall aesthetic of the space was a particularly cool element."
"The three beer storage walk-ins at the Draft Haus have sliding doors wide enough for forklifts carrying pallets to go in and out."—David Hammersley, TBCI Design
The outdoor portion of the bar posed a challenge for beer transport since "there was no overhead structure along which to run conduits," Hammersley says. "Instead, we routed conduits underground directly from the cooler, then came up through the slab and hid the pipes in millwork on their way to the towers."
To maximize beer quality, flow volume and temperature, Yuengling bars feature "home run" beer conduits. In other words, each tower has its own conduit with one tube-per-tap running to a dedicated set of kegs. "Common practice in bar design is to split lines so one keg can supply taps in different spots," Hammersley says. "But owner Dick Yuengling insisted the beer be served at its absolute best, which is why each tower has a home run."
Yuengling's keg coolers also mark a unique element; the two in public areas have glass windows so guests can see the brewery's product.
"The complexity of the walk-ins, particularly with the display windows and merchandising shelving, added an interesting dimension to the project," Horn says.
Restocking the coolers required extra-wide doors. "The three beer storage walk-ins at the Draft Haus have sliding doors wide enough for forklifts carrying pallets to go in and out," Hammersley says. "The doors are mechanically operated using a garage door remote, so drivers can enter and close the door right away behind them." Planners super-sized the cooling capacity to counteract the influx of warm Florida air with each opening of a door.
And the Kitchen
The Draft Haus kitchen is "a high-production facility designed for a chef-driven menu," Hammersley says. With guidance from Wertz and a footprint from the architect, TBCI Design consultants laid out and specified most of the kitchen equipment. "Brent led the way for the sous vide station [to slow cook proteins], and also requested a specific type of charbroiler he needed for his menu, but for the most part we had carte blanche," Hammersley says.
Because the project was a design-build, with both processes taking place at the same time, changes by architects led to redesigns for the foodservice planning team. "It felt like construction kept adding support columns. We had the plumbing and electric and equipment all laid out, and then suddenly a column would be added to the plan and we would have to totally rework the station," Hammersley says. "At one point, they tried to put a column in a kitchen aisle. We pushed back very hard on that one!"
The kitchen covers 6,000 square feet, not including keg coolers and glycol storage. "We've got a little of everything on the two cooklines— charbroilers and griddles, pressure fryers and open fryers, French hot plates, open burners, combi ovens, revolving ovens, standard ovens and convection ovens, tilting kettles and tilting skillets, and a steamer," Hammersley says.
Some other kitchen highlights include: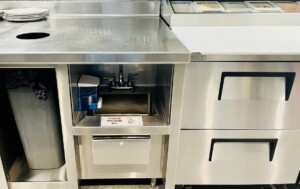 • Undercounter hand sinks (pictured at left) preserve valuable workspace above. "Workers can reach down to wash their hands; an electronic sensor turns on the water, and soap and paper towels are right there," Hammersley says.
• "The expediter station features extra-wide heat lamps at pass-thru windows and finishing stations. For cold items, we specified frost-tops built into counters," Hammersley says.
• The kitchen office sits in such a way that the head chef has a clear view of the bar, the main cookline and prep areas.
• In the food storage walk-ins, Z-shaped sheet-pan racks can be nested together to save space when not in use.
• A roll-thru blast chiller flows into a bulk food walk-in. "Food that has been prepped and cooked goes into a blast chiller to quickly bring it down to a safe temperature," Hammersley says. "Once chilled, it flows directly into the cooler. Making the blast chiller 'monolithic' to the cooler/freezer box minimized construction costs and simplified installation."
What's Next
Yuengling continues to add to its outdoor area, which will comprise 400 seats, a tree grove and games (bocce, shuffleboard and cornhole).
And, Wertz thinks more sizable beer deliveries are coming. Currently, he says they get about 10-15 pallets (four kegs per pallet) across the four coolers. "As the business settles into the local community, one block from a major university and a theme park, our beer volumes will most likely double," Wertz says.
---
FACTS
YUENGLING DRAFT HAUS & KITCHEN TAMPA, FLA.
MENU/SEGMENT: Gastropub
OPENED: June 2023
SIZE: 42,000 square feet
SEATING: 800 guests total (300 indoor and 500 outdoor)
FF&E PACKAGE: $2M+
NO. OF BARS: 5 bars with 88 tap handles
CONSULTANT: David Hammersley, principal; Ashley Walogorsky, VP of design, TBCI Design, St. Petersburg, Fla.
DEALER: Kristen Horn, VP of operations; Brad Lancaster, owner, Johnson-Lancaster & Associates, Clearwater, Fla.
ARCHITECTS: Alfonso Architects, Tampa, Fla.; and Miller Brothers, Schuylkill Haven, Pa.
WEBSITE: yuengling.com
---

KEY EQUIPMENT
THROUGHOUT
• John Boos work tables, shelving, cabinets, hand sinks, pot racks
• CaptiveAire hoods
• T&S Brass pot filler faucets, electronic faucets
• Advance Tabco hand sinks
EXPO TABLES & CHEF'S COUNTER
• Hatco heat lamps, induction ranges, soup wells, hot wells
• Continental undercounter refrigerators
• Alto-Shaam warming drawer
• Wells hot food well
• True pizza prep refrigerators, undercounter refrigerators
• TurboChef rapid cook oven
COLD PREP
• Hatco cold shelf
• Glastender ice cream cabinets
• Panasonic microwave oven
• Globe 5-quart mixer
MAIN COOKLINE
• True reach-in refrigerator, undercounter freezer
• Henny Penny pressure fryers
• Giles batter station
• Vulcan range, convection oven, salamander, griddle
• MagiKitch'n charbroiler
• Everest reach-in refrigerator
• Alto-Shaam cook hold oven/smoker
• Pitco fryers
BULK COOKLINE
• Robot Coupe immersion blenders
• RATIONAL combi ovens
• Everpure water filtration system
• Vulcan double-deck convection oven, steamer, range and oven, French hot-tops and oven
• Crown tilting kettle, tilting skillet
BAKERY, PREP, SOUS VIDE
• Doyon roll-in oven, proofer cabinet
• Globe 60-quart mixer, 20-quart mixer, food slicers
• Metro heated banquet cart
• Robot Coupe food processors
• FMP salad dryer
• Univex food cutter
• JB Prince sous vide cookers
• True reach-in refrigerators
• Berkel food packaging machine
• Carter-Hoffmann dry aging cabinets
WAREWASHING & STORAGE
• Cambro mobile ice caddy
• Antunes water filtration system
• Manitowoc ice cuber
• Follett ice bin
• Spray Master high-pressure cleaning system
• Advance Tabco four-compartment sink, floor trough
• Hatco sink heater
• InSinkErator pulper
• Champion conveyor dishwasher
• Bally walk-in coolers, freezers, blast chiller
• RTI bulk oil system
BAR BOH
• Micro Matic draft beer system power packs, nitrogen generator
• Bally keg coolers
• Berner air curtains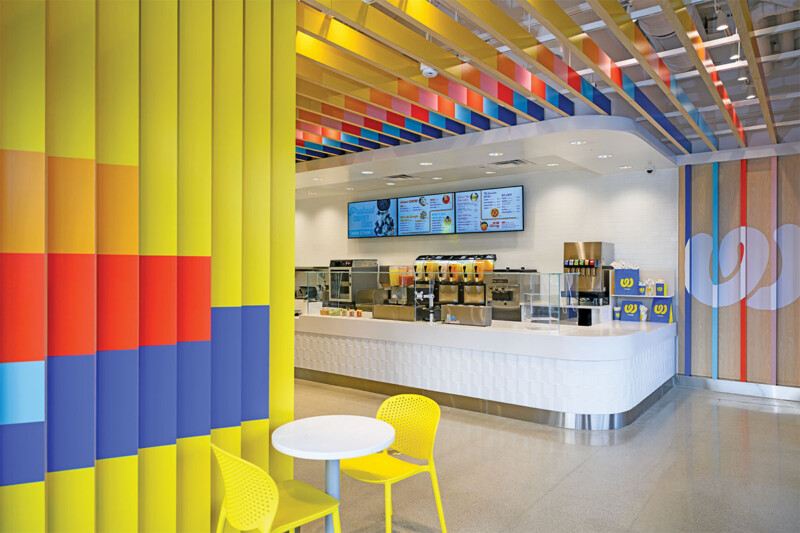 Kitchen Design
Wetzel's Pretzels, the multiunit bakery of shopping mall fame, now offers its soft pretzels and more at street-side through its latest concept.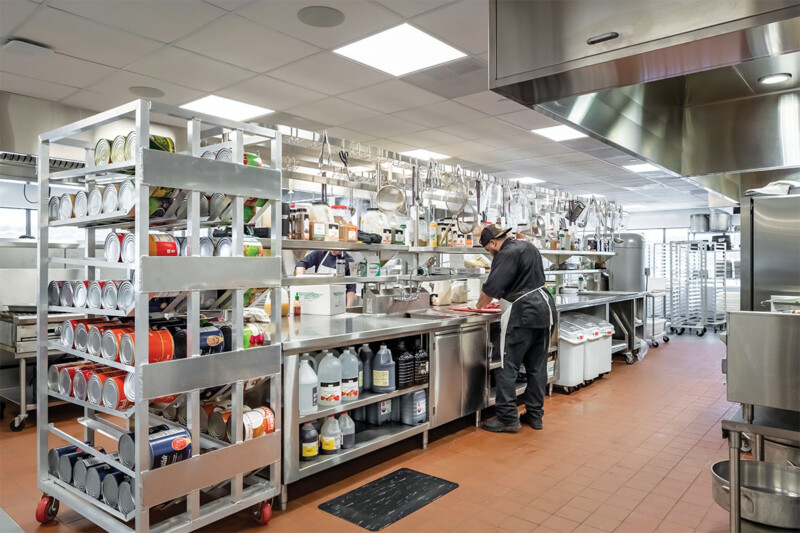 Kitchen Design
Open Arms of Minnesota—a volunteer-powered, nonprofit organization that provides meals to critically ill Minnesotans—needed more room.