Chef's Choice: Inside Daniel Boulud's Le Pavillon
A back-of-house skybox, hoods suspended from vertical ducts and a uniquely shaped hot pass make up Daniel Boulud's grand kitchen at Le Pavillon.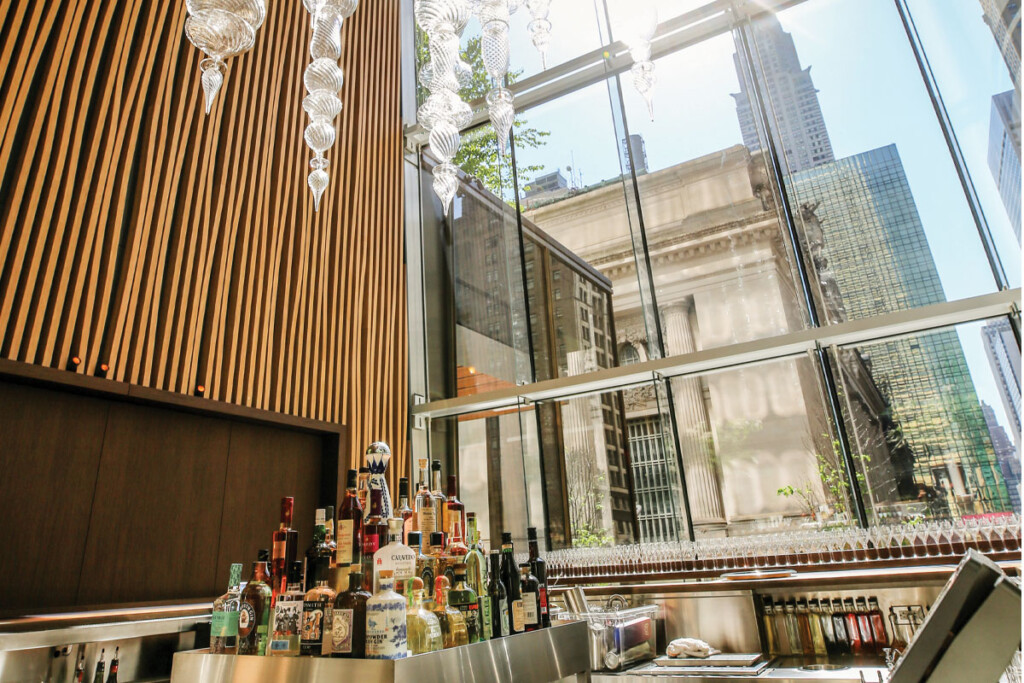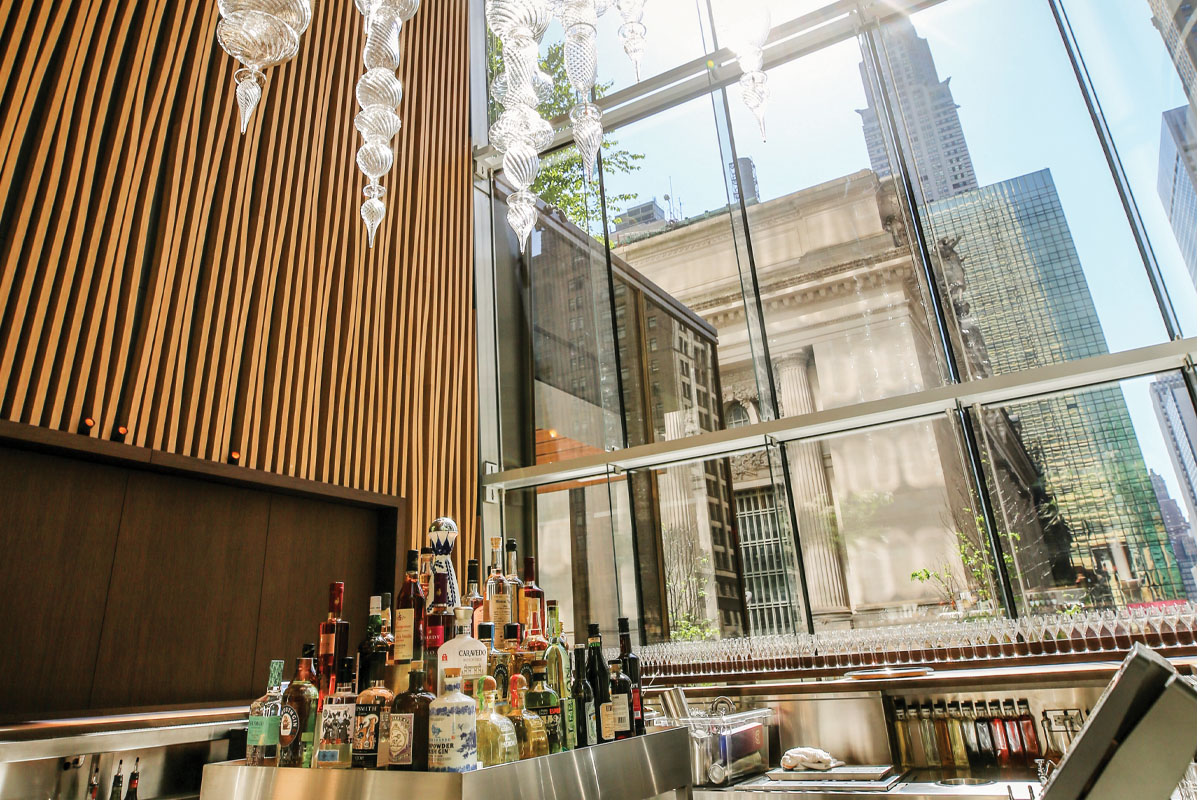 Michelin-starred Chef Daniel Boulud's Le Pavillon serves as a featured dining destination in one of Midtown Manhattan's newest skyscrapers, One Vanderbilt.
Le Pavillon's front-of-house, with interior design by internationally known Brazilian architect Isay Weinfeld, features cathedral-like ceilings and soaring windows overlooking the Grand Central Terminal and the nearby Chrysler Building. A veritable grove of 20-foot olive trees and living greenery covering about half the dining space and some of the walls bring the outdoors in. The 120-seat "fine casual restaurant," as Boulud calls it, serves $125 three-course prix fixe dinners starring seasonal products from farm and sea.
As impressive as Le Pavillon's dining area may be, it's Boulud's back-of-house that merits a closer look. There, ceilings reach high enough to accommodate a chef's skybox, exhaust hoods suspend from vertical ducts to maintain sightlines, a hot pass boasts an efficient airplane tail like shape, and a variety of stations support nearly every type of culinary activity.
The idea for Boulud's newest restaurant began in 2017 when SL Green, One Vanderbilt's developer, approached the chef to gauge his interest. Foodservice consultants Next Step Design, led by Northeast Division Vice President Leif Billings, based in New York, oversaw Le Pavillon's kitchen design. The restaurant opened May 19, 2021—the same day New York allowed restaurants to operate at full capacity after 14 months of restricted dining during the COVID-19 pandemic.
"I designed the entire kitchen with Leif, and challenged him many times by the little details," Boulud says. "Overall, I don't think we forgot too many things. I do wish the kitchen was bigger—we always need more space for pastries, baking. We [have begun] building an extension for prep; that will help."
Look Up
Le Pavillon's kitchen proper covers 4,000 square feet including the main culinary area, walk-ins and warewashing. Extra storage, for wine and supplies, and receiving space occupy about 1,000 square feet on the basement level.
Given the 28-foot-high kitchen ceilings, Boulud suggested developing a skybox kitchen office space, similar to a skybox in another one of his concepts, Restaurant Daniel on 65th Street in the Upper East Side. The 300-square-foot space would house a culinary library, meeting area and a six-top table for private dining overlooking kitchen action. The area under the skybox would provide additional work areas.
Maintaining sightlines across Boulud's multifaceted kitchen required creative engineering, especially when it came to ductwork and ventilation.
Maintaining sightlines across Boulud's multifaceted kitchen required creative engineering, especially when it came to ductwork and ventilation.
Not one but two hood manufacturers took part in the planning. "We had originally worked closely with one supplier, and had all the details figured out," Billings recalls. Then logistics intervened. Well into planning, the team learned that the original supplier would not be able to break its scrubber unit down small enough to fit into the freight elevator, and neither the general contractor nor the hood manufacturer had budgeted for the special rigging that would be needed to haul the unit up the building's exterior to the fifth floor.
"We ended up changing to another supplier on the fly," Billings says. "They were able to break down their unit into small enough pieces to transport by elevator, and we felt comfortable working with them for [the unusual ventilation engineering required]."
Within the kitchen proper, the hoods appear to float to preserve sightlines from the skybox. "The hoods attach from stems that drop down from the ceiling—like [rectangular, stainless] upside-down trees," Billings says of the deceptively simple-looking arrangement. Structural engineers designed a strong, tubular steel framework to suspend hoods above the cooklines, and then, along with architects and mechanical engineers, they worked to consolidate ducts and limit the number of vertical risers coming from hoods.
Look Across
Standing at the kitchen's entrance, a visitor would see three marble-topped action points: the dessert pass on the right, the hot pass in the center and the cold pass to the far left. Well-equipped stations back each of the three passes. The general height of each stations' shelf measures about 54 inches high "so chefs can talk to each other across the tables," Billings says.
The hot pass and its supporting cookline feature several notable elements. Originally designed as a T-shape, Boulud requested adding angles to provide more workspace. The resulting shape, resembling an airplane tail, provides more workspace and better flow as a result. Other elements at the hot pass include lockable knife cabinets in spots originally earmarked for trash cans, and a ticket rail with a long, shallow drawer tucked under it to hold small, lightweight items. Additionally, the overshelves include heat lamps on pole-like "outriggers."
Stations surrounding and supporting this central area are bulk hot prep, cold prep, meat and fish prep, walk-ins, dry storage, a bakery and bakery prep, pot-washing, more walk-ins and a beverage space. "At least 50% to 65% of the kitchen layout is custom-made, and even some of the equipment, such as the ranges, are bespoke," Billings says.
The kitchen boasts three washing areas. Pot-washing sits in the back, under the skybox. Designers split dishwashing and glass-washing into two zones. "The arrangement reduces breakage of expensive wine and cocktail glasses," Billings says. "Also, the crew does a lot of polishing of glassware and silverware, so having the glass-washing near the glass-polishing station is efficient. And finally, since glasses are the last to be removed from tables, the dual drop points have not slowed down the wait/bussing staff."
Look Closely
Some of the most unique details of Le Pavillon's kitchen are hidden in plain sight. These elements include storage areas, space savers and last-minute innovations. Here's a taste:
• Tool drawers: Designers added basic drawers to the refrigerator compressor compartments that otherwise would have held only the refrigeration lines. "We created tool cubbies to hold knife rolls, pastry tools and the like," Billings says.
• Garnish rails: A bracket for ninth pans, attached via keyhole pins to the bottom front edge of shelving, holds dry garnishes and other lightweight items, keeping them off the counter.
• Freestanding storage walls: The team designed and fabricated table-mounted wall cabinets that provide much-needed vertical storage in the open kitchen. The space between the storage walls of the dessert station and the cold prep station forms the passageway leading to the skybox stairs.
• Visitors' spot: An in-kitchen drink rail across from the cold pass offers a space where visiting chefs can sit and watch the action.
• Lighting: During the day, natural light fills the kitchen from floor-to-ceiling windows overlooking Madison Avenue. Under-shelf task lighting, built-in hood lights and hanging fixtures ("like sleek-looking laboratory lights, almost," Billings says) complete the illumination task.
• Easy view: Glass doors on the exterior of the garde-manger walk-in allows quick access to mise en place ingredients.
Considering the kitchen as a whole, Billings gives full credit to Boulud. "As much as our team put into the project, the kitchen is Chef Daniel's masterpiece as well," Billings says. "It was a very collaborative effort from beginning to end."
---
FACTS
LE PAVILLON
NEW YORK CITY
MENU/SEGMENT: Fine dining
OPENED: May 2021
SIZE: 11,000 sq. ft.
SEATING: 120 dining room seats, 46 bar seats
PARTNERS: Chef/Owner Daniel Boulud; SL Green Realty Corp., New York City; Isay Weinfeld, Sao Paulo, Brazil; Montroy Andersen DeMarco, New York City
FOODSERVICE CONSULTANT: Leif Billings, Northeast Division vice president and based in New York City, Next Step Design, headquartered in Annapolis, Md.
EXECUTIVE ARCHITECT: Montroy Andersen DeMarco
DESIGN ARCHITECT: Isay Weinfeld
DEALER: Singer Equipment Co., Elverson, Pa.
WEBSITE: lepavillonnyc.com
---
EQUIPMENT
THROUGHOUT
• Halton hoods
• Delfield/Welbilt reach-in refrigerators, freezers
• Kolpak/Welbilt walk-in coolers, freezers
• Hatco heat lamps
• Carbone Metal custom fabrication
HOT LINE
• Athanor range suite, charbroiler
• Rotisol S.A. gas rotisserie oven
• Convotherm/Welbilt combi oven
• Adande dual temperature cabinet
• Fisher dipper well
GARDE-MANGER
• Athanor range suite
• Hatco salamander broiler
PASTRY
• PolyScience sous vide cookers
• Carter-Hoffmann/Middleby heated cabinet
• Moffat/Ali Group convection oven
• Equipex induction range
• Fisher dipper well
• Glastender ice cream dipping cabinet
• Hobart/ITW FEG planetary mixer
BAKERY PREP & COOKING
• Carpigiani/Ali Group batch freezer
• Univex dough sheeter
• Chocovision tempering melter
• Globe/Middleby planetary mixer
• Bakers Pride/Middleby convection ovens
COLD PREP & FISH PREP
• Delfield/Welbilt equipment stand, cold base
• Globe/Middleby planetary mixer
• Hobart/ITW FEG portion scales, meat grinder
• Bizerba food slicer
• Berkel/ITW FEG food packaging machine
• Arctiko chest freezer
• Robot Coupe food processor
HOT PREP
• Alto-Shaam heated cabinet
• Convotherm/Welbilt combi oven
• Cleveland Range/Welbilt tilting kettle, tilting skillet
• Pitco/Middleby fryer
• Jade/Middleby four-burner range, salamander broiler, stockpot range
BEVERAGES & SERVICE BAR
• Nuova Simonelli espresso machine, coffee grinder
• True reach-in undercounter refrigerator
• Bunn hot water boiler
• Fetco coffee brewer, grinder
• Nordaq Fresh chilled water dispenser
• Perlick back bar refrigerator, bar system, mixology station, underbar ice bin, bottle display, hand sink
WAREWASHING & ICE
• Hobart/ITW FEG dishwashers
• Hoshizaki nugget ice maker, condenser unit, ice cuber
• Kold-Draft/Ali Group ice cuber
• Antunes water filtration system
• Follett/Middleby ice bin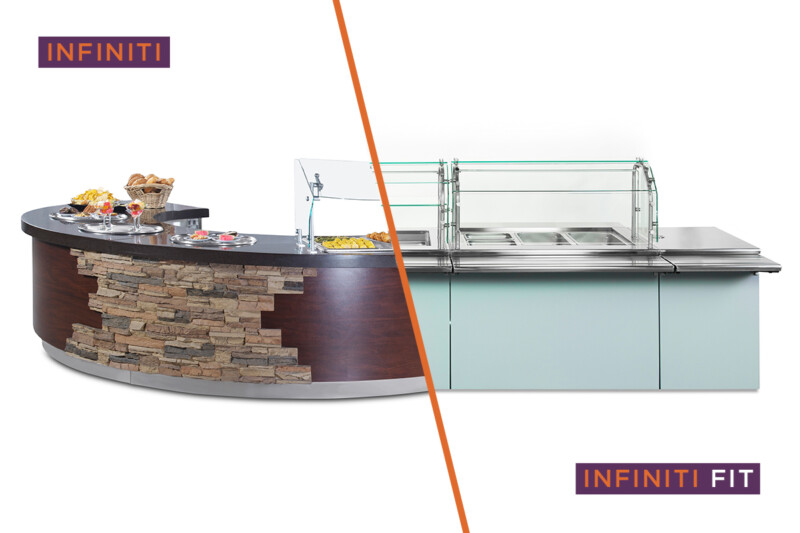 Design
While aesthetics and functionality are always top of mind when considering a new serving line solution, it's important that operators also consider the business angle of this decision. In this…