Conveyor Ovens Roll Forward
With the industry facing a historic worker shortage, conveyor ovens provide one solution to keep operations moving along.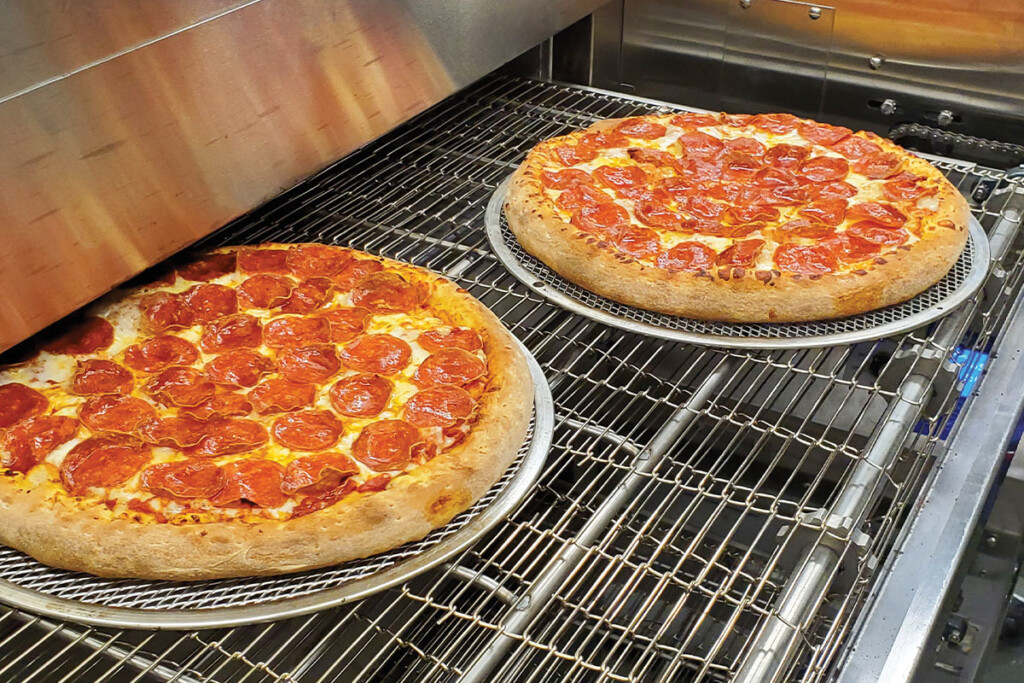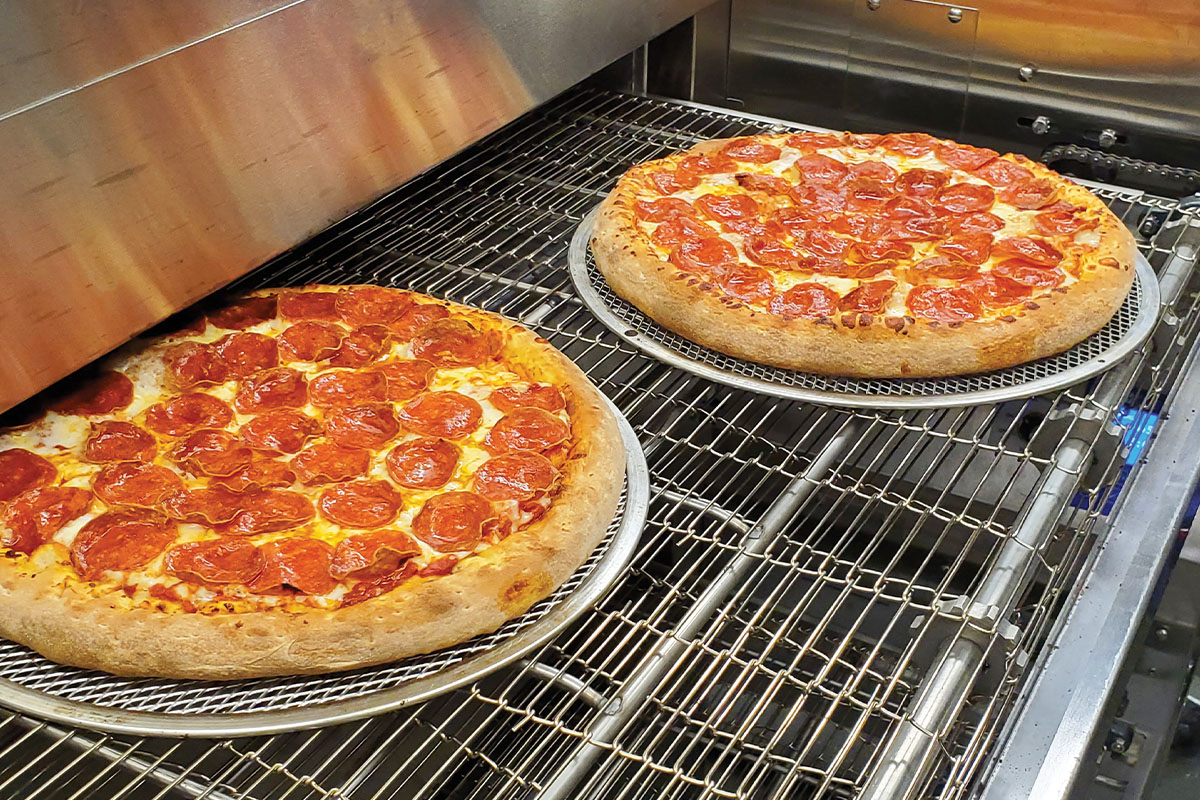 Leave it and retrieve it. That's how one manufacturer describes the simplicity of cooking with a conveyor oven. Food that needs to be cooked or rethermed is placed on one end of a conveyor belt; the food moves through a tunnel of heat; and, voila, it comes out the other end ready to serve. Conveyors provide continuous and quick cooking, consistent quality and next-to-no training to operate. Given the current worker shortage, some operators are seeking ways to succeed with fewer skilled employees; conveyor ovens offer a convenient option.
Conveyors have been churning out pizza for 45 years, ever since Little Caesars popularized the technology in 1977. But conveyor ovens aren't just for pizza anymore. They roll out spicy chicken wings, toasty open-faced sandwiches, air-fried vegetables—plus steaks, burgers and pork, given the appropriate oven. Conveyors also are perfect for a quick reheat of a dish before it's sent out for delivery from a ghost kitchen or restaurant. Today's conveyor ovens bake faster than ever, facilitate customized cooking, and use smart technology that monitors operations and diagnoses problems.
WHAT'S COOKING?
Conveyor ovens typically use one of two heating methods: impinged air or infrared/radiant heat. Impingement is most common. In an impinger conveyor, high-velocity hot air blows from finger nozzles or air jets directed from both the top and bottom. The targeted heat penetrates the food, promoting high-heat transfer rates and accelerated cooking, at temperatures up to 600°F. This method excels at baking pizza, breadsticks and flatbreads, as well as retherming frozen chicken wings, baking cookies, heating Tex-Mex dishes, roasting fish and melting cheese atop sandwiches.
Conveyor ovens are available in a multitude of sizes, from countertop models with 17-inch-long cooking chambers to freestanding units with 70-inch-long chambers.
Infrared conveyors use high-energy static heat, so there's no airflow here. They operate at up to 900°F, making them ideal for searing steak, chicken, salmon and burgers, producing results similar to grilling. In fact, one manufacturer labels its infrared conveyor as a "radiant grill." Some operators have replaced their charbroilers with infrared conveyors, reducing the need for skilled labor, while cutting cook times and removing the hazards of grilling over a flame.
Some infrared conveyors also are good for baking, broiling and steaming. Specify the applications you need; not all infrared conveyors are designed for the same uses. One manufacturer makes an infrared conveyor "finishing oven" that cannot handle raw proteins. Instead, it thermalizes fresh or frozen foods and adds finishing touches to dishes, like toasting sandwiches or melting cheese.
Some operators rely on both impinger and infrared conveyors. Chili's upgraded its kitchens about 10 years ago, adding conveyors to speed up service and simplify labor. The casual-dining chain uses infrared conveyors to cook its ribs, salmon and chicken, and impingers to toast and melt their quesadillas as well as to heat up desserts.
BETTER, SMARTER AND FASTER
Today's conveyor ovens are swifter than ever, thanks to numerous advancements. One manufacturer recently unveiled a series of impingement ovens that shortens pizza bake time by up to one minute because of a redesigned chamber that allows a higher volume of airflow and reengineered nozzles that more accurately direct airflow. A two-stacked configuration now yields as much pizza as the previous triple-stack. Faster bake time translates to quicker table turns, speedier deliveries and more satisfied customers.
Manufacturers also are focused on getting a better bake. More models now feature independently controlled top and bottom air impingement, facilitating recipe customization. For example, you might crank up the bottom airflow to produce a crispy pizza crust and turn down the top blower to avoid burning the cheese. While some electric models have offered this feature for several years, it will debut on a gas model this spring.
Some models have built in self-diagnostics that monitor oven components and flag issues. A couple manufacturers have stepped this up through Internet of Things technology that allows operations to be monitored and controlled remotely. A chain operator can remotely distribute recipes to their ovens or check that their conveyors have been turned off for the night. Operators can connect multiple pieces of equipment to one system and monitor them on the same dashboard.
SIZING UP THE SITUATION
Determine your conveyor-dependent menu items and calculate production needs before specifying the size and number of ovens needed. Check capacity charts or online calculator tools to find a model's hourly throughput. Try your recipes at a test kitchen, where you can experiment with different temperatures, speed and airflow to find your exact cook time. The beauty of a conveyor oven is that once you find the right settings, you'll get consistent quality.
Consider these specifications:
CHAMBER SIZE. Conveyor ovens are available in a multitude of sizes, from countertop models with 17-inch-long cooking chambers to freestanding units with 70-inch-long chambers. Examine your production needs and available space. Account for your needs during peak hours, so you can prevent long wait times that tempt customers to order elsewhere. A common mistake is purchasing a unit that's too small.
STACKABILITY. Most conveyor ovens come stackable, allowing you to increase your throughput without expanding your footprint. If you want the flexibility to add another oven later, check how many units you can stack—typically it's two or three, but sometimes four. In some cases, you can stack a mixture of ovens, for example, placing a smaller oven for appetizers atop a larger unit for pizza, or stacking an infrared oven over an impinger oven.
BELT OPTIONS. Belt widths vary, with options up to 32 inches wide, as do belt lengths. Specify the dimensions needed to accommodate your menu items and production needs. Some conveyor ovens offer a split belt, giving operators the versatility to cook different menu items at varied speeds, should your chicken wings take longer to bake than pizza, for example. Configuration options include 50/50, 70/30 and 65/35. Some models can run the belt in either direction, expanding the flexibility of your operations.
DUAL PURPOSE. If you require a continuous conveyor during only part of the day, you might consider a dual-purpose model offered by at least one manufacturer. With the touch of a button, the oven transforms from a conveyor to a closed-cavity oven that retains more heat.
MOVING RIGHT ALONG
Still not sure which conveyor oven to select? Here are some more factors to consider:
VENTILATION. An increasing number of conveyor models offer ventless operation. Ventless units are easy to install in ghost kitchens, convenience stores, stadiums and elsewhere. The price tag will be higher, but you'll save the cost of installing a kitchen hood. The downside is that ventless operation is available only on electric models, which are typically more expensive to operate than gas units. Avoid cooking fatty, raw proteins in ventless ovens.
One manufacturer features an "energy eye" that shifts the oven into energy-savings mode when no food is present.
ENERGY EFFICIENCY. One manufacturer features an "energy eye" that shifts the oven into energy-savings mode when no food is present. Another company recently introduced an eco mode that stops the conveyor and reduces airflow at the press of a button.
ERGONOMICS AND SAFETY. Look into whether your conveyor setup is safe and comfortable to use. One maker recently released a series of conveyors designed to ease access to the highest oven on a three-stack. To prevent burns, consider models with a cool-to-touch exterior.
CONTROLS. These range from simple switches and push buttons to sophisticated full-color touch screens. Consider your needs and budget. High-tech controls facilitate access to preprogrammed cook settings, helping workers switch from making one menu item to another.
WARRANTIES. Manufacturers typically give a one- or two-year warranty for conveyor ovens, but some offer longer spans. One maker provides a seven-year warranty, extended to 10 years if an integrated hood is purchased.
CLEANING. Explore options that make this task easier. Some impinger ovens feature removable parts to facilitate cleaning. For infrared conveyors, cleaning is typically as simple as pressing a button to heat the unit to 1,000°F to burn off residue. Clean regularly according to the manufacturer's recommendations to keep your conveyor oven merrily rolling along for years to come.
---
Movers and Bakers
KEEP YOUR EQUIPMENT SEARCH ROLLING RIGHT ALONG BY COMPARING EIGHT MAKERS' LATEST CONVEYOR OVEN MODELS.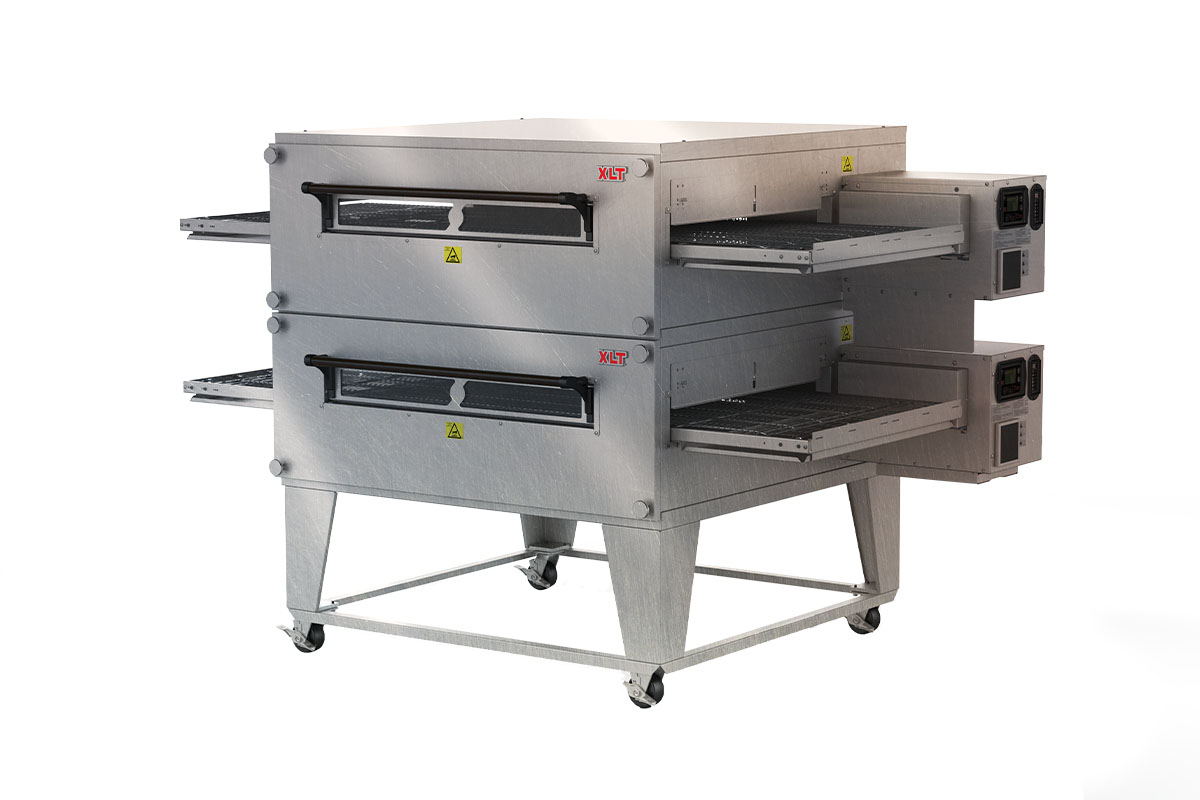 XLT
MODEL: 3255 H Version
POWER/HEATING: Choose from gas or electric; higher-volume airflow and angled finger nozzles offer a more efficient bake than this impinged air model's predecessors
FEATURES: Pizza bake time in this 55-in.L chamber is shortened by up to a minute, compared to XLT's G Version ovens, the maker says. Double or triple-stack formations are available, with standard (32-in.W) or split belts that are bidirectional. The interior is easily accessible for quick cleanup, and an extended front panel is available in 1,825 colors.
WEBSITE: xltovens.com
---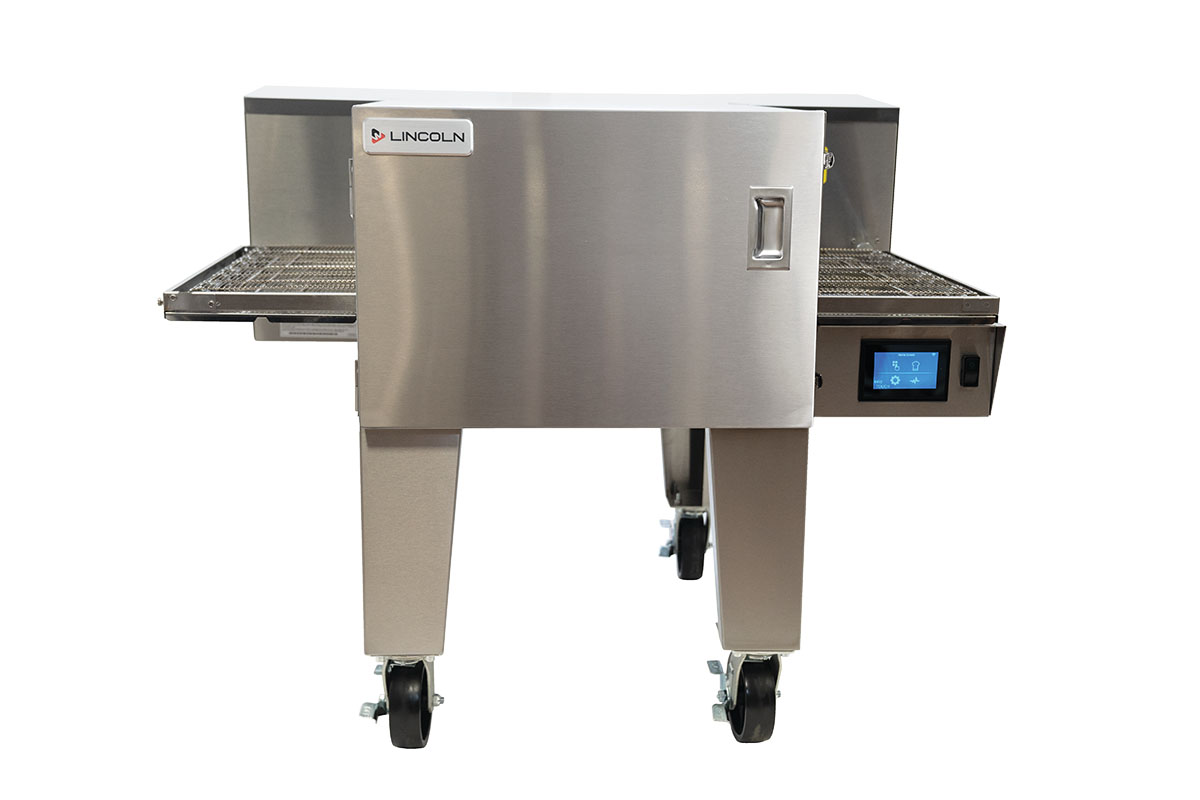 Lincoln
MODEL: 2424 Aperion Impinger Conveyor Oven
POWER/HEATING: Electric, with top and bottom adjustable impinged air control, conveyor speed between 20 seconds and 30 minutes, and a range of 250°F-600°F
FEATURES: Choose from countertop or freestanding applications, and use the touch screen to access programmed recipes or manually adjust cook time or temperature. Stack two units in non-ventless operations. The conveyor belt is 48-in.L x 24-in.W, with a 24-in.L baking chamber and optional end-stops and take-off shelves.
WEBSITE: lincolnfp.com
---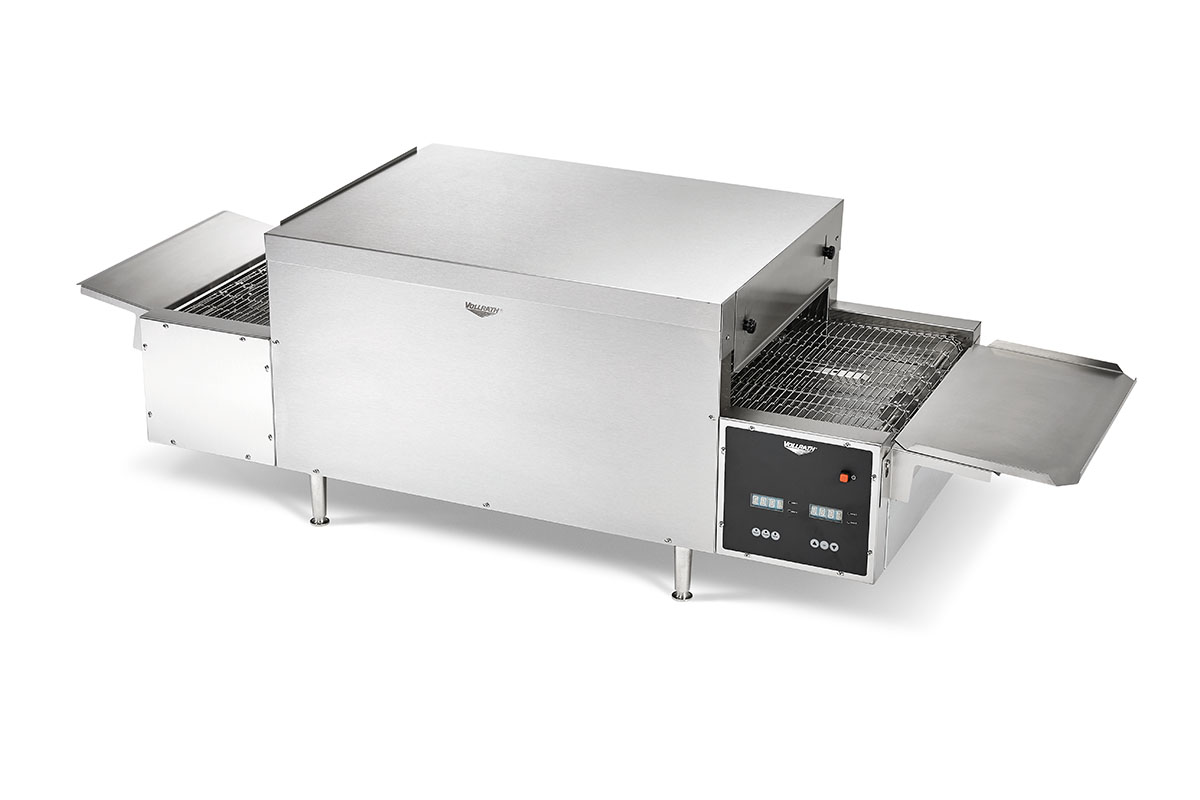 Vollrath
MODEL: MGD18
POWER/HEATING: Electric, with radiant heat and four independent, thermostatically controlled heat zones (two on top, two on bottom)
FEATURES: Vollrath's MGD18, made of stainless and aluminized steel, features digital controls and a standby mode for energy savings. Select from programmable menus, and change the direction of the 18-in.W conveyor belt at the touch of a button. Units, which are UL listed for ventless operation, also are stackable.
WEBSITE: vollrath.com
---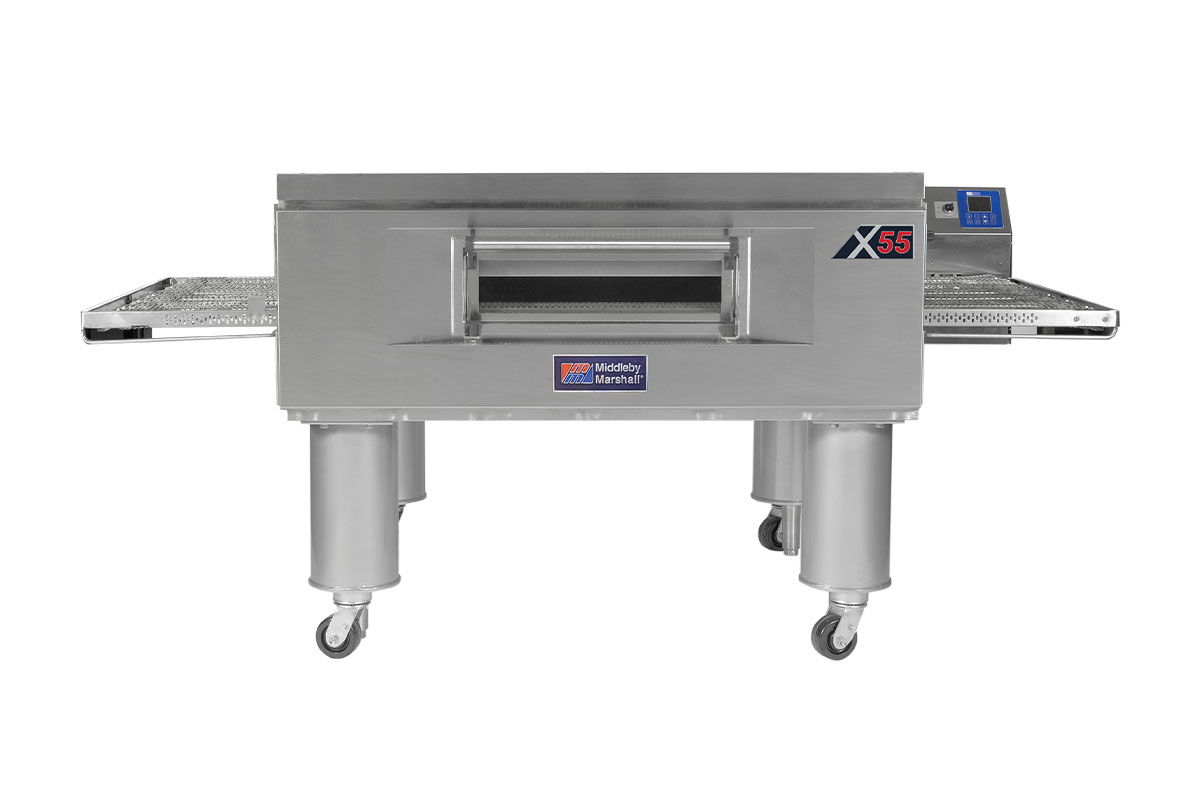 Middleby Marshall
MODEL: X55 X-Series
POWER/HEATING: Gas, with an impingement process that delivers constant heat to the chamber; a range of 300°F-600°F and bake time between one to 19 minutes
FEATURES: A reversible conveyor, 55-in.L cooking chamber and front-loading window come standard, while split or hearth belts are optional. Stack up to three ovens on casters, and easily reach the top belt with a top-of-unit height of 61 3⁄10-in. A single unit stands 43 2⁄10-in.H on casters and leg extensions. With a removable front panel in place, the front is cool to the touch.
WEBSITE: middlebymarshall.com
---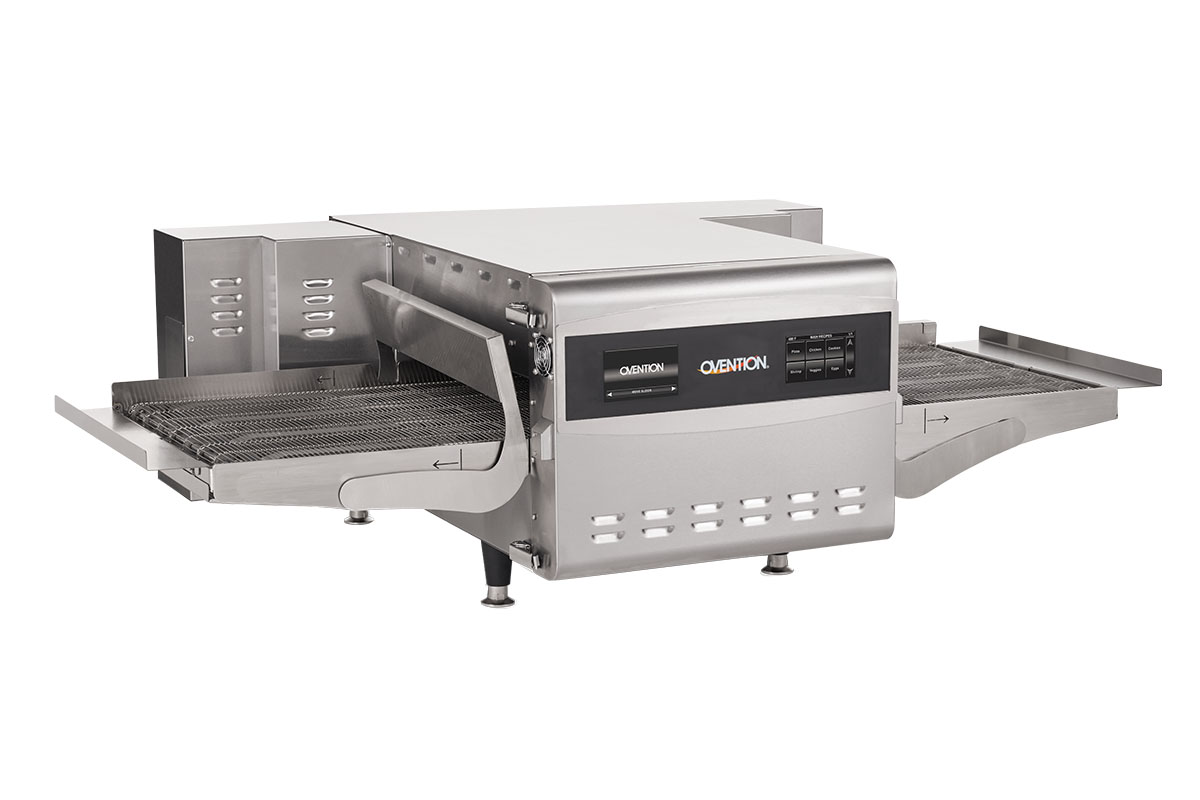 Ovention
MODEL: Shuttle S2000
POWER/HEATING: Electric, with Ovention saying its Precision Impingement technology offers three times the airflow of traditional impingement, and a range of 300°F-550°F
FEATURES: This ventless countertop model has a 21-in.L chamber and can function in both conveyor and queued closed-chamber cooking sequence modes. The unit's exterior remains cool, and belt direction can alternate as needed. Stack up to three units. An automatic power save mode is offered.
WEBSITE: oventionovens.com
---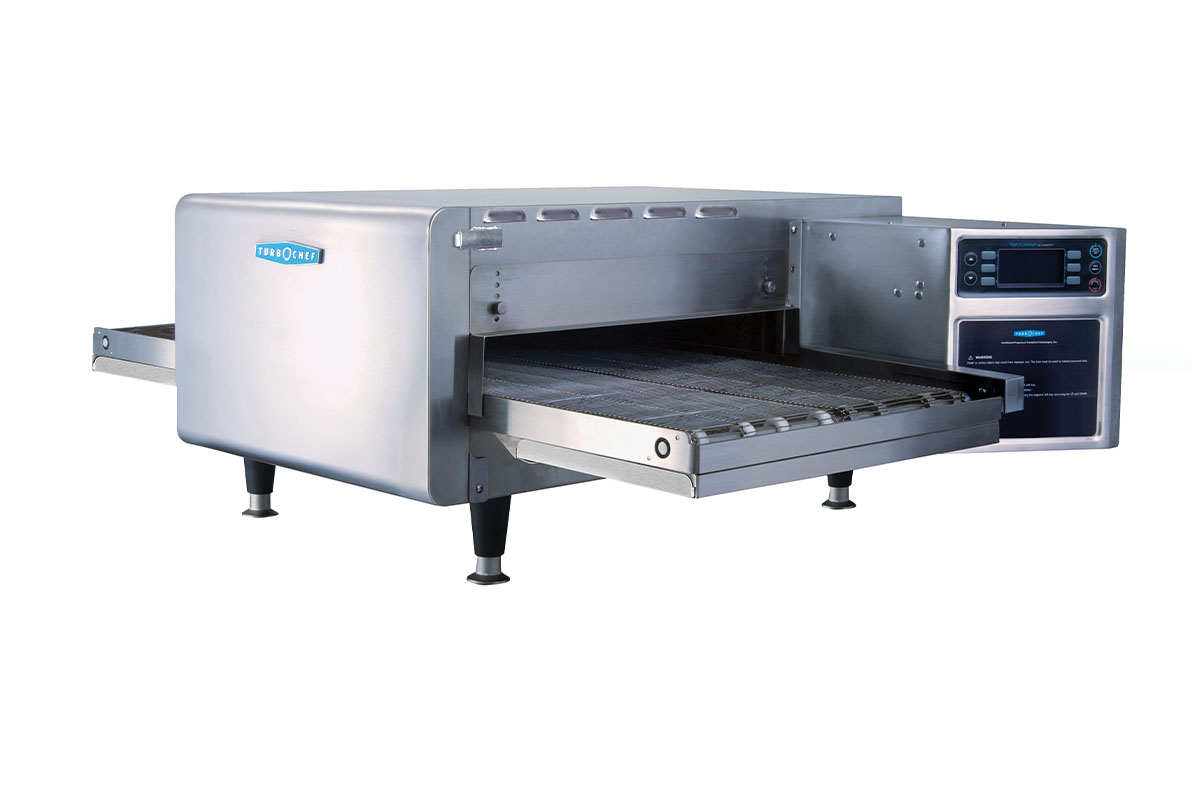 TurboChef
MODEL: High h Conveyor 2020
POWER/HEATING: Electric, with independently controlled top and bottom impingement, a maximum operating temperature of 550°F, and bake time between 30 seconds to 15 minutes
FEATURES: Choose which direction you want your 20-in.W belt to travel, conserve energy with idle mode and monitor oven health with built-in self-diagnostics. Options include split belts (50/50, at 9½ -in.W each, 65/35 or 70/30) with individually adjustable speed settings and dual catalytic converters for ventless operation. Stack up to three units.
WEBSITE: turbochef.com
---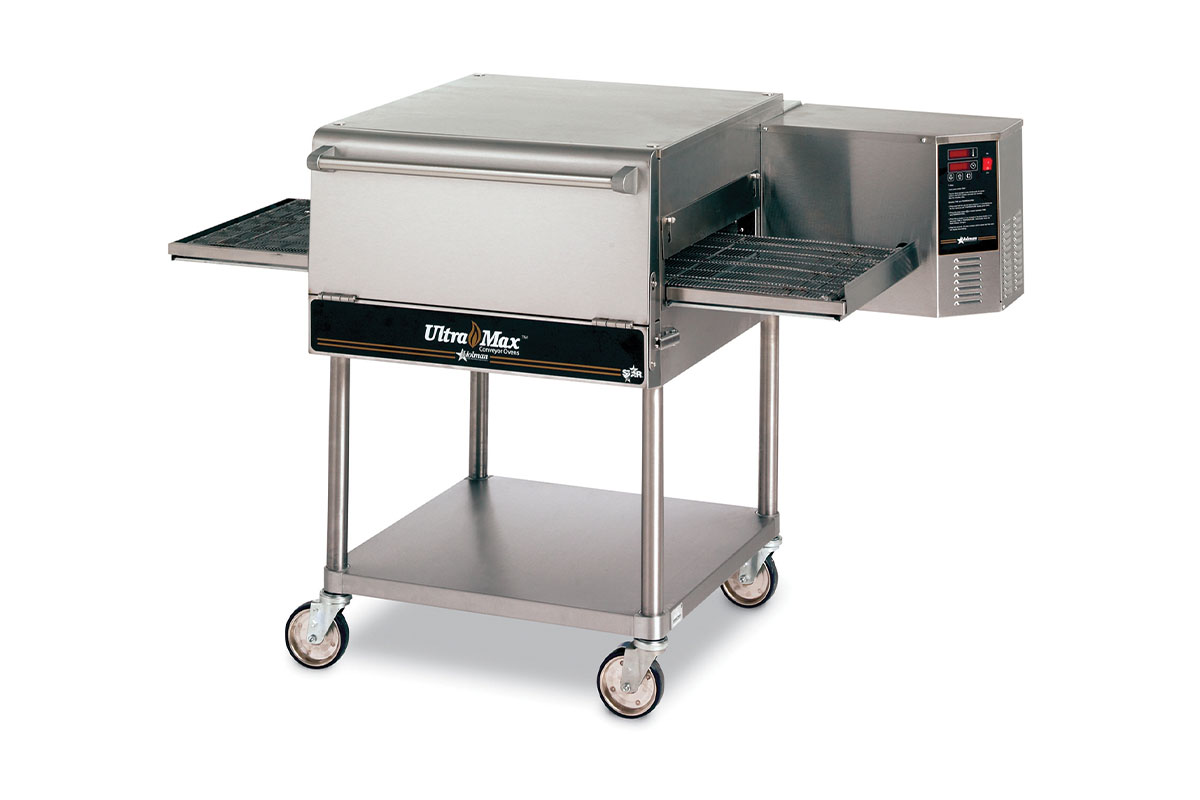 Star Mfg.
MODEL: Ultra-Max Countertop Series
POWER/HEATING: Electric or gas available, with impingement
FEATURES: A drop-down stainless front panel offers easy access to the cooking chamber for cleaning and changing nozzle plates. Use the electronic controls to set the bake time and temperature, or to adjust the belt direction. Choose single or stacked countertop configurations, or opt for a stand with casters.
WEBSITE: star-mfg.com
---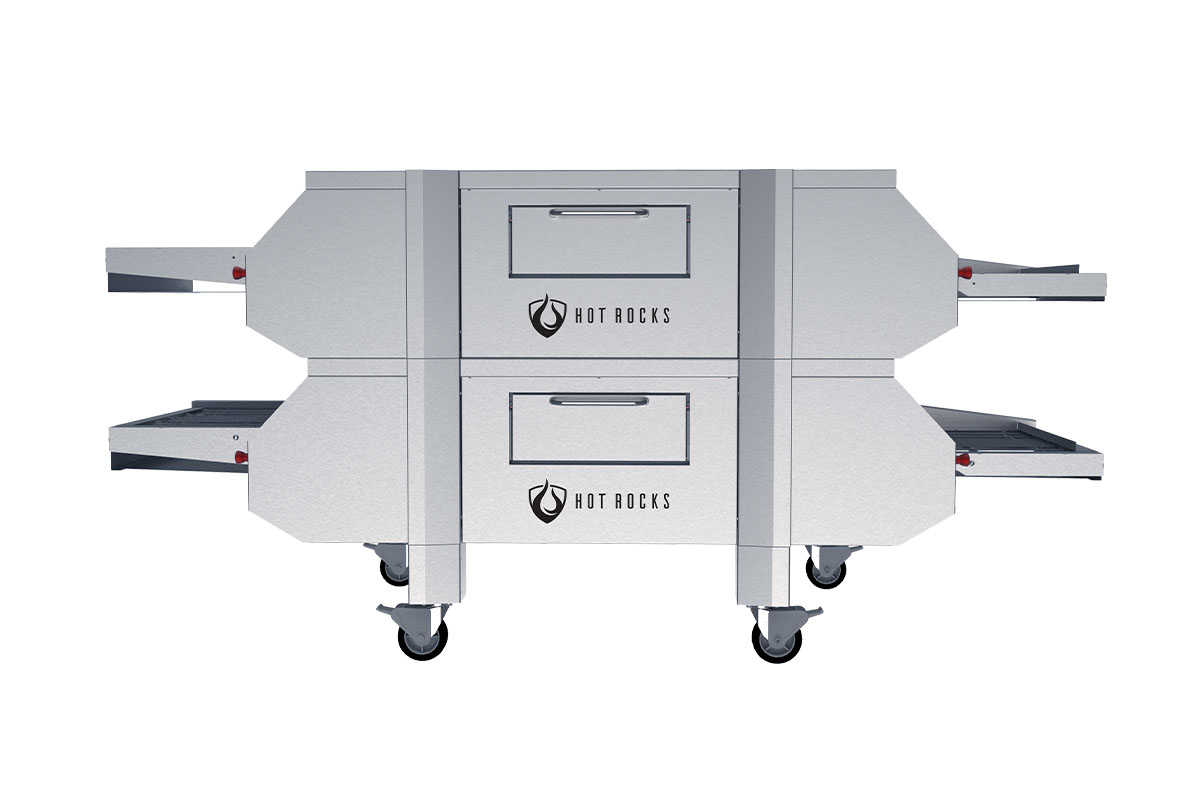 Hot Rocks
MODEL: Gen 3 (HR-70-22, HR-70-33 or HR-93-33)
POWER/HEATING: Gas, with a baking surface temperature of up to 600°F, a top convection temperature up to 750°F and a bake time range of two to 30 minutes
FEATURES: A granite stone conveyor offers even heat distribution and retention, while an exterior touch screen offers access to up to four programmable recipes. Easily access the crumb trays, and stack up to three ovens for increased throughput.
WEBSITE: hotrocksoven.com
---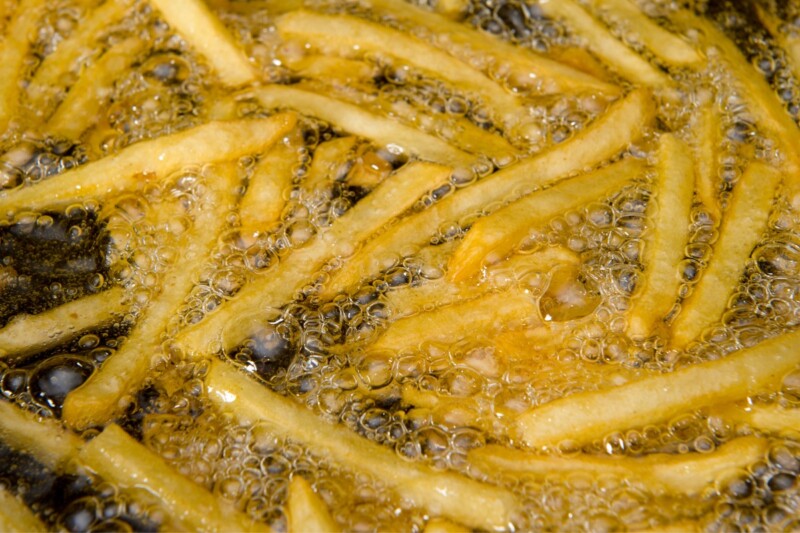 Equipment
Frying oil is a precious commodity in any commercial kitchen, especially in the world of deep-frying. To keep your cooking oil in optimal condition and ensure delicious taste and texture…