With diverse cuisine options, nimble operations and pent-up demand, the segment picks up the pace.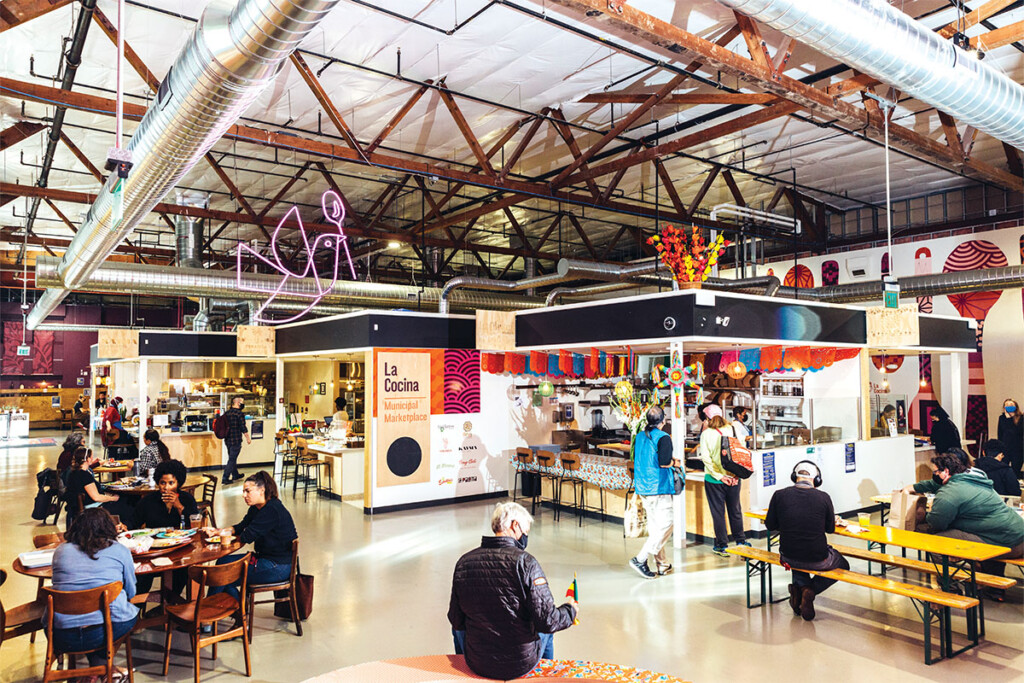 Food halls are getting a fresh start, in more ways than one. New ones are opening, some after lengthy delays. San Francisco's La Cocina Municipal Marketplace—a kitchen incubator for women- and immigrant-led food businesses—was nearing completion in March 2020 when lockdowns began. This spring, it finally opened, serving Senegalese, Algerian, Salvadorian and Mexican cuisine to hungry customers.
Urbanspace, which has three locations in New York City, one in Chicago and another in McLean, Va., is in expansion mode. "We will be doubling in size over the course of 2022," says Pamela Friedl, Urbanspace's vice president of operations.
At the Cherokee Casino & Hotel in West Siloam Springs, Okla., a new operation called The Food Hall opened in April, replacing a buffet that shut down in 2020 due to the pandemic, says Arlene Spiegel, president of Arlene Spiegel & Associates, who worked on the project. 
THE GROWTH FORECAST
Many operators are in recovery mode. "We are trying, in 2022, to get back to 2019 numbers," says Urbanspace's Friedl. About 25% of Urbanspace's NYC vendors are seeing 2019 sales levels, and about 50% are at 60% of 2019 sales levels, she says. Industry indicators such as the Kastle Occupancy Barometer assure Friedl that, though not all workers are back in-office, an interest in recreation and dining out is rebounding. Further, the number of NYC restaurants that closed during the pandemic (as many as 4,500, according to the New York State Restaurant Association) creates a chance to capture new business. 
TRENDS + INNOVATIONS
» Specifying off-the-shelf (vs. custom) equipment in the front-of-house and repurposing certain existing equipment in the main back kitchen, which previously supported the buffet, were a few ways the team overcame supply chain and budgetary constraints at The Food Hall at the Cherokee Casino & Hotel, Spiegel says.
» Urbanspace vendors have adjusted their space-restricted booths (some are only 10-feet by 10-feet) to support a sharp increase in off-premise orders. Friedl says vendors have added portable heat lamps, shelving for to-go supplies and extra stainless tabling. This has shaped the way Urbanspace thinks about kitchen design. "We have shifted our model for some of our newbuilds to go with more space in the stalls with fewer vendors to give them the space they need," she adds.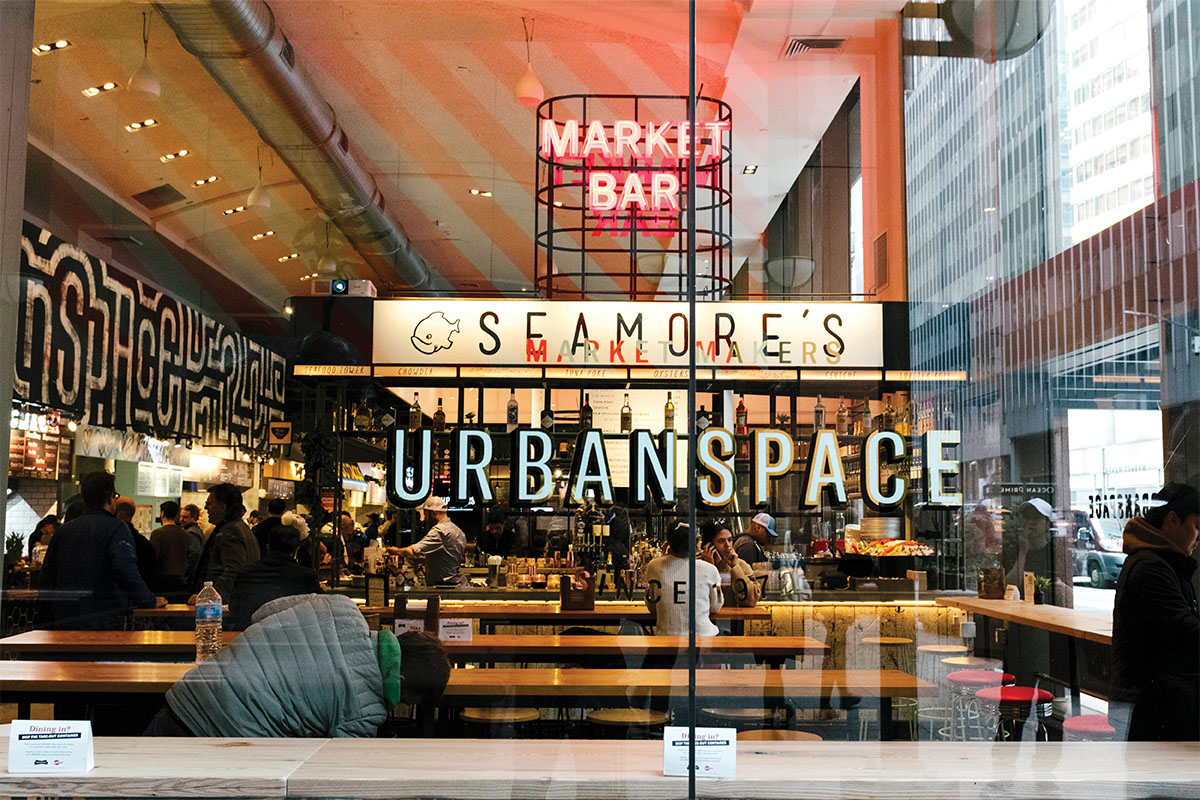 » Extension outlets are MVPs at La Cocina Municipal Marketplace. "They're attached to the ceiling on a swivel that you pull so they extend and they also retract and they are omnidirectional," says Jay Foster, general manager, who noted this is especially helpful for small appliances. 
» Holding cabinets store proteins and other menu items, bulk prepared in the main back kitchen, to keep turnaround times tight at Cherokee Casino & Hotel's food hall. "Guests are able to order at a counter or order from freestanding kiosks at the entrance or order from their phones, which creates a logistical challenge for the kitchen and the counter attendants," Spiegel says. "With a 90-second to three-minute turnaround time from order to pickup at most of the stations, the use of hot and cold holding equipment was crucial."
» Special design considerations can attract or retain vendors. "We've got certain vendors that need to have pitcher fillers or pot fillers on the back of their cooking line because they are doing ramen or pasta and they need to do it quickly and they need a constant boil," Urbanspace's Friedl says. "For some Halal vendors, we have created space where they can do their prep and washing of dishes. We even have a prayer room going into one of our locations for our Halal vendors, so they can take a quick break and go to a dignified place to follow through on their religious commitment."
» Urbanspace is partnering with local corporations to provide meals en masse through an online ordering platform. "Companies that are returning to the offices are incentivizing their employees to return by buying them lunch," Friedl says. "We've made an arrangement where they pay us directly for what employees are going to order on a daily basis. We set up a portal for them on their own website … and employees can place their orders and have them delivered to the office in bulk or have them ready for pickup individually."
---
THE STATS
$4B: The market size of the food hall and food court segment.1
25%: The percentage of Urbanspace vendors in New York that are back up to their 2019 sales for 2022. 
6: The number of food stalls featuring food from women-, immigrant- or POC-owned businesses at La Cocina Municipal Marketplace in San Francisco.
1IBISWorld Market Research Report, 2021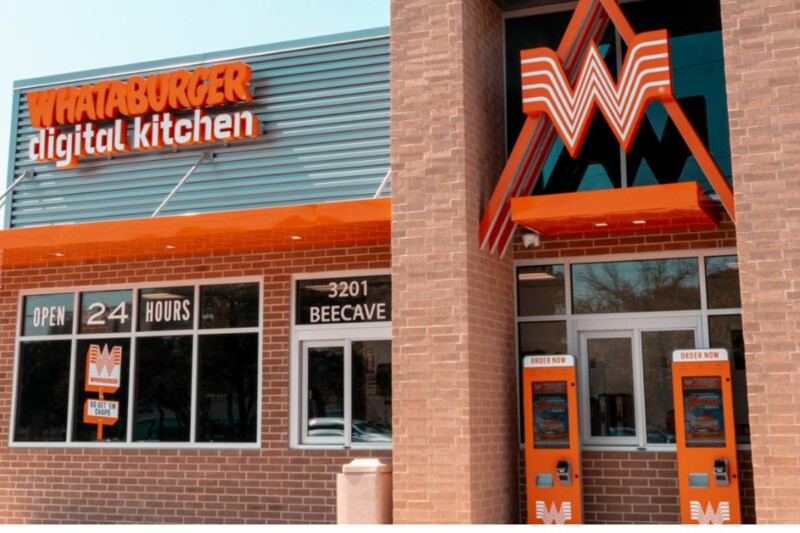 Design Trends
Designed for guests on the go, the store features this technology to create a quicker, more convenient experience.