How Gyro Shack Expanded Its Drive-Thru-Only Concept
It took several iterations before Gyro Shack found the right way to expand its drive-thru-only concept to one with more service options.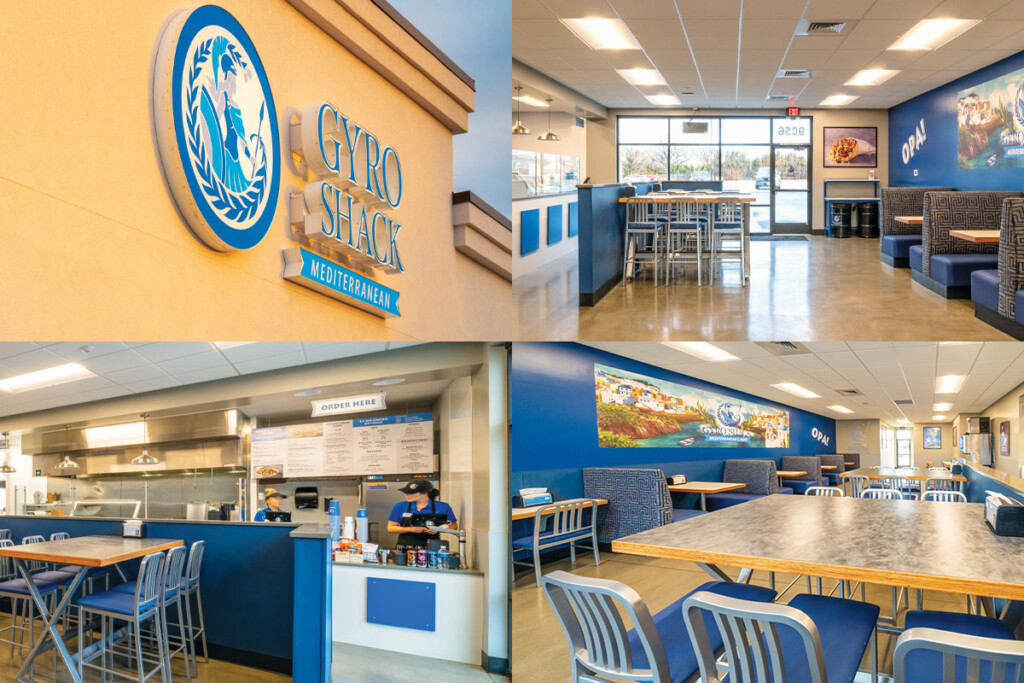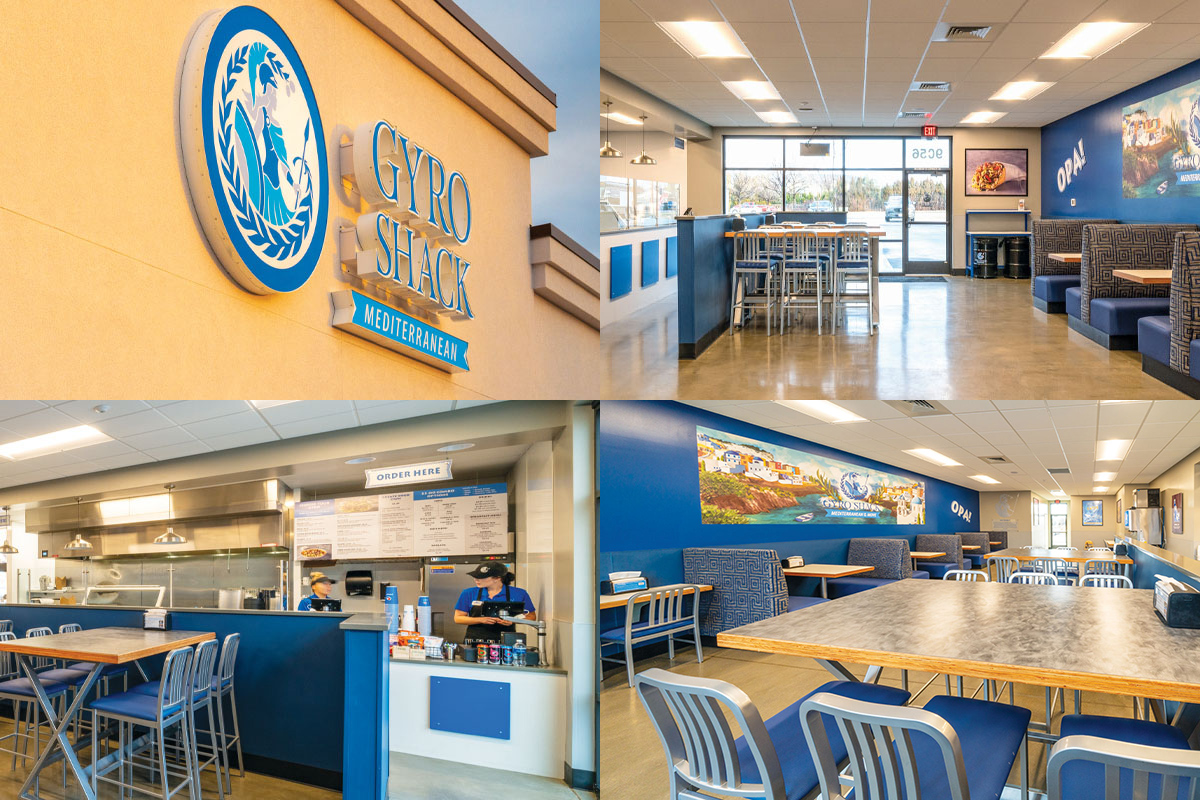 Drive-thru service has always been integral to Gyro Shack. The Boise, Idaho-based Greek quick-service concept got its start in 2010 as a double drive-thru location, with service windows on either side of the restaurant. Fast-forward 10 years, and Gyro Shack has grown to nine locations in the Boise area and has its third set of owners. Most recently, it debuted its first from-scratch prototype after a series of conversion stores, and announced plans for growth in an additional state. The drive-thru, though, remains a constant.
Gyro Shack's car-centric model served the chain well during the initial COVID-19-imposed shelter-in-place orders in March and April. "All locations were down about 60% in sales [during those months]," says Gyro Shack President Seth Brink. "Coming out the other side, though, our double drive-thru locations in particular are comping year-over-year double-digit monthly increases."
And at press time in September, Gyro Shack's from-scratch prototype is on track to generate about 90% of its predicted annual revenue, despite the pandemic.
Lessons Learned
Gyro Shack's path from a drive-thru-only operation to its proprietary dine-in prototype involved some trials and a few errors.
"When [my partner Doug Miller and I] bought Gyro Shack in 2015, the concept included two drive-thru units, 200 sq. ft. and 360 sq. ft., plus a food truck," says Brink, adding that they still use the truck to raise brand awareness at events. "As we started to expand, we began adding [units with] dining areas in order to maintain sales during winter months." In early 2017, they purchased a former Pizza Hut building on Overland Road in Boise, covering 1,800 sq. ft., allowing for dine-in and carryout service as well as drive-thru. But, Brink admits, it fell a bit short.
"The space was massive compared to what we were used to. The kitchen, at 400 sq. ft., was twice the size of our smallest drive-thru," Brink recalls.
The team brought in extra equipment to handle the anticipated growth in volume. That meant adding a second cookline and a second hood. A wall separated the two lines. Product from each line (gyro meats from one side, and griddled items from the other) flowed toward a sandwich prep table. Everything culminated at the expo table, where employees assembled and distributed orders for dine-in, carryout and drive-thru. In the back-of-house, a walk-in cooler and freezer held supplies. The additions bumped up the equipment tab to $110,000, compared to $85,000 for its typical drive-thru-only units.
After the Overland Gyro Shack's opening in summer 2017, the team soon found problems. "Not only did we add considerable steps for people moving from one station to the next, the configuration forced us to increase the number of team members needed to run a shift," Brink says.
"Gyro Shack [relied on its] own operators who believed in the business and figured things out through trial and error."
— Jeff Hatch, Hatch Design Architecture
Two more units followed in quick succession: The team tested new footprints and configurations in the Boise suburbs of Caldwell and Meridian.
The Caldwell store, another conversion, this one from a former Pita Pit, opened in spring 2018. For this unit, the team streamlined the cookline to fit under a single hood—vertical broilers, a griddle and the chain's first fryer, followed by a hot holding station, cold prep table and expo table.
The consolidated cookline reduced labor needs. "During nonpeak times, one person could again handle shaving the meat, making fries and overseeing the griddle," Brink says.
The only downside to the layout was the location of the warewashing area. "This space was set on the opposite side of the kitchen from the storage area," says Jeff Hatch, principal of Hatch Design Architecture, who worked on the design for the Caldwell shop and subsequent Gyro Shacks.
The Meridian Gyro Shack, a conversion from a former Subway, opened in fall 2019. It incorporated lessons learned from the Caldwell store, but created some new issues. Its cookline sat perpendicular to the drive-thru window, as opposed to sitting in line with the drive-thru window as in Caldwell. The team found the perpendicular layout created more steps. Additionally, the walk-in freezer was located near the back door, farthest from the cookline.
Just Right
It was finally time to create a proprietary design from the ground up. The result was a 1,588-sq.-ft. new construction endcap location with seating for 30, on Emerald Street in Boise. The team began designing the store in summer 2019; the store opened in December.
"The Emerald Gyro Shack combines the best of the Meridian and Caldwell stores," Hatch says. "The cookline is under one hood and in line with the drive-thru window, and its scullery is adjacent to the cooking area with storage in the far back."
The team says it finally has landed on the right solution. "Looking back at the Pizza Hut conversion, hindsight makes it obvious that the equipment line was too expansive, and the seating arrangement was more than they needed," Hatch notes. "Subsequent locations were refinements of lessons learned.
"But I admire the bootstrap nature of this whole process," Hatch adds. "Gyro Shack didn't rely on outside assistance, but rather on their own operators who believed in the business and figured things out through trial and error. [They showed] entrepreneurial tenacity."
Southwest, Ho
Gyro Shack changed hands again in February 2020 when it was purchased by two of its franchisees, Mark Urness and Matt Jeffries. Brink continues to serve as president.
The new owners plan to expand into new markets, starting with three to five units in the Phoenix area in 2021. "If we can find endcap sites, they will follow our Emerald prototype model," Brink says. Where no endcaps are available, units will be 500-sq.-ft. to 900-sq.-ft. drive-thru-only models, slightly larger than what they have in Boise, he says.
With new markets come plans to boost speed of service. "The drive-thru layout will include 'escape lanes.' That way we can send food out through the drive-thru windows, and we also will be able to serve through the back door," Brink says. "Say, an order for 10 gyros comes in, but the next order is for one gyro. We will be able to complete the small order, run it out to the customer, and they can exit through the escape lane."
Multiple layout options will help in finding sites. But drive-thru will always be a part of Gyro Shack's DNA. "Coming through the pandemic, it's just solidified for us that having a drive-thru makes it worth taking the extra time to find the right real estate," Brink says.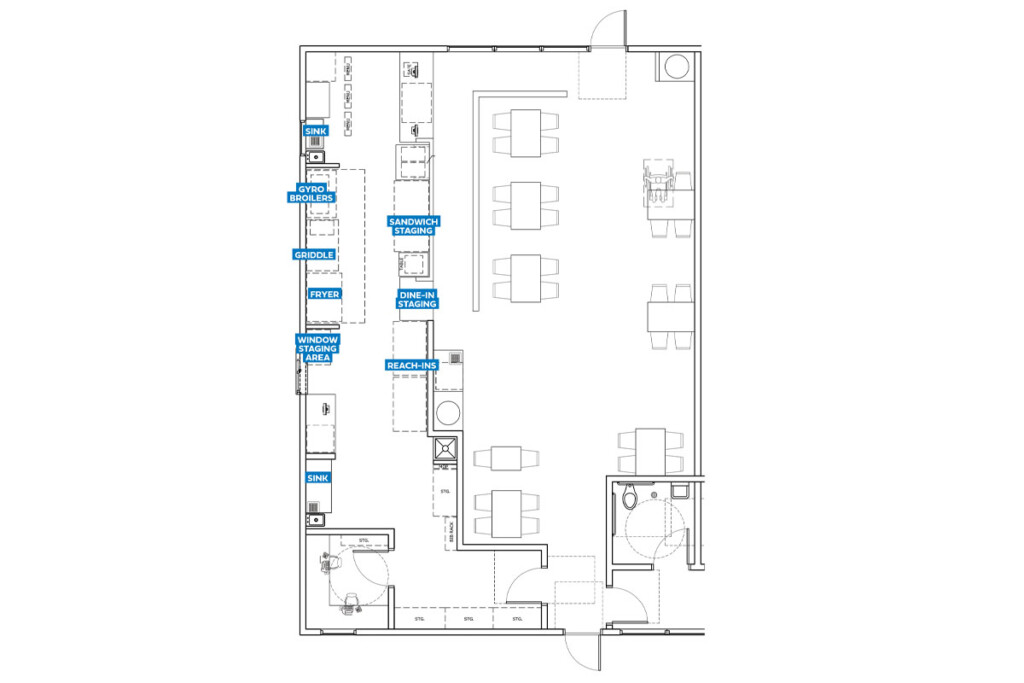 Equipment
Hoshizaki reach-in freezer, reach-in refrig.
Manitowoc/Welbilt ice machine
Hatco french fry warmer
True sandwich prep table, cold base
Nemco hot food wells
Structural Concepts cold display case
Robot Coupe food processor
Eagle hand sinks
XL Mfg. vertical gyro broilers
Pitco/Middleby french fry warmer
Star/Middleby countertop griddle
Anets/Middleby fryers
Hamilton Beach rice cooker
CaptiveAire hood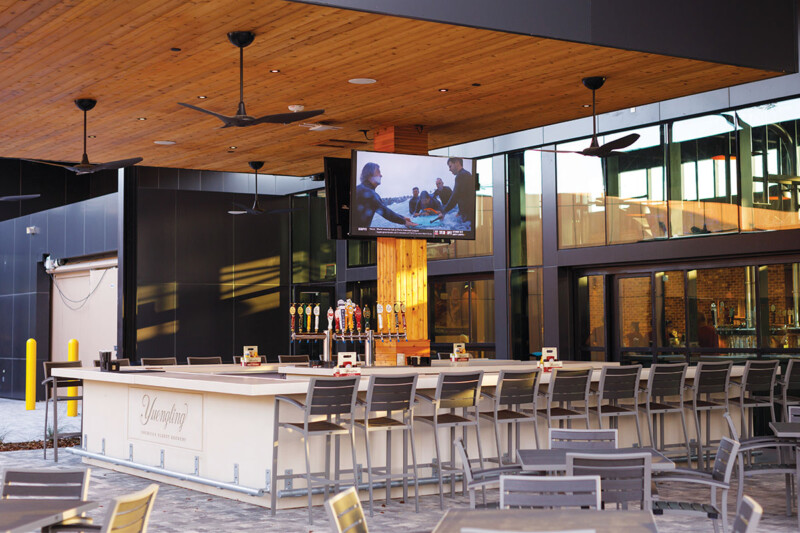 Kitchen Design
Designing a 42,000-square-foot, 800-seat entertainment and dining space centered around beer posed challenges and opportunities.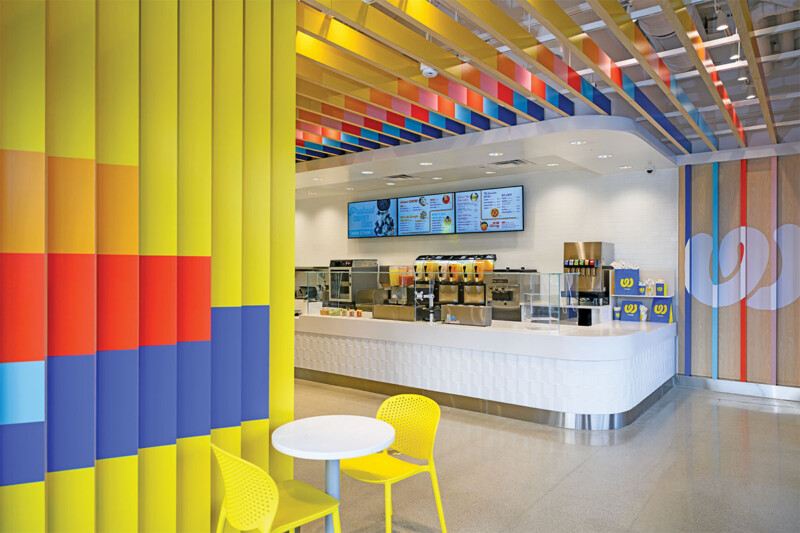 Kitchen Design
Wetzel's Pretzels, the multiunit bakery of shopping mall fame, now offers its soft pretzels and more at street-side through its latest concept.