How to Choose a Cook and Hold Oven
Equipped with the latest tech, today's cook and hold ovens are smarter, more user-friendly and hands-off than ever.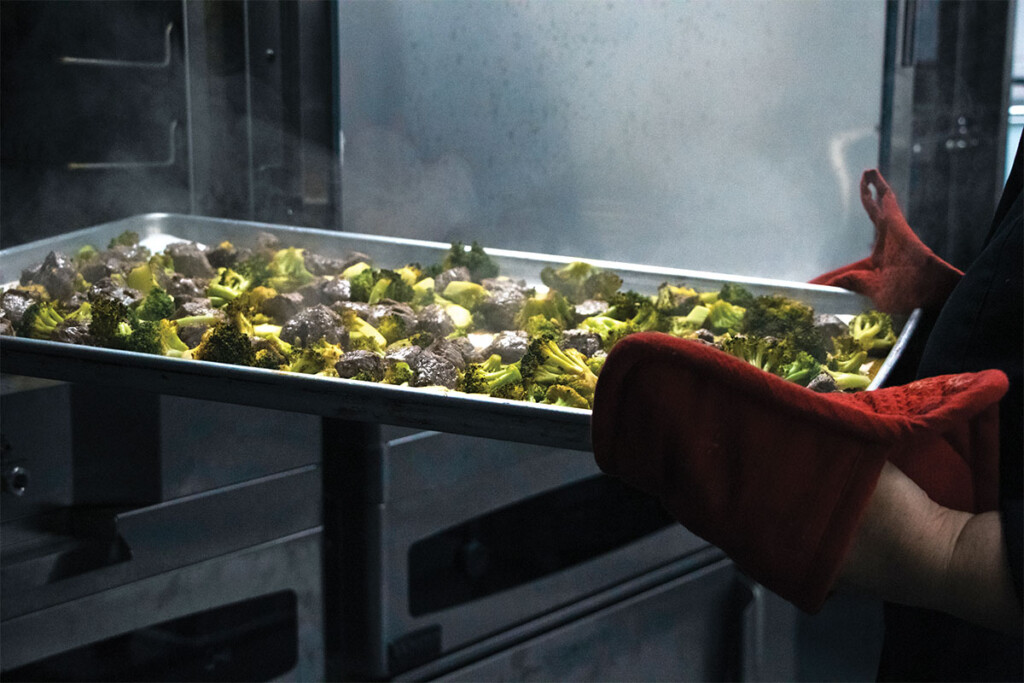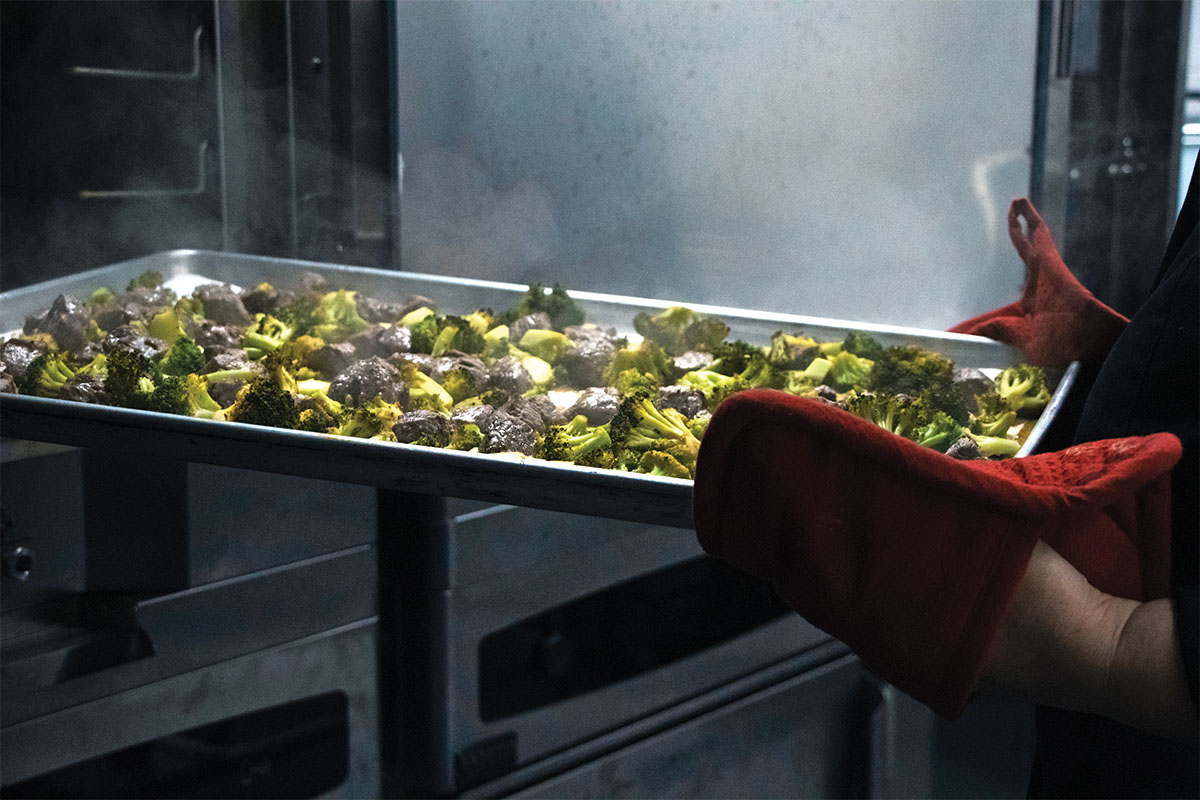 Cook and hold ovens are known for their plug and play abilities; typically requiring only an electrical outlet, they're easy to set up and use practically anywhere. They also can produce high yields and require little labor. It's for those reasons, coupled with tight budgets, staffing shortages and long lead times on other similar equipment, that some operators are turning to them lately.  
One major stadium in the U.K. began using cook and hold ovens to reduce labor interactions and ticket times by cooking and holding pre-seared hamburgers, and a Georgia school corporation recently purchased more than 80 cook and hold ovens to replace their fryers. 
One manufacturer of the equipment says the ovens are gaining popularity among some operators who simply don't have the budget right now to invest in a ventilation system (most cook and holds are ventless). And some operators simply are realizing new applications for cook and hold ovens. 
Cook and hold ovens are great at cooking big proteins, but some models also can bake, braise, poach, steam, sous vide, air fry and more. 
"Cook and holds are great for every application—breweries, restaurants, anywhere that has a lunch rush: hotels, casinos, food trucks," says one manufacturer of the equipment. "This thing is ventless, so it can literally be placed anywhere. We're finding cook and hold ovens more and more."
Today's cook and hold ovens are smarter than ever, too, adding an extra layer of control and convenience for operators. Here's a look at what's new with the equipment and how to specify a model. 
Touch Screens Are Here
Touch-screen controls have made their way to cook and hold ovens. A handful of makers offer them now, with more planning to introduce them soon. One maker says their traditional controls always have been simple, as cook and hold ovens require users to set just a few parameters; however, the touch-screen controls make it even easier, walking users through all prompts step-by-step and ensuring pieces of the process don't get skipped. 
Another maker offers advanced touch-screen controls, which allow users to program multistep recipes, including pictures, details and action steps, to execute one-touch cooking. "If you can put that intuitive nature into the controls, you can reduce the skill set of the person operating the oven so that training goes much faster, and they have a better and complete understanding of how to run it," says the manufacturer. 
Making Connections
Cloud connectivity also marks one of the newest advancements in cook and hold ovens. The technology makes them ideal for multiunit operators or operators looking to expand in the future. On these models, programmable recipes can be set and, with a push of a button, be available on all the operator's cook and hold models at various stores. The operator even can remotely lock out users from changing the recipes to ensure systemwide consistency. 
Another benefit of cloud connectivity, says one maker, is it allows for remote oven management, giving operators full access to the equipment 24/7 through a web application. Users can monitor temperatures, which also can be recorded on a third-party server for documentation on food-safe procedures, and at least two makers' models alert users if a component is operating outside its typical performance, and notify the operator to have it inspected. This helps ensure a technician services the equipment before it fails.
Remote oven management also reduces the need for operators to be physically next to the equipment to ensure it's running properly. "You're not tied to the oven, and you're not worried about the oven. There's a financial benefit to all that, but the peace of mind factor (is even greater). You can make it to the kid's baseball game. You can make it to the show with your wife or whatever it is, and you don't say, 'I can't go tonight because we're cooking for this banquet tomorrow, and I can't screw this up.' This way you can do those things and get your quality of life back," says one manufacturer. 
Narrowing Down a Model
With plenty of models on the market, you'll want to keep several considerations top of mind: 
SIZE. First, consider your menu and volume to determine the size and type of cook and hold oven you need. Models generally hold between three and 18 standard 18-inch by 26-inch sheet pans. Models also are available with two cavities with two sets of controls, allowing for more flexibility within the same unit, a plus if you have multiple menu items that call for different temperature settings. Manufacturers say to plan for future volume increases as well. 
SPACE. Next, consider your kitchen layout to determine where the unit will go. Since most models are ventless and don't require water hookups (though some models that offer humidity can be connected to a water line), there's more flexibility on where to put them. If floorspace is limited, countertop and undercounter models are available, and a few models offer pass-thru setups. And, with many models coming on casters, they're easy to rearrange. 
HEAT. Different manufacturers offer various types of heat, so consider which type would be best for your application. Some makers offer convected air with humidity, which is ideal for cooking products you don't want to dry out, like hamburger patties or vegetables. Another manufacturer uses controlled water vapor as its primary heat source and dry air as the secondary source. "Essentially, we can hold fried chicken crispy or hold your broccoli soft and vibrant green, and then anything in between," says the manufacturer. Manually fill these units with water or hook them up to a water line. Makers that use convected air tout it as naturally caramelizing and browning the outside of meat, whereas radiant heat requires you to add a browning agent to get that effect. 
SPEED. Models aren't all low-and-slow either, so consider your options. The more moving air, the quicker the product will cook. One maker offers models that use convected air with optional humidity and six fans. The models cook products quicker and can act as air fryers. "People need to look more toward them in the actual fast-cooking department, and don't just look at cook and hold ovens for slow. Look at cook and hold ovens for fast, too," says the maker.
More Tips
On some cook and hold ovens, you can set food probes to a menu item's ideal internal temperature, and the oven will switch to hold mode when it reaches that set temperature. If you're cooking by probe, be sure to specify it. At least one manufacturer offers the probe standard with models, while it's an add-on for others.
If you're selecting a model with cloud connectivity, remember it will require an internet connection. Manufacturers recommend always staying connected to take advantage of alerts. 
While cook and hold ovens generally are ventless, it's important to check with local codes, as they prevail. 
---
Holding Their Own
Cook and hold ovens offer assorted features and capacities to match any kitchen's needs.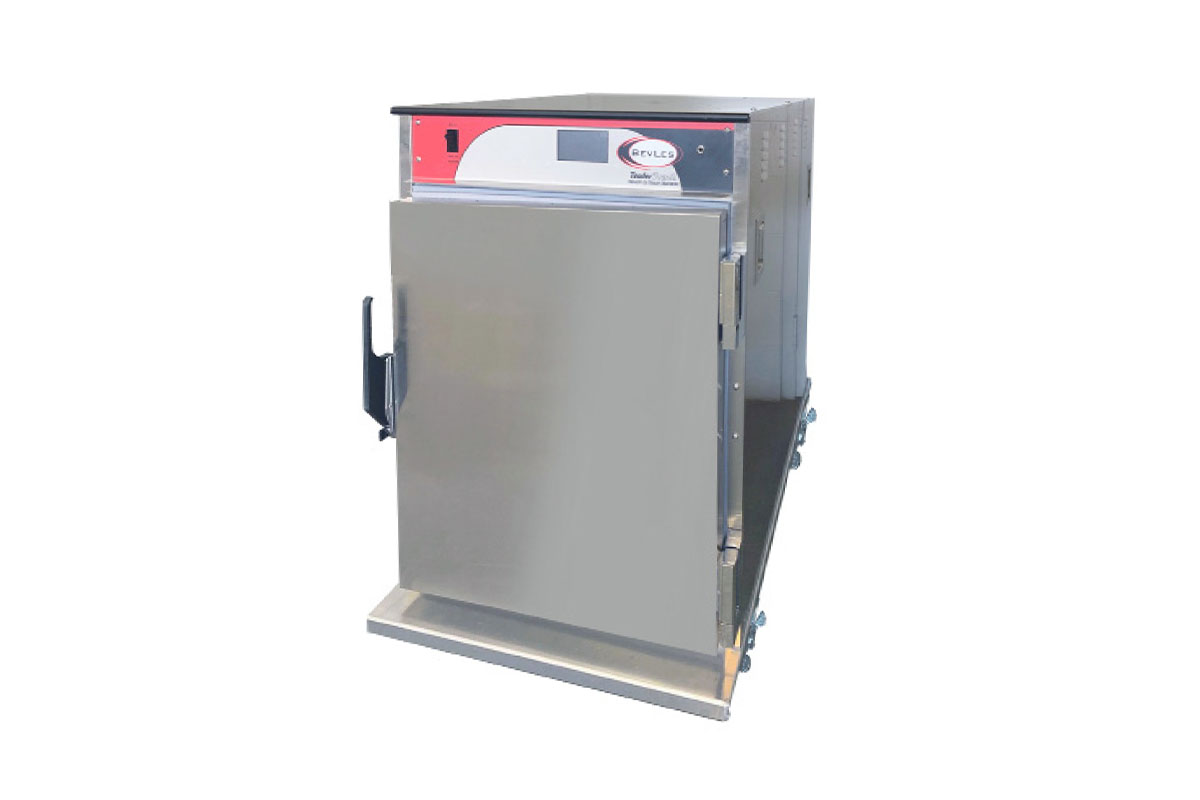 BevLes
Model: Tender Touch Roast & Hold (HRHO44P81)
Capacity: Eight sheet pans (18-in. x 26-in.)
Dimensions: 25-in.W x 34-in.D x 43 1/2-in.H
Features: Program your recipes and cook by time or temperature probe on this unit, which features convection heating and side-to-side airflow. This half-size unit—a ¾-size unit, HRHO60P121, also is available—is stackable with a kit.
Website: bevles.com
---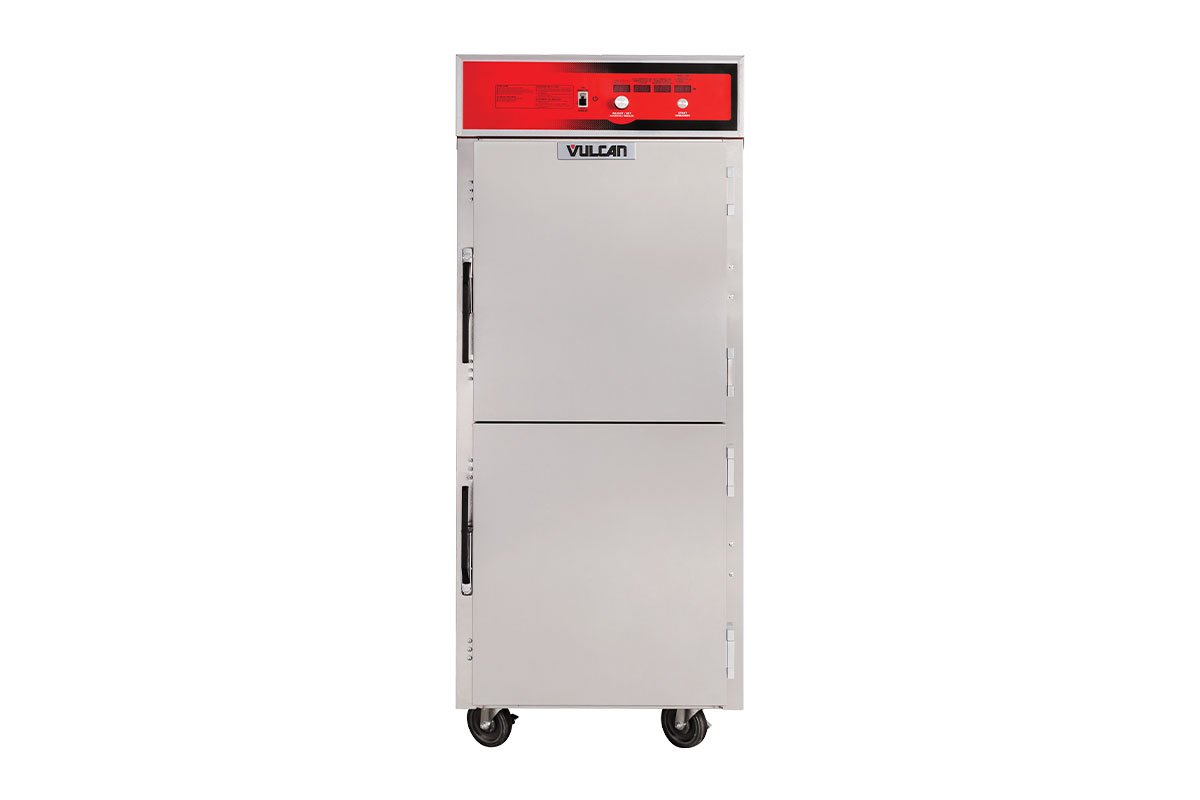 Vulcan
Model: VCH16
Capacity: 16 sheet pans (18-in. x 26-in.) or 32 steam table pans (12-in. x 20-in.)
Dimensions: 27 ¼-in.W x 36-in.D x 72 3/4-in.H
Features: Set up nine custom programs, or use the knobs to adjust cooking time as well as cooking and holding temperatures (up to 350°F and 250°F, respectively). A low-speed fan distributes heat evenly.
Website: vulcanequipment.com
---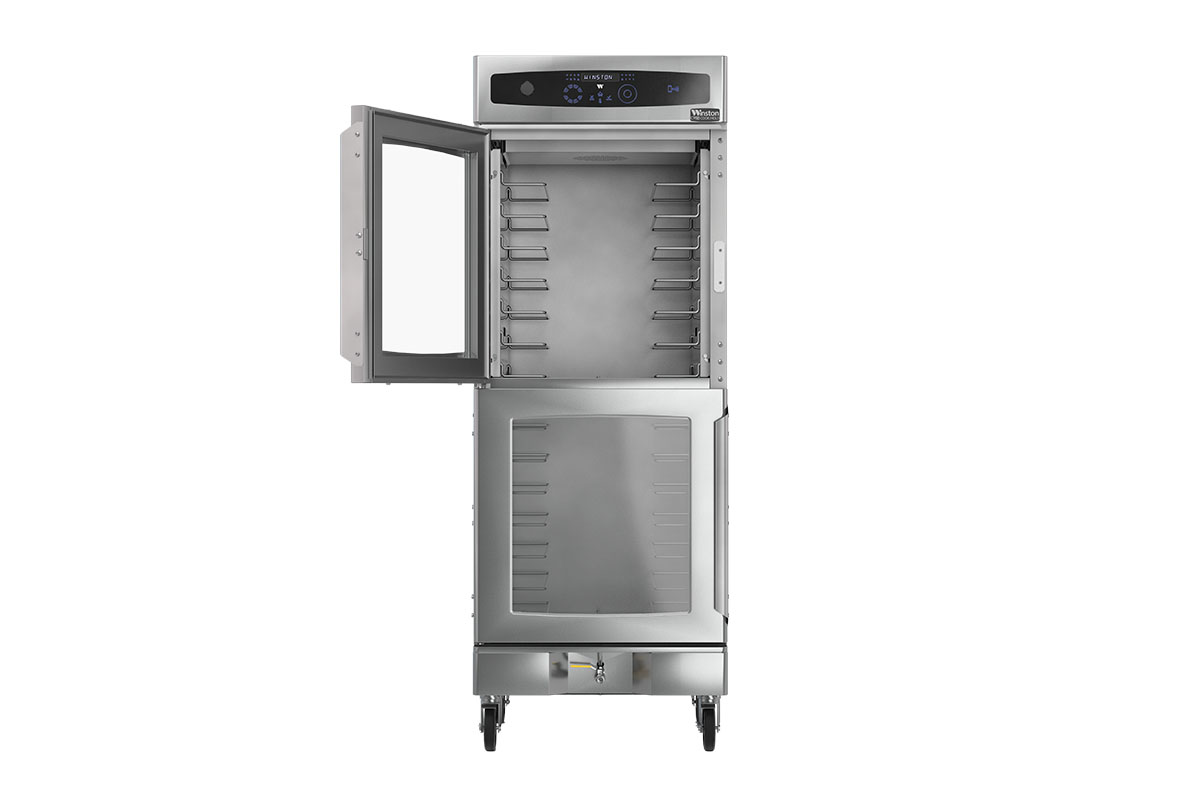 Winston Foodservice
Model: CHV7-14UV
Capacity: 14 sheet pans or 28 steam table pans
Dimensions: 277/10-in.W x 341/4-in.D x 757/10-in.H
Features: Bake, braise, poach, low-temp steam or take advantage of sous vide mode to match your menu's needs. HACCP temperature downloads via USB, convection fans and wireless programming by near-field communication mark a few additional features.
Website: foodservice.winstonind.com
---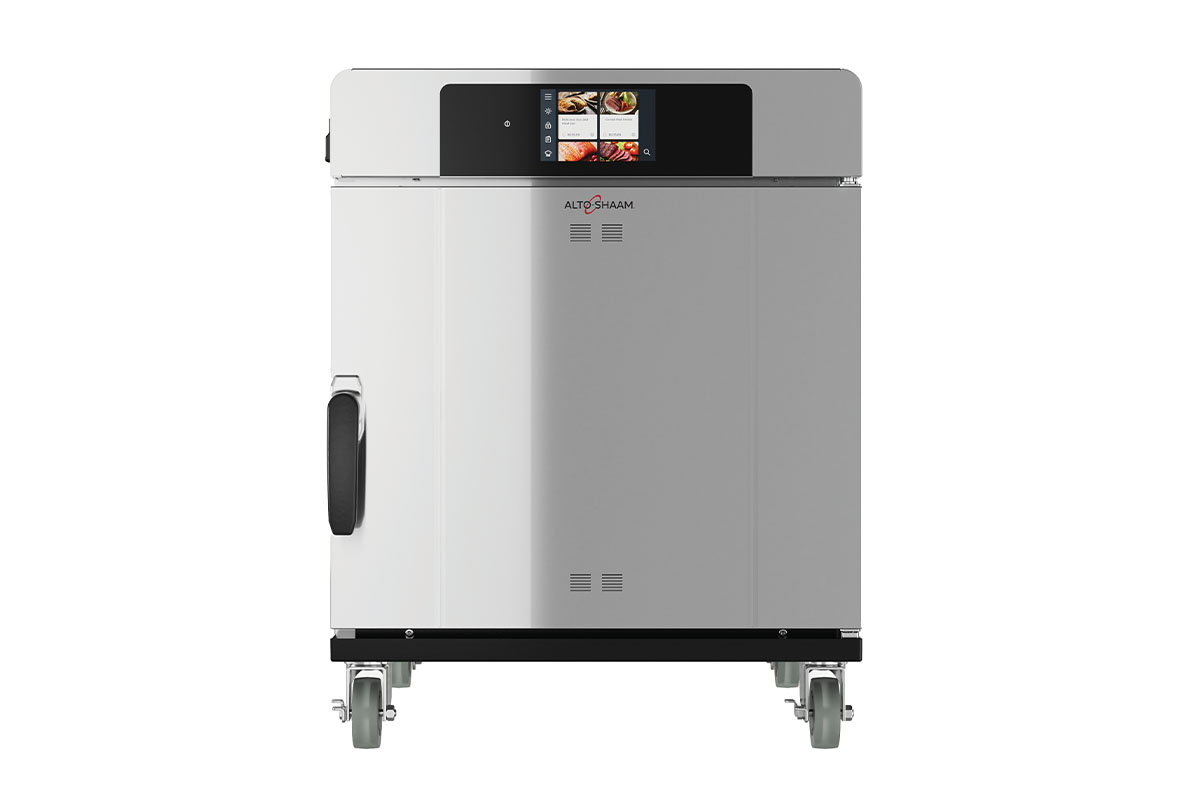 Alto-Shaam
Model: 750-TH with Deluxe control
Capacity: 10 full-size steam table pans or 20 half-size pans (additional shelves needed for maximum capacity)
Dimensions: 2511/16-in.W x 34¾-in.D x 343/8-in.H 
Features: Touch-screen controls, cloud-based remote oven management software and HACCP data collection mark a few capabilities. Cook by time or probe, and increase productivity with labor-free overnight cooking.
Website: alto-shaam.com
---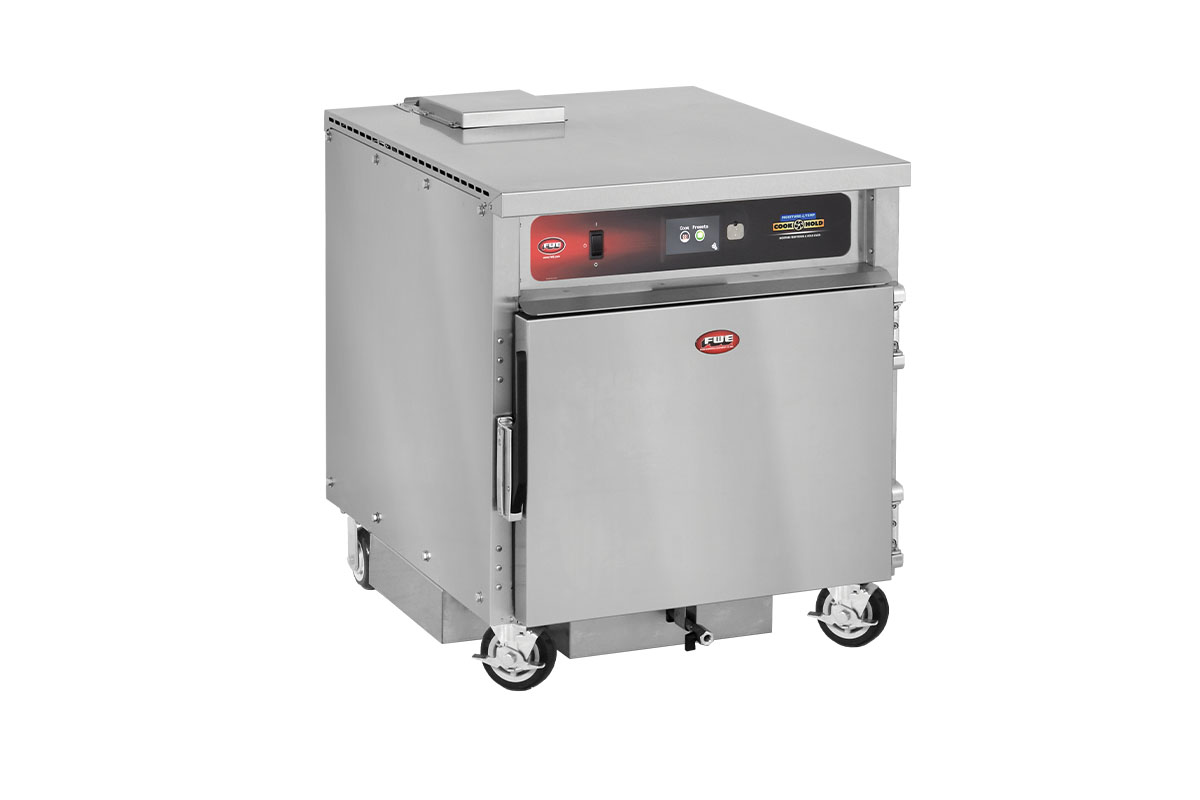 FWE
Model: LCH-5-MT
Capacity: Three sheet pans at 41/2-in. spacing, or five sheet pans with an optional fixed rack with 3-in. spacing
Dimensions: 27½-in.W x 36-in.D x 341/2-in.H 
Features: Activate up to eight recipes from the touch screen, and cook by temperature (checked with an internal probe) or time. Download a 30-day HACCP data log via USB. An automatic water-fill feature cuts down on manual labor.
Website: fwe.com
---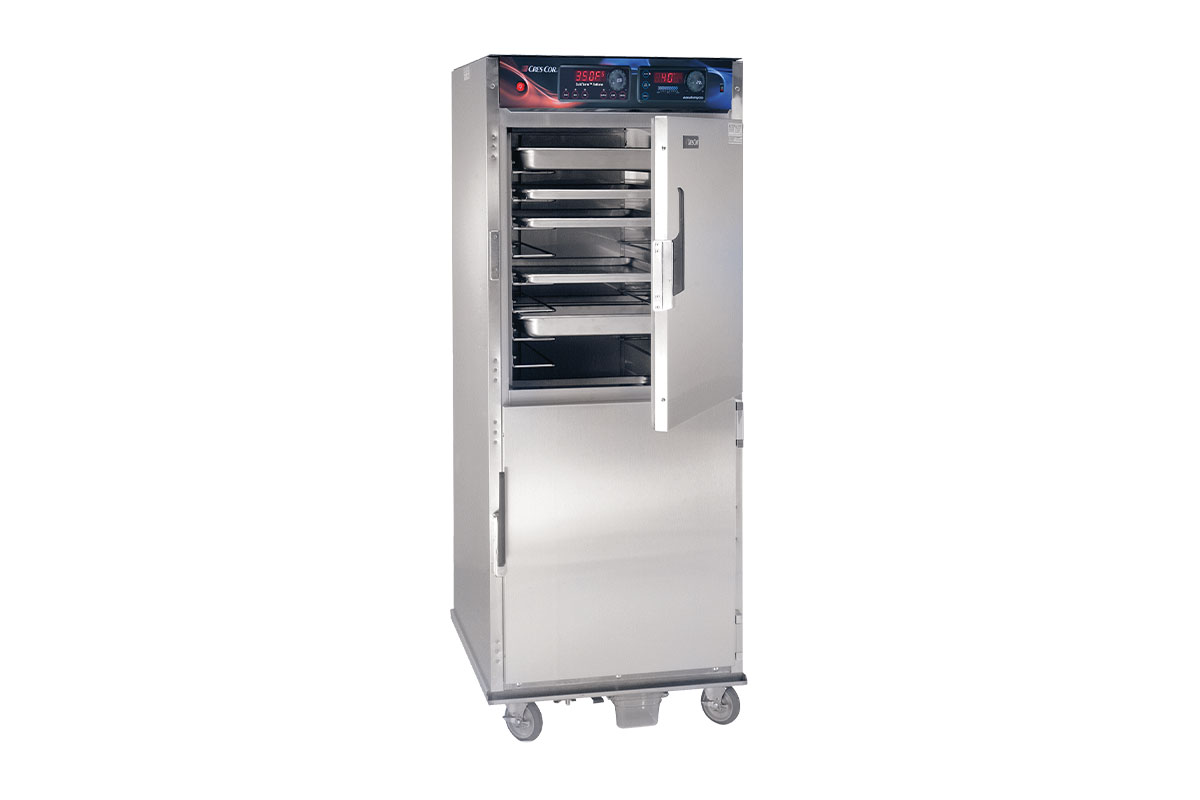 Cres Cor
Model: RO151FWUA18DE
Capacity: 18 sheet pans
Dimensions: 281/4-in.W x 351/4-in.D x 7311/16-in.H 
Features: Control humidity and airflow as you cook at up to 350°F, and keep a close eye with an easy-to-read LED digital display. Units with upgraded deluxe controls offer recipe programming, plus a 3-in. food probe.
Website: crescor.com
---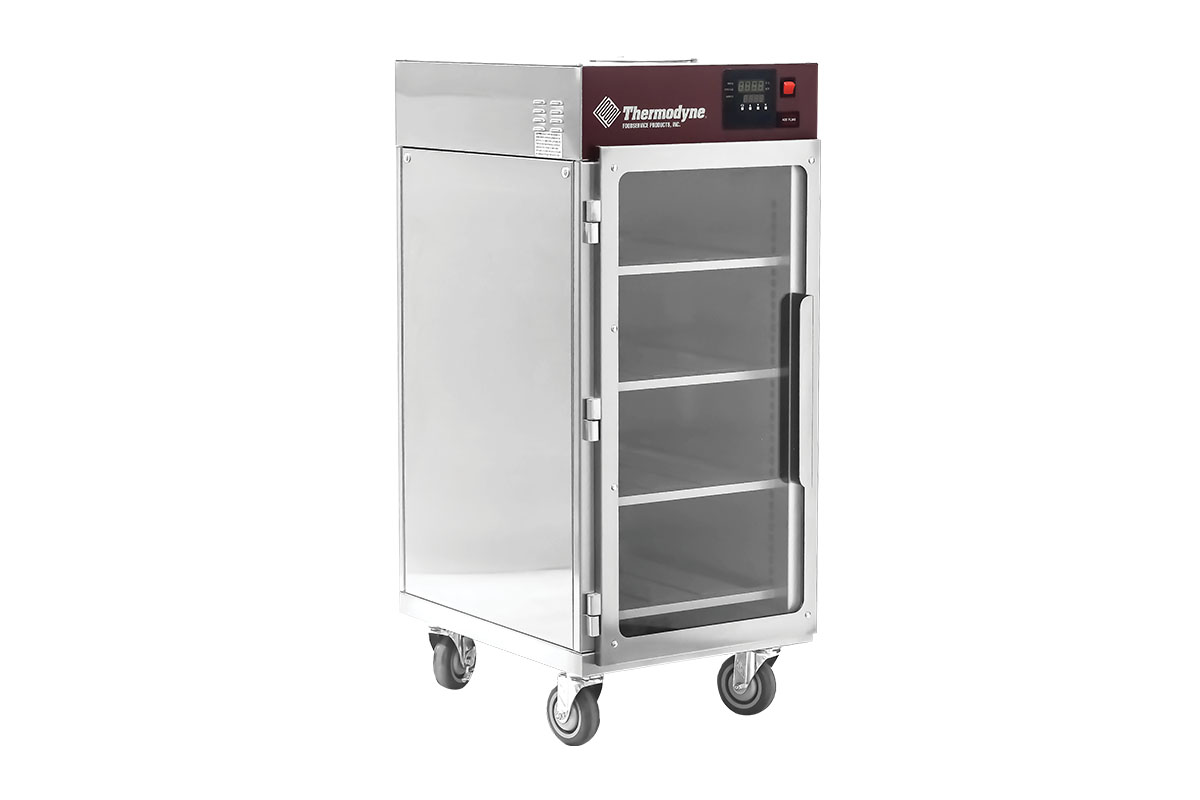 Thermodyne
Model: 550CT
Capacity: Four to eight steam table pans (12-in. x 20-in.), depending on depth
Dimensions: 171/2-in.W x 24¾-in.D x 414/10-in.H 
Features: Select a pass-thru or solid back panel. Turn the heat anywhere up to 230°F to slowly cook proteins like prime rib, brisket and pork shoulder.
Website: tdyne.com
---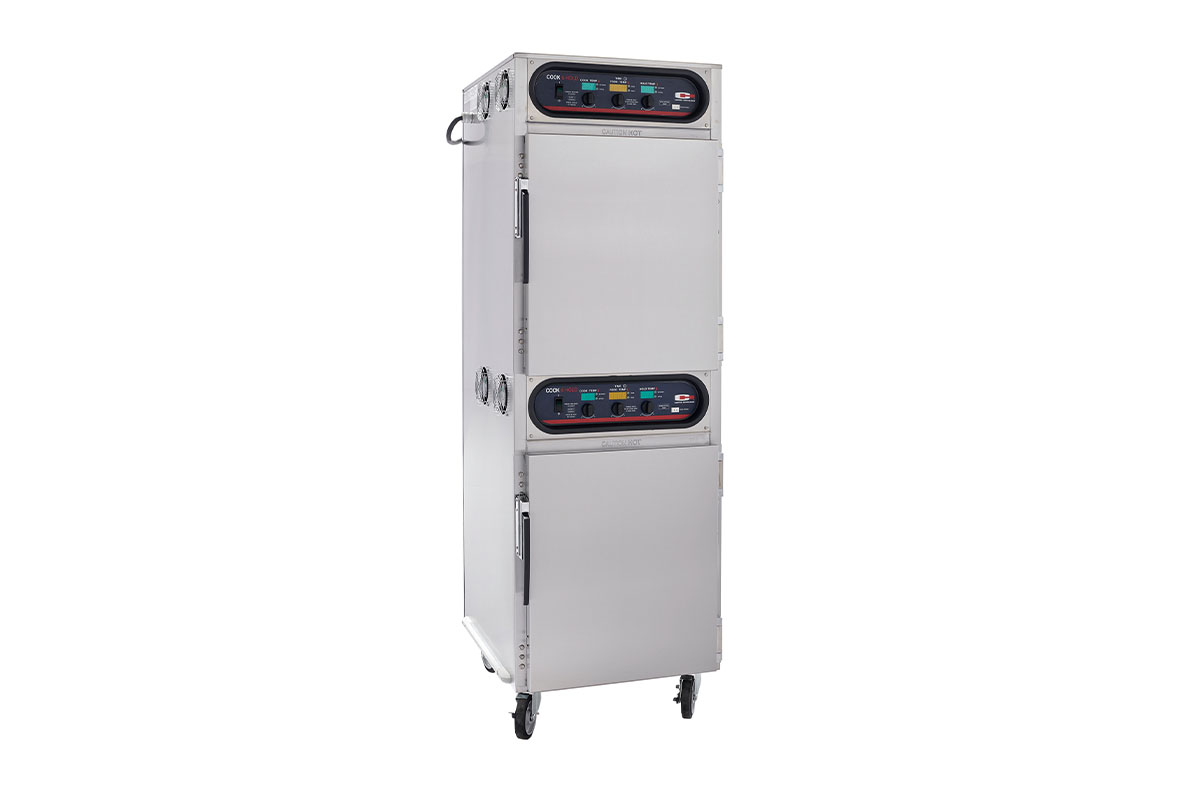 Carter-Hoffmann
Model: CH1600
Capacity: 16 sheet pans (18-in. x 26-in.)
Dimensions: 261/8-in.W x 323/4-in.D x 763/8-in.H
Features: Use separate digital controls to slow cook across two cavities at up to 325°F with convection heating, and hold product at 100°F-200°F. Side air ducts improve airflow and circulation. A meat probe is included.
Website: carter-hoffmann.com
Editor's Note: All height measurements include casters.
---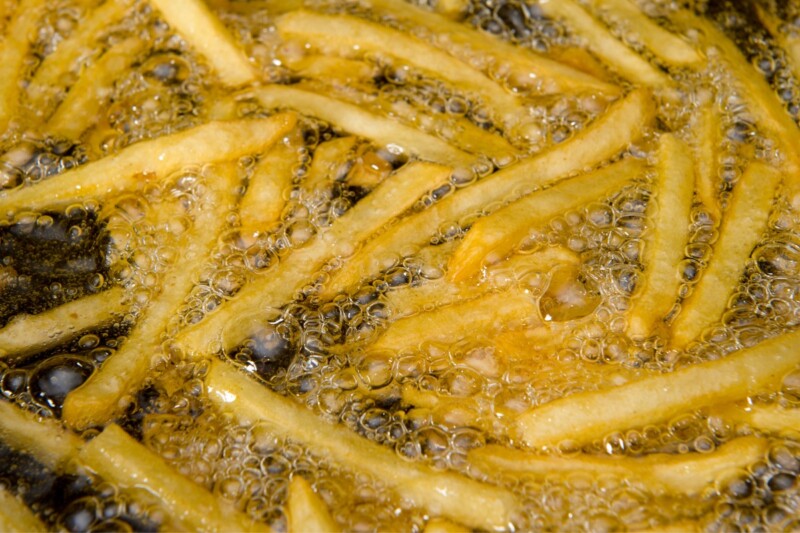 Equipment
Frying oil is a precious commodity in any commercial kitchen, especially in the world of deep-frying. To keep your cooking oil in optimal condition and ensure delicious taste and texture…