Kansas State University Dining Center Goes With the Flow
Kansas State University transforms its decades-old Derby Dining Center into a free-flowing, action-packed servery.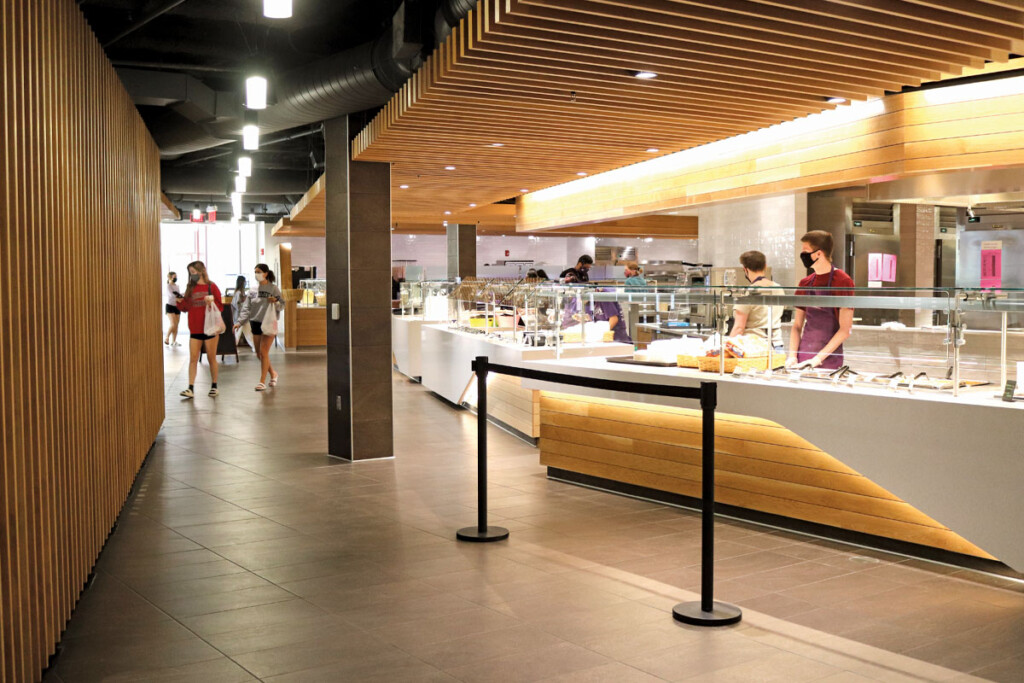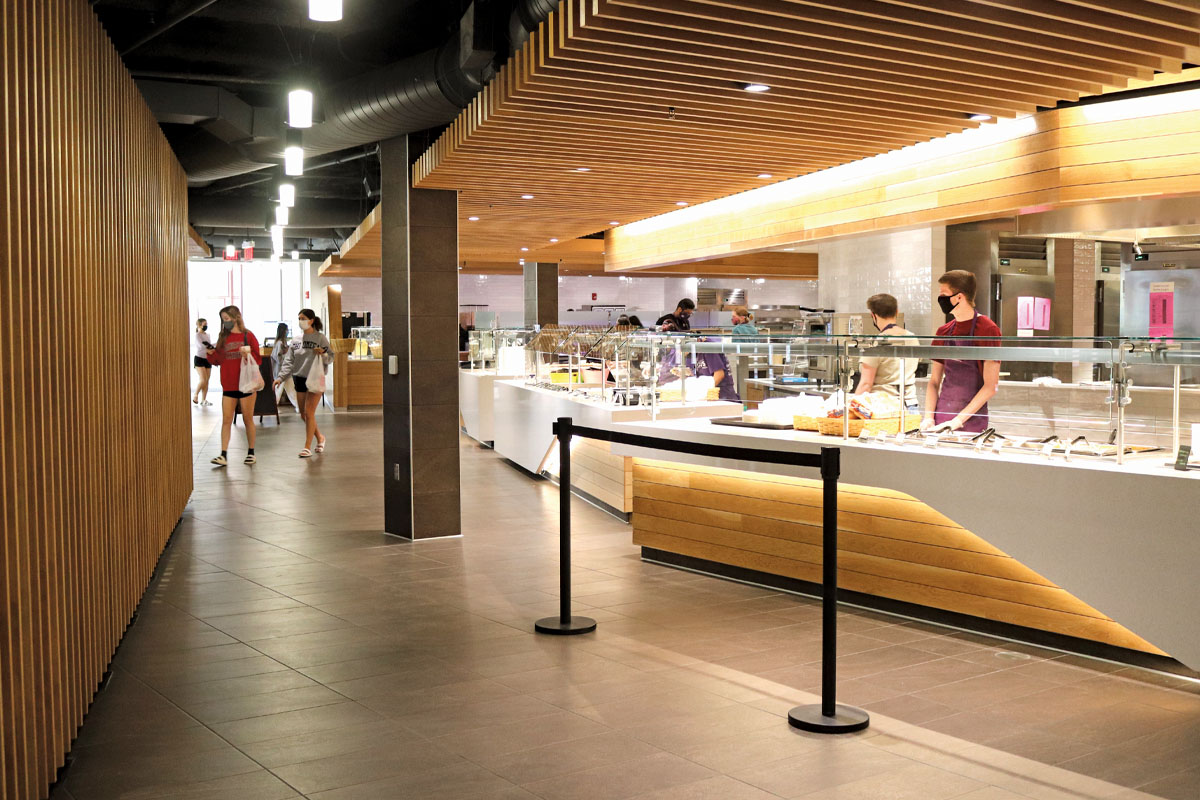 When the time came for Kansas State University's Derby Dining Center, Manhattan, Kan., to get a long-overdue makeover, the project goals were complicated. Budget constraints meant designers couldn't touch the back-of-house at the dining facility, the largest on campus, but still had to deliver menus featuring variety and quality. The team also had to fix the traffic flow, which included four separate stairway entrances leading to four semi-connected serving areas. Another priority for the team was to replace the nearly 60-year-old dining center's low ceilings, stainless tray slides and aqua-green and coral-colored tile walls with elements that reflected the beauty of the region's tallgrass prairies and rolling hills.
K-State's Kramer Dining Center provided inspiration for Derby's overhaul. Built three years earlier, Kramer's display-cooking platforms and interactive, contemporary design made it a campus dining magnet.
The planning team for Derby's $16 million modernization project brought together a K-State Housing and Dining Services group, led by John Pence, now-retired senior associate director for dining services, with architect Sean Zaudke, associate principal at Lawrence, Kan.-based Gould Evans, and foodservice consultant Phillip Landgraf, principal at Ricca Design Studios, Greenwood Village, Colo., among others.
Initial planning for the new Derby began in 2015, but the project really took off in 2018 when the state's Board of Regents approved the budget. Construction started in fall 2019, then grounded nearly to a halt with the pandemic-related shutdown of spring 2020.
Grand Opening
K-State finally revealed the new Derby Dining Center in January 2021. The project features an all-you-care-to-eat servery on the second floor with platforms offering everything from pizza and burgers to Asian and Southwestern fare. On the main floor, a new retail outlet operates next to an existing bakery.
The servery's new design allows for food customization and just-in-time service, boosting quality while reducing overproduction. Between the platforms and the back-of-house, the operation can "easily serve 2,000 students per day," says Mary Molt, associate director of housing and dining services—and a K-State alum. At press time, however, the pandemic had dropped the nearby residence hall head count to about 1,100 students.
Derby's interior design draws on the colors and materials of east Kansas' Flint Hills. Designers used regionally sourced woods for millwork, counter fronts and community tables. White quartz countertops provide a counterpoint to the natural- wood tones.
"We wanted to bring the food experience to the students, not just the food," Molt says. "We added woks and a rotisserie oven, grills and a stone-hearth pizza oven, a carvery and a crepe-making area, and more. The renovation's new layout makes it easier for students to navigate the many food options, yet still dine together with friends."
Overcoming Challenges
Creating the new Derby Dining Center came with plenty of challenges, including consolidating the multiple entrances to create a better flow, opening up the space visually, and fine-tuning warewashing.
The multiple entrances in the previous design were to accommodate students coming from four different residence halls. "Students had to decide in advance which line to use, without seeing the food. Once they reached the serving area, they could choose a different line—but might have to queue up again in another stairwell," Landgraf say
Derby now features a grand staircase entry point that opens onto the scramble-style servery. "Students go up the stairs, swipe their meal cards, and make their choices from among the platforms," Landgraf says
The support kitchen, which occupies about 9,000 sq. ft. in the center of the building's second floor, dictated Derby's layout. In the original arrangement, four individual serveries occupied each corner of the floor with the kitchen at the hub. "You wouldn't know what was being served elsewhere on the floor unless you walked all the way around," Molt recalls.
The new servery, covering 6,500 sq. ft., curves around one side of the kitchen, while seating areas make up the remainder of the space. Platforms requiring more kitchen support, such as the grill, deli, pizza/pasta, classics, Southwest and international, were placed adjacent to kitchen operations. More self-sufficient stations (breakfast, desserts, salad, allergen-free) line the outside walls.
The seating area covers about 11,000 sq. ft., with space for about 1,100 seats. During the pandemic, however, remote learning and social distancing limited seating to about 200 spots, Molt says
The design team also worked to visually expand existing space. "The drop ceiling was replaced with an open ceiling, painted matte black to help hide utilities," Landgraf says. A system of wood slats installed over each station visually highlights each area and "helps with acoustics, too," he adds. Station cabinetry combines natural-looking wood topped with white countertops. Undercounter lighting washing front panels makes platforms appear to almost float.
As for warewashing, budget and space constraints kept this 2,500-sq.-ft. area in its original first-floor location. Planners updated the vertical tray conveyor system, which is found just past the international station.
Equipment Highlights
Many of Derby's improvements are behind the scenes.
WORKING SMARTER. One theme of the new Derby was to be more flexible with labor requirements. "Workers can multitask within platforms, depending on which area has the greatest need," Molt says. "Our projections show we will be able to expand our menu and individualize service using the same number of staff."
HIDDEN INDUCTION. Certain areas of Derby's natural stone countertops do double duty as regular work surfaces and also as food warmers. These spots feature undercounter induction warmers that activate when a dedicated iron trivet is placed above the unit. Heat flows through the trivet and into the walls of the induction-compatible vessel. RFID chips control the holding temperature.
SAFETY UPGRADE. Custom-made fire-and-ice units used in the breakfast and pasta stations rely on induction burners rather than gas burners. "Cooks using the gas version of this unit at Kramer would sometimes get burned as they reached across the burners for cold ingredients," Landgraf says.
GLUTEN BE GONE. The allergen-aware station is set off from the rest of the servery with frosted glass panels and a cozy kitchen environment. "We purchase some gluten and allergen-free products and store them in refrigerators and freezers within the station," Molt says. "Students can choose what they like." Dedicated toasters, a microwave, other equipment and dishes, plus a dishwasher and sinks, make this area fully self-contained.
DOUBLE PIZZA POWER. The 650-sq.-ft. pizza platform, Derby's largest, features a stone-hearth oven for large pies during both lunch and dinner service. To meet occasional pizza demand and to produce individual made-to-order pizzas and other Italian dishes, designers added a triple-deck conveyor oven.
DESSERT ACTION. "Our goal for the dessert platform was to get away from the cafeteria-style trays of cake on a plate," Molt says. The platform, supplied by a commissary bakery on Derby's first floor, features a work counter where finishing actions and just-in-time plating can happen as needed. A crepe station is a platform favorite and always popular ("almost too popular!" Molt notes). Dipped and soft-serve ice cream rounds out offerings.
FLEXIBLE SALAD BAR. The salad bar, which at press time continued to be closed as a result of COVID-19-related restrictions, features adjustable food shields that allow employees to operate it in full-service or self-service mode.
RETAIL BAKERY. Located on the first floor adjacent to the commissary bakery, a 500-sq.- ft. retail area provides a place to purchase fresh bakery-made cookies, cinnamon rolls, muffins, scones and beverages. "A new storefront, display case and service counter make this historical go-to destination a lobby highlight," Molt says.
Round of Applause
Derby's customer response has exceeded all expectations, Molt says, even during these pandemic times when so many less-than-optimal changes were made to keep students and employees safe.
"We are excited for the fall semester when we will roll out every exciting feature that the renovated dining center's design intended," Molt says. "Our old dining center produced excellent meals in large quantities, outside of students' view. But now we're producing and serving great food in full view of our customers."

FACTS
DERBY DINING CENTER KANSAS STATE UNIVERSITY
MANHATTAN, KAN.
MENU/SEGMENT: College and university
OPENED: January 2021
SIZE: 6,500 sq. ft., servery; 11,000 sq. ft., seating area; 11,500 sq. ft., BOH support, including dishroom; 500 sq. ft., retail bakery
SEATING: 200 seats during pandemic (expandable to 1,093 seats)
EQUIPMENT PACKAGE: $2.25 million, including counters
K-STATE HOUSING & DINING SERVICES: Skyler Harper, associate director, facilities management; Derek Jackson, director, associate vice president, student life; Camille Korenek, assistant director; Mary Molt, associate director; John Pence, senior associate director (retired)
DERBY DINING CENTER: Mario Baonga, foodservice manager; Mark Edwards, director (retired); Manfred Lagrange-Aulich, chef; and in Culinary Operations: Valerie Donelan, Coila Farrell, Jesse Garcia, Holly Pishney
FOODSERVICE CONSULTANT: Phillip Landgraf, principal; Kathleen Seeley, executive principal; Garret Sletten, project director, Ricca Design Studios, Greenwood Village, Colo.
ARCHITECT: Sean Zaudke, associate principal, Gould Evans, Lawrence, Kan.
DEALER: Greg Gates, president, Servco Equipment Co., St. Louis
WEBSITE: housing.k-state.edu/dining
SERVERY EQUIPMENT
THROUGHOUT
• Advance Tabco sinks, faucets
• BSI food shields
• Cres Cor dish dollies, pan racks
• Halton hoods
• Randell/Unified Brands hot/cold wells, frost tops
ALLERGEN-FREE
• ACP/Ali Group microwave
• Hobart/ITW FEG dishmachine
• Traulsen/ITW FEG refrig., freezer
GRILL
• Frymaster/Welbilt fryer battery
• Traulsen/ITW FEG refrig.
• Keating griddles
• Blodgett/Middleby convection oven
• Halton hoods
• Alto-Shaam heated holding cabinet
DELI
• CookTek/Middleby undermount induction warmer
• TurboChef/Middleby microwave convection oven
• Traulsen/ITW FEG u/c refrig.
• Equipex bread display
PIZZA/PASTA
• Wood Stone hearth oven, exhaust hood
• XLT conveyor oven
• Continental cold-prep table
• CookTek/Middleby undermount induction warmers
• Hatco heated shelf warmer
• Winston heated holding cabinet
• Traulsen/ITW FEG roll-in refrig.
SOUP/SALAD

• Hatco heated shelf food warmers
• Wells/Middleby drop-in soup wells
DESSERT
• Delfield/Welbilt freezer
• Fisher dipper well
• CookTek/Middleby undermount induction warmer
• Equipex crepe machines
• Hobart/ITW FEG u/c dishmachine
• Winston heated holding cabinets
• Traulsen/ITW FEG roll-in refrig.
BREAKFAST/BEVERAGES
• Atlas Metal rack dispenser
• Wells/Middleby drop-in soup well
• ACP/Ali Group microwave
• Toastmaster/Middleby toaster
• Taylor/Middleby soft-serve machines
INTERNATIONAL
• CookTek/Middleby undermount induction warmer
• Keating griddle
• Traulsen/ITW FEG u/c refrig., roll-in refrig., freezer
• Jade/Middleby wok range
• Alto-Shaam mobile heated cabinet
• Groen/Unified Brands double steamer
SOUTHWEST
• CookTek/Middleby induction cooker
• Hatco heated shelf food warmer
• Vollrath pot kettle rethermalizer
CLASSICS
• Rotisol rotisserie
• Keating griddle
• Alto-Shaam carving station
• CookTek/Middleby undermount induction warmers
• Groen/Unified Brands tilting skillet
• Blodgett/Middleby convection oven
• Winston heated holding cabinet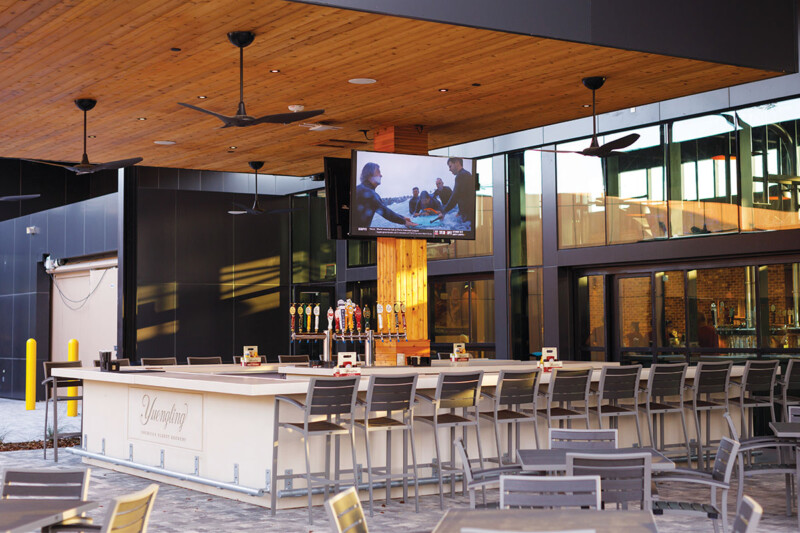 Kitchen Design
Designing a 42,000-square-foot, 800-seat entertainment and dining space centered around beer posed challenges and opportunities.