Roti Modern Mediterranean's new prototype centers around improved off-premise services and a reimagined customer-facing makeline.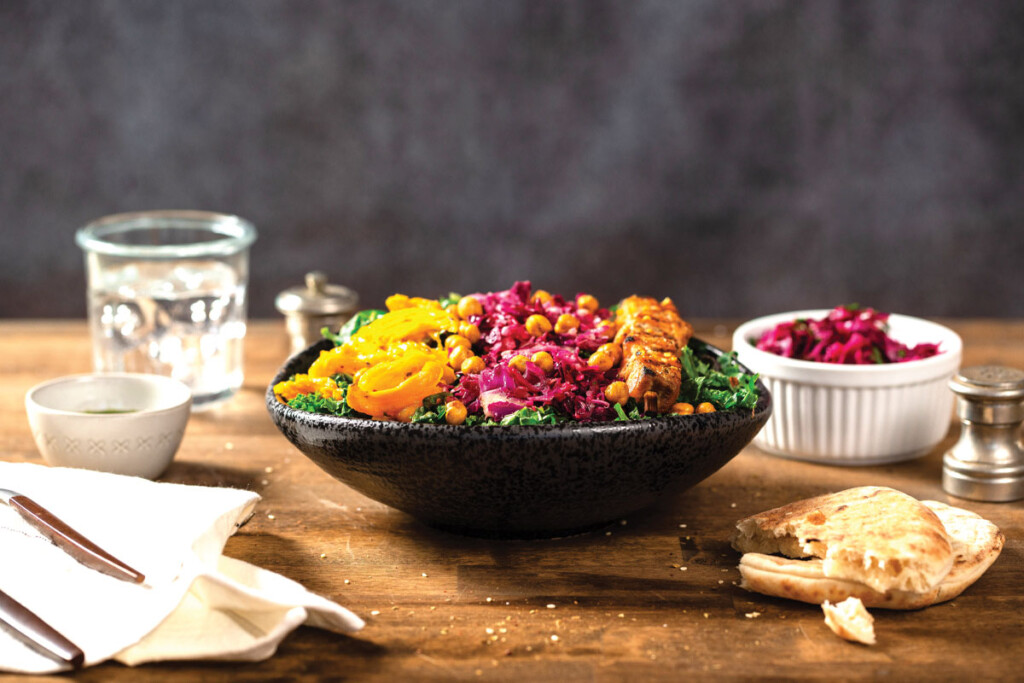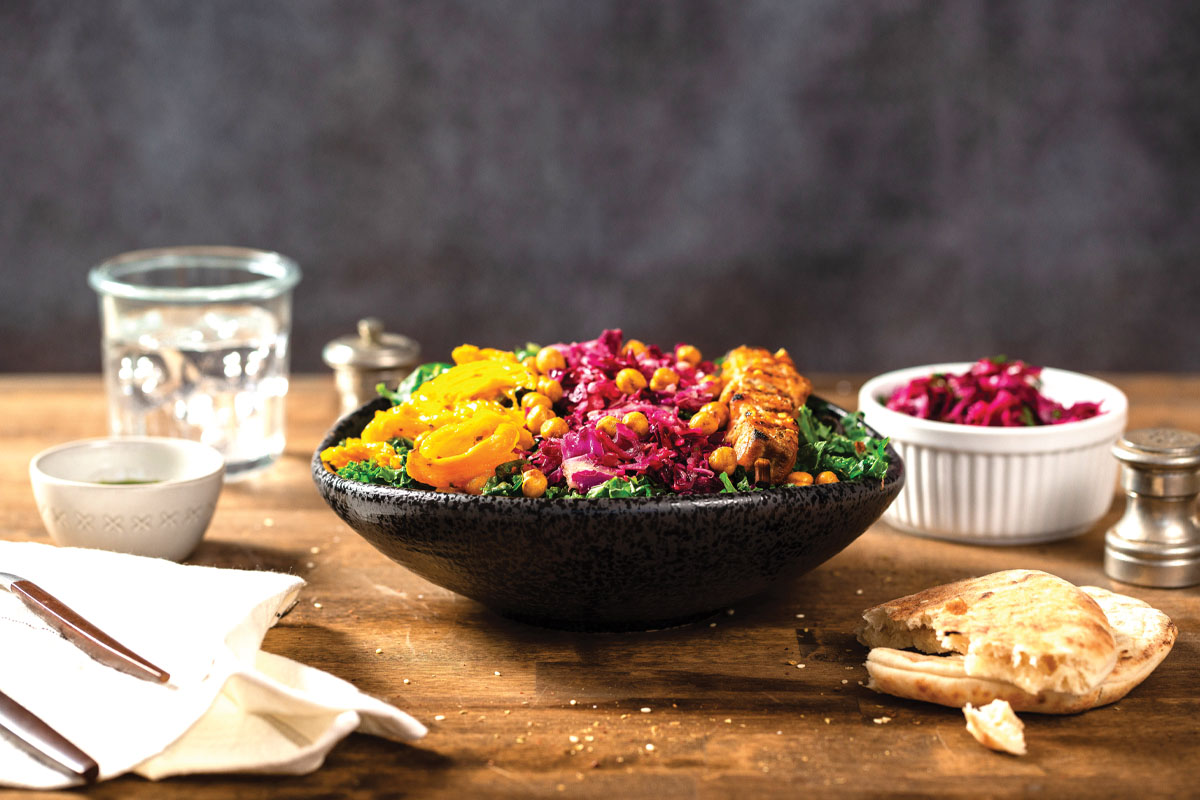 Roti Modern Mediterranean has embraced a takeout-and-delivery-enhanced future with its new prototype at its flagship location in North – brook, Ill. Even though the restaurant reopened in October as the COVID-19 pandemic's second wave started to build, it's more than holding its own.
"We've moved from a build-your-own Mediterranean concept to a curated-meals concept, with a new menu, new colors, a new customer journey, a new makeline," says Roti CEO Justin Seamonds, who joined the Chicago-based company in February, only five weeks before the pandemic first led Roti to temporarily shutter its 42 locations (the chain gradually reopened some units, with 12 currently operating—including the Northbrook prototype). "It's a big push in a new direction. We hope the changes will help first-time customers understand what we serve and who we are."
The prototype features food-forward displays, clean lines, natural wood finishes and a neutral color palette of blues and grays with red accents. Food photography lines the walls. Digital menu boards highlight an array of chef-curated menu offerings with names such as Fire and Rice, Flip the Bird and El Toro Toro.
"This location has become our third most productive location from a revenue standpoint," Seamonds says. "Three weeks into operations, it was up double-digits, both in volume and sales, compared to 2019. And when new stores begin to open in 2021, they will follow the Northbrook prototype."
---
FACTS
MENU/SEGMENT: Fast-casual Mediterranean
FOUNDED: 2005
NUMBER OF UNITS: 42, with 12 open at press time
SIZE: 2,400 sq. ft.
SEATING: 54
FF&E PACKAGE: $120,000
CLIENT (Roti Modern Mediterranean): Justin Seamonds,
CEO BRAND CONSULTANT: Jamie Cornelius, executive creative director, ChangeUp, Dayton, Ohio
WEBSITE: roti.com
---
Smaller pans ensure a steady supply of fresh food because employees refill them more frequently.
Adapting for Delivery
The design team's goals for Roti's prototype included improving delivery service and enhancing the guest experience through a new design and elevated menu. They focused on fine-tuning the customer-facing makeline, and didn't change the cookline and other back-of-house areas.
The team began studying makeover ideas in February 2020. By early June, they had come up with concept drawings, and by August, they were on site taking measurements, selecting materials and specifying equipment. Construction started in early September, and the store opened for business on Oct. 22.
While the prototype was already in the works pre-pandemic, the crisis did influence the team's decision to improve delivery service. They added a new ticketing system to better handle online orders, whether they come from the Roti website or a third-party food delivery app. With curbside pickup and delivery accounting for as much as 15% of daily revenue, they doubled curbside spots
from two to four and added directional signage. They also added a "beep-beep!" alert that sounds near the register when cars pull into those spots.
Inside the restaurant, the design team added a shelving unit in front of the register to hold completed orders for pickup.
Assembly Line 2.0
The revamped makeline, where employees assemble bowls, salads and pitas, features a number of changes, including new counter configurations, food holding and display.
To open food production to guests' view, the team shortened the wall that previously hid the cookline, positioned off to the side at a 90° angle to the makeline. Now at 42-in.H with a glass shield, guests waiting in the (socially distant) line have a clear view of employees cutting and slicing the chicken, steak, salmon or lamb. The cookline includes a combi oven, griddle, fryer, conveyor oven and hot holding cabinet.
Next, the team shortened the height of the makeline to 34 inches (down from 38 inches) so guests could better view menu ingredients and to make it more ergonomic for employees. They also made pans holding salad ingredients sit flush with the counter instead of at an angle. "In existing stores, the pans were angled toward the guest to better display the food," Seamonds says. "But the tilt made it harder for some of our shorter associates to reach."
The prototype also boasts upgraded drop-in receptacles. Cold menu ingredients rest in enameled rectangular pans, taking the place of longer, deeper stainless pans. The smaller pans ensure a steady supply of fresh food because employees refill them more frequently. Additionally, salad greens have moved from a four-tier vertical cold display unit on the wall to the makeline. "This change allows associates to always face our guests, and saves a few steps as well," Seamonds says.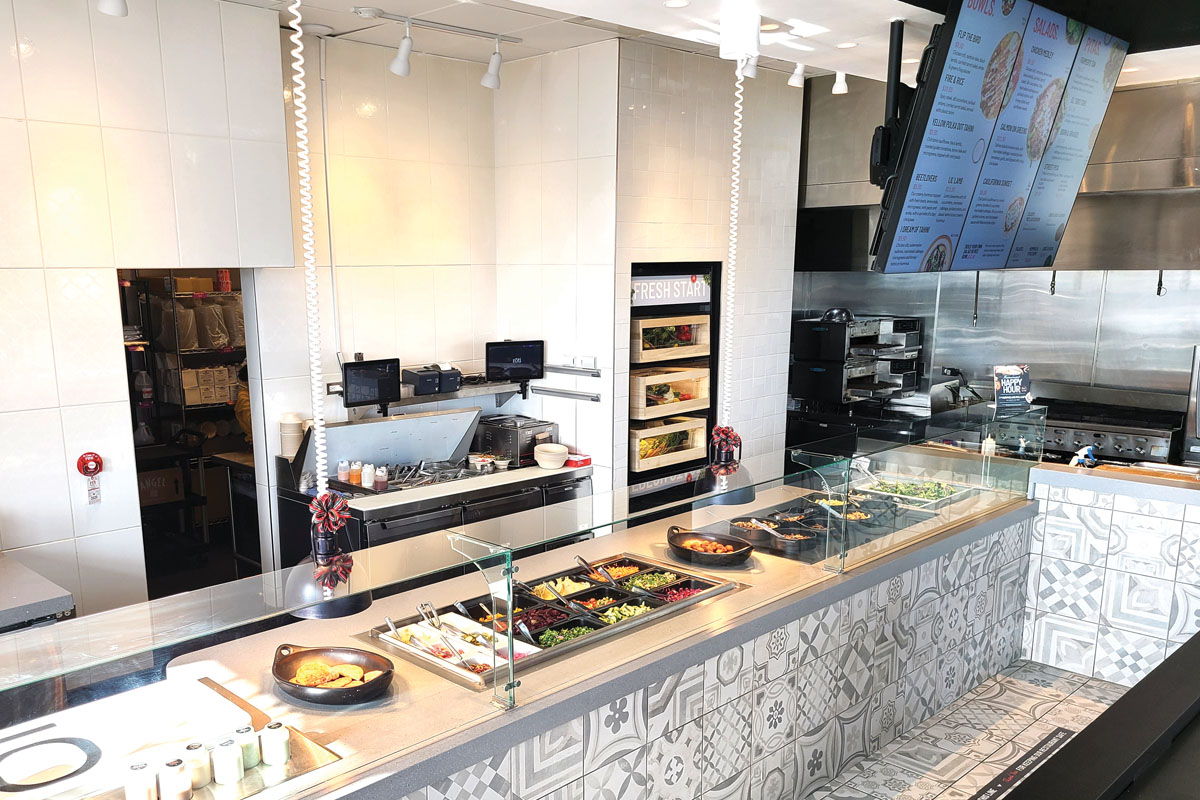 Employees finish orders at the makeline's final station, which features a large white platform and the "O" of Roti.New to Roti's makeline is a dedicated finishing station—and a place for employees to interact with guests. It has, however, posed some challenges. "It takes away real estate from the assembly area. And we are, in fact, slowing down in-store customers by engaging them to ask what toppings they might like," Seamonds says. "When the Northbrook restaurant business starts to pick up, we will have to think about how to speed up this potential pinch point. But for now, with so much of our business going to delivery orders, it's working."
A Look Ahead
Roti's Northbrook prototype will be the model for some 15 new store openings planned for 2021.
Makeovers for existing locations continue to be a work-inprogress. "Some of our existing stores' makelines are much longer, or shorter, than what we have in Northbrook," Seamonds says. "We will have to figure out how to adapt [the plan for] different layouts, how to adapt for, say, downtown versus suburb locations, and the best way to overlap online orders with in-store business."
But one thing is certain as Roti looks to reopen stores: "We will prioritize the makeline elements [including counter configurations, food holding and a finishing station] from the Northbrook store that have made the biggest difference to our customers and to the quality of the food," Seamonds says.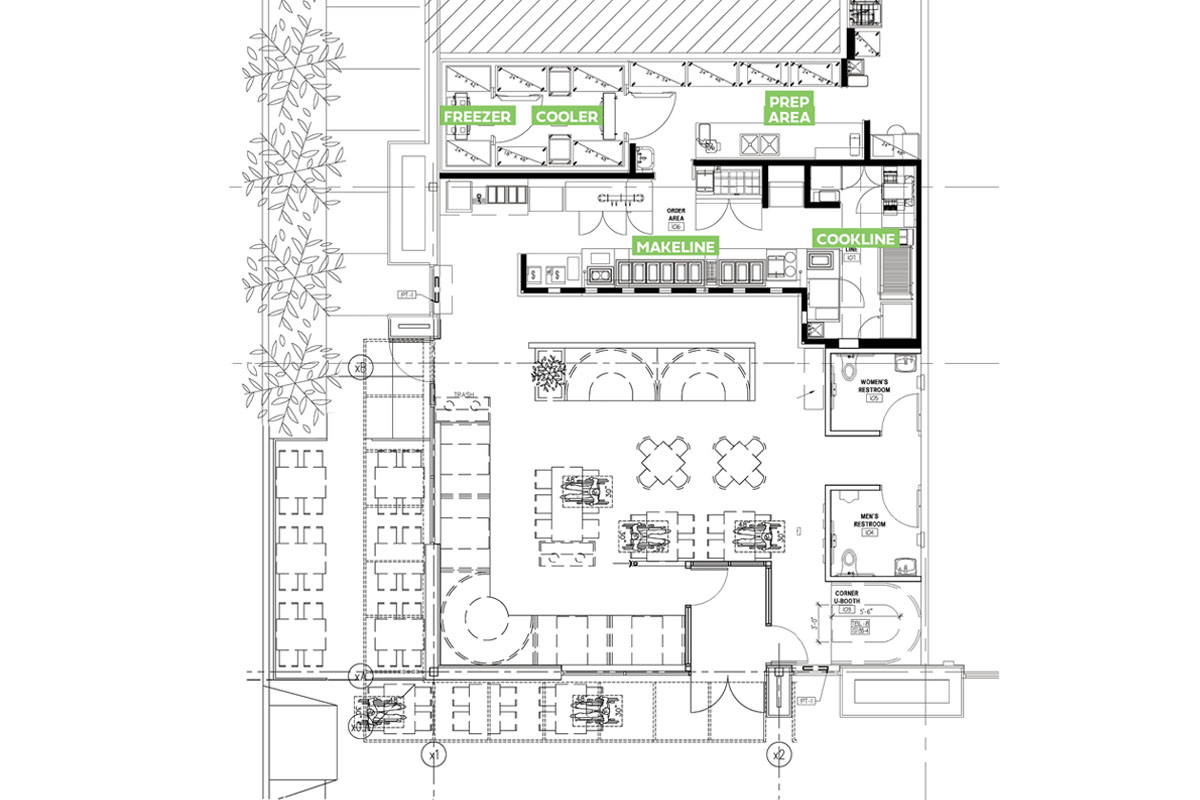 ---
Equipment List
Alto-Shaam drawer warmer
Continental salad refrig.
Carlisle/CFSBrands cold pans
RPI Industries bottled-beverage refrig.
Delfield/Welbilt drop-in cold well
Baselite food warmers
Glass Divider food shields
Cambria Quartz surface
Editor's Note: This equipment list only includes new equipment added to the prototype. It doesn't list existing items.
---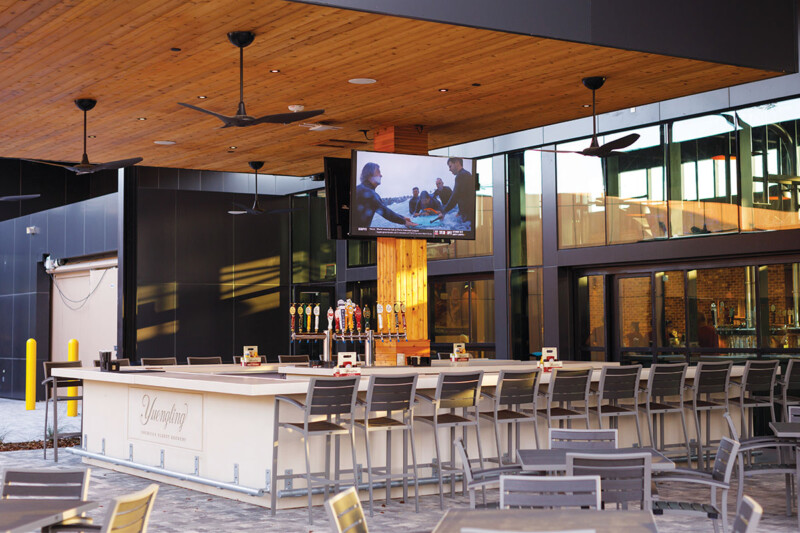 Kitchen Design
Designing a 42,000-square-foot, 800-seat entertainment and dining space centered around beer posed challenges and opportunities.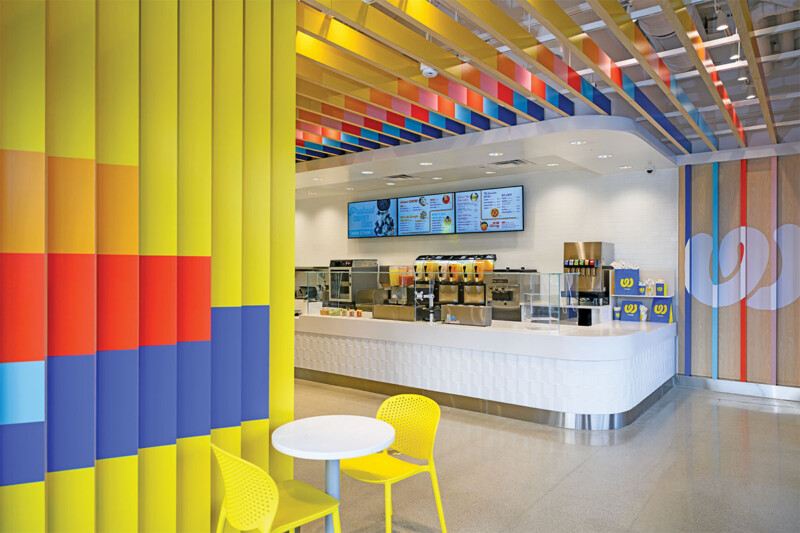 Kitchen Design
Wetzel's Pretzels, the multiunit bakery of shopping mall fame, now offers its soft pretzels and more at street-side through its latest concept.