The Makings of Twisted By Wetzel's
Wetzel's Pretzels, the multiunit bakery of shopping mall fame, now offers its soft pretzels and more at street-side through its latest concept.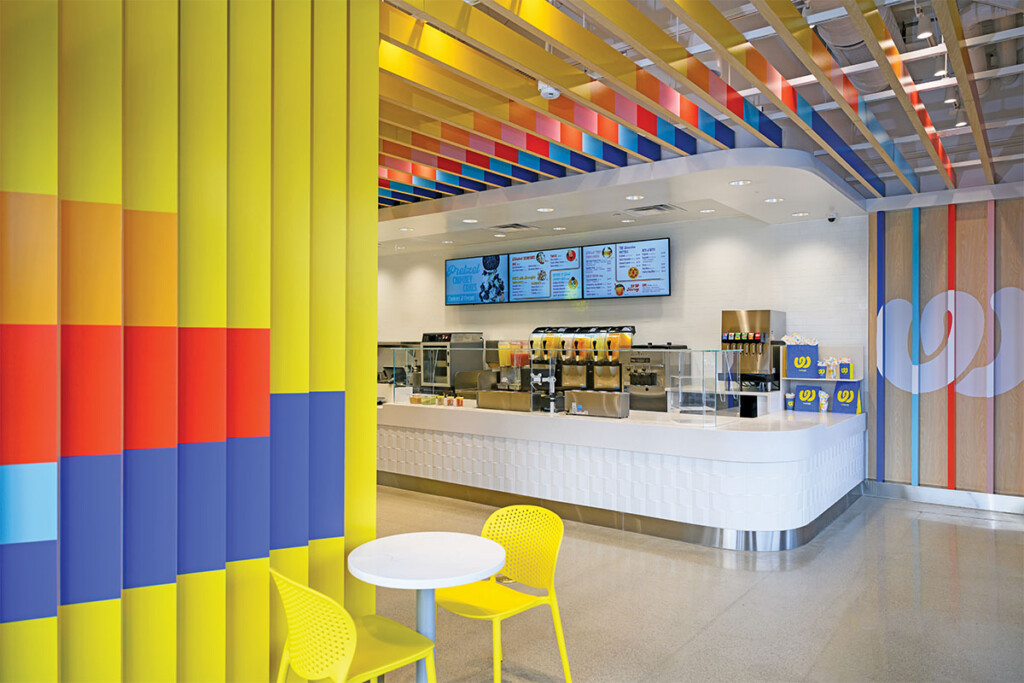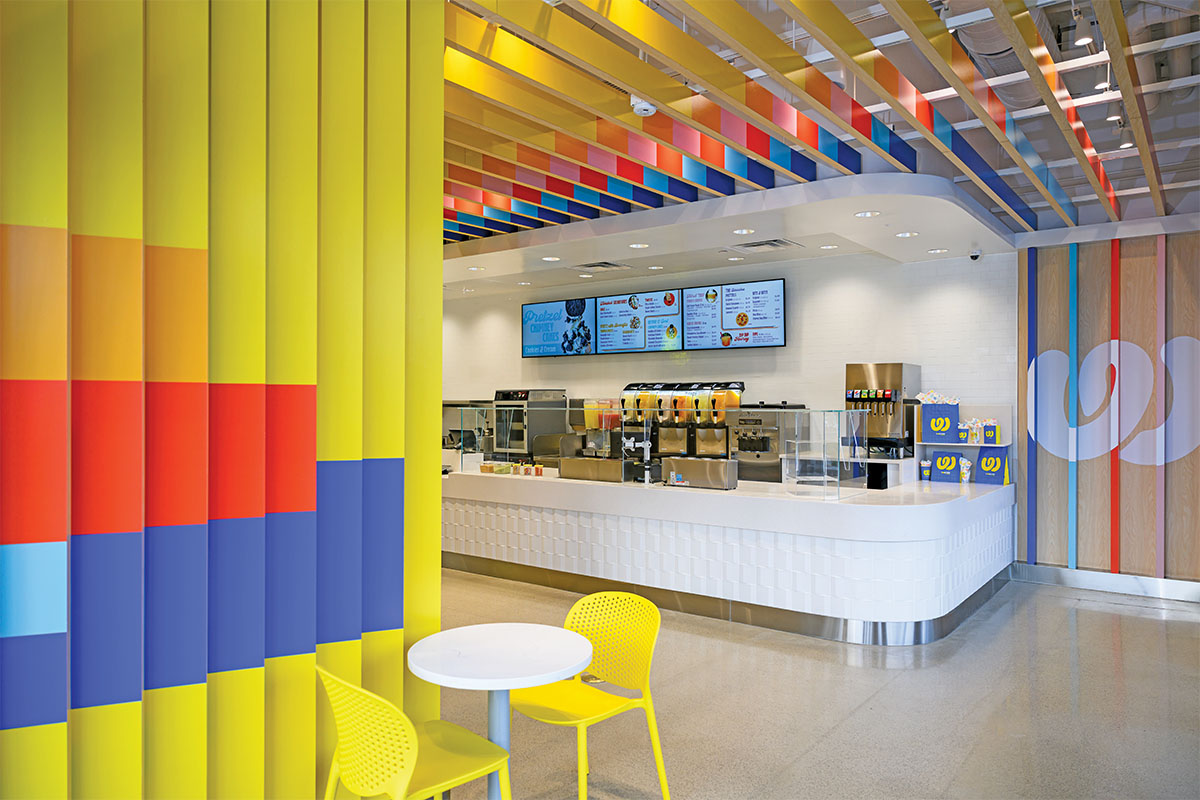 Finding new ways to "bring pretzels to the people," as the Wetzel's Pretzels team puts it, proved the driving force behind the Pasadena, Calif.-based, 370-plus-unit bakery's latest concept.
"In 2020, the pandemic gave us time to think about our future," says Martha Lares, Wetzel's vice president of store design and construction. "We've done malls, we've partnered with Macy's, we've got food trucks and c-stores. [Developing a street-side version of Wetzel's] became a natural progression."
Enter Twisted by Wetzel's. Twisted's grand opening in May in La Habra, Calif., saw lines of pretzel fans wrap around the building. The concept measures nearly double the size of its typical mall locations—and, in a first for Wetzel's, includes seating.
Twisted's open kitchen showcases the pretzel- making process from start to finish. Guests can observe employees mixing the dough, rolling and shaping it, baking and finally adding toppings. (In fact, Wetzel's included a stainless step in front of the baking area so its youngest, shortest guests would be able to follow the action.) Colorful stripes along ceiling slats and running down walls contrast with the white and natural-colored surfaces of the furnishings and flooring. An Insta-friendly wall encourages visitors to share their pretzels on social media.
Twisted's debut in La Habra proved such a success that the pretzel purveyor opened its second Twisted location in Surprise, Ariz., in July, with a third Twisted location in South Gate, Calif., set to open soon.
Making the concept financially attractive for franchisees was a priority. "We estimate the first Twisted costs about 30% more to build, thanks to the extra equipment and furnishings," Lares says. "Now we are working to 'value engineer' the first store to make Twisted as affordable as our mall stores are." The company estimates the equipment package for Twisted will be about 25% more than a typical Wetzel's buildout.
Pretzel Procedures
Two goals stood out for Wetzel's: to make the concept into a destination location, and to innovate based on something the company already does well. In short, come up with a "savory, sweet, desirable product that can be obtained in a neighborhood," Lares says.
Wetzel's, led by Lares, assembled a team that included PDMS Design Group, out of Arlington, Texas; interior designer Ana Henton, principal of Ana Henton Design in Los Angeles; and Wetzel's Project Manager Laurie Keys. Early on in the process, Wetzel's engaged foodservice consulting group The Culinary Edge, of San Francisco, to figure out ways to grow the pretzel product offerings, and by extension, the kitchen.
Pretzel Preparations
Twisted's design starts with its food court predecessors, which cover up to 800 square feet. Wetzel's limited menu of lemonade and pretzels—some wrapped around hot dogs, and others dressed in pepperoni, cheese or cinnamon— requires minimal equipment: a deck oven, stand mixer, heated display cabinet and beverage dispensers.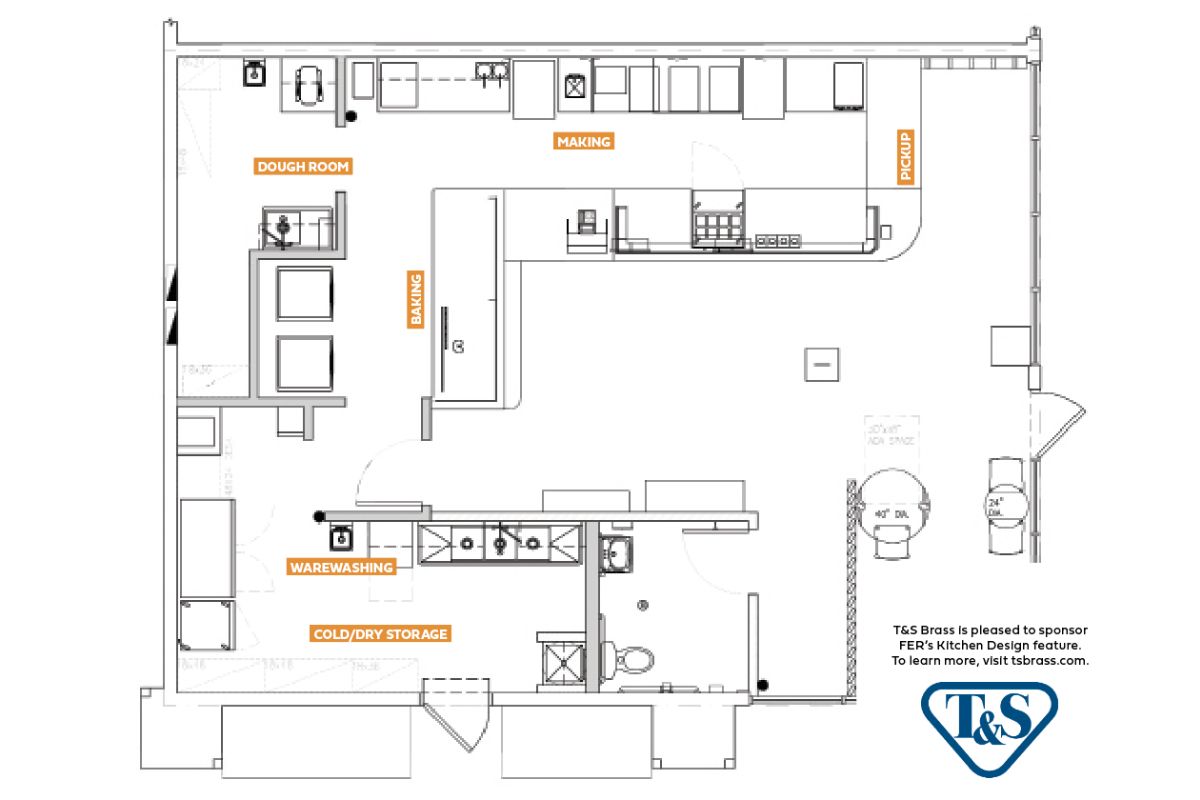 Expanding Wetzel's core menu and equipment lineup to create Twisted, measuring 1,200 square feet, involved adding a convection oven, a soft-serve ice cream machine, hot holding cabinets, a cold prep table and more beverage dispensers. The smallwares list grew as well to accommodate new drizzles, sprinkles and toppings. Wetzel's three main work areas—making, baking and expediting—have been replicated, but on a larger scale, at Twisted.
"When we started thinking about the Wetzel's of the future, one of the areas we focused on was the menu categories they would need to attract more guests," says Kevin Villanueva, senior R&D chef for The Culinary Edge, who together with Culinary Director Erica Holland-Toll served as leads in reimagining Wetzel's. At the same time, the team needed to figure out how to grow the brand and platform without adding too much more equipment.
"We realized that what would unlock many new menu items for Twisted would be a convection oven," Villanueva says. With its larger interior cavity, the oven allowed two new food platforms: Pretzel Chimney Cakes (pretzel ice cream cones) and Twistz (braided pretzels stuffed with savory fillings).
Employees make a pretzel ice cream cone by coiling pretzel dough around a metal cone shape before baking it in the convection oven. ("Our attempts to bake the cones sideways, or make them smaller so they would fit in the deck oven, just were not working," Villanueva recalls.) To fill the cones, the employees use the soft-serve ice cream machine at the back counter.
The braided pretzels (varieties include Pizza Bomb, Bacon Ranch or Triple Grilled Cheese) require the convection oven's hotter airflow to cook and caramelize properly.
Another change to Twisted's layout compared with Wetzel's was an upgrade and move for the signature display case. "Mall locations all feature a three-foot-wide to six-foot-wide glass-fronted hot box on the front counter," Villanueva notes. But since the case takes up valuable guest-facing workspace, the Twisted team looked at other options.
"Wetzel's ran some tests and found that the humidified cabinets do a better job holding the pretzels," Villanueva says. The pretzel holding cabinets (a stacked pair) sit near the corner along the back counter. When pretzels come out of the oven, they make a brief stop on a thermal tray to be buttered, and then go into the holding cabinet.
The front counter, home to a refrigerated toppings unit and a toppings warmer unit, encourages guests to interact with employees. "In malls, guests are used to quickly getting their food and leaving," Lares says. "With Twisted, we want them to come in and really see what we're doing, ask questions and take some time to chat. This is a whole new relationship with our guests."
Twisted's beverages—specifically the bubbler and granitas lineup—share some of the same equipment as Wetzel's and boast fancier ingredients. "Our lemonades 'grew up,' so to speak," Lares says. Twisted's menu includes blends such as matcha green tea and peach lemonade, or strawberry lemonade, coconut and cream, as well as slushies (two kinds of lemonade, orange, Mangonada and horchata) and soft-serve floats.
The design of the beverage units proved as important as function. "We talked about beverages in terms of contemporary flavors, but also the fun colors they add to the space," Villanueva adds. "The clear granitas dispensing units against a backdrop of white walls really show off the bright reds, yellows, oranges and neon greens, and help amplify the colors in Twisted's interior design."
Pretzel Predictions
The limited ingredients/minimal equipment aspect of Twisted "shows the beauty of this platform," Villanueva adds. "With the deck oven and convection oven, and dough mixer, they're able to create a huge menu based around pretzels. Twisted's simple platform is ideal from a franchisee's perspective: They won't have to invest a ton of money to see a return on their investment."
As for Lares, she is already thinking of tweaks for future Twisted locations. "Would I like slightly larger stock rooms," she asks rhetorically. "Yes! And could the counter in the expo area be longer? Definitely! With more space we'll be able to serve more guests. That said, I feel we hit the mark with our first Twisted; it's compact yet very open and visible."
And Lares envisions a future with many more Twisted shops. "While malls are always going to be part of Wetzel's heritage, I do think these street-side stores will be a popular destination."
---
FACTS
TWISTED BY WETZEL'S PASADENA, CALIF.
NUMBER OF UNITS: 2
SIZE: 1,200-1,500 square feet
SEATING: about 15 (including patio)
WETZEL'S PRETZELS: Laurie Keys, project manager; Martha Lares, vice president of store design and construction
CONSULTANT: Erica Holland-Toll, culinary director; Kevin Villanueva, senior R&D chef, The Culinary Edge, San Francisco
ARCHITECT: PDMS Design Group, Arlington, Texas
INTERIOR DESIGN: Ana Henton, principal, Ana Henton Design, Los Angeles
CONSTRUCTION: STMCO Construction, Brea, Calif.
WEBSITE: twistedbywetzels.com
---
EQUIPMENT
• Electro Freeze soft-serve freezer
• True refrigerator, freezer
• Multiplex soda dispenser
• Manitowoc ice maker, bin
• Hobart 20-qt. countertop mixer, undercounter dishwasher
• Beverage-Air undercounter refrigerator, undercounter freezer
• Bunn granita dispensers, hot water dispenser
• Merco thermal shelf
• Alto-Shaam drawer warmer
• Crathco lemonade bubbler, frozen granita dispensers
• Giles ventless exhaust hood
• Bakers Pride pretzel oven
• Vulcan convection oven
• Carnival King toppings warmer
• Continental toppings refrigerator
• Server twin toppings warmer
• Hatco heated holding cabinet
• Advance Tabco shelving, prep sink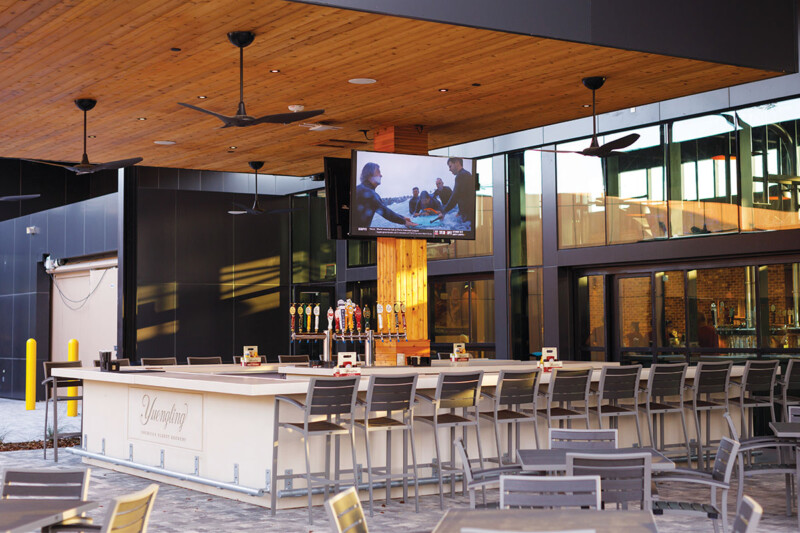 Kitchen Design
Designing a 42,000-square-foot, 800-seat entertainment and dining space centered around beer posed challenges and opportunities.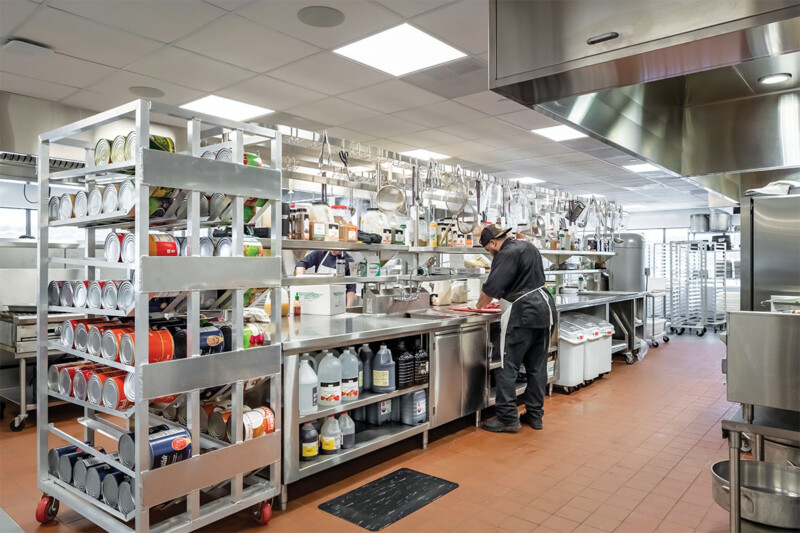 Kitchen Design
Open Arms of Minnesota—a volunteer-powered, nonprofit organization that provides meals to critically ill Minnesotans—needed more room.