Tour the Multifaceted Hyatt Regency Salt Lake City
A restaurant with a display kitchen, a street-facing cocktail lounge and an abundance of event space welcome guests at the hotel.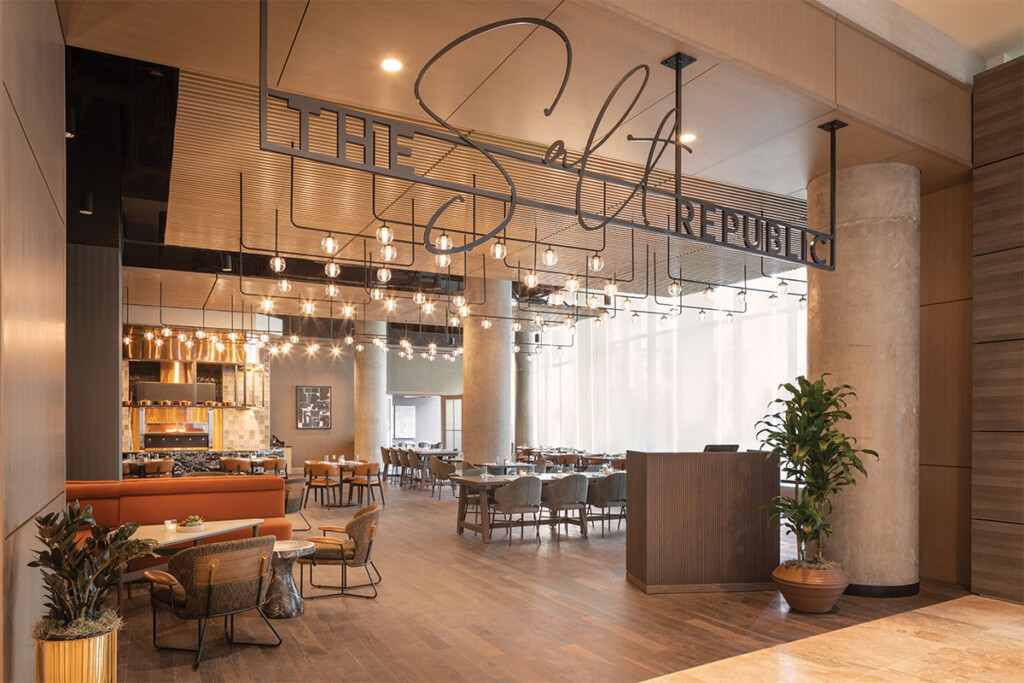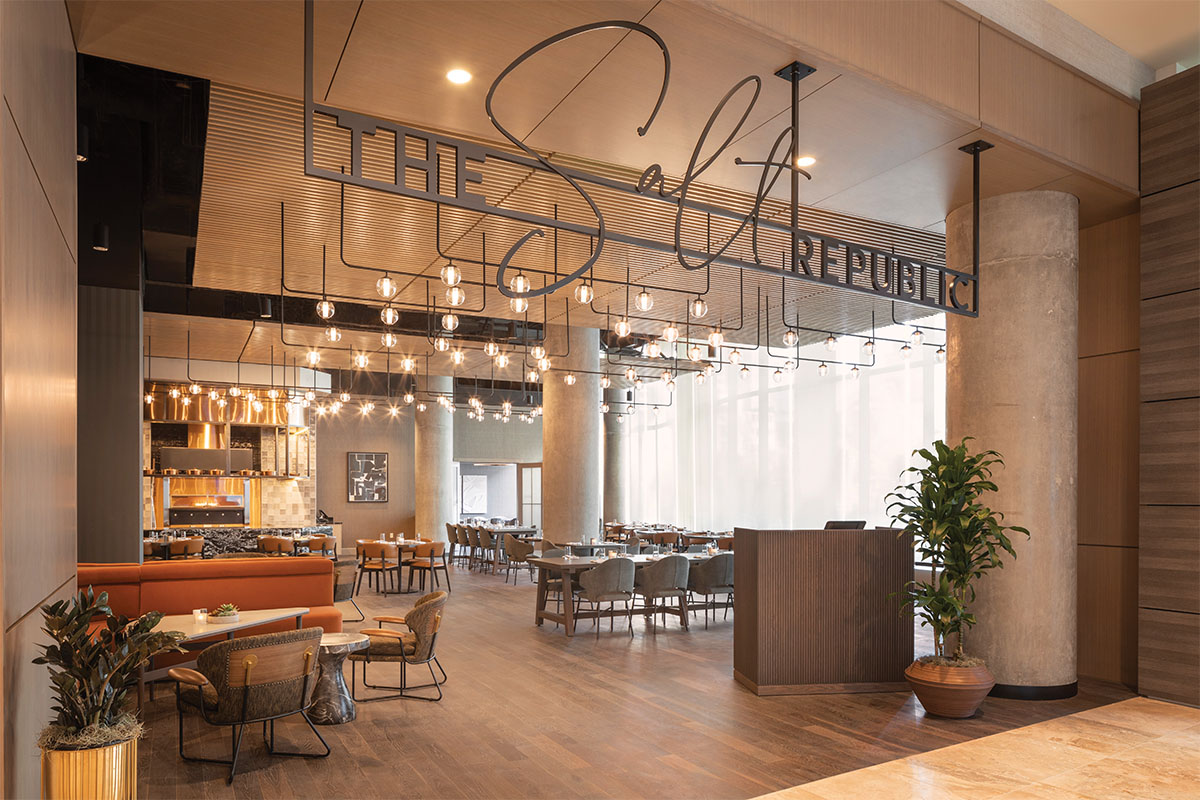 Those traveling to Salt Lake City for the first time in a while might notice something different. Soaring 25 stories high, the newly built Hyatt Regency Salt Lake City has changed the city's skyline. It sits next to the Salt Palace Convention Center and offers plenty of amenities, including 700 guestrooms, four dining outlets and 60,000 square feet of event space.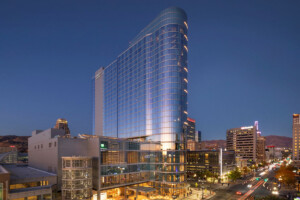 "It was really exciting for the city," says Tarah Schroeder, vice president of Ricca Design Studios in Denver, who served as the project's lead foodservice design consultant. "Some of the other [hotels] we worked on were renovations or were already part of a larger skyline where, for Salt Lake City, this was a huge deal." The design firm's portfolio includes countless Hyatt properties around the world.
Along with its impact on the skyline (at left), the hotel sets itself apart by having so many dining outlets.
"Typically, you don't see that many at a Regency," says Ryan Olivas, executive chef of Hyatt Regency Salt Lake City, whose career includes overseeing the opening of the Hyatt Regency Seattle. "You will see a market and a three-meal [restaurant] and then, for the most part, Regencies are banquet-driven. Having this many outlets with drastic concepts allows us to hit what everybody's looking for."
The four dining outlets are the Salt Republic, a three-meal restaurant; Market, a grab-and-go retail outlet; Mar Muntanya, an upscale restaurant featuring "Northern Spanish Basque Catalonia infused with Utah cuisine," Olivas says; and Contribution, a cocktail lounge with a small-plates menu.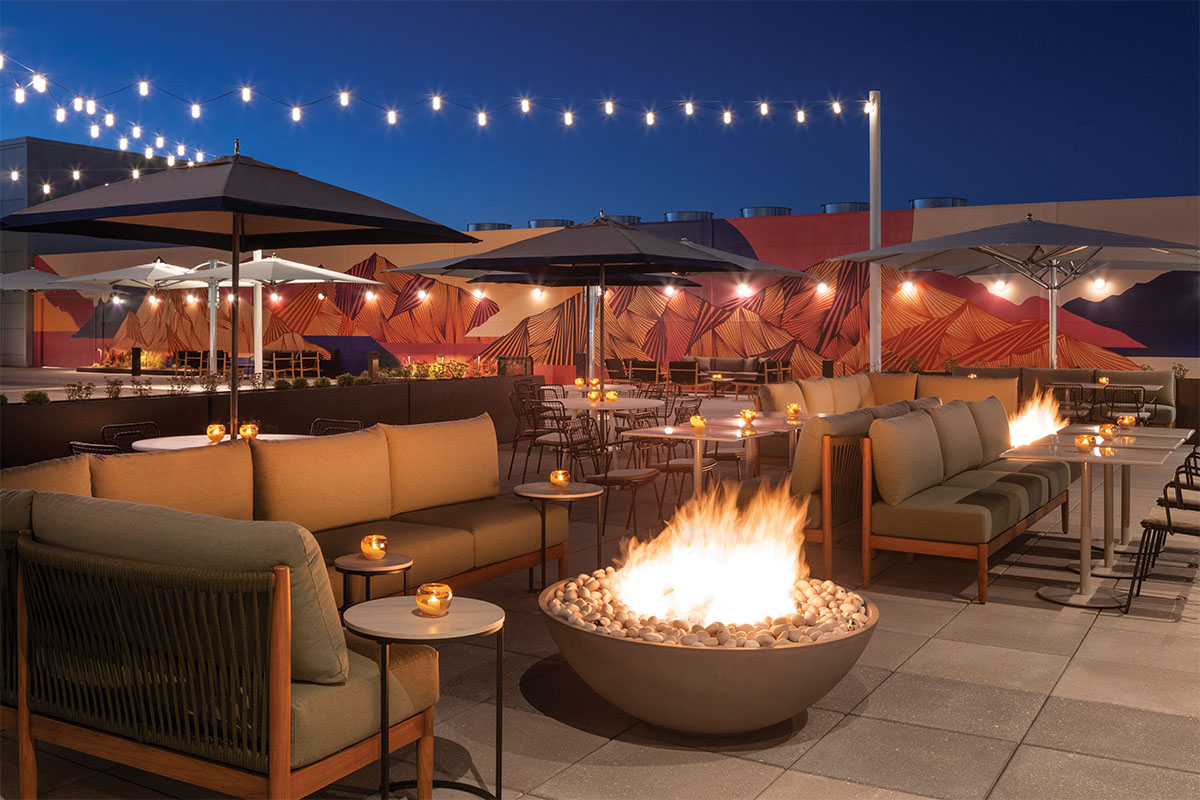 To support primarily the event space, the back-of-house includes a main kitchen on the first floor and finishing kitchens on levels two and four, near the points of service, all connected via service elevators. Pantries, an employee dining space, beverage and keg storage, and the Regency Club round out the project scope.
Putting On a Show
As trade shows and meetings take place at the nearby convention center, the Hyatt Regency Salt Lake City puts on a show of its own through the Salt Republic's display kitchen. It features a gas-powered fire deck oven, rotisserie and a multipurpose counter.
"I honestly love the hearth," Olivas says. "It's not only fun to work with but it's a showpiece that really ties the restaurant together, especially in the evening. We make bison short rib flatbread out of there. We're also cooking our 16-ounce ribeye and our whole trout out of the hearth, as well as some side dishes."
In front of the fire deck oven and rotisserie, which is used to prepare chicken, sits the multipurpose counter, functioning as a self-serve buffet at breakfast and a working counter for cooks at lunch and dinner. An undermount cold shelf, eight undermount induction ranges and portable food shields offer the flexibility to support different applications.
Recently, Olivas says, the foodservice team has used the counter to offer special buffets at lunchtime to organized groups, like athletes or teachers. "We will flex a menu based on the group coming in and their price points," he says.
Near the Salt Republic, on the first floor, the Market features two to three times as many grab-and-go items as a typical retail outlet, Schroeder says. It also supports the hotel's on-trend knock-and-drop service, which replaces traditional room service. Guests place an order via a QR code in their room, and a server delivers menu items.
Shifting to Ventless
Cocktail lounge Contribution puts on a show, too, as it faces the street, inviting in locals as well as hotel guests.
It wasn't originally supposed to go in that space, Schroeder says. During the project, which began in 2019, planners shifted the lounge away from the building's center, near the other first-floor foodservice facilities, and out toward the street.
"[The shift] really speaks to them wanting this to be a significant location in Salt Lake City, one that's not insular to the hotel but putting it some place that could invite people in from outside the hotel," Schroeder says.
The lounge's new location created a challenge on the foodservice side. Designers couldn't add any ductwork because there were guestrooms directly above it. And not including a kitchen wasn't an option. For one reason, Utah has different rules and regulations around restaurants and liquor compared with other states and guests must be dining to be served a drink. If a guest shows intent to eat, they may be served a drink before ordering.
The design team found a solution in ventless equipment, such as a fryer and triple-stacked conveyor oven, to produce the small-plates menu, boasting prime rib sliders, wings and flatbreads. They also specified a ventless dishmachine.
Powering the Back-of-House
As the dining outlets engage guests, the main kitchen and finishing kitchens hum behind the scenes to support events. All three facilities come equipped with high-volume equipment; events sizes vary, with a range of anywhere from 10 to 850 guests.
It's a rare setup, actually, to have such robust finishing kitchens, Schroeder says. But the design team found the main kitchen footprint too small to accommodate how much equipment they needed to support all the event space. (The main kitchen also supplies the Market and produces a few desserts for the Salt Republic and Contribution.)
"Looking at the pantry on level four, having a cookline with three roll-in combi ovens, a flight-type dishmachine, that's not in the main kitchen, and a large walk-in, that's unique," Schroeder says. Level two also includes a couple roll-in combi ovens and a large walk-in cooler, plus a rack-conveyor dishmachine. Designers made sure there were sound barriers so dishmachine noises didn't impact the experience of guests in the event space.
Olivas says pressurized braising pans in the main kitchen help the foodservice team maximize space by boosting throughput. "Those items can do beef short rib in an hour to an hour-and-a-half, compared to four or five hours in traditional ways," he says.
He also appreciates the finishing feature on the combi ovens. Employees plate chilled menu items in the main kitchen, slide them onto mobile plate racks, transport them upstairs to the finishing kitchens and keep them chilled until it's time to bring them to serving temperature inside the combi ovens. It gives them more flexibility. They can plate meals in advance when they have more time and staff members available, for example. And they can serve all guests at once.
Big picture: The hotel aims to be the best in the city. "From Day One, we wanted to come in here and be the best, and that has shown itself in who we buy products from and who we hire. We hire the best and we train the best," Olivas says. Coming up, he looks forward to expanding menu offerings at the rooftop pool in the near future.
FACTS
HYATT REGENCY SALT LAKE CITY
SEGMENT: Lodging
OPENED: October 2022
HOTEL CAPACITY: 700 guestrooms
OVERALL HOTEL BUDGET: $377 million
FOODSERVICE BUDGET: $3.5 million
CONSULTANT: Tarah Schroeder, vice president, and Lona Homersham, project director, Ricca Design Studios, Denver
HYATT REGENCY: Marisol Fisher, regional vice president of design, Timeless Brands, and studio head, Hyatt Hotels Corp., Chicago; Ryan Olivas, executive chef, Hyatt Regency Salt Lake City, Salt Lake City
ARCHITECT: Greg Botsch, principal, senior vice president and director of operations; Irene Sourbeer, vice president and senior project manager; and Edwin Ortiz, project designer, Portman Architects, Atlanta
DEVELOPER: Ali Streetman, vice president of construction, Portman Holdings, Atlanta
INTERIOR DESIGN: Jodi Geroux, senior associate architect, FFKR Architects, Salt Lake City
DEALERSHIP: TriMark Orange County, Irvine, Calif.
WEBSITE: hyatt.com
KEY EQUIPMENT
• ThermalRite walk-in cooler
• Metro shelving, dish cart
• Panasonic microwave oven
• Hatco conveyor toasters, undermount cold shelf, heat lamp
• Eagle Group sinks
• True undercounter freezers/refrig., reach-in refrig., merchandisers, prep tables
• Perlick glass froster, liquor display, cocktail station, sink, drainboards, back bar cooler
• Micro Matic draft beer/wine dispensing tower, rinser tray
• Accurex hoods
• Southbend range, salamander, charbroiler, refrig. base, griddle, spreader cabinet
• Pitco fryers
• T&S Brass faucets, gas connector hose kits, dipper well
• Atlas Metal drop-in hot pan
• Advance Tabco sinks
• BSI food shields, heat lamp
• Rotisol rotisserie
• Wood Stone fire deck oven, exhaust hood
• CookTek undermount induction ranges
• Cambro ice bin/ice caddy
• TurboChef rapid cook ovens
• Electrolux panini grills
• Vollrath induction rethermalizer
• Waring blenders
• VitaMix blender rinser
• Structural Concepts display cases
• Delfield ice/water station
• Rancilio espresso machines
• Champion rack-conveyor dishmachine
• Salvajor food waste collector
Editor's note: This equipment list represents only the Salt Republic and Market portion of the project.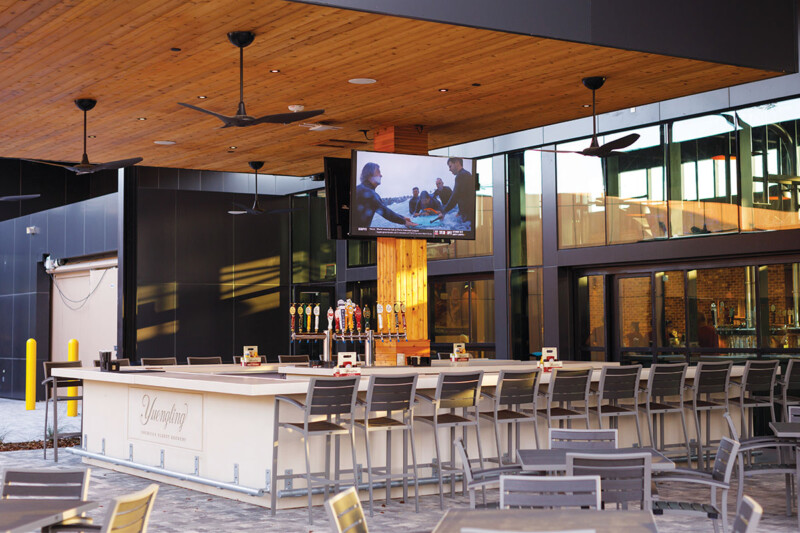 Kitchen Design
Designing a 42,000-square-foot, 800-seat entertainment and dining space centered around beer posed challenges and opportunities.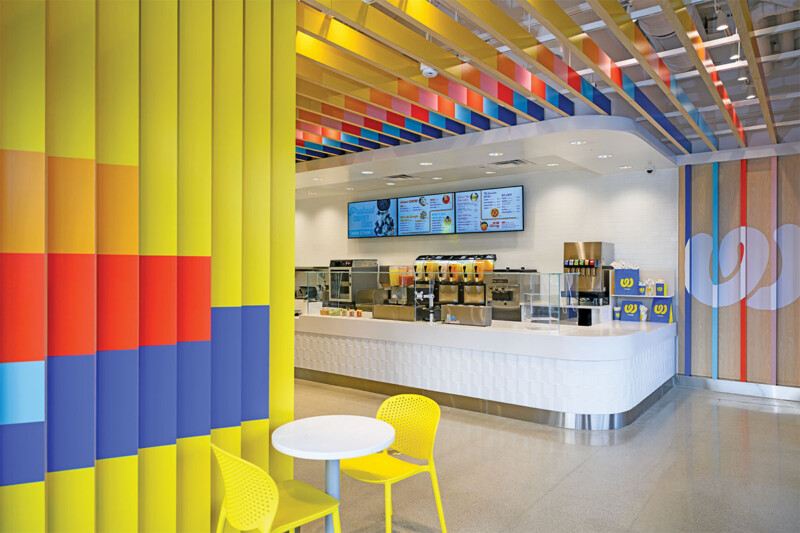 Kitchen Design
Wetzel's Pretzels, the multiunit bakery of shopping mall fame, now offers its soft pretzels and more at street-side through its latest concept.