Flexible Design Allows Cafe to Continue Operating Under New Rules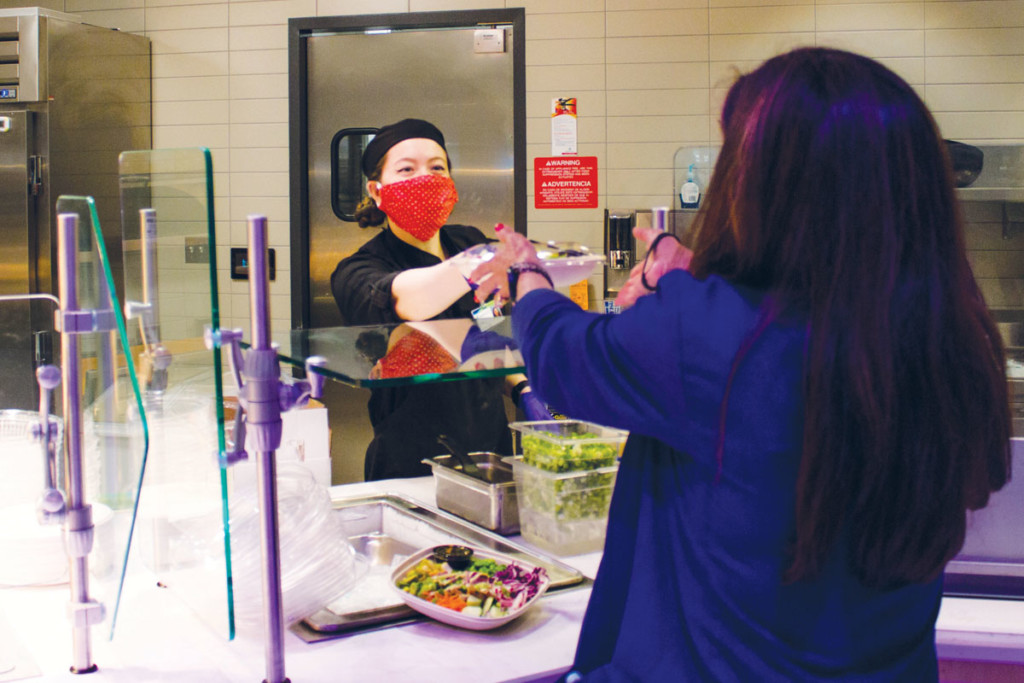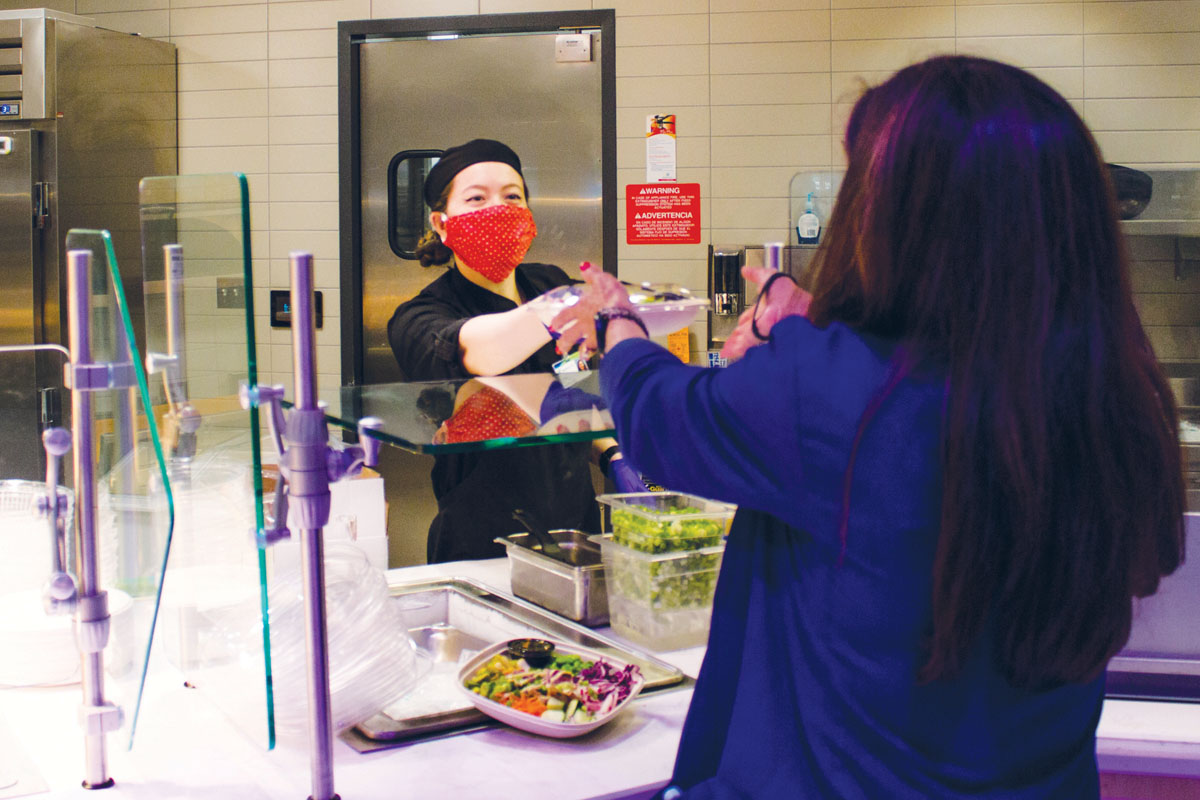 When Kootenai (rhymes with boot-knee) Cafe, the new destination dining spot for Kootenai Health, Coeur d'Alene, Idaho, opened in February, its wellappointed stations (stone-hearth oven, a crowd-pleasing circular griddle, high-speed sandwich presses, ranges suites) aimed to create a culinary smorgasbord for guests and hospital staff alike. But when the COVID-19 pandemic shut things down a month later, its flexible design allowed the cafe to continue operating under new rules.
Although the 330-bed hospital has treated only a handful of COVID-19 patients as of June, Idaho's rules for facilities meant the cafe was open to employees only. Low volume or not, operations had to shift nearly overnight to meet the new guidelines.
"We used to be self-serve, but now all the food is served by foodservice staff," says Kootenai Cafe Retail Manager Desiree Freeman. Even salad and pizza. "We're portioning salads into containers and offering them from the salad bar. Our staff now serves pizza slices on plates, too."
In the seating area, the foodservice department stowed many tables and chairs to allow 10 ft. of space between guests; now each table has seating for one, for a total occupancy of 40, down from 140. The guest relations associate's role has grown to include cleaning and sanitizing high-touch surfaces as well as greeting guests.
A Grand Opening
Planning for the $2.3-million Kootenai Cafe kicked off in 2017. "Then-Foodservice Director Gaylene Scott took the lead, along with Executive Chef John Minichino and myself," Freeman says. When construction delays pushed the cafe's projected-July 2019 opening past Scott's planned retirement date, Charlie Linder, the new director of hospitality services, oversaw the project for its final months.
Foodservice consulting firm Ricca Design Studios, Greenwood Village, Colo., came on board to ensure state-of-the-art design and layout. Ricca's Tarah Schroeder, executive principal, served as the design lead, while Project Director Danielle Kunkel oversaw day-to-day operations.
Administrators charged the team with conducting a long-overdue gut-and-rebuild of Kootenai Health's nearly 40-year-old cafe. Previously, it included only a griddle, five hot wells and a salad bar. A small, inefficient layout led to lunchtime lines stretching out the door. Would-be customers would instead opt for a grab-andgo meal from a nearby kiosk, which had a footprint that began to expand into surrounding space as more display cases were added.
"If you have enough workers, you can flip the glass [of the adjustable food shields] down and the station can be staff-served. Otherwise guests can—or used to be able to—help themselves when the glass barriers were raised." —Desiree Freeman
Goals for the new Kootenai Cafe included boosting visibility to hospital traffic, better flow once inside the servery, more menu choices and added flexibility.
"Down the road, [the pizza station] will become an Italian trattoria." —Desiree Freeman
"The old cafe's entrance was a narrow doorway from the main hall," Kunkel recalls. "It didn't catch your eye or draw you in, and was easy to walk right past if you didn't know where it was."
To fix this, the design team more than doubled servery space—from 1,100 sq. ft. to 2,400 sq. ft.—by expanding into an adjacent seating area. They opened up the entrance by appropriating a little-used conference room at the corner of the servery's footprint and converting it into a wide and welcoming space. Five stations—Graband-Go/Beverages/Desserts, Brick Oven, World Tour, Grill/Classics and Fresh Mix (deli)—line the servery's perimeter, with Salad/Soup as a freestanding station in the center.
Behind the scenes, the support kitchen, which had undergone its own renovation a few years earlier, forms the back walls of the cafe's footprint.
To elevate menu choices, the team looked to in-house experts. "Chef Minichino comes from a hospitality background and Pastry Chef Brittany Ford has classical training," Schroeder says. "During early planning sessions, they spoke about concepts that would showcase their menus, including Ford's housemade sourdough pizza, fresh baked rolls, fresh rosemary bread and in-demand cinnamon rolls."
Building in Flexibility
Flexibility underlined all aspects of the planning. The foodservice department needed to be able to ramp operations up or down depending on the time of day and staffing availability. And Chef Minichino needed stations to be equipped to handle a variety of menus.
A key element for Kootenai Cafe's flexibility, not to mention a star during the pandemicimposed restrictions, has been the adjustable food shields. "If you have enough workers, you can flip the glass down and the station can be staff-served. Otherwise guests can—or used to be able to—help themselves when the glass barriers were raised," Freeman says.
The ability to ramp down for late-night service acts as another example of flexibility. "We didn't plan to do late-night hot food. It was going to be all grab-and-go," Freeman recalls. When they got pushback from the night teams, the pizza and burger stations (alternating week to week) provided the answer. "One person mans the station, serves hot food and handles transactions from midnight to 3 a.m."
Brick Oven boasts a stone-hearth oven flanked by a dough press, pizza prep table, cold-top worktable and a roll-in refrigerator. "Our Sous Chef Aaron Reed visited the manufacturer to do some training on using the oven," Freeman says. "Down the road, this will become an Italian trattoria with dishes like chicken parmesan, as well as pizza."
Perhaps the most comprehensively equipped of the six stations is World Tour, Chef Minichino's favorite. "It has a custom-built four-burner step-up range, cold well, a rethermalizer, a 12-in. griddle, a convection oven and cold storage," Schroeder says. The compact station takes up about 6 ft. of space. "Chef runs a weekly special, the same menu for five days," Freeman says. "This week it was Indian curry and tandoori chicken."
Grill and Classics combine into one station and include a griddle with a convection oven, heated shelves, speed oven, toaster and sandwich prep table. "On the Grill side, they serve burgers, chicken strips—a typical grill menu," Freeman says. "The Classics side offers a protein, starch and seasonal vegetable, such as pork loin with raspberry compote with pasta and green beans. There's also a $5 'My Meal' plate that has a fixed number of calories, with protein, starch and two vegetables. It's very popular."
Fresh Mix specializes in panini sandwiches and composed salads. It features a focal-point round griddle to heat sandwich proteins (such as citrus-marinated tofu, garlic lemon chicken, flank steak and chili lime shrimp) as well as a pair of high-speed sandwich presses, a cold display case, worktable and sandwich prep table.
In the center, Salad/Soup features cold wells, now holding the prepackaged salads, and soup wells, which can accommodate from-scratch offerings such as taco soup and New England clam chowder once the station returns to self-serve. Grab-and-Go/Beverages/Desserts anchors the wall closest to the entrance. An array of cold display cases, plus one hot and one ambient display case, offer healthy, prepackaged foods.
Future Vision
Under the guidance of Linder, Kootenai Cafe is poised to become a community destination. "Charlie has a passion for hospitality and brought so many ideas and professionalism on how we can better serve our guests and be a solid team all headed for the same goal," Freeman says. "Charlie's motto is, 'Be kind, and don't run out of food.'"
As for pandemic-related updates within the cafe, "it's hard to anticipate what things will be like in two years, be it regulations or social norms," Schroeder says. "[As we design,] we look at multiple scenarios and design for each."
FACTS
KOOTENAI CAFE COEUR D'ALENE, IDAHO
---
OPENED: February 2020
---
NO. OF SEATS: 40 seats (with social distancing); 140 seats (as designed)
---
HOURS OF OPERATION: 6:30 a.m.-9:30 a.m., breakfast; 10:45 a.m.-7:30 p.m., lunch/dinner; 7:30 p.m.-3 a.m., late-night service (alternating pizza/burger stations only)
---
STATIONS: Brick Oven, World Tour, Grill/Classics, Fresh Mix, Salad/Soup, Grab-and-Go/Beverages/Desserts
---
COST OF PROJECT: $2.3 million
---
CLIENT (KOOTENAI HEALTH): Desiree Freeman, retail manager; Charlie Linder, director of hospitality services; John Minichino, executive chef; Brittany Ford, pastry chef; Gaylene Scott, foodservice director (retired)
---
FOODSERVICE CONSULTANT: Tarah Schroeder, FCSI, executive principal; Danielle Kunkel, project director; Ricca Design Studios, Greenwood Village, Colo.
---
ARCHITECT: NAC Architecture, Spokane, Wash.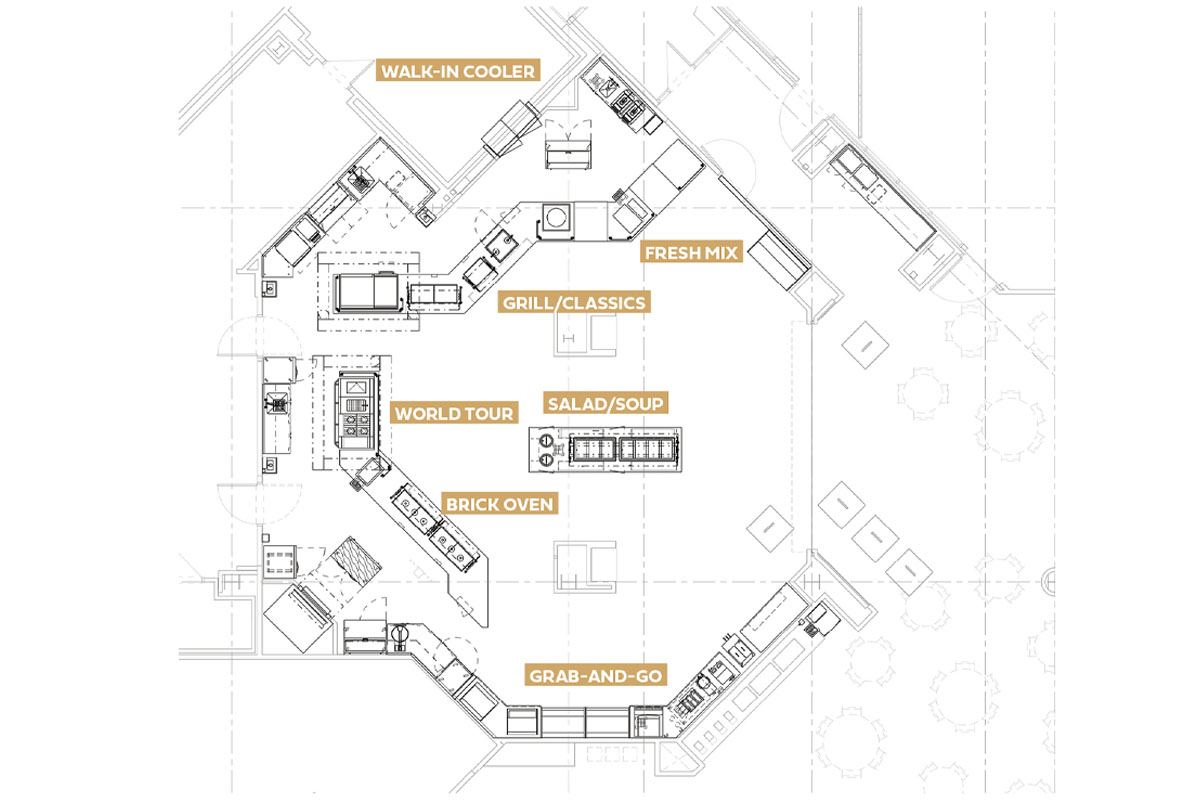 EQUIPMENT
• BSI LLC food shields
• ACP/Ali Group microwaves
• Follett/Middleby water/ice dispenser, ice machine
• BUNN coffee brewers, tea brewers
• Crathco juice dispenser
• Franke water filtration system
• Piper Products refrig. display case, ambient display case
• Structural Concepts self-service display case
• Stoelting soft-serve machine
• Cres Cor hot storage cabinet, carving station
• DoughXpress pizza dough press
• Wood Stone hearth oven
• Gaylord/ITW FEG hoods
• True pizza prep table, roll-in refrig., reach-in refrig., sandwich/salad prep tables, u/c refrig.
• Hatco heat lamps, heated shelves, toaster
• Montague range suites
• TurboChef/Middleby speed oven
• Alto-Shaam low-temperature smoker
• Evo/Middleby round griddle
• Electrolux sandwich press
• Vollrath soup retherm/holding unit
• New Age pan rack carts
• Atlas Metal hot/cold pans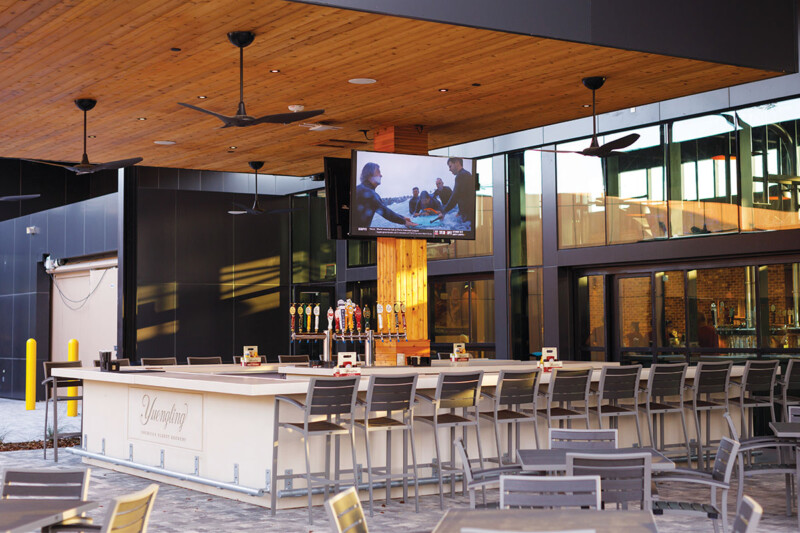 Kitchen Design
Designing a 42,000-square-foot, 800-seat entertainment and dining space centered around beer posed challenges and opportunities.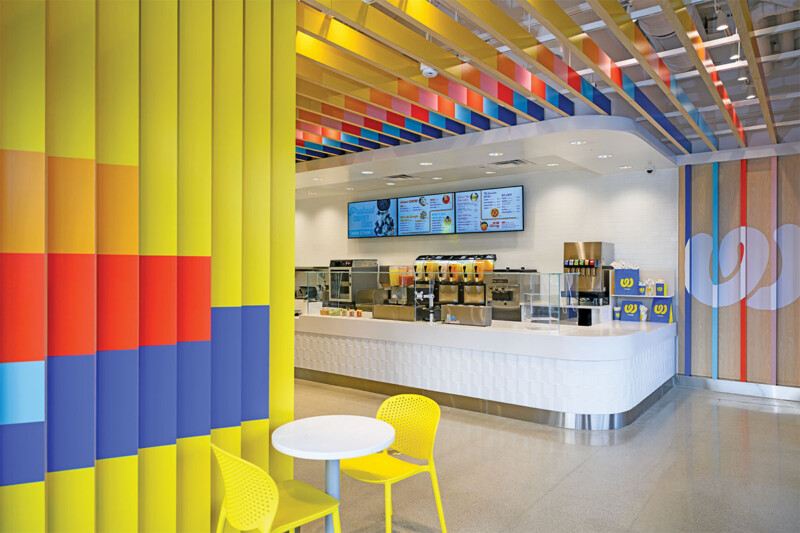 Kitchen Design
Wetzel's Pretzels, the multiunit bakery of shopping mall fame, now offers its soft pretzels and more at street-side through its latest concept.