EXCLUSIVE: How Do Chains Choose E&S Suppliers?
Some things are real touchy, and you know it going in. Access to nukes, for example. Or who's in cement overshoes at the bottom of the Chicago River. But we didn't think how chains select equipment and supplies suppliers would be classified Top Secret when we started asking around.
Au contraire, apparently. FER contacted top spec/buyers at many of the leading chains via phone and email. They're people you know, or names you recognize. We posed the questions: What do you look for in a manufacturer? How important is the service network? What do you need from your kitchen equipment supplier (KES) or dealer? And on and on.
Nobody we contacted at the chains wanted to discuss it, certainly not on the record. Everybody said that the "suits upstairs" said no. We then asked for off-the-record hints. Tap the wall once for yes. Nope. During the National Restaurant Association Show 2013 in Chicago, we ran into one of the most respected, knowledgeable guys in the business at one of the biggest chains, and we talked about the situation. He laughed and nodded. "Probably nobody wants to talk about it because nobody is sure he's doing it right," he shrugged. "Everybody keeps changing the process. By the time the story comes out, they might've changed their minds." Another key industry figure opined that many spec/buyers don't want to give suppliers a roadmap to the process. They don't want their systems gamed.
Fortunately, we had other ways to get people to talk, so to speak. FER conducted a survey (see excerpts with this article), an easy way to accumulate some data without putting the heat on anyone in particular. And we knew some guys—guys who have decades of experience with multiple chains and now are independent consultants, which gives them flexibility to speak for themselves without clearance and without delving into anyone's proprietary information.
Start With The Product
Obviously, every chain has its own variations on the theme. But generally, there are some predictable patterns. Priorities and practices tend to be on a sliding scale depending on how big/quick/uniform your concept is or isn't. Bigger chains deal on gigantic scales, and consistency is paramount. Smaller or more chef-driven concepts usually are more variable and flexible on lots of levels, with some mix-and-match showing up out in the field.
In any case, generally you start with a need, and you look for a solution. Maybe you're a chain co-developing a new spec with a manufacturing partner or introducing a new menu item, or maybe the factory or supplier came to you with a new idea or item. Or maybe you're just looking to change the lineup: equipment, supplier or both.
What do you look for? Different operations have different priorities, but the 60+ chain operators who responded to the FER survey indicated food-quality impact and performance, ease of operator use and labor savings were top priorities, with initial cost, life-cycle projections and energy also in the mix.
"For me, once we zero in on a product or technology, then we usually get a ballpark cost first, look at quick-and-dirty life-cycle costing and see if it will fit (into budgetary plans)," says consultant Robert Forrester, founder of Restaurant Industry Solutions, Emporia, Kan. Forrester, whose resume lists equipment and development posts at such chains as Quiznos, Applebee's, Hardee's, Whataburger, Taco Bell and Pizza Hut, says the numbers get scrutinized from every angle. "Then we look at the vendor's ownership of the technology." Patent expiration might release technology to the market and affect product pricing, for example. If a manufacturer licenses a product that's part of the chain's multi-year rollout, will the license expire before the rollout is complete?
Clif Geisler, founder of consulting firm OpsServ, Plano, Texas, says you often can make a first cut based on some definitions. "I break equipment into three categories—light duty, concession type items; then medium duty items that are more durable and modestly priced; then heavy duty equipment," says Geisler, whose timeline includes corporate roles at Brinker Int'l., Whataburger and Sonic as well as franchisee and corporate roles at Little Caesars. He says the first step in looking for a supplier is to determine what grade of equipment is needed—lighter, or heavier duty? Once you decide on that, a lot of equipment choices sort themselves out pretty quickly. Some applications require equipment on the higher, heavier-end of the spectrum, while others slot into other niches. Once you understand what you are looking for, then you can focus.
"Key attributes are always performance, durability and reliability," he says. Each company seems to have their point of differentiation in the market place. Once you understand each company's strength and weaknesses, you can align their capabilities with what you're trying to accomplish. Then you get more granular—you match the short list of features you need.
"I ALWAYS bring the piece of equipment in for testing," he says. "We test for recovery rates, heavy-load performance, those kinds of things. And of course you have to evaluate the food quality produced." On the subject of testing, more than 50% of operators responding to the FER survey indicated they test right at an operating unit. Almost a third said they have a corporate test kitchen.
Once you've narrowed down your short list of potential suppliers, Geisler says, "then let's talk about the service network. Can they service it? Ask for the service history for the piece of equipment or any specific element or feature of concern." Most equipment companies can provide a track record of actual service history.
"When you talk about the big guys (manufacturers), [their processes] are pretty buttoned up," he says. "With smaller players, you'll want to spend a little more time to evaluate how many installations they have and their service network. Who's using the product? Get references. If it's a start-up or a new product, then do a 'deep dive,'" he says.
One Is Not Enough
Once you feel good about a given supplier, chances are good you'll want to find an equivalent alternate. Most chains don't want to be totally reliant on a single supplier, especially if they're larger operations and even more so if they're larger quick-service operators. Too many things can happen to a single source, anything from transportation problems to labor stoppages to regional complications. A fire or natural disaster at an equipment factory could cripple a big customer. You need alternatives.
"A second source is routinely a requirement for large chains," confirms Forrester, although how to accomplish that can vary. He says a large chain typically will commit to make it worthwhile and profitable for the primary supplier, considering time, development investments of proprietary technology, etc. Then in return, often the chain asks the primary to negotiate an agreeable licensing arrangement with a second supplier meeting the chain's approval. A typical split between primary and secondary probably would be about 60/40%, he figures loosely. "Usually the primary vendor owning the technology will agree to that," he says. For really large chains, the consistency of the technology has huge implications for consistent food and beverage production, simplified parts and maintenance support, etc., he notes. The benefits multiply quickly over many kinds of transactions.
Another option, especially for chains that are smaller or less tightly regimented, is to skip the legal complexities of licensing and simply choose an alternate item from an alternate supplier, Geisler says. It's quicker and eliminates a lot of potential headaches if the variances are tolerable within your framework.
Inspection Time
In the equipment selection or development process, all of the product-related particulars are extremely important, certainly, but they're just the beginning, as most chain operators will agree. Any manufacturer in the running for a big contract will need to pass rigorous inspections—and the bigger the customer, the more rigorous the inspections.
"We usually have financial people look at the manufacturer's financial capability," Forrester says. "We look at business sustainability and redundancy. Do they deal with labor union contracts? Do their component suppliers have labor contracts? What about the threat of work stoppages? Do they have a history of late shipping?" Forrester's list goes into extensive detail, even so far as to evaluating the factory facilities and machinery and eyeballing the parking lot to get a feel for the living standards of the workers. That living standard, he explains, "can translate to employee satisfaction and quality down the road."
Many manufacturers might rather go through an IRS audit. But again, these are big deals, big commitments—and nobody can afford big disappointments. And the payoff is big. Once a manufacturer clears the hurdles, the relationship is probably good for quite a long time and many more contracts down the road.
Reps And Service Networks
So what else matters in choosing suppliers? The role of the manufacturers' rep can vary quite a bit, Geisler and Forrester say. For larger chains, a rep generally doesn't become a factor in the headquarters spec process because the factories most often have dedicated personnel for big chains.
But both consultants say regional reps are extremely important on the support level, being involved with shipping, installation, start-up, product training and so on at the local operator level. And yes, the bigger the deal, the more the regional reps' reputations matter.
"It depends on the rep firm or the individual," Geisler says, and you get the feeling he's met many different kinds. "I want to work with rep firms that are engaged in helping me solve my problems; those who take this approach are worth a lot. But those firms focused simply on making the sale don't interest me at all."
The question of whether to make a change in a supplier or a product isn't even so much about the product itself, but about all of the associated costs of making a change, including updating training to address the new equipment, dealing with new reps, installers and servicers at the street level, messing around with different parts inventories and so on. Like a spider web, everything is connected, he says.
Which brings us to maintenance and repair, and both consultants agree a weak service network is a deal-killer. Consequently, they note, most of the well-known manufacturers have good networks in place. But you have to research the network.
"The big [factories] have their service support in place," Geisler says. "The smaller guys are more of a concern. You can get service done, but how well does the manufacturer support the service? It's not just about the equipment. It's about when something goes wrong, how well do they stand behind it?"
Forrester echoes the points. "How is warranty work paid? How are problems tracked and documented? Is there a loop from the field back to factory design and engineering and to equipment specifiers at the chain?" he asks.
"The manufacturers have to have the network established. They cannot skimp. They also have to have a process set up with reps and dealers or service agents to do the receiving and setup and training," he notes.
Co-Ops And KES
Once you've nailed down all that, you still have to sort out how the buying is done, and how the equipment physically moves through the market. Which is where purchasing co-ops and KES/dealers figure in.
For franchisee purchasing in particular, more and more franchisors and franchisees each year see co-ops as the way to go.
"A co-op enables economies of scale," Forrester notes, allowing favorable pricing and influence with suppliers. "Also, it favors a consistency of equipment systems that is significant for food quality, beverage consistency, food safety." All of which allows the system to standardize training, too, and other benefits cascade from there. Plus, it's a buy-in. The franchisees share control of the pricing and purchasing process, the contracts and terms—they have skin in it.
As for tying it all together, the KES increasingly is the lynchpin for multiunit operators. The KES (and/or the co-op) actually places the orders and buys the equipment, takes delivery, handles all of the logistics, including storage, transportation, delivery, installation and set up, or arranges with installers and servicers to handle portions of the list.
The KES, in short, is where it all comes together at street level. "The KES you pick is key," Geisler advises. How do you select them? Much like anything else: get bids, check with others about responsiveness to service needs, research their financial strength, facilities. Can they handle your volume? Do they have relationships with the skilled people you'll need for handling, installing and so on?
"And are they manufacturer neutral?" Geisler adds. "Especially for a smaller chain, this is a big piece." Geisler notes you absolutely need the KES to be on your side and looking out for your best interests.
"A good KES is trusted to be the guardian of the spec for your system," he notes. "This is really important." Helping to maintain the corporate spec is critical because equipment performance can have such a direct impact on the food quality and subsequently your brand's reputation. Also, good KES's can help facilitate and ensure that the proper equipment is being purchased at replacement time, as well. A strong KES can partner with you on just about anything that requires influence and support for a system striving to maintain uniformity, he explains.
"There are NO shortcuts" to any of it, as Forrester emphasizes. "You have to do the due diligence. You cannot put your brand out there on a wobbly limb."
SIDEBARS:
FER E&S PURCHASING PRACTICES SURVEY 2013
A sampler of how commercial chains spec/buy equipment & supplies
SURVEY RESPONSES

NUMBERS OF UNITS

Response Percent

Response Count

1-10

24.7%

19

11-50

26.0%

20

51-250

20.8%

16

251-500

6.5%

5

More than 500

22.1%

17
Everybody "sort of" knows how commercial foodservice chains choose their equipment and supplies suppliers, and how the purchase decisions happen—but "sort of" is pretty weak. When you get right down to it, everybody knows their own experiences, and the rest is just guesswork.
FER decided to do something a little more systematic on the question, and in June fielded a SurveyMonkey survey. It included 15 multiple choice questions—about half defining the respondent and the other half defining practices and preferences—and a verbatim comments question.
As this story went to editing, responses were still coming in, and what's tabulated here is input from almost 80 chain operators. Who responded? The exact breakdowns are available from FER of course, but here's the shorthand answer:
Some 70% of respondents come from restaurant chain headquarters, with the rest coming from multiunit franchisees, contract management companies and other multiunit retailers such as c-stores, supermarkets and entertainment venues.
One question asked about titles and functions, "check all that apply." Almost two thirds of the individuals listed themselves as corporate officers and ops management, overlapping with some 40% indicating purchasing responsibilities. R&D and development titles also were prevalent among respondents. Overall, 96% purchase and/or spec equipment. Some 70% also do durable supplies, and fab, furnishings, POS and food/paper/consumables also figure prominently.
So—multiple hats for many respondents. And that's because half the participants are with organizations of 50 units or fewer. The other half handle 51+ units. And toward the nosebleed end, almost 20% come from 500+ unit enterprises. So there's quite a spread.
The charts we show throughout this article keep it simple, and overall they appear to confirm common assumptions. Subsetting the responses gets down to small samples, so the data become volatile, but where a pattern appears worth comment, it's mentioned in the captions.—BW

CHARTS & TABLES:
What are your company's or organization's annual gross purchases, specifications or sales of foodservice equipment, supplies, fabrication, furnishings, materials and components?

Answer Options

Response Percent

Response Count

Less than $50,000

6.5%

5

$50,000 – $99,999

5.2%

4

$100,000 – $249,999

6.5%

5

$250,000 – $499,999

6.5%

5

$500,000 – $999,999

7.8%

6

$1,000,000 – $4,999,999

20.8%

16

$5,000,000 – $9,999,999

9.1%

7

$10,000,000 and more

37.7%

29
Which title/function in your organization has the MOST say on choosing E&S suppliers? (Name only one.)

Answer Options

Response Percent

Response Count

Corporate Officer

38.2%

26

Operations Management

23.5%

16

Administrative/Finance Management

0.0%

0

Development, Real Estate & Facilities Personnel (including construction and maintenance personnel)

4.4%

3

Research & Development (including equipment engineer, culinary and menu development personnel)

13.2%

9

Designer (including architect, designer, kitchen or store planner or designer)

1.5%

1

Purchasing Management & Personnel

19.1%

13

answered question

68

skipped question

9
All the titles in this table show significant input in choosing suppliers, but this table asks which have the MOST influence. Predictably, corporate officers and ops management percentages are higher in smaller organizations and drop precipitously at larger organizations, presumably where delegations and division of labor are more pronounced.
Which of the following (outside your organization) have some input into evaluating/selecting E&S suppliers? (Name all that apply.)

Answer Options

Response Percent

Response Count

Purchasing co-op or affiliated distribution support personnel

40.6%

28

Independent dealer/distributor

39.1%

27

Independent design consultant

13.0%

9

Independent architect/general contractor

14.5%

10

Independent culinary consultant

10.1%

7

Food supplier

17.4%

12

None of the above

27.5%

19
Where do you test/evaluate new equipment and supplies? (Name only the option you use most.)

Answer Options

Response Percent

Response Count

On-site test kitchen/lab

31.7%

20

Operating unit

50.8%

32

Manufacturers' test kitchen/lab

1.6%

1

Manufacturers' rep test kitchen/lab

3.2%

2

Dealer/distributor test kitchen/lab

4.8%

3

Design consultant facility

3.2%

2

Culinary consultant facility

0.0%

0

Food supplier test kitchen/lab

4.8%

3

Other (please specify)

0

answered question

63

skipped question

14
Not surprisingly, organizations with fewer than 10 units are much less likely to report using an on-site test kitchen.
Which of the following criteria have the MOST influence on your choice of an equipment supplier/product? (Name one to three only.)

Answer Options

Response Percent

Response Count

Technological uniqueness (this thing can do things other can't)

12.5%

8

Labor savings

29.7%

19

Product-quality impact (performance, consistency, controls etc.)

67.2%

43

Speed

15.6%

10

Ease of operator use

40.6%

26

Energy efficiency

17.2%

11

Water efficiency

0.0%

0

Initial cost

39.1%

25

Lifecycle cost

26.6%

17

Supplier's ability to deliver in time for specified need

10.9%

7

Past experience with supplier

17.2%

11

Other (please specify)

1
Not to read the data too closely (sub-samples can get small and unreliable), but organizations with fewer than 10 units are much less likely to indicate they care about technological uniqueness and much MORE likely to focus on labor savings than the overall scores shown here. Larger organizations, meanwhile, appear more concerned than smaller operations are with speed, ease of operator use and lifecycle costing. Energy and water score low overall, although they do better with larger operators.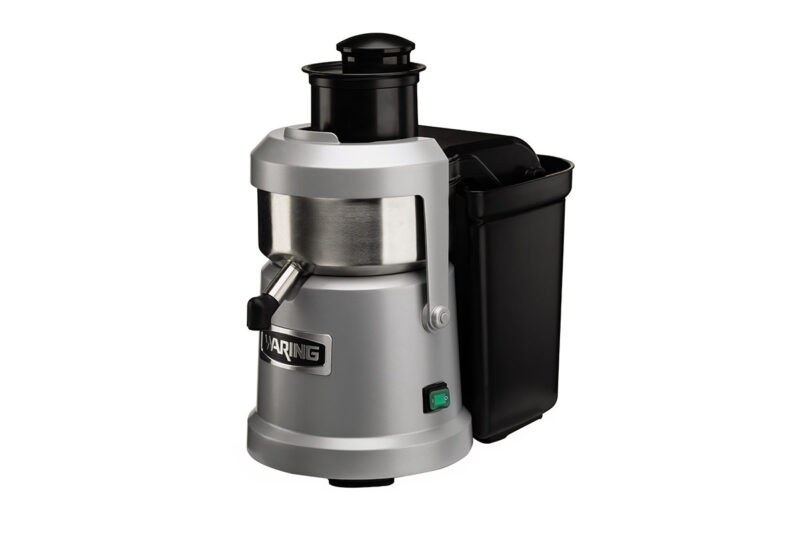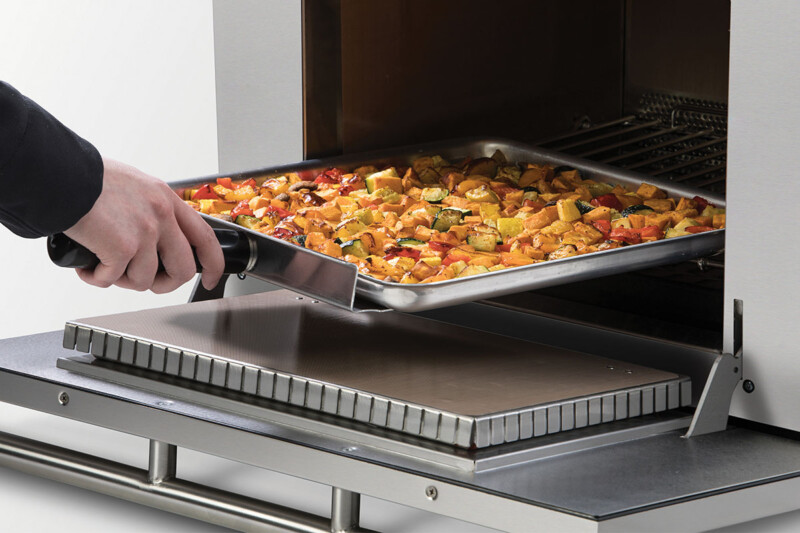 Equipment
High-speed ovens make quick, easy work of preparing menu items, and the market offers several new models.