Smallwares & Tabletop: New & Cool, Practical & Pretty
The fun part of Foodservice Equipment Reports' annual Smallwares and Tabletop competition lies in the broad variety of entries. The challenge, however, lies in balancing each disparate object against the others to identify products that stand above the proverbial pack, no matter what their category.
On the morning of the competition, held in August at the offices of The Boelter Cos. SuperStore, Milwaukee, we put our judges to the test. They arrived to find some 20 Smallwares finalists and 37 Tabletop finalists arrayed on tables. There were the "usual suspects": updates and refinements on plates (melamine, china and porcelain) and glassware, frying pans and sheet pans, scales and thermometers, vegetable choppers, buffet systems and coffee dispensers.
But the display also included some new faces: a heavy slate serving board, a glass cloche, a Bluetooth-enabled thermometer (with its own smart-phone app), a tool to help install gaskets, a wall-mounted hanger for spring-tongs, paper fry cups, single-use bamboo plates and ceramics with a moisture-retaining finish that became cooler when wet. It was truly a global assortment of the foodservice industry's latest innovations.
The six judges we invited to rate the products also had wildly varying backgrounds, plus a wealth of experience in the foodservice industry. The panel included three operators and three dealers: Scott Hoffl and, Restaurant Operations Director, University of Wisconsin-Milwaukee; Chef Aaron Kissinger, Pine Hills Country Club, Sheboygan, Wis.; and Vern Young, Equipment Design Manager, Culver Franchising System, Prairie du Sac, Wis. Our three national dealer representatives judges included Nick Kariotakis, Regional Accounts Manager, The Wasserstrom Co., Columbus, Ohio; Anne McCabe, V.P.-National Accounts, The Boelter Cos., Wood Dale, Ill.; and Shannon Tallon, Category Manager-Dinnerware, Glassware and Flatware, Edward Don & Co., Woodridge, Ill.
The judges tended to be more generous to products that were new to them and demonstrated a clear bonus in foodservice settings. "Awesome product and solution as long as the handle doesn't get hot," Tallon said of a griddle cooking tool. "Love the organic shapes," said another judge of a melamine servingware collection.
But the panel was ruthless on entries they felt might fail to perform. "Another piece to lose, and it'll probably warp at high temps," Hoffland observed about a multi-part product. "Not new," McCabe, Tallon and Kariotakis noted about several entries that, though they might be a new item for the submitting company, were not new to the marketplace.
Despite—or perhaps because of—the varied opinions, when the points were tallied, 14 products clearly stood out from the crowd. FER's 2015 Smallwares & Tabletop Awards winners helped solved problems, added beauty at a reasonable cost, saved time or labor and in general helped improve kitchen and front-of-house life. Read on for full details of both winners and finalists in the pages that follow.
But First, The Rules
FER editors define Smallwares as back-of-house tools—usually handheld, sometimes countertop items, but always free of motors (although we allow batteries in items such as scales). Tabletop/Servingware candidates include anything that would be used on a well-dressed table, buffet or serving area. And this year for the first time, we added disposables to the Tabletop category.
To be eligible, products had to be new to the market since the May 2014 National Restaurant Association Show. All entries were prejudged by FER editors. Entries that met the criteria—innovative, new and problem-solving—continued in the competition as finalists. Manufacturers were asked to submit the actual items for judging.
The Judges
Nicholas Kariotakis has spent 10 years as Regional Accounts Manager for The Wasserstrom Co., Columbus, Ohio. Prior to Wasserstrom, Kariotakis gained operational experience with Hyatt Hotels, where he served for 10 years starting as a restaurant manager, then worked his way up to the F&B director post. Kariotakis got his start in foodservice by covering every position in his family's diner, both front- and back-of-house.
Chef Aaron Kissinger has logged 16 years in the restaurant industry, including 10 as Executive Chef at Pine Hills Country Club, Sheboygan, Wis. Kissinger attended the Moraine Park Technical College, Fond du Lac, Wis., Culinary Arts Program in 2002 and previously worked for The Osthoff Resort, Elkhart Lake, Wis., and Bruce's of Elkhart Lake. Kissinger is known for his ability to cook in any setting, be it an intimate gathering or functions of 300 people or more.
Shannon Tallon currently serves at Edward Don & Co. as Category Manager-Dinnerware, Glassware and Flatware. Tallon has managed or merchandised nearly every category available for the Woodridge, Ill.-based distributor, from "jan/san" to disposables to textiles to tabletop during her 10 years with the company.
Anne McCabe serves as V.P.-National Accounts for Wood Dale, Ill.-based The Boelter Cos., and is in charge of developing new business opportunities across the country. McCabe's previous role was leading the company's Supply Division for Illinois and Michigan. McCabe has served with the distributor for 28 years.
Vern Young, Equipment Design Manager for Culver Franchising System, Prairie du Sac, Wis., got his start in the foodservice industry 27 years ago as a CAD technician at a consulting firm. Young has spent the past 15 years with Culver's. During that time, Young developed Culver's National Smallwares program and National Parts Replacement program, in addition to overseeing a new prototype design for the burger chain.
Scott Hoffland has spent the past 16 years as Restaurant Operations Director at University of Wisconsin-Milwaukee. There, Hoffland oversees more than 900 foodservice employees for the 28,000-student campus. In addition to his UW-Milwaukee responsibilities, Hoffland also serves as adjunct faculty for nearby Cardinal where he teaches management courses to adults.
Smallwares Stand Out
A color-coded food chopper, gasket tool, Bluetooth-enabled thermometer, smart coffee dispenser, no-lift steam dome and stay-flat baking sheet stand as the six Smallwares winners of FER's 2015 Smallwares & Tabletop Awards.
Smallwares entries to FER's 2015 Smallwares & Tabletop Awards, held in August at The Boelter Cos. SuperStore in Milwaukee, included the very latest in cool kitchen gear: carbon-steel fry pans, a stay-flat baking sheet, pressed-wood rocker knives, wall-mounted tong holders, a multi-blade, color-coded vegetable chopper and, of course, assorted dispensers—one for soft-drink lids, one for cereal and one for coffee creamer. The collection also featured an actual tool: a device to ease the installation of refrigerator door gaskets. Our technology-loving judges were pleased to learn about a new thermometer system that came with a Bluetooth enhancement and its own smart-phone app.
In all, some 20 products made the final cut after an initial review by FER editors to make sure they met the needed criteria. Once the finalists were determined, we asked manufacturers to submit samples for the actual judging process.
Then we invited six industry experts to join us in Milwaukee for a hands-on evaluation of each product's innovativeness, how well it solved a problem, its food or labor safety aspects and its durability. Our judging team doled out equal measures of praise and criticism as they perused the entries. Color-coded features earned overall praise for practicality and ease-of-use. But the judges didn't always agree. One entry received low marks from a judge because of its lightweight construction and appearance, while another judge praised the same item for its usability and looks.
Smallwares eligible for FER's annual competition include handheld, nonelectric kitchen tools created for commercial foodservice use. The category covers cookware and food prep items, cleaning devices, food safety items and so on. To qualify, the products had to be new to the market as of the May 2014 National Restaurant Association Show.
Read on for full details about the Smallwares winners and finalists in FER's 2015 Smallwares & Tabletop Awards, listed ahead with winners followed by finalists.
Introducing The 2015 Winners
• CDN took top honors with its Bluetooth Dual Probe Thermometer and Timer (BT482). The thermometer/timer uses Bluetooth to share cooking progress with smart phones or tablets. The companion app stores cooking history, images and notes. A cool point is BT482's ability to predict the product's finishing time once the temperature hits 90°F—and send an update to your mobile device. The unit comes with 2 304 stainless, waterproof probes for monitoring temperatures in 2 places at once. BT482 also can time up to 10 events simultaneously, eliminating the need for multiple timers.
Bluetooth Dual Probe Thermometer and Timer—CDN
cdn-timeandtemp.com
• A restaurant kitchen can be a tough, cruel world for most sheet pans, many of which begin to warp and bow with repeated use. But Chicago Metallic has a solution. Its Stay-Flat Half-Size Sheet Pan earned judges' accolades for the NSF-approved pan rim that keeps the sheet pan flat and stable. Its secret to success: the steel band enclosed within the rim, plus a ridge running the length of the side walls that makes the pan 30% sturdier than standard sheet pans, the company says.
Stay-Flat Sheet Pan—Chicago Metallic
chicagometallicbakeware.com
• Fielding its second Smallwares winner in two years, Eneron adds speed and efficiency to griddle cooking via a "no-lift" Steam Dome. The dome features a welded-on "water cup" at the top. Narrow channels and perforations guide drops of water down and inside the cooking cavity to create plenty of steam, minus the loss of heat and steam that comes with lifting the lid. "Love this," wrote one judge. "Awesome product and solution," enthused another.
Steam Dome—Eneron Inc.
turbopot.com
• Gasket Boss by Franklin Machine Products solves the problem of kinks, gaps and pinched fingers that come with installing new gaskets on refrigerated equipment doors. The kitchen tool, which consists of two adjustable rollers on a handle, allows users to apply sufficient pressure to more easily fasten push-in and dart-style gaskets. The Gasket Boss can be used for any size and shape refrigerator and freezer doors.
Gasket Boss—Franklin Machine Products
fmponline.com
• Easy Chopper 3 by Nemco Food Equipment demonstrates the company's dedication to continuous improvement. This third-generation model vegetable chopper impressed judges with ease- and speed-of-use enhancements. The first upgrade is color-coded push blocks made of sturdy nylon-based resin. The colors help avert the danger of blade-destroying mismatches. Nemco's other upgrade speeds cleaning thanks to a flexible gasket that meshes with the push block. When chopping is finished, the user unhooks two tabs and pulls up the gasket, instantly cleaning food debris from the push-block's crevices. Then simply wash, rinse, sanitize and store.
Easy Chopper 3—Nemco Food Equipment
nemcofoodequip.com
• Service Ideas neatly helps caterers and high-volume operators avoid the issues of "aged" coffee and empty servers with its new GIU1G Gravity Dispenser with TimerOne. The compact, elegant coffee dispenser features a "brewthrough" top, removable base, heavy-duty handle and a sight-glass to keep track of the amount of java remaining. Perhaps its coolest new feature is the Timer Kit—in the form of a small clock face plus dial—to help monitor fill times and coffee freshness. The dispenser is available in 1-, 1½- and 2-gal. sizes.
GIU1G Gravity Dispenser with TimerOne—Service Ideas
serviceideas.com
2015 Smallwares Finalists
ROCKIN' MY WORLD
With Pressed Wood Pizza Rocker Knives by American Metalcraft, the name says it all. Ergonomic handles, a sharp cutting edge and NSF-approved pressed-wood material will allow your display kitchen workers to really "rock and roll." The knives are available in 10- and 20-in.-long sizes.
American Metalcraft
amnow.com
IN THE BLACK
Carbon Steel and Black Steel Fry Pans from American Metalcraft take cooking to new levels. High heat tolerances impart perfect sears, while the pans' naturally nonstick surfaces allow food to slide easily from pan to plate. Available in 8-, 10-, 11- and 12-in. sizes, the pans can be used with induction, oven or broiler.
American Metalcraft
amnow.com
OPEN SESAME
Perfect for bar operations, EZ Access Hinged Lids from Carlisle Foodservice Products feature generously sized hinged-lid openings so your staff can access food quickly as needed. Other features include a sturdy double-hinge design, a secure fit so lids don't come off during use and notches for scoops.
Carlisle Foodservice Products
www.carlislefsp.com
YOUR NEW MAIN SQUEEZE
The unique double-hinge design of the Opti-Squeeze Citrus Squeezer extracts more juice with far less oomph than traditional hand-juicers, allowing your staff to hand-squeeze many more fruits. The heavy-duty enameled juicers come in 3 sizes and 3 (delicious) colors: lime, lemon and orange.
Focus Foodservice
focusfoodservice.com
NESTING INSTINCT
Measurement gets a precision-and-convenience boost from Focus Foodservice's Wet & Dry Nested Measuring Spoons and Triangular Nested Measuring Cups. The double-sided measuring spoons have a narrow head for powders and a round, nonstick head for liquids, plus magnetic handles that keep them together. The triangular cups, also with magnetic handles, make scooping a breeze.
Focus Foodservice
focusfoodservice.com
TONGS AT THE READY
Rack 'em up! Edlund's recently released Smart Tong Holders allow cooks to quickly stash and grab spring tongs during the heat of service. The wall-mounted holder, with its tong-shaped openings, keeps the tools open and ready to use—with awesome ergonomics—while minimizing chances of cross-contamination.
Edlund Co.
edlundco.com
FROM OVEN TO TABLE
Classic design is always in style, and that's the case with Emile Henry's Modern Classics Oval Baker. The thick-walled, double-handled ceramic casserole dishes come in 5 evocative colors: sugar, rouge, twilight, leaves and spring. The dishes' smooth bottom glaze won't scratch tabletops or counters.
Emile Henry
emilehenryusa.com
WEIGH WITH FINESSE AND PANACHE
Escali's Supernova Digital Scale has the finesse to measure minuscule increments—as little as 0.5 grams or 0.05 oz.—and the durability to weigh items up to 13 lb. This broad range eliminates the need for 2 scales. In other words, be it spices or dough balls you're weighing, Supernova has you covered.
Escali
escali.com
SEAFOOD ON HIGH
Keep seafood displays fresh, cold and elevated with the M'Pure Seafood Tray & Holder. The perforated heavy-duty aluminum flat-bottomed bowl features a removable ice grid for easy cleaning. The bowl comes in 14- and 15.7-in. diameters. The base stands 7.8-in. high.
Mauviel
mauvielusa.com
FLEXIBLE AND NONSTICK, TOO
Sasa Demarle now has applied nonstick silicone baking technology to sheet pans. The Flexipat Large Rectangle Baking Sheet Liner is ideal for cakes, bar cookies, savory foods and more. The Flexipat can hold up to 2.35 gal. of batter thanks to the 2-in. reinforced edges surrounding the 9½-in.W x 143/5-in.L sheet.
Sasa Demarle
sasademarle.com
CONTROL PORTIONS IN STYLE
The Slimline Dry Food Dispenser system displays and doles out preset portions of high-margin candies or toppings, using less than 13 in. of wall space. Models with up to 4 dispensers each can be mounted side-by-side to create an eye-catching flavor station. Color-coded trays deliver accurate portions via easy-to-use pull-down handles.
Server Products
server-products.com
SCALING UP
Taylor's versatile TE50 Digital Portion Control Scale can handle items as light as an ounce all the way up to 50 lb. Precision technology allows the scale to measure in 0.5-oz. increments. A built-in handle lets the scale be used around the kitchen, while its generously sized platform of 13.5-in.L x 11.5-in.W can hold a variety of shapes and sizes.
Taylor Precision Products
taylorusa.com
TOP-NOTCH SAVINGS
Vollrath's LidSaver2 combines style with the ability to dispense a single lid at a time—no more jams caused by overloading. Enjoy savings, convenience and improved hygiene thanks to the unit's simple, always-ready efficiency.
The Vollrath Co.
vollrath.com
COLD CREAM FOREVER (ALMOST)
Keep your milk and cream nice and cool for hours with Zojirushi's Stainless Vacuum Creamer/Dairy Server SH-MAE10. The server is made of 18/8 stainless with an easy-clean electro-polished interior. Its handle features an always-ready top so guests can pour without needing to twist the lid.
Zojirushi America
zojirushi.com
Tabletop Treats
An architect-inspired plate, fine melamine servingware collections and contemporary napkin dispensers were among the eight winners in FER's 2015 Smallwares & Tabletop Awards.
Easy on the eye, likely to last and reasonable on the budget were some of the attributes that earned eight products places in the winners' circle of FER's 2015 Smallwares & Tabletop Awards. The annual event took place in August on the second floor of The Boelter Cos. SuperStore in Milwaukee. The product array featured 37 finalists, pared down from 65 initial entries by FER editors.
Melamine pieces designed to resemble china, wood or slate earned consistently high scores for looks and durability. Two high-end porcelain servingware collections took top honors, including a French-inspired line whose rims—and bases—are etched with a wood-grain design and a Japanese-inspired line in which the hand-applied glazes capture the eye. Excellence in design and function propelled an elegant whiskey-glass collection, architectural ceramic plates and contemporary napkin dispensers to the top as well.
Our judges admired the variety and quality of this year's entries, applauding good design, practicality and durability. As always, entries ranged from stunning to sturdy and everything in between. Bamboo-tray-based buffet displays and super-thin disposable bamboo servingware, to name a couple, stood out as eco-friendly. Service Ideas submitted "naturally cooling" ceramics, in which the pieces felt a few degrees cooler when their matte finish was dampened with water. Melamine items once again proved runaway favorites thanks to new finishes, textures, colors, applications and durability.
But the judges pulled no punches. Entries they felt to be overpriced, lacking innovation or prone to breakage earned low scores. "Not new, not practical, hard to clean, can't fathom the price," were some of the comments we overheard as judges made their way past the many tables loaded with servingware.
Tabletop/Servingware candidates include anything that could be used on a well-dressed table or buffet. In a new twist this year, we expanded entry parameters to allow disposable products. To be eligible, products had to be new to market since the May 2014 National Restaurant Association Show. Manufacturers were asked to send product samples for the judging process.
Read on for full details about the Tabletop winners in FER's 2015 Smallwares & Tabletop Awards, presented on the following pages. Writeups about the finalists follow.
Introducing The 2015 Winners
• Carlisle FoodService Products' Mingle Dinnerware epitomizes the hand-thrown ceramic look popularized by the farm-to-table movement—executed in sturdy, elegant melamine. Each piece features a casual swirl that draws eyes to the center of the plate. The collection's textured surface and heft gives the look of china, minus the breakage. Mingle Dinnerware comes in amber, aqua, copper, smoke, ivy and fireball and is covered by a 2-year warranty. "Beautiful and unique," wrote one of our dealer judges about the line.
Mingle Dinnerware—Carlisle FoodService Products
www.carlislefsp.com
• Delfin/Steelite Int'l. brings its own melamine twist to china-esque Marisol dinnerware. The 14-piece collection stood out to judges for the plates' organic shapes, muted colors and, as always with melamine, its durability in the face of hard service. Marisol pieces, with their thin rims and unexpected curves, truly delight the eye. "Such a clean look; great [for anyone seeking] trendy melamine," noted a judge. Marisol comes in black, sand shell, starfish, gray and white.
Marisol—Delfin/Steelite Int'l.
us.steelite.com
• Fo Bwa and Slate Serving Boards by Elite Global Solutions won judges' hearts with a melamine take on natural materials—in this case, serving boards designed to resemble wood and slate. As a nifty touch, each piece has a ¼-in.-high footing that allows it to be picked up from flat surfaces with ease. Chefs can choose from bamboo, driftwood, hickory or slate renditions. The line is dishwasher safe as well as break- and chip-resistant. "A good alternative to wooden boards, especially since they're dishwasher-safe," a dealer judge noted.
Fo Bwa and Slate Serving Boards—Elite Global Solutions
egsfoodservice.com
• Aspen Whiskey Glasses by Nachtmann/Libbey Foodservice bring brilliance and clarity to high-end spirits. Lead-crystal construction paired with geometric vertical faceting around the perimeter add elegance to each sip. Judges hefted the glasses and admired their heavy feel and wide tops. The glasses' 11-oz. capacity allows ample room for ice. "Love the retro look and high-end presentation," the judges agreed.
Aspen Whiskey—Nachtmann/Libbey Foodservice
foodservice.libbey.com
• Rene Ozorio/Steelite Int'l.'s Wabi Sabi dinnerware combines porcelain shapes with reactive, hand-applied glazes, resulting in an exquisite, back-to-nature look in which no 2 plates are exactly alike. Embodying an imperfect style, the plates stand out for their natural semi-matte finishes and Japanese aesthetics. "Exquisite colors," noted a judge.
Wabi Sabi—Rene Ozorio/Steelite Int'l.
us.steelite.com
• Revol USA highlights porcelain Arborescence dinnerware set apart by carved rims offering the look of wood grain. The plates' arboreal design adds a rustic hint to elegant dining settings, thanks to careful input from 3-star Michelin Chef Regis Marcon. Leaving no detail to chance, even the bottoms of each piece include the collection's signature wood-grain engraved pattern. "Stunning, on-trend and affordable," said a dealer judge.
Arborescence—Revol USA
revol-usa.com
• If food is art, the plates are the frame—the rationale behind Steelite Int'l.'s geometric Frame servingware collection. The pieces feature squares and rectangles in sizes ranging from a single serving size to platters. "The simple design puts the food as focus," a judge noted. "Love these plates," added another.
Frame—Steelite Int'l.
us.steelite.com
• Tork Xpressnap Image Napkin Dispenser System by SCA Americas was created with upscale settings in mind. The dispensers come in aluminum and walnut in traditional or café styles. "Unique design, great for front-of-house applications—and they're affordable, too," said a judge. The manufacturer says guests consume fewer napkins from Xpressnap compared with standard dispensers.
Tork Xpressnap Image Napkin Dispenser System—SCA Americas
sca.com/us
2015 Tabletop Finalists
PEAK ELEGANCE
A semi-transparent blue-gray glaze accented by a shadow rim make Anfora/Steelite Int'l.'s Denali Gray line of artisanal ceramic servingware stand out from the proverbial crowd. The servingware is ideal for farm-to-table concepts or operators seeking quiet, definitive elegance for their table settings.
Anfora
us.steelite.com
YOU'LL TUMBLE FOR THESE
The Officina glass tumbler collection and matching serving bottle by Bormioli Rocco/Steelite Int'l. impart a timeless air thanks to their embossed circle design and ridged texture rings. A great alternative to mason jars, Officina drinkware carries an undeniable charm all its own.
Bormioli Rocco
us.steelite.com
POOLSIDE FRIENDS
Mingle drinkware by Carlisle combines the look of recycled glass with the absolute durability of Tritan construction. The material is BPA-free and "will not crack or develop craze lines," the manufacturer says. The Mingle collection includes a pitcher, several sizes of drinkware and a snack bowl in clear, smoke and teal colors.
Carlisle FoodService Products
www.carlislefsp.com
TRAY CHIC
Craster's Modular Display System encompasses a dynamic network of interchangeable display units. The system includes mix-and-match trays, stands and low-rising boxes that can be tilted forward to better showcase product. The systems are available in 2 finishes: Rustic, which has an oak look, and Refine, which simulates walnut.
Craster Ltd.
craster.com
READY FOR DUTY
Retro by Delfin/Steelite Int'l. features stackable melamine dinnerware with the look of china and the durability of, well, melamine. Ideal for poolside use, Retro pieces can serve as plates or bowls—but flip them over atop food and they serve as warmers, too.
Delfin
us.steelite.com
LIQUOR DELIVERANCE
The Manhattan Glass collection by Duralex is refined, with vintage-style vertical facets showing off the color of liquors, yet tough enough to withstand temperature extremes of bar settings, from freezer to warewasher. The glasses come in 3 sizes—a 7.8-oz. lowball, a 10.9-oz. lowball and a 10.6-oz. highball.
Duralex
duralexusa.com
RUSTIC ELEGANCE
Blood orange, chili, leek, vanilla bean and pepper are the 5 delicious colors available for Kiln Dinnerware by Front of the House. The Kiln collection combines personality with porcelain practicality. If "rustic chic" is what you seek, look no further.
Front of the House (FOH)
frontofthehouse.com
UNDERGROUND CONNECTION
The ROOT Collection by Front of the House features serving boards and display pieces carved from fallen fir trees, highlighting the wood's texture, grain and personality and adding an outdoor organic touch to your tables. Like snowflakes, no two pieces are alike.
Front of the House (FOH)
frontofthehouse.com
WE ZIG, YOU ZAG
Impulse! Enterprises brings a new twist to the world of silverware with Prima Spoons. By adding a well-calibrated zigzag to the handle, the spoon suspends neatly on the side of the glass, mug or bowl—no need to place it on the table surface.
Impulse! Enterprises
impulseenterprises.com
BREWMASTER'S FRIEND
Libbey Glassware's new Craft Beer Glass elevates beers to new heights. The narrow top concentrates aromas to enhance flavor, the graceful contours are easy to hold and the thick sham (base) adds perceived value and stability.
Libbey Glassware
foodservice.libbey.com
BLACK-AND-WHITE AND READ ALL OVER
Black-and-white newspaper print design on Paper Fry Cups by American Metalcraft sets them apart from the crowd, while low-cut fronts showcase the food inside. The cups are available in 4- and 6-oz. sizes.
American Metalcraft
amnow.com
DIP AND TASTE
From dipping to serving, TableCraft presents a new twist on the classic ramekin. The company's multiuse Little Dipper and Big Dipper bowls can hold side dishes, snacks, sauces and condiments. Their unique, large oval design provides more sauce coverage for foods when dipping. The durable and break-resistant melamine bowls are safe for temperatures up to 158°F. NSF-listed, the bowls are dishwasher safe and easy to clean. Attractive and functional, the bowls are available in 3- and 5-oz. sizes in black and white.
TableCraft
tablecraft.com
SERVING CHOICES ABOUND
TableCraft's collections of Wire Baskets With Integrated Ramekin Holders conveniently dress up any meal with ease. Attractive basket designs hold 2- and 3-oz. ramekins; the holders also can be used as serving handles. The ramekin options allow you to portion sauces or sides while offering an inviting high-volume alternative to the classic plastic basket. Three stylish basket families are available in round, oval and square shapes. The families are: Mediterranean and Artisan in black, powder-coated metal as well as Meranda in black, powder-coated metal and heavyweight chrome-plated metal.
TableCraft
tablecraft.com
WALK AND SNACK
Whether serving sides to a table or small-bite appetizers at a buffet, TableCraft's Wooden Disposable Cones and Boats create an eye-catching upscale food presentation. Perfect for small portions or side options, catered events or buffet or banquet service, guests appreciate the nature-inspired serving solutions. The pinewood boats and cones are environmentally friendly, biodegradable and compostable as well as grease-resistant. Conveniently packaged for cash-and-carry service, the containers come in 4 sizes: a 2-oz. small wood boat, 3.75-oz. wood boat, 1.05-oz. mini serving cone and 3-oz. small serving cone. An 11-in.L x 5-in.W stainless cone holder also is available.
TableCraft
tablecraft.com
SERVE FLIGHTS WITH FLAIR
Sample and serve beer, wine, liquors, desserts and more with Tomlinson's new Flight Sample Boards and Paddles. Made of NSF-approved Richlite, the boards and paddles are durable, sturdy, stain- and water-resistant and dishwasher safe. Richlite heat-resistant surfaces are made of resin-impregnated paper composite. All of the lightweight boards and paddles hold glasses with a 2.-in. diameter bottom. Available in a natural finish, the boards and paddles come in 6 different sizes to serve 3, 4 or 5 glasses. The flight boards have grip areas on each end for easy transporting and serving; the paddles feature a 5-in. handle.
Tomlinson Industries
tomlinsonind.com
NATURAL DINNERWARE
Plain, undecorated porcelain is popular among restaurants to set dishes perfectly in scene. However, Villeroy & Boch's Amarah dinnerware adds color to the table with artistic brush strokes in gentle, natural earth and water tones, creating an organic setting. The line's strong, vibrant colors feature one key characteristic: simplicity. The on-trend tableware adds sensuous colors to show off food quietly and confidently and in a surprisingly understated way.
Villeroy & Boch
pro.villeroy-boch.com
SHAPE PROVIDES BENEFITS
Walco's newest addition to its popular Idol Collection is Idol Buffetware. The serving pieces are designed to mimic the legs of Idol Chafers. The 18/10 stainless buffetware feature sleek, hollow handles to dissipate heat, ensuring comfort even when left in heated chafer foot pans. Pistol-grip finger holds enhance secure handling.
Walco
walcostainless.com
THIS LITTLE PIGGY HAS ROAST BEEF
A statement piece your guests will be talking about long after they take their last bite, Steelite's Welsh Slate line features a Pig Charcuterie/Cheese Board in its Fine Collection. Perfect for the farm-to-table movement, the whimsical board provides a canvas for artisan meats and cheeses. The Fine Collection, designed with elegant, sharp lines to complement contemporary food presentation, has a bold appearance that contrasts beautifully with the colors of cuisine. A grooved border captures sauces and dressings. The collection's feet lift the slate off of the table, making the presentation even more spectacular and allowing easy lifting of the plates.
Steelite Int'l.
us.steelite.com
NO BREAKAGE, NO WORRIES
WNA's Reserv line of single-use, stemless tableware provides food and beverage service inside, outside and even poolside. Made of flexible, shatterproof PET, the tableware is ideal for use anywhere glass is prohibited. The line has a visually appealing design and clarity that allows for stunning presentation. Available are a 10-oz. flute and a 12-oz. glass; a 12-oz. carafe/cruet has a clear lid that makes transportation a snap. The carafe is perfect for serving wine, salad dressings, coffee creamer and more. Small case packs require less storage space and a smaller financial investment.
WNA
wna.biz
COVERED DISHES CREATE ANTICIPATION
Libbey Foodservice introduces Personal Chafer Dishes in 4 sizes from World Tableware. Unique stainless, miniature chafers are great for personal-sized foods or shared appetizers and desserts that should stay warm on the table. Each chafer is a set that includes a base, bowl and handled lid; a large, flat knob serves as a pedestal for the lid, which, when turned upside down on the table, can be used as a bowl for waste, such as shells. Sold separately, the heating element holder has a peg that fits snugly into the base. The chafers come in 5-, 6-, 7- and 8-in. sizes.
World Tableware/Libbey Foodservice
foodservice.libbey.com
EASY GLASS FOR HARD CIDER
Hard cider is trending, and Libbey Foodservice's Hard Cider glass has a distinctive design with an apple-shaped bowl and a flared top that intensifies cider's aromas and enhances its flavor. Below the bowl, the glass narrows, and its shape, combined with a ridged pattern, makes the glass easy and comfortable to hold. Created to be a part of Libbey's Fizzazz pattern family, the glass helps retain the cider's effervescence and prolongs the freshness of a just-poured drink.
Libbey Foodservice
foodservice.libbey.com
SHAKE UP THE TABLETOP
Pep'S 2-in-1 Salt Shaker and Pepper Mill from Peugeot is whimsical and functional at the same time. Available in 4 colors—yellow, green, red and black—the bottom of the mill is rounded so the unit rocks on the tabletop for an interactive conversation piece. Inside are Peugeot's reliable grinding mechanisms. The clear top portion, designed in a wavy shape, holds salt; you can adjust the grind by turning a top knob. Peppercorns store in the colored base, and the grind is adjustable from coarse to fine as well. Easy to refill, the mill is 3-in. tall and comes with a 5-year warranty.
Peugeot
peugeot-saveurs.com
TEXTURED ELEGANCE
Add the sense of touch to taste, sight and smell at the table with Dillon pattern flatware from Reed & Barton/Libbey Foodservice. The 18/10 stainless ware features an attractive weave-patterned handle that adds texture to the grip. Dillon is available in 4 types of spoons (teaspoon, dessert, bouillon, demitasse); steak knife and dinner knife; cocktail, salad and dinner fork; and butter spreader.
Reed & Barton/Libbey Foodservice
foodservice.libbey.com
THE GREAT COVER-UP
Cloches, bell-shaped covers, originally designed to protect seedlings from cold and frost, get reinterpreted in high-end crystal dish covers that make an elegant and memorable service impression. Formed from the bowls of RONA crystal wine glasses, the cloches are available in 3 sizes: 5½-in.H x 3¼-in. diameter, 6-in.H x 3½-in. diameter and 3¾-in.H x 4½-in. diameter. The bell-shaped cloches can pair with plates or become part of a buffet/platter presentation.
Steelite Int'l.
steeliteusa.com
BORDER BEAUTY
Schonwald Grace dishware collection includes plates, platters, bowls, accent dishes, teacups and saucers in several sizes and depths (flatter coupe plates and deeper rimmed versions) and in some very unusual shapes. A new take on 5 pieces in the collection is a color around the rim, a fluid plum border that gradually fades from a rich, solid plum to a lighter shade to the crisp, continental white at the center, which is the signature color of the line. Grace is a sleek, thin-body-profile style of dish that nonetheless can easily withstand the rigors of a busy commercial kitchen.
Schonwald/Libbey Foodservice
foodservice.libbey.com
MIRROR FINISH, FLAWLESS SERVICE
Magisso serving tools from Service Ideas help your waitstaff serve in style. Made of premium, mirror-finish stainless, each serving piece—a cake server, pie server, cheese knife and cheese slicer—is made from 1-piece construction. The unusual cake server, which looks like a loop of stainless, cuts a perfect slice and then lifts and holds the slice for plating when the server gently squeezes the handle end. The pie server, cheese knife and cheese slicer all rest on their sides to reduce the mess you get when you put used utensils down between servings.
Magisso/Service Ideas
magisso.com
EVAPORATIVE COOLING
So simple. So smart. The Magisso line of Self-Cooling Ceramics from Service Ideas keep their contents cold and, with a matte-black finish, look great doing it. Just soak the ceramic containers in water for a minute or 2 and a naturally cooling evaporative process begins. The pieces will hold their contents cold for 2-4 hours. Beverage and food containers are available. The beverage line includes an ice bucket, wine cooler, champagne cooler, carafe, sake set and mugs. For foods, the line includes a variety of bowls, serving bowls and platters. The evaporative cooling of the ceramic eliminates condensation, too.
Magisso/Service Ideas
magisso.com
SIMPLE, PRACTICAL, PERFECT
Tulip Bowls from Steelite's Performance line of china range from 2¼-67 oz. (2¾-8¾-in. diameter) and feature clean, softly rounded bowls on pedestal bottoms. Ideal for serving everything from dips, sauces, sides, soups, salads, pastas, noodles dishes, curry dishes and desserts.
Steelite Int'l.
steeliteusa.com
BOLD PATTERN, BEAUTIFUL SHAPES
High-definition accent lines in a black circle pattern stand out against the white color of the Silk Tracer Square Plates dinnerware line. Two new plate sizes are available: 6¼- and 11¾-sq.-in. versions. The china is made from thin, light, white Royal Rideau that's finished with an unleaded, rock-hard glaze to reduce scratching. The china is fully vitrified to prevent moisture absorption. The accent lines draw attention to the food and add interest to the tabletop service.
Syracuse China/Libbey Foodservice
foodservice.libbey.com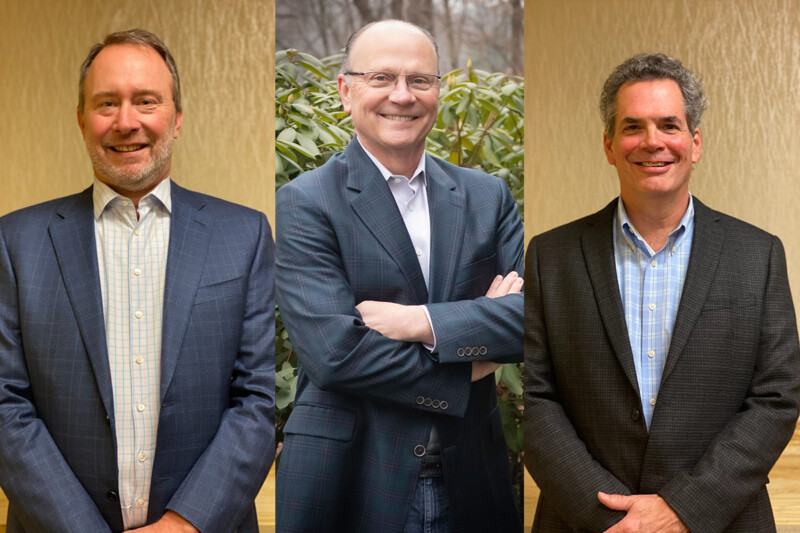 Appointments
New executive vice president, contracts previously held the role of president of Singer Ashland.