Equipment Comparisons
Heavy Cooking Equipment
High Intensity
Thought of as the quintessential pizza oven for c-stores and kiosks, countertop conveyor ovens have evolved to fit lots of additional applications. You'll find these lightweight, compact workhorses, capable of operating on most commercial-grade countertops, in restaurants and hotels, sandwich shops, delis, bars, food courts and even mobile food trucks.

Countertop conveyor ovens toast sub sandwiches; bake cookies, pretzels, breadsticks or biscuits; and cook appetizers, sausages and fish along with pizza. Defining a "conveyor" as any unit that, through mechanized means, moves food into and out of the heat zone automatically, end users applaud the equipment's ability to automate the cooking process—resulting in labor savings—and provide consistent results. Plus, unlike fast-cook, microwave, toaster or other batch-style ovens, many models start cooking one menu item while finishing another, leading to high-volume throughput.

You'll find ovens on the market that offer primarily one of two types of heating processes: impingement or radiant heat. Which process you choose depends on what menu items you plan to prepare in your oven. Both types of ovens cook many different products well. Ovens that use impingement excel at baking items such as pizzas, cookies, pies and breads, while ovens that rely on radiant heat are best at toasting, melting, grilling or broiling.

Make no mistake, while highly flexible, the ovens still turn out pizzas extremely well. In fact, one trendsetting, fast-casual concept, launched in 2011, depends on two stacked countertop conveyor ovens to prepare individual, handcrafted pizzas with fresh ingredients in less than five minutes.

Trying to add a countertop conveyor oven to your equipment lineup or upgrade your current model? You'll find newer units are quieter and sport improved cooking speeds, better energy efficiency and advanced menu programming. Many electric models now come without an external ventilation requirement, cutting down on installation and operating costs and opening doors to more applications.

Before you make a purchase, read on for tips on choosing the right oven size, cooking process and power type (gas-fired or electric) and what to look for in overall construction and ease of maintenance.

Sizing It Right
Probably the best place to start your homework is to decide exactly what menu items you want to prepare in your oven, their maximum width or diameter and how much you need to produce in a certain amount of time. Manufacturers will help match a model to your production requirements.

Typical countertop units come with a conveyor-belt width ranging 14-24 in. and a conveyor-belt length up to 56 in. You can specify optional extension trays, which help if you're cooking longer products, such as sub sandwiches, and want the extra room to unload or if you need more time to remove products from the belt before they start to pile up. Split belts are available in 50/50- or 70/30-ratio widths and make sense if you want to simultaneously cook assorted products at different speeds. Many models allow you to adjust belt speed(s) using controls while others require manual adjusting. How fast you set the belt to move depends on product cook time and chamber length.

Conveyor belts traditionally move menu items left to right or right to left, but one maker offers a traditional conveyor along with a side-to-side unit and a unique carousel-style rack system. The latter features a circular rack for a cooking surface; the system rotates one side of the rack into and out of the heat chamber. The design minimizes hot-air escape because the cooking chamber only opens when food enters or exits. And you can adjust the temperature up or down 25°F between each item.

The maker's side-to-side oven has a tray slide instead of a belt. When one side slides into the cooking chamber, the other side slides out, ready for loading. When the original side slides out cooked, the newly loaded side slides in to be cooked. Again, the cooking chamber is only open when food enters or exits. You can adjust the temperature 25°F per side, for a total cooking differential of 50°F from product to product.

When sizing ovens, keep in mind countertop models are stackable. Generally speaking, you can stack two high on a countertop or up to three high on a low stand, sold separately. This option comes in handy if you're limited on space but require high-volume production.

Additionally, measure how much countertop space you're willing to dedicate to the oven, and make sure the model you're considering fits. Check the clearance requirements for ventilation; it varies by brand. And think about the future of your operation. Will the oven you're researching meet your needs now and well into the future?

It's Hot In Here
Along with the size of the oven, think about what heating process best matches your application. As mentioned earlier, the market offers ovens using impingement or radiant heat, which may come listed as infrared-radiant or quartz-infrared heaters. Impingement ovens have dominated the market; end users appreciate the quality, consistency, greater throughput and reliability. But radiant-heat conveyor ovens continue to grow in popularity, and some models rival impingement ovens in speed and throughput.

Reaching up to 600°F, ovens boasting impingement—or "convection on steroids," as one maker puts it—use internal "fingers" or ducts to concentrate hot air into jets that blow away the air and moisture layer that insulates the uncooked food. The technology substantially speeds the cooking process compared with traditional convection heat.

Makers have made many notable improvements to their impingement models since the technology was first introduced. Several makers tout independently adjustable top and bottom impingement jets, allowing you to customize how much air you direct at different types of food.

For instance, if you prepare a pizza, sandwich or other dense product, you could choose a higher air setting on top to penetrate deeper into the product for faster cooking. If you prepare cakes, brownies or other products in a semi-liquid state—or a product needing less browning, such as precooked biscuits—you could opt for lower air settings.

Another maker has streamlined the airflow in its oven's chamber, increasing the impingement air velocity. This simultaneously allows the oven to cook foods at a lower temperature—which originally was 525°F; latest model can cook at 450°F—yet still cook items 30% faster than previous models.

While dough products cook especially well with impingement, as stated previously, if you're constantly preparing proteins, an oven using radiant heat up to 900°F will sear products and lock in moisture. Radiant-heat ovens also brown and crisp foods easily. Considered powerful versions of infrared toasters that can bake as well as heat and toast, these ovens came to market when makers started producing countertop versions of their bigger models.

Along with their ability to toast, melt, grill or broil well, radiant-heat ovens have fewer moving parts (no blowers) to provide simpler, quieter operation and good reliability, manufacturers say.

However, one impingement-oven maker notes they've reduced turbulence in their units to make them less noisy. If you plan to use your oven in the front-of-house, noise should factor into your final decision.

Power Choices
Countertop conveyor ovens come gas-fired or electric with at least one maker offering a liquefied petroleum-gas- (propane-) powered model for mobile food trucks or catering operations. Make sure you match the power type—and electrical requirements—to your facility.

Looking for a ventless model? You'll need an electric oven. Many makers sell these with catalytic converters—internal-smoke-, grease- and odor-emissions-removing filters—which typically qualify electric ovens for ventless operation. Be sure to check your local codes and note UL doesn't certify ventless operation if ovens are used to cook foods classified as fatty raw proteins, including bone-in, skin-on chicken; raw hamburger meat; raw bacon; raw sausage; or steaks.

Meanwhile, one reason to opt for a gas-fired model over an electric unit—assuming you have the option of either—is operational cost. Gas-fired models are generally less expensive to run, says one maker.

Makers continue to find ways to conserve energy. One maker made its ovens more energy efficient by using fans to draw cool air from the back of the unit (to cool electrical components and the outer shell of the oven) and force it out of louvers above the openings at the load and unload ends, creating an air curtain that helps contain hot air inside the chamber.

Several impingement models sport an energy-saving idle mode. During slow periods, such as early in the morning or between lunch and dinner, the oven senses it's empty and automatically switches the blowers to low speed.

Construction And Maintenance
After narrowing down your choice of size, heating process and power type, take note of the oven's controls, overall construction and maintenance requirements.

Newer ovens feature digital controls for superior cooking accuracy. You might want a unit with a large display screen so you can monitor it from across the kitchen. If you plan to prepare a limited set of menu items regularly, opt for a model with preprogrammable menu settings. One model offers four preset menu options while another unit holds up to 600 recipes.

Choose a quality-constructed oven made with high-grade stainless; you don't want anything to rust. Peer inside the chamber and look for welding instead of rivets, says one maker.

Test how easily the oven comes apart for cleaning. Some models feature removable panels for easy access to interior components.

To maintain your oven on a daily basis, turn the unit off, disconnect the power and let the oven cool completely. Next, remove the crumb trays and optional belt extensions and wipe them down with a clean, damp cloth and an approved cleaner. Remove food particles stuck to the conveyor belt by gently scrubbing with a brush or wiping with a damp cloth. Clear the fan of dust or flour.

Periodically remove interior components, such as the conveyor belt, as recommended by the manufacturer, and thoroughly rinse, wash and sanitize it using an approved cleaner. For certain impingement models, remove the jets or fingers (there are usually about four) that distribute the hot air and clean them according to the manufacturer's recommendations. Make sure to return each finger to its original spot or the oven won't work. At least one maker has developed jet plates—blocks that hold a set of fingers—so you only need to remove, clean and replace one piece holding four fingers rather than individually cleaning and replacing all four fingers separately.

Beware of typical end-user mistakes, including dropping utensils, foreign objects or clipboards/paper tickets onto the conveyor belt. What lands on the belt will get cooked at best, and start a fire at worst. Some models include emergency shutoff buttons. For more maintenance tips, see "Trouble-Free Conveyor Cooking" in FER's August 2014 issue.

Maintain your oven and it will last as long as 25 years, one maker notes, with only occasional service calls, such as replacing heating elements or a fan. Many manufacturers offer a one-year parts and labor warranty.

Packing lots of power in a small footprint, a countertop conveyor oven will automate how you prepare a variety of menu items at high-volume rates.

Top 10 Homework Questions:
• What menu items will I prepare in the oven?
• How many different products do I need to prepare and how fast?
• Does the oven I'm considering fit within my available space?
• Will this model meet my needs now and in the future?
• What heat process (impingement or radiant) makes sense for the food I'm preparing?
• Do I need a gas-fired, electric or propane-powered oven?
• Does this model have an energy-saving idle mode?
• Does my operation require an exhaust hood over the oven, or can I take advantage of ventless options?
• How many preprogrammed menu options do I need?
• How easily does the oven come apart for cleaning?

Conveyor Oven Gallery
BAKEMAX CONVEYOR BAKER MODEL BMCB001
The Conveyor Baker features a variable-speed stainless conveyor belt that carries items into the heat chamber equipped with radiant, quartz-sheathed heaters. The heaters (2 above, 2 below) can be regulated by separate controls. The oven bakes up to 16 12-in. or 12 14-in. pizzas per hour and features the company's TouchSafe burn-proof design that prevents the outer oven from getting overly hot during operation. The unit delivers a fast startup. With a 3-in.H opening clearance, the oven measures 18.5-in.W x 40-in.L x 15.7-in.H.
bakemax.com

MIDDLEBY MARSHALL MODEL PS628E
Shown here with an optional stand, the PS628E (the WOW!) electric countertop conveyor oven uses a patented energy-management system to reduce energy consumption and increase cooking efficiency. The oven uses impingement technology and cooks product up to 30% faster than other conveyor ovens, according to the company. An automatic "energy eye" senses the oven is empty and switches to idle mode. Overall, the oven measures 52-in.L x 36-in.D x 22.5-in.H with a 28-in.L cooking chamber and an 18-in.W belt. Typically, the oven operates without a ventilation hood, but check local codes and regulations. Designed for easy cleaning, the oven's removable parts include crumb pans, end panels and air fingers.
middleby-marshall.com

HOLMAN/STAR MODEL UM1833A
Use Holman's Ultra-Max countertop electric conveyor oven with impingement technology to prepare deep-dish to thin-crust pizzas, pretzels, desserts, appetizers and more. The oven measures 30.4-in.D x 20-in.H; length depends on the stainless, 18-in.W conveyor belt, which is available in 33- or 50-in.L. Easy-to-use electronic controls with an LED display provide time, temperature and programming options. The stackable oven typically doesn't require ventilation; check your local codes. The stainless front panel and clamps allow easy access to the heated chamber for cleaning and changing impingement nozzle plates. Choose a 208V or 240V model.
star-mfg.com

LINCOLN DCI V2500
Lincoln's Digital Countertop Impinger V2500 series ovens are easy to program with push-button controls and front-selectable conveyor-belt directions. Choose cook times between 30 sec. to 15 min. Four separate, removable air-distribution fingers allow for flexibility of different cooking stages. Available with a 31- or 50-in.L conveyor belt, Model 2501-V measures 31-in.D x 18-in.H and can be stacked 2 high. The U.S. version, available in 208V and 240V single-phase versions, comes with a factory-installed NEMA 6-50 plug. The oven features a catalytic converter and is UL KNLZ listed for ventless installations.
lincolnfp.com

OVENTION MATCHBOX 360
Bake, broil, cook, grill and roast using the M360 with precision impingement technology. The UL-certified ventless electric oven features a carousel-style rack system; the cooking cavity only opens when the oven loads or unloads product. This unique feature minimizes hot-air escape and reduces air extraction and HVAC costs. Model M360-12 measures 29.3-in.W x 37.3-in.D x 19.9-in.H. The FlexTemp feature increases or decreases the oven cavity's temperature by 25°F from 1 menu item to the next. The unit comes with USB menu-upload capability. You can preprogram up to 600 cook settings.
oventionovens.com

TURBOCHEF HIGH H CONVEYOR 1618
Sporting an independently controlled top and bottom impingement heating process, the HhC 1618 cooks up to 35 12-in. pizzas per hour. The oven is perfect for high-production kitchen environments because it cooks up to 50% faster than conventional conveyor ovens. Because of its patented technology, electric operation and small footprint, the unit is UL-certified for ventless operation. It measures 36- or 48-in.L depending on the belt, 31.7-in.D and 17-in.H and is stackable up to 3 units high with a stacking kit. The oven comes with an energy-saving idle mode and is easy to clean thanks to a mono-finger design.
turbochef.com
---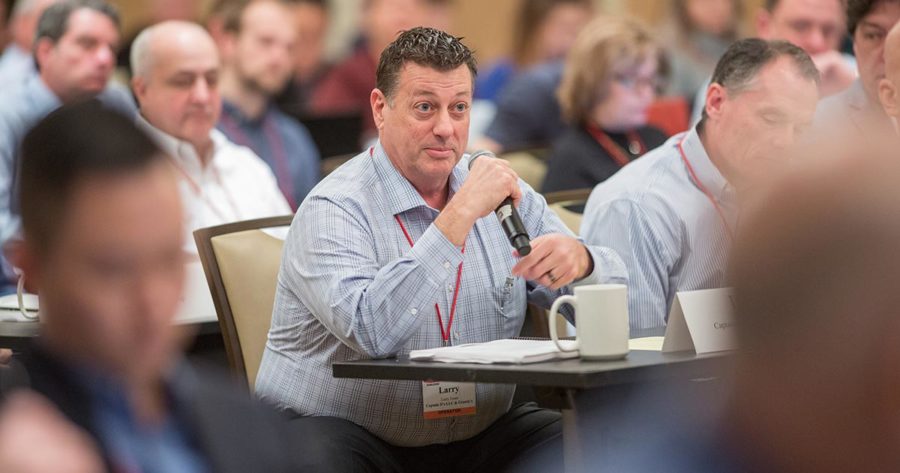 Advance Your Knowledge of Foodservice Equipment Technologies at MUFES
MUFES is a one-of-a-kind event for foodservice equipment decision makers from multiunit chains and noncommercial facilities.