BACK STORY: Winning Customer Service
Ballpark Village, the St. Louis Cardinals' entertainment district in St. Louis, was preparing for its most important day of the year—Opening Day. As the restaurants and bars amped up their kitchens, things came to a major halt one week before the event. Managers at one of the large restaurants discovered their main walk-in cooler was down.
They made an emergency call Saturday morning to Commercial Services Inc., Chesterfield, Mo. "We went down and diagnosed a bad evaporator," says Howard Helgenberg, CSI's Sales and Marketing Rep. "An electrical short ruined the coils, leaving no option but to replace the evaporator unit." This type of equipment should run for decades with proper maintenance, but as the unit was less than a year old, he determined that the issue arose from a factory defect.
New equipment is a gamble because regardless of kitchen policies and training, you can neither predict nor prevent defective units. CSI knew the problem and the solution—the issue was the restaurant's timeline. "It was Saturday, two days before we could get in touch with the factory," Helgenberg says. He took initiative and called in a favor with a representative at the walk-in cooler manufacturing facility.
CSI does warranty work, stocks parts and trains technicians with the equipment manufacturers. Having these contacts (including cell phone numbers) and relationships with suppliers is a huge asset, particularly in emergencies. "That's how we get and keep high-profi le accounts like those in Ballpark Village," he explains.
Thanks to the weekend expediting, CSI's walk-in cooler contact put through a special order for a new evaporator unit and had it shipped overnight. The part arrived Tuesday morning and CSI technicians had it installed and functioning that afternoon. "Luckily for the restaurant, the unit was still under warranty and all of the expenses were covered," Helgenberg says.
"It's rewarding to make the difference and help these customers keep their high profile," he adds. For popular locations like the restaurant at Ballpark Village, it's important to have a service company that will treat you as a top priority.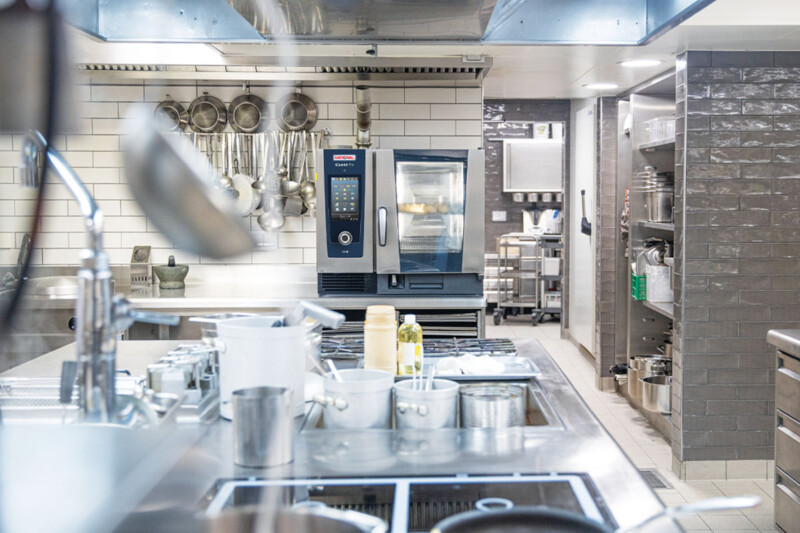 Design Trends
The foodservice equipment-and-supplies industry continues to make strides toward a connected kitchen—all to benefit operators.