Anatomy Of A Walk-In Cooler
Value engineering (i.e. going for the least-costly model or construction) may be a good idea in theory, but in the world of walk-in coolers, which safeguard thousands of dollars of your inventory, being cheap can cost you dearly. Unlike a car, where the upgrades tend to be luxury items, the "extras" you can purchase on a walk-in are worth every penny. Employees may kick the door open when their hands are full or ram a cart to push in and out. If the door takes a prolonged beating without reinforcement, it can compromise the seal and jeopardize the walk-in's ability to keep food cold. So, think about adding kick plates to the door. Spend a few hundred dollars more to get bright, long-lasting and energy efficient LED lighting, a good flooring material that's realistically rated for the load (people, cart or pallet-truck traffic), and a good quality air curtain. Upgrading on the smaller details will give you a walk-in that lasts longer and performs more efficiently than a low-ball version. Here are some key pointers for spec'ing a walk-in.

On monitors, you want a visible temperature, a light switch and some basic alarms at the minimum. Other features may include advanced alarms or "door open" features.
Opt for a handle that accommodates a padlock or install a key-lock bolt depending on your need for higher security.
LEDs are the best choice over incandescent bulbs and fluorescent tubes. One new LED is just 18-in.W x 5-in.D, gives off as much light as a 4-ft.-long LED and provides 50,000 hours of light.
Metal, FRP (fiber-reinforced polymer) or wood are door frame options. Metal is likely the strongest, but conducts heat and cold. FRP is very strong and does not conduct heat or cold. Wood is not conductive either, but it's not water friendly and can rot.
Foamed-in-place panels offer the best insulation. FIP extends insulating foam edge to edge on every panel. The polystyrene in laminated versions and high-density urethane rails in hard-rail panels are less insulating.
Floorless walk-ins are a great option (but must be insulated if not on grade or a freezer). Other options are a triple-layer floor insulated with wood, a low-gage-metal skin and then a top layer such as tile, diamond-tread or a seamless epoxy.
Measure for shelving twice. How deep, how high and how corrosion-resistant does your shelving need to be for the products you store? Don't forget to account for the evaporator and the door.
Swing door curtains or air curtains are the best choice as they are less likely to get in the way. Standard strip curtains are a more economical option, but they often get in the way and may get messy.
A large institution with multiple walk-ins will benefit from a central remote refrigeration system. If there's any chance of running the units on a closed-loop, water-cooled system, the energy savings are huge. Most units, however, are self-contained and air-cooled.
Doors are available with hundreds of options, but it's smart to specify three hinges on a wide door, a window for visibility, kick plates, heavy-duty handles, a door closer and an easy-to-replace gasket.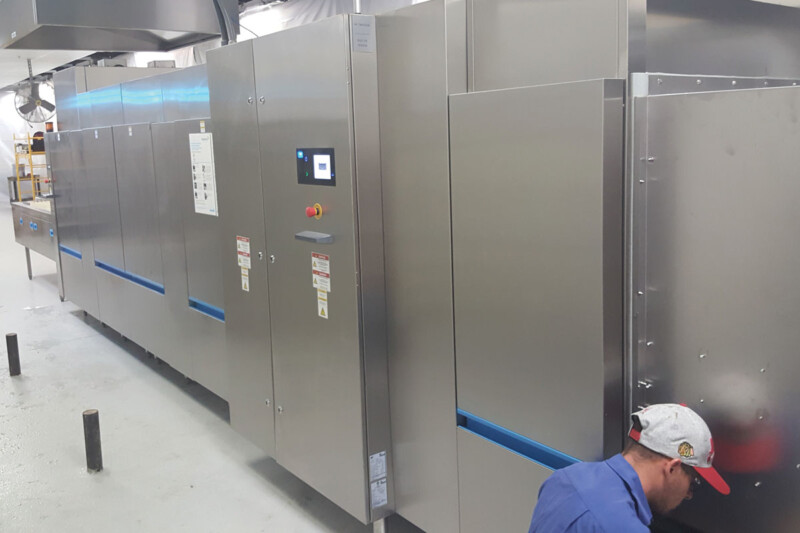 Dishmachines
Bob Colin, Heritage Service Group, finds an inch throws off an install.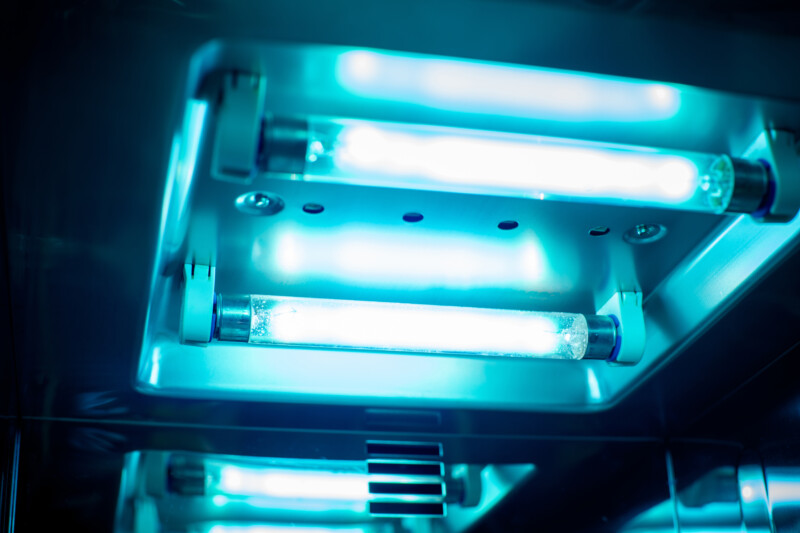 Maintenance
For years, ultraviolet light has been integrated into foodservice equipment. Now its getting a second look as a tool for fighting COVID-19.