What's a kitchen without a stove? The versatility of an open-burner cooktop makes it perhaps the most commonly used form of cooking in the world. Add an oven underneath that cooktop, and you have one of the most standard pieces of equipment in foodservice kitchens.
But not all ranges are alike. The range of ranges, if you will, is quite broad, but generally falls into three categories— light duty, medium duty and heavy duty. These go by various nomenclatures, such as "café," "restaurant" and "hotel," which can create some confusion as to exactly what you're getting. Again, in general terms, these names would correspond with light, medium and heavy duty. But that doesn't mean you have to be a hotelier to need a heavy-duty range. Nor does it mean that you have to settle for a light-duty range in your café or bistro.
Simply put, you need a heavy-duty range if your operation meets one or more of the following criteria: your kitchen consistently produces a high volume of food; your operation invests in equipment intended to last a long time; menu items require a degree of customization on the cooking line; and/or chefs cook in an open kitchen in front of customers. In this article, we focus on heavy-duty, gas-fired models (with oven bases) as they're the most preferred among operators.
Built To Last
The big difference among the various categories of ranges is in construction. Heavy-duty ranges are built to take the heavy load and constant abuse from high-volume kitchens. A good quality heavy-duty range starts with a welded frame and body construction using heavy-gauge steel. You'll find 14-gauge steel typical, with some makers using even thicker 12-gauge steel. Anything made with 16-gauge or higher is likely a medium- or light-duty range.
Those heavier gauges provide a solid foundation for the oven box and the cooktop, and the extra heft is evident in the slightly oversized dimensions and weight of heavy-duty ranges. Several manufacturers make ranges in all three categories, and one says the weight difference between its medium-duty and heavy-duty ranges is at least 60 lb.
Heavy-duty ranges also include more stainless throughout due to its durability, cleanability and resistance to corrosion and oxidation. Plus, stainless looks good. On higher-end models, for example, you'll find that the sides, front, back, bottom, plate shelf and back riser are stainless, along with parts such as burner boxes, aeration bowls, pilot tubing and tips, and even oven interiors and tubular burners.
Depending on the make and model, grates may be cast iron, cast steel or stainless. All of these materials are very durable and long lasting, but stainless is the easiest to clean. Knobs are metal, not plastic, and attached with set screws so they don't come off easily.
Oven interiors on high-end, heavy-duty ranges are stainless; others feature interiors with all surfaces covered with porcelain, a material that's relatively easy to clean and holds heat well. One range maker even covers the outside surfaces of the oven box with porcelain. (Porcelain is glass, however, and can crack, which is why stainless may be the preferred oven lining.) On less expensive and less durable restaurant ranges, only a few oven interior surfaces might be porcelain, and some models use only aluminized steel inside ovens.
Ovens on heavy-duty ranges also are typically insulated, something not often seen on lighter-duty ranges. And oven doors use heavy-duty, counterbalanced hinges. (It's no surprise in many operations that someone from the cleaning crew will use an open oven door as a footstool to reach hood filters!)
Now You're Cooking
Performance is likely the main reason your chefs and cooks will press you to invest in heavy-duty ranges versus restaurant ranges. When it's busy behind the line, they want a range with the power to sauté; sear meats, poultry and seafood; and bring sauces or water for pasta to a boil very quickly.
As with any gas-fired piece of equipment, the more Btu you bring to the party, the higher the heat in most cases. Burners on a heavy-duty range top typically run from about 30,000-40,000 Btu/hr. with most operating around 32,000- 35,000 Btu/hr. That compares to burners that reach up to 24,000-30,000 Btu/hr. on restaurant ranges.
Burner sections are usually 12-in. or 18-in. wide. So, a standard 36-in. range can either have six burners on 12-in. centers or four burners on 18-in. centers. Since the larger burner area is for larger pans or sauce pans and even stockpots, you'll often find burners in those sections running closer to 40,000 Btu/hr. Some manufacturers give you the option of five burners on a 36-in. range top, with either two large burners in back and three sauté burners in front or four sauté burners surrounding one large power burner.
Sealed burners have bowls that surround the burner, making spills relatively easy to clean. Caps on sealed burners can pop off for cleaning, and manufacturers design the bowl to allow enough air to mix with the gas.
Open burners allow more air to get to the burner, makers say, which provides an updraft of heated air below the cooking vessel, allowing chefs to cook faster, but ports may get clogged more easily by food spills. These burners also can be taken apart for easy cleaning.
Virtually all open-burner ranges have some sort of crumb tray below the burners to catch spills, so they're not much more difficult to clean than sealed-burner ranges. Again, on higher-end ranges these are stainless for easier cleaning and greater durability.
Burners inside the oven also operate at higher Btu rates on heavy-duty ranges. Depending on whether you specify a standard or convection oven in the range base, ovens operate at anywhere from 32,000-50,000 Btu/ hr. A few makers use cast iron "H" burners; at least one uses a U-shaped tubular burner said to last longer because it's made of stainless.
A note about firing up all those Btus. Pilot lights that burn continuously are passé on heavy-duty ranges for the most part. A few basic models may still have pilot lights for the oven or shared burners, but you're more likely to find electronic auto-ignition pilots for hidden burners and thermostatically controlled range-top equipment such as planchas, griddles, broilers, etc., and electronic ignition on open burners. These systems use electronic ignition to light a pilot, which in turn lights the burner, but shut off the pilot to save gas when the set temperature is reached.
Electronic ignition, both for hidden (under hot tops, for example) and open burners, can be one of two types, piezo or electric. Piezo ignition uses a spring-loaded hammer to strike a piece of quartz, generating an electric charge that sets off a spark (think of how butane lighters work). Cooks manually turn a knob to a set point or push a button to trigger ignition. The advantage is that it doesn't require electric service, but they can be unreliable. Electric ignition uses your electric service to send current to what is basically a spark plug near the burner.
Fuel Efficiency
Though those numbers may appear to suggest that heavy-duty ranges offer performance at the expense of low gas mileage, manufacturers have found ways to make them more efficient. Like recent iterations of the Ford Mustang that remain quick on their feet while offering great fuel economy, burner design and bowl design that allows air to mix with gas can help put more heat into the pan. And special features such as electronic ignition, shared pilot lights and electronic auto-ignition pilots help save more energy.
Burner design—for example, how a burner combines air and fuel and combusts it as it passes through ports—affects how efficiently the fuel burns. The ante for any range burner is 40% efficiency. But some manufacturers have upped that to 45%. Doesn't sound like much, but it means you're getting more Btu from the same amount of gas.
When you spec a range, be sure to look at how you'll use it. The size of your sauté and sauce pans, for example, and how fast you want to heat them will determine the style of burner you want. The circle of flame on one burner might travel outside the diameter of a pan on the range when turned up high, wasting heat energy. Whereas a different shape or size might put more of those Btu directly into the pan's base.
One maker uses photos of laboratory scorch patterns to show how its star-shaped burner transfers heat more evenly to the bottom of a pan than some other burners. The best way to know for sure what works best for your operation is to have chefs test your pans on different ranges.
Something's In The Oven
Manufacturers give you a choice of a standard or convection oven in the range base. Most operations use range ovens to finish cooking items seared or sautéed on the range top. Convection ovens tend to cook faster due to active airflow through the cavity while standard "finishing" ovens burn a little hotter than a typical baking oven.
Typical output for standard ovens ranges from about 35,000- 45,000 Btu. One maker's standard oven puts out 50,000 Btu and has a temperature range up to 650°F. It's obviously intended as a finishing oven. Convection ovens have a lower Btu output, ranging from 30,000-33,000, though one is as high as 45,000 Btu, again, meant to be a finishing oven in addition to baking or roasting other items.
Some makers' convection ovens do have a blower wheel and fan motor, but don't provide even convection heat. If a convection oven is really what you want, look for models that include baffles and vents to even out the distribution of heated air. These models also will likely have two-speed fans; the lower setting speeds cooking of delicate items— meringues, seafood, etc.—without disturbing them too much or drying them out.
On 36-in. ranges, ovens are typically large enough for full 18-in. x 26-in. sheet pans. You also may want an oven large enough to put sheet pans in either front-to-back or side-to-side.
Depending on the model, ovens may be fired by a pilot light or electronic ignition. Remember that models with electronic ignition require electric service in addition to gas. To get around this, some lines offer piezo ignition (which, again, requires no power source) and some models offer open-range cooktops with batteries to power the electronic ignition, eliminating the need for electric service. (But make sure you have backup batteries!) Standard on virtually all heavy-duty range ovens is a flame failure shutoff. This safety device shuts off the gas if a pilot light can't be reignited, preventing the possibility of fire or explosion and saving energy.
The Gang's All Here
Another feature found on all heavy-duty gas ranges is a "front" gas manifold in addition to the rear gas supply connection. And most manufacturers will put either connection point practically anywhere you want it on the range, on the front, side, back, you name it. The purpose of the manifold is so you can string several ranges together in a cooking battery. The dual connection points mean that you can also configure equipment back to back in a cooking island or what's often called a "hotel suite" or "Waldorf suite."
To make it even easier to create and assemble cooking batteries or suites, heavy-duty range makers manufacture a variety of interchangeable tops and bases that can be assembled and customized for your operation. Tops include thermostatically-controlled griddles, planchas, charbroilers, French tops, hot tops and even fryers. In addition to ovens, bases can incorporate dry or refrigerated/frozen storage in addition to or instead of an oven, depending on the width of the range you spec. (Some makers offer a half-size oven, too.)
Most manufacturers can make these specialty tops in 12-in. segments, so you can spec almost any configuration you want. A couple of manufacturers make all these pieces modular, making customization and assembly even easier. Look for the same things in these tops that you want in an open-burner range—Btu output for quick searing, cooking and fast recovery, durable construction and ease of cleaning.
Compare makes and models carefully. If a French top is really important to your chefs, for example, they may prefer a model that heats to 950°F over one that heats to only 850°F (French tops typically graduate from 950°F+ in the center to as low as 350°F to 200°F on the outer edge). If you cook a lot of items on a griddle, you'll likely want one that's thermostatically controlled, keeping the entire griddle at a precise temperature. If only a few menu items are griddled, then you might save money by specifying a manual griddle with knobs that adjust the flame level under each section of griddle.
What Else To Consider?
Don't forget that the devil's in the details. Work with your consultant to determine whether you need and what the right sizes are for things like the stainless plate shelf on the front of the range (which can run from 3-in. to 9-in. deep depending on the model and what you want), flue riser heights, back guard, shelves and adjustable legs or casters.
With so many of you now preparing food in open kitchens, you also want your cooking battery to look good. If a virtually all-stainless range (or cooking suite) isn't good-looking enough, cooking-suite makers offer a wide range of powder-coat colors and trim styles.
What's all this going to cost you? While a restaurant range might only cost $1,200-$1,500 upfront, you'll pay up to $6,000 for a base heavy-duty range, and it's possible to go as high as $10,000 for a really custom job. The difference is that a restaurant range might last only three or four years in a high-volume environment. A heavy-duty range will last 20 years or more with proper care and service.
Finally, as always, compare warranties and service networks. Some makers offer a limited three-year warranty on parts and labor. At least one manufacturer guarantees its products for four years with a lifetime warranty on stainless rod grates, welded- steel frames and the brass burner heads on its sealed burners.
Heavy-Duty Range Gallery
AMERICAN RANGE MEDALLION SERIES
American Range's Medallion Series 34-in.-wide, 6 open-burner range sports stainless front and sides and your base options include a standard oven or convection oven. The 30,000-Btu/hr. burners have lift-off heads; easily remove the cast-iron grates over each burner section. A 1-piece aluminized steel drip tray covers all burners. The 40,000-Btu/hr. oven sports a piezo spark ignition and a porcelain-lined interior. The oven thermostat ranges 150°F-500°F. This heavy-duty range comes with a 1¼-in. front manifold for unlimited modular design and an adjustable stainless front rail with a maximum measurement of 7 5/8-in.D. Other range options include hot plates, griddles, broilers and French tops.
americanrange.com
GARLAND MASTER SERIES/U.S. RANGE CUISINE SERIES
Garland's heavy-duty ranges are ideal for fine dining or high-volume operations. The ranges feature 6 24,000-Btu Starfire burners (35,000-Btu on 17-in. burner), 1-piece stainless drip trays, cast-iron top grates, porcelain-lined oven interiors and piezo-electric oven ignition. Front, sides and 7 1/2-in.D-plate shelf are all stainless. Both Garland's Master Series (34-in. platform) and U.S. Range Cuisine Series (36- in. platform) can be customized into batteries or suites. Units include a variety of range tops (including induction); bases with standard or convection ovens, storage and refrigeration; over- and under-fired broilers; and fryers.
garland-group.com
HESTAN FREESTANDING RANGE
Hestan's 36-in. freestanding range is available with 4 or 6 30,000-Btu CircuFlame sealed burners with cast brass lift-off burner caps and base for easy cleaning. Each burner is fired with a single point re-ignition direct-spark system that will continue to spark until the burner flame is lit. CircuFlame burners can produce power as high as 30,000 Btu/hr. for searing and broiling and as low as 1,500 Btu/hr. for simmering, a 20:1 turn-down ratio. Heavy-gauge welded construction is clad in all stainless, including polished stainless grates. A fully-insulated standard or convection oven comes with U-shaped tubular, stainless, 40,000-Btu burner. Five-position rack supports hold sheet pans without an oven rack and a counterweighted door hinge has hydraulic soft-opening capability. The modular top and base can be customized to create cooking suites and batteries.
hestancommercial.com
IMPERIAL IHR-6 HEAVY-DUTY RANGE
Imperial's IHR-6 36-in.-wide, heavy-duty range comes with 6 35,000 Btu/hr. open burners. The burners boast an anti-clogging feature, making them 21% more efficient, according to the manufacturer. Remove and separate the cast-iron burners for easy cleaning. Measuring 12-in.W x 14-in.D, the wavy grates raise pans and create more heat transfer than direct metal-to-metal contact. Choose from a 40,000 Btu/hr. standard oven or a 35,000 Btu/hr. convection oven—both are porcelain-lined and can accommodate sheet pans front-to-back and side-to-side. The convection oven comes with a 1/4-hp blower motor to cook products quickly and evenly with less shrinkage.
imperialrange.com
JADE TITAN
The Titan heavy-duty gas range comes with 6 35,000 Btu/hr., cast-iron open burners constructed with 2 pieces and porcelain coated for easy cleaning. The range is 100% welded with a 14-gauge stainless frame, sides and front and 12-gauge bottom. The steel open-burner top grates have a lifetime warranty. The all-stainless oven interior has removable sides and bottom for easy cleaning and a fully welded stainless, sealed oven door; temp range is 150°F -550°F with a 35,000 Btu oven burner. Racks are chrome-plated and curved and welded to eliminate sharp ends. Also all-stainless: infinite-control burner gas valves, burner hangers, internal gas tubing and pilot tips and tubing, 6-in. plate shelf and crumb tray/spill pan below the open burners. Unit is 36-in.W x 38-in.D.
jaderange.com
MONTAGUE LEGEND
Range tops feature 3 12-in.W x 31-in.D open burner tops with heavily-ribbed cast-iron top grates; 2 large-diameter 30,000 Btu/hr. lift-off star burners; automatic, standing pilots; and drip pans below. Ovens feature a front-vent design that delivers consistent baking temperatures (low to 500°F) throughout the porcelain-lined interior. Standard ovens, 6-in. deeper than convection ovens at 281/2-in.D, include a 40,000-Btu cast-iron burner and accept pans length- and width-wise; convection ovens also have a 40,000-Btu burner. Racks and guides are nickel-coated and the counter-weighted door seals tight without springs or a gasket. Range is constructed of satin-finish stainless, front and exterior bottom; other surfaces painted black with electrolytic zinc undercoating.
montaguecompany.com
SOUTHBEND PLATINUM SERIES 36-IN. RANGE
The Southbend Platinum Series heavy-duty range is designed to withstand all the rigors of high-volume kitchens. Model P36A-BBB is a 36-in.W sectional range with 6 35,000 Btu (natural or LP gas) patented clog-free burners on top of a 45,000-Btu convection oven base. The convection oven base comes standard with a standing pilot light and thermostat range of 175°F-550°F. Standard features include a heavy-duty stainless door handle, porcelain enamel interior and 3 oven racks. Plus, the unit comes with a 5-in.H flue riser, 6-in. stainless adjustable legs and a 3-yr. parts-and-labor warranty.
southbendnc.com
VULCAN 36-IN.W RANGE WITH STANDARD OVEN
Vulcan's V6B36S heavy-duty gas range is 36-in.W with a standard oven. Solidly built with a MIG-welded base, this model sports a stainless exterior, crumb tray and burner box. Modular construction allows easy installation and connection to additional units. Six 33,000 Btu/hr. V-series cast-iron burners feature lift-off burner heads for easy cleaning. Heavy-duty, cast-iron burner grates are separate from aeration bowl for easy cleaning. The standard oven puts out 50,000 Btu/hr. The heavy-duty oven door has counterweight door hinges; oven interior is porcelain over steel. Options include a proprietary infrared broiler; PowerFry3 high-efficiency fryer; and available later this year, a new composite griddle plate.
vulcanequipment.com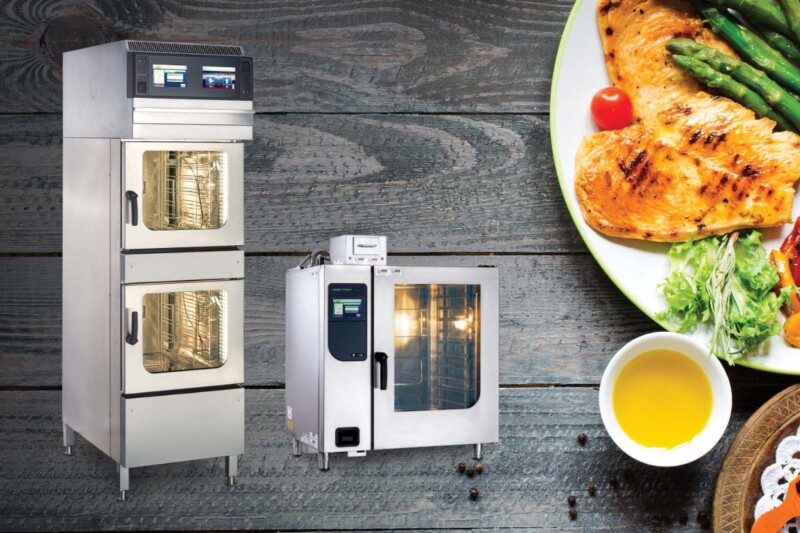 Ovens
In recent years there has been a legitimate debate over the virtues of boiler and boilerless combis. Each basic design has its advantages and flaws.