The 2016 NRA Show: Preview & Plan
The 2016 National Restaurant Association Restaurant, Hotel-Motel Show is set to run May 21-24 at the iconic McCormick Place in Chicago. With more than 2,200 exhibitors in '15, the show is on pace to match that amount this May. Nearly 40% will be equipment and supplies companies. The show will offer approximately 75 education sessions, culinary demonstrations and workshops. Plus, the schedule features a number of after-hours events, including the Int'l. Foodservice Manufacturers Association's Gold & Silver Plate Celebration—which moves to Saturday night, May 21, this year—the annual Restaurants Rock party and the Block Party. As always, you can expect this year's show to offer something for everyone, and then some. The Foodservice Consultants Society Int'l.'s Upper Midwest Chapter also will be holding its Sunday night reception at the Godfrey Hotel, Chicago.
Show-Floor Layout
Organizers have housed the show in the North and South buildings, as well as the Lakeside Center, covering 637,000 sq. ft. of space total; it will take a solid two days to cover the entire show. A variety of specialty areas and pavilions are worth noting and are grouped by top trends, innovative products and emerging technology.
One of your first stops at the show, after visiting us at Foodservice Equipment Reports (Booth 5244), is the KI Pavilion. Located in the center of the South Hall, the pavilion is home to the 2016 Kitchen Innovations Awards recipients (see sidebar, below). Plan to check out the 25 honorees and watch live demonstrations. This year's overlying theme: cost savings through labor reduction, energy and water consumption, increased speed and improved food-safety measures.
You'll also want to spend some time in the South Hall's Conserve Solutions Center where you'll find sustainable products, equipment and services proven to lower costs, waste and energy use as well as operators' overall carbon footprint.
Don't miss the Tech Pavilion and Startup Alley for tried-and-true, new and breakthrough technologies.
The Tech Pavilion, located in the North Hall, will showcase top-to-bottom technology—including mobile apps and payment options, POS systems and digital signage—all to improve transaction speed, marketing, communication, efficiency and costs.
First introduced in '15, Startup Alley features a variety of creative, innovative technology up-and-comers focused on the foodservice industry. Participants are vetted and selected for inclusion by an independent panel.
In The Classroom
Show organizers have planned approximately 75 education sessions, culinary demonstrations and workshops. The big topics of discussion center around emerging trends, labor challenges and food safety.
In the session "Vision Quest: Increasing Ideation in Concept Development" with Karen Malody, MSW, FCSI, Owner and Principal of Culinary Options, you'll be walked through the process of developing a new concept starting at the idea stage.
In "Make the Most of Your Service Dollar" with Bruce Hodge, President and COO of General Parts Group and past president of the Commercial Food Equipment Service Association, you'll learn the ins and outs of maintenance programs and discover if they are as cost effective as they could be.
In "Bring Back of House Front and Center," Sarah Krol, Global Managing Director at NSF Int'l., will examine how equipment manufacturers are producing innovative designs that balance functionality with aesthetics and ease of use.
Check out "Expert Advice Along the Path to Sustainability" with Richard Young, Senior Engineer and Director of Education for the Pacific Gas & Electric Food Service Technology Center, and Andrew Shakman, Co-Founder and CEO of LeanPath Inc., for expert tips and suggestions for getting on the right path to sustainability.
Complete details on these sessions, along with the full list of all that will be offered, can be found by visiting the NRA Show home page, show.restaurant.org, and clicking the Experience tab.
With so much ground to cover and sessions to attend, preplanning is essential. Keep checking the show's website for the most up-to-date information.
The National Restaurant Association Restaurant, Hotel-Motel Show
May 21-24, 2016
McCormick Place, Chicago
Show Hours
Sat., Sun. and Mon.: 9:30 a.m.-5 p.m.
Tues.: 9:30 a.m.-3 p.m.
Register at restaurant.org/show/register
After-Hours Events
IFMA 62nd Annual Gold & Silver Plate Celebration
Sat., May 21
Revel Fulton Market, Chicago
FCSI Reception
Sun., May 22
The Godfrey Hotel, Chicago
Restaurants Rock
Sun., May 22
House of Blues, Chicago
Block Party
Mon., May 23
In the evening, several local bars in downtown Chicago offer free food and drink specials for everyone with an NRA Show badge.
2016 Kitchen Innovations Awards
The 2016 KI Award recipients reflect the trends and topics most important to operators today. These 25 selected innovations address operator concerns from labor, energy and water efficiency to food safety, sanitation, cross-functionality and saving space. Be sure to check them out in the KI Pavilion found in the center of the South Hall. We'll give you full details on all of the KI Award products in our May issue.
Beverage-Air/Ali Group
Versa Cool Portable Walk-In Cooler
Blodgett/Middleby
Hoodini
Champion Industries/Ali Group
Ventless Conveyor Warewasher with Heat Recovery
Detecto/Cardinal Scale
Dump Commander
Duke Mfg.
Modular Production Center
Ecomarks Plastics
Quick Flip Pan
Follett Corp.
Horizon 1010 and 1410 Ice Machines
Franke Coffee Systems North America
A600 Espresso Machine
Goodnature
CT7 Countertop Cold-Press Juicer
Hestan
CircuFlame Sealed Burner
Kitchen Brains
SCK Food Safety Manager
Manitowoc Foodservice
Merrychef eikon e2s
Manitowoc Foodservice
Multiplex N2Fusion Beverage System
MEIKO
GreenEye
Nemco Food Equipment
RinseWell
Rational
KitchenManagement System
Restaurant Technologies
AutoMist
Star Mfg./Middleby
Rolling Tortilla Warmer
Strahman Valves
HydroSwivel Sweeper
Taylor Co./Carrier
Advanced Grill Controls
Turbo Coil
72-in. Chef Base With Glycol/R290/R404A Refrigeration
The Vollrath Co.
Stoelting AutoVend System
Vulcan/ITW FEG
ABC7 Combi Oven Steamer
Vulcan/ITW FEG
Low Water Energy (LWE) Steamer
WP Bakery Group USA
ITES Oven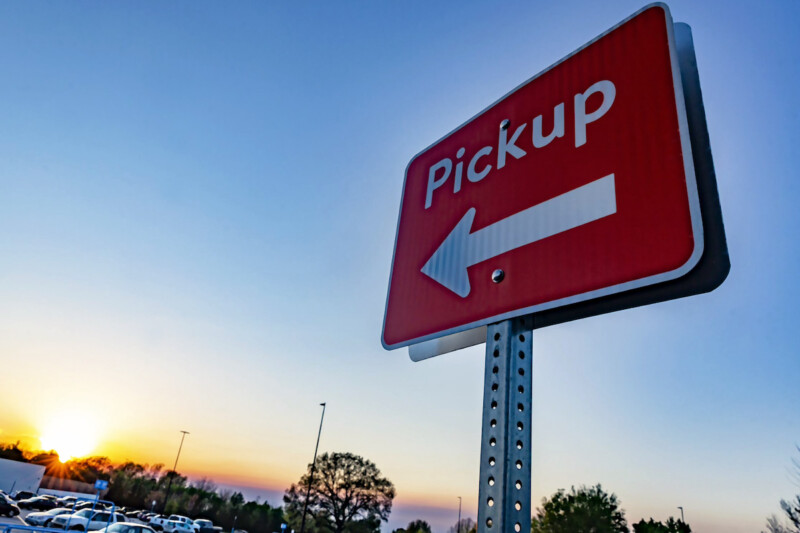 Company News
With the rise of curbside pickup at big-box retailers and restaurants alike, two giants in the respective industries are partially parting ways.