When the newly remodeled Saladworks in Newtown, Pa., launched its grand re-opening in February, the line of customers stretched out the door all afternoon. The revamped store still features the same signature display case filled with about 60 fresh salad ingredients, but the setting now includes more natural elements—wood, brick, chalkboards and artistic photos of vegetables—as well as a warmer, more inviting color palette. An array of seating styles plus a WiFi bar encourages guests to dine in rather than opt for carryout.
The first 15 Saladworks guests that day won a free salad-a-week for a year. But the biggest winner has been Nish Patel, Owner of the Newtown location, the first Saladworks franchisee to convert to the new design and a member of Saladworks' Franchise Advisory Council.
"Sales are up more than 60% compared to the same period last year," says Patel, who had conservatively hoped the new design would give at least a double-digit sales boost. The front-of-house makeover tallied about $150,000. "We've broken weekly sales records since we've opened last month."
The Newtown project marked the debut of the Conshohocken, Pa.-based salad chain's prototype and its first rebranding since 2009. Saladworks, which operates 100 locations in 14 states and two countries, expects to remodel five existing stores and build 11 new ones in '16 using the updated design.
"All of the 50 stores in our development pipeline will use the new design," says Jena Henderson, Saladworks Brand Services V.P.
Saladworks' Goals
The makeover team began the design process in April '15 by exploring and identifying key concepts they wanted in their prototype.
"We spent three months researching, touring other restaurants, putting together a wish list," Henderson recalls. "We took all the photos of things we liked, put them in a binder and handed it all over to Angie Odom [Odom Architects, Mobile, Ala.] and Jan Talamo [Chief Creative Officer and Head of Brand Strategies, Think Traffic Marketing, Philadelphia], to synthesize into some possible designs."
Once the design was finalized, bids went out to general contractors in December '15. The Newtown store re-opened with the newly remodeled look two months later.
Saladworks' rebranding and design team had two big goals: to reduce costs for franchisees, and to improve the guest experience within the restaurant.
Cost reductions were key. "The new prototype requires $494,000 to open a store, versus our previous design, created in '08, which cost franchisees about $650,000 to get started," says Henderson, leader of the redesign project. A good part of cost savings came from reducing the footprint to 2,000 sq. ft. from its previous 2,500 sq. ft., via a slightly smaller kitchen and reduced seating area.
"When it comes to design and construction cost-cutting, there's no one silver bullet," Henderson says. "We scrutinized everything—the millwork package, the graphics and how they were mounted, flooring, smallwares and kitchen equipment."
Saladworks previous smallwares package, for example, specified white melamine trays for serving food orders to dine-in customers. "The trays cost $21 each, and stores needed at least 100 of them," Henderson says. "Our new package calls for sturdy black plastic trays, only $4.50 each. We did that type of analysis for every single element in the design."
As for improving the guest experience, "what sets us apart is the freshness of our product," Henderson continues. "There are a lot of salad restaurants out there, many of which open bags of lettuce and take other shortcuts. But here, we chop, grate and shave product daily. That's what we want to show our guests—that it's all fresh from the earth."
Additionally, "we realized our stores were serving more carryout than dine-in customers," Henderson says. After guest surveys showed the existing design gave a rather cold impression, the team resolved to create a space that was warm, inviting and comfortable.
Some of the key features highlighted in the new Saladworks front-of-house include:
A variety of seating options, including a WiFi bar along the front window (popular with college students), communal high-top tables and conventional seating. Despite its small footprint, Saladworks' prototype offers seating for 55.
An exposed ceiling painted matte-finish silver rather than the usual black. "The ceiling adds just the right amount of brightness to the interior," Henderson says.
Warm colors and natural materials offset with stainless elements in the countertops and display case.
Polished concrete flooring to take the place of tile floors in existing locations.
Touring Saladworks
In an unusual move, Saladworks' design team chose to develop a layout based on a long, thin floorplan. As Odom says, "We wanted to take the worst-case scenario of a narrow, inline slot in a strip mall that franchisees might otherwise pass up. We knew if this worked, it could be used anywhere."
Designers used sightline studies to highlight three visual elements to draw guests into the space. "The first thing people see, about five to 10 ft. from the door, is the Brand Wall [next to the WiFi bar]," Odom says. "The wall conveys the restaurant's mission: 'Obsessed With Fresh' and 'Creating Fresh Every Day.'"
"The next visual element, about 15 ft. from the door, is the How-To Wall—a four-step guideline showing how the order process works," Odom continues. The How-To guideline looks like chalk on slate, but is in fact a (cost-effective) graphic printed on vinyl and adhered to the top half of the wall.
"With all those choices (of vegetables, dressings and combinations), ordering can be an overwhelming task to new guests," Henderson adds. "The wall will help boost throughput in future stores."
"The final step is the queue line and the colorful, custom-made 10-ft.-long display case showing all the just-prepped ingredients—all of which pull guests fully into the store," Odom says. The salad display angles away from the wall in part for the visual impact and also to give employees more work space.
Limited front-of-house counter space requires most prep work activities to happen out of sight. "We did look at moving prep up front, but from an efficiency and layout standpoint, there just wasn't room," Henderson says. "Instead we rely on graphics—chopped vegetables on the slate board, representing a deconstructed salad—to convey our 'fresh' message.'"
In stores with larger footprints, however, franchisees can opt to do some prep work in the front-of-house.
Saladworks' back-of-house, despite its relatively simple equipment needs, was scrutinized for cost-saving efficiencies.
"Saladworks is a non-cooking facility—the majority of our hot menu items come in par-baked or fully cooked, and we finish them on site," Henderson says. Existing restaurants such as Patel's use an oven to bake rolls, cookies and crisp bacon, plus a steam-jacketed kettle (for pasta) that required a steam hood above it. "In the prototype, we replaced those three pieces with a hoodless double-stacked combi oven. This change to a hoodless combi saves $10,000 to $12,000 off the final equipment tally," she says, plus additional savings in construction with the need for venting removed.
The rest of the kitchen is either prep space, fitted with reach-in and worktop refrigerators, slicers, lettuce cutters, dicers and salad dryers. The vegetable wash sink's faucet is fitted with a bacteria-killing ozonator to more effectively and safely clean produce. A generously sized walk-in cooler/freezer anchors the kitchen.
A Look Ahead
A month since opening, the surge of interest in Patel's remodeled Newtown store keeps him running. "We've had to hire three additional people," says Patel, who is already making plans to remodel his other two Saladworks units. "This redesign has definitely exceeded my expectations."
KEY EQUIPMENT:
Back-Of-House
Eagle prep table, tables with sinks, shelving units
Continental worktop refrig., reach-in refrig.
Globe food slicer
Lincoln/Manitowoc lettuce cutter, dicer
Hobart/ITW FEG salad dryer
VeriPure ozonator
Alto-Shaam combi oven
Arctic walk-in cooler
Everpure water filter
T&S Brass pre-rinse unit
Front-Of-House
RPI salad case
Federal self-serve refrig. merchandiser
Star/Middleby panini press
Vollrath soup warmer
Vulcan/ITW FEG drawer warmer
Continental reach-in refrig., worktop refrig.
Manitowoc ice maker
Grindmaster drink bubbler/dispenser
SPECS
MENU/SEGMENT: Quick-casual salads concept
HEADQUARTERS: Conshohocken, Pa.
FOUNDED: 1986
NUMBER OF UNITS: 100 locations in 14 states, 2 countries
SIZE: 2,000 sq. ft.
SEATING: 55 seats
FF&E PACKAGE: about $115,000
UPCOMING PLANS: 11 openings planned for 2016
ARCHITECT: Angie Odom, Owner, Odom Architects, Mobile, Ala.
MARKETING: Jan Talamo, Chief Creative Officer and Head of Brand Strategies, Think Traffic Marketing, Philadelphia
DEALER: Singer Equipment Co., Bellmawr, N.J.
WEB: saladworks.com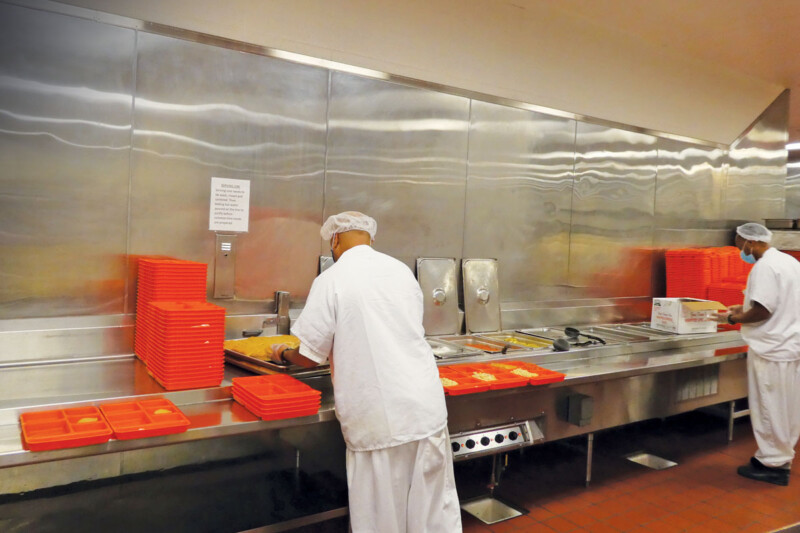 Design Trends
Despite steep and unique hurdles, this segment is finding ways to solve its challenges.