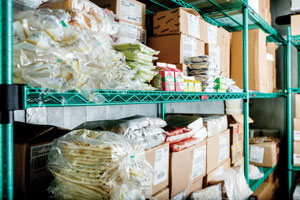 Your entire foodservice operation rests upon it: your fresh and frozen foods; your staple items, disposables, china, glassware, linens, pots and pans and other utensils; perhaps even merchandise displayed front-of-house.
We're talking about shelving—so low-tech and yet so essential to get right. With so many materials, configurations and options available for both new installations and retrofits, it can be difficult for specifiers and operators to make purchasing decisions that will be the most cost-effective for their own unique needs.
Let's look at the key questions you need to answer before purchasing shelving.
Wet or dry storage? There are two basic kinds of shelving used in foodservice: the type that's NSF-rated for wet storage (that is, for items kept in a cooler or freezer and typically for the wet environment of warewashing areas of the kitchen), and shelving that's appropriate for dry storage of shelf-stable foods and non-food items. Shelving rated for wet storage must be rust- and corrosion-resistant for both sanitation and durability. That most often means shelves that are either solid polymer, polymer- or epoxy-coated core metal, or polymer shelf plates or mats integrated with coated-metal supports. Zinc-plated, aluminum and solid-stainless shelves also are approved for wet storage, with stainless shelving being the most durable and often most expensive.
Some manufacturers offer polypropylene (a polymer) shelf plates embedded with silver-ion antimicrobial protection that inhibits the growth of mold, fungus and bacteria. Polymer shelves and shelf mats often can be popped out and run through the dishmachine—another feature that makes them an attractive, highly sanitary option.
Polymer- or epoxy-coated steel shelves are a great economic option, but they will eventually fail. As stored items are removed and replaced, the friction eventually wears off the polymer or epoxy to reveal the core metal in spots, and, once exposed, the metal will corrode and you'll need new shelves. Warranties for such shelving range from five to 15 years.
Chrome-plated shelves are only appropriate for dry storage. (And because they are impressively shiny, they're usually the first choice for front-of-house applications.) Aluminum is not recommended for linen or china storage. Over time, oxidation can leave a dusty black residue on items stored on the shelves.
Slatted or solid shelves? Slatted or wire shelves promote better airflow (something that's especially important in a cooler or freezer) and typically weigh less than the equivalent solid shelves. But solid shelves or shelf plates boost sanitation and convenience by containing spills. And they're the best solution for storage of small individual items that could tip, get wedged into or fall through slats.
How much weight for how much width? Heavy-duty shelves cost considerably more than light-duty shelving, so it's just as important not to over-buy in terms of weight-load capacity as it is to avoid underbuying. Before purchasing shelving, calculate the total weight of all the items, packages, cans or kegs that it will be required to hold—the total weight may surprise you. In many cases, it's obvious whether heavy-duty shelving will be required. A bar or casino will need a heavy-duty lockable security-cage unit for beer kegs and liquor storage; a bakery must spec heavyweight shelving to store 50-lb. bags of flour and sugar; but a QSR will require only the lightest shelving in the area where it stores polystyrene cups and paper napkins.
There's an inverse relationship between the width of a shelf section and the weight it can hold. A 48-in.W shelf can usually hold 800 lb. of evenly distributed items; a 60-in.W or 72-in.W shelf trades volume for weight-bearing capacity, typically holding only 600 lb. If you need 72 in. of storage for heavy items, you may want to invest in smaller storage sections with struts in between. (Some heavy-duty steel-core polypropylene or glass-resin composite shelving systems let two shelving units share a single post with no loss of weight-bearing capacity. A continuous line of shelving with supports offers more efficient use of wall space than individual units would, lined up side by side, since less space is devoted to the uprights.)
What about the height of shelves? The most common type of storage shelving found in foodservice kitchens is a four-shelf unit. Shelving stacked to the ceiling can maximize the amount of storage you can squeeze into a specific floor or wall area; on the other hand, shelves that are too high for most employees to reach are of little use and increase the chances of slip-and-fall accidents. The heaviest items should be stored on lower shelves (at knee to chest level for the average person) so workers avoid back strain. Lighter items can go on higher shelves, and rarely-used items at the top. You can specify an extra-strong dunnage shelf as the bottom "shelf" for a tall unit, in part because workers are very likely to step up onto the bottom shelf to reach top-shelf items, rather than using a step stool.
One note, if you order shelving units on casters, make sure you take the added height into account. Also ask if the addition of casters has any impact on the weight-bearing capacity of the unit.
How deep should the shelves be? The other part of the surface-area formula to consider is the depth of the shelves. Common options range from 14-in.D to 30-in.D. Shallower shelves make items easier to see and to reach, while the deepest shelves are typically used for storing large boxes. Deeper shelves also are used in coolers and freezers where space is at the greatest premium.
Will you need to move or reconfigure shelves? Manufacturers tout the ease with which modern modular shelving systems can be assembled and reconfigured with few or even no tools, just by snapping or clipping shelves into a new position. Assorted shelf heights make it easier to load up the storage unit and avoid wasting air space above the items on each shelf. An increase in storage needs often can be accommodated just by adding another top shelf to a shelving unit (such as a fifth shelf at the top of a standard four-shelf unit). Reconfigurable shelves can be a godsend for an operation that has to figure out how to cope with changes in the size or shape of the packages that come in the back door—for instance, a school that's required to purchase USDA or bulk produce, which may be delivered in boxes of different sizes than those of last month's supplier.
Shelving on track systems, called high-density shelving, let's you slide adjacent shelves side-to-side creating openings between the shelving units to let you get at the contents. The setup is a good solution for a small kitchen with big storage needs. Mobile storage carts can be a simpler and cheaper way to achieve the same goal, but they lack the sturdiness of a track assembly.
Cantilevered shelves, which attach to the wall with under-bracket supports can be a good option for some operations, particularly those that must store heavy, bulky items. A single employee can tilt and remove a slatted or solid-metal cantilevered shelf off its supports brackets for simple reconfiguration of the unit. Cantilevered systems without struts on the floor are open for cleaning, too.
Some foodservice facilities definitely require very rigid-construction shelving. For instance, solid welded storage units are specified in prisons since they can't be disassembled to make anything that can be used as a weapon. (Some types of cantilevered shelving can be used in prisons, however.)
Will you really ever need to reconfigure shelves? Except for the initial measurement of the foods you plan to store—and the initial adjustment of the shelf spacing to accommodate the items—most locations never rearrange their shelf heights. If you don't even need the initial adjustment, modular, adjustable shelving units might represent an unneeded expense over rigid, non-adjustable shelving (and rigid shelving is very sturdy).
But a word to the wise: before you purchase a preassembled rigid shelving unit, make sure it will fit through the door of the kitchen and, if necessary, through the door of the cooler or freezer. And don't forget to account for the evaporator coils.
What accessories might help solve your storage issues? Your shelving manufacturer can supply any number of casters, shelf hooks, baskets, slide racks, can racks, dividers, shelf ledges, labeling systems and more to enhance the efficiency and organization of your shelving unit. With a little imagination, you can use these to pack even more into tight spaces and still have the items you need quickly at hand and highly visible.
Should shelving be anchored? In most cases, a well-distributed weight load will ensure that an upright shelving system is unlikely to topple over. However, because of the ever-present possibility of earthquakes, California requires that commercial shelving be anchored to the floor and wall. Shelving manufacturers can specify the proper hardware. And again, think about putting a dunnage rack on the bottom to help mitigate the risks created by shelf-climbing employees.
How much should you spend for a shelving unit? You can answer this question only after you've answered all of the others. High-volume foodservice operations—like schools, colleges and universities, hospitals, hotels and casinos—will probably want to spec the highest-quality shelving that lasts for many years. Mom-and-pop restaurants and LSRs are unlikely to need that kind of durability; there's no point in purchasing shelves that will last longer than your business likely will.
What maintenance does shelving require? Storage units should last past their warranty date if they're not overloaded, knocked around, used inappropriately (such as shoving a corrosion-prone, dry-storage unit into the cooler) or otherwise abused. Check shelves, struts and load-bearing components regularly for signs of coating-wear, sagging, tipping, jiggly-ness, cracks or other failure.
Different shelf materials require different cleaning solutions and procedures. For example, a bleach product is very bad on stainless. Make sure you read the manufacturer's instructions for cleaning procedures and cleaning product recommendations.
Top Mistakes When Specifying Shelving
1) Using shelves rated only for dry storage in the cooler or freezer (something that's likely to be noted during your next health-department inspection).
2) Failing to measure properly (purchasing a too-small or too-large unit or one with the wrong configuration so that you don't give yourself every inch of storage space possible). Casters on the shelves, evaporator units hanging from the cooler ceiling, door size—all can impact the measurements.
3) Over-specifying: purchasing long-lasting or heavy-duty shelving for an operation that doesn't require it.
4) Under-specifying: underestimating the durability or weight-bearing capacity needed.
5) Not taking advantage of available options to maximize storage capacity, including the top shelf, modular shelving systems that adapt exactly to your needs, and accessories.

Shelving Gallery:
ADVANCE TABCO KEG RACK With the ability to store 4, 6, 8 or 10 kegs, depending on the model, this aluminum keg rack provides a sturdy storage solution. Each 20-in.D, fully-adjustable shelf sports fully-welded 13/4-in. sq. tubing. The upright posts are 15/16-in. aluminum. The rack holds up to 60 lb. (15 lb. top shelf) of evenly distributed weight per sq. ft. Models range in overall size from 42-in.W x 20-in.D x 76-in.H to 93-in.W x 20-in.D x 76-in.H.
advancetabco.com
CAMBRO CAMSHELVING HIGH-DENSITY MOBILE UNITS
Limited on space? These high-density mobile units feature a floor-track system that provides safe, easy access to stored product. Heavy weight loads—up to 750 lb. per unit—roll securely on the raised floor track. Features include 4 shelves (solid or vented) per unit, 2 post heights (67-in. or 75-in.), 1 shelf depth (24-in.) and 3 shelf widths (36-in., 42-in. and 48-in.). Each shelf plate contains Camguard antimicrobial protection.
cambro.com
CHANNEL CANTILEVERED SHELVING
Channel's freestanding, heavy-duty aluminum cantilevered shelving systems will increase your storage space by 30%-50% as a result of no front posts. The company builds each unit to order to ensure you receive the exact size you need. The systems come with a lifetime guarantee against rust. Choose solid, tubular, E Channel or T-Bar shelves, all fully adjustable and easily removable for cleaning.
channelmfg.com
EAGLE QUADPLUS POLYMER SHELVING
Eagle's QuadPLUS shelving features a combination of high-impact, abrasion-resistant polymer mats (solid or vented) atop an epoxy-coated wire truss frame, all interchangeable with your existing Eagle shelving and available with either standard shelf collars or Quad-Adjust collars, which allow you to add or remove a shelf without having to disassemble the entire shelf unit. Dishmachine-safe polymer mats also feature MICROGARD antimicrobial protection. Shelves 48-in. in length accommodate 800 lb. of evenly distributed load while shelves 54-in. to 72-in. in length hold 600 lb. of product.
eaglegrp.com
FOCUS FOODSERVICE HDS-PLUS SYSTEM
This high-density system maximizes usable storage capacity in a compact footprint. Increase your storage up to 35%. Select shelves and posts in a variety of finishes and styles—stainless (solid or wire), green epoxy coated (for wet/cold storage), FPS-Plus (solid polymer or vented) and chromate finish (for dry storage). Running 6-ft. to 21-ft. in length, the overhead track improves safety (no tracks to trip over) and makes for easy cleaning below (no tracks to clean around). Stationary units use 4 80-in.H posts while the mobile units use 4 74-in.H posts.
focusfoodservice.com
METRO METROMAX 4 POLYMER SHELVING
This all-polymer, corrosion-resistant shelving comes with removable open-grid or solid-shelf mat sections. The mats, beams and posts have built-in Microban antimicrobial protection. Shelves have circumferential capture of corner posts for stability, performance and structural integrity. Stationary units hold up to 2,000 lb. evenly distributed; mobile units transport up to 600 lb. Easily assemble the units—preassembled shelves mount on 4 1-piece wedges along numbered posts and adjust in 1-in. increments.
metro.com/metromax4
NEW AGE QUICK-CHANGE CANTILEVER SHELVING
Quickly adjust your shelf placement with this freestanding aluminum cantilever shelving system. The units feature no front post, providing more storage space per shelf and easy loading/unloading. The 72-in.H uprights have locking tabs spaced on 12-in. centers; each upright is supported at the base by an extended leg with an adjustable foot. Choose from 18-in.D and 24-in.D shelves in multiple widths. The H.D. Bar Shelf and T-Bar Shelf holds 900 lb. and the Solid Brute Shelf holds 700 lb. Carries a lifetime guarantee against rust and corrosion.
newageindustrial.com
NEXEL POLY-Z-BRITE/POLY-GREEN WIRE SHELVING
Poly-Z-Brite and Poly-Green finishes on Nexel's wire shelving units feature a true powder-epoxy over zinc-chromate plating that ensures a durable finish and handles temperature and moisture extremes well. Ideal for dry storage, coolers and freezers. Both epoxy coatings feature Nexgard antimicrobial agent. Poly-Z-Brite is a clear epoxy (shelves are available in 32 different sizes); Poly-Green is a green epoxy (shelves come in 16 different sizes). Limited 15-yr. warranty against rust and corrosion.
nexelwire.com
TOURNUS SHELVING
These polypropylene shelves include handy tabs for labeling with a marker. For use in wet or dry areas, the shelving systems are easy to assemble; no tools required. The removable composite shelves are machine washable in door-style and conveyor dishmachines (withstanding up to 194°F). Choose from 19¾-in.D or 22-in.D shelves, 69-in.H or 80¾-in.H uprights and 10 widths, ranging from 35-in. to 70¾-in. Unit pictured shows an optional hotel pan in the shelf.
tournus.com/en
WINHOLT CANTILEVERED SHELVING SYSTEM
Use this heavy-duty aluminum cantilevered shelving in coolers/freezers or dry storage rooms. The freestanding design provides access to all corners to maximize your storage space. No wall bolting required. Easily remove the shelves without tools for cleaning; "D" extrusion front shelves also make for user-friendly, easy cleaning. Units hold up to 7 shelves on 10-in. centers and capacity equals up to 2,500 lb. per section depending on the model.
winholt.com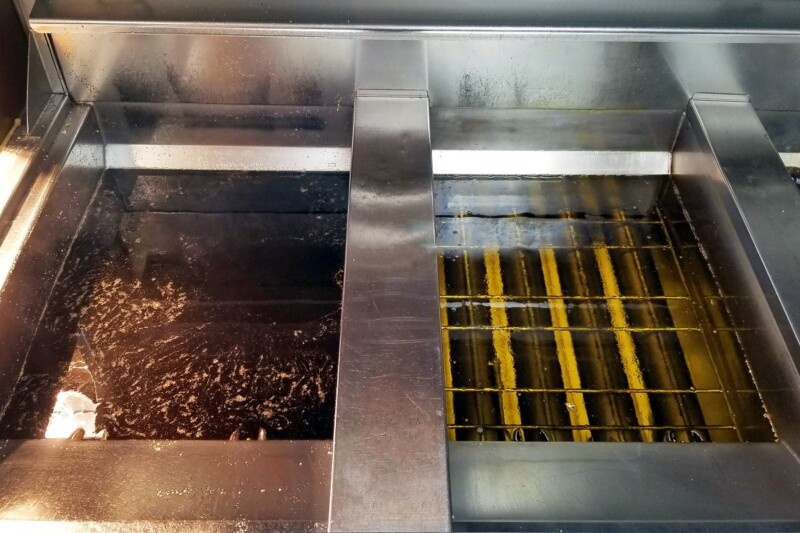 Equipment
While restaurant operators often struggle with maintaining food quality and consistency, a lot of it comes down to fryer oil! In the restaurant industry, we call a 35 lb. container…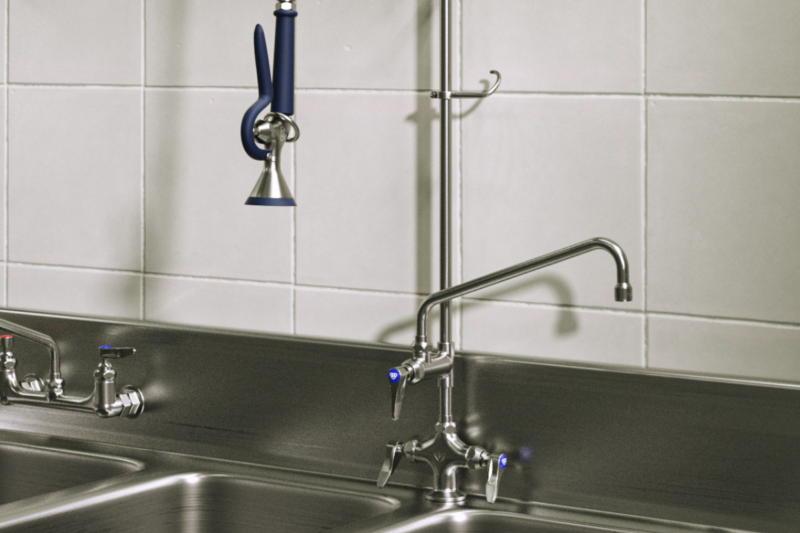 Equipment
A pre-rinse unit isn't the flashiest piece of equipment in your kitchen. And as long as it's working (meaning spraying and not leaking), you probably don't give it a second…