Anatomy Of Arby's New Kitchen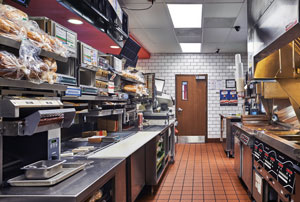 It's hard to know where to start with the myriad changes to Arby's new cooking/sandwich assembly platform. The changes have helped the chain reduce operating costs, save energy and improve product quality and service. Aside from key equipment changes highlighted here, additional changes include a specialty printer that creates stickers for custom-request sandwiches and HME headsets with high-def noise-cancellation, both of which improve accuracy, especially for drive-thru orders. Unit-wide temperature monitoring and equipment maintenance reporting from SiteSage is an exceptional tool to ensure food safety and optimal equipment performance.
Variable speed hood kicks into high power when sensors detect heat from the equipment below, and coasts along at low power all other times lowering HVAC costs.
High-speed ACP OnCue microwaves boost productivity with a door that opens automatically at the end of the cycle. The 2400W units heat food 20% faster than traditional microwaves.
Dampers on the horizontal contact toaster insulate the unit and allow operators to store bread and buns above and below the unit for quick access.
Drawer-type hot-holding units keeps fried chicken crispy for up to an hour.
Heated top on the front half of the custom-fab table keeps hot sandwiches hot as they move from make table to expo table.
Undercounter roll-in refrigeration instead of a custom-fab unit allows for easier maintenance, and better long-run versatility.
The custom Hobart slicer features extra-sturdy construction, a higher-power motor and a fi nely adjusted blade capable of slicing meat thin enough to read through. The Marshall Air ThermoGlo heater mounted on the slicer keeps roast beef at 150°F.
Three compact, custom Alto-Shaam cook & hold ovens plus a Cadco convection oven (not shown) take the place of a full-sized convection oven, a full-size holding cabinet and hood saving construction and operating costs. Multiple ovens let operators cook and hold roasts fresh throughout the day, improving product quality and yield.
Custom-designed Marshall Air 48-in.W fry dump saves space, costs $2,000 less than prior model, $400 less in energy annually, and keeps fries 25°F hotter after a 7-min. hold time.
Henny Penny and Frymaster fryers filter oil automatically after a pre-determined number of basket drops. Filter cycle completes in 4 min. Oil automatically tops off. Fryers reduce oil use by 35%, saving about $2,700/yr., and 50% in energy saving another $2,300/yr. over prior models.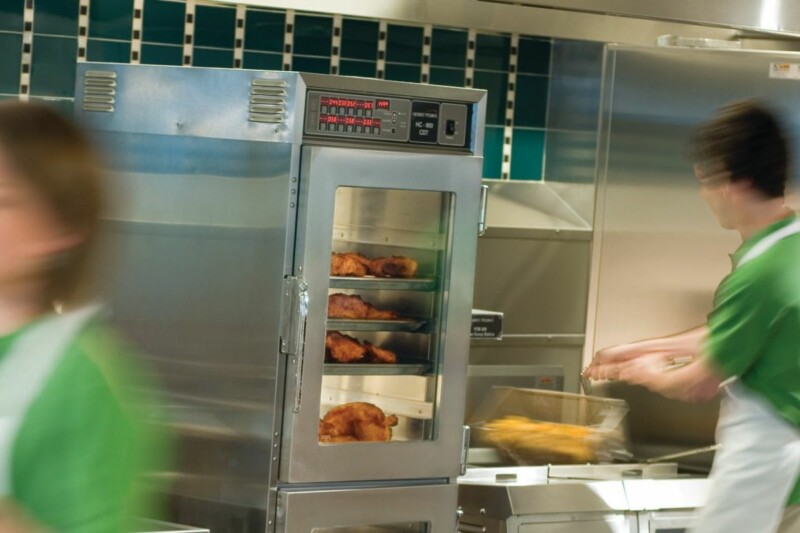 Warming and Hot Holding Equipment
Heated holding cabinets are typically used to keep extra quantities of food hot and tasty until it is time to fill orders or re-supply a display or warmed assembly station.