Healthcare
Hot Delivery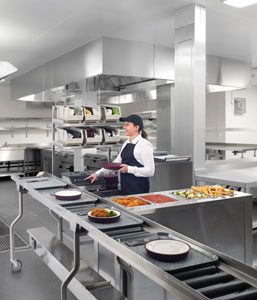 Department leaders at Henry Ford Wyandotte Hospital, Wyandotte, Mich., were recently on the hunt for a new system to deliver hot meals to their 400-plus patients. High-performing equipment and attractive servingware topped the list of must-haves. The department—now supporting a primarily room-service program—had originally relied on conduction meal-delivery carts for a cook-chill program. Starting in the early 2000s, to gradually transition to a room-service setup, the department phased out the carts and started warming individual bases using a traditional pellet system with convection base heaters.

"Before, with the conduction system, we cold-plated everything. We loaded trays into docked refrigerated units and about an hour before meal service, the units would heat the trays," says John Miller, System Director, Culinary Wellness. "Many parts of the system were proprietary. For example, we were limited to using certain servingware, trays and carts. It was expensive overall."

After researching various products on the market, Miller and team replaced the existing equipment with an induction heating system, complete with three activators, for delivering hot meals to patients. "We have a lot more flexibility with the new system because we can use any kind of servingware we want," he says. "We've coordinated all the colors and it makes for a much better presentation."

Flexibility, energy efficiency and user-friendliness are top advantages to using induction heating systems for delivering patients hot meals—a critical component to your foodservice program. Suppliers rolled out the technology in the mid-1990s after offering convection base heaters. And while the technology is essentially the same across the market, suppliers compete on cycle and hold times, overall footprints and energy use, among other features and benefi ts. (And one supplier boasts a different system for warming bases, see "Twenty At A Time.")

Charge It, Hold It
Finding the right induction heating system starts with fi guring out what cycle time and hold time will work best for your program, whether you rely on room service, a traditional trayline or a combination.

What cycle time your program requires depends on how many patients you serve, and the speed with which you're trying to serve them. You don't want your activator's cycle time to slow down your tray-assembly pace.

"There are some operations, because they're serving 500 patients during meal service, where a cycle time of 19 sec. is not fast enough so, we would suggest the 12-sec. model," notes one supplier. In comparison, an activator with a longer cycle time may work fine for pod tray assembly or for a room-service program. How many activators you need depends on your layout, but figure one unit for every 200 beds—more if you run multiple pods.

One manufacturer offers models with cycle times ranging 10 sec. to 19 sec. Another supplier's latest series comes with cycle times of 10 sec. to 15 sec., and a third supplier's model cycles in 20 sec.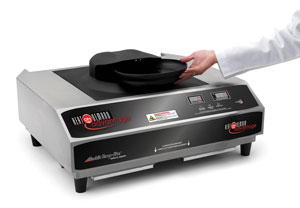 Hold time is how long the charged base will keep food at serving temperature (at or above 140°F) from when it's plated to when it gets to the patient. This also varies between models. When you're comparing hold times, be sure to ask how the supplier calculates hold time so you're comparing similar specs. Some models require heated plates while others accommodate ambient plates, saving you the energy and equipment costs of heated plate dispensers.

Determine your hold-time requirements by calculating how long it takes to reach the farthest patient bed from the kitchen. One supplier's models keep 11 oz. of food with a 165°F preheated plate at serving temperature for 50 min. to 73 min. (or for some models, 53 min. to 60 min. without a preheated plate). Another supplier's most recent model holds foods up to 90 min. with a preheated (170°F) plate. A third supplier's induction plate activator, perfect for senior living or other smaller facilities, charges preheated china plates, molded with a patented induction material, for a hold time of 25 min. to 30 min. All hold times figure in the use of insulated domes.

To specify the right system, ask your manufacturers' rep if you can do a few trial runs. "We tested various models," Miller says. "We checked to see what our food temperature was at 15 min., 30 min., 45 min., an hour and so, we knew which units performed well for us before settling on a system."

Related to food temperatures, suppliers, in some cases working with their culinary team and customers, have paid close attention to ensuring systems hold rather than heat food, affecting the appearance, flavor and texture. "One of the biggest things right now, of course, is customer satisfaction ratings and food quality is high on that list," says one supplier.

Space, Electrical Needs
Once you've narrowed down what cycle time and hold time you need, decide where you're going to place the activators. Check that the model you're considering fits its location and, of course, check that your facility supplies the required electrical. These units must be on a dedicated outlet for consistent power supply.

In the past year, one maker responded to customer feedback by introducing a more compact version of its popular activator. The smaller model comes with a longer cycle time but includes newer features such as an energy-saving shut-off and visual light bar indicating when it's heating the base (red), when the base is ready (green) or when there's an error (yellow). The original model measures about 267/8-in.W x 241/5-in.D x 127/8-in.H and the new model, about 161/3-in.W x 21-in.D x 111/5-in.H. For comparison, competitors' models run about 151/3-in.W x 181/3-in.D x 7-in.H, and about 121/8-in.W x 143/8-in.D x 65/8-in.H.

Related to placement, think through the most step-saving location for the activator. Most operators place it on the hot side—just make sure it's convenient for employees; you don't want them taking 10 steps to use it. Some activators are directional, and they should face a specific way to ensure employees place the base correctly for charging. Others have guides that allow employees to place the base from several sides for charging.

Keep activators—housing electrical components—away from grease-producing equipment. Provide the recommended clearance for proper airflow. And clean the air filter regularly by removing it, running it through the dishmachine, drying it and then reinstalling it.

Electrical requirements typically range from 208V/3-phase to 120V/1-phase. Some models draw 30 amps, while other models draw 20 amps. Be sure to equip your activator with the right amount of voltage because, on some models, it will affect the cycle time. (This is not an issue for all models.) It's important to figure in upfront whether you'll need to run new electrical lines because it will affect your installation costs. When plugging in an activator, twist-lock the plug for the best connection. Train employees to twist-lock the plug after cleaning around the unit too.

Notes On Bases
Along with the activators, bases and domes deserve attention when choosing an induction heating system. As mentioned, two of the category's suppliers rely on bases while a third uses plates molded with induction material.

Constructed of plastic, bases come typically equipped with a material that heats during the induction cycle. Bases accept standard 9-in. china plates, or other 9-in. plates that withstand heat. Plan to order as many bases as 1¼ to 1½ times your current census. The same rule applies to the induction material-molded plates; figure you'll need to account for breakage or other loss.

Plan where you'll store the bases and domes after running them through the dishmachine, and during tray assembly. Put in for storage racks so the components sit upright and properly air-dry.

Don't microwave the bases. (Well-meaning nursing staff might do this on patient fl oors; teach them not to.) And don't preheat the bases. They'll start losing temperature before employees load them with plates of food, and your team will need to charge them again, creating more work. Review your bases once a quarter to make sure they're in good working order. Replace bases showing chips, breaks, cracks or other signs of wear and tear.

Note the weight of the bases. One supplier touts the lightness of its base, which weighs about 1½ lb. The lighter the base, the lighter the load runners have to push on a meal-delivery cart. Ask what other servingware (soup bowls, mugs, etc.) the supplier has to complete the overall look of your trays.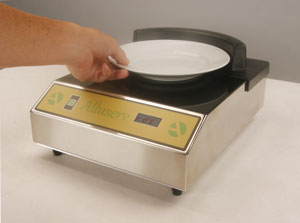 Talk It Over
From cycle and hold times, to size and power needs to components, there are a lot of features that factor into choosing an induction heating system. And it's important to get it right so patients enjoy hot meals. Asking peers for references, and choosing a supplier with solid after-sales support may offer you peace of mind.

Check warranties. Several suppliers offer standard one- or two-year warranties on activators and two-year warranties on bases with the option of extended warranties. Ask about overnight exchange programs—in many cases, a supplier will ship a replacement for next-day delivery. Many operators order a second charger as a back-up; redundancy eliminates downtime.

Remember to ask for equipment demos, too to help you choose the right system. One supplier adds, "We have sales reps nationwide who can schedule a demonstration. It's a great way to test the system and make sure it's the right fit."

INDUCTION BASE/PLATE WARMING SYSTEM SUPPLIERS
Aladdin Temp-Rite/Ali Group
aladdintemprite.com

Alluserv/Lakeside
alluserv.com

Dinex/Carlisle
carlislefsp.com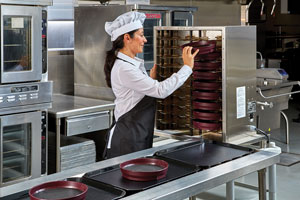 TWENTY AT A TIME
Another option on the market for delivering patients hot meals includes Cambro's Camduction Complete Heat System. Turn the unit on and insert up to 20 bases into individual compartments. Constructed of stainless, the unit uses conduction heat to bring bases to the required temperature in about four to five min., making a base available every 12 sec. Technology in the unit eliminates errors or issues resulting from spikes in voltage. Ideal for room-service programs, Camduction keeps meals at 140°F or higher for as long as 45 min. depending on the food temperature when used with a preheated 9-in. Cambro ceramic plate and insulated dome. How many Camduction units you need depends on the number of servings. The chargers come with a one-year warranty and the bases have a two-year prorated warranty. Visit cambro.com for more details.