Fried & Tested: How To Choose The Right Fryer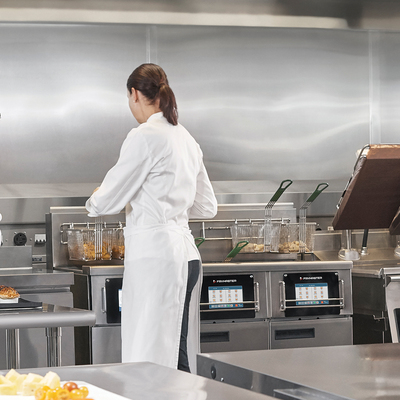 Fried foods, whether battered, breaded or lightly crisped, are mainstays on the menus of all types of concepts from fast-casual to high-end dining. But many operators will agree that fryers can be challenging pieces of equipment. For one, their components can be tricky to clean and hot oil can be dangerous to the touch. Second, cooking oil is expensive and you must properly filter it and replace it to maintain the integrity of the food.
For all these reasons, choosing the right fryer for your operation is a very important decision. The goal is to find a fryer that is right-sized for your kitchen and menu, is easy to use, ensures long oil life, and prepares food efficiently so it doesn't absorb too much oil.
Pick Your Power
First you must consider whether you will need a gas or electric fryer by checking the cost and availability of each through your local utility company. Electric and gas fryers are interchangeable when it comes to the type of food they can fry. Some operations prefer electric fryers because they don't require a flue, and as a result, don't add ambient heat to kitchens. Electric also are considered more efficient because their heating elements are typically submerged in the oil itself, creating a large surface area for a direct heat transfer.
On the whole, gas prices are declining while electricity costs are on the rise which may explain why gas fryers—the focus of this story—are more common in kitchens. These models are known to have faster cycle times, meaning they heat up and cool down faster than electric fryers, and are considered more appropriate for high-volume kitchens. Another plus is that because they are more common, new employees who have worked in foodservice will likely already be familiar with their operation and maintenance needs.
Focus On The Tank
Once you've considered how available utilities will affect your fryer choice, turn your attention to the amount and size of the product you will be frying. Manufacturers use a basic formula to help estimate which capacity and frying area you need in a fryer for your operation. Manufacturers generally calculate fryer output as one-and-a-half to two times the equipment's oil capacity per hour. That means a fryer with a 30-lb. tank produces 45 lb. to 60 lb. of French fries per hour. Many operations will choose a freestanding fryer, with capacities ranging from 15 lb. to 150 lb., for versatility over countertop fryers that can only hold anywhere from 6 lb. to 47 lb. of oil.
Beyond capacity, you'll also want to make sure you pick a fryer with a frying area appropriate to your menu needs. For example, chicken nuggets will require less space than bone-in chicken or whole fish, which both require more "swim room," as it's sometimes called.
Know Your Type
Fryers also differ by how they apply heat to the oil and how they capture sediment. While electric fryers often have their burners directly submerged in the oil, in gas fryers, a series of tubes in the oil are heated, which in turn radiates heat to the surrounding oil. These tube-type fryers are popular because they can heat up fast, use a low-cost utility, and are suitable for frying a variety of menu items.
Yet, because manufacturers weld the tubes into place, this model can be difficult to clean. (There can be anywhere from two to six tubes depending on the size of the fryer.) On the plus side, they do offer a large cold zone, an area typically 100°F cooler than the frying oil that catches sediment below as it breaks off the food while it's cooking. The more sediment the cold zone can hold, the less food particles will degrade the quality of the oil. As such, tube-type fryers are a good choice for breaded foods that produce a high amount of sediment.
Another type is the open-pot fryer, which heats the walls of the fryer pot, radiating that heat to the oil inside. As they don't have tubes or burners in the oil, they are easier to clean and to service than tube-type fryers. One drawback is that they may take more time to bring the oil up to cooking temperature. Open-pot fryers also typically have a small cold zone—a 10% cold zone vs. tube-type fryers' cold zone which can be 25%— and as a result are best suited for frying food that doesn't let off a lot of sediment such as French fries and hash browns.
Aim For The Stars
Some gas fryer models will boast an Energy Star rating, meaning they have at least a 50% energy efficiency although some models are able to reach up- ward of 70% efficiency. Compare that to non- Energy-Star-rated fryers that have an average 43% efficiency, meaning it would take a lot more Btu to maintain the 350°F needed to fry food. A higher energy efficiency means the fryer will have a faster recovery time (how long it takes the oil to come back up to temperature after you add food) and as food is cooked efficiently, it will absorb less oil, conserving oil and preventing food from becoming too greasy.
Make The Most Of Oil
As oil costs are so high, typically one of the costliest budget lines in an operation, manufacturers are determined to help you extend the life of your oil. One of the ways to do that is to have an adequate cold zone to take particles out of the cooking oil before they have the chance to degrade it. Another method is to regularly and consistently filter the oil. While you may manually filter smaller fryers after a certain amount of use—sometimes referred to as "basket drops"—freestanding gas fryers offer built-in or even automated filtration. With built-in filtration, you open the drain valve and turn on the pump so that the oil can be sucked through either a screen, paper or fabric assembly to separate any sediment. The filtered oil returns to the tank where it can be reheated and re-used.
There also are gas fryers with fully automatic systems that can initiate filtration after a certain number of basket drops. "This may happen during a peak time, however, and you will have to override it or else it can cause downtime," says one manufacturer. "I would recommend a built-in system that must be activated so that you can make sure it's [filtering] during slow periods." Other manufacturers report their automatic filtration only takes a few minutes and that that short downtime is worth the time saved in staff labor. Either way, proper filtration could mean you'd only have to put in new oil once a week in- stead of every three days—which is a big cost savings, especially over time.
Special Features
With staff safety a chief concern, some operators are choosing fryers that hook up to an oil reclamation system, in which oil is discarded to a hold tank with a push of a button and new oil is pumped into the equipment. Another special feature to look for are oil quality sensors that alert you when the oil needs to be filtered or replaced. Other models, particularly low-volume fryers, also have an auto-fill or top-off feature that senses when oil volume is low and adds the needed amount. Some gas fryers further automate operation with basket lifts, automatically raising food out of the oil when the cooking time has ended, thereby ensuring food quality and taste consistency. As another special feature, certain gas fryers offer split vats, which may be important if you are frying a product like fish that could change the taste of other products in the oil.
Tech Innovations
Another way to differentiate gas fryers is in the technology features manufacturers have recently added. Some models now come with video screens that not only walk users through the steps of operations but also can play training videos—an attractive feature in kitchens where there is high turnover. Fryers also can connect to the operation's cloud and export service data to other devices on or off site; you also can upload programmable menu items across multiple locations. Even if the fryer doesn't have the capability to connect to the cloud via WiFi, some models come with a USB port to facilitate the easy transfer of the same kinds of information.
Gas Fryer Gallery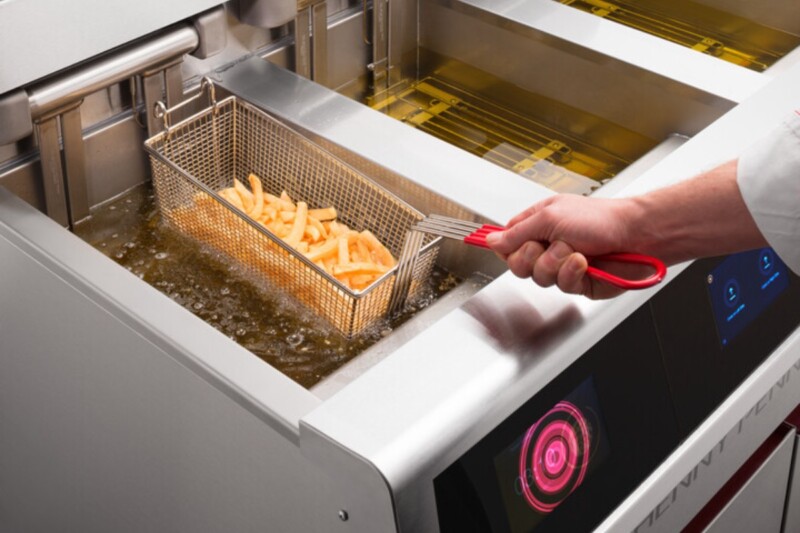 Equipment
In 2009, we introduced Evolution Elite, the industry's first reduced-oil capacity fryer. Now, we're celebrating the newest generation! Our latest low oil volume fryer, called 'F5', combines innovation and simplicity to…