If you believe Internet lore (and, generally, you shouldn't, but please allow me a little poetic license here), then the first recorded instance of food delivery happened in Italy in 1889, and it was—you guessed it—pizza.
As the story goes, on a visit to Naples, Queen Margherita of Savoy had a craving for local food (royalty—they're just like us!). So the city's most popular chef and pizzeria owner was summoned to bring pizzas to the royal quarters. The chef hand-delivered hot pies; Queen Margherita took one bite of the pizza topped with mozzarella, basil and tomatoes and deemed it one of the best things she'd ever eaten (which also makes this the origin story of Margherita pizza, so it's a twofer).
True or not, it's undeniable that the pizza segment has been revolutionizing foodservice—and food delivery—since the early days. As operators of all stripes come around to adapting their kitchens and operations to the unyielding tidal wave that is delivery, pizza brands still are out front, innovating. Of note, recently:
At Mountain View, Calif.-based Zume Pizza, robots assist chefs prepping pizzas in the kitchen, then the pies are baked en route to their destination aboard delivery trucks outfitted with high-efficiency ovens.
Pizza Hut announced that it would be testing delivery via autonomous FedEx SameDay bots over the summer.
Domino's Pizza—which already has flirted with warming-oven cars as well as delivery drones—launched e-bike delivery amid competition from third-party services.
Speaking of Domino's, during a session on the future of restaurants at the National Restaurant Association Show in May, Christopher Thomas-Moore, Domino's vice president of global e-commerce and digital marketing, shared seven tenets that drive the culture of innovation at the pizza chain. Among them: embrace revolution, define your why, take bold action, challenge everything and get innovation-ready.
Innovation and growth isn't always a smooth ride, certainly. And pizza chains, like every other kind of restaurant, misstep and adjust. In 2016, Pie Five was the fastest-growing small chain in America (among concepts with annual sales between $25 million and $50 million). This year, after a wave of closures, the fast-casual chain is banking on a smaller, less expensive prototype to boost renewed growth (see pg. 67).
Kelly Killian, Editor-in-Chief & Chief Content Officer
kkillian@fermag.com
"""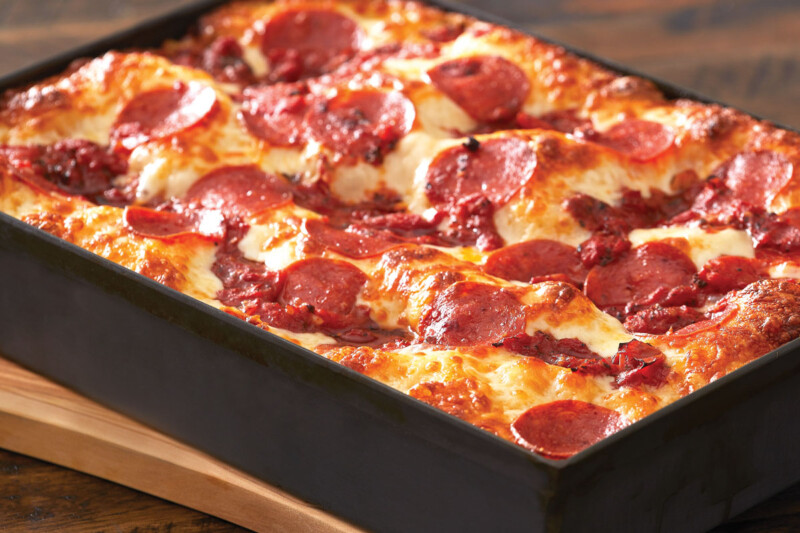 Equipment
With so many varieties of pizza pans, here's how to select the one that will provide the optimal bake.