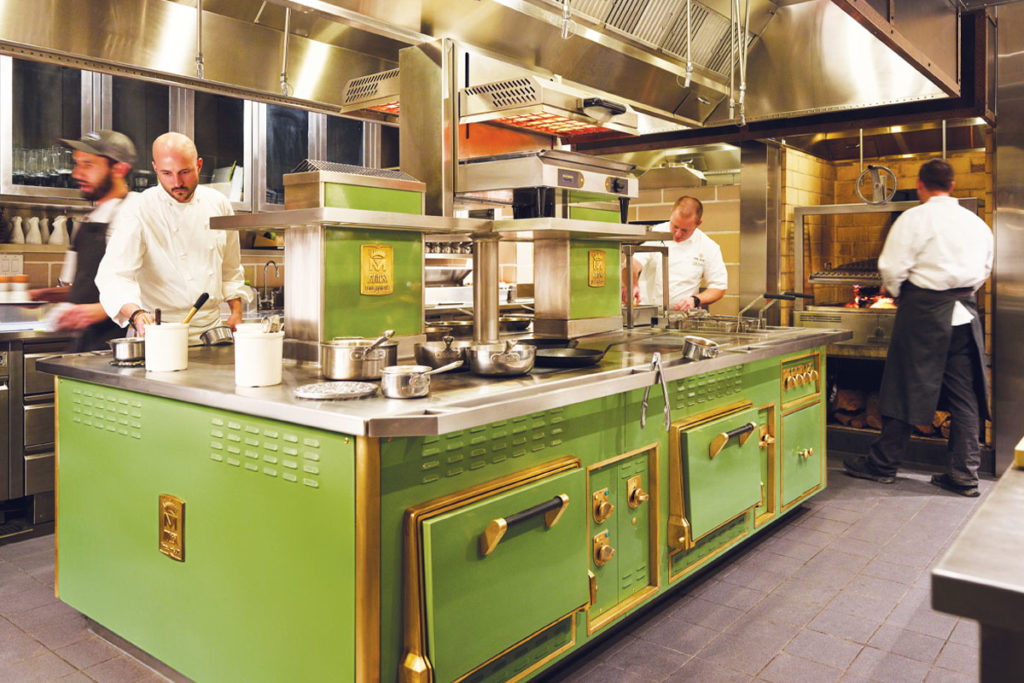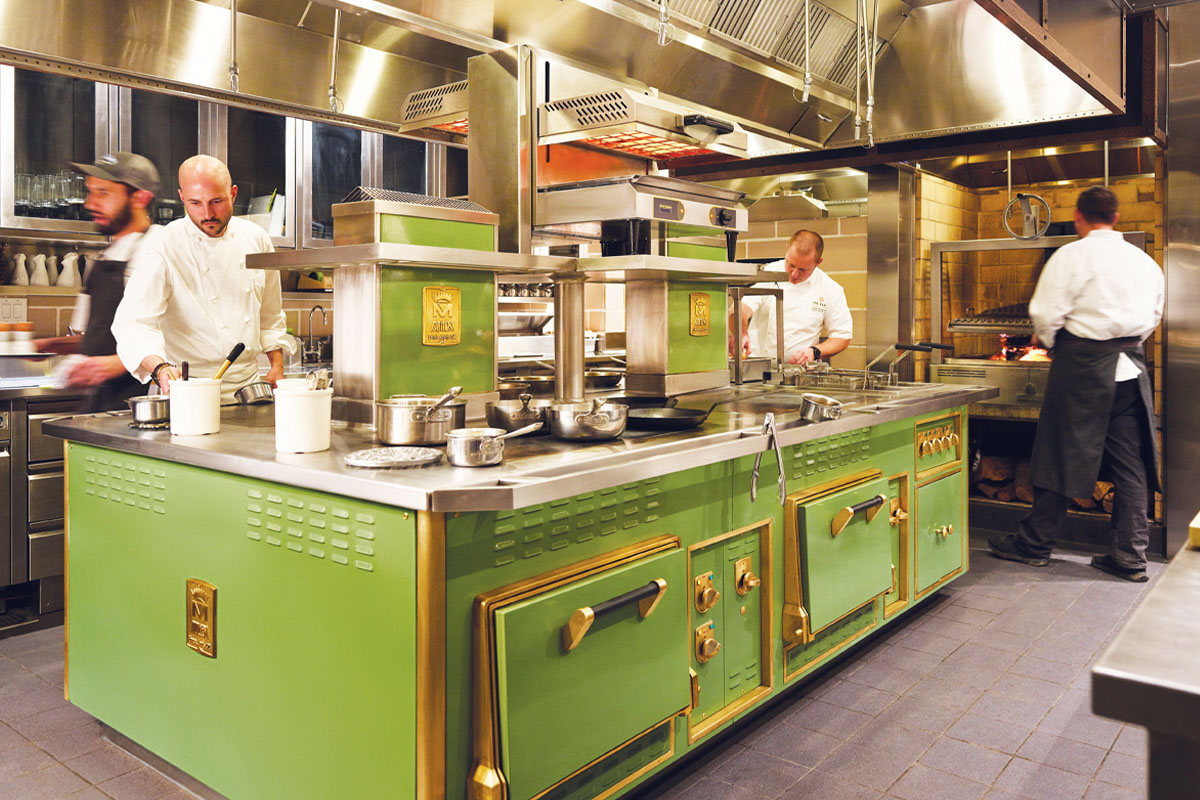 PROJECT:
The Farm at Brush Creek Saratoga, Wyo.
CONSULTANT/DESIGN FIRM:
Stuart Davis, Next Step Design Annapolis, Md.
EQUIPMENT HIGHLIGHT:
Cooking suite with four French tops, a fryer, ovens and a pair of cheesemelters

Brush Creek Ranch in Saratoga, Wyo., is a long drive over the mountains from Denver, and a nearly two-hour drive to Laramie, the third largest city in the state. Remote though it may be, this ranch, operated by hotel development and management company White Lodging, boasts a professional kitchen worthy of any big-city, high-end restaurant.
The kitchen, the heart of the ranch's signature restaurant Cheyenne Club, serves as the linchpin of a self-sufficient, guest-immersive, "seed-totable" culinary compound called The Farm at Brush Creek. Executive Chef Angus McIntosh leads the restaurant.
"From day one, the owners wanted the kitchen to be the focal point," says foodservice consultant and kitchen designer Stuart Davis, Midwest division vice president for Next Step Design, Annapolis, Md. The fi rm's project scope centered around the kitchen and its bar, but also spanned the Farm's cooking demonstration kitchen, bakery exhibition kitchen, creamery, brewery bar and back-of-house support areas.
Time and distance. Challenges for the new-build project included a compressed timeline and the Ranch's remote location.
"We [began planning foodservice layouts] in April 2018. The opening date was the [summer 2019] wedding of the owner's daughter," Davis says. Construction started in winter and continued without a single day shut down due to weather.
"Our final punch list was done in May 2019," says Davis, adding that one way the team met the 13-month deadline was by designing and constructing concurrently. "For a project this size, it would usually take a year and a half to design and two years to build out. The wedding deadline kept everyone on-track and focused."
Moving equipment and supplies from the kitchen equipment contractor in Denver to Saratoga required some logistical feats. "Brush Creek Ranch is nearly a four-hour drive from Denver—assuming the mountain pass is clear of snow," Davis says. "Our installation crews had to live in town during construction—the ranch is that remote."
Efficient and elegant. Goals for Cheyenne Club's 650-sq.-ft. kitchen required that its equipment supply sufficient firepower, as the property's main cookline, to handle everything from banquets and private events to a la carte dining. The kitchen also had to have the flexibility to match any multicourse menu chef McIntosh devised. Menu items include Akaushi beef, a summer tomato terrine and a vegetable tart.
Behind the scenes, covering 1,450 sq. ft., are the support areas: prep, cold and dry storage and warewashing.
"The kitchen as a whole is simple," Davis says. "We didn't know what the menus would be, but given that it's on a cattle ranch, we equipped for plenty of open-fire cooking."
A cooking suite clad in sage green enamel with brass accents, serves as the kitchen's anchor and its star. "The suite is the first thing guests see when they walk in the front doors," Davis says. The suite's cooking components include four French tops, a fryer, ovens and a pair of cheesemelters.
A pass-thru area, illuminated by 10 adjustable- height metal-clad lamps, visually frames the suite. A wood-burning hearth grill, a hearth oven, a make table with plenty of cold drawers below, a garde manger and a pastry station surround it. The support and prep areas include combi ovens, a steam-jacketed kettle, tilting skillet, a six-burner range, blast chiller, and cold and dry storage.
"In the middle of nowhere, [Cheyenne Club and its kitchen] is really an unexpected culinary experience," Davis says.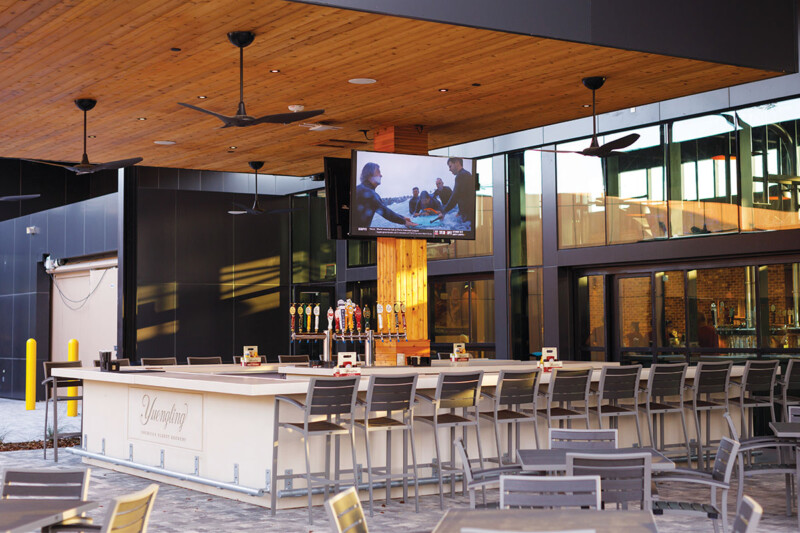 Kitchen Design
Designing a 42,000-square-foot, 800-seat entertainment and dining space centered around beer posed challenges and opportunities.