Supporting Social Distancing Through Safety Shields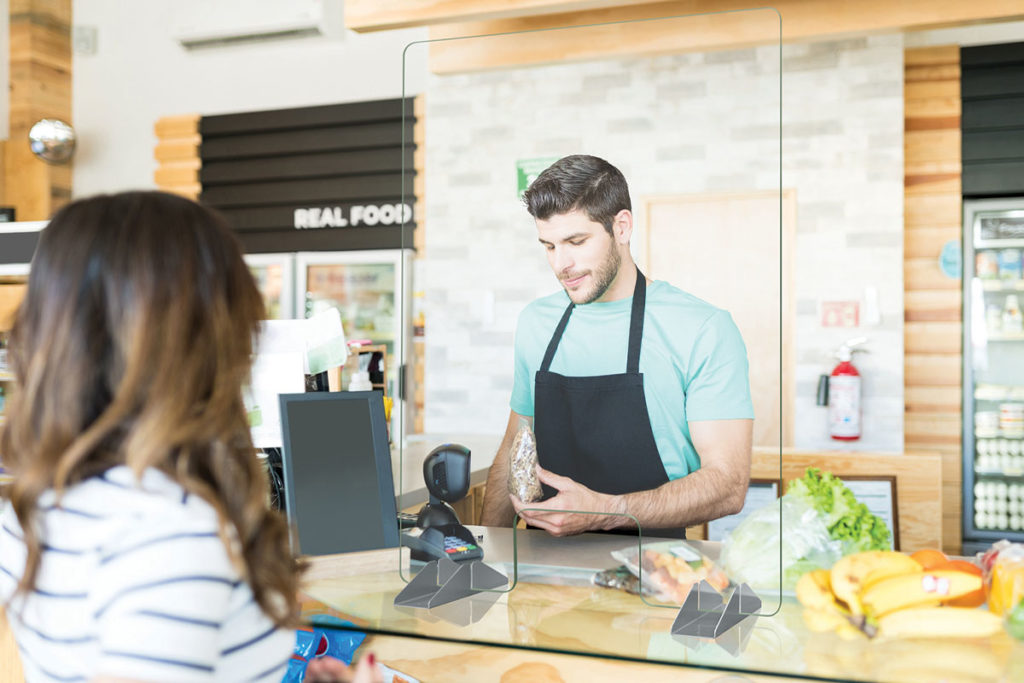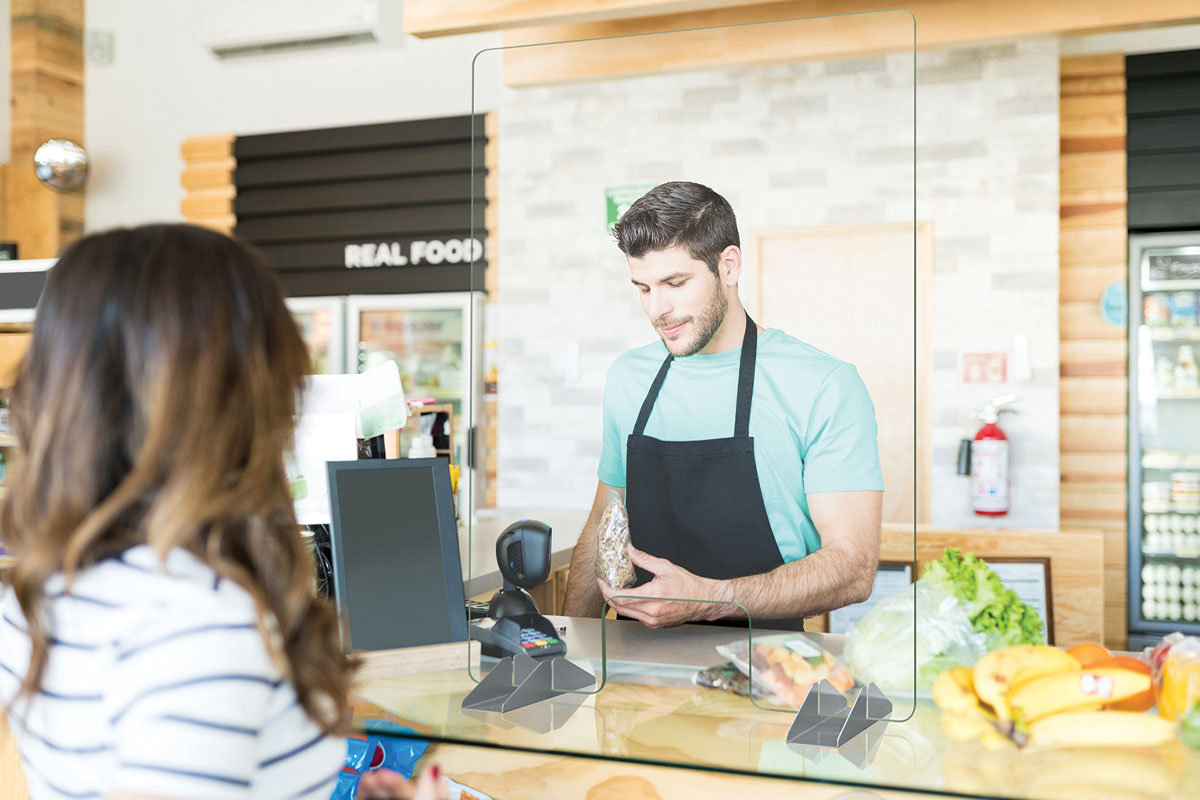 Installing physical barriers, such as partitions or Plexiglas shields, to promote social distancing marks one guideline in the National Restaurant Association's COVID-19 Reopening Guidance. Released in April, the report shares best practices for safely reopening restaurants.
Like face masks, barriers don't eliminate the risk of transmission of the virus but can help at least minimize it. Quick-service and fast-casual restaurants have been among the first concepts to order barriers to install at point-of-sale counters, according to manufacturers. More extensive designs and configurations also are available for other applications such as at hostess tables, at food pickup areas, to divide communal tables, to increase the height of booths and even to roll between tables.
To Mount or Not to Mount
You may either mount the barrier or sit it on a countertop as a freestanding unit. Freestanding units are ready to use right out of the box but require adequate counter depth and space for the risers, brackets or feet that stabilize it.
Mounting the barrier, or hanging it from the ceiling, will help ensure stability, allow for greater height and save counter space. Ceiling-mounted units, while trickier to install, keep countertops free of any visible blemishes if they're ever removed. Suspended barriers also typically have less hardware in the line of sight, providing a sleeker look for concepts concerned with ambiance.
Sizing Up Barriers
Currently, there's no formal recommendation about how large these barriers should be to best protect against sneezing, coughing and airborne droplets containing bacteria and germs. Generally, freestanding barriers average around 30 in.W x 36 in.H—anything taller than that and the unit would be more likely to tip over, depending on the panel design. Mounted or suspended shields can be significantly wider and taller, and most all manufacturers offer custom sizes.
Cutouts and Configurations
Standard shields come with a small opening to facilitate the exchange of money and payment cards while other designs offer cutouts for credit card machines and larger items such as food and drinks. These pass-thru windows can come either centered or right- or left-aligned as well as custom designed to work with the layout of the operation.
Some manufacturers build shields completely upright while others offer a sloped design at the top as another measure of containing any airborne pathogens. Freestanding barriers also may be C-shaped or have one or two side panels to increase stability and offer a more complete enclosure.
Quality of Design
Other features to study when specifying barriers include material type, thickness and ease of storage.
MATERIAL: Makers typically construct these shields from either acrylic or polycarbonate material. Polycarbonate is the more expensive of the two, with some manufacturers claiming it's more durable, while others claim acrylic is durable enough for this use. Both materials require cleaning with a nonabrasive cleaner with no ammonia or alcohol to maintain optimum transparency.
THICKNESS: The biggest difference in price point reflects the thickness of the barrier, manufacturers say.
Standard thickness is ¼ in. and some makers report that anything thinner than that could bow or bend if an employee applies pressure. Some shields also have stainless metal channels to reinforce areas more prone to breaking.
PORTABILITY AND STORAGE: Some shields are lightweight and portable and may even sit on casters to ease mobility. Others come hinged so you can fold and store them when not in use while others are marketed as being easily stackable.
BARRIER SUPPLIERS
Bon Chef
bonchef.com
Cal-Mil
calmil.com
DeepStream Designs
deepstreamdesign.com
Hatco Corp.
hatcocorp.com
Wasserstrom Co.
wasserstrom.com
Winholt Equipment
winholt.com
Vollrath
vollrathfoodservice.com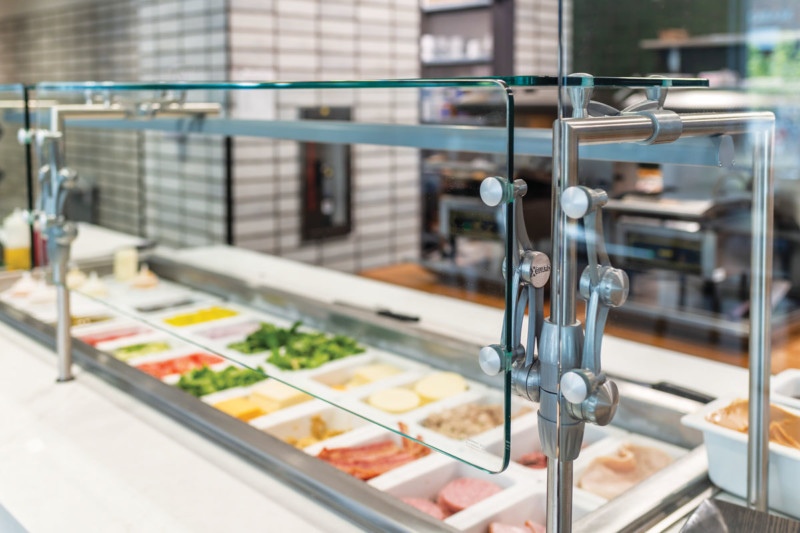 Furnishings and Decor
If your facility boasts convertible food shields, and needs to shift from self-service to full-service to increase safety as a result of the COVID-19 pandemic, follow these general steps.