Cool Capacity: How to Specify Large Capacity Reach-Ins
Today's large-capacity reach-in refrigerators boast new tech to shrink energy costs and boost performance.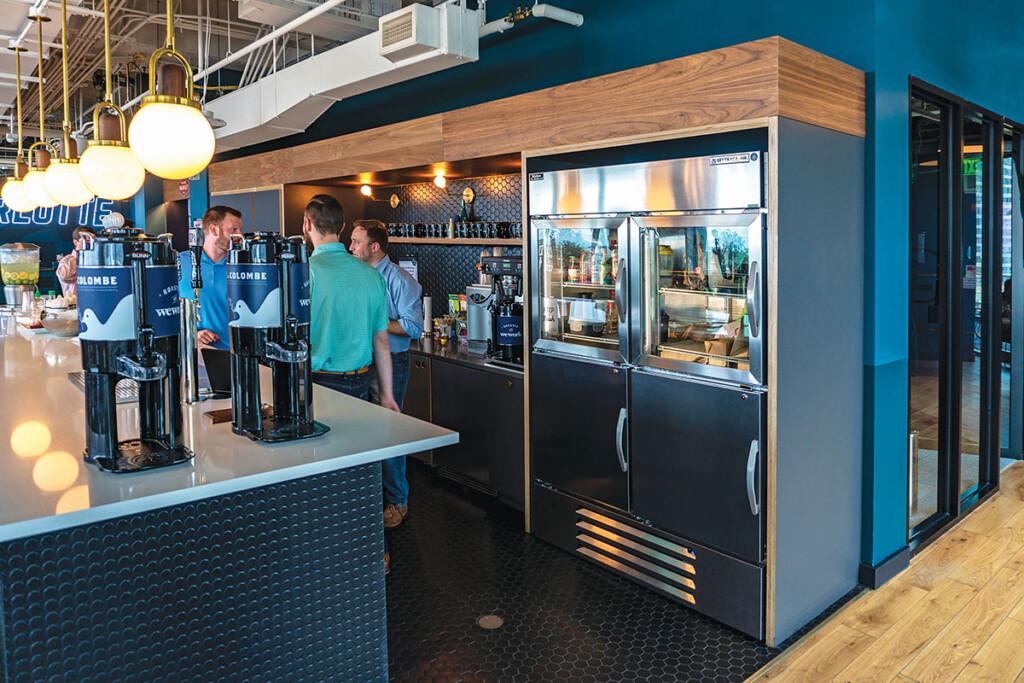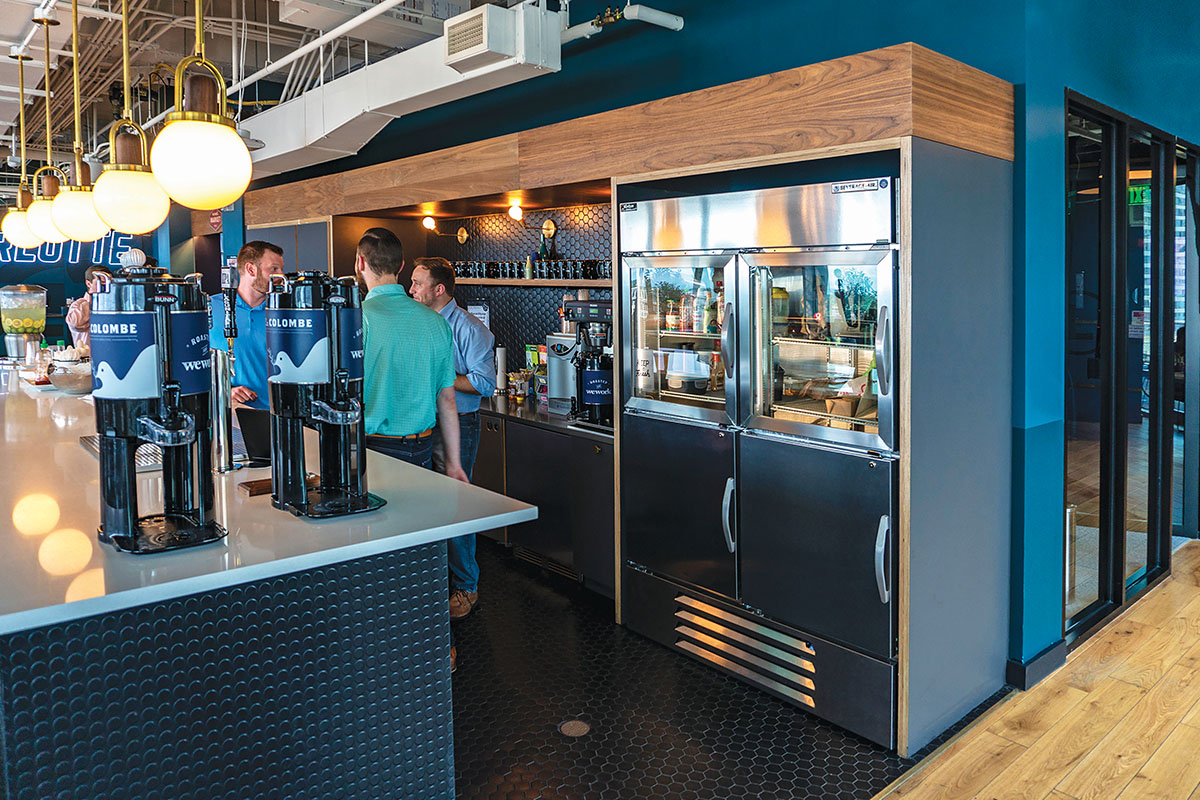 With their oversized capacity, multiple-door reach-in refrigerators give operators generous space to store their products—and the need for additional storage space has become more widespread.
Since the pandemic, restaurant operators have been increasing their reach-in storage capacity to support the rise of off-premise meal pickup, and operators in the K-12 segment are finding a need for additional refrigerator storage solutions—like two- and three-door models, which give operators more space width-wise compared with multiple one-door units—as participation in school breakfast and lunch programs grows, says one maker of multiple-door reach-in refrigerators.
While the equipment's spacious design has been a draw for operators across segments, some have shied away from two- and three-door reach-ins in the past due to their energy-guzzling nature. However, today's large-capacity models are more efficient than ever, boasting new tech to lower energy costs and improve performance. Manufacturers also have introduced enhanced componentry to make them easier to maintain, a big plus amid labor shortages.
Efficiency Efforts
Previously, one of the big drawbacks of multiple-door reach-in refrigerators was that a lot of them didn't qualify for rebates because they didn't meet Energy Star standards. However, around five years ago, many manufacturers began switching to R290, a more environmentally friendly refrigerant, to meet new U.S. Department of Energy and Energy Star Version 4.0 standards, and the move helped lower energy numbers.
The EPA says refrigerators certified to the new Version 5.0 specification, effective Dec. 22, will deliver average energy savings of up to 24%. 
Now, with deadlines looming for Energy Star Version 5.0 for refrigerators, manufacturers have been taking more steps to further lower energy numbers. One manufacturer says this will put more Energy Star-rated large-capacity models on the market. Version 5.0 becomes effective on Dec. 22, and the U.S. Environmental Protection Agency says models certified under this specification will deliver average energy savings of up to 24%, compared with non-rated models. "It hurts to not be considering Energy Star if you're paying the bills right now because inflation and the cost to run a restaurant is being impacted in so many different ways that, if you're able to utilize energy-efficient equipment, it's going to definitely help with your bottom line," says a maker.
One manufacturer has worked to improve models ahead of Version 5.0 by implementing a variable speed compressor, which the maker says has significantly improved energy usage and performance for its two- and three-door models. Standard in the category is a fixed speed compressor, which has two functions: on and off. It turns on to ensure temperatures are pulled down before turning back off.
A variable speed compressor ramps up RPMs as required to help bring down temperature but then also can lower RPMs to better maintain temperature setpoints. "So, it helps us get colder faster. It helps us to retain temperature more evenly, and it gives us the ability to be more accurate as it relates to holding temperature overall," says the manufacturer. The maker uses variable speed compressors in many of its models now, and at least one other manufacturer is looking into the smart technology as it works to improve efficiency to meet the new standards.
Get Running
When investing in a reach-in refrigerator, there's a lot to consider. First, determine the application and whether your reach-in will be located on the cookline or used more for storage. This will dictate whether a top-mount unit (where the refrigeration system is housed in the top of the reach-in) or a bottom-mount unit (where it's housed in the bottom) would be best.
Top-mount units are generally recommended for use on the cookline where it's hotter and busier, as these units release the hot air created by the refrigeration system from the top, away from the cookline. Several manufacturers only offer top-mount systems and tout them as easier to service in a busy kitchen. Bottom-mount units are typically seen away from the cookline. Their benefits include a higher storage area—so operators don't have to bend down as far to fill and retrieve items—and a solid top for extra storage.
Next, consider your capacity and footprint to determine whether you need a one-, two- or three-door model. Operators with walk-in refrigerators may not need a large reach-in refrigerator, as they can store product in the walk-in and move it to the reach-in as needed. Of course, take measurements to ensure the model will fit within your footprint. Also take note of the height to determine whether it will fit through a standard door. At least one manufacturer designed its vertical reach-ins to roll through a standard commercial doorway, at 79½ inches tall with casters installed.
One manufacturer's three-door reach-in refrigerator with glass doors outperforms federal energy standards by 52.9%.
Also consider your application when deciding between solid doors versus glass doors. A maker says solid doors typically do a better job overall of retaining temperature and won't have the propensity to build as much condensation. But glass doors can be helpful when the units are customer-facing, if you want to show off your ingredients. One maker even offers a three-door model with glass doors that outperforms federal energy standards by 52.9%.
Models also can come in half-door sizes, which helps conserve energy with frequent door openings and closings. "If it's going to be really hot, tight quarters, you might be considering a half door. Most of what I see with my larger chain and national account customers is they all utilize a half door," says one maker.
Clean Team
Planned maintenance is key to the longevity of your reach-in. Thankfully, makers have introduced improved componentry and technology to make R&M easier. Here's a look at some of the latest features:
Finless condenser coils. One maker says cleaning condenser coils is one of the biggest challenges facing operators. Failure to keep coils clean can result in premature compressor failure and costly service calls. To prevent this, manufacturers offer different types of self-cleaning coil solutions, but they don't completely solve the issue, says one maker. Instead, finless coils provide a simpler way to keep the condenser clean, as they don't have aluminum fins, the main element to collect debris, grease and more. Finless coils also allow air to circulate freely and can extend compressor life without needing constant cleaning.
Chemical-resistant gaskets. Traditional gaskets break down and become damaged if they're cleaned with chemical-based detergents commonly found in commercial kitchens. However, chemical-resistant gaskets can withstand chemicals, making them easier to maintain and more durable. One maker that uses chemical-resistant gaskets says they will typically outlast traditional gaskets up to four times over. Some makers' gaskets also are removable without tools, simply snapping in and out.
Wi-Fi-enabled controls. More manufacturers are offering connected controls, allowing operators to monitor reach-in refrigerators off-site with a mobile device. Operators can receive alerts to problems immediately, allowing them to react quickly, address the issue, remove product if needed and dispatch service to minimize downtime as well as potential food loss.
---
Did You Know?
Some makers offer remote refrigeration systems to reduce heat and noise in the kitchen. With remote systems, crews locate the condensing unit away from the reach-in, usually outside the building or on the roof, while the evaporator coil is inside the reach-in. This option makes sense on two- and three-door models as they generally emit more heat and noise than one-door units.
---
Cool Crowd
Take a brief tour of eight suppliers' large-capacity reach-in refrigerators.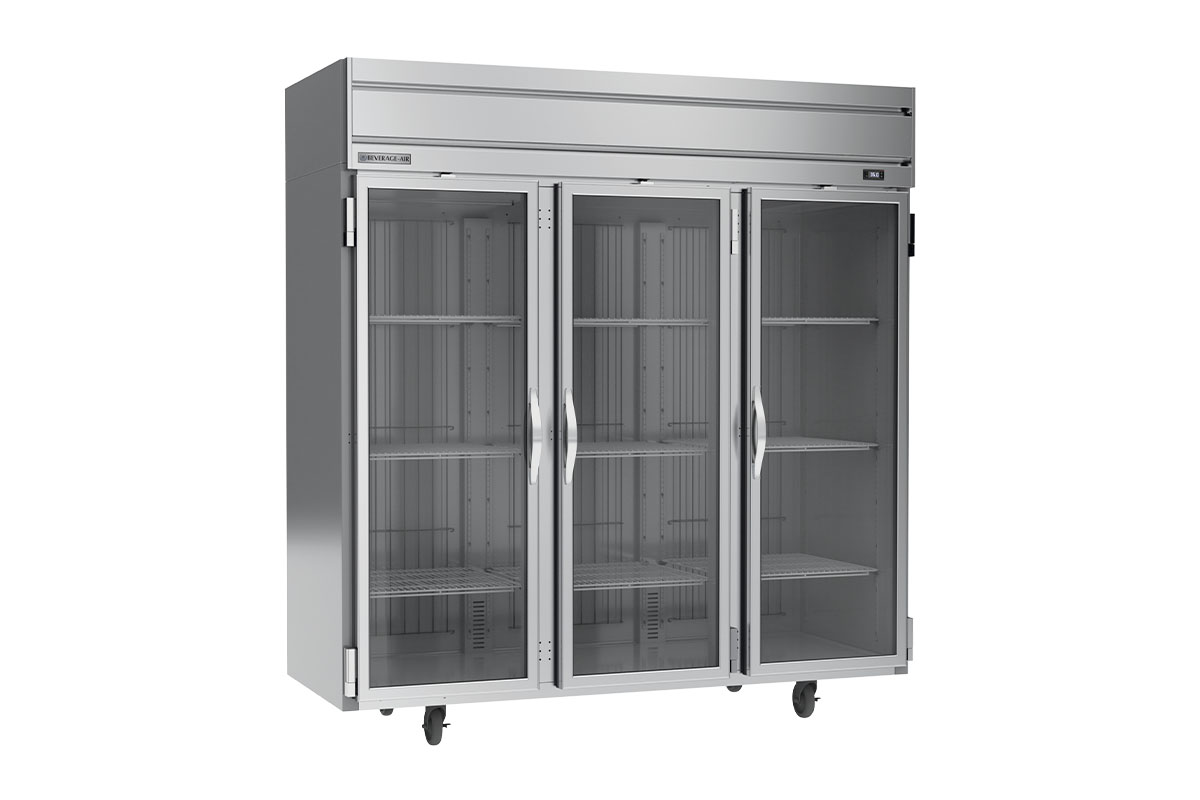 Beverage-Air
Model: HR3HC-1G
Features: This stainless, three-door reach-in offers plentiful storage across nine epoxy-coated wire shelves. Adaptive defrost and a hot gas condensate evaporator help the unit operate efficiently. Snap-in magnetic gaskets ensure a proper door seal, and self-closing doors remain open at 120 degrees.
Website: beverage-air.com
---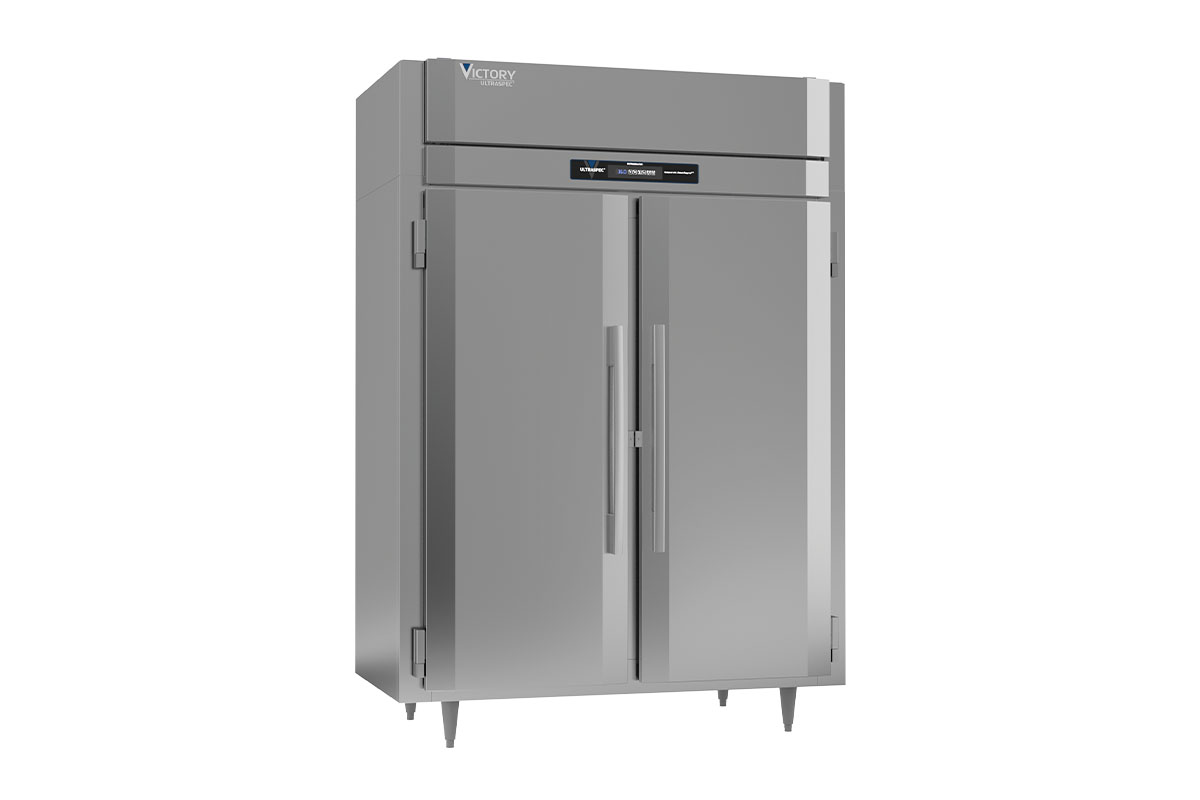 Victory
Model: RS-2D-S1-EW-HC
Features: Adaptive defrost, an epoxy-coated evaporator coil and a hot gas condensate evaporator are among refrigeration system highlights. Stay-open doors ease product loading, and a manager's lockout feature adds custom control. 
Website: victoryrefrigeration.com
---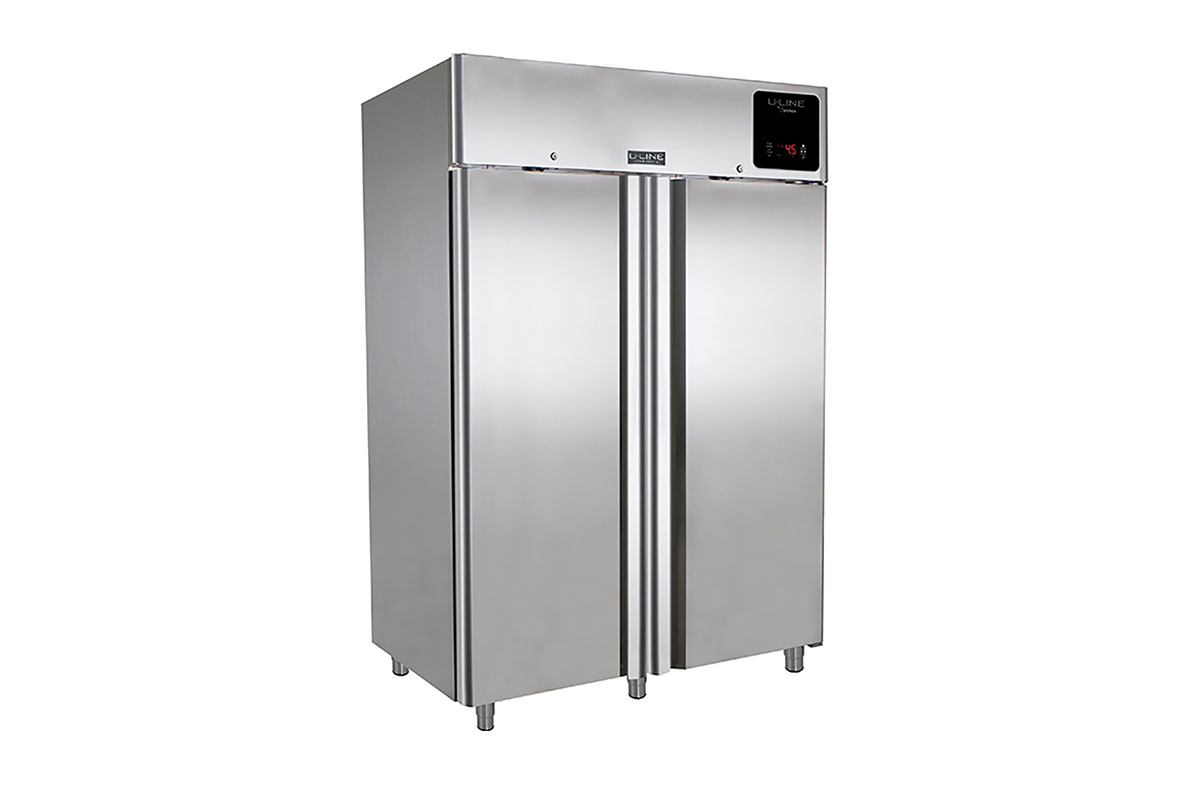 U-Line Commercial
Model: CRE553 49 Cu Ft Refrigerator
Features: Choose from glass or solid doors on this two-door model, complete with an electronic digital temperature control and a range of 28°F-46°F. Auto defrost, plus a high-efficiency compressor, evaporator coil and condenser complete this unit.
Website: u-line.com/commercial
---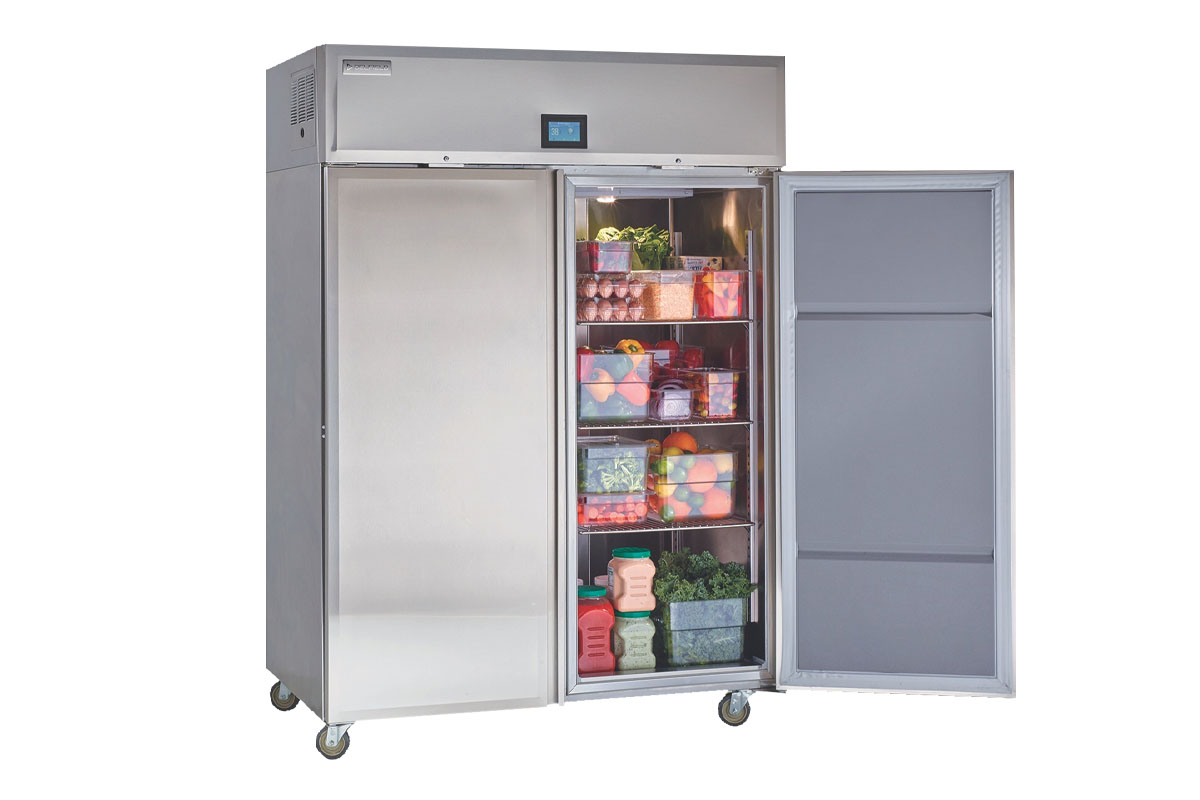 Delfield
Model: GAR2P-S
Features: Electronic temperature controls reduce compressor cycling, lengthen compressor life and lower energy consumption. An adaptive defrost setting keeps the evaporator coil efficient and ice-free, and an energy-efficient hot gas system eliminates evaporator condensate. Optional add-ons include a foot pedal door opener, stainless shelves (chrome come standard) and heat shield.
Website: delfield.com
---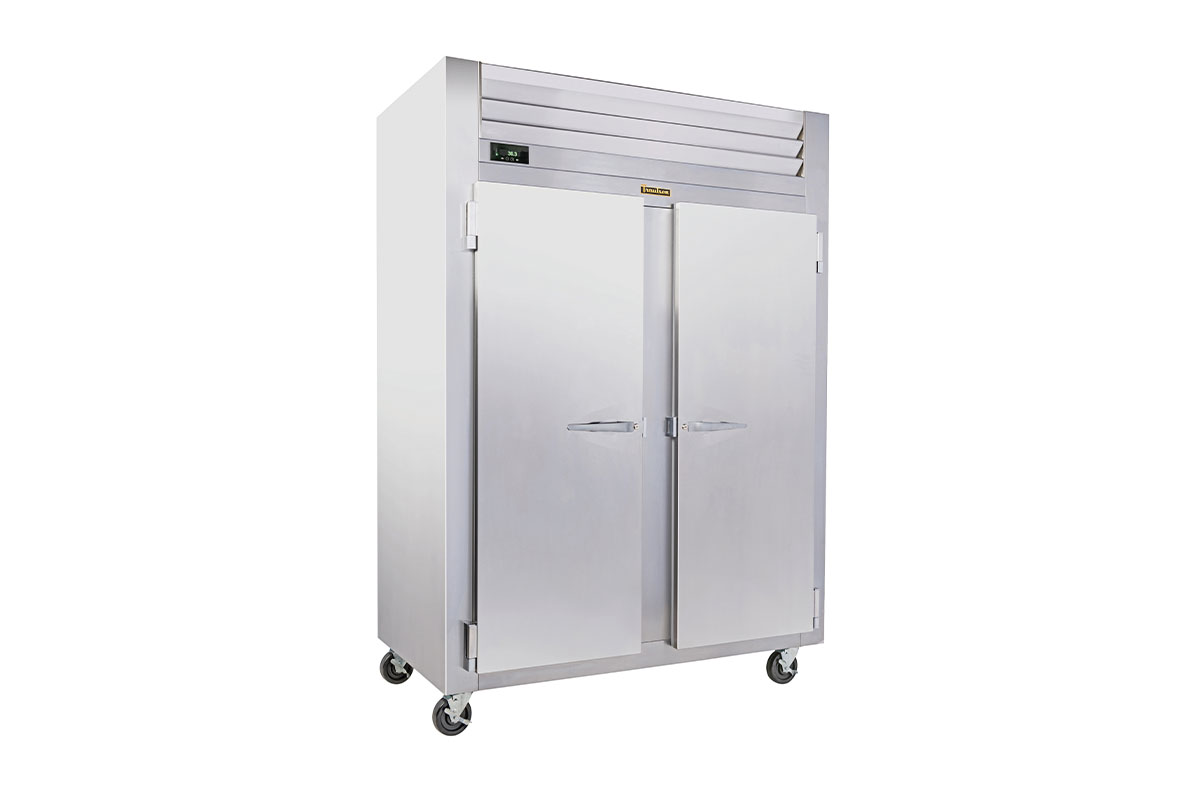 Traulsen
Model: R & A Series
Features: Smart sensors automatically adjust to environment and usage patterns, and LED alarms keep operators in the know. On two- and three-section models, even but efficient temperature maintenance is safeguarded through a rear biased return air duct. Self-closing doors remain ajar at 120 degrees.
Website: traulsen.com
---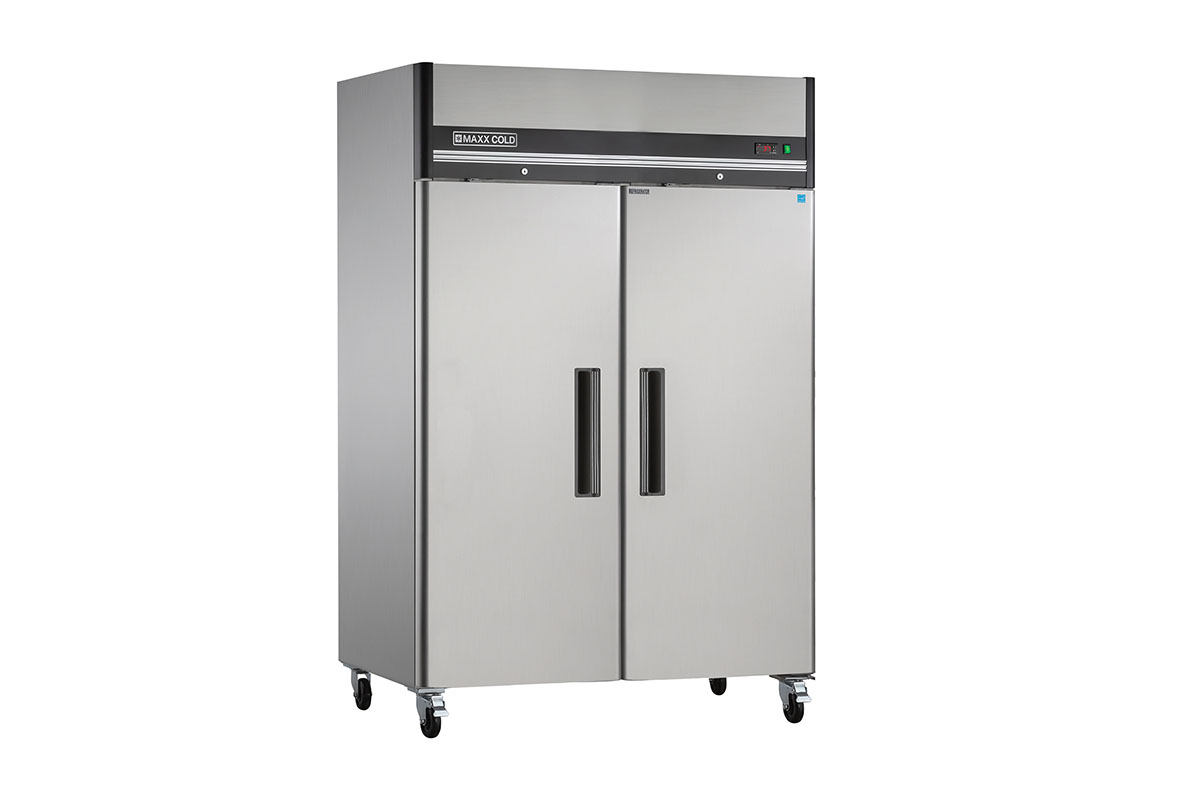 Maxx Cold
Model: MXCR-49FDHC 
Features: No drain line connection is needed due to an integrated condensate evaporator on this stainless model. An alarm sounds if the door is left ajar for three-plus minutes, and adjustable shelves can hold full-size sheet pans.  
Website: maxx-cold.com 
---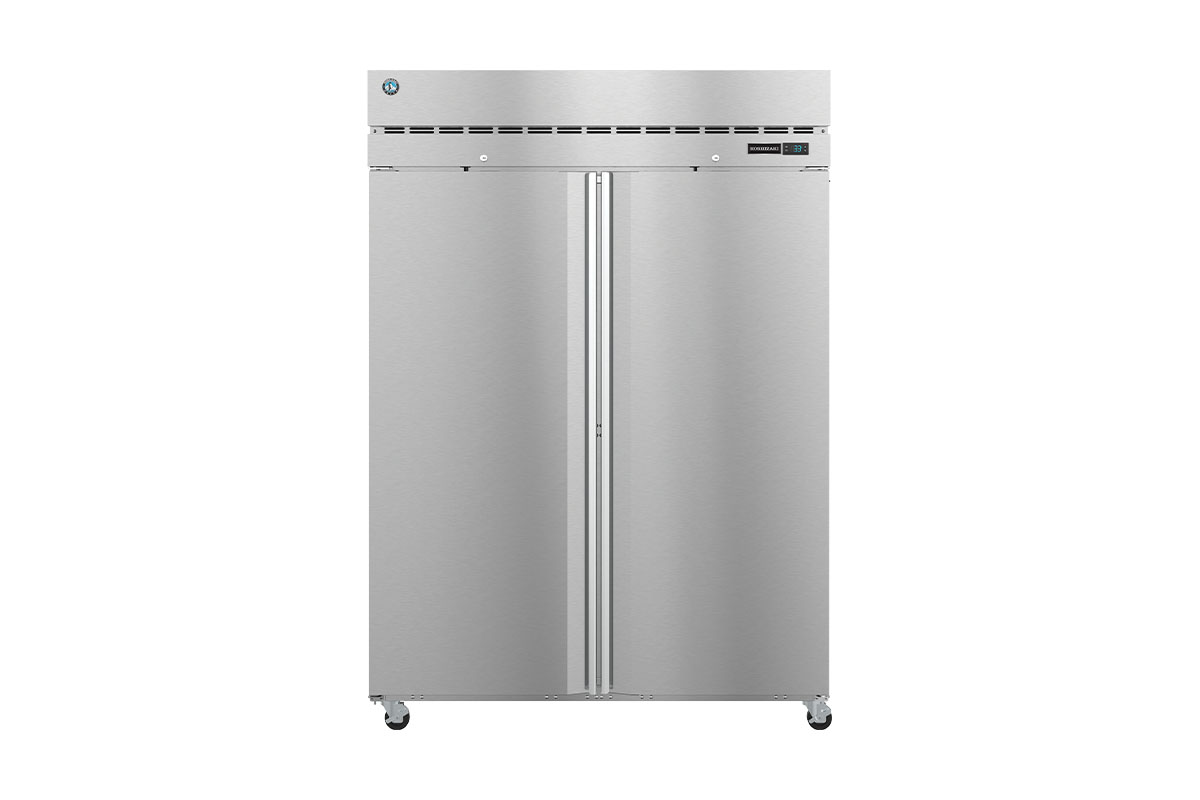 Hoshizaki
Model: R2A-FS
Features: A ducted airflow system eliminates hot spots within this stainless unit, and a hot gas condensate evaporator adds efficiency. The condenser filter, mounted on the top of the unit, is easily accessible. Self-closing doors include a stay-open feature, and temperature alarms and an LED temperature display offer peace of mind.
Website: hoshizakiamerica.com
---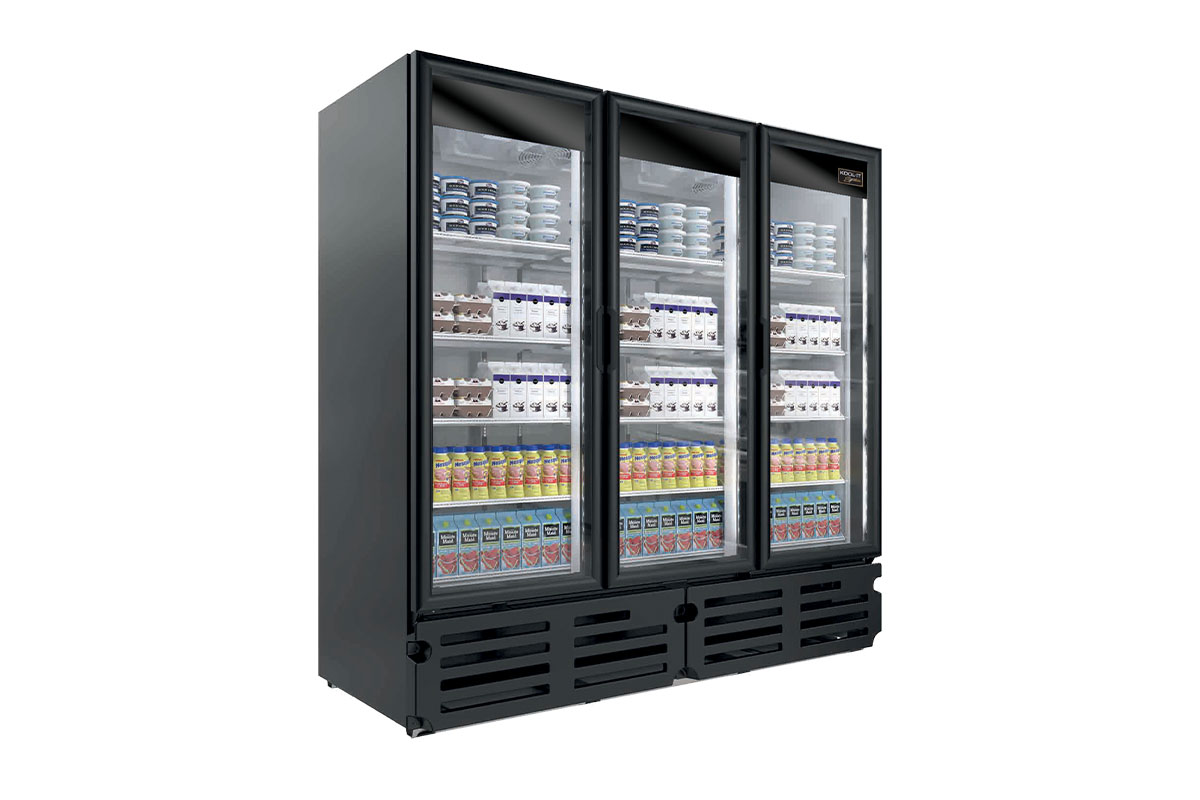 Kool-It
Model: LX-74RB
Features: A redesigned condenser boosts longevity and safeguards against leaks while spark-free refrigeration components keep operators safe. Interior LED lighting comes standard, and electronic controls enable precise temperature control and more.
Website: mvpgroupcorp.com
Editor's note: All featured models have been introduced or updated since the 2018 National Restaurant Association Show.  
---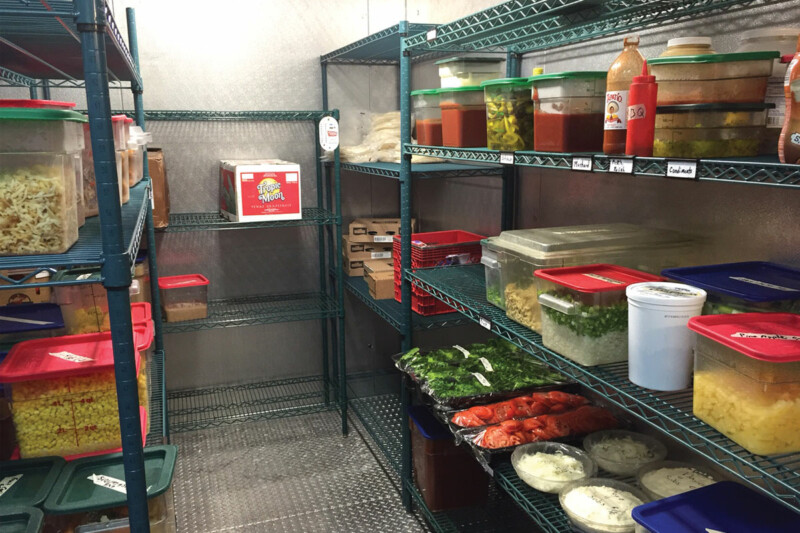 Equipment
A walk-in cooler and the food items stored inside are enormous investments for any business. As with any investment, you want to maximize your return and protect against loss. One…