High-Speed Ovens Boost Menu Offerings
High-speed ovens make quick, easy work of preparing menu items, and the market offers several new models.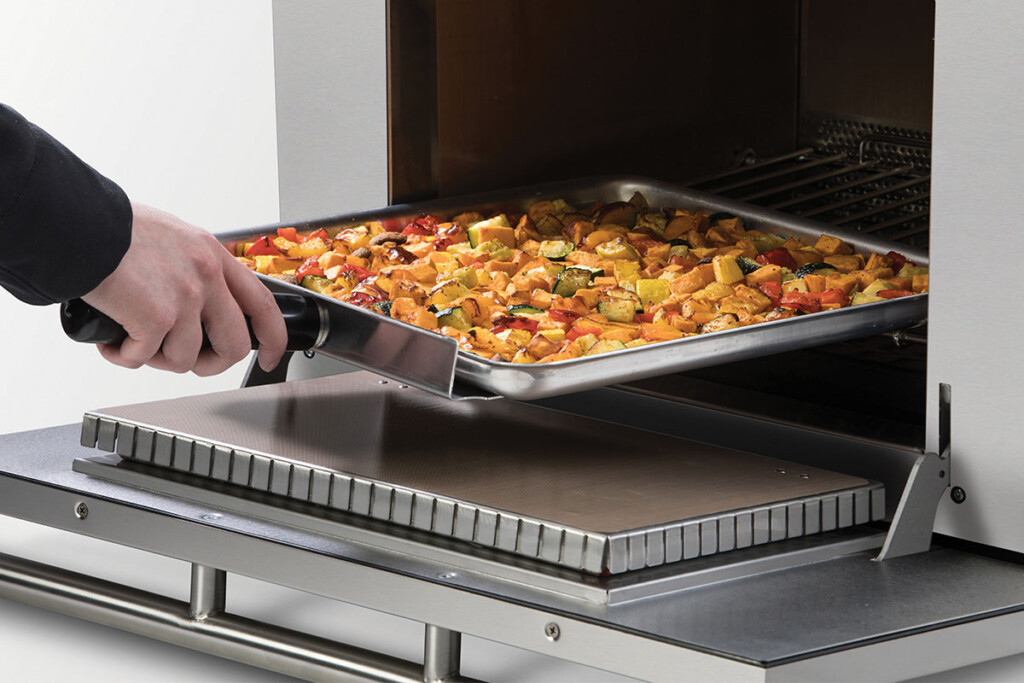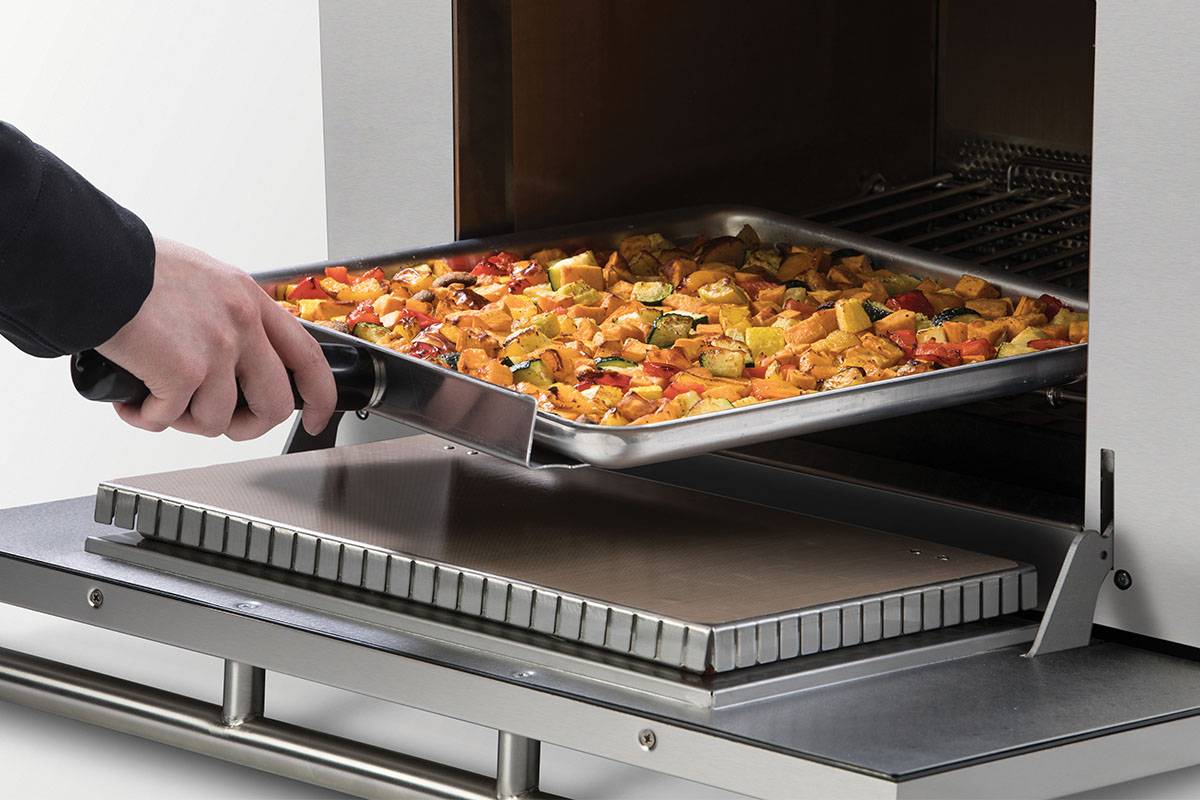 High-speed ovens give operators a way to provide customers with fresh hot food as close to the point of service as possible—an increasingly important need as takeout, curbside and drive-thru service becomes more prevalent. Easy to install and operate, they can facilitate hot foodservice for operations without a traditional kitchen (think coffee shops or bars and lounges); save labor in restaurants hard-pressed to justify remaining open (allowing batch prep and on-demand cooking); or help reinvent a dine-in concept with an easy way to add new and different takeout menu items.
Manufacturers have introduced several new models—featuring smarter controls, smaller footprints and more specialized cooking—in the past year, one as recently as this February, and another that should be out in April or May, when the National Restaurant Association Show is scheduled to take place. Not sure how to choose? Here's what to keep in mind:
Fast—And Flexible
Flexibility is one reason operators use high-speed ovens. In general, they make quick work of rethermalizing cooked product and do a good job of cooking a wide variety of menu items. They're typically better at finishing items than cooking from scratch, and some are better at particular tasks than others. You may want an oven that does many things well so you can add menu items in the future. Or you may want to choose one that does a couple of specific things very well.
MULTIPLE HEAT SOURCES. High-speed ovens combine different types of cooking—typically microwave and convection heat—to hasten the heating process. However, several models use three sources—microwave, convection and impingement—and others use different combinations, including radiant heat sources.
Typically, those with three types of heat offer more menu flexibility and cooking stage options, as well as the ability to store more of those combinations (one can store 1,024 "recipes"). Others, while flexible, are designed to be more proficient at certain tasks. One maker says one of its models is very good at baking (imagine cookies in 60 seconds or less). Another uses a combination of impingement and radiant heat which it says is excellent for pizza.
VENTED OR VENTLESS. Most speed ovens if not ventless offer a ventless version. That means with their air filters and catalytic converters you can plug them in anywhere you have 208-240V service. Most require a 30-amp circuit, but some models will operate on a 15-amp circuit. You could potentially plug one in near your POS, and finish a menu item while a takeout customer is paying for it at the register.
Make sure, though, that you choose an oven that can handle the effluent produced by the food you're cooking or reheating. Most ventless models don't deal with the grease produced when cooking raw meats, for example, though a couple of models come equipped with the grease filters needed for items like steaks.
Made to Measure
Size is another important issue to consider. With kitchen real estate in short supply and steadily shrinking, finding a place for more equipment isn't easy. Think about the following features:
FOOTPRINT. How much counter space does the oven occupy? Some models are relatively small; others take up more space. Figure out what space you have available.
CLEARANCE. Don't forget to figure clearance into your footprint before you jam a high-speed oven in between a toaster and a steamer. Some models don't require any side clearance while others need two or three inches of breathing space.
CAVITY SIZE. High-speed ovens have small cavities compared to conventional ovens. Smaller cavities cook faster but hold less, obviously. Many models now offer at least 12-in.W cavities to hold a pizza, but may be too shallow in height to hold a meatball sandwich. Take into account what production capacity you need at peak hours.
STACKABILITY. Production capacity may lead you to consider buying two speed ovens, not just one. But you may still have the problem of scarce counter space. Many models come stackable, with conversion kits sold separately.
Easy-Peasy Controls
Digital touch-screen controls are pretty standard on this equipment, though some simpler models still have keypads and LED screens. All are programmable, and most have USB ports that make downloading cooking instructions much easier. Here are some factors to consider when researching controls:
TOUCH-SCREEN TECHNOLOGY. On these ovens, touch screens may be one of two types, capacitive or resistive. Capacitive screens (like those on most smartphones these days) provide easy, flexible operation and offer high contrast so they are easy to see, plus the tough glass surface is especially durable. In many cases, however, they only respond to bare fingers or a special stylus. Resistive screens respond to pressure on spots of the screen, so employees can operate them wearing gloves. But the flexible surface can wear over time and, if scratched or damaged, may not work properly.
ON-SCREEN PROMPTS. Some models use icons to make it easier for employees to choose the right cooking "recipe" when operating the oven. Other models prompt users through a menu with instructions; some offer these in as many as 20 languages to make it easier for non-English speaking employees to select the right program or cook cycle for the menu item they're preparing.
PROGRAMMABILITY. As mentioned, some models can store as many as a thousand or more cooking recipe instructions. But find out how easy it is to program those instructions, and how easy it is to access them once in memory. Actual operation for employees should be as simple as pressing one or two buttons. Typically, the USB port on most models makes it easier to download instructions for specific products on your menu.
CLEANABILITY. From an operations perspective, look at how easy it is for employees to clean the oven. Some oven cavities come coated with a nonstick surface, for example. Some have an antimicrobial powder coating on the exterior to minimize cross-contamination from employees' hands. Removable air filters should be simple to take out and wash. Some ventless models have a removable catalytic converter for easy service or replacement.
The Extra Mile
While high-speed ovens seem like a simple piece of equipment—push a button, get a finished product in 60 to 120 seconds—they require time and effort to adapt to and be customized for your menu. Look for these intangibles from makers:
RECIPE DEVELOPMENT. Find out how willing makers are to help you solve menu and labor problems with a high-speed oven. See if they'll give you access to test kitchens and provide the help you need to program models to produce the end product you want to serve.
WARRANTY. As always, compare warranties of the models you're interested in, and read the fine print. Ask questions if you aren't sure what's covered and what isn't.
SERVICE NETWORK. Find out if manufacturers' service areas cover all the territories in which you operate, and ask about their service training, and how well-equipped their service techs are. The last thing you want is to start depending on a high-speed oven and have to wait a long time for repairs if it goes down when you need it.
What To Know About Microwaves
Since so many high-speed ovens depend on microwave cooking to reduce cook time, be sure you find out everything you can about the microwaves in the models you're considering to see how they stack up. Here are points to consider:
Magnetrons. The heart of a microwave oven, the magnetron produces the microwaves that are directed into the oven cavity. Some models have one magnetron. Others have dual magnetrons, which offer the advantage of faster cooking, but draw more power.
Inverter technology. Many microwave ovens use a magnetron driven by a linear transformer which can only switch completely on or off. Inverter technology uses pulse width modulation to provide continuous heating at reduced power so foods heat more evenly, and heat faster without overcooking.
Microwave stirrers. An antenna on the magnetron radiates the microwaves into a waveguide, which directs the radiation to a stirrer fan that disperses it into the oven evenly. (Less expensive home microwave ovens have a turntable instead.) Some high-speed oven models have two stirrers on opposite sides of the oven to promote more even cooking.
A High Speed Test Case
Matt Greco opened Salt Craft, his farm-to-fork restaurant in Pleasanton, Calif., inside a historic home in May 2018, with a full-service menu for breakfast, lunch and dinner. When the pandemic hit last year, he converted to takeout only.
When designing Salt Craft, Greco tested and specified several energy-efficient and space-saving pieces of equipment—including high-speed ovens—with the help of the Food Service Technology Center in San Ramon, Calif.
With a lot of experimentation, Greco was able to select equipment that batch prepares most ingredients in a production area of his small kitchen, and finishes them in an execution area. That allows his staff to prepare the freshest food possible and finish it to perfection just as customers arrive to pick up their orders.
Once Greco selected the production equipment, he tested high-speed ovens to fi nd one that would work best with his equipment lineup and processes. Employees finish virtually all hot food at Salt Craft in the high-speed oven. Sugar cookie sandwiches with a caramel filling, for example, are baked off in a combi oven without rendering the caramel. The high-speed oven crisps the cookie and melts the caramel inside in about 10 seconds before it goes in a takeout order.
Fast & Flexible
Here are the latest high-speed ovens, which make quick work of rethermalizing product and also can cook a variety of menu items.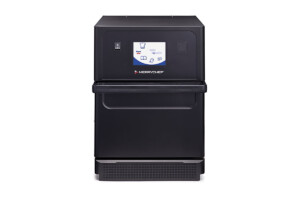 Merrychef
MODEL: eikon e1s
FEATURES: Situate this small-footprint oven on a 25-in.D worktop. The black exterior on stainless and soft-edge front design makes it ideal for an open kitchen concept.
FOOTPRINT: 16-in.W x 22 3/5-in.D x 23 1/5-in.H
CAVITY: 12-in.W x 12 1/5-in.D x 6 1/2-in.H
WEBSITE: merrychefusa.com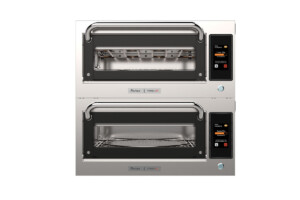 Pratica
MODEL: Forza STi
FEATURES: Built for cooking 16-in. pizzas, this stackable oven boasts an easily removable catalytic converter, which breaks down grease-laden vapors, allowing for ventless operation.
FOOTPRINT: 27 7/10-in.W x 31-in.D x 26 7/10-in.H (stacked
ovens)
CAVITY: 18-in.W x 17-in.D x 3 1/2-in.H (single oven)
WEBSITE: praticausa.com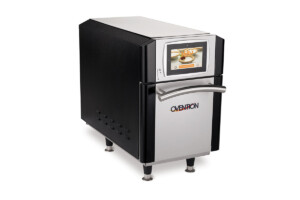 Ovention
MODEL: MiSA-a12
FEATURES: The MiSA-a12 has one of the higher footprint-to-cavity ratios, the company says, and can fit a 1/4-size sheet pan or a 12-in. pizza. It also has an antimicrobial powder coating on the exterior.
FOOTPRINT: 16-in.W x 29 1/2-in.D x 26 3/10-in.H
CAVITY: 13-in.W x 13 1/2-in.D x 5 1/2-in.H
WEBSITE: oventionovens.com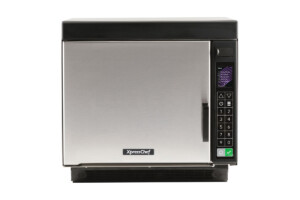 ACP
MODEL: XpressChef 2c Series
FEATURES: The oven specializes in baking menu items; it combines convection and microwave heating technologies. Choose a model with or without ventless capabilities.
FOOTPRINT: 19 1/4-in.W x 26 1/2-in.D x 18 1/8-in.H
CAVITY: 13-in.W x 15-in.D x 10 1/2-in.H
WEBSITE: acpsolutions.com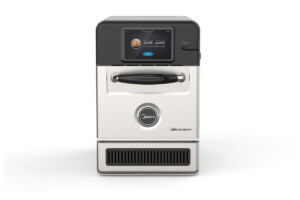 Midea
MODEL: FlashChef G1
FEATURES: The dual magnetron with inverter technology enables this oven to cook or heat the food quickly and uniformly while giving the operator greater control.
FOOTPRINT: 16-in.W x 26-in.D x 24-in.H
CAVITY: 12 3/8-in.W x 13 1/2-in.D x 7-in.H (5 1/4-in.H with rack)
WEBSITE: midea.com/us/Commercial-Kitchen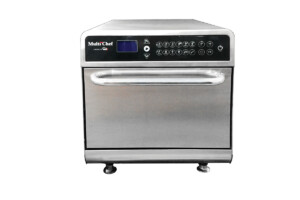 MTI Products
MODEL: MultiChef XL
FEATURES: Now available with a black control panel, the oven comes with a two-step cooking system so every menu item is only a few taps away.
FOOTPRINT: 21-in.W x 31 3/4-in.D x 25 3/8-in.H
CAVITY: 15 1/2-in.W x 14 1/4-in.D x 5 3/4-in.H
WEBSITE: mtiproducts.com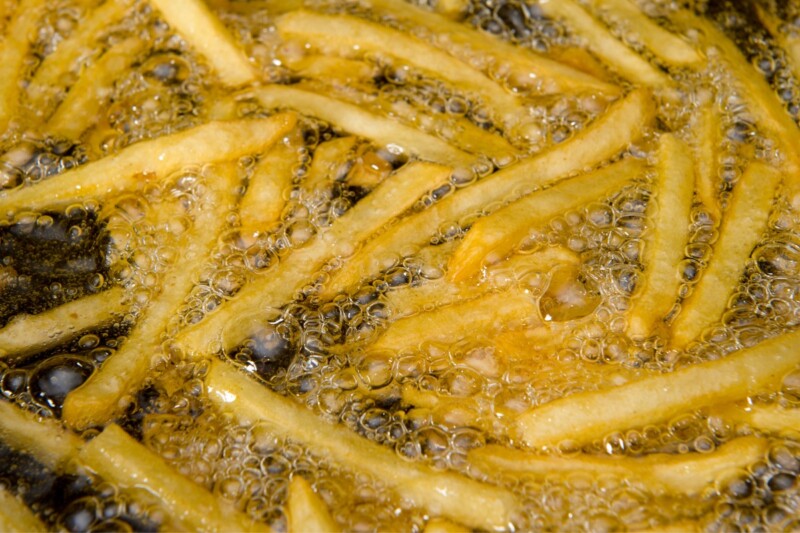 Equipment
Frying oil is a precious commodity in any commercial kitchen, especially in the world of deep-frying. To keep your cooking oil in optimal condition and ensure delicious taste and texture…