How To Choose a Charbroiler
Different levels of durability, heat sources and accessories make charbroilers more customizable than ever.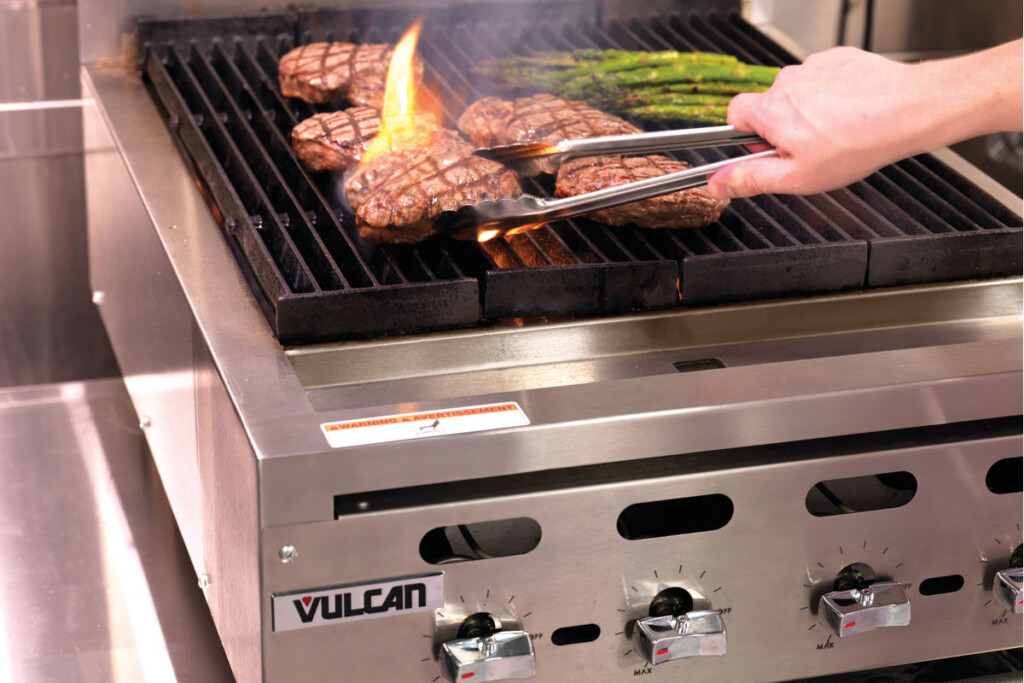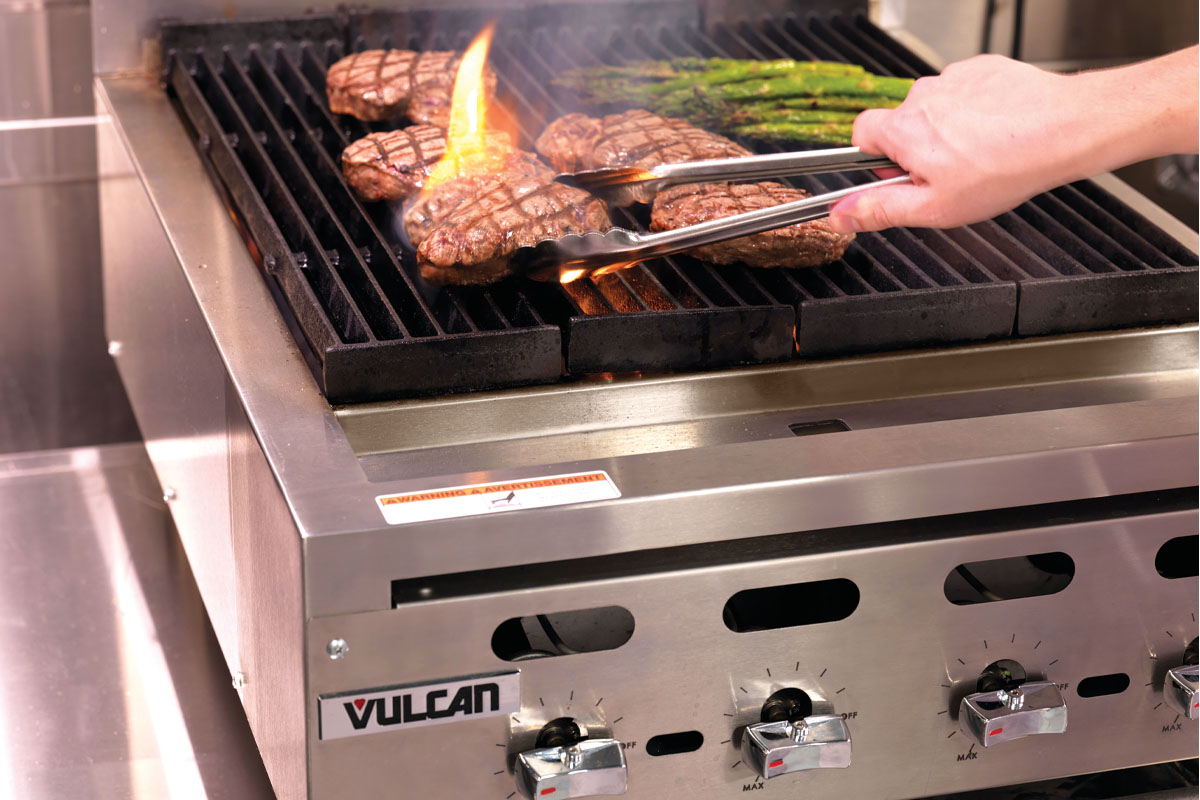 Charbroilers are either a kitchen star—as in a steakhouse or burger restaurant—or a supporting player. Given such varied demands, charbroilers come in a range of materials, dimensions, strengths and configurations tailored to different operations.
Understanding exactly how your kitchen will use this equipment (and how often) is the first step in narrowing down the wide field of choices. From there, consider the ways manufacturers are making their charbroilers more energy efficient, where the charbroiler will be physically located within a kitchen, as well as a number of accessories that further tailor the equipment to your needs and menu. Keeping your operation's priorities front-of-mind will ensure the right fit.
Consider Volume, Strength
Charbroilers are generally classified as heavy-, medium-or light-duty. Those categories are based on the charbroiler's size, construction and durability.
Operators who expect to use the charbroiler consistently throughout service—say, steakhouses—will likely select a heavy-duty model. Kitchens that use the charbroiler only for a few menu items will often choose a medium-or light-duty model that is more budget-conscious.
Lighter-duty models tend to be smaller (20 inches front-to-back compared to 24 inches on a heavy-duty unit) offering less cooking surface, and most models also emit fewer Btus than their heavy-duty counterparts. They're also less durable in terms of their materials, particularly when it comes to some models' radiant element, which is the angled piece of metal over the burners that directs heat toward the grates. A lighter-duty charbroiler might use a thinner steel material for its radiant, whereas heavy-duty models tend to use heavier-weight cast iron. Physically pick up the elements and you'll feel the difference; a heavier-duty model is likely to last longer and require fewer replacement parts under frequent use.
Assess Heat Needs
Another crucial distinction among charbroilers is their heat type, which is generally lava rock (also called ceramic rocks or briquettes) or radiant. Each produces a different evenness of heat. Some operators look for lava rock, a material that evenly distributes heat across the grates' surface; others prefer radiant heat to create different zones, so that food can be seared on high heat in one area and then transferred to a warming area to hold. Lava rocks or ceramic briquettes disperse heat evenly across zones, while radiant channels heat up toward the grates, which then become hotter over time.
Cast-iron elements radiate heat more evenly and quickly to the surface of the grate than steel, but depending on the weight of the cast iron, it can break down over time given its contact with food fats and acids. Some manufacturers tout cast iron as more durable, while others say the same for steel.
Lava rocks or ceramic briquettes need to be replaced more frequently than either steel or cast iron, generally at least twice a year or more frequently if the charbroiler is used heavily.
Charbroilers also vary in terms of the number of burners to heat a given surface area. One burner per foot is generally the standard for light- to medium-duty models, while one burner per 6 inches is the standard for heavy-duty models.
Another consideration when it comes to the heat type is how that source will handle dripping grease or fats. Porous lava rocks or briquettes tend to absorb more of those liquids, creating a smoldering, slightly smoky flavor. Radiants, on the other hand, can divert some of the liquid and produce less of that smolder. Cast-iron grates, though, have a porous quality similar to lava rock and become seasoned, much like a castiron skillet, and transfer grilled flavor that way.
When it comes to the amount of heat (measured in Btus), some models spotlight their high power. Others emphasize their burner technology that creates similarly high temperatures with lower gas usage. Because most charbroilers use either natural gas or propane, they'll need to sit under a hood with the correct amount of ventilation, per local regulations. Countertop models atop a freezer or refrigerator unit also may require insulation.
Accessory Options
Accessories are where charbroilers can pull double duty. Some manufacturers offer fajita warming shelves, bottom-shelf cheese melters, spaces for 1/9-size kitchen pans and other space-saving options. Grates also are often customizable. Some manufacturers offer reversible grates with more closely spaced lines on one side (for delicate items like fish) and wider-space lines on the other for firmer proteins like steaks and burgers. Other manufacturers offer waffle grates that give foods the appearance of having been rotated 90° on the broiler surface without requiring any turning. Round steel rods also are sometimes offered as an option that provides less distinct grilling marks.
For kitchens looking to up the smoky profile of their foods, a wood assist or smoke box can be added below the burners and filled with logs, chips or blocks to impart a subtle smoked flavor.
Some newer models offer specially designed front plates that protect employees from burns, streamlined dripping trays that make cleanup easier, and at least one manufacturer includes a regulator that allows operators to switch between natural gas and propane. Models are becoming more customizable to fit different kitchens' priorities and operations.
Avoid the Pitfalls
Manufacturers cite three common mistakes to avoid when installing and maintaining a charbroiler. First, hire a certified professional to do the install. It's especially important at higher elevations where gas supply will need an adjustment to function properly. Second, be careful with aluminum foil. Some operators wrap charbroilers in foil to keep them clean, but foil is reflective and can redirect heat away from its intended targets. Third, clean the charbroiler properly. It can be tempting to trap the heat under pans to incinerate food that's stuck to the grates, but this can be dangerous as well as damaging to the burners and grates.
Get Cooking
The following charbroilers, boasting various heat types and power levels, mark the latest models from several manufacturers.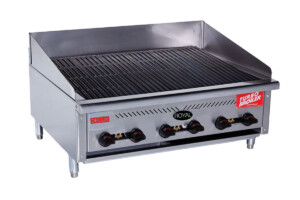 Royal Range
MODEL: TB-836
HEAT TYPE: Infrared radiant
TOTAL BTU/HR.: 87,000
COOKING SURFACE: 33-in.W x 23-in.D
CONSTRUCTION FEATURES: Heavy-gauge welded stainless radiants produce infrared rays for optimal heating and even cooking.
WEBSITE: royalranges.com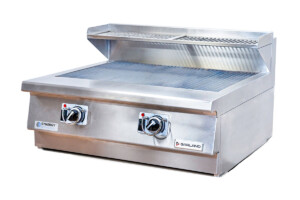 Garland
MODEL: Heavy Duty Countertop GTXHP36
HEAT TYPE: Radiant
TOTAL BTU/HR.: 54,000
COOKING SURFACE: 30 7/10-in.W x 21 7/10-in.D
CONSTRUCTION FEATURES: Unit comes with two energy-efficient burners with cast-iron caps; heavy-duty ceramics line the burner box to vaporize oils and fats and radiate heat.
WEBSITE: garland-group.com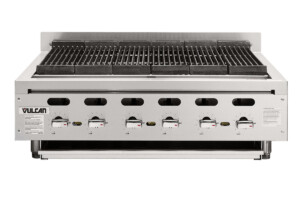 Vulcan
MODEL: VACB Series (VACB36)
HEAT TYPE: Radiant
TOTAL BTU/HR.: 102,000
COOKING SURFACE: 32 1/4-in.W x 22 1/3-in.D
CONSTRUCTION FEATURES: Burner dividers minimize heat transfer to enhance multizone cooking capability; accessories include steel round-rod grate and fajita plate warmer.
WEBSITE: vulcanequipment.com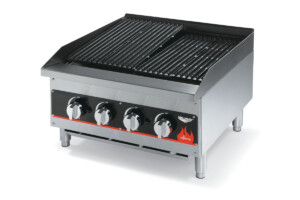 Vollrath
MODEL: Cayenne Medium-Duty Charbroiler (407302)
HEAT TYPE: Ships with kits for radiant and lava rock
TOTAL BTU/HR.: 80,000
COOKING SURFACE: 23 11/16 -in.W x 19-in.D
CONSTRUCTION FEATURES: Cool-to-touch bullnose design protects from burns; grill plates have narrower grill surfaces on one side, and flatter, wider grill surfaces on the other side.
WEBSITE: vollrathcompany.com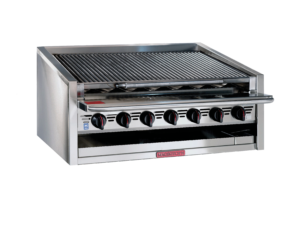 MagiKitch'n
MODEL: FM-RMB-636
HEAT TYPE: Radiant
TOTAL BTU/HR.: 105,000
COOKING SURFACE: 32 3/4-in.W  x  24 3/4-in.D
CONSTRUCTION FEATURES: Each burner has V-shaped radiant element; easy-tilt top grid drains grease into front trough; optional smoker box offers menu flexibility.
WEBSITE: magikitchn.com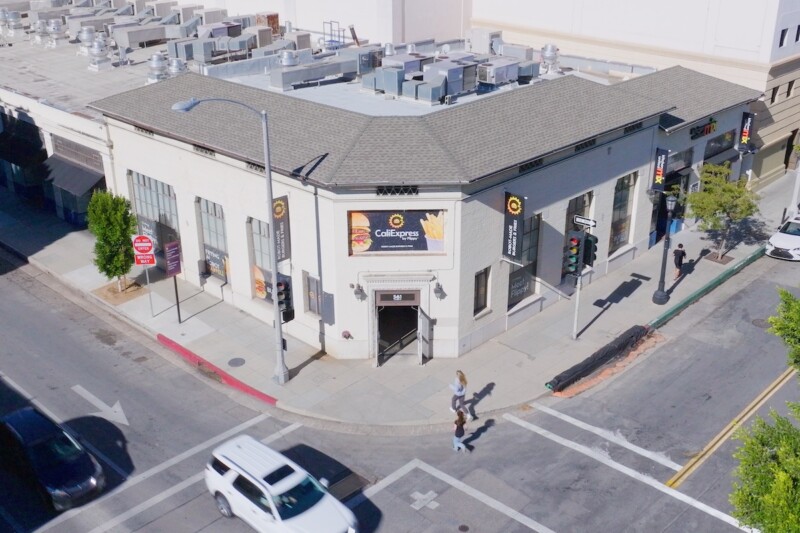 Company News
The new concept's robotic grills, fryers, kiosks and more look to deliver advantages for staff, customers alike.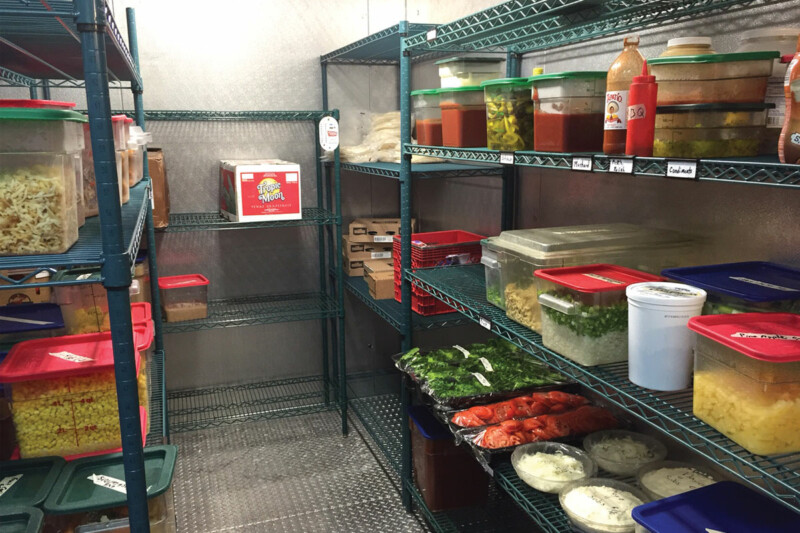 Equipment
A walk-in cooler and the food items stored inside are enormous investments for any business. As with any investment, you want to maximize your return and protect against loss. One…