How to Choose a Transport Refrigerator
Mobile refrigerators take food where your customers are, helping meet the demands for flexibility.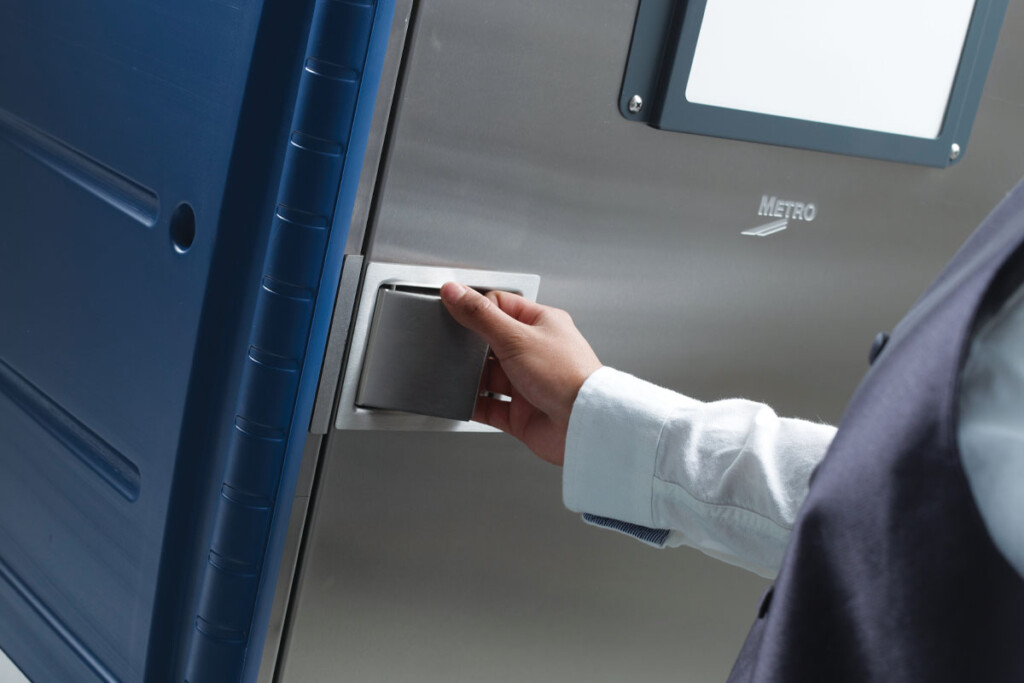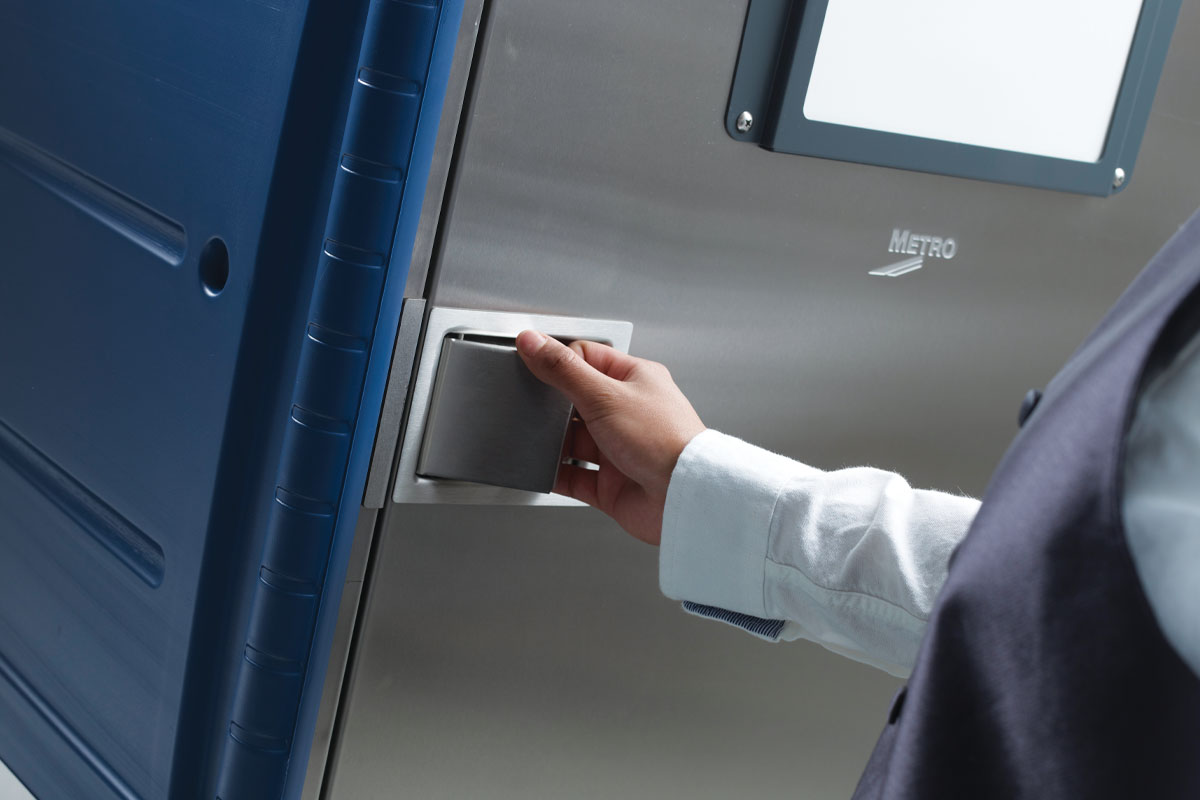 Students and their families picking up heat-and-eat meals curbside in a school parking lot; a restaurant cooking and serving patrons in a makeshift dining room on its rooftop; a hospital serving grab-and-go meals to frontline ICU personnel too busy to go to the cafeteria—all these real-life scenarios are examples of how foodservice operators are responding to the difficult job of staying open and doing what they do best in the face of the global coronavirus pandemic.
What's helped many of them accomplish the task more efficiently are mobile, or transport, refrigerators. These units put cold food where you want it quickly and easily. And as many of the trends accelerated by the pandemic—curbside pickup, delivery, takeout and nontraditional dining spaces, for example—take permanent hold, having the flexibility of "cold to go" makes good sense if you're investing in new reach-ins.
"Wait a minute," you say. "I've already got a reach-in on casters in my kitchen. Why can't I use that?" The answer in a nutshell: because a mobile refrigerator is built for the task and a standard reach-in isn't. Here are a few of the differences, and what you should be looking for when you set your specs.

Big Wheel Keep On Turning
Starting at the bottom and working up, those casters are one of the key differences between transport refrigerators and standard reach-in refrigerator models. That's not to say that mobile refrigerators are only about wheels—they're specifically designed to handle the rigors of being pushed around—but wheels are what get them smoothly and safely from place to place.
You likely won't find casters on these units smaller than 5 inches in diameter, and most models feature casters in the 6- to 8-inch range. And they're typically between 1 and 2 inches wide. In contrast, casters on most standard reach-ins range from 2 to 5 inches in diameter.
Most casters for mobile units are made of polyurethane, but materials and tread may vary on optional casters such as those for travel over unpaved or uneven surfaces. All have sealed, maintenance-free bearings.
Most single-door mobile refrigerator models have two swivel casters and two fixed, locking casters to make maneuvering easier, and at least one even has four swivel casters, two with brakes. One maker offsets one of the swivel casters to make the transition over transoms or bumps smoother and easier. Double-door models more often have four swivel casters and two fixed casters with brakes for maneuverability.
How those casters attach to the unit is as important as the casters themselves, and makers use variations on the same heavy-duty theme. One maker, for example, mounts casters on a plate that's bolted to the base. Another attaches the caster mounting plates to stainless stress plates with welded stainless studs, then welds the stress plates to the unit's frame. Standard reach-in models, by comparison, often use a threaded stem caster that simply screws into the base.

Rugged Design, Construction
Along with the casters, practically everything about this equipment's construction enables it to withstand the rough treatment of transport. Heavy-gauge stainless frames for bases and cabinets, whether welded turned-in seam or in one case tubular, and foamed-in-place insulation add rigidity and durability. All-stainless interiors with coved corners make cleaning easy. And distinctive details, like mounting refrigeration components on the bottom for a low center of gravity, are part of what separate these from standard reach-ins. Some key components to note:
DOORS/HINGES. Several makers set doors inside frames, which keeps them from shifting and straining hinges. Some doors hang flush on edge-mounted hinges. All hinges should be reinforced with a steel (preferably stainless) backing plate, makers say, to withstand travel and heavy use.
LATCHES. Paddle latches that sit flush with the door front are common, but at least one maker uses a sliding latch, and another uses a pull latch, which aren't flush. Latches that stick out could catch on wall corners or door frames, depending on the path your mobile unit will travel. Take that into account, if, for example, your operation has tight spaces. Locking latches are optional in most cases.
HANDLES. Push-pull handles for maneuvering come in a variety of styles depending on the manufacturer. One style uses side-mounted vertical stainless handles attached to a reinforcement plate. Another model has recessed antimicrobial plastic hand-holds on the sides. Yet another attaches large polymer panels with built-in handles on the sides of its units to protect them from bumps and scrapes. A different iteration is an upside-down U-shaped bar attached to the front and rear of the cabinet that not only protects the corners, but provides a handhold all the way around the unit. As an optional feature, many models offer push bars or handles attached to the rear, making it easier for two employees to maneuver them.
BUMPERS. Several models use a wraparound vinyl cushion strip set into a reinforced aluminum channel. One maker uses a molded polymer bumper with a ¼-inch metal insert for reinforcement. For maximum protection, look for a bumper that spans the full perimeter.

Keeping It Cool
Refrigeration components from virtually all manufacturers meet the latest Department of Energy standards for energy effi ciency. Regardless of refrigerant type, models sold now also meet Significant New Alternatives Policy Program standards for reduced greenhouse gas emissions.
Makers design their refrigeration systems for quick preloading pull-down time and fast recovery during meal service. Look for precooling time to 40ºF of about 30 minutes for assurance the unit has plenty of cooling power. Compressors for single-door models are typically ¼ or ⅓ hp, and ½ hp for double-door reach-ins. A higher-horsepower compressor may not have to cycle as often, which typically means longer service life. A manufacturer's service record can tell you the average lifespan of its compressors.
Most systems have electronic temperature control, automatic hot gas defrost and a filter dryer. In addition to an on/off switch, controls and displays may include the ability to select a certain temperature within a limited range, digital or analog temperature read-out, defrost cycle indicator light and manual defrost override switch.
Holding time is as important as recovery time since these units will be without power when on the move. Manufacturers we spoke with say insulation in their models should maintain a constant set point temperature for at least 45 minutes of transport time. One maker, however, has a unit that's battery-operated and recharges on 12V DC current when plugged in. Once unplugged, the battery will keep the unit cold for three hours, and with the optional solar panel, up to six hours.
As mentioned, mobile reach-ins feature bottom-mounted refrigeration components. For ease of service, one maker mounts all components on a slide-out cassette that has vibration dampeners to reduce potential damage during transport.
Let It Slide
You'll also want to consider the types of food you'll be transporting, how much of it, and in what form. Interior dimensions of models can vary depending on whether they're configured for sheet pans or hotel pans. Most models can hold both, of course, but to maximize your interior capacity, think about what works best for your operation.
Interiors also may have adjustable or fixed slide racks depending on the model and what type of pan slides you want. Most makers offer two types: bottom slides and lip slides. As the names imply, bottom slides extend out to support the bottom of the pans, and lip slides support pans by their edges only. Fixed slide racks are lip slides only; with adjustable racks you can get a combination of bottom or lip slides to accommodate different-weight products.
Finally, as with most foodservice equipment, consider lifecycle costs, warranties and service networks when deciding which manufacturer to choose.
On the Move
The latest transport refrigerators come with construction features that power them to move across town.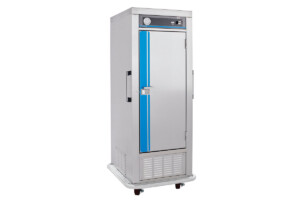 Carter-Hoffmann
MODEL: PHB450HE
DIMENSIONS: 31⅜-in.W x 35-in.D x 75⅞ -in.H
CAPACITY: 30 18 x 26 pans
FEATURES: The vinyl bumper sets in an extruded aluminum frame with reinforced corner cutouts; the handles attach to a reinforcement plate; the door latch comes with a flush design to prevent damage.
CASTERS: 6 inches
WEBSITE: carter-hoffmann.com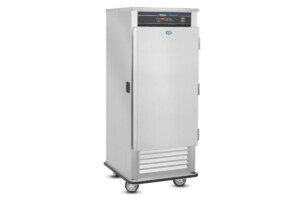 FWE
MODEL: Mobile Air Screen ASU-10
DIMENSIONS: 32¾-in.W x 38¾-in.D x 78¾-in.H
CAPACITY: 10 18 x 26 pans
FEATURES: An air screen allows the door to stay open during meal service; a rear-mounted push bar handle and flush-recessed side handgrips come standard.
CASTERS: 6 inches
WEBSITE: fwe.com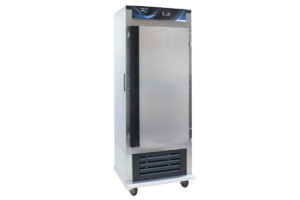 Cres Cor
MODEL: Insulated ChillTemp Refrigerated Cabinet R-171-SUA-10E
DIMENSIONS: 28 5⁄16-in.W x 37⅜ -in.D x 76-in.H
CAPACITY: 10 18 x 26 pans (adjustable spacing accommodates multiple pan sizes)
FEATURES: Perimeter door heater prevents condensation; self-closing insulated door helps maintain temperature; the recessed push/pull handles protect walls from damage.
CASTERS: 5 inches
WEBSITE: crescor.com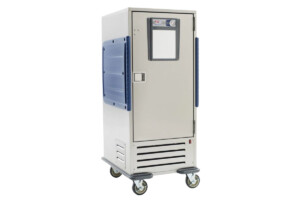 Metro
MODEL: C5 R-Series Refrigeration Armour Heavy-Duty Mobile Refrigerator
DIMENSIONS: 30-in.W x 39¼-in.D x 70-in.H
CAPACITY: 13 18 x 26 pans (multiple slide systems available)
FEATURES: The all-in-one removable refrigeration cassette mounts on vibration/shock isolators for protection; polymer panels protect the cabinet; a full-perimeter bumper comes with a metal insert for reinforcement.
CASTERS: 6 inches
WEBSITE: metro.com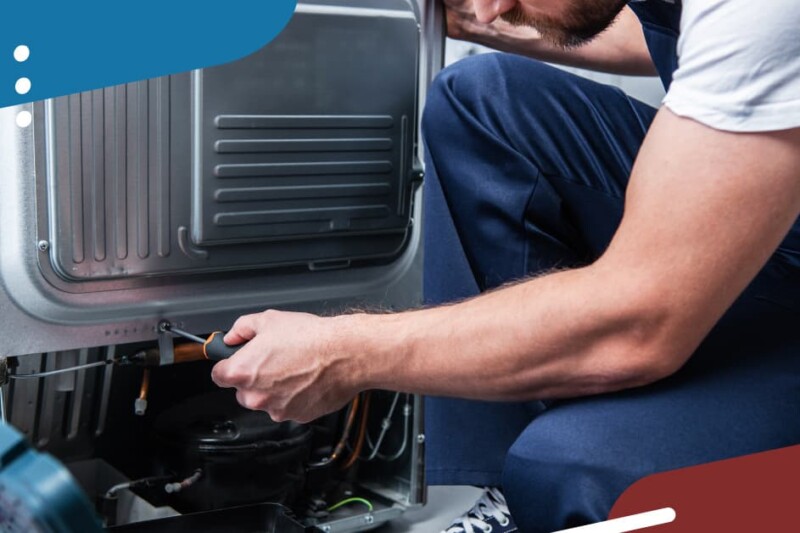 Equipment
Refrigerators and freezers are arguably the most essential appliances in a commercial kitchen, working around the clock to keep foods at the ideal temperature. When these appliances aren't functioning properly,…