Inside Expedia's Worldly Cafe
Foodservice consultants deliver a destination dining spot worthy of world travelers.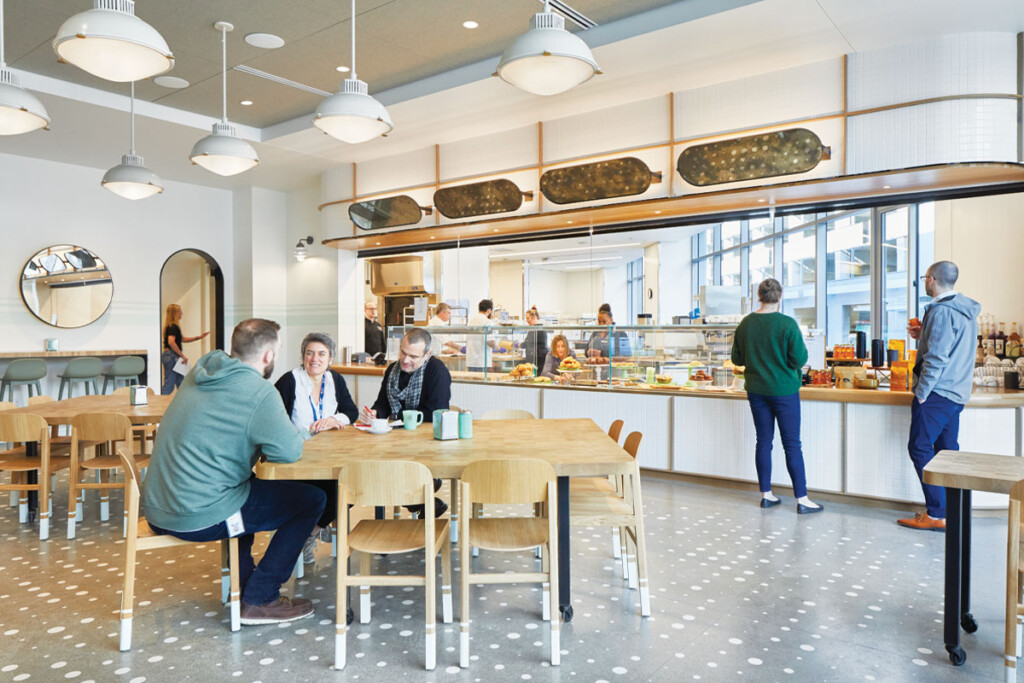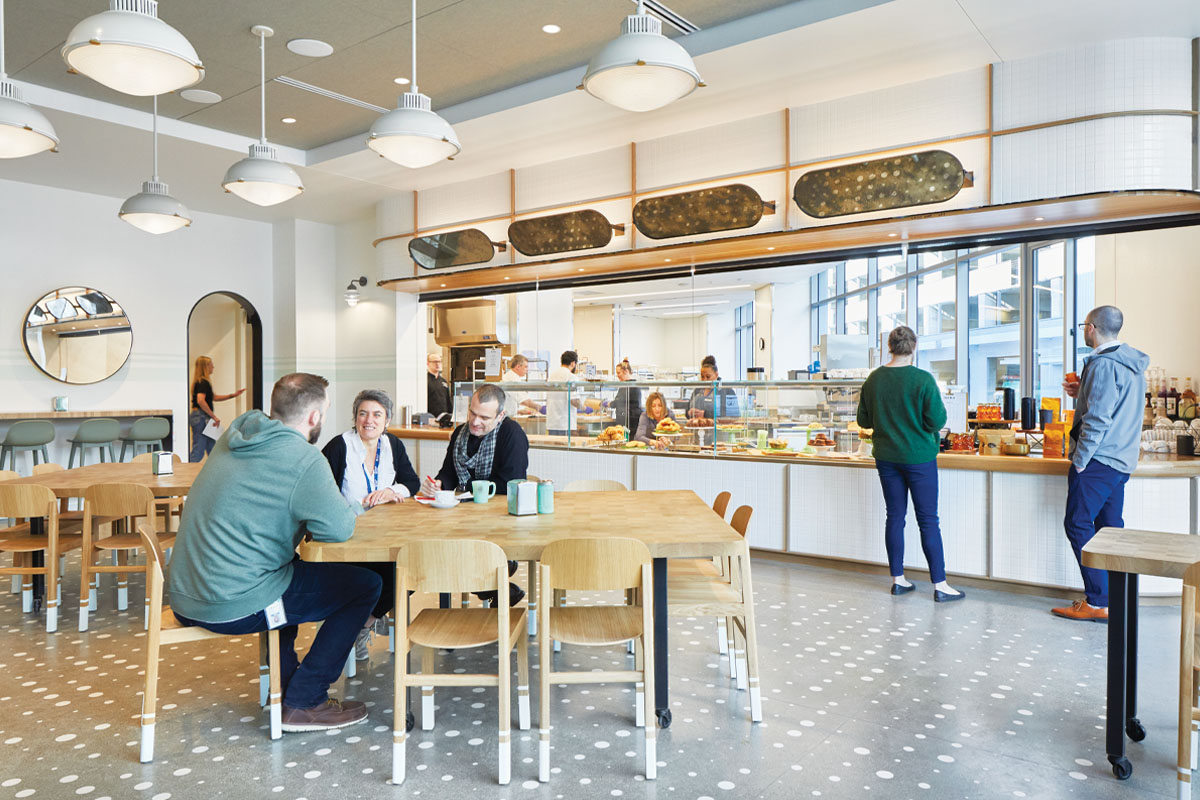 Expedia Group's new home in Seattle's Interbay neighborhood used to be a food desert. The 40-acre, six-building campus meets a grain terminal, seafood distributing facilities and a railway line on one side, and on the other side are the waters of the Puget Sound. As planners worked on designing a foodservice operation that would serve as the destination dining spot for Expedia's 4,500 employees, directives were clear.
"Expedia Group wanted a market concept, not a corporate dining facility," says Jean-Michel Boulot, vice president, western division, for Annapolis, Md.-based foodservice consulting firm Next Step Design.
"The Expedia team envisioned a sort of Time Out Market New York-type venue, where all the best culinary talents would be under one roof, with an organic way of operating, giving employees a constantly changing dining experience," Boulot says. "And they wanted it to be an eco-friendly operation with reusable wares."
When Expedia finally opened its doors in October, incoming employees found a marketplace cafe featuring fresh, local fare with plenty of seating. Interactive island stations offer food options worthy of world travelers. Stations range from a pan-Asian platform with sushi, dim sum, noodles, poke bowls and a robata satay grill, to an Indian-inspired area featuring tandoor ovens. A full-service bakery and a cafe/bar/sandwich shop called The Drum round out the main dining operations.
Challenges Galore
Leading the proverbial charge for Expedia Group's foodservice plans were Next Step's Boulot and Elijah Davis, project manager, who joined the team in 2017, shortly after the property had been acquired, to begin mapping out the project. They collaborated with Mark Nagle and Josh Khanna from Expedia Group's real-estate team; architect Elizabeth Grace, associate partner at ZGF, Seattle; Andrew Lieberman, design director at AvroKO, San Francisco; and Reeve Elliot at Seneca Group/Expedia, Seattle.
While the overall vision for the cafe—to be a corporate dining destination without the corporate dining feel—was clear, Expedia Group had not yet tapped a foodservice operator or executive chef to help map out details.
"As designers, our goal is to support the style of the operator [who would be running the cafe]," Boulot says. "Every chef wants his kitchen a certain way. But for this project, no one was aboard to fine-tune the company's vision."
As a result, "We consultants were the ones who had to create, present, be critiqued and adjust accordingly," he recalls. "Without an operator, no one wanted to commit to one direction or another."
In addition, the sheer scope of the project—covering 57,700 sq. ft. on the main floor for front- and back-of-house and seating, plus an additional 11,700 sq. ft. on the lower floor for cold prep, storage and warewashing—combined with Expedia Group's waterfront location in the former home of a biotechnology company led to some unique upfront challenges:
VENTILATION: Permitting requirements meant the ventilation system had to be in place and approved long before foodservice plans had been finalized. "Certain components, including the mechanical system, had to be reviewed by the city [for us] to proceed," Boulot says. "We had to set the CFM [cubic feet per minute] before the foodservice operation was fully designed."
Complicating matters was the fact that existing ductwork came with built-in choke points as a result of its run through existing slabs. "[Those choke points meant our] hoods would have a very specific [CFM] limit, which proved a tricky balance negotiating equipment the client wanted and what could be installed," Boulot says.
PLUMBING: Expedia Group's location overlooking the Puget Sound meant its basement foodservice space, initially earmarked as a catering kitchen, was below sea level. "Sump pumps need to run constantly," Davis says. "We had to be careful about drainage and could not do any cooking there. Instead, we made it into a cold prep kitchen to support commissary elements above."
A World Tour
To meet the culinary desires of globe-trotting Expedians, the design team equipped the cafe to produce nearly any world cuisine. Culinary destination areas include the pan-Asian station, a Latin station with a deli, and the Indian station, as well as the bakery, a greens station and a grains-and-bowls station.
One wall of the cafe is all windows—a feature that led to some…animated…discussion between Next Step planners and architects. "You won't find any vertical storage," Davis notes; the point being to avoid blocking any views. "This constraint, however, made for some challenges in supplying adequate food storage." The teams compromised by adding a dedicated walk-in behind the salad bar area, along an interior wall.
"Expedia envisioned an organic way of operating, giving employees a constantly changing dining experience." —Jean-Michel Boulot, Next Step Design
The bakery covers 413 sq. ft. in a triangular space at the far end of the cafe. Its long wall, all windows, gives arriving Expedians a view of baking action as they walk toward the building's main entrance from the parking structure. A walk-up window opening on to the walkway captures morning coffee and pastry sales.
Designers outfitted the bakery with equipment that would be sufficient to power any full-service commercial bakery. The lineup includes a deck oven, rotating oven, proofer/retarder, multiple mixers and a dedicated walk-in cooler/freezer. Customers can choose items from a grab-and-go display at the counter or order a sandwich or espresso on the spot. Tables and chairs facing the bakery complete the area.
The pan-Asian station, covering 730 sq. ft., is the cafe's largest freestanding eatery. Dining options include a full-service sushi bar with counter seating at one end, and a poke bar at the opposite end. On one of the long sides is a steam table for Chinese dim sum, and cooking equipment for Vietnamese satay. The other side houses everything needed for noodle soups and stir-fries. Four POS stations enable speedy transactions.
The Latin and deli/soup station, 494 sq. ft., known for its Cuban sandwiches, has at its heart an island cooking suite, as well as a speed oven. A row of counter seating along the window side of the station gives customers a front-row view of cooking action. "The idea behind equipping this station was so the menu could shift from tacos to Latin to South American," Boulot says.
Rhythm of The Drum
Just outside the cafe, located at the hub of Expedia Group's main entrance, with its soaring ceilings and a steady stream of employees, guests and visitors, sits a three-daypart, unique concept called The Drum.
"It's a chameleon of a station," Boulot says. "When it opens, it will help activate this massive space throughout the day." (At press time, crews were putting finishing touches on The Drum station.)
Serving three dayparts from 414 sq. ft. of space resulted in an extra-complex layout. "Specifying equipment here came down to inches for a lot of the decisions," Davis says. If one brand's model had a smaller footprint than another, it was chosen.
Adding to its cachet, Expedia Group requested that all stainless elements match a specific color palate. "We worked with the suppliers to take apart certain pieces of equipment so they could have a brass/bronze-colored PVD [physical vapor deposition] coating applied," Davis adds.
In the mornings, The Drum will serve as an ultra-posh coffee shop. "The espresso area uses equipment where the only thing you see are taps on the counter. The actual espresso machines are below deck," Boulot says. At lunch, The Drum will offer premade sandwiches from the bakery, heated-to-order in speed ovens. And in the evenings, The Drum will shift to bar mode, providing a gathering place for employees and guests. "You'll find two towers—one for cold brew, one for beers being pulled from kegs one floor down," Boulot says
Traveling Dishes
Among many remarkable elements of Expedia Group's foodservice operation, the daily travels taken by the cafe's reusable plates, silverware and drinkware are convoluted, yet efficient.
"There was no room on the main floor for warewashing," Davis explains. "And our clients really wanted food served on reusable ware. So, we had to find a way to move soiled dishes to the floor below, where they could be washed in a dishroom that could be run by only a few people, and we had to get clean tableware back upstairs again."
The process starts in a plate-return cubby near the pan-Asian station. "Attendants scrap and sort the plates, cups, glass and silverware," Davis says. "The conveyor belt carries soiled tableware along a 90-ft. path that shifts from horizontal to vertical to horizontal again until the items reach the dishroom on the floor below. Clean ware returns to the dining area via a dumbwaiter."
Food waste, meanwhile, goes into a pulper, then into a dewatering machine, and finally into a dehydrating machine. The 18-hour drying process considerably reduces the volume of outgoing waste on its path to the loading dock, half a mile away.
EXPEDIA GROUP SEATTLE
CONCEPT: Multilevel food marketplace at corporate campus
---
SIZE: 57,700 sq. ft. (main floor foodservice and seating); 11,700 sq. ft. (basement cold prep, storage, warewashing)
---
EQUIPMENT PACKAGE: $4.4 million
---
CLIENT (EXPEDIA GROUP): Mark Nagle, Josh Khanna (both with real estate); Reeve Elliot (Seneca Group/Expedia)
---
FOODSERVICE DESIGN: Jean-Michel Boulot, vice president, western division; Elijah Davis, project manager, Next Step Design, Seattle
---
ARCHITECTS: Megan Pryor; Elizabeth Grace; Katharina Stoll; Erin Ward, ZGF Architects, Seattle
---
INTERIOR DESIGN: Andrew Lieberman; Seohaa Choi; Emily Bales, AvroKO, San Francisco
---
DEALER: Jason Fleege, project manager, TriMark Gill Group, Hamilton, Mont.
---
WEBSITE: expediagroupseattle.com
---
MAIN FLOOR EQUIPMENT
THE DRUM
• Structural Concepts display
• Perlick refrig.
• Chillrite beer tower
• Modbar espresso machine
• Mazzer coffee grinder
• Marco coffee brewer, hot water tap
• TurboChef/Middleby rapid-cook ovens
BAKERY
• American Panel walk-in cooler, freezer
• Traulsen/ITW FEG reach-in freezer
• Baxter/ITW FEG proofer/retarder, rotating oven
• Gaylord/ITW FEG hood
• Guyon convection, deck ovens
• Hestan ranges
• MIWE deck oven
• Continental u/c refrigs.
• Doyon spiral mixer
• Hobart/ITW FEG planetary mixers, warewasher
• Oscartek deli/pastry showcases
• La Marzocco espresso machine
• Mazzer coffee grinder
PAN-ASIAN
• Hatco heated shelves
• Continental u/c refrigs.
• Yoshimasa sushi display cases
• Perlick back bar refrig.
• Town rice warmers
• Wells/Middleby drop-in hot wells
• Traulsen/ITW FEG u/c refrig.
• Oscartek deli/pastry showcase
• Hestan range, spreader, pasta cooker
• Jade/Middleby charbroiler, range, Chinese range
• Gaylord/ITW FEG hood
LATIN AND DELI/SOUP
• Vollrath induction rethermalizer
• Merrychef/Welbilt speed oven
• Continental sandwich units
• Gaylord/ITW FEG hood
• Hestan chef unit
• Alto-Shaam heated cabinet
Main floor equipment list doesn't include Indian, Greens and Grains-and-Bowls stations.
Editor's Note: At press time, Expedia Group's campus remained closed as a result of the COVID-19 pandemic, but the company continues to monitor and plan for when the time comes to reopen.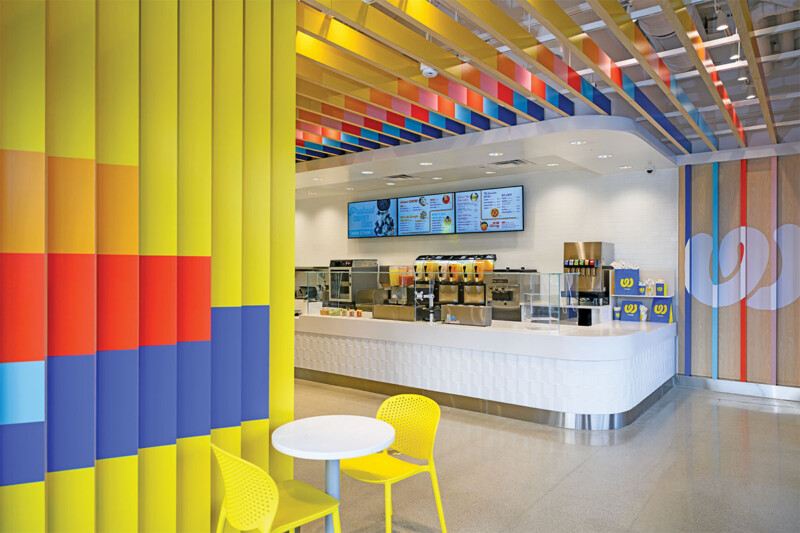 Kitchen Design
Wetzel's Pretzels, the multiunit bakery of shopping mall fame, now offers its soft pretzels and more at street-side through its latest concept.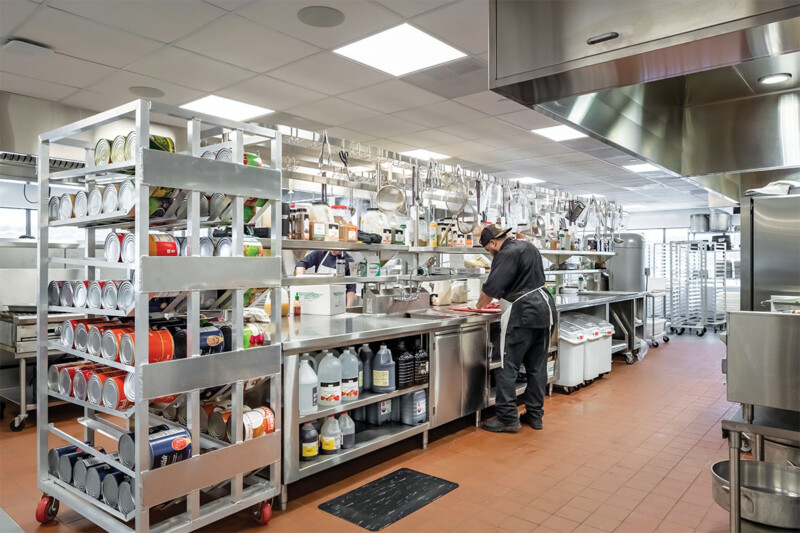 Kitchen Design
Open Arms of Minnesota—a volunteer-powered, nonprofit organization that provides meals to critically ill Minnesotans—needed more room.