PEOPLE ON THE MOVE: Personnel Moves
Warren Graber has been appointed president of Chicago-based
COOKTEK INDUCTION SYSTEMS LLC
. He succeeds company founder Bob Wolters. Graber, who had been v.p.-operations since '09, now directs all activities and strategies in operations, sales and marketing. He joined the company in '05 as v.p.-engineering. CookTek has been a division of Middleby Corp. since 2009.
• Reed Beus, an experienced technology and private equity executive, has been appointed as
BLENDTEC
's new chairman and CEO. He succeeds company founder Tom Dickson, who has stepped down from his role as chairman/CEO to focus on engineering new products. He remains on the board of directors of the Orem, Utah, blender manufacturer. Beus joins Blendtec from Enspark, a corporate e-learning company he founded in 2009.
•
After a nationwide search, the
ASSOCIATION OF NUTRITION & FOODSERVICE PROFESSIONALS
(ANFP) has selected Joyce Gilbert, PhD, RD, LDN, as its new president and CEO. Gilbert will join the ANFP staff in May, when William St. John, CAE, who has been CEO since 1986, retires. ANFP, established in 1960, has more than 14,000 members. It's based in St. Charles, Ill.
•
THE BROASTER CO.
has realigned its senior management team to strengthen its strategic plan for growing its branded concepts worldwide. Among the changes: Tracy Choppi, newly named senior v.p.-operations; Derek Fellows, named v.p.-manufacturing; and Denny Romer, appointed v.p.-sales and marketing. Additionally, Chad Vendette has joined the Beloit, Wis., company as its new director of marketing. He was product and brand manager at San Jamar-Chef Revival.
•
WINSTON INDUSTRIES
has appointed Tina Thompson as v.p.-operations. The 30-year company veteran most recently served as controller, where she managed the accounting and human resources departments. Thompson now oversees management of the financial, accounting, human resources and business operation areas of the Louisville, Ky., equipment manufacturer.
•
Easton, Pa.-based
FOLLETT CORP.
has appointed Pasquale Striano as regional sales manager for the Middle East, Eastern Europe and Africa. He'll be responsible for implementing foodservice sales programs and plans for those regions, including India and Africa. Striano, based in Milan, Italy, has spent a decade in international sales of office equipment.
•
Steve Spittle, CFSP, has been named v.p.-sales and marketing at PITCO FRIALATOR. Spittle most recently served as regional v.p. of sales with Pitco and Blodgett Ovens. Prior to joining Pitco three years ago, he was v.p. of Ohio-based Restaurant Outfitters. Spittle will report directly to Paul Angrick, president of the Concord, N.H.-based division of the Middleby Corp.
•
AMERICAN METALCRAFT
has added Nazzi Nargussi to its sales team. As the Melrose Park, Ill., company's new regional sales manager of the South, she will be responsible for working with sales reps,distributors and national accounts.
•
WASTE TO WATER LLC
has added two sales representatives to its sales team.Brian Lewis, principal of Main Street Marketing, will be managing sales efforts in North and South Carolina. Joe Burkland, president of Distinctive Equipment Solutions, will be managing sales growth in Indiana and Kentucky.
•
VULCAN'
s PowerFry VK Series Fryer has received the Gas Foodservice Equipment Network's 2013 Blue Flame Award for Product of the Year. The annual award recognizes innovative natural-gas applications and rewards manufacturers' outstanding efforts in research and development.
• Charlotte, N.C.-based
ELECTROLUX PROFESSIONAL
has hired Steve Martin as a technical service representative.
•
DARDEN RESTAURANTS
has two new brand presidents.Dave George, president of LongHorn Steakhouse since 2003, now heads up Olive Garden. He hands over the LongHorn reins to Valerie Insignares, who has already served as Darden's chief restaurant operations officer and as exec. v.p.-operations for Olive Garden.
•
LOGAN'S ROADHOUSE
has named former McDonald's executive Mike Andres its president and CEO. Andres succeeds Thomas Vogel in the top role at the Nashville-based, 250-unit chain.A 30-year McD's vet, Andres retired last September as president of McDonald's USA's central division. He also held the CEO title at Boston Market from 2000-'07, when the brand was a subsidiary of McDonald's.
• Peter Gaudreau has joined
CHEDDAR'S CASUAL CAFE
as executive v.p.- operations. He'll lead the operations team for the Irving, Texas, chain's 72 company-owned and 58 franchised restaurants in 23 states. Gaudreau previously held the same post at the FREEB!RDS casual chain.
•
BACK YARD BURGERS
has appointed David McDougall as its new CEO. McDougall joins the Nashville chain with more than 30 years' experience in franchising, operations, international and supply chain management. The chain, currently undergoing reorganization after a pre-arranged Chapter 11 filing, has 22 company-owned and 63 franchised locations in 20 states.
---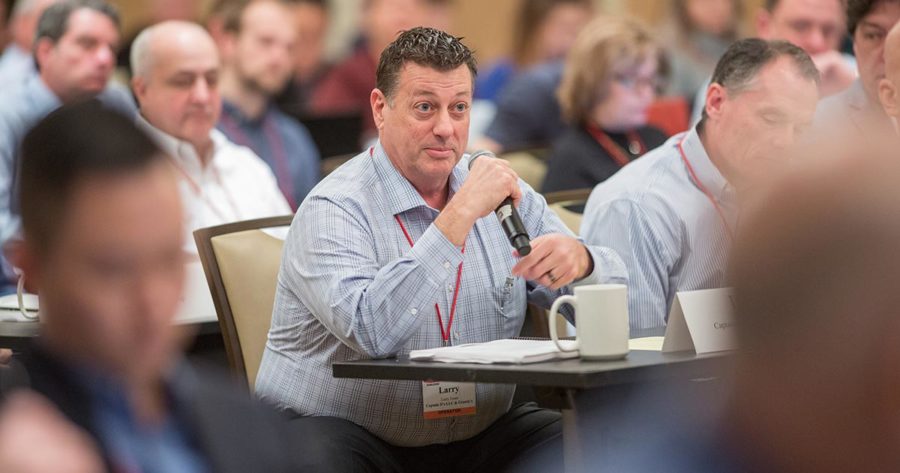 Advance Your Knowledge of Foodservice Equipment Technologies at MUFES
MUFES is a one-of-a-kind event for foodservice equipment decision makers from multiunit chains and noncommercial facilities.