At almost any time of day, there's a line of customers at The Pit, a popular BBQ, comfort-food and grill station at Akers Dining Hall, the most recently renovated dining facility at Michigan State University, East Lansing, Mich. Students can't seem to get enough of its down-homestyle, smoked-meat offerings.
The Pit is just one of six starring restaurant concepts at Akers (there also are several secondary ones). Open from 7 a.m. to midnight, the 27,000-sq.-ft. foodservice facility has quickly become one of the most popular places to dine on the 50,000-student MSU campus.
If you have a taste for international fare, there's Tandoori, where large tandoor ovens deliver the true flavor of Indian cuisine; and Sticks & Noodles, an Asian concept with a long bank of gas-fi red woks used to produce stir-fries, noodle bowls and other made-to-order Asian specialties.
If you're just looking for a quick lunch or snack, there's plenty of casual-dining fare at Slices, a pizza and baked pasta station; Stacks, a made-to-order sandwich deli; and Sprinkles, a dessert bar. Add dedicated salad and breakfast bars and a gluten-free station for specialized diet needs, and you've got a foodservice mix that has something for everyone. Throughout, the facility's contemporary interior design, custom lighting and vibrant concept signage provide a look and feel on par with any top-quality commercial food court or restaurant venue.
It's a marked contrast from the former foodservice offering, when Akers was still running two straight serving lines in the space. With a few self-service stations in the center and long rows of cafeteria-style table seating, the former facility was dated and uninspired.
Creating Destination Dining
Campus officials had already upgraded six other primary residential dining halls on the MSU campus when the Akers modernization project began in May 2014. Akers' transformation completes a major part of Culinary Services' Master Dining Plan, says Vennie Gore, MSU V.P. of Auxiliary Enterprises.
"It's significant because these upgraded halls offer more than dining," he says, adding that the renovated halls also create environments in which students can gather and connect, study and socialize. "This relates directly to MSU's core values for Quality, Inclusiveness and Connectivity."
Director of Culinary Services Guy Procopio goes into the specifics of how those values influenced the choice of concepts developed for The Edge, as the Akers' eatery now is known. The name fits both for Akers' "edgier," more diverse menus and because it serves students on the campus's eastern edge, largely populated by first-year and international students.
Procopio says that on an operational level, the team strategically developed the design and mix of concepts at The Edge to both complement and be on par with other dining halls on the campus. The master plan called for Culinary Services to "lead with food," he says, with a specific goal to increase guest satisfaction by providing a more personalized approach to dining. Meal plans at MSU provide unlimited access and encourage students to explore all of the dining venues on the campus.
Following that strategy, the design team remodeled each dining hall as a clear destination with its own ambience, character, food and concept offerings. At the same time, with one of the largest residential student populations in the country, it's important for MSU to ensure that no single residential dining hall is perceived to be superior. Demand patterns need to be balanced to achieve efficiency and campus-wide customer satisfaction.
So while all of the residential dining halls offer traditional favorites, including pizza, sandwiches, salads and grilled items, each also has offerings unique to its location.
What To Do With A Wedge
Although Akers has been a dining hall since it opened in 1964, its transformation into The Edge required crews to gut and reconstruct the existing space. A significant part of the former kitchen, which used to take up half the space, has been converted into the various retail-style concepts, each equipped open-kitchen style. The redistribution of space meant relocating just about everything from the dishroom to most of the hood and exhaust systems.
With the majority of food production taking place in front of customers at each station, the now-smaller kitchen is used to volume-produce sauces, soups, batters and skewers for the tandoor ovens, and to complete other partial preparation tasks that ready foods for finishing out front. "Customers have a constant sense of a lot of action," says Kurt Kwiatkowski, MSU Culinary Services' Corporate Chef.
"Guy [Procopio] has also instilled in all of us the basic rule that we never want our employees to have their backs to the guests, so our serving areas are designed to keep that from happening as much as possible," he says.
Gutting and redesigning the hall was a particular challenge due to the space's wedge shape, with slanted walls and acute-angle corners. In some places ceilings are lower than designers would have liked. In addition to navigating the shape, campus officials wanted the design team to increase Akers' seating by more than 35%, from 420 to 576 seats.
In the new design, customers continue to enter from either the east or west side. When they do, they're wowed by The Pit, a focal point for the servery with its large smoker, carving station and griddle along the northern wall of the space; the all-day breakfast bar is here, as well. Turning to the south, guests face two large center islands, each featuring multiple stations.
One island is home to Tandoori and Stacks (with secondary stations for soup and salad bar); the other houses Sticks & Noodles, Slices and Sprinkles, the dessert bar. From either entrance, students get an impression of food choice abundance. A series of seating "neighborhoods" disperse a mix of hard- and soft-seating options throughout the space.
Authentic Difference
Designers organized each anchor concept with its own equipment related criteria, the most important of which was authenticity. As Akers' Executive Chef Jason Strotheide says, "Slow-roasted pork ribs coming from an oven are very tasty, but they just don't have the same kick as apple and hickory-smoked pork ribs do. Curry-spiced chicken kabobs taste great from a chargrill, but when you slow roast the same chicken in a tandoor oven, where it's fully enveloped in heat and smoke, the flavor is far and away better. [Authentic equipment] creates an impressive display that really grabs the senses."
Other examples include the long bank of Jade woks at Sticks & Noodles, on which chefs can prepare more authentic stir-fries than are available elsewhere on campus, as well as items like Korean bulgogi beef, pad thai and lo mein dishes. The Pit's massive Southern Pride smoker cooks everything from brisket and ribs to pork butt and pork belly and smokes tomatoes and other vegetables, as well.
At the Pit and Grill, employees rely on sausage-grinding and stuffing equipment (small versions of industrial units) to produce items like traditional brats and gourmet sausages, including Moroccan lamb, chicken sun-dried tomato, sweet Italian, chorizo, Cajun and andouille. Designers specified a custom sausage prep table that has a slight slope to the center to contain moisture. "It keeps the casing from drying out during production," Kwiatkowski explains. A charbroiler and Jade griddle are the grill's workhorses. The two Wood Stone tandoor ovens at Tandoori are used to make such dishes as Lamb Masala and Tandoori Chicken, as well as other authentic Indian fare.
Cook-To-Flow And Late-Night Options
Designers organized Akers to fit MSU's cook-to-flow production philosophy, allowing production capacity to ramp up or down to match demand during peak and slower meal periods.
The bank of woks at Sticks & Noodles allows employees to fire all woks or just one depending on the demand. At Tandoori, chefs can run one or both ovens. Another example is Slices, the pizza/pasta station; it uses a line of heated pedestals to both merchandise pies and keep them warm. Because those units are originally designed to cook, not just warm, the Culinary Services department worked with the manufacturer to modify them to warm only and the controls are independent. Even hoods are equipped with demand-controlled kitchen ventilation systems to help conserve energy. Their fans ramp up and down depending on cooking activity below and avoid exhausting more conditioned air than necessary.
Demand for late-night dining is a fact of life on all campuses these days, and The Edge addresses that by having each major station designed so part of it can shut down after 7 p.m. while another part remains open. For example, the Grill, next to the barbecue counter, operates until midnight; in one of the two center islands, the pizza station maintains late hours, while the sandwich/deli remains open at the other island.
This strategy keeps the lighting and appearance of the facility at daytime levels, explains Matt McKune, Associate Director of Residential Dining and Project Manager for the renovation, but the operation can run with a skeleton crew. During late night, many of the seating areas disbursed throughout the hall are actually quiet and well suited for study.
Design As A Balancing Act
Given the ambitious plans for the myriad open-kitchen concepts, space was at a premium and the design team had to carefully manage it to meet conflicting requirements. "Finding room for 576 seats was a real challenge," McKune says, "And you always have to fight for enough back-of-the house space, cooler space and dry storage. It was a difficult balancing act."
One space-saving strategy was to place a walk-in refrigerator in the center of each of the servery's islands. These keep frequently used ingredients close by and eliminate the need to restock from the main kitchen during busy periods.
Another strategy was to ensure that staff members could easily shift back and forth in the work spaces behind the concepts' shared counters. This way, fewer employees could man several stations during slow periods.
Different parts of the servery feature unique ambient "moods," as well, and this was partly accomplished by the type and intensity of lighting treatments. Depending on the specific area, you can find LED, fluorescent, high intensity quartz or natural daylight. As you move through the facility, these areas blend easily one to the other but create visual interest and a sense of "more to see." Designers retrofitted the outside wall of the hall with a bank of energy-efficient windows that flood the largest of the dining areas with lots of natural light, while minimizing the late-afternoon heat gain that had historically plagued that side of the hall.
One of the biggest design issues was the engineering of exhaust hoods and ductwork. Because the dining hall is located between two taller, six-floor residential buildings, engineers had to carefully route exhaust venting to prevent blowback.
"We'd learned from past renovations that problems caused in this way require expensive structural solutions later," McKune says. The team worked closely with the project's architectural and mechanical firms to prevent exhaust problems. As a result, most of the exhaust fans are on the roof, despite the longer duct runs that placement required, according to McKune.
Committed To Training
Operating new concepts and unusual equipment require a learning curve. To investigate the way large smokers are used by top pit masters, Kwiatkowski visited Smitty's Market in Lockhart, Texas, (reputedly the birthplace of Texas BBQ), Franklin Barbecue in Austin, Texas, and other operations with well-known regional BBQ reputations. He also networked with chefs at the Culinary Institute of America in San Antonio, exploring how smokers are used in traditional and new ways to create menu items with broad appeal.
The Edge's tandoor ovens required specialized training, as well. Chef Strotheide and Sous Chef Leann Shepherd visited oven-maker Wood Stone's Bellingham, Wash., headquarters to learn proper tandoor cooking techniques.
The staff members' commitment to grinding and making MSU's own sausage presented a unique challenge; large volume sausage making is not taught in most culinary schools. Kwiatkowski arranged to have Chef Brian Polcyn come to campus to train staff on the culinary and practical sides of smoked- and encased-meat production. Polcyn, a certified executive chef and former owner of the restaurant Forest Grill in Birmingham, Mich., is a well-known expert on charcuterie, sausage-making and European meat preservation methods. He also is the co-author, along with Michael Ruhlman, of Charcuterie: The Craft of Salting, Smoking, and Curing, W.W. Norton & Co., New York, 2005.
Business Is Booming
While it's not the largest dining hall on campus, Akers currently is the busiest, serving more than a quarter of all campus meals. Part of the hall's popularity comes from its newness and the lure of late-night dining, which was not an option before the renovation. Where it had been doing about 2,400 meals a day before the renovation, Akers now averages about 6,500 meals a day, including about 1,200 in the late-night period. And lunch traffic has essentially doubled. Clearly, the planners of Akers Dining Hall hit a home run with their winning combination of cutting-edge concepts, authentic food preparation and accommodating service hours and dining amenities.
SPECS
MENU/SEGMENT: College/university
FACILITY: The Edge (Akers Dining Hall)
LOCATION: Michigan State University, East Lansing, Mich.
SIZE: 27,742 sq. ft.
SEATS: 576
PROJECT BUDGET: Total: $20,755,000; Dining Hall: $12,350,000; Foodservice E&S Package: $1,937,000
FOODSERVICE DIRECTOR: Guy Procopio, Director of Culinary Services
FOODSERVICE CONSULTANT/KITCHEN DESIGN: Don Brown, Senior V.P., The Hysen Group, Northville, Mich.
ARCHITECT: Stantec, Berkley, Mich.
INTERIOR DESIGN: Mesher Shing McNutt, Seattle
CONTRACTOR: The Christman Co., Grand Rapids, Mich.
FABRICATORS: Nationwide Fabrication, Northglenn, Colo.; Dobie Construction, Eagle, Mich.; PMP Marble & Granite, Troy, Mich.
EQUIPMENT SUPPLIER: Great Lakes Hotel Supply Co., Southfield, Mich.
WEB: eatatstate.com
"""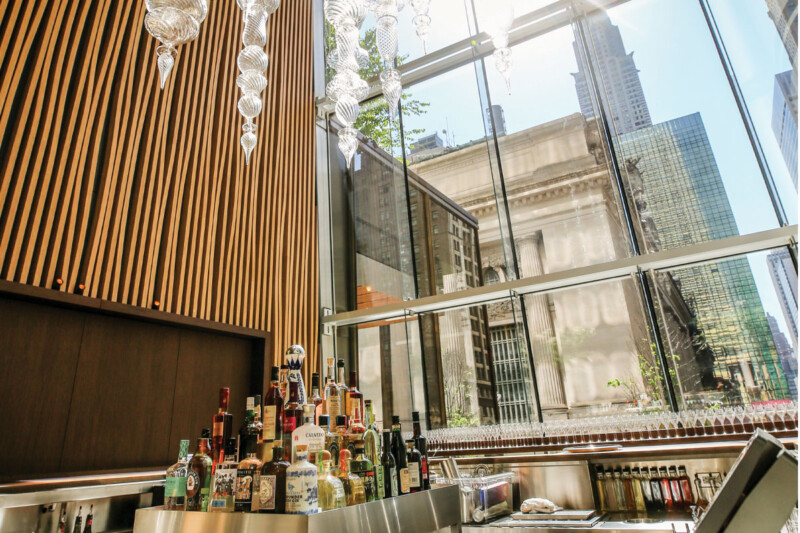 Design
Michelin-starred Chef Daniel Boulud's Le Pavillon serves as a featured dining destination in one of Midtown Manhattan's newest skyscrapers, One Vanderbilt.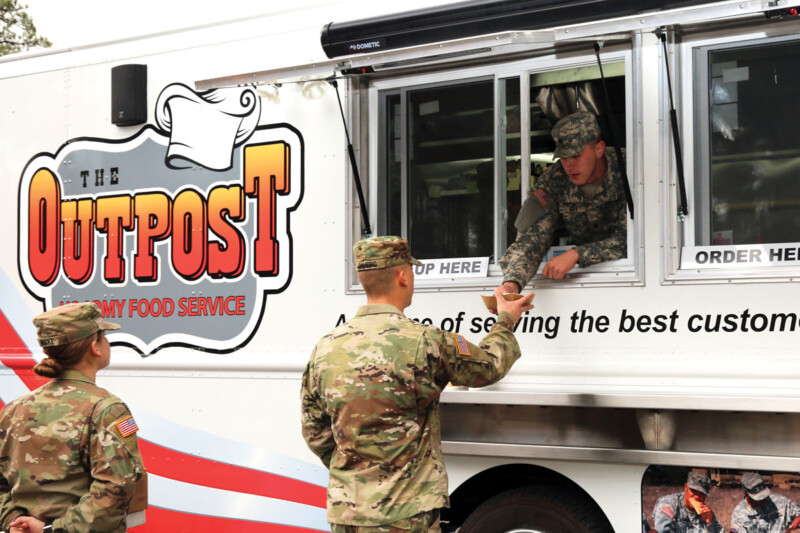 Design
When you think of military foodservice, you might envision the traditional mess hall, with thousands of meals served to troops in mere minutes.